News articles on carbon credits

---
Mongabay.com news articles on carbon credits in blog format. Updated regularly.





Debate heats up over California's plan to reduce emissions via rainforest protection


(05/07/2013) As the public comment period for California's cap-and-trade program draws to a close, an alliance of environmental activists have stepped up a heated campaign to keep carbon credits generated by forest conservation initiatives in tropical countries out of the scheme. These groups say that offsets generated under the so-called Reducing Emissions from Deforestation and Degradation (REDD+) mechanism, will undermine efforts to cut emissions as home, while potentially leading to abuses abroad. However supporters of forest conservation-based credits say the program may offer the best hope for saving the world's beleaguered rainforests, which continue to fall at a rate of more than 8 million hectares per year.


A promising initiative to address deforestation in Brazil at the local level


(03/05/2013) The history of the Brazilian Amazon has long been marked by deforestation and degradation. Until recently the situation has been considered out of control. Then, in 2004, the Brazilian government launched an ambitious program to combat deforestation. Public pressure—both national and international—was one of the reasons that motivated the government to act. Another reason was that in 2004, deforestation contributed to more than 55 percent of Brazil's total greenhouse gas emissions, making Brazil the fourth-largest greenhouse gas emitter in the world.


World Bank REDD+ forest carbon fund gets $180m injection

(01/11/2013) The World Bank's forest carbon fund got a $180 million injection from Finland, Germany and Norway, reports Point Carbon.


Brazil sues to block unlicensed REDD deal between Irish company and indigenous group

(12/17/2012) Brazil's Attorney General Office has filed a lawsuit against an Irish company and an indigenous group for unlicensed sales of carbon credits generated from an reducing emissions from deforestation and degradation (REDD+) project, reports Reuters Point Carbon.


As forest carbon credit market grows, REDD fails to keep pace, finds report

(11/05/2012) Forest carbon credits reached a record market value in 2011, but the market for credits generated under the Reducing Emissions from Deforestation and Degradation (REDD) mechanism fell sharply, as new projects were slower-than-expected to develop and faced political and economic headwinds, reports a new assessment of the global forest carbon market published by Ecosystem Marketplace.


Will mega-dams destroy the Amazon?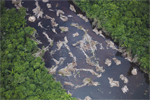 (04/18/2012) More than 150 new dams planned across the Amazon basin could significantly disrupt the ecological connectivity of the Amazon River to the Andes with substantial impacts for fish populations, nutrient cycling, and the health of Earth's largest rainforest, warns a comprehensive study published in the journal PLoS ONE. Scouring public data and submitting information requests to governments, researchers Matt Finer of Save America's Forests and Clinton Jenkins of North Carolina State University documented plans for new dams in Bolivia, Brazil, Colombia, Ecuador, and Peru.


Carbon credit market for HFC-23 racked by fraud

(11/30/2011) An effort to decrease emissions of the super greenhouse gas HFC-23 has led to a largely-false carbon market that should be eliminated, argues the Environmental Investigation Agency (EIA). HFC-23 is a byproduct of the refrigerant HCFC-22, which is currently being phased out under the Montreal Protocol for its ozone-depleting and greenhouse gas properties. However, the effort to reduce HFC-23 through a carbon market has been hampered by companies in India and China producing extra HFC-23 just so they can capture and destroy it—and receive lucrative carbon funds.


Australia passes national carbon trading scheme for agriculture, forestry

(08/22/2011) Australia's parliament passed the world's first national carbon trading scheme for credits generated from farming and forestry, reports Reuters.


Ahead of meeting, Forest Stewardship Council (FSC) loses another supporter

(06/19/2011) The forest organization, FERN, has pulled its support from the Forest Stewardship Council (FSC), reports FSC-Watch. FERN has quit the increasingly troubled organization due to FSC pursuing carbon credits through forestry. The FSC loses FERN just weeks before its 6th General Assembly, in which FSC partners—including private corporations and some environmental groups—will meet to debate current practices.


Can 'water footprinting' help cut the 500 liters of H2O needed to produce a carton of OJ?

(02/11/2011) Carbon trading promotes good behavior by creating a standardized currency representing a verifiable environmental benefit. Payments for watershed services do the same for cutbacks in water pollution, albeit on a smaller scale. Now, the Nature Conservancy and the Coca-Cola Company are experimenting with a new method of "water footprinting" that could do the same for total water use – a key component in the development of a market-based scheme that would promote responsible water usage.


First validated REDD forest carbon credits issued

(02/09/2011) A conservation project in Kenya has become the first to win validation for REDD credits under the Voluntary Carbon Standard.


Jackpot: how international community could raise $141 billion for biodiversity

(10/20/2010) Leaders from around the world meeting in Nahoya, Japan for the Convention on Biological Diversity (CBD) to discuss solutions to stem the current mass extinction crisis may be in need of a little book: The Little Biodiversity Finance Book. While a recent report by The Economics of Ecosystems and Biodiversity (TEEB) found that degradation of ecosystems—including biodiversity loss—was costing the global economy $2-5 trillion annually, one of the primary threats to wildlife around the world is simply a lack of funds to enact program. But The Little Biodiversity Finance Book says that with the right policy initiatives the burgeoning ecosystem market could be worth $141 billion by 2020.


Oil palm plantations on peatlands won't get carbon credits under CDM

(09/19/2010) Plantations on peatlands will no longer be supported by the Clean Development Mechanism (CDM), a framework for industrialized countries to reduce their emissions via projects in developing countries, reports Wetlands International.


Could biochar save the world?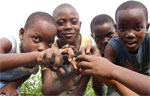 (08/16/2010) Biochar—the agricultural application of charcoal produced from burning biomass—may be one of this century's most important social and environmental revolutions. This seemingly humble practice—a technology that goes back thousands of years—has the potential to help mitigate a number of entrenched global problems: desperate hunger, lack of soil fertility in the tropics, rainforest destruction due to slash-and-burn agriculture, and even climate change. "Biochar is a recalcitrant form of carbon that will stay almost entirely unaltered in soils for very long periods of time. So you can sequester carbon in a simple, durable and safe way by putting the char in the soil. Other types of carbon in soils rapidly turn into carbon dioxide. Char doesn't," managing director of the Biochar Fund, Laurens Rademakers, told mongabay.com in a recent interview.


Reforestation of rainforests sequesters more carbon than plantations

(08/03/2010) A new study in Ecological Management & Restoration has found that reforesting rainforest captures more carbon than monoculture plantation and even mixed species plantations. The research tested three projects in north-eastern Australia: a rainforest reforesting project using a variety of native trees, a mixed species plantation, and a monoculture plantation of conifers.


A total ban on primary forest logging needed to save the world, an interview with activist Glen Barry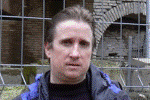 (06/02/2010) Radical, controversial, ahead-of-his-time, brilliant, or extremist: call Dr. Glen Barry, the head of Ecological Internet, what you will, but there is no question that his environmental advocacy group has achieved major successes in the past years, even if many of these are below the radar of big conservation groups and mainstream media. "We tend to be a little different than many organizations in that we do take a deep ecology, or biocentric approach," Barry says of the organization he heads. "[Ecological Internet] is very, very concerned about the state of the planet. It is my analysis that we have passed the carrying capacity of the Earth, that in several matters we have crossed different ecosystem tipping points or are near doing so. And we really act with more urgency, and more ecological science, than I think the average campaign organization."


Where do forest carbon markets go from here?

(04/20/2010) For thousands of years, we have been planting and growing trees without difficulty. It's simple, and forest carbon business strategy can be, too. In fact, it's core to what I'm trying to teach the MBA/MS students in my course at the Erb Institute this semester: If the world's best available technology for removing carbon dioxide from the atmosphere is employing the natural photosynthetic capacity of natural forest management, we can too.


James Hansen says Copenhagen approach "fundamentally wrong" would be better to "reassess"

(12/03/2009) James Hansen, one of the world's foremost climatologists, told the Guardian today that he believes the Copenhagen talks are flawed to the point where failure of the talks may be the best way forward. "The approach that is being talked about is so fundamentally wrong that it would be better to reassess," Hansen said.


Deforestation emissions should be shared between producer and consumer, argues study


(11/19/2009) Under the Kyoto Protocol the nation that produces carbon emission takes responsibility for them, but what about when the country is producing carbon-intensive goods for consumer demand beyond its borders? For example while China is now the world's highest carbon emitter, 50 percent of its growth over the last year was due to producing goods for wealthy countries like the EU and the United States which have, in a sense, outsourced their manufacturing emissions to China. A new study in Environmental Research Letters presents a possible model for making certain that both producer and consumer share responsibility for emissions in an area so far neglected by studies of this kind: deforestation and land-use change.


Will Ecuador's plan to raise money for not drilling oil in the Amazon succeed?

(10/27/2009) Ecuador's Yasuni National Park is full of wealth: it is one of the richest places on earth in terms of biodiversity; it is home to the indigenous Waorani people, as well as several uncontacted tribes; and the park's forest and soil provides a massive carbon sink. However, Yasuni National Park also sits on wealth of a different kind: one billion barrels of oil remain locked under the pristine rainforest.


Logged forests support biodiversity after 15 years of rehabilitation, but not if turned into plantations

(10/21/2009) With the world facing global warming and a biodiversity crisis, a new study shows that within 15 years logged forests—considered by many to be 'degraded'—can be managed in order to successfully fight both climate change and extinction.


Business and conservation groups team up to conserve and better manage US's southern forests

(10/15/2009) A new project entitled Carbon Canopy brings together multiple stakeholders—from big business to conservation organizations to private landowners—in order to protect and better manage the United State's southern forests. The program intends to employ the emerging US forest carbon market to pay private forest owners for conservation and restoration efforts while making certain that all forest-use practices subscribes to the standards of the Forest Stewardship Council (FSC).


Private U.S. landowners may qualify for carbon payments under proposed legislation

(10/07/2009) Have you ever found yourself wondering what your backyard is worth in carbon? It may seem like a silly question – especially when deforestation in rainforest nations with millions of acres of tropical forest are spewing more CO2 into the atmosphere than any single industry – but small-scale deforestation in the developed world adds up. Now, eight US Senators, who have sponsored a bipartisan bill in the United States to supplement the American Clean Energy and Security Act, aim to prove that small-scale forest projects are nothing to sneeze at.


Innovative reforestation project threatened by 'regime change' in Madagascar, an interview with Rainer Dolch


(09/16/2009) In Madagascar the TAMS Program (Tetik'asa Mampody Savoka, meaning "the project to bring back the forest") is under threat due to the new government's unwillingness to provide funding. The current government, after gaining power in a coup this year, has frozen all funds slated for the project and has yet to sign a carbon credit agreement with the World Bank which would bring much needed funding. "It remains to be seen if the recognition or not of Madagascar's transitional Government will lead to signing the contract with the World Bank in the near future. This is of course essential for the continuity of the project and its future," Rainer Dolch told Monagaby.com in an interview.


Are we on the brink of saving rainforests?


(07/22/2009) Until now saving rainforests seemed like an impossible mission. But the world is now warming to the idea that a proposed solution to help address climate change could offer a new way to unlock the value of forest without cutting it down.Deep in the Brazilian Amazon, members of the Surui tribe are developing a scheme that will reward them for protecting their rainforest home from encroachment by ranchers and illegal loggers. The project, initiated by the Surui themselves, will bring jobs as park guards and deliver health clinics, computers, and schools that will help youths retain traditional knowledge and cultural ties to the forest. Surprisingly, the states of California, Wisconsin and Illinois may finance the endeavor as part of their climate change mitigation programs.


Green groups, corporations call for forest conservation to counter global warming


(05/20/2009) A group of leading U.S. businesses and environmental groups today formed a coalition calling for the inclusion of forest conservation in domestic cap-and-trade legislation. The pact endorses policies that would allow companies to receive credit for reducing emissions by financing activities that protect forests in tropical countries. It also calls for five percent of proceeds from the auctioning of greenhouse gas emissions allowances under a cap-and-trade system to go towards funding forest conservation projects.


Voluntary carbon markets double in 2008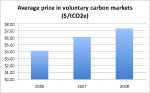 (05/20/2009) Voluntary carbon markets greatly expanded in both transaction volume and value in 2008, providing critical funds for projects aiming to reduce greenhouse gas emissions, according to a new report from Ecosystem Marketplace and New Carbon Finance. Fortifying the Foundation: State of the Voluntary Carbon Markets 2009 — a survey of over 190 voluntary carbon credit retailers, brokers, accounting registries, and exchanges — found that voluntary carbon markets transacted 123 million metric tons of carbon credits valued at $705 million in 2008, up from 65 million tons of credits valued at $331 million in 2007.


Congo biochar initiative will reduce poverty, protect forests, slow climate change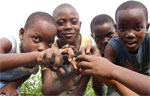 (05/19/2009) An initiative using soil carbon enrichment techniques to boost agricultural yields, alleviate poverty, and protect endangered forests in Central Africa was today selected as one of six projects to win funding under the Congo Basin Forest Fund (CBFF). The scientific committee of the CBFF awarded Belgium's Biochar Fund and its Congolese partner ADAPEL €300,000 to implement its biochar concept in 10 villages in the Equateur Province of the Democratic Republic of Congo. The approach improves the fertility of soils through the introduction of "biochar" — charcoal produced from the burning of agricultural residues and waste biomass under reduced oxygen conditions — thereby increasing crop yields and reducing the need to clear forest for slash-and-burn agriculture.


Rainforest conservation gains in U.S. and U.N. climate proposals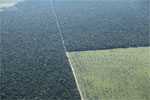 (04/14/2009) A proposed mechanism for reducing emissions from deforestation and degradation (REDD) figures prominently in the draft climate bill released last month by Congressmen Henry Waxman and Ed Markey as well as a U.N. document posted last week following a climate meeting in Bonn, Germany. Deforestation is the source of roughly 20 percent of greenhouse gas emissions from human activities.


Over 90 percent of Americans support action on climate change in midst of financial crisis

(03/19/2009) A new poll released today by Yale and George Mason Universities finds that Americans overwhelmingly—92 percent—support action to reduce global warming. However opinions vary as to how much effort should be put into reducing CO2 emissions and what actions are appropriate.


Carbon market surges 84% in 2008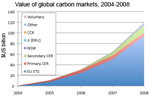 (02/12/2009) The value of the global carbon market surged 84 percent to $118 billion in 2008 despite the worldwide financial crisis, reports New Carbon Finance. Data from the market research firm shows that transaction volume for carbon dioxide emissions allowances reached four billion tons for the year, an increase of 42 percent over 2007.


Guidelines on how to establish an avoided deforestation project

(01/22/2009) Deforestation presently accounts for nearly 20 percent of anthropogenic greenhouse gas emissions — a share larger than that from the global transportation sector. Given this contribution, reducing deforestation is widely seen as a key component in plans to slow climate change and a number of proposals to include forestry in a post-Kyoto climate agreement are presently on the table. Anticipating the emergence of a market for forest carbon as a result of this framework, 'avoided deforestation' projects are already sprouting up in tropical countries around the world. Supporters say these initiatives offer the potential to protect forests and biodiversity while simultaneously delivering benefits to rural communities that have so far been lost out while their natural resources have been plundered by developers. While avoided deforestation seems to offers great promise, developing a project that meets still emerging standards is a complex and costly endeavor. A new book, published in five languages, seeks to untangle the forest carbon market and thereby facilitate new avoided deforestation projects.


Biochar and its Role in Mitigating Climate Change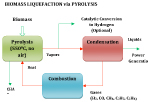 (12/17/2008) The growing concerns about climate change have brought biochar, a charcoal produced from biomass combustion, into limelight. Biochar is a carbon-rich, fine-grained residue which can be produced either by ancient techniques (such as covering burning biomass with soil and allowing it to smolder) or state-of-the-art modern pyrolysis processes. Combustion and decomposition of woody biomass and agricultural residues results in the emission of a large amount of carbon dioxide. Biochar can store this CO2 in the soil leading to reduction in GHGs emission and enhancement of soil fertility. Biochar holds the promise to tackle chronic human development issues like hunger and food insecurity, low agricultural productivity and soil depletion, deforestation and biodiversity loss, energy poverty, air pollution and climate change. Thus, biochar could make a difference in the energy-starved countries of Asia, Africa and Latin America as well as the industrialized world with its vast array of benefits.


Clean Development Mechanism - An Important Tool to Reduce GHG Emissions

(10/26/2008) The Clean Development Mechanism (CDM), is a mechanism under the Kyoto Protocol for promoting technology transfer and investment from industrialized countries to the developing world for projects focussed on mitigating emissions of greenhouse gases. It provides for industrialized countries to invest in emission-reducing projects in developing countries and to use the resulting Certified Emissions Reductions (CER) credits towards their own compliance with the emission limitation targets set forth by the Kyoto Protocol.


Prince Charles says hedge funds could save rainforests

(09/11/2008) Prince Charles renewed his call to protect rainforests for the services they provide humanity. Speaking Wednesday at a black-tie dinner in London, Charles compared the need to protect forests to fighting a war.


Old growth forests are giant carbon sinks, helping offset emissions

(09/11/2008) Old growth forests are important carbon sinks that help global warming, reports a study published in the journal Nature. The results run counter to claims by the forestry industry that old growth forests are carbon neutral or even net emitters of carbon dioxide.


Palm oil producers in Indonesia reject moratorium on forest destruction

(08/28/2008) Palm oil companies operating in Indonesia have rejected a proposed moratorium on clearing forests and peatlands for oil palm plantations, reports the Jakarta Post.


Biofuels 200 times more expensive than forest conservation for global warming mitigation

(08/27/2008) The British government should end subsidies for biofuels and instead use the funds to slow destruction of rainforests and tropical peatlands argues a new report issued by a U.K.-based think tank. The study, titled "The Root of the Matter" and published by Policy Exchange, says that "avoided deforestation" would be a more cost-effective way to address climate change, since land use change generates more emissions than the entire global transport sector and offers ancillary benefits including important ecosystem services.


Markets could save rainforests: an interview with Andrew Mitchell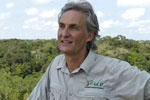 (08/17/2008) Markets may soon value rainforests as living entities rather than for just the commodities produced when they are cut down, said a tropical forest researcher speaking in June at a conservation biology conference in the South American country of Suriname. Andrew Mitchell, founder and director of the London-based Global Canopy Program (GCP), said he is encouraged by signs that investors are beginning to look at the value of services afforded by healthy forests.


Investors seek profit from conserving rainforest biodiversity

(08/13/2008) An investment firm has launched the first tropical biodiversity credits scheme. New Forests, a Sydney, Australia-based company, has established the Malua Wildlife Habitat Conservation Bank in Malaysia as an attempt to monetize rainforest conservation. The "Malua BioBank" will use an investment from a private equity fund to restore and protect 34,000 hectares (80,000 acres) of formerly logged forest that serves as a buffer between biologically-rich forest reserve and a sea of oil palm plantations. The conservation effort will generate "Biodiversity Conservation Certificates", the sales of which will endow a perpetual conservation trust and produce a return on investment for the Sabah Government and the private equity fund.


Carbon tax will ease transition to sensible climate policy

(08/13/2008) The management of carbon dioxide and the climate represent both an economic development challenge and the ecological problem of the next hundred years. Energy use, economic success and carbon dioxide emissions are, currently, intertwined. A carbon market that represents the true cost of energy and the disposal of our waste products in the environment is a potential long-term policy mechanism for carbon dioxide management. However, the strong interconnection between carbon dioxide emissions and economic success distinguishes the carbon market from other environmental markets used to control pollution. Therefore evolution to that solution is not straightforward; there are a series of necessary steps needed to develop a market.


"Turtle carbon" could help protect rainforests and save endangered sea turtles

(08/12/2008) Using carbon credits to promote rainforest conservation could help protect endangered sea turtles in some parts of the world, argues a carbon finance expert.


Private equity firm to sell biodiversity offsets from rainforest conservation

(08/06/2008) An investment firm has launched the first tropical biodiversity credits scheme. New Forests, an Australia-based company, has established the Malua Wildlife Habitat Conservation Bank in an attempt to monetize rainforest conservation. The "Malua BioBank" will use an investment from a private equity fund to restore and protect 34,000 hectares (80,000 acres) of formerly logged forest that serves as a buffer between biologically-rich forest reserve and a sea of oil palm plantations.


Dell becomes carbon neutral by saving endangered lemurs

(08/06/2008) Dell, the world's largest computer maker, announced it has become the first major technology company to achieve carbon neutrality.


New plan would pay tropical countries for saving forests, regardless of level of threat

(07/24/2008) Deforestation and forest degradation account for around a fifth of global carbon emissions from human activities, but new policy measures are focusing reducing such emissions as a cost-effective way to fight global warming. While the concept — known as REDD for "Reducing Emissions from Deforestation and Degradation" — has found wide support from politicians, scientists, and environmentalists, there are lingering concerns over how to compensate countries that have extensive forest cover and low rates of annual forest loss, since payments are based on historical deforestation rates. A new proposal seeks to get around this issue by factoring in all the terrestrial carbon in a tropical landscape — regardless of level of threat it faces — and packaging it as a tradable commodity.


Rainforest conservation could offset 500m tons of CO2 emissions at $2/ton

(07/24/2008) Industrialized nations could collectively offset 500 million tons carbon of dioxide emissions at roughly $2 per ton by protecting tropical rainforests, according to estimates published in the online edition of Proceedings of the National Academy of Sciences.


14 countries win REDD funding to protect tropical forests

(07/24/2008) Fourteen countries have been selected by the World Bank to receive funds for conserving their tropical forests under an innovative carbon finance scheme.


Rainforest peoples form alliance to demand payments for forest carbon credits

(04/07/2008) Rainforest peoples from 11 nations have formed a coalition to demand a greater say in future climate negotiations.


Why Europe torpedoed the REDD forests-for-carbon credits initiative

(03/05/2008) Reducing emissions from deforestation and forest degradation (REDD) has been widely lauded as a mechanism that could fund forest conservation and poverty alleviation efforts while fighting climate change. At the December U.N. climate meeting in Bali, delegates agreed to include REDD in future discussions on a new global warming treaty — a move that could eventually lead to the transfer of billions of dollars from industrialized countries to tropical nations for the purpose of slowing greenhouse gas emissions by reducing deforestation rates. conservationists and scientists applauded the decision.


Brazil seeks $1B/yr in donations to save the Amazon

(02/23/2008) Brazil will establish a donation-based fund to help finance conservation in the Amazon, according to Bloomberg. The announcement comes after deforestation rates spiked during the last five months of 2007.



Page 1 | Page 2