News articles on captive breeding

---
Mongabay.com news articles on captive breeding in blog format. Updated regularly.






Photos: new zoo exhibit dramatically displays real threat to Asian turtle

(05/04/2015) Usually animal pens in zoos are designed to resemble a species' native habitat: lions in sprawling savanna, pandas in bamboo forests, and crocodiles in mangroves. But a new pen at the Zoological Society of London (ZSL)'s London Zoo is meant to dramatically highlight not a species' habitat, but it's biggest threat.
Officials: Sumatran rhino is extinct in the wild in Sabah
(04/23/2015) There are no Sumatran rhinos left in the wild in the Malaysian state of Sabah, confirmed Masidi Manjun, the Tourism, Culture and Envi­ronment Minister, over the weekend. In 2008, conservationists estimated there were around 50 rhinos in the state. Five years later, it dropped that estimate to just ten. Now, it's admitted the awful truth: the wild rhino is very likely gone.
Is captive breeding the final resort for the Sumatran rhino?
(12/03/2014) Nearing extinction, the Sumatran rhino is running out of options. A native of Indonesia and Malaysia, the Sumatran rhino has declined in the past 30 years from an estimated 800 individuals to no more than 75 remaining today. So far there have been three ad hoc meetings held in 1984, 1993, and 2013, each attempting to develop policies that would potentially save this critical species.
Riddled with tumors: another blow to the Sumatran rhino species
(04/14/2014) Conservation for Sumatran rhinos suffered another blow last week, only days after Suci—one of only ten rhinos in captive breeding efforts—died at Cincinnati Zoo. Scientists in the Malaysian state of Sabah revealed that a newly captured female, Iman, suffers from an assortment of tumors in her uterus, hugely complicating reproduction efforts.
Meet Iman: the Sumatran rhino's newest hope for survival
(03/24/2014) Hopes for one of the world's most imperiled megafauna rose this month when wildlife conservationists succeeded in catching a female Sumatran rhino named Iman in the Malaysian state of Sabah. The female, which experts believe to be fertile, has since been successfully transferred via helicopter to the Borneo Rhino Sanctuary where experts plan to mate her with the local male, Tam. Located in Tabin Wildlife Reserve, the Borneo Rhino Sanctuary is an uncompleted semi-wild enclosure and home to one of several last-ditch efforts to save the vanishing species from extinction.
Conservationists catch wild Sumatran rhino, raising hope for world's most endangered rhinoceros
(03/12/2014) Conservationists have succeeded in catching a wild Sumatran rhino in the Malaysia state of Sabah in Borneo, according to local media reports. Officials are currently transferring the rhino, an unnamed female, to a rhino sanctuary in Tabin National Park where experts will attempt to mate it with the resident male, Tam. The Sumatran rhino (Dicerorhinus sumatrensis) is one of the world's most imperiled species with less than 100 individuals left.
Requiem or recovery?: the Sumatran rhino 200 years after its description
(01/08/2014) In 1893, William Bell, a surgeon in the service of the Dutch East India Company stationed in Bencoolen, Sumatra, examined the body of a dead rhinoceros. The animal, a male, was relatively small as rhinoceroses go, measuring only four feet four inches at the shoulder and eight feet five inches from its nose to the tip of its tail. Dr. Bell noted that the animal resembled a large hog and judged it to be a young individual based upon the condition of the bones and teeth.
Journalists win environmental news reporting prizes
(12/10/2013) Mongabay's internship program has benefited from the hard work and great environmental reporting of more than 30 writing interns since the program's inception in July 2012. This year, Mongabay asked this pool of contributing authors to submit their most compelling piece out of over 150 articles. The submissions were then reviewed by a panel.
Reversing local extinction: scientists bring the northern bald ibis back to Europe after 300 years
(12/02/2013) The northern bald ibis (Geronticus eremita), also called the hermit ibis or waldrapp, is a migratory bird. Once, the bald ibis lived in the Middle East, northern Africa and southern and central Europe, but due to hunting, loss of habitat and pesticide-use, the birds disappeared from most of these areas and is currently considered Critically Endangered. It became extinct in Europe 300 years ago; the bird is almost gone in Syria, with only a single individual recorded at the country's lone breeding site in 2013; and the only stronghold left is a small population of around 500 birds in Morocco. But now, a team of scientists from Austria is working to reestablish a self-sustaining, migratory population of bald ibis in Europe.
Zoo races to save extreme butterfly from extinction
(08/15/2013) In a large room that used to house aquatic mammals at the Minnesota Zoo, Erik Runquist holds up a vial and says, 'Here are its eggs.' I peer inside and see small specks, pale with a dot of brown at the top; they look like a single grain of cous cous or quinoa. Runquist explains that the brown on the top is the head cap of the larva, a fact that becomes more clear under a microscope when you can see the encased larva squirm. I'm looking at the eggs of a Poweshiek skipperling, a species that is more imperiled than pandas, tigers, or bluewhales. Once superabundant, only several hundred Poweshiek skipperlings may survive on Earth today and the eggs I'm looking at are the only ones in captivity.
Syrian bald ibis may be down to a single bird

(06/11/2013) The eastern population of northern bald ibises (Geronticus eremita) has likely fallen to a single breeding bird, reports conservationists monitoring the dwindling flock. The population had believed to be obliterated starting from 1989 until a small group was discovered in 2002 in Syria. However, it now appears that this last group is vanishing one-by-one despite efforts by conservation groups to sustain the distinct population.
The comeback kids: the role of zoos in saving species from oblivion (photos)
(06/03/2013) While many people may view zoos first and foremost as attractions, these institutions have a long history of supporting and instigating conservation work, including saving species from extinction that have vanished from their wild habitat. But such efforts require not just dedication and patience, but herculean organizational efforts. Enter, the World Association of Zoos and Aquariums (WAZA), which works with zoos and aquariums to set up conservation programs and track endangered species in captivity.
World's rarest duck on the rebound in Madagascar
(05/01/2013) After a final sighting in 1991, the Madagascar pochard was thought to have vanished for good. But this diving duck was rediscovered in 2006 when a flock of 22 individuals was found on Lake Matsaborimena in northern Madagascar by conservationists during an expedition. Soon after Madagascar pochard eggs were taken and incubated in a joint captive breeding program by Durrell, the Wildfowl & Wetlands Trust (WWT), the Peregrine Fund, Asity Madagascar, and Madagascar government, which recently announced that the population—both captive and wild—has nearly quadrupled.
Sumatran rhino population plunges, down to 100 animals

(04/08/2013) Less than 100 Sumatran rhinos survive in the world today, according to a bleak new population estimate by experts. The last survey in 2008 estimated that around 250 Sumatran rhinos survived, but that estimate now appears optimistic and has been slashed by 60 percent. However conservationists are responding with a major new agreement between the Indonesian and Malaysian governments at a recent summit by the International Union for Conservation of Nature's Species Survival Commission (IUCN SSC).
Sumatran rhino found in Kalimantan after unseen in region for 20 years

(04/02/2013) Conservationists working to save the Sumatran rhino—one of the world's most imperiled mammals—heard good news this week as WWF-Indonesia has found evidence of at least one Sumatran rhino persisting in the Indonesian state of Kalimantan, located on the island of Borneo. Small populations of Sumatran rhinos (Dicerorhinus sumatrensis) survive on Sumatra and on Borneo (in the Malaysian state of Sabah), but this is the first time scientists have confirmed the presence of the notoriously shy animal in Kalimantan in over two decades.
Forging zoos into global conservation centers, an interview with Cristian Samper, head of WCS
(03/25/2013) The Wildlife Conservation Society (WCS) is one of the world's leading environmental organizations. Founded in 1895 (originally as the New York Zoological Society), the WCS manages 200 million acres of wild places around the globe, with over 500 field conservation projects in 65 countries, and 200 scientists on staff. The WCS also runs five facilities in New York City: the Central Park Zoo, the New York Aquarium, Prospect Park and Queens Zoos, and the world renowned Bronx Zoo.
Scientists successfully freeze Barbary sheep embryos for conservation purposes

(03/18/2013) The Barbary sheep (Ammotragus lervia), or aoudad, is a goat-antelope found in northern Africa. It is currently listed as Vulnerable by the IUCN Red List, with populations imperiled by hunting, habitat loss, and competition with livestock. Still little is known about its remaining population, prompting scientists in Mexico to test possible assisted reproduction of captive individuals.
Chinese government creating secret demand for tiger trade alleges NGO (warning: graphic images)
(02/26/2013) The number of tigers being captive bred in China for consumption exceed those surviving in the wild—across 13 countries—by over a third, according to a new report by the Environmental Investigation Agency (EIA). The report, Hidden in Plain Sight, alleges that while the Chinese government has been taking a tough stance on tiger conservation abroad, at home it has been secretly creating demand for the internationally-banned trade. Few animals in the world have garnered as much conservation attention at the tiger (Panthera tigirs), including an international summit in 2010 that raised hundreds of millions of dollars for the vanishing wild cats.
Pity the pangolin: little-known mammal most common victim of the wildlife trade
(02/11/2013) Last year tens-of-thousands of elephants and hundreds of rhinos were butchered to feed the growing appetite of the illegal wildlife trade. This black market, largely centered in East Asia, also devoured tigers, sharks, leopards, turtles, snakes, and hundreds of other animals. Estimated at $19 billion annually, the booming trade has periodically captured global media attention, even receiving a high-profile speech by U.S. Secretary of State, Hillary Clinton, last year. But the biggest mammal victim of the wildlife trade is not elephants, rhinos, or tigers, but an animal that receives little notice and even less press: the pangolin. If that name doesn't ring a bell, you're not alone.
Geneticists discover distinct lion group in squalid conditions
(02/04/2013) They languished behind bars in squalid conditions, their very survival in jeopardy. Outside, an international team of advocates strove to bring worldwide attention to their plight. With modern genetics, the experts sought to prove what they had long believed: that these individuals were special. Like other cases of individuals waiting for rescue from a life of deprivation behind bars, the fate of those held captive might be dramatically altered with the application of genetic science to answer questions of debated identity. Now recent DNA analysis has made it official: this group is special and because of their scientifically confirmed distinctiveness they will soon enjoy greater freedom.
New Guinea singing dog photographed in the wild for the first time

(12/03/2012) A rarely seen canine has been photographed in the wild, likely for the first time. Tom Hewitt, director of Adventure Alternative Borneo, photographed the New Guinea singing dog during a 12-day expedition up a remote mountain in Indonesian Papua. Very closely related to the Australian dingo, the New Guinea singing dog, so named for its unique vocalizations, has become hugely threatened by hybridization with domesticated dogs.
Artificial 'misting system' allows vanished toad to be released back into the wild
(11/01/2012) In 1996 scientists discovered a new species of dwarf toad: the Kihansi spray toad (Nectophrynoides asperginis). Although surviving on only two hectares near the Kihansi Gorge in Tanzania, the toads proved populous: around 17,000 individuals crowded the smallest known habitat of any vertebrate, living happily off the moist micro-habitat created by spray from adjacent waterfalls. Eight years later and the Kihansi spray toad was gone. Disease combined with the construction of a hydroelectric dam ended the toads' limited, but fecund, reign.
Animal picture of the day: Critically Endangered macaws

(08/23/2012) Found in only one location in northern Bolivia, the blue-throated macaw (Ara glaucogularis) is thought to number little more than 100 individuals in the wild. However the species is protected from utter extinction by a much larger captive population.
Featured video: a Sumatran rhino love story

(08/21/2012) Efforts to save the Sumatran rhino in Borneo have sped up ever since the capture of Puntung last Christmas. A female rhino, who lost one foot to a snare, Puntung represents the first viable mate for Tam, a male rhino who has been kept in a large rainforest enclosure since his rescue in an oil plantation in 2008. Now a new video hopes to garner some publicity for the new couple, who may represent the best chance for the continued survival of Sumatran rhinos on Borneo.
Animal pictures of the day: booming captive breeding for Mauritius skinks

(08/14/2012) Three female orange-tailed skinks skinks have produced 16 skink babies in just four months, according to the Durrell Wildlife Conservation Trust (DWCT), which is captive breeding the Critically Endangered species. The breeding efforts are all the more remarkable since the females only produce two eggs at a time.
Solomon Islands' export of 'captive-bred' birds deemed to be a farce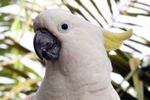 (08/14/2012) Over 68,000 birds listed on CITES (Convention on International Trade in Endangered Species of Wild Fauna and Flora) were exported from the Solomon Islands during 2000-2010 according to a recent report by wildlife-monitoring NGO, TRAFFIC. Although the majority of birds were listed as 'captive-bred,' the report raises the question of whether these species were not in fact taken from the wild.
Cute animal picture of the day: baby bamboo lemur

(07/16/2012) Greater bamboo lemurs (Prolemur simus) are one of over a hundred lemur species found only on the island of Madagascar. Listed as Critically Endangered, there are only around 500 individuals known in the wild, making them one of the world's most imperiled primate species. A new baby was recently born in captivity in the UK's Port Lympne Wild Animal Park.
Historic birth for the Sumatran rhino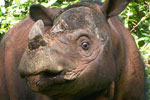 (06/24/2012) After two miscarriages and a pregnancy that lasted 15 months, Ratu, a female Sumatra rhino, has given birth to a healthy male calf, conservationists happily announced this weekend. The birth at a rhino sanctuary in Way Kambas National Park in Sumatra is the culmination of years of hard work, dedication, and the best reproductive rhino science in the world. This is the first captive birth in Indonesia, and only the fourth captive birth for the Sumatran rhino (Dicerorhinus sumatrensis) in the last hundred years. The successful birth brings new hope for one of the world's rarest mammals: less than 200 Sumatra rhinos are thought to survive in the world.
Island bat goes extinct after Australian officials hesitate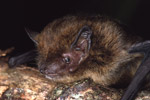 (05/23/2012) Nights on Christmas Island in the Indian Ocean will never again be the same. The last echolocation call of a tiny bat native to the island, the Christmas Island pipistrelle (Pipistrellus murrayi), was recorded on August 26th 2009, and since then there has been only silence. Perhaps even more alarming is that nothing was done to save the species. According to a new paper in Conservation Letters the bat was lost to extinction while Australian government officials equivocated and delayed action even though they were warned repeatedly that the situation was dire. The Christmas Island pipistrelle is the first mammal to be confirmed extinct in Australia in 50 years.
Hail Mary effort aims to save the world's most endangered turtles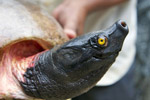 (04/17/2012) The Wildlife Conservation Society (WCS) has pledged to work with all of its institutions to save at least half of the world's most 25 endangered turtles as listed in a report by WCS and the Turtle Conservation Coalition last year. The program will include both conservation work in the field as well as participation from WCS's zoological institutions for captive breeding and future reintroductions. Even with WCS's ambitious program, however, it is likely this century will see a number of turtle extinctions.
How a crippled rhino may save a species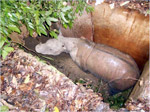 (04/09/2012) On December 18th, 2011, a female Sumatran rhino took a sudden plunge. Falling into a manmade pit trap, the rhino may have feared momentarily that her end had come, but vegetation cushioned her fall and the men that found her were keen on saving her, not killing her. Little did she know that conservationists had monitored her since 2006, and for her trappers this moment had been the culmination of years of planning and hope. A few days later she was being airlifted by helicopter to a new home. Puntung, as she has become called, was about to enter a new chapter in her life, one that hopefully will bring about a happy ending for her species.
Sumatran rhino pregnant: conservationists hope third time's the charm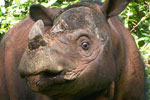 (02/07/2012) Ratu, a female Sumatra rhino (Dicerorhinus sumatrensis), is in the eleventh month of her third pregnancy raising hopes for a successful birth of one of the world's most imperiled big mammals. Ratu suffered two prior miscarriages, but researchers believe the current pregnancy—which still has four to five months to go (for a total term of around 15-16 months)—could produce what Indonesian officials have long hoped for: a bundle of joy at the Sumatran Rhino Sanctuary in Sumatra. With only around 200 Sumatran rhinos surviving today in Indonesia and Bornean Malaysia, many conservationists see such breeding efforts as the last and best chance to save the Critically Endangered species from extinction.