News articles on brazil

---
Mongabay.com news articles on brazil in blog format. Updated regularly.





May in review: Jump in Amazon deforestation and murders, Indonesia's 'moratorium'

(06/01/2011) A review of mongabay.com's May 2011 stories.


New record in global carbon emissions 'another wake-up call'

(05/31/2011) Global carbon emissions hit a new high last year proving once again that international political efforts, hampered by bickering, the blame-game, and tepidity, are failing to drive down the greenhouse gas emissions that are causing the planet to heat up. According to the International Energy Agency (IEA), following a slight fall in carbon dioxide emissions due to the economic downturn, emissions again rose to a new record level in 2010: 30.6 gigatons. This is a full 5 percent higher than the past record hit in 2008. The new record puts greater doubt on the international pledge of limiting the global average temperature rise to 2 degrees Celsius.


New global carbon map for 2.5 billion ha of forests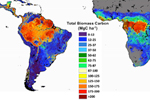 (05/31/2011) Tropical forests across Latin America, Africa, and Southeast Asia stored 247 gigatons of carbon — more than 30 years' worth of current emissions from fossil fuels use — in the early 2000s, according to a comprehensive assessment of the world's carbon stocks. The research, published in the journal Proceedings of the National Academy of Sciences by an international team of scientists, used data from 4,079 plot sites around the world and satellite-based measurements to estimate that forests store 193 billion tons of carbon in their vegetation and 54 billion tons in their roots structure. The study has produced a carbon map for 2.5 billion ha (6.2 billion acres) of forests.


Assassinations of environmentalists continue in Brazil's Amazon, deforestation rises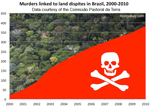 (05/28/2011) A community leader in the Brazilian Amazon was slain Friday just three days after two environmentalists were killed in a neighboring state, reports Reuters. Adelino "Dinho" Ramos, the president of the Movimento Camponeses Corumbiara e da Associação dos Camponeses do Amazonas, a small farmers association, was gunned down front of his family Friday morning in Rondônia. Brazil's Special Secretariat for Human Rights, an office of the president, said it was unclear who killed Ramos, who had received death threats from loggers.


Destruction of Brazil's most endangered forest, the Mata Atlantica, slows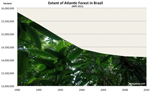 (05/27/2011) Deforestation of Brazil's most threatened forest ecosystem dropped substantially during the 2008-2010 period according to new data released by Brazil's National Institute for Space Research (INPE) and Fundação SOS Mata Atlântica. Analysis of satellite images across 16 of the 17 states the Atlantic Forest spans found that 312 square kilometers of forest was cleared between 2008 and 2010, down from 1,029 square kilometers between 2005 and 2008. Deforestation was concentrated in the states of Minas Gerais, Bahia, Santa Catarina and Parana.


Amnesty for illegal rainforest loggers moves forward in Brazil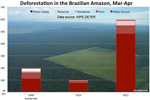 (05/25/2011) A controversial bill environmentalists say could increase deforestation in the Amazon rainforest moved a step forward to becoming law in Brazil after winning approval in Brazil's lower house of Congress. The measure, which has been hotly debated for months, next goes to the Senate where it is expected to pass, before heading to President Dilma Rousseff, who has vowed to veto any bill that grants amnesty for illegal deforestation. The bill includes such a measure, although it could be subject to change before a final decision by the president. The bill aims to reform Brazil's Forest Code, which requires landowners in the Amazon rainforest to maintain 80 percent of their holdings as forest.


Killing in the name of deforestation: Amazon activist and wife assassinated

(05/24/2011) José Cláudio Ribeiro da Silva and his wife, Maria do Espírito Santo da Silva, were gunned down last night in an ambush near their home in the Brazilian state of Pará. Da Silva was known as a community leader and an outspoken critic of deforestation in the region. Police believe the da Silvas were killed by hired assassins because both victims had an ear cut off, which is a common token for hired gunmen to prove their victims had been slain, according to local police investigator, Marcos Augusto Cruz, who spoke to Al Jazeera. Suspicion immediately fell on illegal loggers linked to the charcoal trade that supplies pig iron smelters in the region.


Authorities launch stealth operation in Amazon after satellite images reveal deforestation

(05/24/2011) Brazil's environmental enforcement agency busted an illegal logging ring following analysis of satellite imagery, reports Globo.


10 former environment ministers ask Brazil to hold off on Forest Code vote

(05/24/2011) Ten former environment ministers weighed in on Brazil's looming vote on the forest code governing land use in the Amazon rainforest.


Photos: the top ten new species discovered in 2010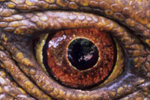 (05/23/2011) If we had to characterize our understanding of life on Earth as either ignorant or knowledgeable, the former would be most correct. In 250 years of rigorous taxonomic work researchers have cataloged nearly two million species, however scientists estimate the total number of species on Earth is at least five million and perhaps up to a hundred million. This means every year thousands of new species are discovered by researchers, and from these thousands, the International Institute for Species Exploration at Arizona State University selects ten especially notable new species.


Brazil's new cabinet-level post in response to surge in deforestation

(05/21/2011) Prompted by a near sixfold increase in Amazon rainforest clearing over the past year, the Brazilian government will form a cabinet post to monitor and respond to deforestation.


Climate change and deforestation pose risk to Amazon rainforest


(05/20/2011) Deforestation and climate change will likely decimate much of the Amazon rainforest, says a new study by Brazil's National Institute for Space Research (INPE) and the UK's Met Office Hadley Centre. Climate change and widespread deforestation is expected to cause warmer and drier conditions overall, reducing the resistance of the rainforest ecosystem to natural and human-caused stressors while increasing the frequency of extreme rainfall events and droughts by the end of this century. While climate models show that higher temperatures resulting from global climate change will threaten the resilience of the Amazon, current deforestation is an immediate concern to the rainforest ecosystem and is likely driving regional changes in climate.


Brazil confirms big jump in Amazon deforestation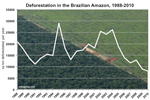 (05/18/2011) New data from the Brazilian government seems to confirm environmentalists' fears that farmers and ranchers are clearing rainforest in anticipation of a weakening of the country's rules governing forest protection. Wednesday, Brazil's National Space Research Agency (INPE) announced a sharp rise in deforestation in March and April relative to the same period last year. INPE's rapid deforestation detection system (DETER) recorded 593 square kilometers of forest clearing during the past two months, a 473 percent increase over the 103.5 sq km chopped down from March-April 2010.


Under pressure from rising deforestation, Brazil's IBAMA establishes 'Zero Deforestation Policy' in the Amazon

(05/17/2011) IBAMA, Brazil's equivalent of the EPA, is suspending 1,300 planned operations for 2011 in order to concentrate on curbing a spike in regional deforestation through a two-pronged strategy of greater institutional presence and reciprocal agreements with local municipal governments. Following a series of meetings in the Amazonian states of Pará, Mato Grosso, and Amazonas between IBAMA and political leaders, landowners, ranchers, and environmentalists, IBAMA announced a "Zero Deforestation Pact" last Wednesday in cooperation with the Federal Public Ministry (Ministério Público Federal). The increased emphasis on Amazonian forest protection follows the release of an IBAMA document obtained by Folha revealing a jump in Amazonian deforestation that the government believes is related to proposed changes to relax the Forest Code, a debate which has given confidence to those deforesting.


Huge surge in Amazon deforestation

(05/17/2011) Analysis by Imazon, a research institute, has confirmed a huge surge in deforestation in a critical part of the Brazilian Amazon.


Information leak: Amazon deforestation increases sharply while forest code debated

(05/16/2011) Deforestation has increased sharply in Mato Grosso over the past nine months according to information leaked to Folha.com.


Is Indonesia losing its most valuable assets?


(05/16/2011) Deep in the rainforests of Malaysian Borneo in the late 1980s, researchers made an incredible discovery: the bark of a species of peat swamp tree yielded an extract with potent anti-HIV activity. An anti-HIV drug made from the compound is now nearing clinical trials. It could be worth hundreds of millions of dollars a year and help improve the lives of millions of people. This story is significant for Indonesia because its forests house a similar species. In fact, Indonesia's forests probably contain many other potentially valuable species, although our understanding of these is poor. Given Indonesia's biological richness — Indonesia has the highest number of plant and animal species of any country on the planet — shouldn't policymakers and businesses be giving priority to protecting and understanding rainforests, peatlands, mountains, coral reefs, and mangrove ecosystems, rather than destroying them for commodities?


Brazil's forest code vote delayed again

(05/13/2011) Brazil's vote on a revision forest code has been postponed again.


Brazil's forest code debate may determine fate of the Amazon rainforest

(05/05/2011) Brazil's forest code may be about to get an overhaul. The federal code, which presently requires landowners in the Amazon to keep 80 percent of their land forest (20-35% in the cerrado), is widely flouted, but has been used in recent years as a lever by the government to go after deforesters. For example, the forest code served as the basis for the "blacklists" which restricted funds for municipalities where deforestation has been particularly high. To get off the blacklist, and thereby regain access to finance and markets, a municipality must demonstrate its landowners are in compliance with environmental laws.


NASA image reveals extent of deforestation in western Brazil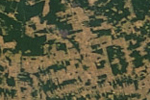 (05/04/2011) The Brazilian state of Rondônia has undergone tremendous change over the past decade as revealed by the NASA's Moderate Resolution Imaging Spectroradiometer (MODIS) on the Terra satellite. A hotspot for recent deforestation, Rondônia was once home to over 50 million acres (208,000 square kilometers of forest). By 2003 nearly a third of the rainforest in the state was gone and deforestation continues although at a slower pace. The state has the dubious honor of undergoing the highest percentage of forest loss in the Brazilian Amazon.


Controversial Brazilian mega-dam receives investment of $1.4 billion

(05/02/2011) Brazil's most controversial mega-dam, Belo Monte, which is moving full steam ahead against massive opposition, has received an extra infusion of cash from Vale, a Brazilian-run mining company.


World's largest beef company signs Amazon rainforest pact


(04/29/2011) The world's largest meat processor has agreed to stop buying beef from ranches associated with slave labor and illegal deforestation in the Brazilian Amazon, according to the public prosecutor's office in the state of Acre. The deal absolves JBS-Friboi from 2 billion reals ($1.3 billion) in potential fines and paves the way for the firm to continue selling meat to companies concerned about their environmental reputation.


Protected areas cover 44% of the Brazilian Amazon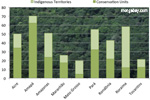 (04/20/2011) Protected areas now cover nearly 44 percent of the Amazon — an area larger than Greenland — but suffer from encroachment and poor management, reports a new study by Imazon and the Instituto Socioambiental (ISA). The report, published in Portuguese, says that by December 2010, protected areas in the Brazilian Amazon amounted to 2,197,485 square kilometers. Conservation units like national parks accounted for just over half the area (50.6 percent), while indigenous territories represented 49.4 percent.


Sugar cane cools climate when it replaces cattle pasture

(04/17/2011) Converting cattle pasture and cropland in Brazil to sugar cane helps cool local climate reports research published in Nature Climate Change.


Brazilian authorities levy $1.2B in fines against beef traders linked to deforestation, slave labor

(04/15/2011) Brazilian authorities are seeking 2 billion reals ($1.2 billion) in fines against 14 companies accused of buying beef sourced from ranches that have illegally cleared Amazon rainforest or exploited workers in the state of Acre, reports AFP.


Conversion of Brazil's cerrado slows

(04/08/2011) Destruction of Brazil's cerrado, a woody savanna that covers 20 percent of the country, slowed during the 2008-2009, reports Brazil's Ministry of Environment.


Major Brazilian banks sued for loans linked to deforestation

(04/03/2011) Brazilian prosecutors have filed suit against the state-run Banco do Brasil and Banco da Amazonia for providing loans to companies that illegally cleared Amazon rainforest and used slave-like labor, reports Reuters.


Amazon still neglected by researchers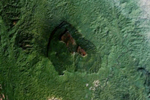 (03/28/2011) Although the Amazon is the world's largest tropical forest, it is not the most well known. Given the difficulty of access along with the fear of disease, dangerous species, indigenous groups, among other perceived perils, this great treasure chest of biology and ecology was practically ignored by scientists for centuries. Over the past few decades that trend has changed, however even today the Amazon remains lesser known than the much smaller, and more secure, tropical forests of Central America. A new study in mongabay.com's open access journal Tropical Conservation Science, which surveyed two prominent international tropical ecology journals (Biotropica and Journal of Tropical Ecology) between 1995 and 2008, finds that Central America was the subject of twice as many studies as the Amazon. In fact, according to the authors, much of the Amazon remains terra incognito to researchers, even as every year more of the rainforest is lost to human impacts.


Bill Clinton takes on Brazil's megadams, James Cameron backs tribal groups

(03/28/2011) Former US President, Bill Clinton, spoke out against Brazil's megadams at the 2nd World Sustainability Forum, which was also attended by former California governor, Arnold Schwarzenegger, and film director, James Cameron, who has been an outspoken critic of the most famous of the controversial dams, the Belo Monte on the Xingu River.


How to save the Pantanal and increase profits for the cattle industry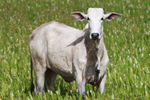 (03/28/2011) The Pantanal spanning Brazil, Bolivia, and Paraguay is the world's largest wetland—the size of Florida—and home to a wide-variety of charismatic species, such as jaguars, capybaras, and giant anteaters. However, the great wetland is threatened by expansion in big agriculture and an increasingly intensive cattle industry. Yet there is hope: a new study by Wildlife Conservation Society of Brazil (WCS-Brazil) researchers has found that cattle and the ecosystem can exist harmoniously. By replacing current practices with rotational grazing, cattle ranchers gain a healthier herd and more profits while safeguarding the ecological integrity and wildlife of the world's largest wetland system. The study published in mongabay.com's open access journal Tropical Conservation Science is a rare instance of a win-win situation.


Amazon deforestation flat since last year

(03/23/2011) Deforestation in the Brazilian Amazon is roughly flat for the 7 months ended February 28 relative to the same period last year, reports Imazon, a Brazil-based NGO.


Top forest policies recognized

(03/23/2011) 19 forest policies have been nominated for an award by the World Future Council, a global think tank.


Critically endangered capuchins make tools to gather termites

(03/10/2011) Less than 200 blond capuchins (Cebus falvius) survive in the highly-fragmented habitat of Brazil's Atlantic Forest. But this tiny group of monkeys, only rediscovered in 2006, is surprising scientists with its adept tool-using abilities. Displaying similar behavior to that which made the chimpanzees of Gombe famous worldwide, the blond capuchins modify sticks to gather termites from trees; however, according to the study published in Biology Letters the blond capuchins use two techniques never witnessed before: twisting the stick when inside the termite nest and tapping the nest before inserting the stick.


Deforestation gives some Brazil beef a big carbon footprint

(03/08/2011) Extensive deforestation for low-yielding cattle production means some Brazilian beef carries a disproportionately high carbon footprint, reports a new study published in Environmental Science & Technology.


Moratorium on Amazon deforestation for soy production proving effective

(03/06/2011) The Brazilian soy industry's moratorium is proving effective at slowing deforestation for soy production in the Amazon rainforest, reveals a new study published in the journal Remote Sensing.


World's most controversial dam, Brazil's Belo Monte, back on

(03/06/2011) A recent injunction against controversial dam, Belo Monte, in Brazil has been overturned, allowing the first phase of construction to go ahead. The ruling by a higher court argued that not all environmental conditions must be met on the dam in order for construction to start.


New species of zombie-creating fungi discovered

(03/02/2011) As everyone knows, human zombies are created when an uninfected human is bitten by a member of the brain-craving undead. But what about ant zombies? Yes, that's right: ant zombies.


Indigenous leaders take fight over Amazon dams to Europe

(03/02/2011) Three indigenous Amazonian leaders spent this week touring Europe to raise awareness about the threat that a number of proposed monster dams pose to their people and the Amazon forest. Culminating in a press conference and protests in London, the international trip hopes to build pressure to stop three current hydroelectric projects, one in Peru, including six dams, and two in Brazil, the Madeira basin industrial complex and the massive Belo Monte dam. The indigenous leaders made the trip with the NGO Rainforest Foundation UK, including support from Amazon Watch, International Rivers, and Rainforest Concern.


Judge suspends Brazil's monster dam: contractor 'imposing' its interests

(02/27/2011) Construction on Brazil's planned mega-dam, the Belo Monte, has been ordered suspended by a federal judge, citing unmet environmental and social conditions. Just last month, the hugely controversial dam, was handed a partial license from Brazil's Environmental Agency (IBAMA). However, the judge, Ronaldo Destêrro, found that the partial license, the first of its kind in Brazil, was granted under pressure from the dam's contractor, Norte Energia or NESA.


Half a million people sign petition against Belo Monte, Brazilian mega-dam

(02/08/2011) In a protest today in Brasilia, Brazil, indigenous people delivered a petition to authorities signed by 500,000 people calling on them to cancel the controversial Belo Monte dam. They hope the petition, organized by online activist group Avaaz, will help convince Brazil's new president, Dilma Rousseff, to cancel the project. However, actions by Brazil's first female president have pushed the dam forward.


Monitoring deforestation: an interview with Gilberto Camara, head of Brazil's space agency INPE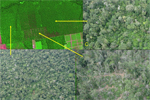 (02/08/2011) Perhaps unsurprisingly, the world's best deforestation tracking system is found in the country with the most rainforest: Brazil. Following international outcry over immense forest loss in the 1980s, Brazil in the 1990s set in motion a plan to develop a satellite-based system for tracking changes in forest cover. In 2003 Brazil made the system available to the world via its web site, providing transparency on an issue that was until then seen as a badge of shame by some. Since then Brazil has become recognized as the standard-bearer for deforestation tracking and reporting—no other country offers the kind of data Brazil provides. Space engineer Gilberto Camara has overseen much of INPE's earth sensing work and during his watch, INPE has released several new exciting capabilities.


Chief financier of Belo Monte dam ties social and environmental requirements to controversial project

(02/04/2011) The Brazilian National Development Bank (BNDES) has announced it will not grant a $640 million loan for the hugely controversial Belo Monte dam until 40 social and environmental conditions are met. In response, the company contracted to build the dam, Norte Energia, S.A. (NESA), has stated it may drop the bank's loan altogether and seek less discriminating private funding to start construction. Last week the Brazilian government's environmental agency IBAMA announced that the dam had been granted a partial license, an aberration in Brazilian law, to jumpstart construction. But BNDES also says it will not hand out the loan until a full license is granted.


Brazilian mining giant buys Amazon palm oil company

(02/03/2011) Vale, a Brazilian mining giant, will buy palm oil producer Biopalma da Amazonia SA Reflorestamento Industria & Comercio, reports Bloomberg.


From Cambodia to California: the world's top 10 most threatened forests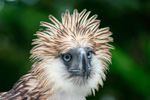 (02/02/2011) Growing populations, expanding agriculture, commodities such as palm oil and paper, logging, urban sprawl, mining, and other human impacts have pushed many of the world's great forests to the brink. Yet scientists, environmentalists, and even some policymakers increasingly warn that forests are worth more standing than felled. They argue that by safeguarding vulnerable biodiversity, sequestering carbon, controlling erosion, and providing fresh water, forests provide services to humanity, not to mention the unquantifiable importance of having wild places in an increasingly human-modified world. Still, the decline of the world's forests continues: the FAO estimating that around 10 million hectares of tropical forest are lost every year. Of course, some of these forests are more imperiled than others, and a new analysis by Conservation International (CI) has catalogued the world's 10 most threatened forests.


Incredible new photos of uncontacted tribe in the Amazon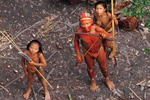 (01/31/2011) Taken by Brazil's Indian Affairs Department and released by indigenous-rights group, Survival International, new aerial photos show an uncontacted tribe on the border of Brazil and Peru in detail. According to a press release by Survival International, the photos "reveal a thriving, healthy community with baskets full of manioc and papaya fresh from their gardens", but a community that is also threatened by illegal loggers from Peru.


The other side of Cancun: progress

(01/30/2011) Two big events happened in Cancun. The first was the Conference of the Parties (COP) which dealt with negotiations on the future of the United Nations Framework Convention on Climate Change (UNFCCC). This is the official COP's annual event. The results were limited considering the urgency and the severity of global climate change. Not many surprises, unfortunately. The other event could be called 'Global Conference on Climate Changes and Sustainable Development.' There were several discussions, symposiums, workshops and meetings which were held in hotels all over Cancun. Formally these events are known as 'side-events' at COP.


Despite fierce opposition, work begins on Belo Monte dam

(01/27/2011) Arguably the most opposed dam project in the world received the go-ahead this week, reports the BBC. Brazil's environmental agency, IBAMA, has approved the first step of the massive hydroelectric project: clearing 588 acres of rainforest in the Amazon, although the dam would flood nearly 200 square miles (500 square kilometers) of forest.


Marathon swimmer: an interview with the first man to swim the length of the Amazon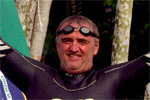 (01/23/2011) Explorers have been making their way down the world's mightiest river for hundreds of years. Untold numbers of people have not completed the journey, drowning in its murky waters, being eaten by animals, losing their way, succumbing to tropical disease, being killed by pirates or hostile local populations. But today a trip down the Amazon is less special—it has even been rafted and kayaked by a few intrepid souls. Traversing the majority of the Amazon can be done easily by commercial boat, provided you have the time and a lot of patience. But then in 2007 a Slovenian did something amazing: he swam the entire length of the river. The adventure took 66 days and exacted a heavy physical and mental toll, but Martin Strel survived and in so doing conveyed a simple, but powerful message to the world: we are part of the our environment.


Brazil's environment chief resigns over controversial Amazon dam

(01/14/2011) The president of Brazil's environmental agency IBAMA has resigned over pressure to grant a license for the Belo Monte dam, a hydroelectric project on the Xingu River that faces strong opposition from environmental groups and indigenous tribes, reports O Globo.


Biopiracy crackdown results in $59M in fines for Brazilian companies, receives mixed reviews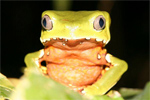 (12/31/2010) The Brazilian government is stepping up anti-"biopiracy" measures and imposing substantial fines on companies which make use of rare plants or animals without giving adequate compensation to Brazil or its indigenous communities. The move attracts criticism by some who believe that it hampers scientific research.



Page 1 | Page 2 | Page 3 | Page 4 | Page 5 | Page 6 | Page 7 | Page 8 | Page 9 | Page 10 | Page 11 | Page 12 | Page 13 | Page 14 | Page 15 | Page 16 | Page 17