News articles on botswana

---
Mongabay.com news articles on botswana in blog format. Updated regularly.








Zebras for the win! Africa's longest land migration discovered
(05/29/2014) With food and water scarce in many parts of Africa, many species migrate long-distances in order to survive. A new study published in the journal, Oryx has found a new record-breaker for the continent's longest tracked terrestrial migration: a huge group of zebras that traveled a total distance of 500 kilometers (300 miles).
Top 10 HAPPY environmental stories of 2013
(12/19/2013) China begins to tackle pollution, carbon emissions: As China's environmental crisis worsens, the government has begun to unveil a series of new initiatives to curb record pollution and cut greenhouse emissions. The world's largest consumer of coal, China's growth in emissions is finally slowing and some experts believe the nation's emissions could peak within the decade. If China's emissions begin to fall, so too could the world's.
22,000 elephants slaughtered for their ivory in 2012

(12/02/2013) As the African Elephant Summit open in Botswana today, conservationists released a new estimate of the number of African elephants lost to the guns of poachers last year: 22,000. Some 15,000 elephants killed in 42 sites across 27 countries on the continent, according to newly released data from the CITES program, Monitoring the Illegal Killing of Elephants (MIKE). But conservationists estimate another 7,000 went unreported. The number killed is a slight decrease over 2011 numbers of 25,000.
Climate change could increase diarrheal disease in Botswana

(10/03/2013) Climate change may increase the incidence of diarrheal disease in Botswana, according to a recent study in the International Journal of Environmental Research and Public Health. "Diarrheal disease is a very important public health problem in Botswana," said lead author Kathleen Alexander, who led a unique 30-year analysis (1974-2003) on the incidence of diarrhea in Botswana. "As a water-restricted country, Botswana is predicted to be heavily impacted by climate change.
Rhinos moved from South Africa to Botswana for safekeeping

(05/23/2013) A private safari company has moved six white rhinos (Ceratotherium simum) from their home in South Africa to Botswana in a bid to save them from an out-of-control poaching crisis in their native land. Currently, around two rhinos are killed everyday in South Africa for their horns, which are then smuggled to East Asia.
Three developing nations move to ban hunting to protect vanishing wildlife
(01/21/2013) Three developing countries have recently toughened hunting regulations believing the changes will better protect vanishing species. Botswana has announced it will ban trophy hunting on public lands beginning in 2014, while Zambia has recently banned any hunting of leopards or lions, both of which are disappearing across Africa. However, the most stringent ban comes from another continent: Costa Rica—often considered one of the "greenest" countries on Earth—has recently passed a law that bans all sport hunting and trapping both inside and outside protected areas. The controversial new law is considered the toughest in the Western Hemisphere.
Picture of the day: the maned lioness

(10/15/2012) The title is not a typo. Sometimes lioness grow manes as rich and large as males, and there appears to be larger proportion of such 'maned lionesses' in Botswana's Okavango Delta.
Mr. Darcy and the Manic Pixie Dream Girl: monkeys display distinct personality types
(10/01/2012) Remember the 'man with no name' played by Clint Eastwood in A Fistful of Dollars, Mr. Darcy in Jane Austen's Pride and Prejudice, or the bubbly cute girl in every romantic comedy from Legally Blonde to Breakfast at Tiffany's? Each of these characters represent an over-the-top type of human personality—loner (man with no name), aloof (Darcy), and nice (the bubbly cute girl)—but a new study in the Proceedings of the National Academy of Sciences (PNAS) finds that it's not only humans that show such distinct types, but baboons as well. Studying 45 female chacma baboons in Botswana's Moremi Game Reserve over seven years, the researchers found that such personality types, unrelated to social statues, helped to determine the animals' overall sociability and the stability of their relationships.
Ten African nations pledge to transform their economies to take nature into account

(06/11/2012) Last month ten African nations, led by Botswana, pledged to incorporate "natural capital" into their economies. Natural capital, which seeks to measure the economic worth of the services provided by ecosystems and biodiversity—for example pollination, clean water, and carbon—is a nascent, but growing, method to curtail environmental damage and ensure more sustainable development. Dubbed the Gaborone Declaration, the pledge was signed by Botswana, Liberia, Namibia, Mozambique, Rwanda, Gabon, Ghana, Kenya, South Africa, and Tanzania following a two day summit.
Animal picture of the day: African wild dog travels 250 miles

(07/22/2011) Scientists have found a male African wild dog that has undergone an epic trip. In April 2010 the male dog was photographed in Save the Valley in eastern Zimbabwe then recently the same animal was photographed in Northern Tuli Game Reserve in Botswana some 250 miles (400 kilometers) apart. This is one of the longest distances ever recorded for an African wild dog.
NASA Photos: beyond Mississippi flood, southern Africa sees record deluges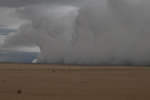 (05/12/2011) While record crests of the Mississippi River are creating havoc in the southern US, this is not the only region in the world facing unprecedented flooding. Huge rain events have produced floods in southern Africa as well, impacting Namibia, Botswana, and South Africa. Since last year rainfall has been above average in much of these regions, including a record deluge this month in Namib Desert, where more rain fell in just one day in than usually does in an entire year.
A lion's story, an interview with the filmmakers of The Last Lions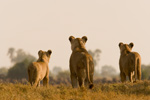 (02/14/2011) The new theatrical film, The Last Lions does not open, as one would expect, with a shot of lions or even an African panorama. Instead the first shot is a view of our planet from space at night. Billions of artificial lights illuminate continent showing just how much humans over the past few thousand years have come to dominate our world. Then comes the lions, but not in person, just in this staggering, and little known, statistic: in the last 50 years we have gone from a population of 450,000 lions to 20,000 today, a 95% decline. While the dramatic story of the The Last Lions follows the perils and tragedies of lion motherhood in one of the world's last untouched places—the Okavango Delta—this statistic hangs over the film, reminding us that the story we are witnessing is on the verge of extinction.
Language and conservation: why words matter
(10/28/2009) The words we choose matter. Benjamin Lee Whorf, an influential American linguist theorized that the language one speaks directly impacts our thoughts; he is quoted as saying, "language shapes the way we think, and determines what we can think about". If this is the case then those who believe in conservation must select their words wisely. My wife and I recently traveled to Africa where we visited wildlife parks in both Zimbabwe and Botswana. The animals we encountered and the scenes we were fortunate enough to witness proved so beautiful and wondrous that I have a difficult time describing them—at least in any way that accurately depicts the experience.
Solar powered conservation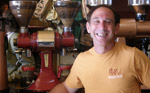 (08/25/2009) Electricity can be a difficult commodity to procure in the remote areas where conservationists often work. Typically field researchers and wildlife rangers rely on gas-powered generators, which require imported fuel, often produce noxious fumes and disruptive noise, and can be costly to maintain. A better option, especially in sun-drenched parts of the world, is solar. Clean and silent, with no need for supplemental fuel, solar seems like an ideal fit for conservation work except for one major drawback: cost. But Stephen Gold – Solar and Technology Manager for Wildlife Conservation Network has been working to overcome that obstacle.
Camping in the Okavango Delta in Botswana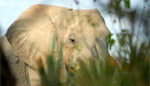 (08/19/2009) The first animal we saw in the Okavango was unmistakable. Although far away, we could easily make it out with its telltale trunk: an African elephant—the world's largest land animal—was striding peaceably through the delta's calm waters. We watched, entranced, from the mokoro, a small boat powered and steered by a local wielding a long pole to push the craft along.
Cheetah population stabilizes in Namibia with support from farmers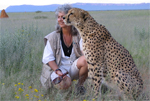 (10/02/2008) Viewing the world's fastest land animal as a threat to their livestock, in the 1980s farmers killed half of Namibia's cheetah population. The trend continued into the early 1990s, when the population was diminished again by nearly half, leaving less than 2,500 cheetah in the southern African country. Today cheetah populations have stabilized due, in large part, to the efforts of the Cheetah Conservation Fund, an organization founded by Dr. Laurie Marker.
Cheetah population declines 90% in 100 years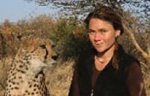 (09/30/2008) The planet's fastest land animal is falling behind in its race for survival against habitat encroachment, loss of prey, the illegal wildlife trade, and disease. Once found widely across the African continent to Kazakhstan in the north to Burma in the East, the cheetah has seen a dramatic reduction of its range and numbers in recent centuries as livestock holders have relentlessly killed off the cat as a threat to their livelihoods. Today the cheetah clings to strongholds in only a few African nations. Among these is the southern African country of Botswana, which harbors large expanses of prime cheetah habitat. Still even in Bostwana, the cheetah faces challenges.
Sale of elephant ivory to Japan approved
(06/03/2007) The Convention on International Trade in Endangered Species (CITES) approved the sale of 60 tons of elephant ivory to Japan prior to the start of a 12-day wildlife conference in The Hague, Netherlands. The agency, which oversees the trade in wildlife products, said that South Africa, Botswana and Namibia can ivory from stocks gathered from elephants that have died naturally. The proceeds will go to a conservation fund.