News articles on birds

---
Mongabay.com news articles on birds in blog format. Updated regularly.





Global warming puts penguins at risk of extinction

(02/11/2008) Climate change could put the long-term survival of sub-Antarctic King Penguins at risk by reducing the availability of prey, reports a new study published in Proceedings of the National Academy of Sciences.


Photo: Palawan peacock pheasant

(02/04/2008) NYC's Fashion Week extravaganza has nothing on some amazing colors that are on the "runway" models at the Wildlife conservation Society's Bronx Zoo headquarters. "Palooka", the Bronx Zoo's male Palawan peacock pheasant is showing off his most brilliant blue feathers this season - a sure ringer for the forecasted fall color line-up.


To reproduce, parasite transforms ant into juicy red berry

(01/17/2008) Scientists have discovered a parasite that transforms the appearance of its host, an ant, into that of a juicy red berry that birds are more likely to eat and disperse into new habitats, reports an article published in The American Naturalist. It is the first example of fruit mimicry caused by a parasite, say the researchers who discovered the parasite, a nematode or roundworm found in the canopy of tropical forests ranging from Central America to the lowland Amazon.


Photo: guira cuckoo couple at the Bronx Zoo

(01/17/2008) The guira, a cuckoo, is one of the most common birds of Brazil. Although they live in groups of six to 18 individuals, they have a tendency to form couples.


Climate change causes shift in American bird ranges

(01/16/2008) Breeding ranges of North American birds have shifted northward coinciding with a period of increasing global temperatures, report researchers writing in the April issue of conservation Biology.


Threatened birds may be rarer than previously thought, finds study

(12/11/2007) Geographic range maps that allow conservationists to estimate the distribution of birds may vastly overestimate the actual population size of threatened species and those with specific habitats, according to a study published online this week in the journal conservation Biology.


Traffic cones used to protect seabirds

(12/11/2007) Bright orange traffic cones that warn drivers of danger on the road are now being used to steer seabirds away from deadly entanglement in fishing nets, the Wildlife conservation Society (WCS) reports. Argentinean marine biologist and inventor Diego Gonzalez Zevallos has conducted research funded by WCS and Fundacion Patagonia National on the issue for over five years.


Global warming will significantly increase bird extinctions

(12/06/2007) Where do you go when you've reached the top of a mountain and you can't go back down? It's a question increasingly relevant to plants and animals, as their habitats slowly shift to higher elevations, driven by rising temperatures worldwide. The answer, unfortunately, is you can't go anywhere. Habitats shrink to the vanishing point, and species go extinct. That scenario is likely to be played out repeatedly and at an accelerating rate as the world continues to warm, Stanford researchers say.


25% of American birds threatened

(11/29/2007) More than one quarter of the bird species found in the United States are imperiled, reports a new survey by the National Audubon Society and the American Bird Conservancy. Overall 178 species in the continental U.S. and 39 in Hawaii are listed on WatchList 2007, which is based on a comprehensive analysis of population size and trends, distribution, and threats for 700 bird species in the U.S.


Photo: brown and white pelicans at the Bronx Zoo

(10/16/2007) Colorful autumn leaves are starting to fall but they don't dampen the sunny disposition of these brown and white pelicans at the Bronx Zoo.


Photo: baby flamingo at the Bronx Zoo

(10/16/2007) For these Bronx Zoo flamingos, the mantra "you are what you eat" really rings true.


16,306 species threatened with extinction

(09/12/2007) 16,306 of 41,415 species on the IUCN Red List are threatened with extinction, reports the World conservation Union (IUCN). The total number of known extinct species now stands at 785, while a further 65 are only found in captivity or in cultivation. One in four mammals, one in eight birds, one third of all amphibians and 70% of the world's assessed plants on the 2007 IUCN Red List are considered at risk.


Bird flies 7,150 miles in a week

(09/11/2007) The bar-tailed godwit (Limosa lapponica baueri) makes the longest non-stop migratory flight of any bird species in the world, reports a new study.


Malaysia suffers big drop in shorebird populations

(09/05/2007) Malaysia suffered a big drop in shorebirds, reports a new study by Wetlands International. The environmental group attributes the 22 percent decline between 1983-1986 and 2004-2006 to destruction of habitat for aquaculture, agriculture, industry, housing and recreation.


U.S. to spend $27M on possibly extinct bird

(08/26/2007) The U.S. government plans to spend $27 million on the recovery efforts for a bird species that may already be extinct, reports the Associated Press.


Group seeks salvation for 189 endangered bird species

(08/15/2007) BirdLife International has launched an appeal to save 189 endangered bird species over the next 5 years. The U.K.-based conservation group is seeking to raise tens of millions of dollars through its Species Champions initiative, by finding "Species Champions" among individuals, private foundations, and companies who will fund the work of identified "Species Guardians" for each bird.


New flycatcher bird species discovered in Peru

(08/13/2007) Scientists have discovered a previously unknown species of bird in dense bamboo thickets in the Peruvian Amazon.


Organic, shade grown cacao good for birds

(08/09/2007) Bird diversity in cacao farms in Panama is considerably higher when crops are grown in the shade of canopy trees, reports a study published earlier this year in Biodiversity conservation. The research has implications for biodiversity conservation and the sustainability of cacao plantations.


New Park in Argentina Protects 500,000 Penguins

(08/09/2007) The government of Argentina will create a new marine park along the coast of Patagonia, reports the Bronx Zoo-based Wildlife conservation Society. Located in Golfo San Jorge, the park will protect more than half a million penguins and other rare seabirds.


Wild parrots tracked by satellite for the first time

(08/06/2007) Researchers are now tracking wild parrots from space.


Blue macaw population stages remarkable recovery in Brazil

(07/18/2007) One of the world's rarest parrots has made a remarkable recovery due to conservation efforts, reports the American Bird Conservancy.


African Flamingo population gravely threatened by industrial development

(07/16/2007) Tata Chemicals, a division of the biggest multinational industrial conglomerate in India, is planning to build a huge soda ash plant at Lake Natron, one of the most important lakes for waterbirds in Africa. The scale of the planned development is very likely to destroy the ecosystem of the lake and drive away the breeding flamingos.


Antioxidant use helped some birds after Chernobyl nuclear accident

(07/11/2007) Brightly colored birds were more adversely affected by high levels of radiation around the Chernobyl nuclear plant, reports a study published online in the British Ecological Society's Journal of Applied Ecology.


Scientists capture first photos of extremely rare birds

(07/06/2007) Scientists have captured the first pictures of one of the world's rarest birds: the recurve-billed bushbird (Clytoctantes alixii), a species found exclusively in bamboo forests of northeastern Colombia.


The Bald Eagle Back and Better than Ever!

(07/03/2007) "Oh, say, can you see, by the dawn's early light" goes the first line for the national anthem of the United States of America. And on July the fourth, the self-proclaimed defenders of freedom celebrate that freedom that they so dearly love on their Independence Day. And what better way to celebrate that day, then to hear that their National bird has made a miraculous comeback after dwindling to a measly documented 417 birds in 1963.


Past global warming produced monster penguins

(06/25/2007) Scientists have discovered fossil remains of a giant species of penguin that lived some 40 million years ago in what is now Peru. Coupled with the finding of a smaller species from the same time period, the remains reveal that early penguins responded differently to natural climate change than scientists would have expected. The results are published in the PNAS Online Early Edition the week of June 25-29, 2007.


Sedentary, not migratory birds, face higher extinction risk

(06/24/2007) Sedentary birds face considerably higher risk of extinction than migratory birds, reports a new paper published in the journal Current Biology. The findings have implications for the conservation of increasingly endangered wildlife populations.


Coffee plantations may preserve tropical bird species

(06/18/2007) Agricultural areas offer opportunities for conservation in deforested landscapes in the tropics, reports a study published in the April 2007 issue of the journal conservation Biology by Stanford University biologists.


U.S. bird populations plummet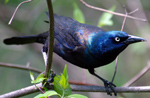 (06/14/2007) Populations of some of America's most common birds have plummeted over the past forty years, reports a new analysis by the National Audubon Society. Some species have seen a decline of 80 percent. The study, which combines the National Audubon Society's Christmas Bird Count with summertime surveys by the U.S. Geological Survey, found California species were particularly affected, with populations declines of 75 to 96 percent for several species, including the Northern Pintail, Horned Lark, and Loggerhead Shrike.


Penguins in Alaska?

(06/05/2007) Penguins found in Alaskan waters likely reach the Northern Hemisphere by fishing boat rather than by swimming, report University of Washington researchers.


10-20% of birds extinct by 2100 due to global warming, deforestation


(06/04/2007) Ten to twenty percent of the world's terrestrial bird species could be threatened with extinction by 2100 due to climate change and habitat destruction reports a study published in the June 5 issue of the journal PLoS Biology. The numbers are in line with estimates published last year in The Proceedings of the National Academy of Sciences. Combining future projections on global warming, agricultural expansion and human population growth from the global Millennium Ecosystem Assessment with current geographic ranges of the world's 8,750 species of terrestrial birds, researchers Walter Jetz, David Wilcove, and Andrew Dobson estimate that 950 to 1800 species may be condemned to extinction by 2100.


New species of hummingbird discovered in Colombia

(05/15/2007) Ornithologists have discovered a previously unknown blue-and-green-throated hummingbird species in a cloud forest in Colombia, reports BirdLife International, a conservation group. The bird, called the gorgeted puffleg, measures up to 4 inches (10 cm) in length.


More birds killed by cats than wind turbines

(05/09/2007) Last week's report by the U.S. National Academy of Sciences (NAS) on the environmental impact of wind farms warned that turbines may kill up to 40,000 birds per year, a toll that makes some question the clean energy source is worth the trouble.


Global warming will hurt migratory birds


(05/07/2007) 84 percent of migratory birds have the potential to be affected by climate change warned the United Nations Monday. Lowered water tables, changes in food supplies and prey range, rising sea levels, and increased storm frequency are the greatest threats to birds, said officials with the African Eurasian Migratory Waterbirds Agreement (AEWA) and the Convention on Migratory Species (CMS), two United Nations Environment Programme (UNEP)-led Treaties for the conservation of wildlife.


Commercial hunting may be biggest threat to tropical rainforests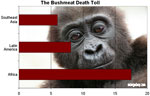 (05/01/2007) Commercial hunting is decimating wildlife populations across the tropics and may be one of the gravest threats presently facing rainforests, reports a series of studies published in the May issue of the journal Biotropica. The research reveals that large-scale loss of wildlife is already affecting forest health and regeneration.


New bird species discovered in the South Pacific

(04/19/2007) University of Florida scientists have discovered a new genus of frogmouth bird in the Solomon Islands. The findings are published in the April edition of Ibis: The International Journal of Avian Science.


Tear-sucking moth in Madagascar feeds on bird eyes

(04/10/2007) Biologists have documented the first known case of moths feeding on the tears of birds. The research, published in the January 4 2007 issue of the journal Biology Letters, reports that Hemiceratoides hieroglyphica 'attacks sleeping birds in Madagascar' using its sharply barbed proboscis to penetrate the bird's eye. While similar behvaior has been reported in mammals, this is the first known case of tear-feeding on birds.


Can penguins be used as bio-indicators of climate change?

(04/04/2007) Scientists at the University of Birmingham are working to determine whether the king penguin can be used as a bio-indicator for global warming.


Chernobyl birds prefer to breed in sites with low radioactivity

(04/03/2007) Birds appear to prefer breeding sites with lower levels of radiation, according to research conducted in the immediate vicinity of the Chernobyl nuclear disaster in Ukraine. The study, published in the current edition of Proceedings of the Royal Society B: Biological Sciences, may be the first to look at the effects of radiation on animal breeding behvaior in the aftermath of Chernobyl.


Photos of world's tiniest owl, recently found in Peru

(03/23/2007) One of the world's smallest owls was spotted for the first time in the wild by researchers monitoring the Area de Conservacion Privada de Abra Patricia -- Alto Nieva, a private conservation area in northern Peru, South America. Biologists consider the Long-whiskered Owlet (Xenoglaux loweryi) "a holy grail of South American ornithology."


Fruit-eating birds at particular risk from Indonesian deforestation


(03/20/2007) A new study on the island of Sulawesi in Indonesia confirms the critical importance of fig trees to the rainforest ecosystem. The research has implications for wildlife conservation in an area of high rates of forest loss from agricultural conversion and logging.


Evolution is faster in temperate zones

(03/15/2007) A new study argues that temperate zones are hotbeds of evolution, not tropical areas as conventionally held.


Ivory-billed Woodpecker sighting may be a mistake

(03/14/2007) A new study casts doubt on the apparent rediscovery of the Ivory-billed Woodpecker in Arkansas. J. Martin Collinson, a researcher at the University of Aberdeen in Scotland, says that the sighting of the thought-to-be-extinct bird is a case of mistaken identity. Using video analysis, Collinson argues that ornithologists have confused the Ivory-billed Woodpecker (Campephilus principalis) with the similar Pileated Woodpecker (Dryocopus pileatus).


Pigeon beaks have navigation system

(03/14/2007) Birds may use sensors in their beaks to navigate long distances without getting lost according to a new study published in the scientific journal Naturwissenschaften. German scientists found iron-containing structures in the beaks of homing pigeons that might enable the birds to use the earth's magnetic field for navigation.


Birds follow racoon-like coati to find food


(03/08/2007) A number of rainforest bird species are known to follow columns of army ants eating insects and other animals as they try to escape the marauding ants. Now the behvaior has been documented in birds that follow the coatimundi, a racoon-like mammal, as it forages in the rainforest.


Bird species rediscovered after 139 years

(03/06/2007) A wetland bird that has been 'lost' for nearly 140 years was rediscovered at a wastewater treatment plant in Thailand according to bird conservation group BirdLife International.


Birds exhibit thuggish mafia-like behvaior as nest enforcers

(03/05/2007) Parasitic birds engage in mafia-like reprisals to encourage host acceptance of their eggs according to researchers writing in the online early edition of PNAS.


African penguin population drops 40% - cause unknown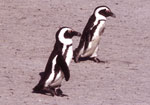 (03/02/2007) African penguin populations have fallen by 40 percent in the past few years according to an article published in the March 2, 2006 issue of Science. Biologists are puzzled by the decline.


Why do birds migrate? Seasonal food scarcity finds study

(03/01/2007) A new paper attempts to argue the age old question of why birds migrate. The authors, Dr. Alice Boyle and Dr. Courtney J. Conway of the University of Arizona, argue that birds are driven to fly long distances due to seasonal food scarcity.


The Scoop on Penguins - Feathered Fish or Bodacious Bird?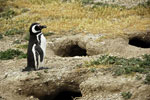 (02/28/2007) Penguins are birds that can toboggan on ice using their webbed feet to propel them. The fastest penguin, the gentoo, can swim about 15 miles per hour, faster than long-distance runners. Penguins can also dive very deep, some to depths of about 1,750 feet. They use their wings (which are really like flippers) to propel themselves in the water. It looks as if they are "flying" underwater, something they cannot do in the air.



Page 1 | Page 2 | Page 3 | Page 4 | Page 5 | Page 6 | Page 7 | Page 8 | Page 9