News articles on bioenergy

---
Mongabay.com news articles on bioenergy in blog format. Updated regularly.





Termites may produce cleaner biofuels

(11/23/2007) Termites may be the key to greener, more effective biofuels, report scientists writing in the November 22 edition of the journal Nature.


Is the oil-palm industry using global warming to mislead the public?

(11/23/2007) Members of the Indonesian Palm Oil Commission are distributing materials that misrepresent the carbon balance of oil-palm plantations, according to accounts from people who have seen presentations by commission members. These officials are apparently arguing that oil-palm plantations store and sequester many times the amount of CO2 as natural forests, and therefore that converting forests for plantations is the best way to fight climate change. In making such claims, these Indonesian representatives evidently are ignoring data that show the opposite, putting the credibility of the oil-palm industry at risk, and undermining efforts to slow deforestation and rein in greenhouse gas emissions.


Planned logging of Woodlark Island for biofuels opposed by islanders and scientists

(11/12/2007) On Woodlark Island, one-hundred and seventy miles from Papua New Guinea, a struggle is occurring between islanders and biofuel company Vitroplant Ltd. The company is planning to clear much of the island's forest for oil palm plantations to produce biofuels. Vitorplant Ltd.'s contract specifies that they would deforest 60,000 hectares of land for plantations; Woodlark Island is 85,000 hectares in total, meaning over 70% of the island would be converted. Last week, one hundred islanders (out of a total population of 6,000) traveled to the capital of Milne Bay Province, Alotau, to voice their concern over the plans to turn their forested island into plantations.


Greenwashing the palm oil industry

(11/12/2007) A new report from Greenpeace alleges that members of the Roundtable on Sustainable Palm Oil -- an industry-driven initiative to clean up palm oil production -- are using palm oil derived by clearing endangered rainforests and draining carbon-rich peatlands on the Indonesian island of Sumatra.


Oil palm does not store more carbon than forests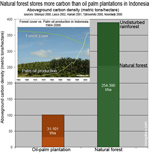 (11/08/2007) Officials from the Indonesian ministry of agriculture and the palm oil industry are distributing materials that misrepresent the carbon balance oil palm plantations, according to accounts from people who have seen presentations by members of the Indonesian Palm Oil Commission. Ministry of agricultural officials are apparently arguing that oil palm plantations store and sequester many times the amount of CO2 as natural forests and therefore converting forests for plantations is the best way to fight climate change. In making such claims, these Indonesian officials are ignoring data that show the opposite, putting the credibility of the oil palm industry at risk, and undermining efforts to slow deforestation and reign in greenhouse gas emissions.


Carbon-negative bioenergy to cut global warming could drive deforestation

(11/06/2007) A proposed mechanism for generating carbon-negative bioenergy -- an energy source that reduces atmospheric carbon dioxide levels -- could drive large-scale deforestation in the tropics and undermine efforts to conserve forests for carbon offsets says a biofuel expert.


Does palm oil alleviate rural poverty in Malaysia?



(10/23/2007) While it is often argued that the economic benefits of oil palm plantations outweigh the environmental costs of converting biodiverse ecosystems to monocultures, new analysis suggests that the role of plantations in reducing rural poverty may be overstated.


Environmentalists and palm oil producers should work together

(09/25/2007) Environmentalists and palm-oil producers are increasingly at odds. Greens groups say palm oil is driving the conversion of tens of thousands of hectares of peatlands and lowland forest in Indonesia, putting wildlife at risk, increasing the vulnerability of forests to fires, and triggering large emissions of greenhouse gases.


China urged to join sustainable soy efforts in the Amazon

(09/12/2007) Brazilian soy crushers have urged China to join an alliance to promote sustainable soybean production in the Amazon, according to Reuters. Brazil, soon to be the world's largest producer of soybeans, recently formed the Global Roundtable on Responsible Soy Association as concerns grow that global demand for biofuels will level the Amazon rainforest. Environmentalists say demand from China is playing an important role in surging soybean production in the region.


Investigation finds evidence of Borneo forest clearing for palm oil

(09/02/2007) An Associated Press investigation found evidence of workers opening up rainforest land for new oil palm plantations in the heart of Borneo.


Guidelines to ensure biofuels production won't hurt the environment

(08/30/2007) Environmentalists have long seen biofuels as a means to improve the sustainability of transportation and energy use since they are a renewable source of energy that can be replenished on an ongoing basis. Further, because biofuels are generally derived from plants, which absorb carbon from the atmosphere as they grow, biofuel production offers the potential to help offset carbon dioxide emissions and mitigate climate change. Nonetheless, in recent years, there has been considerable backlash against biofuels, which are increasingly viewed as a threat to the environment. Green groups now point to large-scale land conversion for energy crops, higher food prices, and a spate to studies that suggest net emissions from corn ethanol are little better than those from fossil fuels, to caution that biofuels can cause more problems than they address.


Indonesia's peatlands may offer U.S. firms global warming offsets

(08/29/2007) The following is modified version of a letter I've used to pitch U.S. companies on the concept of carbon finance in Indonesia's peatlands. Discussions are slow and the critical December U.N. climate meeting is fast approaching, so I'm posting this as a tool to help you get American firms interested in avoided deforestation offsets. Please feel free to use, modify, and distribute this letter widely.


NGOs should use palm oil to drive conservation

(08/29/2007) Environmentalists view the expansion of oil palm plantations in southeast Asia as one of the greatest threats to the region's forests and biodiversity. Campaigners say oil palm is driving the conversion of tens of thousands of hectares of peatlands and lowland forest in Indonesia and Malaysia, putting wildlife at risk, increasing the vulnerability of the forests to fires, and triggering large emissions of greenhouse gases. Pressure from these groups have in recent months convinced European policymakers to reconsider sourcing energy crop production to the region.


How private equity can profit from carbon offsets in Indonesia

(08/29/2007) The emerging carbon market for avoided deforestation presents unprecedented opportunities for private equity to make profitable investments that also help protect the environment. Indeed, for the first time, conservation may be associated with positive financial returns. Here's a brief look at how private equity and other investors can capitalize on this opportunity to earn attractive returns while fighting climate change, protecting ecosystem services, and safeguarding endangered species like orangutans.


With Corn ethanol more costly than oil, is Jatropha a better biofuel?

(08/24/2007) Jatropha may be a more economic biofuel than corn-based ethanol, reported the The Wall Street Journal on Friday, citing research from Goldman Sachs.


Could peatlands conservation be more profitable than palm oil?

(08/22/2007) This past June, World Bank published a report warning that climate change presents serious risks to Indonesia, including the possibility of losing 2,000 islands as sea levels rise. While this scenario is dire, proposed mechanisms for addressing climate change, notably carbon credits through avoided deforestation, offer a unique opportunity for Indonesia to strengthen its economy while demonstrating worldwide innovative political and environmental leadership. In a July 29th editorial we argued that in some cases, preserving ecosystems for carbon credits could be more valuable than conversion for oil palm plantations, providing higher tax revenue for the Indonesian treasury while at the same time offering attractive economic returns for investors.


Biofuels driving destruction of Brazilian cerrado

(08/21/2007) The cerrado, wooded grassland in Brazil that once covered an area half the size of Europe, is fast being transformed into croplands to meet rising demand for soybeans, sugarcane, and cattle. The cerrado is now disappearing more than twice as the rate as the neighboring Amazon rainforest, according to a Brazilian expert on the savanna ecosystem.


conservation more effective than biofuels for fighting global warming

(08/15/2007) Conserving forests and grasslands may be a more effective land-use strategy for fighting climate change than growing biofuel crops argues a new paper published in the journal Science. Comparing emissions from various fuel crops versus carbon storage in natural ecosystems, Renton Righelato and Dominick Spracklen write that "forestation of an equivalent area of land would sequester two to nine times more carbon over a 30-year period than the emissions avoided by the use of the biofuel."


Economics of next generation biofuels

(08/08/2007) 'Second generation' biorefineries -- those making biofuel from lignocellulosic feedstocks like straw, grasses and wood -- have long been touted as the successor to today's grain ethanol plants, but until now the technology has been considered too expensive to compete. However, recent increases in grain prices mean that production costs are now similar for grain ethanol and second generation biofuels, according to a paper published in the first edition of Biofuels, Bioproducts & Biorefining.


Corn ethanol is not the solution to energy independence

(07/18/2007) A new report claims that corn ethanol will not significantly offset U.S. fossil fuel consumption without "unacceptable" environmental and economic consequences.


Is peat swamp worth more than palm oil plantations?

(07/16/2007) Could peat swamp be worth more intact for their carbon value than palm oil plantations for their oil? Quick analysis suggests yes, though binding limits on emissions will be needed to trigger the largest ever flow of money from the industrialized world to developing countries. At stake: the bulk of the world's biodiversity.


US says Brazilian ethanol doesn't increase food prices, destroy Amazon rainforest

(07/13/2007) Brazil's surging ethanol production does not put the Amazon rainforest at risk and is not fueling higher food prices, claimed a U.S. energy official visiting Brazil.


Miscanthus bests switchgrass as biofuel source

(07/11/2007) In a side-by-side comparison, miscanthus (Miscanthus x giganteus) grass has been shown to be a more productive bioenergy source than switchgrass (Panicum virgatum), according to research presented at the annual meeting of the American Society of Plant Biologists in Chicago.


Cuba Energy Crisis Solved

(07/05/2007) Cuba may be overcoming its intermittent energy crisis, according to a top U.N. official. Power shortages and brownouts have long been a problem in the small communist island nation, but it was daily 16 hour-electricity cuts in 2004 that finally forced the government to act. Its efforts are apparently paying off.


$100 billion invested in renewable energy in 2006

(06/20/2007) $100 billion poured into renewable energy and energy efficiency in 2006, a 25 percent jump from 2005, reports a new analysis by the UN Environment Programme (UNEP).


98% of orangutan habitat gone in next 15 years



(06/11/2007) Indonesia is losing more than 2.1 million hectares (5.2 million acres) of forest a year to illegal loggers, states a new report from the U.N. Environment Program (UNEP). The report, which estimates the value of illicit timbering at $4 billion annually, warns that 98 percent of Indonesia's lowland forests will be gone by 2022, putting species like the orangutan at risk of extinction in the wild. The report, Last stand of the Orang-utan: State of Emergency, was released Monday at the Convention on International Trade in Endangered Species meeting in The Hague.


Nobel prize winner debates future of nuclear power

(06/07/2007) Two renowned energy experts sparred in a debate over nuclear energy Wednesday afternoon at Stanford University. Amory Lovins, Chairman and Chief Scientist of the Rocky Mountain Institute, an energy think tank, argued that energy efficiency and alternative energy sources will send nuclear power the way of the dinosaurs in the near future. Dr. Burton Richter, winner of the 1976 Nobel Prize in physics, said that nuclear would play an important part of the future energy portfolio needed to cut carbon emissions to fight global warming.


Indonesia: No more rainforest clearing for palm oil

(06/05/2007) Indonesian Minister for Environment Rachmat Witoelar said Indonesia will not allow palm oil producers to clear primary forests for establishing plantations, reports Bloomberg. Indonesia is expected to surpass Malaysia as the world largest producer of palm oil this year. The government hopes to add 7 million hectares of plantations by 2011.


Globalization could save the Amazon rainforest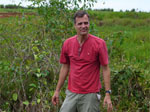 (06/03/2007) The Amazon basin is home to the world's largest rainforest, an ecosystem that supports perhaps 30 percent of the world's terrestrial species, stores vast amounts of carbon, and exerts considerable influence on global weather patterns and climate. Few would dispute that it is one of the planet's most important landscapes. Despite its scale, the Amazon is also one of the fastest changing ecosystems, largely as a result of human activities, including deforestation, forest fires, and, increasingly, climate change. Few people understand these impacts better than Dr. Daniel Nepstad, one of the world's foremost experts on the Amazon rainforest. Now head of the Woods Hole Research Center's Amazon program in Belem, Brazil, Nepstad has spent more than 23 years in the Amazon, studying subjects ranging from forest fires and forest management policy to sustainable development. Nepstad says the Amazon is presently at a point unlike any he's ever seen, one where there are unparalleled risks and opportunities. While he's hopeful about some of the trends, he knows the Amazon faces difficult and immediate challenges.


EU will demand sustainable biofuel production

(05/24/2007) The European Commission is planning new criteria to ensure that biofuels are produced in an environmentally-friendly manner, reports Reuters. The move comes a month after the Dutch issued voluntary guidelines for biofuel production.


Sugar could power hydrogen fuel cars says VTU researcher

(05/22/2007) Sugary carbohydrates could be used to produce low-cost hydrogen to power fuel cells report researchers writing in the May 23 issue of PLoS ONE, the online, open-access journal from the Public Library of Science ( www.plosone.org)


Ancient Amazonian technology could save the world


(05/17/2007) Terra preta, the ancient charcoal-based soil used by ancient Amazonians to create permanently fertile agricultural lands in the rainforest, is getting serious consideration as a means to fight global warming and meet domestic energy demand, reports an article in Scientific American.


U.S. ethanol may drive Amazon deforestation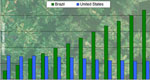 (05/17/2007) Ethanol production in the United States may be contributing to deforestation in the Brazilian rainforest said a leading expert on the Amazon. Dr. Daniel Nepstad of the Woods Hole Research Center said the growing demand for corn ethanol means that more corn and less soy is being planted in the United States. Brazil, the world's largest producer of soybeans, is more than making up for shortfall, by clearing new land for soy cultivation. While only a fraction of this cultivation currently occurs in the Amazon rainforest, production in neighboring areas like the cerrado grassland helps drive deforestation by displacing small farmers and cattle producers, who then clear rainforest land for subsistence agriculture and pasture.


Biofuels displace indigenous people

(05/15/2007) Indigenous people are being pushed off their lands to make way for an expansion of biofuel crops around the world, threatening to destroy their cultures by forcing them into big cities, the head of a U.N. panel said Monday.


Environmental concerns mount as palm oil production grows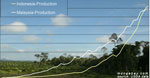 (05/15/2007) The booming market for palm oil is driving record production but fueling rising concerns over the environmental impact of the supposedly "green" bioenergy source. The two leading producers of palm oil, Malaysia and Indonesia, have rapidly expanded palm oil production in recent years, often at the expense of biodiverse rainforests and carbon-rich peatlands that store billions of tons of greenhouse gases. Environmentalists say that due to these factors, burning of palm oil can at times be more damaging the global climate than the use of fossil fuels.


UN warns on dangers of bioenergy

(05/09/2007) Biofuels offer "an extraordinary opportunity" to reduce greenhouse gas emissions but could make "substantial demands on the world's land and water resources at a time when demand for both food and forest products is also rising rapidly," said the U.N. in its first assessment on the growing bioenergy industry.


Dutch plan restricts biofuels that damage environment


(04/29/2007) The Netherlands has proposed a system to reduce the environmental impact of biofuels production. The country becomes the first in the world to establish such guidelines. Environmentalists have expressed increasing concern for the establishment of energy crops in biodiverse and carbon-rich ecosystems like the peatlands of Indonesia and the Amazon rainforest. They say that conversion of these forests for oil palm and soybeans is threatening endangered species and worsening global warming. Further, they warn, demand for such biomass energy products is driving up prices for food crops.


Dutch will demand rainforest-friendly palm oil


(04/27/2007) In a report scheduled to be released today, the Dutch government will outline criteria for growing biofuels in a more sustainable manner. The guidelines will be closely watched by the rest of Europe, which is currently struggling with the environmental pros and cons of large-scale energy crop production, especially in ecologically-sensitive areas like the Amazon and Indonesian rainforests.


Biodiesel may worsen global warming relative to petroleum diesel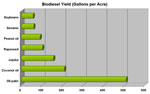 (04/23/2007) Biodiesel made from rapeseed could increase rather than reduce greenhouse emissions compared to conventional diesel fuels, reports a new study published in the journal Chemistry & Industry. Overall the researchers found that petroleum diesel and rapeseed biodiesel, presently the main biofuel used across Europe, have a similar environmental impact. The results suggest that efforts to mitigate climate change through the adoption of rapeseed biodiesel may be of little use beyond energy security.


Ethanol may be greener but have higher health cost

(04/18/2007) Widespread burning of ethanol as fuel may increase the number of respiratory-related deaths and hospitalizations relative to gasoline, according to a new study by Stanford University atmospheric scientist Mark Z. Jacobson. The report comes as mounting environmental concerns cloud the benefits of using ethanol as a green alternative to fossil fuels.


Palm oil doesn't have to be bad for the environment


(04/04/2007) As traditionally practiced in southeast Asia, oil palm cultivation is responsible for widespread deforestation that reduces biodiversity, degrades important ecological services, worsens climate change, and traps workers in inequitable conditions sometimes analogous to slavery. This doesn't have to be the case. Following examples set forth by the Roundtable on Sustainable Palm Oil and firms like Golden Hope Plantations Berhad, a Malaysian palm oil producer, oil palm can be cultivated in a manner that helps mitigate climate change, preserves biodiversity, and brings economic opportunities to desperately poor rural populations.


Eco-friendly palm oil could help alleviate poverty in Indonesia


(04/03/2007) The Associated Press (AP) recently quoted Marcel Silvius, a climate expert at Wetlands International in the Netherlands, as saying palm oil is a failure as a biofuel. This would be a misleading statement and one that doesn't help efforts to devise a workable solution to the multiplicity of issues surrounding the use of palm oil.


New green biofuels process could meet all U.S. transportation needs

(03/14/2007) Purdue University chemical engineers have proposed a new environmentally friendly process for producing liquid fuels from plant matter - or biomass - potentially available from agricultural and forest waste, providing all of the fuel needed for "the entire U.S. transportation sector."


Government pledges $385M for cellulosic ethanol

(03/08/2007) The U.S. Department of Energy (DOE) announced it will invest up to $385 million over the next four years for six biorefinery projects capable of producing more than 130 million gallons of cellulosic ethanol annually.


Ethanol always not as green as some believe

(02/16/2007) Ethanol is generally not as green as some people believe says Bruce Dale, Michigan State University professor of chemical engineering and materials science. Speaking at the American Association for the Advancement of Science annual meeting in San Francisco, Dale says that while corn ethanol produces less greenhouse gases than gasoline, it can cause other detrimental environmental effects if not carefully managed.


Weedy grass could free U.S. of foreign oil dependence says biologist

(02/16/2007) A weedy grass may hold the key to domestic energy security and mitigating emissions of greenhouse gasese, said a Stanford University plant biologist speaking Friday at the annual meeting of the American Association for the Advancement of Science in San Francisco.


Biofuels, logging may spur deforestation in Guyana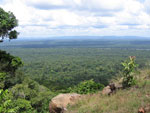 (02/15/2007) Growing timber exports and rising interest in biofuels are raising concerns that deforestation could accelerate in the South American country of Guyana. Guyana is a small, lightly populated country on the north coast of South America. About three-quarters of Guyana is forested, roughly 60 percent of which is classified as primary forest. Guyana's forests are highly diverse: the country has some 1,263 known species of amphibians, birds, mammals, and reptiles, and 6,409 species of plants.


Brazil calls out rich countries on global warming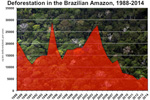 (02/06/2007) Reuters reports that Brazilian President Luiz Inacio Lula da Silva criticized wealthy countries for their contributions to global warming and told them to stay out of Brazil's business when it comes to the fate of the Amazon rainforest.


98% of orangutan habitat in Borneo, Sumatra gone by 2022


(02/06/2007) A report from the United Nations Environment Programme (UNEP) today warns that illegal logging is rapidly destroying the last remaining habitat for orangutans in Borneo and Sumatra. The report says that up to 98 percent may be destroyed by 2022 without urgent action.


Industrial waste dump becomes biofuel source

(02/01/2007) Shrub willows growing on land that was once considered an industrial waste site will be used to produce green energy according to researchers at the SUNY College of Environmental Science and forestry (ESF).



Page 1 | Page 2 | Page 3 | Page 4