News articles on biodiversity

---
Mongabay.com news articles on biodiversity in blog format. Updated regularly.





2 'giant' yet tiny mouse lemurs identified in Madagascar

(03/27/2013) Scientists have discovered two new species of mouse lemurs in Madagascar, bringing the total number of diminutive primates known to science to 20.


Humans killed over 10 percent of the world's bird species when they colonized the Pacific Islands


(03/25/2013) Around 4,000 years ago intrepid Polynesian seafarers made their way into an untamed wilderness: the far-flung Pacific Islands. Over a thousands or so years, they rowed from one island to another, stepping on shores never yet seen by humans. While this vast colonization brought about a new era of human history, it also ended the existence of well-over a thousand bird species according to a new study in the Proceedings of the National Academy of Sciences (PNAS).


Forging zoos into global conservation centers, an interview with Cristian Samper, head of WCS


(03/25/2013) The Wildlife Conservation Society (WCS) is one of the world's leading environmental organizations. Founded in 1895 (originally as the New York Zoological Society), the WCS manages 200 million acres of wild places around the globe, with over 500 field conservation projects in 65 countries, and 200 scientists on staff. The WCS also runs five facilities in New York City: the Central Park Zoo, the New York Aquarium, Prospect Park and Queens Zoos, and the world renowned Bronx Zoo.


Conservation scientists: Aceh's spatial plan a risk to forests, wildlife, and people


(03/22/2013) A group of biologists and conservation scientists meeting in Sumatra warned that potential changes to Aceh's spatial plan could undermine some of the ecological services that underpin the Indonesian province's economy and well-being of its citizens. After its meeting from March 18-22 in Banda Aceh, the Asia chapter of the Association for Tropical Biology and Conservation (ATBC) issued a declaration [PDF] highlighting the importance of the region's tropical forest ecosystem, which is potentially at risk due to proposed changes to its spatial plan.


Scientists discover 8 new frogs in one sanctuary, nearly all Critically Endangered (photos)


(03/21/2013) Two surveys in the mountainous forests of Sri Lanka's Peak Wilderness Sanctuary have uncovered eight new species of frogs, according to a massive new paper in the Journal of Threatened Taxa. While every year over a hundred new amphibians are discovered, eight new discoveries in a single park is especially notable. Sri Lanka is an amphibian-lovers paradise with well over 100 described species, most of which are endemic, i.e. found only on the small island country. Unfortunately the country has also seen more frog extinctions than anywhere else, and seven of the eight new species are already thought to be Critically Endangered.


Planet organic: achieving sustainable food security and environmental gains

(03/19/2013) The global farmland area certified organic has expanded more than threefold to 37 million hectares since 1999, according to new research conducted by the Worldwatch Institute. The Institute argues that organic farming has the potential to contribute to sustainable food security by improving nutrition intake and sustaining rural livelihoods, while reducing vulnerability to climate change and enhancing biodiversity.


Warnings of global ecological tipping points may be overstated


(03/05/2013) There's little evidence that the Earth is nearing a global ecological tipping point, according to a new Trends in Ecology and Evolution paper that is bound to be controversial. The authors argue that despite numerous warnings that the Earth is headed toward an ecological tipping point due to environmental stressors, such as habitat loss or climate change, it's unlikely this will occur anytime soon—at least not on land. The paper comes with a number of caveats, including that a global tipping point could occur in marine ecosystems due to ocean acidification from burning fossil fuels. In addition, regional tipping points, such as the Arctic ice melt or the Amazon rainforest drying out, are still of great concern.


Forests under fire: Australia's imperiled south west


(03/05/2013) In the far southwestern corner of Western Australia, beyond the famed wineries in the shadow of the Margaret River, lies an ecosystem like no other, the South West ecoregion. This part of Australia has been identified as one of 34 global biodiversity hotspots, home to rare endemic flora and fauna like the Carnaby's black cockatoo, numbat (banded anteaters), woylie (brush-tailed bettong), mainland quokka and over 1500 plant species, most found nowhere else. Unfortunately, this unique habitat is being increasingly fragmented and its inhabitants threatened by a number of forces, including climate change, dieback, fires and logging. And, on the eve of the Western Australia's state elections, the future of the South West hangs in the balance.


62% of all Africa's forest elephants killed in 10 years (warning: graphic images)


(03/04/2013) More than 60 percent of Africa's forest elephants have been killed in the past decade due to the ivory trade, reports a new study published in the online journal PLOS ONE. The study warns that the diminutive elephant species — genetically distinct from the better-known savanna elephant — is rapidly heading toward extinction.


Two new species of mini-salamander discovered in Colombia

(02/28/2013) Biologists have discovered two new species of salamander in Tamá National Natural Park in Colombia. While the discovery should be cause for celebration, the news was dampened by the fact that both species are already infected with the deadly fungal disease, known as Batrachochytrium dendrobatidis (Bd), which has wiped out amphibian populations worldwide. Both of the new salamanders belong to the genus Bolitoglossa, which are web-footed salamanders found in the tropical Americas.


Travel in Madagascar: strange wildlife and stunning landscapes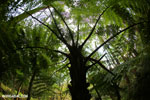 (02/27/2013) The promise of lemurs, lizards, and a bouquet of biodiversity brought mongabay.com founder Rhett Butler to Madagascar sixteen years ago. He was not disappointed by what he found and was inspired to return, many times to experience the wildlife, landscapes, and people of the dynamic island. In 2004, Rhett founded wildmadagascar.org, a site that highlights the spectacular cultural and biological richness of Madagascar and reports on environmental news for the Indian Ocean island nation.


Warlords, sorcery, and wildlife: an environmental artist ventures into the Congo


(02/25/2013) Last year, Roger Peet, an American artist, traveled to the Democratic Republic of Congo (DRC) to visit one of the world's most remote and wild forests. Peet spent three months in a region that is largely unknown to the outside world, but where a group of conservationists, headed by Terese and John Hart, are working diligently to create a new national park, known as Lomami. Here, the printmaker met a local warlord, discovered a downed plane, and designed a tomb for a wildlife ranger killed by disease, in addition to seeing some of the region's astounding wildlife. Notably, the burgeoning Lomami National Park is home to the world's newest monkey species, only announced by scientists last September.


15 percent of Guyana's reptiles and amphibians found nowhere else

(02/21/2013) Fifteen percent of Guyana's 324 known species of reptiles and amphibians are found nowhere else in the world, reports a comprehensive new assessment published in the journal Proceedings of the Biological Society of Washington.


Pictures: 20% of the world's reptiles endangered

(02/15/2013) Nearly a fifth the planet's reptiles are threatened with extinction, warns a new assessment published in the journal Biological Conservation.


Will Amazon species lose the climate change race?


(02/14/2013) Deforestation could increase the risk of biodiversity loss in the Amazon by forcing species to migrate further in order to remain at equilibrium with changing climates, says new research. "As migration models are made more realistic through the inclusion of multiple climatic, biotic, abiotic and human factors, the predicted distances between current and future climate analogues invariably increases," Kenneth Feeley, lead author of the paper published in Global Change Biology, told mongabay.com.


Tigers gobble up 49 percent of India's wildlife conservation funds, more imperiled species get nothing

(02/12/2013) Nearly half of India's wildlife budget goes to one species: the tiger, reports a recent article in Live Mint. India has devoted around $63 million to wildlife conservation for 2013-2013, of which Project Tiger receives $31 million. The Bengal tiger (Panthera tigris tigris) is currently listed as Endangered by the IUCN Red List; however India is also home to 132 species currently considered Critically Endangered, the highest rating before extinction.


Fossil fuel company looking to exploit deposits in Manu National Park

(02/11/2013) Pluspetrol, an Argentine oil and gas company, is eyeing a UNESCO World Heritage site in the Amazon rainforest for gas production, according to documents seen by the Guardian. Manu National Park in eastern Peru is considered one of the most biodiverse places on Earth and is home to indigenous tribes living in voluntary isolation.


Scientists could name every species on Earth in 50 years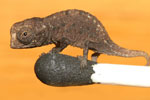 (01/28/2013) A bold new paper in Science argues that the world's species could be named and described before they vanish into extinction, though the threat of eventual extinction will remain for many, especially as climate change worsens. The scientists say that contrary to popular belief, there are more taxonomists working than ever before and there are likely less species on Earth than often reported, making finding and naming the world's species within reach this century.


The Economics of Ecosystems and Biodiversity in Local and Regional Policy - a book review

(01/21/2013) The Economics of Ecosystems and Biodiversity in Local and Regional Policy, edited by Heidi Wittmar and Haripriya Gundimeda, provides thoughtful and actionable approaches to integrate nature's benefits into decision-making frameworks for local and regional policy and public management institutions. Filled with numerous case studies, The Economics of Ecosystems and Biodiversity in Local and Regional Policy, delivers a compendium of concepts and ideas.


Photo: Subterranean 'Moby Dick' mermaid lizard discovered in Madagascar

(01/16/2013) An international team of scientists have described a bizarre new species of worm-like lizard that lives underground. Strangely, they named it the 'Moby Dick' mermaid skink.


Saving the Arabian leopard, the world's smallest leopard


(01/14/2013) Today most people are more likely to associate Yemen with warfare and bizarre terrorism plots rather than wildlife. But Yemen is home to a surprising diversity of animals, including a population of the world's smallest leopard: The Arabian leopard (Panthera pardus nimr). Native to the Arabian Peninsula, the Arabian leopard is today extremely rare — less than 200 animals are thought to survive in the wild. Despite the cat's precarious position, there is relatively little local enthusiasm to protect a species that is widely seen as a threat to livestock. Nevertheless one man in Yemen is trying to boost the value of leopard in the eyes of local people. David Stanton, an American teacher living in Yemen, had devoted his life to saving the Arabian leopard.


Diverse forestry stands better than monocultures, finds study

(01/11/2013) Growing a diverse array of tree species for timber production contributes a broader array of valuable ecosystem services compared to industrial monocultures, reports a new study based on field work in Sweden.


Picture gallery of the day: Day geckos

(01/07/2013) Day geckos are the jewels of the gecko family.


Scientists work to discover watermelon's lost genetic diversity


(01/04/2013) A hard, white, and bitter watermelon has plant geneticists licking their lips with anticipation. The size of tennis balls, wild watermelons grow natively in southern and western Africa. Geneticists cracked open this small relative to the juicy, summertime treat to extract ancient genetic material. They are mining the fruit's DNA for useful traits such as disease resistance that cultivated, or domesticated, watermelons have lost.


Scientists nearly double the number of biogeographic realms


(01/02/2013) In 1876, British biologist Alfred Russell Wallace published a map of the world that outlined how related animals were spread over the Earth. For example, Wallace was the first to publicize that North American biodiversity was substantially different from South America, and that an invisible line separated Southeast Asian biodiversity from that of Australia, New Guinea, and nearby islands. With Wallace's research came the founding of biogeography, or the study of species in relation to geography. Today, scientists with the University of Copenhagen have updated Wallace's map—nearly doubling the number of biogeographic realms—with support from data on over 21,000 species.


The year in rainforests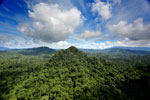 (12/31/2012) 2012 was another year of mixed news for the world's tropical forests. This is a look at some of the most significant tropical rainforest-related news stories for 2012. There were many other important stories in 2012 and some were undoubtedly overlooked in this review. If you feel there's something we missed, please feel free to highlight it in the comments section. Also please note that this post focuses only on tropical forests.


Photos: the top new species discoveries in 2012


(12/26/2012) Thousands of species were described for the first time by scientists in 2012. Some of these were 'cryptic species' that were identified after genetic analysis distinguished them from closely related species, while others were totally novel. Either way, here are some of the "new species" highlights from 2012.


Amazon deforestation obliterates soil biodiversity, with wider ecological implications

(12/24/2012) Deforestation in the Amazon leads to a substantial loss in microbial biodiversity potentially reducing the ecological resilience of affected areas, report researchers writing in the Proceedings of the National Academy of Sciences.


Some Amazon trees more than 8 million years old

(12/14/2012) Some Amazon rainforest tree species are more than eight million years old found a genetic study published in the December 2012 edition of Ecology and Evolution.


Rainforests teem with insects, most of which are unknown, finds study

(12/13/2012) Researchers in Panama have published the results of the most comprehensive survey of arthropods in a small area of tropical rainforest. At a high level, the findings surprise no one: the Panamanian rainforest is full of insects, spiders, and crustaceans. Yet the results also show how little is known about this large group of organisms — 60-70 percent of the species are thought to be new to science.


Recovery of Atlantic Forest depends on land-use histories

(12/10/2012) The intensity of land-use influences the speed of regeneration in tropical rainforests, says new research. Tropical rainforests are a priority for biodiversity conservation; they are hotspots of endemism but also some of the most threatened global habitats. The Atlantic Forest stands out among tropical rainforests, hosting an estimated 8,000 species of endemic plants and more than 650 endemic vertebrates. However, only around 11 percent of these forests now remain.


REDD+ should pave way for more research into genetic studies of tropical species

(12/10/2012) Reducing Emissions from Deforestation and Degradation (REDD+), the UN program to conserve tropical forests by paying developing nations to keep them standing, should go hand-in-hand with increased genetic studies of imperiled tropical biodiversity, according to a new opinion article in mongabay.com's open access journal Tropical Conversation Science.


Reducing the risk that REDD+ will shift conservation funding away from biodiverse forests

(12/10/2012) One of the major concerns about the Reducing Emissions from Deforestation and Degrdatation (REDD+) program is that it could prioritize conservation of high carbon ecosystems like peatlands over high biodiversity landscapes, effectively shifting conservation funding away key wildlife-rich areas. A new paper, published in Tropical Conservation Science, analyzes the issue and suggests approaches that could reduce the potential detrimental impacts of REDD+ on biodiversity.


Featured video: turning yards and neighborhoods into wildlife habitat

(12/03/2012) A new animation by the American Society of Landscape Architects introduces viewers to the benefits of making their yards and neighborhoods wildlife friendly. By focusing on the threat of sprawl to biodiversity, the video shows how urban and suburban residents can use native plants, freshwater, and wildlife-friendly structures to allow a space for nature, and, possibly even help create and maintain corridors for wild animals.


Long and thin with a big head: new snake adds diversity to a bizarre group (photo)

(11/28/2012) There's no question that blunt-headed vine snakes are an odd lot: a thin body tapers into an even thinner neck which expands suddenly into a broad head with massive eyes. Until now only six species were recognized from this genus, known as Imantodes, but a new study in Zookeys describes a seventh species: Imantodes chocoensis from the Chocó Forests in northeastern Ecuador.


Legislation leaves future of world's largest temperate rainforest up in the air


(11/27/2012) Although unlikely to pass anytime in the near term, recurring legislation that would hand over 80,000 acres of the Tongass Rainforest to a Native-owned logging corporation has put local communities on guard in Southeast Alaska. "The legislation privatizes a public resource. It takes land that belongs to all of us, and that all of us have a say in the use and management of, and it gives that land to a private for-profit corporation," Andrew Thoms, Executive Director of the Sitka Conservation Society, told mongabay.com in a recent interview.


Photos reveal destruction of Cameroon rainforest for palm oil


(11/26/2012) Newly released photos by Greenpeace show the dramatic destruction of tropical forest in Cameroon for an oil palm plantation operated by SG Sustainable Oils Cameroon (SGSOC), a subsidiary of the U.S. company Herakles Farm. The agriculture company is planning to convert 73,000 hectares to palm oil plantations on the edge of several protected areas, but has faced considerable opposition from environmentalists and some local communities. In addition to the aerial photos, Greenpeace alleges that ongoing forest clearing by Herakles is illegal since the companies 99-year lease has yet to be fully approved by the Cameroonian government.


Unique program to leave oil beneath Amazonian paradise raises $300 million


(11/26/2012) The Yasuni-ITT Initiative has been called many things: controversial, ecological blackmail, revolutionary, pioneering, and the best chance to keep oil companies out of Ecuador's Yasuni National Park. But now, after a number of ups and downs, the program is beginning to make good: the Yasuni-ITT Initiative has raised $300 million, according to the Guardian, or 8 percent of the total amount needed to fully fund the idea.


Wolves, mole rats, and nyala: the struggle to conserve Ethiopia's highlands


(11/20/2012) There is a place in the world where wolves live almost entirely off mountain rodents, lions dwell in forests, and freshwater rolls downstream to 12 million people, but the place—Ethiopia's Bale Mountains National Park—remains imperiled by a lack of legal boundaries and encroachment by a growing human population. "Much of the land in Africa above 3,000 meters has been altered or degraded to the point where it isn't able to perform most of the ecosystem functions that it is designed to do. Bale, although under threat and already impacted to a degree by anthropogenic activities, is still able to perform its most important ecosystem functions, and as such ranks among only a handful of representative alpine ecosystems in Africa."


REDD+ must consider biodiversity, forest livelihoods to have any chance of success

(11/16/2012) Safeguarding biodiversity is a critical component in any plan to mitigate climate change through forest protection, argues a comprehensive new assessment published by the International Union of Forest Research Organizations (IUFRO), the world's largest network of forest scientists.


Bats face new perils from climate change


(11/15/2012) Global climate change could devastate bat populations around the world, threatening to tear yet another thread from the tapestry of biodiversity should current temperature trends persist, according to a new study. "Bats were the focus for this study because they are relatively understudied but due to their sensitivity to environmental stress, they are excellent indicators of climate change," Hayley Ann Sherwin, co-author of the paper published in Mammal Review, with the Queen University in Belfast, told mongabay.com.


Gaining from rain: precipitation is an indicator of tropical forest biodiversity

(11/12/2012) Policymakers seeking to conserve forests in southern India should focus on those receiving the highest levels of rainfall, according to new research. Scientists from the Center for International Forestry Research (CIFOR) found rainfall to be the most important environmental determinant of species richness in the Anamalai region of the southern Western Ghats.


Development halted in crucial wildlife corridor in Malaysia


(11/07/2012) Kenyir Wildlife Corridor in northeast Malaysia is teeming with wildlife: elephants, gibbons, tigers, tapirs, and even black panthers (melanistic leopards) have been recorded in the 60 kilometer (37 mile) stretch of forest. In fact, researchers have recorded over 40 mammal species (see species list below), including 15 threatened with extinction according to the IUCN Red List. When these findings were presented by scientists to the Terengganu state government action followed quickly: all development projects have been halted pending a government study.


Threatened Galapagos coral may predict the future of reefs worldwide


(11/07/2012) The Galapagos Islands have been famous for a century and a half, but even Charles Darwin thought the archipelago's list of living wonders didn't include coral reefs. It took until the 1970s before scientists realized the islands did in fact have coral, but in 1983, the year the first major report on Galapagos reef formation was published, they were almost obliterated by El Niño. This summer, a major coral survey found that some of the islands' coral communities are showing promising signs of recovery. Their struggle to survive may tell us what is in store for the rest of the world, where almost three-quarters of corals are predicted to suffer long-term damage by 2030.


Above the ocean: saving the world's most threatened birds


(11/01/2012) A life on the ocean is a perilous one for any bird. They must expend energy staying aloft for thousands of miles and learn to be marathon swimmers; they must seek food beneath treacherous waves and brave the world's most extreme climates; they must navigate the perils both of an unforgiving sea and far-flung islands. Yet seabirds, which includes 346 global species that depend on marine ecosystems, have evolved numerous strategies and complex life histories to deal with the challenges of the sea successfully, and they have been doing so since the dinosaur's last stand. Today, despite such a track record, no other bird family is more threatened; yet it's not the wild, unpredictable sea that endangers them, but pervasive human impacts.


Happy Halloween: nine new species of tree-climbing tarantula discovered


(10/31/2012) If you suffer from acute arachnophobia, this is the perfect Halloween discovery for you: a spider expert has discovered nine new species of arboreal (tree-dwelling) tarantulas in the Brazil. Although tarantula diversity is highest in the Amazon rainforest, the new species are all found in lesser-known Brazilian ecosystems like the Atlantic Forest, of which less than 7 percent remains, and the cerrado, a massive savannah that is being rapidly lost to agriculture and cattle ranching.


Indonesia remains epicenter for illegal wildlife trade in reptiles and amphibians


(10/24/2012) Demand for exotic pets is driving the illegal harvest and trade of herpetofauna (reptiles and amphibians) in Indonesian New Guinea, according to a recent study published in the journal Biodiversity and Conservation. Between September 2010 and April 2011, Daniel Natusch and Jessica Lyons of the University of New South Wales surveyed traders of amphibians and reptiles in the Indonesian provinces of Maluku, West Papua and Papua.


Wealthy nations, excluding U.S., pledge to double funds for biodiversity

(10/22/2012) Although negotiations came down to the wire, nations finally brokered a new deal at the 11th meeting of the Convention on Biological Diversity (CBD) in Hyderabad, India; at its heart is a pledge to double resources from wealthier countries to the developing world by 2015 to conserve embattled species and ecosystems. While no numbers were put on the table, observers say a doubling of current resources would mean around $10-12 billion a year. However, this amount is still far short of what scientists and conservation groups say is necessary to stem current extinctions.


Rehabilitated orangutans in danger if industrial project proceeds in Borneo


(10/22/2012) The proposed extension of an industrial area in East Kalimantan, Indonesia will likely mean the end of a population of rehabilitated orangutans who reside there, according to the Indonesian environmental group Peduli Teluk Balikpapan. The Kariangau Industrial Area (KIK) will comprise 5,130 hectares of land currently covered by hardwood forests and mangroves when completed, including one third of orangutan habitat in Sungai Wain forest—a crucial portion that is not within the boundaries of the Sungai Wain Protection Forest and therefore not under any governmental protection.


India pledges over $60 million for biodiversity, but experts say much more needed

(10/18/2012) The Prime Minister of India, Manmohan Singh, pledged around $50 million (Rs. 264 crore) for domestic biodiversity protection, reports the Hindu. The pledge came this week at the Convention on Biological Diversity (CBD) meeting in Hyderabad, India. The CBD has set bold goals on stemming the rate of extinction worldwide, but these have suffered from a lack of funding. India also said it had set aside another $10 million (Rs. 50 crore) for biodiversity projects abroad. Still, such funds are far below what scientists say is necessary to stem ongoing extinctions.



Page 1 | Page 2 | Page 3 | Page 4 | Page 5 | Page 6 | Page 7 | Page 8 | Page 9 | Page 10 | Page 11 | Page 12 | Page 13 | Page 14 | Page 15 | Page 16 | Page 17 | Page 18 | Page 19 | Page 20 | Page 21 | Page 22 | Page 23 | Page 24 | Page 25 | Page 26 | Page 27 | Page 28 | Page 29 | Page 30 | Page 31 | Page 32