News articles on biodiversity

---
Mongabay.com news articles on biodiversity in blog format. Updated regularly.








Olinguito, tinkerbell, and a dragon: meet the top 10 new species of 2013
(05/22/2014) Out of around 18,000 new species described and named last year, scientists have highlighted ten in an effort to raise awareness about the imperiled biodiversity around us. Each species—from a teddy-bear-like carnivore in the Andes to a microbe that survives clean rooms where spaceships are built—stands out from the crowd for one reason or another.
'Simmering conflict': the delicate balancing act of protecting India's wilderness
(05/13/2014) The Western Ghats of southern India, one of the world's top biodiversity hotspots, is a 1600-kilometer (1000-mile) mountain chain that runs parallel to the western coast of the Indian subcontinent. It traverses six states and is home to as many as 250 million people. In an interview with mongabay.com, M.D. Madhusudan of the Nature Conservation Foundation discusses the importance and challenges of establishing protected areas in India.
Not all used up: why conserving selectively logged forests is important
(05/02/2014) Tropical forests, which provide rich biodiversity, vital carbon storage, and essential medicines, are being damaged and destroyed at a rapid rate worldwide. Loggers especially target old-growth forests for selective harvesting of their valuable timber. But while selectively logged forests are indeed degraded, these disturbed forests are valuable ecosystems for many species, with higher biological productivity than previously thought, and merit increased conservation attention, argues a new paper published in Frontiers in Ecology and the Environment
Loggers plan to clear 20 percent of tropical island paradise
(04/28/2014) Seven years ago, a palm oil company set its eyes on Woodlark Island—a small rainforest island nearly 200 miles off the coast of Papua New Guinea—but was rebuked by the local populace. But locals and conservationists who spoke to mongabay.com at the time felt that wouldn't be the end of it: they were right. Recently, a company, Karridale Limited, has landed machinery on the island.
'Better late than never': Myanmar bans timber exports to save remaining forests
(04/24/2014) Myanmar contains some of Asia's largest forests, but has been losing them at a rapid pace during the last two decades as logging companies emptied woodlands to meet the demands of the lumber industry. In an effort to save its disappearing forests, Myanmar implemented a ban on raw timber exports, effective March 31, 2014. However, the ban affects only raw timber exports, not milled lumber, throwing into doubt its ability to adequately protect Myanmar's forests.
Long lives, big impacts: human life expectancy linked to extinctions
(04/15/2014) Since the arrival of Homo sapiens, other species have been going extinct at an unprecedented rate. Most scientists now agree that extinction rates are between 100 and 1000 times greater than before humans existed. Working out what is driving these extinctions is fiendishly complicated, but a new study suggests that human life expectancy may be partly to blame.
Life finds a way: the surprising biodiversity of cities
(04/11/2014) In the largest global assessment of urban biodiversity to date, researchers examined the biodiversity of urban areas and found that cities are home to a surprising number of species. The study underlines the conservation importance of preserving and creating green spaces when it comes to urban planning.
Giant ibis, little dodo, and the kakapo: meet the 100 weirdest and most endangered birds
(04/10/2014) The comic dodo, the stately great auk, the passenger pigeon blotting out the skies: human kind has wiped out nearly 200 species of birds in the last five hundred years. Now, if we don't act soon we'll add many new ones to the list: birds such as the giant ibis, the plains-wanderer, and the crow honeyeater. And these are just a few of the species that appear today on the long-awaited EDGE list.
Next big idea in forest conservation? Connecting deforestation to disease
(04/03/2014) Thomas Gillespie is concerned with the connections between conservation and disease, with a particular emphasis on primates. Much of his research examines the places where humans and animals are at a high risk of exchanging pathogens, and how human-caused disturbances, such as deforestation, can change disease dynamics and impacts.
Brief lives linked to Amazon biodiversity
(03/31/2014) The South American Amazon rainforest is renowned for being one of the most biodiverse ecosystems on the planet, boasting an estimated 16,000 different tree species. However, the distribution of these diverse tree species is curiously uneven. What is the reason behind this irregular diversity? According to a new study, the answer lies within short durations between tree generations.
Apocalypse now? Climate change already damaging agriculture, acidifying seas, and worsening extreme weather
(03/31/2014) It's not just melting glaciers and bizarrely-early Springs anymore; climate change is impacting every facet of human civilization from our ability to grow enough crops to our ability to get along with each other, according to a new 2,300-page report from the Intergovernmental Panel on Climate Change (IPCC). The massive report states definitively that climate change is already affecting human societies on every continent.
Revealed for the first time: the surprising biodiversity of algae 'reefs'
(03/28/2014) Most people are familiar with coral reefs, but very few have ever heard of their algal equivalent – rhodolith beds. Yet, these structures provide crucial habitat for many marine species. In the first study of its kind, published in mongabay.com's Tropical Conservation Science, researchers unveil just how important these beds are for bottom-dwelling organisms, and the species that depend on them.
Those eyes look human: could anthropomorphism be used for conservation?
(03/28/2014) It's easier to relate to someone you have something in common with; that feeling of connection can turn strangers into friends. And if those strangers belong to an entirely different species, then attributing human qualities to that species – a process called anthropomorphism – may aid conservation efforts by attracting public attention and funding resources.
Next big idea in forest conservation? Quantifying the cost of forest degradation
(03/27/2014) How much is a forest really worth? And what is the cost of forest degradation? These values are difficult to estimate, but according to Dr. Phillip Fearnside, we need to do a better job. For nearly forty years, Fearnside has lived in Amazonia doing ecological research, looking at the value of forests in terms of environmental or ecosystem services such as carbon storage, water cycling, and biodiversity preservation. Fearnside then works to convert these services into a basis for sustainable development for rural populations.
The power of connections: India to establish Asia's largest protected forest
(03/21/2014) India has stepped up forest conservation efforts in recent years, with a major project underway to establish a large swath of uninterrupted habitat through the designation of additional protected areas and expanding those already under protection. If realized, these areas would converge to become Asia's largest unbroken forest, encompassing approximately 15,000 square kilometers (5,790 square miles) over three states.
Scientist discovers a plethora of new praying mantises (pictures)
(03/19/2014) Despite their pacific name, praying mantises are ferocious top predators with powerful, grasping forelimbs; spiked legs; and mechanistic jaws. In fact, imagine a tiger that can rotate its head 180 degrees or a great white that blends into the waves and you'll have a sense of why praying mantises have developed a reputation. Yet, many praying mantis species remain little known to scientists, according to a new paper in ZooKeys that identifies an astounding 19 new species from the tropical forests of Central and South America.
Leftover trees enhance the biodiversity of new forests
(03/18/2014) Trees left standing after deforestation have a discernible impact on the composition of local biodiversity in secondary growth forests, according to a new study published in PLOS ONE. Researchers working on the Osa Peninsula in Costa Rica discovered that remnant trees could affect species composition of regenerated forests up to 20 years after being logged.
Mother of God: meet the 26 year old Indiana Jones of the Amazon, Paul Rosolie
(03/17/2014) Not yet 30, Paul Rosolie has already lived a life that most would only dare dream of—or have nightmares over, depending on one's constitution. With the Western Amazon as his panorama, Rosolie has faced off jaguars, wrestled anacondas, explored a floating forest, mentored with indigenous people, been stricken by tropical disease, traveled with poachers, and hand-reared a baby anteater. It's no wonder that at the ripe age of 26, Rosolie was already written a memoir: Mother of God.
Does haze from burning forests affect marine life?
(03/10/2014) Two scientists are calling on researchers, NGOs, and governments to begin studying the impact of burning forests and peatlands in Indonesia on the already-threatened marine ecosystems of Southeast Asia. Every year, Indonesian farmers set forests, vegetation, and peatlands alight to clear them for agriculture, often palm oil, and pulp and paper plantations. Not only do these practices destroy hugely-diverse tropical forests, but the resulting haze spreads to many parts of Southeast Asia, threatening regional health and impacting economies. Now, a new paper argues that the sinister impacts of Indonesia's burning may extend as far as the oceans.
Can the millions in urban India live among greenery?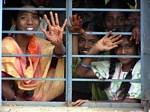 (03/06/2014) Large swathes of wilderness alternating with pockets of urbanization may be a reality in some countries, but in India boundaries are soft. Where a city ends and where a village begins in its outskirts is somewhat fuzzy. Rapidly developing megacities like Bangalore and Pune, localities like Gurgaon outside New Delhi, have been subsuming surrounding villages into their ever-expanding boundaries for the last couple of decades.
Amazon trees super-diverse in chemicals
(03/03/2014) In the Western Amazon—arguably the world's most biodiverse region—scientists have found that not only is the forest super-rich in species, but also in chemicals. Climbing into the canopy of thousands of trees across 19 different forests in the region—from the lowland Amazon to high Andean cloud forests—the researchers sampled chemical signatures from canopy leaves and were surprised by the levels of diversity uncovered.
Wonderful Creatures: the tiny, predatory penis-worm that lies in wait in the sand
(02/28/2014) The seabed is really where it's at in terms of animal diversity. Of the 35 known animal lineages, representatives of all but two are found here. In contrast, the huge numbers of species that inhabit tropical rainforests represent a mere 12 lineages. One group of animals that illustrates the diversity of the seabed is the Priapulida, which also go by the unfortunate common name of "penis worms." Only 20 species of priapulid are known today, a shadow of their diverse past, which extends back for well over 500 million years. Not commonly seen, the priapulids have attracted little attention from the zoology community as a whole.
Why are the tropics so rich with life?
(02/24/2014) Descending the latitudinal ladder to the tropics, you would likely notice a few things: increasingly equivalent stretches of day and night, warmer weather and beachgoers with more intense sunburns. You may also notice an abundance of plant and animal life. Generations of scientists since the days of Darwin and Wallace have observed that species richness increases as one moves toward the equator. This holds true for nearly every animal group, including micro-organisms, marine invertebrates, insects, amphibians, birds and mammals. But why is this?
The lemur end-game: scientists propose ambitious plan to save the world's most imperiled mammal family
(02/20/2014) Due to the wonderful idiosyncrasies of evolution, there is one country on Earth that houses 20 percent of the world's primates. More astounding still, every single one of these primates—an entire distinct family in fact—are found no-where else. The country is, of course, Madagascar and the primates in question are, of course, lemurs. But the far-flung island of Madagascar, once a safe haven for wild evolutionary experiments, has become an ecological nightmare. Overpopulation, deep poverty, political instability, slash-and-burn agriculture, illegal logging for lucrative woods, and a booming bushmeat trade has placed 94 percent of the world's lemurs under threat of extinction, making this the most imperiled mammal group on the planet. But, in order to stem a rapid march toward extinction, conservationists today publicized an emergency three year plan to safeguard 30 important lemur forests in the journal Science.
Next big idea in forest conservation? Incentivizing keeping primary forests intact
(02/07/2014) Much of Dr. Corey Bradshaw's work has a singular aim: to keep primary habitats and functioning ecosystems intact. According to Bradshaw, the existing system of carbon trading rules needs to be changed so that primary forests are given a higher value than other forms of land use. 'Nothing, can replace primary vegetation, both in terms of biodiversity value and other ecosystem services.'
Next big idea in forest conservation? Connecting forest fragments
(01/31/2014) Dr. Stuart Pimm is an expert in extinctions: why they happen, how fast they happen, and how they can be prevented. Reconnecting forest fragments and avoiding fragmentation, according to Pimm, are among the most crucial things we can do to conserve global biodiversity. His organization SavingSpecies identifies areas at-risk for extinctions and helps local organizations fundraise so they can protect and restore habitats and safeguard biodiversity.
Wonderful Creatures: meet the animal that has evolved a cushy, worry-free life inside an octopus
(01/30/2014) The range of habitats that animals have come to occupy is nothing short of staggering. Take the dicyemids for example. They are among the simplest animals on the planet, with a tiny, worm-like adult body that consists of between 10 and 40 cells. They have no organs, body cavities or even guts—a structural simplicity which is a consequence of where and how they live. The only place you will find adult dicyemids is inside the bodies of cephalopods, typically octopuses and cuttlefish where large numbers of them cling to the inner wall of the mollusc's kidney.
287 amphibian and reptile species in Peruvian park sets world record (photos)
(01/28/2014) It's official: Manu National Park in Peru has the highest diversity of reptiles and amphibians in the world. Surveys of the park, which extends from high Andean cloud forests down into the tropical rainforest of the Western Amazon, and its buffer zone turned up 155 amphibian and 132 reptile species, 16 more than the 271 species documented in Ecuador's Yasuní National Park in 2010.
Amazing discovery in Antarctica: sea anemones found living upside down under ice (photos)
(01/27/2014) Sea anemones are supposed to sit on the bottom of the ocean, using their basal disc (or adhesive foot) to rest on a coral reef orsand. So, imagine the surprise of geologists in Antarctica when they discovered a mass of sea anemones hanging upside from the underside of the Ross Ice Shelf like a village of wispy ghosts. The researchers weren't even there to discover new life, but to learn about south pole currents through the Antarctic Geological Drilling (ANDRILL) Program via a remotely-operated undersea robot.
New dolphin discovered in the Amazon surprises scientists
(01/23/2014) Researchers have discovered a new species of river dolphin from the Amazon. Writing in the journal Plos One, scientists led by Tomas Hrbek of Brazil's Federal University of Amazonas formally describe Inia araguaiaensis, a freshwater dolphin that inhabits the Araguaia River Basin. It is the first true river dolphin discovered since 1918.
The next best thing: how well do secondary forests preserve biodiversity?
(01/23/2014) Secondary forests, which are areas that were previously cleared of old-growth cover, now comprise the majority of the forested areas in the United States, Europe, and elsewhere. A heavily debated issue is to what extent secondary forests are able to contribute to the preservation of biodiversity. In an article published in PLOS ONE, a group of researchers from the Smithsonian Tropical Research Institute led by Michiel van Breugel evaluated the biodiversity preservation potential of secondary forests.
How "insect soup" might change the face of conservation
(01/23/2014) Much of what we know about patterns of biodiversity has come from extensive fieldwork, with expert researchers sampling and identifying species in a process that takes thousands of man-hours. But new technologies may revolutionize this process, allowing us to monitor changes in biodiversity at speeds and scales unimaginable just a decade ago.
Wonderful Creatures: A nematode drama played out in a millipede's gut
(01/17/2014) Nematodes are typically small animals that to the naked eye look very much alike; however, these creatures are fantastically diverse —on a par with the arthropods in terms of species diversity. At face value, nematodes lack the charisma of larger animals, so there are very few biologists who have made it their life's work to understand them. Those who do have been rewarded with a glimpse of the incredible diversity of these animals, an example of which is the complex menagerie of nematodes that dwell in the guts of large, tropical millipedes.
High-living frogs hurt by remote oil roads in the Amazon
(01/14/2014) Often touted as low-impact, remote oil roads in the Amazon are, in fact, having a large impact on frogs living in flowers in the upper canopy, according to a new paper published in PLOS ONE. In Ecuador's Yasuni National Park, massive bromeliads grow on tall tropical trees high in the canopy and may contain up to four liters of standing water. Lounging inside this micro-pools, researchers find a wide diversity of life, including various species of frogs. However, despite these frogs living as high as 50 meters above the forest floor, a new study finds that proximity to oil roads actually decreases the populations of high-living frogs.
Wonderful Creatures: the lightning-fast Stenus beetles
(01/10/2014) Rove beetles are among the most diverse animals on the planet, with around 56,000 species currently described. Amongst this multitude of species is a dazzling array of adaptations perhaps best illustrated by the genus Stenus. These beetles, with their bulbous eyes and slender bodies are often found near water running swiftly over the wet ground and clambering among the vegetation.
Rewilding Chile's savanna with guanacos could increase biodiversity and livestock
(01/06/2014) Local extinctions have occurred across a variety of habitats on every continent, affecting a gamut of species from large predators such as the wolves of North America, to tiny amphibians like the Kihansi spray toad of Tanzania. The long trek toward reversing such extinctions has begun, but it is not without its challenges, both ethical and logistical.
Rainforest news review for 2013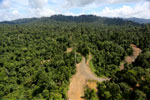 (12/26/2013) 2013 was full of major developments in efforts to understand and protect the world's tropical rainforests. The following is a review of some of the major tropical forest-related news stories for the year. As a review, this post will not cover everything that transpired during 2013 in the world of tropical forests. Please feel free to highlight anything this post missed via the comments section at the bottom. Also please note that this review focuses only on tropical forests.
Biggest new animal discoveries of 2013 (photos)
(12/23/2013) Thousands of species were scientifically described for the first time in 2013. Many of these were 'cryptic species' that were identified after genetic analysis distinguished them from closely-related species, while others were totally novel. Below are some of the most interesting "new species" discoveries that took place or were formally announced in 2013.
Giant clams are easy to recognize, but genetics proves there is more than meets the eye
(12/21/2013) Giant clams are among the more easily spotted invertebrates of the marine realm. However, some are actually quite cryptic and distinct species are often difficult to identify, claims a study recently published in PlosOne. Much attention has been focused on charismatic species in research, but the scientists who authored the study argue that giant clams also deserve the spotlight because of the potential threats and present misunderstandings regarding their taxonimical classifications.
Featured video: what would a world without wildlife look like?

(12/20/2013) Greenpeace today released a clever video highlighting the global biodiversity crisis with a little help from a much-beloved Disney film. While it might seem unlikely the Africa's animals will vanish, this is exactly what's happening in parts of the continent due to poaching, unsustainable bushmeat trade, habitat loss, massive development projects that are often poorly planned, and a booming human population.
Top 10 HAPPY environmental stories of 2013
(12/19/2013) China begins to tackle pollution, carbon emissions: As China's environmental crisis worsens, the government has begun to unveil a series of new initiatives to curb record pollution and cut greenhouse emissions. The world's largest consumer of coal, China's growth in emissions is finally slowing and some experts believe the nation's emissions could peak within the decade. If China's emissions begin to fall, so too could the world's.
Using stories to connect people to biodiversity: an interview with Tara Waters Lumpkin, PhD
(12/18/2013) In a world where extinctions are almost commonplace and global warming barely raises an eyebrow, very few of us can return to find the places we grew up in unsullied by development. Sometimes, all that is left of a favorite grove of trees or strip of forest are memories. Through Izilwane: Voices for Biodiversity Project, an online magazine for story-tellers, Tara Waters Lumpkin has succeeded in bringing together more than one hundred "eco-writers" who have shared their memories, highlighted environmental crises in their localities and raised their voices against habitat destruction.
Scientists make one of the biggest animal discoveries of the century: a new tapir
(12/16/2013) In what will likely be considered one of the biggest (literally) zoological discoveries of the Twenty-First Century, scientists today announced they have discovered a new species of tapir in Brazil and Colombia. The new mammal, hidden from science but known to local indigenous tribes, is actually one of the biggest animals on the continent, although it's still the smallest living tapir. Described in the Journal of Mammology, the scientists have named the new tapir Tapirus kabomani after the name for 'tapir' in the local Paumari language: Arabo kabomani.
Scientists: well-managed forest restoration benefits both biodiversity and people

(12/16/2013) In November this year, the world was greeted by the dismaying news that deforestation of the Brazilian Amazon jumped 28% in the past year. The year 2013 also holds the dubious distinction of being the first time since humans appeared on the planet, that carbon concentrations in the atmosphere rose to 400 parts per million. A map by Google revealed that Russia, Brazil, the United States, Canada and Indonesia all displayed over 10 million hectares of gross forest loss from 2000-2012, with the highest deforestation rate occurring in Malaysia.
Camera traps find less mammals than expected in Costa Rican corridor

(12/16/2013) A new study using camera traps in mongabay.com's open-access journal Tropical Conservation Science has surveyed the diversity of medium and large-sized predators in the San Juan-La Selva biological corridor in Costa Rica, whilst also demonstrating how alteration of habitat is affecting the use of this corridor.
Big data shows tropical mammals on the decline
(12/12/2013) The world's largest remote camera trap initiative—monitoring 275 species in 17 protected areas—is getting some big data assistance from Hewlett-Packard (HP). To date, the monitoring program known as the Tropical Ecology Assessment and Monitoring (TEAM) Network has taken over 1.5 million photos of animals in 14 tropical countries, but conservationists have struggled with how to quickly evaluate the flood of data.
Sky islands: exploring East Africa's last frontier
(12/04/2013) The montane rainforests of East Africa are little-known to the global public. The Amazon and Congo loom much larger in our minds, while the savannas of East Africa remain the iconic ecosystems for the region. However these ancient, biodiverse forests—sitting on the tops of mountains rising from the African savanna—are home to some remarkable species, many found only in a single forest. A team of international scientists—Michele Menegon, Fabio Pupin, and Simon Loader—have made it their mission to document the little-known reptiles and amphibians in these so-called sky islands, many of which are highly imperiled.
86 percent of big animals in the Sahara Desert are extinct or endangered
(12/03/2013) Bigger than all of Brazil, among the harshest ecosystems on Earth, and largely undeveloped, one would expect that the Sahara desert would be a haven for desert wildlife. One would anticipate that big African animals—which are facing poaching and habitat loss in other parts of the world—would thrive in this vast wilderness. But a new landmark study in Diversity and Distributions finds that the megafauna of the Sahara desert are on the verge of total collapse.




Page 1 | Page 2 | Page 3 | Page 4 | Page 5 | Page 6 | Page 7 | Page 8 | Page 9 | Page 10 | Page 11 | Page 12 | Page 13 | Page 14 | Page 15 | Page 16 | Page 17 | Page 18 | Page 19 | Page 20 | Page 21 | Page 22 | Page 23 | Page 24 | Page 25 | Page 26 | Page 27 | Page 28 | Page 29 | Page 30 | Page 31 | Page 32 | Page 33 | Page 34 | Page 35