News articles on biodiversity

---
Mongabay.com news articles on biodiversity in blog format. Updated regularly.






Cuddly slow loris threatened by the pet trade

(05/09/2007) The slow loris, a big-eyed primate found in the rainforests of southeast Asia, is threatened by the international pet trade said ProFauna Indonesia, a wildlife activist group that has called for a ban on the illegal trafficking of the charismatic animal.
Global warming is killing coral reefs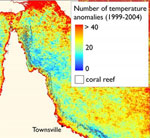 (05/07/2007) A new study provides further evidence that climate change is adversely affecting coral reefs. While previous studies have linked higher ocean temperatures to coral bleaching events, the new research, published in PLoS Biology, found that climate change may increasing the incidence of disease in Great Barrier Reef corals. Omniously, the research also shows that healthy reefs, with the highest density of corals, are hit the hardest by disease.
Climate change could dramatically change forests in Central America
(05/02/2007) Drought could cause dramatic shifts in rainforest plant communities in Central America, reports a new study published in the May 3 issue of Nature. The research shows that many rainforest plants are ill-equipped to deal with extended dry periods, putting them at elevated risk from changes in climate projected for the region.
Madagascar' forests are recovering

(05/02/2007) Some of Madagascar's most biologically rich forests appear to be recovering according to research published in the open-access journal PLoS ONE. The study also offers new insight in the forces behind deforestation and the social context of reforestation efforts.
Legal ruling may put endangered species at greater risk

(05/02/2007) In a letter sent Monday to U.S. Secretary of the Interior Dirk Kempthorne, the Senate Committee on Environment and Public Works, and the House Committee on Natural Resources, they warn that the new definition--spelled out in a legal opinion from the Solicitor of the U.S. Department of the Interior in March--will substantially weaken the federal Endangered Species Act of 1973.
'Reign of terror' over Fish and Wildlife Service ends with resignation
(05/01/2007) Julie A. MacDonald, the deputy assistant secretary at the Interior Department who riled environmentalists by seeking to gut the endangered species act, has resigned. The resignation comes a month after MacDonald was rebuked for illegally distributing internal agency documents to industry lobbyists.
Commercial hunting may be biggest threat to tropical rainforests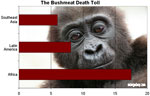 (05/01/2007) Commercial hunting is decimating wildlife populations across the tropics and may be one of the gravest threats presently facing rainforests, reports a series of studies published in the May issue of the journal Biotropica. The research reveals that large-scale loss of wildlife is already affecting forest health and regeneration.
Animals on islands more abundant than mainland

(04/30/2007) A comprehensive survey of lizards on islands around the world has confirmed what island biologists and seafaring explorers have long observed: Animals on islands are much more abundant than their counterparts on the mainland.
Stephen Colbert's sea turtle second in race to Galapagos

(04/25/2007) Nearing the end of Great Turtle Race, Stephen Colbert's sea turtle Stephanie Colburtle was in second place, 18 miles behind Billie, a turtle sponsored by Offield Center for Billfish Studies. Billie is just 31 miles from the finish line of the 500-mile race.
Scientists capture video of rare Borneo rhino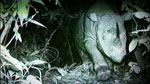 (04/24/2007) WWF has captured video footage of the rare Borneo rhino. There are only 25-50 of the rhino left in the wild on the island. Video from a camera trap shows the animal eating, walking to the camera and sniffing the equipment. It is first time the beast's behvaior in the wild has been captured on film.
Rare mountain gorillas in Uganda on the increase
(04/20/2007) High endangered mountain gorillas in Uganda are increasing, reports a new census by the Uganda Wildlife Authority, the Wildlife conservation Society, the Max Planck Institute of Anthropology and other groups. The population of gorillas in Bwindi Impenetrable National Park has increased from 320 in 2002 to 340 today. A 1997 study found 300 gorillas, indicating that the park population has increased by 20 percent over the past decade. Aggressive conservation measures have been the key say researchers.
Global warming, not mass suicide, threatens lemmings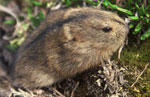 (04/20/2007) Lemmings, the rodents inaccurately believed to commit mass suicide by jumping off cliffs, are at real risk from climate change reports the Wildlife conservation Society (WCS). The Bronx Zoo-based group has just announced plans to study the impact of global warming on these creatures of the far North.
New bird species discovered in the South Pacific

(04/19/2007) University of Florida scientists have discovered a new genus of frogmouth bird in the Solomon Islands. The findings are published in the April edition of Ibis: The International Journal of Avian Science.
Frogs avoid damaging UV-B radiation, reducing extinction risk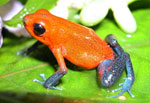 (04/18/2007) Poison arrow frogs appear to make special effort to avoid exposure to damaging ultraviolet-B radiation, according to research published in the journal Biotropica. The findings are significant in light of increasing levels of UV-B radiation due to ozone depletion.
Neon green gecko key to preventing Mauritian plant extinction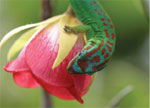 (04/17/2007) A vibrantly colored gecko plays a key role in a highly threatened ecological community in Mauritius reports new research published in American Naturalist. Studying plant-animal interactions in Mauritius, an Indian Ocean island famous for its extinct dodo bird, researchers found that a rare plant, Trochetia blackburniana, benefits from its proximity to Pandanus plants because they house high densities of geckos responsible for pollination. The findings, which unusually identify a lizard as a key pollinator, are significant because they provide "valuable management insights for ongoing conservation efforts to save the highly endangered flora of Mauritius.
Bad news for frogs; amphibian decline worse than feared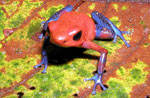 (04/16/2007) Chilling new evidence suggests amphibians may be in worse shape than previously thought due to climate change. Further, the findings indicate that the 70 percent decline in amphibians over the past 35 years may have been exceeded by a sharp fall in reptile populations, even in otherwise pristine Costa Rican habitats. Ominously, the new research warns that protected areas strategies for biodiversity conservation will not be enough to stave off extinction. Frogs and their relatives are in big trouble.
Cane toads to invade 2 million square kilometers of Australia
(04/03/2007) Cane toads are dramatically expanding their range in Australia and may eventually double their current extent to occupy over 2 million square kilometers, according to new projections by a team of scientists writing in Proceedings of The Royal Society B: Biological Sciences. The researchers report that the invasive amphibians increasingly occupying zones outside their native conditions, putting native Australian species at ever greater risk.
Chernobyl birds prefer to breed in sites with low radioactivity

(04/03/2007) Birds appear to prefer breeding sites with lower levels of radiation, according to research conducted in the immediate vicinity of the Chernobyl nuclear disaster in Ukraine. The study, published in the current edition of Proceedings of the Royal Society B: Biological Sciences, may be the first to look at the effects of radiation on animal breeding behvaior in the aftermath of Chernobyl.
Protected areas must be adapted to survive global warming

(04/03/2007) Protected areas can play an important role in reducing biodiversity loss due to global warming, reports a new study published March 30 in the journal Frontiers in Environment and Ecology (FREE). The research says that conservation efforts must factor in shifts in species' ranges to be successful.
Global warming could hurt salmon fisheries in Pacific Northwest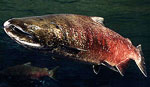 (04/02/2007) Global warming could cause Chinook salmon populations in Washington state to decline 20-40 percent by 2050 according to a new study published in the online early edition of PNAS. The researchers urge policymakers to focus on restoration of lower elevation habitats in order to reduce the expected impact of climate change on salmon populations.
Congo forest elephants declining from logging roads, illegal ivory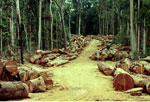 (04/02/2007) Fast-expanding logging roads in the Congo basin are becoming 'highways of death' for the fierce but elusive forest elephant, according to a new study published in the journal Public Library of Science. Logging roads both provide access to remote forest areas for ivory poachers and serve as conduits of advancing human settlement.
Antarctic insects make natural anti-freeze to survive cold

(04/02/2007) Insects in the some of the world's coldest places produce natural anti-freeze that enables them to survive sub-freezing temperatures for months on end according to research represented at the Society for Experimental Biology's Annual Meeting in Glasgow.
The news of extinction: western media's response to the demise of the Baiji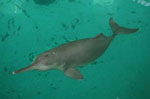 (04/01/2007) The news came and went with an alacrity that I found alarming, almost jolting. I waited for weeks, faithfully; I could not believe that the initial announcement would be followed by nothing but silence on the issue, no rationalizations, no opinions, no discussions, no outpourings of grief. Just silence.
Overfishing of sharks causing shellfish decline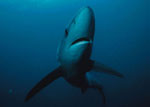 (03/29/2007) Overfishing of large sharks is reducing the abundance of shellfish reports a study published in the March 30 issue of the journal Science. A team of Canadian and American biologists has found that population declines in large predatory shark species -- including bull, great white, dusky, and hammerhead sharks -- due to overfishing has led to a boom in their ray, skate, and small shark prey species along the Atlantic Coast of the United States. Now these smaller species are depleting commercially important shellfish.
Some corals may survive acidification caused by rising CO2 levels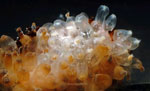 (03/29/2007) Several studies have shown that increased atmospheric carbon dioxide levels are acidifying the world's oceans. This is significant for coral reefs because acidification strips carbonate ions from seawater, making it more difficult for corals to build the calcium carbonate skeletons that serve as their structural basis. Research has shown that many species of coral, as well as other marine microorganisms, fare quite poorly under the increasingly acidic conditions forecast by some models. However, the news may not be bad for all types of corals. A study published in the March 30 issue of the journal Science, suggests that some corals may weather acidification better than others.
Dinosaur extinction didn't produce current mammal evolution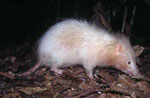 (03/28/2007) A new Nature study argues that the demise of dinosaurs did not fuel the rise of mammals. Devising a new tree of life for 4,500 species of mammals using molecular evolutionary trees, an international team of researchers challenges the prevailing hypothesis that a mass extinction of dinosaurs 65 million years ago played a major role in the diversification of mammals.
Logging reduces abundance of rare mammals in Borneo

(03/27/2007) Selective logging profoundly reduces the abundance of rare forest species according to surveys of logged and unlogged rainforests on the island of Borneo, one of the most biodiverse parts of southeast Asia. The results, published in a trio of papers, have implications for biodiversity and forest conservation efforts in one of the world's most threatened ecosystems.
Extinction, like climate change, is complicated
(03/26/2007) Extinction is a hotly debated, but poorly understood topic in science. The same goes for climate change. When scientists try to forecast the impact of global change on future biodiversity levels, the results are contentious, to say the least. While some argue that species have managed to survive worse climate change in the past and that current threats to biodiversity are overstated, many biologists say the impacts of climate change and resulting shifts in rainfall, temperature, sea levels, ecosystem composition, and food availability will have significant effects on global species richness.
Climate change will cause biomes to shift and disappear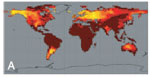 (03/26/2007) Many of the world's local climates could be radically changed if global warming trends continue, reports a new study published in the early online edition of the journal Proceedings of the National Academy of Sciences. The authors warn that current climates may shift and disappear, increasing the risk of biodiversity extinction and other ecological changes.
Sachs says biodiversity extinction crisis avoidable

(03/26/2007) In a Guardian editorial published Wednesday, Jeffrey Sachs called for action to stem mounting losses of global biodiversity. Sachs, director of the Earth Institute at Columbia University and Special Advisor to United Nations Secretary-General Ban Ki-Moon, says humans are the primary cause for depletion of the world's biological richness.
Too many nutrients reduce biodiversity

(03/25/2007) researchers. The research is consistent with findings in other parts of the world that suggest high nutrient abundance can increase the productivity of a few species, but limited overall species richness.
Salamanders dying due to common pesticide
(03/25/2007) Atrazine, one of the most widely used pesticides in the United States, may be killing salamanders, according to American biologists writing in the journal Environmental Health Perspectives.
Photos of world's tiniest owl, recently found in Peru

(03/23/2007) One of the world's smallest owls was spotted for the first time in the wild by researchers monitoring the Area de Conservacion Privada de Abra Patricia -- Alto Nieva, a private conservation area in northern Peru, South America. Biologists consider the Long-whiskered Owlet (Xenoglaux loweryi) "a holy grail of South American ornithology."
Global warming may cause biodiversity extinction

(03/21/2007) Extinction is a hotly debated, but poorly understood topic in science. The same goes for climate change. When scientists try to forecast the impact of global change on future biodiversity levels, the results are contentious, to say the least. While some argue that species have managed to survive worse climate change in the past and that current threats to biodiversity are overstated, many biologists say the impacts of climate change and resulting shifts in rainfall, temperature, sea levels, ecosystem composition, and food availability will have significant effects on global species richness.
Bush administration seeks to cull Endangered Species Act

(03/20/2007) After losing a series of lawsuits to protect endangered species, the Bush administration moved to reinterpret the Endangered Species Act so that it would only apply to areas where species are at risk, not areas where they are thriving or have already disappeared.
Amazon, Madagascar, Borneo are top plant biodiversity hotspots

(03/20/2007) A new map devised by biologists at the University of California, San Diego (UCSD) and the University of Bonn in Germany, shows that the Andes-Amazon region of South America, Madagascar, Borneo, and New Guinea reign as the world's hotspots for plant diversity. The researchers say the map will help both prioritize areas for biodiversity conservation and forecast the impact of climate change on plant communities and the ecological services they provide.
Fruit-eating birds at particular risk from Indonesian deforestation
(03/20/2007) A new study on the island of Sulawesi in Indonesia confirms the critical importance of fig trees to the rainforest ecosystem. The research has implications for wildlife conservation in an area of high rates of forest loss from agricultural conversion and logging.
New cat species discovered in Borneo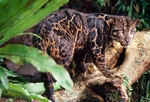 (03/14/2007) Scientists have declared that the clouded leopard found on the islands of Borneo and Sumatra is an entirely new species of cat, genetically distinct from the clouded leopard that lives in mainland southeast Asia. The scientists say that the two species of clouded leopard appear to have diverged about 1.4 million years ago. They also note that the results of the genetic study are supported by separate research on geographical variation in the coat color of the clouded leopard.
Ivory-billed Woodpecker sighting may be a mistake

(03/14/2007) A new study casts doubt on the apparent rediscovery of the Ivory-billed Woodpecker in Arkansas. J. Martin Collinson, a researcher at the University of Aberdeen in Scotland, says that the sighting of the thought-to-be-extinct bird is a case of mistaken identity. Using video analysis, Collinson argues that ornithologists have confused the Ivory-billed Woodpecker (Campephilus principalis) with the similar Pileated Woodpecker (Dryocopus pileatus).
Newly discovered ocean genes could help address world problems

(03/13/2007) An expedition lead by genome pioneer Craig Venter has turned up more than 6 million unknown genes among ocean microbes, some of which could be used to help fight climate change and develop clean sources of energy, according to a study published in PLoS Biology, an open-access journal.
New bamboo species discovered in U.S., first in 200 years

(03/13/2007) Botanists have discovered a previously unknown species of North American bamboo in the hills of Appalachia. It is the third known species of bamboo in the United States, but the first new species in more than 200 years. The species is named Arundinaria appalachiana.
Caribbean coral reefs result of mass extinction, rise of isthmus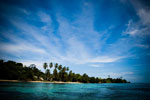 (03/12/2007) Extinctions that resulted from the formation of the Panamanian isthmus were delayed two million years according to a new study by researchers at the Smithsonian Tropical Research Institute, Scripps Institution of Oceanography and London's Natural History Museum. The findings may have implications for global species extinction and evolution.
Biodiversity extinction crisis looms says renowned biologist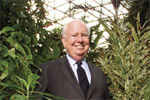 (03/12/2007) While there is considerable debate over the scale at which biodiversity extinction is occurring, there is little doubt we are presently in an age where species loss is well above the established biological norm. Extinction has certainly occurred in the past, and in fact, it is the fate of all species, but today the rate appears to be at least 100 times the background rate of one species per million per year and may be headed towards a magnitude thousands of times greater. Few people know more about extinction than Dr. Peter Raven, director of the Missouri Botanical Garden. He is the author of hundreds of scientific papers and books, and has an encyclopedic list of achievements and accolades from a lifetime of biological research. These make him one of the world's preeminent biodiversity experts. He is also extremely worried about the present biodiversity crisis, one that has been termed the sixth great extinction.
New Snapper Species Discovered in Brazil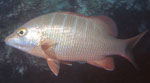 (03/09/2007) A new species of snapper was discovered off the coast of Brazil. The popular game fish had long been mistaken for a more common species, according to scientists with conservation International (CI) and Environmental Defense. The description of the Lutjanus alexandrei snapper is published in the journal Zootaxa.





Jumbo squid and sperm whales tagged

(03/08/2007) Scientists have simulatenously tagged sperm whales and jumbo squid off Mexico's Pacific coast, allowing them to be tracked by satellite even as they dive to depths exceeding 3000 feet. Details of the effort are published in in the March 12 edition of the journal Marine Ecology Progress Series (MEPS).




Page 1 | Page 2 | Page 3 | Page 4 | Page 5 | Page 6 | Page 7 | Page 8 | Page 9 | Page 10 | Page 11 | Page 12 | Page 13 | Page 14 | Page 15 | Page 16 | Page 17 | Page 18 | Page 19 | Page 20 | Page 21 | Page 22 | Page 23 | Page 24 | Page 25 | Page 26 | Page 27 | Page 28 | Page 29 | Page 30 | Page 31 | Page 32 | Page 33 | Page 34