News articles on biodiversity

---
Mongabay.com news articles on biodiversity in blog format. Updated regularly.






Climate change claims a snail

(08/12/2007) The Aldabra banded snail (Rachistia aldabrae), a rare and poorly known species found only on Aldabra atoll in the Indian Ocean, has apparently gone extinct due to declining rainfall in its niche habitat. While some may question lamenting the loss of a lowly algae-feeding gastropod on some unheard of chain of tropical islands, its unheralded passing is nevertheless important for the simple reason that Rachistia aldabrae may be a pioneer. As climate change increasingly brings local and regional shifts in precipitation and temperature, other species are expected to follow in its path.
U.N. sends team to investigate gorilla killings

(08/10/2007) The U.N. said it will send a team of experts to probe the killings of critically endangered mountain gorillas in the Democratic Republic of the Congo (DRC). Four gorillas were shot "execution-style" last month, while three others have been killed so far this year. Rangers believe illegal charcoal harvesters from Goma are to blame.
Organic, shade grown cacao good for birds

(08/09/2007) Bird diversity in cacao farms in Panama is considerably higher when crops are grown in the shade of canopy trees, reports a study published earlier this year in Biodiversity conservation. The research has implications for biodiversity conservation and the sustainability of cacao plantations.
Lowland rainforest less diverse than previously thought

(08/09/2007) While rainforests are the world's libraries of biodiversity, species richness may be more evenly distributed in some forests than in others, reports an extensive new study by an international team of entomologists and botanists. The work, published in the current issue of the journal Nature, has important implications for forest management and conservation strategies.
Primatologist freed but questions remain for Brazil after "attack on science"

(08/08/2007) While primatologist Dr. Marc van Roosmalen has been freed from prison pending appeal, prominent scientists had stinging criticism for the Brazilian government over its increasingly "hostile" treatment of researchers. Before Roosmalen was released Tuesday, some scientists even threatened "civil disobedience," according to a report in the journal Nature.
Dr. Marc Van Roosmalen, discover of unknown monkey species, freed in Brazil

(08/08/2007) Dr. Marc van Roosmalen, a renowned primatologist who has discovered seven species of monkeys in the Amazon rainforest, has been freed in Brazil. Dr. van Roosmalen had been charged with illegally keeping wild animals and embezzlement and sentenced to nearly 16 years in prison in a case that was widely criticized by scientists.
Afghanistan's recovery effort drives poaching of rare wildlife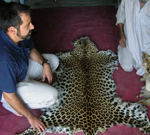 (08/07/2007) Few people associate Afghanistan with wildlife and it would come as a surprise to many that the war-torn, but fledging democracy is home to snow leopards, Persian leopards, five species of bush dog, Marco Polo Sheep, Asiatic Black Bear, Brown Bears, Striped Hyenas, and numerous bird of prey species. While much of this biodiversity has survived despite years of civil strife, Afghanistan's wildlife faces new pressures from the very people who are charged with rebuilding the country: contractors and the development community are driving the trade in rare and endangered wildlife. This development, coupled with lack of laws regulating resource management and growing instability, complicate efforts to protect the country's wildlife. Working to address these challenges is Dr. Alex Dehgan, Afghanistan Country Director for the Wildlife conservation Society (WCS). WCS is working to implement the Afghanistan Biodiversity conservation Program, a three-year project funded by the US Agency for International Development to promote wildlife and resource conservation in the country.
U.S. court blocks sonar testing to protect whales

(08/07/2007) A U.S. federal court blocked the Navy from using a type of sonar that environmentalists say pose a threat to whales off the coast of California. The judge noted that the Navy's own analyses concluded that the Southern California exercises "will cause widespread harm to nearly thirty species of marine mammals, including five species of endangered whales, and may cause permanent injury and death" and characterized the Navy's proposed mitigation measures as "woefully inadequate and ineffectual."
Scientists demand release of renowned monkey discoverer in Brazil

(08/06/2007) A prominent group of scientists have issued a petition to free world-renowned primatologist Marc van Roosmalen from Brazilian prison after he was charged with illegally keeping monkeys without a permit and other crimes. The scientists have called his imprisonment an "attack on the practice and profession of biological science in Brazil."
Frog killing diseases worse than thought in California

(08/06/2007) The deadly fungal disease that is killing amphibians worldwide can likely be spread by sexual reproduction reports a new study published in the early online edition of the journal Proceedings of the National Academy of Sciences. The findings suggest that protecting frogs and other amphibians from the pathogen will be more complicated than previously believed.
Rare gorillas slaughtered in mass killing

(07/24/2007) At least four critically endangered gorillas have been killed in Democratic Republic of Congo's Virunga National Park. National Geographic News reports they were shot "execution-style". Illegal charcoal harvesters are leading suspects in the slaying. Two other gorillas are missing and feared dead.
Researchers find large population of extremely rare monkey

(07/02/2007) A team of scientists from WWF and conservation International (CI) has discovered the world's largest known population of grey-shanked doucs (Pygathrix cinerea), a monkey ranked as one of the world's 25 most endangered primates, in Vietnam. The discovery is fueling that the species can be saved from extinction -- less than 1,000 of the monkeys are thought to remain.
Forest disturbance reduces biodiversity in the Amazon rainforest
(07/02/2007) Two new studies in the Amazon rainforest show that plantation forests and second-growth forests have lower species counts for butterflies, reptiles, and amphibians than adjacent primary forest areas. The research has important implications for conservation of tropical biodiversity in a world where old-growth forest is increasingly replaced by secondary forests, industrial plantations, and agricultural landscapes.
Sedentary, not migratory birds, face higher extinction risk

(06/24/2007) Sedentary birds face considerably higher risk of extinction than migratory birds, reports a new paper published in the journal Current Biology. The findings have implications for the conservation of increasingly endangered wildlife populations.
Coffee plantations may preserve tropical bird species

(06/18/2007) Agricultural areas offer opportunities for conservation in deforested landscapes in the tropics, reports a study published in the April 2007 issue of the journal conservation Biology by Stanford University biologists.
African elephants get 9-year reprieve
(06/14/2007) African countries have agreed to extend a ban on ivory exports for another nine years. In a deal reached Wednesday at the meeting of the UN Convention on International Trade in Endangered Species (CITES) in The Hague, four African countries will be allowed to sell their ivory stockpiles to raise funds for conservation and community development efforts. The ivory had been intercepted from black market transactions and the sale by Botswana, Namibia, South Africa and Zimbabwe had been previously approved. The four countries say their elephant populations are increasing thanks to conservation and law enforcement efforts.
U.S. bird populations plummet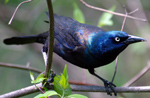 (06/14/2007) Populations of some of America's most common birds have plummeted over the past forty years, reports a new analysis by the National Audubon Society. Some species have seen a decline of 80 percent. The study, which combines the National Audubon Society's Christmas Bird Count with summertime surveys by the U.S. Geological Survey, found California species were particularly affected, with populations declines of 75 to 96 percent for several species, including the Northern Pintail, Horned Lark, and Loggerhead Shrike.
Rare kangaroos released into New Guinea rainforest

(06/05/2007) China, soon to be the world's largest emitter of greenhouse gases, unveiled its first climate change initiative Tuesday. According to state media, the National Climate Change Program plan calls for China to reduce energy use 20 percent by 2010, promote carbon sink technologies and other adaptive technologies, raise the efficiency of coal-fired power plants, and increase the amount of renewable energy it produces.
Pictures of newly discovered species in Suriname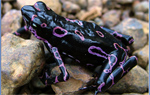 (06/04/2007) Scientists documented 467 species, including 24 species believed new to science, during a rainforest survey in eastern Suriname, South America. The expedition, led by conservation International (CI), was sponsored by two mining companies, BHP-Billiton Maatschappij Suriname (BMS) and Suriname Aluminium Company LLC (Suralco), hoping to mine the area for bauxite, the raw material used to make aluminum. conservation International said the Rapid Assessment Survey (RAP) will help "give miners guidance on protecting unique plants and animals during potential future development," according to a statement from the organization.
10-20% of birds extinct by 2100 due to global warming, deforestation
(06/04/2007) Ten to twenty percent of the world's terrestrial bird species could be threatened with extinction by 2100 due to climate change and habitat destruction reports a study published in the June 5 issue of the journal PLoS Biology. The numbers are in line with estimates published last year in The Proceedings of the National Academy of Sciences. Combining future projections on global warming, agricultural expansion and human population growth from the global Millennium Ecosystem Assessment with current geographic ranges of the world's 8,750 species of terrestrial birds, researchers Walter Jetz, David Wilcove, and Andrew Dobson estimate that 950 to 1800 species may be condemned to extinction by 2100.
Colorful marine creatures discovered off Panama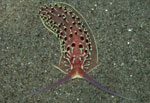 (05/31/2007) Researchers have discovered five new species of sea slug off the coast of Central America. Surveys have found that the region, known as the Tropical Eastern Pacific, is characterized by large numbers of endemic and previously unknown species. The Smithsonian Tropical Research Institute (STRI) reports that recent expeditions have turned up 5 new species of nudibranchs--a group of mollusks lacking outer shells. The discoveries are important because nudibranchs have developed "sophisticated chemical defense mechanisms" which can help with the development of novel medicinal products.
Global warming may be key factor in frog deaths

(05/30/2007) Three papers published in this week's issue of the journal Nature debate the proximate causes for the global decline of amphibians, but nonetheless reveal mounting concerns among scientists over the continuing disappearance of frogs, salamanders, and their relatives.
New snake-like lizard discovered in India

(05/28/2007) A previously unknown species of legless lizard as been discovered in a remote Indian forest, reports the Associated Press. Sushil Kumar Dutta, leader of a team of researchers from NGO Vasundhra and the North Orissa University, found the 7-inch long creature in the forests of Khandadhar near Raurkela in Orissa state, about 625 miles southeast of New Delhi.
Deep-sea creatures discovered near the Antarctic

(05/16/2007) Scientists have found hundreds of new marine creatures in the depths of the Weddell Sea near Antarctica, including Carnivorous sponges, free-swimming worms, crustaceans, and mollusks, reports research published in the current issue of the journal Nature.
Top ten threatened species named by WWF

(05/16/2007) The World Wildlife Fund (WWF) announced its top ten list for species in need of trade protection ahead of the upcoming Conference of the Convention on International Trade in Endangered Species (CITES) in The Hague, The Netherlands.
New species of hummingbird discovered in Colombia

(05/15/2007) Ornithologists have discovered a previously unknown blue-and-green-throated hummingbird species in a cloud forest in Colombia, reports BirdLife International, a conservation group. The bird, called the gorgeted puffleg, measures up to 4 inches (10 cm) in length.
Carnivorous plants invade San Francisco
(05/13/2007) While most plants derive nutrients from soil, some trap and consume living creatures for their primary source of sustenance. Now a special exhibit at the San Francisco Conservatory of Flowers offers a journey into the strange world of carnivorous plants.
Cuddly slow loris threatened by the pet trade

(05/09/2007) The slow loris, a big-eyed primate found in the rainforests of southeast Asia, is threatened by the international pet trade said ProFauna Indonesia, a wildlife activist group that has called for a ban on the illegal trafficking of the charismatic animal.
Global warming is killing coral reefs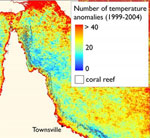 (05/07/2007) A new study provides further evidence that climate change is adversely affecting coral reefs. While previous studies have linked higher ocean temperatures to coral bleaching events, the new research, published in PLoS Biology, found that climate change may increasing the incidence of disease in Great Barrier Reef corals. Omniously, the research also shows that healthy reefs, with the highest density of corals, are hit the hardest by disease.
Climate change could dramatically change forests in Central America
(05/02/2007) Drought could cause dramatic shifts in rainforest plant communities in Central America, reports a new study published in the May 3 issue of Nature. The research shows that many rainforest plants are ill-equipped to deal with extended dry periods, putting them at elevated risk from changes in climate projected for the region.
Madagascar' forests are recovering

(05/02/2007) Some of Madagascar's most biologically rich forests appear to be recovering according to research published in the open-access journal PLoS ONE. The study also offers new insight in the forces behind deforestation and the social context of reforestation efforts.
Legal ruling may put endangered species at greater risk

(05/02/2007) In a letter sent Monday to U.S. Secretary of the Interior Dirk Kempthorne, the Senate Committee on Environment and Public Works, and the House Committee on Natural Resources, they warn that the new definition--spelled out in a legal opinion from the Solicitor of the U.S. Department of the Interior in March--will substantially weaken the federal Endangered Species Act of 1973.
'Reign of terror' over Fish and Wildlife Service ends with resignation
(05/01/2007) Julie A. MacDonald, the deputy assistant secretary at the Interior Department who riled environmentalists by seeking to gut the endangered species act, has resigned. The resignation comes a month after MacDonald was rebuked for illegally distributing internal agency documents to industry lobbyists.
Commercial hunting is a major threat to tropical rainforests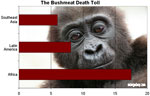 (05/01/2007) Commercial hunting is decimating wildlife populations across the tropics and may be one of the gravest threats presently facing rainforests, reports a series of studies published in the May issue of the journal Biotropica. The research reveals that large-scale loss of wildlife is already affecting forest health and regeneration.
Animals on islands more abundant than mainland

(04/30/2007) A comprehensive survey of lizards on islands around the world has confirmed what island biologists and seafaring explorers have long observed: Animals on islands are much more abundant than their counterparts on the mainland.
Stephen Colbert's sea turtle second in race to Galapagos

(04/25/2007) Nearing the end of Great Turtle Race, Stephen Colbert's sea turtle Stephanie Colburtle was in second place, 18 miles behind Billie, a turtle sponsored by Offield Center for Billfish Studies. Billie is just 31 miles from the finish line of the 500-mile race.
Scientists capture video of rare Borneo rhino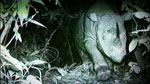 (04/24/2007) WWF has captured video footage of the rare Borneo rhino. There are only 25-50 of the rhino left in the wild on the island. Video from a camera trap shows the animal eating, walking to the camera and sniffing the equipment. It is first time the beast's behvaior in the wild has been captured on film.
Rare mountain gorillas in Uganda on the increase
(04/20/2007) High endangered mountain gorillas in Uganda are increasing, reports a new census by the Uganda Wildlife Authority, the Wildlife conservation Society, the Max Planck Institute of Anthropology and other groups. The population of gorillas in Bwindi Impenetrable National Park has increased from 320 in 2002 to 340 today. A 1997 study found 300 gorillas, indicating that the park population has increased by 20 percent over the past decade. Aggressive conservation measures have been the key say researchers.




Page 1 | Page 2 | Page 3 | Page 4 | Page 5 | Page 6 | Page 7 | Page 8 | Page 9 | Page 10 | Page 11 | Page 12 | Page 13 | Page 14 | Page 15 | Page 16 | Page 17 | Page 18 | Page 19 | Page 20 | Page 21 | Page 22 | Page 23 | Page 24 | Page 25 | Page 26 | Page 27 | Page 28 | Page 29 | Page 30 | Page 31 | Page 32 | Page 33 | Page 34 | Page 35