News articles on Belize

---
Mongabay.com news articles on Belize in blog format. Updated regularly.





Rosewood in Belize: the truth behind the smoke

(02/11/2013) In Belize, the uncontrolled and often illegal harvesting of rosewood has been, and still is, one of the major environmental issues in the country. In March of last year, the government established a moratorium on the export and extraction of rosewood, however illegal harvesting continued. On Friday 11 January, the Minister of Forestry, Fisheries and Sustainable Development made the bold move of burning confiscated illegally cut rosewood flitches.


Oil drilling approved for national park in Belize


(11/20/2012) The Belizean government has approved an application by US Capital Energy to drill exploratory wells for oil in the Sarstoon Temash National Park in southern Belize. The decision is believed to have been taken on November 1st by the National Environmental Assessment Committee (NEAC) of the Department of Environment, but the exact terms of the settlement have not yet been made public. The oil company, backed by US energy investment group Aspect Holdings, has applied to drill at five points in the Sarstoon Temash National Park and adjacent areas.


Deforestation accelerates in Belize

(08/09/2012) Deforestation in Belize has accelerated since late 2010, reports a new satellite-based assessment of the tiny Central American country's forest cover by CATHALAC (the Water Center for the Humid Tropics of Latin America and the Caribbean).


Oil company blamed for fire in Belize national park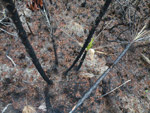 (05/01/2012) At the end of March in southern Belize the sun beats down through blackened trees onto what was the only known low-lying sphagnum moss bog in Central America. Now it is an expanse of ash and pale crusts of burned moss onto which dragonflies settle briefly before passing on. Fire spread through the area at the end of February 2012, and since then reeds have begun to sprout, but otherwise it remains a scene of devastation with no sign that the moss is regenerating.


Belize enacts moratorium on rosewood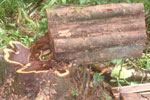 (03/20/2012) The Belizean Government has banned the harvesting and export of rosewood with immediate effect, in response to the widespread clearing of the hardwood species for the Asian market. A government statement released on Friday, March 16th claimed the moratorium was necessary "to carry out an orderly assessment of the situation on the ground and as a first response to regulate the timber trade occurring in southern Belize." The government would subsequently institute "a rigorous regulatory framework throughout the country."


Airborne lasers discover undocumented deforestation in Belize park

(03/19/2012) A NASA funded expedition using airborne lasers to study ancient Mayan ruins has also documented widespread illegal deforestation in the Caracol Archaeological Reserve. The lasers found that forest disturbance was actually 58 percent greater than recent satellite surveys showed, according new study in mongabay.com's open access journal Tropical Conservation Society (TCS). Such deforestation not only imperils biodiversity, carbon storage, and migration routes for Central American species, but could also lead to plundering of the Maya site of Caracol.


Camera traps go under the ocean, seeking sharks

(03/12/2012) Remote camera traps, which have become a hugely important conservation tool on land during the past decade, have now gone underwater. Marine biologists have used underwater video camera traps to compare the population of Caribbean reef sharks (Carcharhinus perezii) in Belize's protected areas versus fishing areas in a new study in the open-access journal PLoS ONE. Conducted from 2005-2010, the study found that reef sharks benefited significantly from conservation areas.


Photo: new cookies-and-cream insect surprises researchers in Belize

(02/21/2012) Scientists have discovered the first ever insect in the Ripipterygidae family in Belize. Measuring only 5 millimeters (0.19 inches), the tiny insect uses its powerful legs to leap away from predators much like a grasshopper.


Seismic trails cut by U.S. oil firm in Belizean national park used by illegal loggers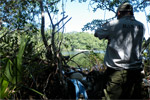 (12/06/2011) In the Belizean rainforest two rangers look up and down a straight path hacked through the jungle and take GPS coordinates, the escorting soldiers lying back in the heat as the coordinates are delivered. These are noted and the patrol resumes, pausing to photograph protected comfra palms that have been cut and laid on the muddy ground, or stretches where the rainforest has been cleared far beyond the permitted width. We are in the Sarstoon-Temash National Park, nearly 42,000 acres of rainforest and red mangrove swamps in southern Belize adjacent to the Guatemalan border, and the park rangers are dealing with a new threat to the biodiversity of the reserve. Rather than searching for illegal loggers from Guatemala, this patrol is monitoring the activities of an American oil company.


Turkey picture for Thanksgiving

(11/24/2011) Ocellated Turkey (Meleagris ocellata) in Belize.


Harpy eagles nest in Belize for the first time in over 60 years (pictures)

(01/06/2011) Scientists have confirmed the presence of a harpy eagle nest in the Maya Mountains of Belize. The discovery represents the most northerly breeding pair in the Americas, and signals a comeback for a species which has become locally extinct in much of Central America due to human activity.


Pictures: Belize Zoo devastated by hurricane

(11/15/2010) The world famous Belize Zoo is closed until further notice after suffering a direct hit from Hurricane Richard, which leveled trees and inflicted heavy damage on wire fences. The zoo has send out an urgent plea for building materials and funds to help with recovery. None of the facility's animals or staff were injured.


Belize lost 10,000 ha of forest per year since 1980


(11/07/2010) Forests in Belize have been cleared at a rate of nearly 10,000 hectares per year for the past 30 years, a recent study shows. In 1980, forests covered 79.5% of the land surface of Belize but as of February 2010 it had decreased to 62.7%. The area covered by forests in the country thus went from about 6500 square miles 30 years ago to around 5300 square miles today, losing an area the size of Rhode Island.


New species of glowing mushrooms named after Mozart's Requiem

(10/14/2009) Classical musical genius, Wolfgang Amadeus Mozart, probably never expected his music to inspire mycologists, but fungi researchers have announced in the journal Mycologia that two new species of glowing mushroom are named after movements in the composer's Requiem: Mycena luxaeterna (eternal light) and Mycena luxperpetua (perpetual light).


New protections for coral reefs and dwindling fish species in Belize

(04/27/2009) Coral reefs in Belize, considered to be some of the most pristine in the west, have secured additional protections. Rene Montero, the Minister of Agriculture and Fisheries, signed a set of new laws this month to protect Belize's coral reefs and the fish that inhabit them. The additional laws protect increasingly overfished species, ban spearfishing in marine reserves, and create no-take zones, according to a press release from the Wildlife Conservation Society (WCS).


Territorial disputes and conservation

(03/23/2009) Political drivers such as those related to territorial disputes between tropical countries can result in direct and indirect ramifications negatively impacting conservation of native ecosystems report Arlenie Perez, Chuang Chin-Ta and Farok Afero in the March issue of the open access journal Tropical Conservation Science.


Coral reefs and mangroves worth $395-559 M per year in Belize

(11/14/2008) Services provided by coral reefs and mangroves in Belize are worth US$395 million to US$559 million per year, or 30 to 45 percent of the Central American country's GDP — according to a new report released by the World Resources Institute and the World Wildlife Fund (WWF).


Belize's world famous coral reefs and rainforests at risk

(03/03/2008) Belize's world famous coral reefs and tropical forests are increasingly vulnerable to environmental problems which could impact its tourism-dependent economy, argues a Belizean ecologist writing in the inaugural issue of the open access e-journal Tropical conservation Science.


7-year old nature guide becomes Belize environmental hero as adult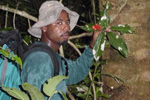 (11/16/2007) Each year hundreds of thousands of nature-oriented tourists visit Belize to see the Central American country's spectacular coral reefs, biodiverse rainforests, and ancient Mayan ruins. However few visitors realize that Belize's natural resources are at risk. Timber and oil extraction, agricultural encroachment, coastal development, pollution and unrestrained tourism are all increasing threats to Belizean ecosystems. Unless something is done to address these concerns, within a generation these pressures could present considerable problems for Belize. Dr. Colin Young, head of the environmental science program at Galen University in Belize, says that while he is greatly concerned about these issues, there is still time to ensure healthy forests and reefs in Belize.


Low deforestation countries to see least benefit from carbon trading

(08/13/2007) Countries that have done the best job protecting their tropical forests stand to gain the least from proposed incentives to combat global warming through carbon offsets, warns a new study published in Tuesday in the journal Public Library of Science Biology (PLoS). The authors say that "high forest cover with low rates of deforestation" (HFLD) nations "could become the most vulnerable targets for deforestation if the Kyoto Protocol and upcoming negotiations on carbon trading fail to include intact standing forest."