News articles on bees

---
Mongabay.com news articles on bees in blog format. Updated regularly.






Pollinator collapse could lead to a rise in malnutrition

(02/09/2015) Saving the world's pollinators may be a public health issue, according to recent research. Scientists have long believed that pollinators are important for human nutrition, but this is first time they have tested the hypothesis. What they found is disturbing: pollinator collapse could increase nutrient deficiency across local populations by a up to 56 percent in four developing counties.
Pesticides harm bumblebees' ability to forage
(10/31/2014) Bumblebees exposed to pesticides suffered adverse effects to their foraging behavior, according to a new study co-authored by Nigel Raine and Richard Gill in the journal Functional Ecology. Bumblebees are essential insect pollinators that are vital to healthy crop yields and biodiversity, but their populations have been in decline.
More is better: high bee biodiversity boosts crop yields
(06/12/2014) Scientists have discovered that blueberry plants visited by more diverse bee species increased their seed number, berry size and fruit set, and quickened their ripening time. They hope their findings encourage farmers to help support local wild bee communities.
Alpine bumblebees capable of flying over Mt. Everest
(02/05/2014) The genus Bombus consists of over 250 species of large, nectar-loving bumblebees. Their bright coloration serves as a warning to predators that they are unwelcome prey and their bodies are covered in a fine coat of hair - known as pile - which gives them their characteristically fuzzy look. Bumblebees display a remarkably capable flight performance despite being encumbered with oversized bodies supported by relatively diminutive wings.
Bee-harming pesticides may impact human nervous system

(12/23/2013) Neonicotinoid pesticides, which have been increasingly blamed for the collapse of bee populations, may also impact human's developing nervous system, according to a review of research by the European Food Safety Authority (EFSA). The EFSA says that current safety guidelines for two pesticides—acetamiprid and imidacloprid—may be too lax to protect humans, especially the developing brains of unborn children
Top 10 HAPPY environmental stories of 2013
(12/19/2013) China begins to tackle pollution, carbon emissions: As China's environmental crisis worsens, the government has begun to unveil a series of new initiatives to curb record pollution and cut greenhouse emissions. The world's largest consumer of coal, China's growth in emissions is finally slowing and some experts believe the nation's emissions could peak within the decade. If China's emissions begin to fall, so too could the world's.
Losing just one pollinator species leads to big plant declines
(07/22/2013) A shocking new study finds that losing just one pollinator species could lead to major declines in plant productivity, a finding that has broad implications for biodiversity conservation. Looking at ten bumblebee species in Colorado alpine meadows, two scientists found that removing a single bee species cut flower seed production by one-third. Pollinators worldwide are in major trouble as they are hit by habitat loss, pesticides, disease and other impacts. In fact, the EU has recently banned several pesticides that have been linked to the global bee decline.
EU labels another pesticide as bad for bees

(06/18/2013) A widely used insect nerve agent has been labelled a "high acute risk" to honeybees by the European Food Safety Authority (EFSA). A similar assessment by the EFSA on three other insecticides preceded the suspension of their use in the European Union.
U.S. loses nearly a third of its honey bees this season
(05/09/2013) Nearly a third of managed honeybee colonies in America died out or disappeared over the winter, an annual survey found on Wednesday. The decline—which was far worse than the winter before—threatens the survival of some bee colonies. The heavy losses of pollinators also threatens the country's food supply, researchers said. The US Department of Agriculture has estimated that honeybees contribute some $20bn to the economy every year.
Europe bans pesticides linked to bee collapse

(04/29/2013) The EU has banned three neonicotinoid pesticides (imidacloprid, clothianidin and thiamethoxam) linked to the decline of bees for two years. The ban will apply to all flowering crops, such as corn, rape seed, and sunflowers. The move follows a flood of recent studies, some high-profile, that have linked neonicotinoid pesticides, which employ nicotine-like chemicals, to the widespread decline of bees seen both in Europe and North America.
Domesticated bees do not replace declining wild insects as agricultural pollinators
(04/03/2013) Sprinkled with pollen, buzzing bees fly from one blossom to another, collecting sweet nectar from brilliantly colored flowers. Bees tend to symbolize the pollination process, but there are many wild insects that carry out the same function. Unfortunately, wild insect populations are in decline, and, according to a recent study, adding more honey bees may not be a viable solution.
Common pesticides disrupt brain functioning in bees

(03/27/2013) Exposure to commonly used pesticides directly disrupts brain functioning in bees, according to new research in Nature. While the study is the first to record that popular pesticides directly injure bee brain physiology, it adds to a slew of recent studies showing that pesticides, especially neonicotinoids, are capable of devastating bee hives and may be, at least, partly responsible for on-going Colony Collapse Disorder (CCD).
EU pushes ban on pesticides linked to bee downfall
(02/05/2013) Following a flood of damning research on the longterm impact of neonicotinoid pesticides on bee colonies, the EU is proposing a two year ban on the popular pesticides for crops that attract bees, such as corn, sunflower, oil seed rape, cotton. The proposal comes shortly after European Food Safety Authority (EFSA) released a report that found neonicotinoid pesticides posed a "number of risks" to bees.
New study adds to evidence that common pesticides decimating bee colonies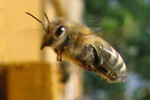 (10/24/2012) The evidence that common pesticides may be partly to blame for a decline in bees keeps piling up. Several recent studies have shown that pesticides known as "neonicotinoid" may cause various long-term impacts on bee colonies, including fewer queens, foraging bees losing their way, and in some cases total hive collapse. The studies have been so convincing that recently France banned the use of neonicotinoid pesticides. Now a new study finds further evidence of harm caused by pesticides, including that bees who are exposed to more than one chemical, i.e. neonicotinoid and pyrethroid, were the most vulnerable.
After damning research, France proposes banning pesticide linked to bee collapse

(06/04/2012) Following research linking neonicotinoid pesticides to the decline in bee populations, France has announced it plans to ban Cruiser OSR, an insecticide produced by Sygenta. Recent studies, including one in France, have shown that neonicotinoid pesticides likely hurt bees' ability to navigate, potentially devastating hives. France has said it will give Sygenta two weeks to prove the pesticide is not linked to the bee decline, known as Colony Collapse Disorder (CCD).
Researchers recreate bee collapse with pesticide-laced corn syrup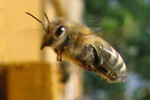 (04/05/2012) Scientists with the Harvard School of Public Health (HSPH) have re-created the mysterious Colony Collapse Disorder in several honeybee hives simply by giving them small doses of a popular pesticide, imidacloprid. Bee populations have been dying mysteriously throughout North America and Europe since 2006, but the cause behind the decline, known as Colony Collapse Disorder, has eluded scientists. However, coming on the heels of two studies published last week in Science that linked bee declines to neonicotinoid pesticides, of which imidacloprid is one, the new study adds more evidence that the major player behind Colony Collapse Disorder is not disease, or mites, but pesticides that began to be widely used in the 1990s.
Smoking gun for bee collapse? popular pesticides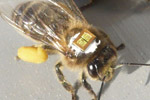 (03/29/2012) Commonly used pesticides may be a primary driver of the collapsing bee populations, finds two new studies in Science. The studies, one focused on honeybees and the other on bumblebees, found that even small doses of these pesticides, which target insect's central nervous system, impact bee behavior and, ultimately, their survival. The studies may have far-reaching repercussions for the regulation of agricultural chemicals, known as neonicotinoid insecticides, that have been in use since the 1990s.
New bee species sports world's longest tongue

(06/14/2011) A new species of bee discovered in the Colombian rainforest could give the world's biggest raspberry! Researchers say the new bee has the longest tongue of any known bee, and may even have the world's longest tongue compared to body size of any animal: twice the length of the bee itself. The new species has been named Euglossa natesi in honor of bee-expert Guiomar Nates.
The value of the little guy, an interview with Tyler Prize-winning entomologist May Berenbaum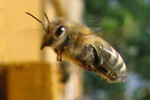 (04/06/2011) May Berenbaum knows a thing or two about insects: in recognition of her lifelong work on the interactions between insects and plants, she has had a character on The X-Files named after her, received the Public Understanding of Science and Technology Award for her work in making science accessible to the public, and this year has been awarded the prestigious Tyler Environmental Prize. "Winning the Tyler Prize is an incredible honor—most of my scientific heroes have been Tyler Prize winners and I'm exceedingly grateful to be considered worthy of being included among their ranks," Berenbaum told mongabay.com in an interview. "The Prize is also tremendously enabling—because the money is unrestricted I can use it to carry out projects that have been difficult to fund."