News articles on Bats

---
Mongabay.com news articles on Bats in blog format. Updated regularly.






Photo essay: the flying fox show
(04/22/2015) Rain or clear, wind or still, full moon or no. Every night thousands of flying foxes rise from a small mangrove island among the lesser Sunda islands of Indonesia. Around sunset the Sunda flying fox begin to stir in their roots—their stomachs waking them—until the boldest among them takes off into the sky.
Videos: new film series highlights bringing Gorongosa back to life

(01/29/2015) Tracking lions, photographing bats, collecting insects, bringing elephants home: it's all part of a day's work in Gorongosa National Park. This vast wilderness in Mozambique was ravaged by civil war. However, a unique and ambitious 20-year-effort spearheaded by Greg Carr through the Gorongosa Restoration Project is working to restore this rich and little-studied African wilderness.
Did palm oil expansion play a role in the Ebola crisis?
(01/14/2015) The Ebola outbreak in West Africa may have been the result of complex economic and agricultural policies developed by authorities in Guinea and Liberia, according to a new commentary in Environment and Planning A. Looking at the economic activities around villages where Ebola first emerged, the investigators analyzed a shift in land-use activities in Guinea's forested region, particularly an increase in oil palm.
New bat species has fangs you won't believe
(01/08/2015) What big teeth you have, my dear! The better to eat insects with—and make one's own ecological niche. Scientists have uncovered a new bat with stupendous canines in the rainforests of Lao PDR and Vietnam, aptly naming it Hypsugo dolichodon, or the long-toothed pipistrelle.
New survey finds surprisingly large population of endangered owl
(12/03/2014) The Anjouan scops owl—an elusive owl found only on its tiny eponymous island—was once considered among the world's most endangered owls, and even the most threatened birds. However, the first in-depth survey of the owls on the island finds that, in fact, the population is far larger than initially estimated.
Destroyed habitat, fewer resources, Ebola: the many repercussions of Liberia's deforestation
(10/29/2014) Liberia is one of the last strongholds of intact forest in West Africa. These forests are the home of many unique species of plants and animals, and many Liberians rely on the forests for direct economic benefits. The presence of intact forests may even be important for preventing the future outbreak of disease such as Ebola, which can be transmitted to people from animal vectors displaced by deforestation.
Scientists find temperate bat in the hot tropics of the Western Ghats (photos)
(10/15/2014) The Western Ghats is one of the world's eight richest biodiversity hotspots. A UNESCO World Heritage site, and also known as the Great Escarpment of India, the Ghats run parallel to India's west coast. This great ecosystem is home to over 139 mammal species, nearly 50 of which are bats. And now scientists can add a new bat to this list: one that until now had only been documented from temperate regions.
A weed by any other name: remnant shrubs and trees play vital role in regenerating forests
(09/29/2014) Tropical forest restoration projects are exciting research sites for scientists studying factors that affect ecosystem recovery. Here, scientists are trying to understand plant community succession, i.e. the process of recovery after cleared lands are abandoned and allowed to regrow naturally. One of the most important components of this recovery process is seed dispersal, since seeds from nearby forests allow a deforested habitat to become populated again by native plants and trees.
Fragmented forests hurt some bat species, may benefit others
(09/23/2014) Development of roads and other structures disturb large, continuous patches of habitat for wildlife. This habitat fragmentation is one of the biggest contributors to species extinction, as the local ecology and species interactions are altered. A new study finds that leaf-nosed bat abundances in Mexico are closely linked to how sensitive each species is to habitat fragmentation.
Don't eat or touch bat bushmeat amid worsening Ebola outbreak, UN warns

(07/29/2014) The world's worst Ebola outbreak was likely begun by a hunter shooting a fruit bat for their dinner or the market, according to the UN. The outbreak has killed over 660 people in six months to date, and recently spread via plane to Nigeria. The disease is particularly deadly with a mortality rate of around 90 percent.
What's an environmental journalist to do with so much good news?
(06/12/2014) As an environmental journalist covering stories from the great Arctic ice melt to the rhino poaching crisis in Africa, you'll forgive me if sometimes in the morning—before I turn my computer on—I have a sudden desire to spend a few extra minutes in bed or have a leisurely breakfast with my daughter or just sit in the back yard with a cup of tea and a good book.
PhD students 'thrilled' to rediscover mammal missing for 124 years
(06/11/2014) In 1890 Lamberto Loria collected 45 specimens—all female—of a small bat from the wilds of Papua New Guinea. Nearly 25 years later, in 1914, the species was finally described and named by British zoologist Oldfield Thomas, who dubbed it the New Guinea big-eared bat (Pharotis imogene) after its massive ears. But no one ever saw the bat again.
Acoustic surveying: new monitoring technique beats bats at their own game
(05/29/2014) Species monitoring can be a very invasive form of research. However, the use of non-invasive techniques made possible through advancements in technology has been on the rise. A new study published in Ecological Informatics examined one such technique: an innovative and inexpensive non-invasive monitoring tool, known as acoustic surveying.
The matrix matters: scientists find surprising biodiversity between forests
(05/20/2014) In human-dominated countryside areas, forests are often fragmented and scattered among a matrix of developments such as plantations and pastures. Scientists have long overlooked the habitat value of these matrices. However, according to a recent study published in Nature, the biodiversity of altered countryside areas that exist between islands of fragmented forests can be significant and deserving of conservation attention.
Scientists discover giant sperm fossilized in bat feces (PHOTOS)
(05/15/2014) In a cave in Australia, researchers from the University of New South Wales discovered giant fossilized sperm. The sperm were produced 17 million years ago by a group of tiny, shelled crustaceans called ostracods, making them the oldest fossilized sperm ever found. The results were published recently in the Proceedings of the Royal Society B.
The remarkable story of how a bat scientist took on Russia's most powerful...and won
(04/28/2014) In a country increasingly known for its authoritarian-style crackdown on activists and dissidents, a bat scientist has won a number of impressive victories to protect the dwindling forests of the Western Caucasus. For his efforts, Gazaryan was awarded today with the Goldman Environmental Prize, often called the Nobel Prize for the environment, along with five other winners around the world.
City lights threaten rainforests by deterring bats
(04/09/2014) Fruit-eating bats play an important role in forest regeneration, collecting and spreading seeds far and wide. However, human development may be stymying bat-mediated dispersal. In a new study, researchers found that fruit bats avoid feeding in light-polluted areas, which may significantly affect forest growth.
New bat species discovered in Brazil leaves another at risk
(11/15/2013) A team of researchers has discovered a new species of bat in Brazil, which has put a previously known species, Bokermann's nectar bat (Lonchophylla bokermanni), at risk of extinction. Long thought to comprise one species, the bat populations of the Atlantic Forest and the Cerrado – the tropical savannah of Brazil's interior - are in fact distinct from one another, according to a new study in Zootaxa. Scientists now say the Atlantic Forest's population represents a newly described species, which they have dubbed Peracchi's nectar bat (Lonchophylla peracchii).
Five new, cryptic bats discovered in Senegal
(11/11/2013) An international research team led by Daurina Koubinova has discovered five new species of vesper bats during a series of expeditions to Senegal's Niokolo-Koba National Park. The new species are considered cryptic, because their genetic makeup is different despite physical similarities. The new bats have yet to be named.
Dolphins, bats and the evolution of echolocation
(11/08/2013) A dolphin swimming through the world's oceans after fish, and a bat flying through the air with its membranous wings to catch insects or eat fruit: at first glance, it looks like no two creatures could be more different. But it turns out they share a superpower - they hunt prey by emitting high-pitched sounds and listening for a returning echo. A recent study published in the journal Nature Letters has shown that the regions of the genome responsible for this ability are strikingly similar between these very different mammals.
First study of little-known mammal reveals climate change threat
(10/28/2013) One of the world's least-known flying foxes could face extinction by rising seas and changing precipitation patterns due to global warming, according to a new study in Zookeys. The research, headed by Donald Buden with the College of Micronesia, is the first in-depth study of the resident bats of the remote Mortlock Islands, a part of the Federated States of Micronesia.
Beautiful striped bat is the "find of a lifetime" (photos)
(04/10/2013) Scientists have uncovered a rare, brilliantly-striped bat in South Sudan that has yielded new secrets after close study. Working in Bangangai Game Reserve during July of last year, biologist DeeAnn Redeer and conservationist Adrian Garsdie with Fauna & Flora International (FFI) came across an unmissable bat, which has been dubbed by various media outlets as the "badger bat" and the "panda bat."
Bats face new perils from climate change
(11/15/2012) Global climate change could devastate bat populations around the world, threatening to tear yet another thread from the tapestry of biodiversity should current temperature trends persist, according to a new study. "Bats were the focus for this study because they are relatively understudied but due to their sensitivity to environmental stress, they are excellent indicators of climate change," Hayley Ann Sherwin, co-author of the paper published in Mammal Review, with the Queen University in Belfast, told mongabay.com.
Photos: emperor penguins take first place in renowned wildlife photo contest
(10/18/2012) Photographer, Paul Nicklen, says he'll never forget the moment when a slew of emperor penguins burst by him in the frigid Ross Sea; he'd waited in the cold water, using a snorkel, to capture this image. Now, Nicklen has won the much-coveted Veolia Environnement Wildlife Photographer of the Year Competition for the antic, bubbling photograph. Owned by the Natural History Museum and BBC Worldwide, this is the 48th year of the Veolia Environnement Wildlife Photographer of the Year, which hands out awards to 100 notable wildlife and environment photos.
Endangered fruit bats, and many other species, on the menu in the Philippines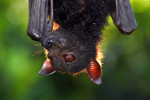 (07/09/2012) Bushmeat hunting is well-known to be decimating animal populations in Africa, but has been little studied much of Southeast Asia. However, a new paper in mongabay.com's open access journal Tropical Conservation Science shines light on the size and scale of bushmeat poaching in the Philippines. Studying an anonymous community near a national park on the island of Luzon, researchers found that poachers targeted 22 species, ten of which are considered either threatened or near threatened with extinction by the IUCN Red List.
Less than 100 pygmy sloths survive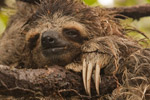 (05/24/2012) The pygmy three-toed sloth (Bradypus pygmaeus) is one of the world's most endangered mammals, according to a detailed survey of the population, which found less than 100 sloths hanging on in their island home. Only described by researchers in 2001, the pygmy sloth lives on a single uninhabited island off the coast of Panama. But human impacts, such as deforestation of the island's mangroves, may be pushing the species to extinction.
Island bat goes extinct after Australian officials hesitate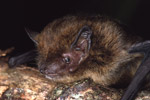 (05/23/2012) Nights on Christmas Island in the Indian Ocean will never again be the same. The last echolocation call of a tiny bat native to the island, the Christmas Island pipistrelle (Pipistrellus murrayi), was recorded on August 26th 2009, and since then there has been only silence. Perhaps even more alarming is that nothing was done to save the species. According to a new paper in Conservation Letters the bat was lost to extinction while Australian government officials equivocated and delayed action even though they were warned repeatedly that the situation was dire. The Christmas Island pipistrelle is the first mammal to be confirmed extinct in Australia in 50 years.
Animal picture of the day: Indian flying foxes soar

(04/02/2012) Indian flying foxes (Pteropus giganteus) are now soaring a the Wildlife Conservation Society's (WCS) Bronx Zoo. With wingspans that reach 4 to 5 feet (1.2-1.5 meters), they are one of the world's largest bats.
Disease kills 6 million bats in North America

(01/18/2012) In just six years around six million bats have succumbed to white-nose syndrome in North America, according to U.S. federal researchers. The number, somewhere between 5.7 and 6.7 million bats, is far higher than past estimates of over a million. Showing up in 2006 in New York, the perplexing disease, which appears as white dust on bats' muzzles, wipes out populations while they hibernate.
Bat-killing culprit identified by scientists

(10/31/2011) First identified in 2005, white-nose syndrome has killed over a million bats in the US, pushing once common species to the edge of collapse and imperiling already-endangered species. Striking when bats hibernate, the disease leaves a white dust on the bat's muzzle, causing them to starve to death. Long believed to be caused by a fungus in the genus Geomyces, researchers publishing in Nature have confirmed that the disease is produced by the species, Geomyces destructans.
Photos: Halloween creepy-crawlies of the natural world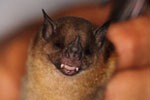 (10/31/2011) Everyone loves the beautiful animals, the playful orangutans, the rolly-polly pandas, the regal tigers, the wise elephants, the awe-inspiring whales, the silly penguins—and it shows. Aside from gracing calendars and starring in movies, these species receive millions in conservation funds and have no shortage of researchers devoted to them. But what about the ugly, crawly, shiver-inducing species? What about those animals that crawl instead of bound,that are slimy instead of furry, that inhabit the deep dark place of the world.
Photos: three bizarre bats discovered in Southeast Asia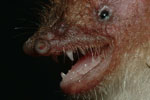 (10/30/2011) In the forests of Cambodia and Vietnam, researchers have discovered three new species of tube-nosed bats, known for extraordinary nostrils that look like blooming flowers. The new bats, described in the Journal of Mammalogy, are likely imperiled by deforestation. "They all possess specially shaped nostrils (hence the name for the group) the exact role of which not known yet," Gabor Csorba, lead author of the paper with the Hungarian Natural History Museum, told mongabay.com.
How to monitor biodiversity for REDD projects

(09/26/2011) Although the international program Reduced Emissions from Deforestation and Degradation (REDD) was developed in order to lower greenhouse gas emissions by protecting standing forests, conservationists have long pointed out that another result from a well-crafted REDD program could be to conserve biodiversity. But one of the difficulties of including biodiversity is how to measure the success or failure of conservation in a REDD site. A new opinion piece in mongabay.com's open-access journal Tropical Conservation Science analyzes two effective ways to monitor biodiversity in REDD sites focusing on bats and big mammals.
Photos: new bat uncovered in the Caribbean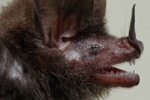 (05/26/2011) Researchers have declared a new species of bat from the Caribbean island of St. Vincent. While the new bat had been documented before, it was long believed to be a member of a similar species that is found throughout South America and a few Caribbean Islands, that is until PhD student Peter Larsen noticed it was far larger than its relative down south.
Bats worth billions

(04/03/2011) US agriculture stands to lose billions in free ecosystem services from the often-feared and rarely respected humble bat. According to a recent study in Science bats in North America provide the US agricultural industry at least $3.7 billion and up to a staggering $53 billion a year by eating mounds of potentially pesky insects. Yet these bats, and their economic services, are under threat by a perplexing disease known as white-nose syndrome (WNS) and to a lesser extent wind turbines.
Tiny bats trade in caves for pitcher plants in Borneo

(01/26/2011) A tiny species of bat in Borneo has chosen an unusual roost: a carnivorous pitcher plant, according to a recent study. The study examines how this behavior actually benefits both the bats and the plants, creating a symbiotic relationship.
Photos: wild, weird, and rare mammals storm the conservation world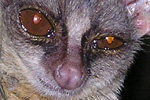 (11/21/2010) What do the New Zealand greater short-tailed bat, the black-and-white ruffed lemur, and the numbat have in common? They are all new members of the Zoological Society of London's EDGE top 100 most endangered and unique mammals list. Arguably the most innovative conservation program in the world, EDGE decides which species to focus conservation efforts on not based on popularity or fund-raising potential, but on hard data, only working with species that are considered the most endangered and evolutionarily distinct.
New bat species confirmed in Ecuador, may already be extinct

(11/16/2010) Although the first specimen was collected over 30 years ago, scientists have only now confirmed that a tiny brown bat is indeed a unique species. Named Myotis diminutus for its incredibly small size, the new bat was discovered in the Chocó biodiversity hotspot, amid the moist forests of western Ecuador.
Photos: surprises discovered in tiny forest fragment surrounded by palm oil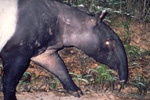 (11/10/2010) Researchers have uncovered an astounding number of species in a tiny protected forest fragment surrounded on all side by palm oil plantations in the Indonesian island of Sumatra. Researchers with the Zoological Society of London (ZSL), Queen Mary, University of London and the Durrell Institute of Conservation and Ecology (DICE – University of Kent) recorded sun bear (Helarctos malayanus), Malayan tapir (Tapirus indicus), the banded langur (Presbytis femoralis), and agile gibbons (Hylobates agilis), but most notable, was the first record ever of the Ridley's leaf-nosed bat (Hipposideros ridleyi) in Sumatra. The discoveries highlight the importance of preserving even small forest fragments surrounded by agriculture.
How the overlooked peccary engineers the Amazon, an interview with Harald Beck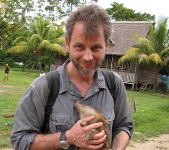 (09/20/2010) When people think of the Amazon rainforest, they likely think of roaring jaguars, jumping monkeys, marching ants, and squeezing anacondas. The humble peccary would hardly be among the first animals to cross their mind, if they even know such pig-like animals exists! Yet new research on the peccary is proving just how vital these species are to the world's greatest rainforest. As seed dispersers and seed destroyers, engineers of freshwater habitats and forest gaps, peccaries play an immense, long overlooked, role in the rainforest. "Peccaries have the highest density and biomass of any Neotropical mammal species. Obviously these fellows have quite an appetite for almost anything, but primarily they consume fruits and seeds. Their specialized jaws allow them to crush very hard seeds. The cracking sounds can be heard through the thick vegetation long before we could see them. As peccary herds bulldoze through the leaf litter in search for insects, frogs, seeds, and fruits, they destroy (i.e. snap and trample) many seedlings and saplings, sometimes leaving only the bare ground behind," Harald Beck, assistant professor at Towson University in Maryland, told mongabay.com in an interview.
Exploring Kenya's sky island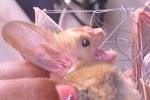 (08/18/2010) Rising over 2,500 meters from Kenya's northern desert, the Mathews Range is a sky island: isolated mountain forests surrounded by valleys. Long cut off from other forests, 'sky islands' such as this often contain unique species and ecosystems. Supported by the Nature Conservancy, an expedition including local community programs Northern Rangelands Trust and Namunyak Conservancy recently spent a week surveying the mountain range, expanding the range of a number of species and discovering what is likely a new insect.
Diverse habitats needed for survival of small mammals in Mexico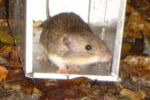 (03/29/2010) A new study in Tropical Conservation Science shows that small tropical mammals in Mexico—bats and rodents—require a variety of habitats to thrive. Surveying mammal populations in the Isthmus of Tehuantepec, Oaxaca, Mexico, researchers found that sites comprising the greatest habitat diversity carried also the greatest diversity of rodents. In turn bats lived in all variety of habitats and moved easily from one to another.
Why seed dispersers matter, an interview with Pierre-Michel Forget, chair of the FSD International Symposium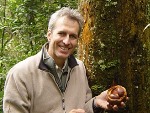 (03/07/2010) There are few areas of research in tropical biology more exciting and more important than seed dispersal. Seed dispersal—the process by which seeds are spread from parent trees to new sprouting ground—underpins the ecology of forests worldwide. In temperate forests, seeds are often spread by wind and water, though sometimes by animals such as squirrels and birds. But in the tropics the emphasis is far heavier on the latter, as Dr. Pierre-Michel Forget explains to mongabay.com. "[In rainforests] a majority of plants, trees, lianas, epiphytes, and herbs, are dispersed by fruit-eating animals. […] As seed size varies from tiny seeds less than one millimetres to several centimetres in length or diameter, then, a variety of animals is required to disperse such a continuum and variety of seed size, the smaller being transported by ants and dung beetles, the larger swallowed by cassowary, tapir and elephant, for instance."
Photos: park in Ecuador likely contains world's highest biodiversity, but threatened by oil

(01/19/2010) In the midst of a seesaw political battle to save Yasuni National Park from oil developers, scientists have announced that this park in Ecuador houses more species than anywhere else in South America—and maybe the world. "Yasuní is at the center of a small zone where South America's amphibians, birds, mammals, and vascular plants all reach maximum diversity," Dr. Clinton Jenkins of the University of Maryland said in a press release. "We dubbed this area the 'quadruple richness center.'"
Hunting across Southeast Asia weakens forests' survival, An interview with Richard Corlett
(11/08/2009) A large flying fox eats a fruit ingesting its seeds. Flying over the tropical forests it eventually deposits the seeds at the base of another tree far from the first. One of these seeds takes root, sprouts, and in thirty years time a new tree waits for another flying fox to spread its speed. In the Southeast Asian tropics an astounding 80 percent of seeds are spread not by wind, but by animals: birds, bats, rodents, even elephants. But in a region where animals of all shapes and sizes are being wiped out by uncontrolled hunting and poaching—what will the forests of the future look like? This is the question that has long occupied Richard Corlett, professor of biological science at the National University of Singapore.
New reserve created in Cambodia with REDD in mind

(10/26/2009) Cambodia's Royal Government's Council of Ministers has declared the creation of the Seima Protection Forest, a 1,100 square miles (2,849 square kilometers) park home to tigers, elephants, and endangered primates. The park's creation was developed in part by the Wildlife Conservation Society's (WCS) "Carbon for Conservation" program, which intends to protect high-biodiversity ecosystems while raising funds through carbon sequestration schemes such as Reducing Emission from Deforestation and Degradation (REDD).
Hunger drives great tits to kill and eat bats as they hibernate

(09/09/2009) A common bird in Europe, great tits tend to stick to insects and seeds as a food source with caterpillars as a particular favorite. However, a new paper in Biology Letters found that the song bird employs unique feeding behavior in a cave in Hungary: they kill and eat hibernating pipistrelle bats. This is the first instance ever recorded of a song bir preying on bats.
New species everywhere in Papua New Guinea's 'lost' volcano
(09/07/2009) A five week expedition into a remote extinct volcano has uncovered a treasure trove of new species in Papua New Guinea, including what may be the world's largest rat, a fanged frog, and a grunting fish. In all the expedition estimates it may have found around forty species unknown to science. The expedition was undertaken by a BBC film crew and scientists in January. Local trackers led them into the unexplored jungle, hidden beneath the Bosavi volcano's 2,800 meter summit. Six months prior to arrival, fields of spinach and sweet potato were planted to feed the expedition in such a remote area.
World's largest bat threatened with extinction due to legal hunting
(08/25/2009) Under the current legal hunting rate scientists predict that the world's largest bat, the aptly-named large flying fox or Pteropus vampyrus, faces extinction in six to 81 years. Increasing the urgency to save the large flying fox is the vital role it plays as an ecosystem engineer (a species whose behavior can shape an ecosystem); the species maintains Southeast Asian forests by dispersing a wide variety of seeds over distances farther than most birds and other mammals.
Moths defend against bats by 'jamming' sonar

(07/16/2009) Researchers have discovered a species of tiger moth that eludes bats by jamming their echolocation with ultrasonic clicks, a discovery that adds to the list of defensive mechanisms that insects use to defend themselves against bats. The study is published in the journal Science.
Tiny bat discovered on islands off Africa

(06/25/2009) The Natural History Museum in Geneva, Switzerland has announced the discovery of a bat species new to science on the Comoros Island arichpelago off the south-east coast of Africa. The bat weighs only 5 grams (0.17 ounces).
In the dark, bats identify each other by voice
(06/08/2009) Individual bats have the ability to tell the difference between other bats just by the sound of their voice, according to a study published in PLoS Computational Biology. Researchers from the University of Tuebingen, Germany found that the greater mouse-eared bat could distinguish between their fellows' echolocation calls. A subject bat was tested by having to select between two others depending on their calls. The subject bats chose correctly over 80 percent of the time.
'Stopgap' to preserve US bats from devastating fungus
(03/05/2009) Half a million bats have succumbed to a mysterious fungal disease known as white-nose syndrome in two years. Found in seven states in the northeastern US, this syndrome has left biologists baffled since first discovered in 2006. While researchers are still trying to uncover the relationship of the syndrome to the bats, a recent study published in Frontiers in Ecology and the Environment e-View suggests a way to mitigate the syndrome devastating affect. Employing a mathematical simulation the researchers found that using localized heat sources on hibernating bats may preserve populations while a long-term solution is found.
Shade-grown coffee preserves native tree diversity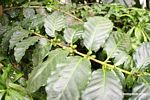 (12/23/2008) A new study finds that shade-grown coffee protects the biodiversity of tree species, as well as those of birds and bats. Published in Current Biology, the study found that native trees in shade-grown coffee plantations aid the overall species' gene flow and can become a focal point for reforestation.
Limestone karsts - islands of biodiversity in Asia - under threat from mining

(11/10/2008) Researchers have devised a scientific methodology for prioritizing conservation of limestone karsts, biologically-rich outcroppings found in Southeast Asia and other parts of the world. The findings are significant because karsts — formed millions of years ago by sea life — are increasingly threatened by mining and other development
How do wind turbines kill bats?

(08/25/2008) Numerous studies have shown that migratory bats are undergoing large fatalities due to wind turbines. Far more bats die due to wind turbines than birds, though they generally receive less attention. Now, researchers writing in Current Biology believe they know why bats are more susceptible to wind turbine fatalities.
Bats protect crops from insects

(04/04/2008) Bats eat as many insects at night as birds do during the day, according to research published in the journal Science.
Wind power takes a toll on migratory bats

(09/12/2007) The danger of wind turbines to birds has long been known and well documented. Most recently several studies and articles have attempted to place the level of bird casualties in perspective: "More birds killed by cats than wind turbines". But lesser known--and lesser studied--is the effect wind turbines have on bat populations. Collisions between groups of bats and wind turbines have been observed at numerous turbines in America, Australia, and Europe. While these fatalities, sometimes killing hundreds of bats, have been seen for years, their cause remains unknown.
Saving beautiful - and ugly - species from extinction

(08/30/2007) Allow me to wax poetic about the world's newest wildlife organization, EDGE. I must admit I'm a little in love. This singular organization was founded in January as a part of the London Zoological Society. Its basic tenants remain similar to other endangered species programs: survey populations, set up conservation programs, work with local governments and communities to ensure protection. However, what is unique about EDGE is not their approach to saving species, but rather the species they choose to focus their efforts on. This year they have selected ten mammalian species: the Yangztee River Dolphin, Attenborough's Long-Beaked Echidna, Hispaniolan Solenodon, Bactarian Camel, Pygmy Hippopotamus, Slender Loris, Hirola, Golden-rumped Elephant Shrew, Bumblebee Bat, and the Long-eared Jerboa.
Clearing rainforest for cattle pasture drives surge in vampires

(08/15/2007) A new study confirms that vampire bats are thriving due to the clearing of rainforest for cattle pasture in Costa Rica. Instead of having to seek out scarce wildlife in the forest, vampire bats now prey on cattle kept in high densities on ranches.
Nectar feeding bats are powered by pure sugar

(08/06/2007) Nectar-feeding bats are particularly vulnerable to environmental change due to their high-energy dietary requirements, reports a new study published in the British Ecological Society's journal Functional Ecology.
Fruit bats crave sugar to overcome 'hangover'

(04/01/2007) Many of us will be familiar with cravings for sweet food, after having overindulged in alcohol the night before. It appears that Egyptian fruit bats also crave particular types of sugar to reduce the effects of ethanol toxicity.
15 'new' bird species revealed in North America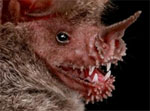 (02/18/2007) DNA testing has revealed 15 'new' species of birds in North America and six 'new' species of bats from the South American country of Guyana, according to a paper appearing in the British journal Molecular Ecology Notes.
Rare giant bat eats night-flying birds

(02/13/2007) A new study published in PLoS ONE, an open online journal, reports that nocturnally migrating songbirds are preyed upon by giant bats. The findings go against the belief that night-flying birds lacked predators.
Audible warfare: how moths avoid bats

(12/18/2006) A new study published in Current Biology suggests bats and moths may be engaged in evolutionary warfare when it comes to their sense of hearing.
Bats Hunt Using Guided Missile Strategy

(05/04/2006) When it comes to rocket science, it looks like bats had it worked out before the scientists did. A new University of Maryland study finds that echolocating bats use a strategy to track and catch erratically moving insects that is much like the system used by some guided missiles to intercept evasive targets and different from the way humans and some animals track moving objects.
Sex vs. Intelligence: Bigger balls mean smaller brain

(12/13/2005) In a recent study of bats, Scott Pitnick, professor of biology at Syracuse University, found that testis size is negatively correlated with brain size. In other words, the bigger the balls of a bat species, the smaller its brain.
Vampires kill 23 in Brazil, deforestation blamed

(11/07/2005) Rabid vampire bats killed 23 people and attacked more than 1,000 Brazilian officials confirmed last week. The bats have been displaced from their normal rain forest environment by worsening deforestation in the region. In an attempt to slow deaths, health agencies have treated 1,350 people with anti-rabies medication in the past two months.
Now identified as likely origin of SARS; will bats be killed in China?

(09/29/2005) The likely source of the respiratory disease SARS is the horseshoe bat, a new study in the journal Science suggests. Researchers found a virus closely related to the SARS coronavirus in bats from three regions of China. The 2003 SARS outbreak killed 770 people and caused billions in economic damaged.
Birds and Bats Responsible for Seed Dispersal in Tropical Forests

(09/27/2005) Restoring the rich diversity of trees that once characterized expansive tracts of tropical rainforest gets a helping hand from native birds and bats. Just how big a role these winged gardeners play is a question ecologists from the University of Illinois at Chicago and several Latin American universities are about to find out by setting up essentially a living laboratory in Mexico's gulf coast state of Veracruz.
Organic farming benefits wildlife over conventional agriculture says study

(08/03/2005) In the largest and most comprehensive study of organic farming to date, published today in the Royal Society Journal, Biology Letters, scientists from leading UK institutions show conclusively that organic farms provide greater benefits for a range of wildlife including wild flowers, beetles, spiders, birds and bats than their conventional counterparts.
Progress made in fighting deadly virus spread by pigs and bats

(07/06/2005) According to two new reports in Nature and Proceedings of the National Academy of Sciences, scientists have made an important breakthrough in the effort to fight the deadly Nipah virus which killed more than 100 people in 1999. The outbreak, which also resulted in the culling in 1 million pigs across Malaysia, was later traced to fruit bats.