News articles on bangladesh

---
Mongabay.com news articles on bangladesh in blog format. Updated regularly.





As U.S. sees record heat, extreme weather pummels 4 continents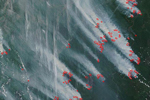 (07/10/2012) It's not only the U.S. that has experienced record-breaking extreme weather events recently, in the last couple months extreme weather has struck around the world with startling ferocity. In addition to the much-covered heatwaves, wildfires, and droughts in the U.S., killer floods struck India, the worst drought yet recorded plagued South Korea, and massive forest fires swept through Siberia to name just a few.


Conservationists successfully hatch world's fourth most endangered turtle

(06/11/2012) The world's fourth most endangered turtle has received a happy boost from breeding efforts, reports the AFP. Bangladeshi scientists have successfully hatched 25 northern river terrapins (Batagur baska) using an artificial beach constructed in the country's Bhawal National Park.


Hail Mary effort aims to save the world's most endangered turtles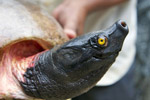 (04/17/2012) The Wildlife Conservation Society (WCS) has pledged to work with all of its institutions to save at least half of the world's most 25 endangered turtles as listed in a report by WCS and the Turtle Conservation Coalition last year. The program will include both conservation work in the field as well as participation from WCS's zoological institutions for captive breeding and future reintroductions. Even with WCS's ambitious program, however, it is likely this century will see a number of turtle extinctions.


Six nations, including U.S., set up climate initiative to target short-term greenhouse gases

(02/20/2012) With global negotiations to tackle carbon emissions progressing interminably, nations are seeking roundabout ways to combat global climate change. U.S. Secretary of State, Hillary Clinton, announced in India last week a new six nation initiative to target non-carbon greenhouse gases, including soot (also known as "black carbon"), methane, and hydro-fluorocarbons (HFCs). Reductions of these emissions would not only impact short-term climate change, but also improve health and agriculture worldwide according to a recent study in Science.


New sanctuaries declared for Asia's freshwater dolphins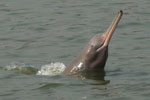 (02/15/2012) Bangladesh has declared three new sanctuaries to help protect the south Asian river dolphin (Platanista gangetica) in the Sundarbans, the world's largest mangrove forest. Split into two subspecies, the Ganges River dolphin (Platanista gangetica gangetica) and the Irrawaddy River dolphin (Platanista gangetica minor), the new sanctuaries will benefit both. Listed as Endangered by the IUCN Red List, the south Asian freshwater dolphin has disappeared from much of its habitat. Already Asia has its other freshwater dolphin species: the baiji (Lipotes vexillifer) was declared functionally extinct into 2006 after a survey of the Yangtze River failed to find a single individual.


World Atlas of Mangroves: A Book Review

(04/14/2011) Because recent research has shown that it is often the case that mangroves store more carbon than tropical forests--from 90 tons to 588 tons carbon from above-ground and below-ground biomass combined with net primary productivity of 7 to 25 tons carbon annually--while providing an estimated ecosystem services value of up to US$ 9270 per hectare per year, the timely publication of the World Atlas of Mangroves is an excellent reference for those of us working to protect mangroves globally. With information sourced from 1400 literature references, the atlas gives the reader the information they need so as to further understand mangrove ecosystems, and the opportunities to develop mangrove ecosystem conservation and carbon projects.


Citizens of 188 countries challenge leaders on climate change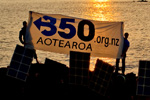 (10/11/2010) As world leaders continue to fumble a coherent, rapid, and comprehensive response to climate change, citizens from around the world yesterday sent a message to inert politicians by participating in over 7,300 events against climate change, according to 350.org, the head organizer of the day dubbed the 'Global Work Party'. "The fossil fuel industry may have thought that the collapse of the Copenhagen talks and its victory in the U.S. Congress were the final word—that people would give up in discouragement," said, Bill McKibben, founder of 350.org, so-called because 350 parts per millions (ppm) is the 'safe' amount of carbon in the atmosphere according to many scientists. Currently the concentration is around 390 ppm.


Women in Bangladesh help biodiversity with homegardens

(03/29/2010) Overpopulated, largely poor, and environmentally degraded, the nation of Bangladesh has known its share of woes. Yet even in face of struggles, including a forest loss of over 90 percent, the women of Bangladesh are aiding the country's struggling people and biodiversity through the establishment of some 20 million homegardens. Long-neglected by the government and NGOs, these homegardens provide food, firewood, and medicine.


Last chance to save Bangladeshi forest: 90 percent of the Sal ecosystem is gone

(03/29/2010) Considered the most threatened ecosystem in Bangladesh, the moist deciduous Sal forest (Shorea robusta) is on the verge of vanishing. In 1990 only 10 percent of the forest cover remained, down from 36 percent in 1985 according to statistics from the Food and Agricultural Organization (FAO). A new study in the online open-access journal Tropical Conservation Science looks at the threats posed to the Shal forest and ways in which it may still be saved.


Catastrophic sea level rise could occur with only two degrees Celsius warming

(12/17/2009) Allowing the climate to rise by just two degrees Celsius—the target most industrialized nations are currently discussing in Copenhagen—may still lead to a catastrophic sea level rise of six to nine meters, according to a new study in Nature. While this rise in sea levels would take hundreds of years to fully occur, inaction this century could lock the world into this fate.


Bangladesh tops list of most vulnerable countries to climate change

(12/09/2009) According to the Global Climate Risk Index, Bangladesh is the most vulnerable nation to extreme weather events, which many scientists say are being exacerbated by climate change. From 1990 to 2008, Bangladesh has lost 8,241 lives on average every year due to natural disasters. In addition, rising sea levels also threaten millions of Bangladeshis.


Nations vulnerable to global warming present demands: carbon levels below 350ppm and billions in aid

(11/10/2009) A group of nations especially vulnerable to the effects of climate change have released a declaration calling for developed countries to keep CO2 emission below 350 parts per million (ppm) and to give 1.5 percent of their gross domestic product to aid developing nations in adapting to the myriad impacts of climate change.


UN: Population growth rates fall to 1.1 percent in Asia-Pacific

(05/19/2009) The population growth rate in the Asia-Pacific region has dropped to 1.1 percent, according to the Statistical Yearbook for Asia and the Pacific 2008, compiled by the UN's Economic and Social Commission for Asia and the Pacific (ESCAP). The 1.1 percent growth rate is the lowest in the developing world.


Massive population of rare Irrawaddy dolphins discovered in Bangladesh



(03/31/2009) The Wildlife Conservation Society (WCS) has discovered an unknown population of the rare Irrawaddy dolphin in Bangladesh numbering 6,000 individuals. The dolphins were found in the freshwater areas of the Sundarbans mangrove forest. Prior to this discovery, the largest known populations of Irrawaddy dolphins numbered only in the hundreds.


Asia's tigers could get big boost from small conservation efforts

(11/05/2007) Small changes to the management of wildlife reservers in India, Bangladesh, Bhutan, and Nepal could dramatically boost endangered tiger populations, reports a new study published in the journal Biological conservation.


Flooding in India Leaves 3.5 million Homeless

(09/11/2007) The Indian military has been evacuating thousands of people from Assam, a state in northeastern India, after Monsoon rains flooded rivers. So far, 3.5 million people have been directly affected by the floods, in a state of 27 million. A total of 2,000 villages have been completely submerged by the floods, in some of the worst flooding in years.