News articles on avoided deforestation

---
Mongabay.com news articles on avoided deforestation in blog format. Updated regularly.






37,000 sq km of Amazon rainforest destroyed or damaged in 2008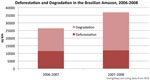 (03/19/2009) Logging and fires damaged nearly 25,000 square kilometers (9,650 square miles) of Amazon rainforest in the August 2007-July 2008 period, an increase of 67 percent over the prior year period, according to a new mapping system developed by Brazil's National Institute for Space Research (INPE). The damage comes on top of the nearly 12,000 sq km (4,600 sq mi) of rainforest that was cleared during the year.
Economic crisis hurts forestry sector, sustainability initiatives

(03/16/2009) The global economic crisis has slowed demand for timber products and may undermine efforts to improve the environmental performance of forestry, reports the U.N. Food and Agriculture Organization (FAO) in its biannual "State of the World's Forests 2009", released today.
Drought threatens the Amazon rainforest as a carbon sink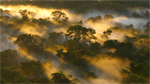 (03/05/2009) Drought in the Amazon is imperiling the rainforest ecosystem and global climate, reports new research published in Science. Analyzing the impact of the severe Amazon drought of 2005, a team of 68 researchers across 13 countries found evidence that rainfall-starved tropical forests lose massive amounts of carbon due to reduced plant growth and dying trees. The 2005 drought — triggered by warming in the tropical North Atlantic rather than el Niño — resulted in a net flux of 5 billion tons of carbon dioxide (CO2) into the atmosphere — more than the combined annual emissions of Japan and Europe — relative to normal years when the Amazon is a net sink for 2 billion tons of CO2.
Indonesia applies for REDD partnership to protect forests

(03/04/2009) Indonesia has applied to join the World Bank's Forest Carbon Partnership Facility, becoming the largest developing country to apply to a program that seeks to reduce greenhouse gas emissions by saving tropical forests, reports Reuters.
Economic crisis hits conservation but may offer opportunities, says TNC president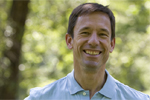 (03/03/2009) In 2008 The Nature Conservancy (TNC) surprised the conservation world when it selected Mark Tercek, an investment banker from Goldman Sachs, as its new president and CEO. But for people who have worked with Tercek, the move made strategic sense – Tercek was a leading figure in the Goldman's effort to improve its environmental record. In 2005 Tercek was appointed to head up the firm's Environmental Strategy Group, which develops and implements its environmental policy, and its Center for Environmental Markets, an initiative that examines market-based solutions to environmental challenges. In that role Tercek worked with pioneers in ecosystem services science, including Gretchen Daily of Stanford University; John Holdren, the former director of the Woods Hole Research Center and currently President Obama's chief scientific adviser; and Peter Kareiva, chief scientist at TNC.
Cameroon may liquidate rainforest reserve if conservationists don't step forward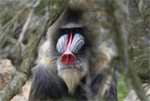 (03/02/2009) The opportunity to conserve a one million hectare tract rainforest in Cameroon is fast dwindling due financial pressures in the Central African country, reports a bulletin from the Ngoyla Mintom Foundation. In 2002 the government of Cameroon suspended logging rights and extended an offer to protect Ngoyla Mintom — a forest reserve that houses 4,000 lowland gorillas, 1,500 endangered chimpanzees, 3,000 forest elephants and an important population of vulnerable Mandrills — provided someone step forward to pay for it. To date there have been no takers. Now facing a mounting economic crisis, the government of Cameroon says it will soon concession Ngoyla Mintom for logging.
Clinton, Obama botch opportunity on climate, forest conservation
(02/20/2009) The Obama administration squandered a chance this week to show U.S. leadership on climate and forest conservation issues, when Secretary of State Hillary Clinton, during a visit to Jakarta, failed to bring up a new Indonesian government decree allowing conversion of carbon-rich peat forests to oil-palm plantations.
Rainforests absorb 20% of emissions annually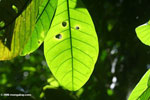 (02/19/2009) Undisturbed tropical forests are absorbing nearly a fifth of carbon dioxide released annually by the burning of fossil fuels, according to an analysis of 40 years of data from rainforests in the Central African country of Gabon. Writing in the journal Nature, Simon Lewis and colleagues report that natural forests are an immense carbon sink, helping slow the rise in atmospheric CO2 levels.
Pricing emissions from farming, logging could shift land use towards conservation

(02/15/2009) Putting a price tag on carbon dioxide emissions resulting from various land use practices could dramatically change the way that land is used, including reducing deforestation and limiting agricultural expansion on carbon-rich lands, said a researcher presenting at the annual meeting of the American Association for the Advancement of Science.
Payments for eco services could save the Amazon

(02/12/2009) Paying for the ecological services provided by the Amazon rainforest could be the key to saving it, reports a new analysis from WWF. The study, Keeping the Amazon forests standing: a matter of values, tallied the economic value of various ecosystem services afforded by Earth's largest rainforest. It found that standing forest is worth, at minimum, $426 per hectare per year.
Carbon market surges 84% in 2008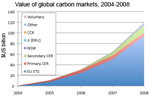 (02/12/2009) The value of the global carbon market surged 84 percent to $118 billion in 2008 despite the worldwide financial crisis, reports New Carbon Finance. Data from the market research firm shows that transaction volume for carbon dioxide emissions allowances reached four billion tons for the year, an increase of 42 percent over 2007.
Kerry, Lugar: U.S. has opportunity to lead on climate, forest conservation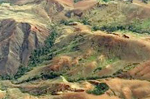 (02/10/2009) The United States can reassert itself as a global leader on the environment by supporting an initiative to fight climate change by protecting forests, said leaders from a broad range of political, environmental, development and business communities at a meeting on Capitol Hill Monday. Joined by senators John Kerry (D-MA) and Richard Lugar, the "Avoided Deforestation Partners" coalition called for Congress to include "strong tropical forest protection measures in U.S. climate change legislation" ahead of this December's climate conference in Copenhagen, Denmark.
New model uses carbon credits, sustainable palm oil to save Indonesia's rainforests
(02/05/2009) The World Resources Institute (WRI) has launched an innovative avoided deforestation model that aims to deter conversion of Indonesian rainforest for oil palm plantations. The project, dubbed "POTICO" (Palm Oil, TImber, Carbon Offsets), integrates sustainable palm oil, FSC-certified timber, and carbon offsets in order to "divert new oil palm plantations onto degraded lands and bring the forests that were slated for conversion into certified sustainable forestry".
Norway to pay Guyana to save its rainforests
(02/05/2009) Norway will provide financial support for Guyana's ambitious plan to conserve its rainforests, reports the Guyana Chronicle. Meeting in Oslo, Norway on Tuesday, Guyana President Bharrat Jagdeo and Norwegian Prime Minister Jens Stoltenberg signed a Memorandum of Understanding agreeing to establish a partnership to reduce greenhouse gas emissions from deforestation and forest degradation (REDD). The leaders will push for the incorporation of a REDD mechanism that includes low deforestation countries like Guyana in a post-2012 climate change agreement.
Gore pushes for avoided deforestation to save rainforests during testimony

(01/29/2009) In testimony before the Senate Foreign Relations Committee on Wednesday, former Vice President Al Gore urged lawmakers to move swiftly on a cap-and-trade climate bill as well as the economic stimulus package. Among many recommendations, Gore repeatedly emphasized the importance of forest conservation in fighting climate change, mentioning "deforestation" more than a dozen times.
Beef drives 80% of Amazon deforestation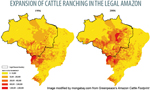 (01/29/2009) Nearly 80 percent of land deforested in the Amazon from 1996-2006 is now used for cattle pasture, according to new maps released today in a report by Greenpeace at the World Social Forum in Belem, Brazil. The report, Amazon Cattle Footprint: Mato Grosso: State of Destruction, confirms that cattle ranching is the primary driver of deforestation in Earth's largest rainforest: the Brazilian Amazon.
Guidelines on how to establish an avoided deforestation project

(01/22/2009) Deforestation presently accounts for nearly 20 percent of anthropogenic greenhouse gas emissions — a share larger than that from the global transportation sector. Given this contribution, reducing deforestation is widely seen as a key component in plans to slow climate change and a number of proposals to include forestry in a post-Kyoto climate agreement are presently on the table. Anticipating the emergence of a market for forest carbon as a result of this framework, 'avoided deforestation' projects are already sprouting up in tropical countries around the world. Supporters say these initiatives offer the potential to protect forests and biodiversity while simultaneously delivering benefits to rural communities that have so far been lost out while their natural resources have been plundered by developers. While avoided deforestation seems to offers great promise, developing a project that meets still emerging standards is a complex and costly endeavor. A new book, published in five languages, seeks to untangle the forest carbon market and thereby facilitate new avoided deforestation projects.
How to save the Amazon rainforest
(01/04/2009) Environmentalists have long voiced concern over the vanishing Amazon rainforest, but they haven't been particularly effective at slowing forest loss. In fact, despite the hundreds of millions of dollars in donor funds that have flowed into the region since 2000 and the establishment of more than 100 million hectares of protected areas since 2002, average annual deforestation rates have increased since the 1990s, peaking at 73,785 square kilometers (28,488 square miles) of forest loss between 2002 and 2004. With land prices fast appreciating, cattle ranching and industrial soy farms expanding, and billions of dollars' worth of new infrastructure projects in the works, development pressure on the Amazon is expected to accelerate. Given these trends, it is apparent that conservation efforts alone will not determine the fate of the Amazon or other rainforests. Some argue that market measures, which value forests for the ecosystem services they provide as well as reward developers for environmental performance, will be the key to saving the Amazon from large-scale destruction. In the end it may be the very markets currently driving deforestation that save forests.







Deal on forests falls short

(12/11/2008) A deal reached Wednesday in Poznan to include forests in future climate treaties is a positive step but falls short of the progress needed to get the REDD (reducing emissions from deforestation and degradation) mechanism on track for incorporation into the framework that will succeed the Kyoto Protocol, say environmentalists speaking from the talks.





Rainforests continue to fall but hope may rest in a market solution

(12/11/2008) Environmentalists attempting to preserve the vanishing Amazon rain forest now confront a stark paradox: Never before have they succeeded in protecting so much of the world's largest tropical forest, yet never before has so much of it simultaneously been destroyed. The key question today is whether new models of conservation — including an increasingly popular, market-based program known as REDD — will be able to reverse the steady loss of tropical forests, not only in the Amazon, but also in Indonesia, Borneo, and Africa's Congo basin, where virgin woodlands continue to be razed at an unprecedented rate.





Indigenous people win voice in climate negotiations

(12/10/2008) Negotiators at U.N. climate conference have struck a deal to give forest-dependent people a voice in determining the role forest conservation will play future agreements to reduce greenhouse gas emissions, reports the Associated Press (AP). The agreement clears a key obstacle that had been blocking progress on reducing emissions from deforestation and degradation (REDD), a mechanism that would compensate tropical countries for protecting their forest cover.







Drought and deforestation in southeast Asia linked to climate change

(12/09/2008) Researchers have linked drought and deforestation in southeast Asia to climate change. Analyzing six years of climate and fire data from satellites, Guido van der Werf and colleagues report that burning of rainforests and peatlands in Indonesia, Malaysia, and Papua New Guinea released an average of 128 million tons of carbon (470 million tons of carbon dioxide - CO2) per year between 2000 and 2006. Fire emissions showed highly variability during the period, but were greatest in dry years, such as those that occur during El Niño events. Borneo was the largest source of fire emissions during the period, averaging 74 million tons per year, followed by Sumatra, which showed a doubling in emissions between 2000 and 2006.









In Poznan, France pushes initiative to save rainforests

(12/08/2008) As talks for incorporating forest conservation into an international climate treaty stall in Poznan, Poland due to technical debates, France has proposed an aggressive effort to address deforestation and forest degradation through the establishment of a Global Forest Carbon Mechanism (GFCM) and potential inclusion of forestry projects in the E.U.'s emissions trading scheme (ETS) beginning in 2013.





REDD faces challenges but can succeed, says report

(12/05/2008) The Center for International Forestry Research (CIFOR), a forest policy think tank, today released its assessment on the proposed REDD (reducing emissions from deforestation and degradation) mechanism for slowing climate change.







WWF criticizes Brazil's plan to cut Amazon deforestation

(12/04/2008) WWF criticized Brazil's plan to reduce Amazon deforestation to 5,740 square kilometers per year as being "short on ambition and detail". In a statement issued Wednesday, WWF said that Brazil's proposed fund for conserving the Amazon would still result in the annual loss of an area forest the size of Rhode Island.





REDD may harm forest people, alleges report

(12/02/2008) A new report finds that the World Bank is not doing enough to protect indigenous rights under its mechanism to reduce emissions from deforestation and forest degradation (REDD).









Guide to reducing emissions through forest conservation released

(11/26/2008) Ahead of next week's climate meeting in Poznań, Poland, the Global Canopy Programme — an alliance of 37 scientific institutions in 19 countries — has launched a layman's guide to a proposed mechanism for cutting greenhouse gas emissions by reducing deforestation. Deforestation and land use change accounts for roughly 20 percent of global greenhouse gas emissions — a larger share than all the world's cars, trucks, ships, and airplanes combined.





California joins effort to fight global warming by saving rainforests

(11/19/2008) California has joined the battle to fight global warming through rainforest conservation. In an agreement signed yesterday at a climate change conference in Beverly Hills, California, Governor Arnold Schwarzenegger pledged financial assistance and technical support to help reduce deforestation in Brazil and Indonesia. The Memorandum of Understanding commits the California, Illinois and Wisconsin to work with the governors of six states and provinces within Indonesia and Brazil to help slow and stop tropical deforestation, a source of roughly 20 percent of global greenhouse gas emissions.







Coordinated effort needed to cut deforestation via carbon markets

(11/18/2008) The Coalition for Rainforest Nations — a group of 40 tropical countries seeking compensation in the form of carbon credits for protecting their forest cover — will ask the United Nations at next month's climate conference in Poland to establish a single body to coordinate forest carbon trading, reports Reuters from a workshop on Reducing Emissions from Deforestation and Forest Degradation (REDD) meeting in Milan, Italy.







Forests for Climate initiative launches in Indonesia

(11/04/2008) Greenpeace has officially launched its Forests for Climate initiative (FFC), a non-market avoided deforestation scheme that aims to reduce greenhouse gas emissions by slowing forest destruction.





Despite financial crunch, donors pledge $100M for rainforest conservation

(10/23/2008) Donors meeting this week in Washington D.C. pledged more than $100 million to the World Bank's new initiative for conserving tropical forests. In addition to the $100 million in donations, the World Bank announced that more than forty developing countries have asked to join the Forest Carbon Partnership Facility — the Bank's foray into the emerging market for forest carbon credits. 25 countries have so far been selected to participate in the initiative, which builds capacity for countries to earn compensation through the carbon markets for reducing greenhouse gas emissions by reducing deforestation and forest degradation (REDD). Experts say the mechanism could eventually lead to the transfer of billions of dollars per year to fund conservation and rural development in tropical countries, while at the same time helping fight climate change. Deforestation and land use change presently accounts for around a fifth of anthropogenic emissions.





EU says emissions trading system may fund forest conservation

(10/17/2008) Europe's carbon trading scheme may be used to generate funds to fight deforestation, reports Reuters. Speaking at a news conference on Friday, EU Environment Commissioner Stavros Dimas said he hoped the EU's emissions trading scheme could reduce gross tropical deforestation by half by 2020 and eliminate net forest loss by 2030.





Carbon conservation schemes will fail without forest people

(10/16/2008) Mechanisms that use forest conservation to reduce greenhouse gas emissions are doomed to fail unless they are "based on respect for the rights of indigenous peoples and forest communities," warn environmentalists and indigenous rights groups meeting in Oslo this week. Indigenous groups fear they are being excluded from discussions on Reduced Emissions from Deforestation and Forest Degradation (REDD), a proposed financial mechanism that would compensate tropical countries for reducing emissions caused by deforestation and land use. Such emissions account for a fifth of the global total, or more than the total emissions from transportation. In particular, indigenous groups and forest communities are concerned they will not see benefits from REDD. Worse, some believe the mechanism could trigger a new wave of land grabs and evictions by parties seeking to capitalize on carbon payments. Indigenous groups and forest communities have long struggled against development interests seeking to exploit their traditional lands and resources. But supporters of so-called "avoided deforestation" schemes say that properly-designed policy offers unprecedented opportunities to create sustainable livelihoods for forest people while safeguarding biodiversity and services provided by healthy forest ecosystems.





UK government: rainforests are weapon against global warming

(10/15/2008) Protecting tropical forests will simultaneously reduce carbon emissions, support poverty reduction and help preserve biodiversity and other forest services, says a new report commissioned by the British government. The report — dubbed the "Eliasch Review" after the lead author, Johan Eliasch, a multimillionaire Swede who runs a sports equipment company and owns 162,000 hectares (400,000 acres) of rainforest in the Brazilian Amazon — takes a comprehensive look at the role forests can play in mitigating climate change. It concludes: "Urgent action to tackle the loss of global forests needs to be a central part of any future international deal on climate change"









Indonesian governors agree to protect Sumatra's endangered forests

(10/09/2008) The ten governors of Sumatra — along with four federal ministers — have signed an agreement to protect forests and other ecosystems on the Indonesian island, according to WWF. The announcement is significant because Sumatra is a biodiversity hotspot — home to rare and endemic wildlife — that is under great threat from logging and expansion oil palm plantations. The island has lost 48 percent of its forest cover since 1985.





Forest conservation can fight climate change and poverty

(10/08/2008) The Forests Dialogue — a coalition consisting of more than 250 representatives of governments, forestry companies, trade unions, environmental and social groups, international organizations, forest owners, indigenous peoples and forest-community groups — has issued guiding principles for including forests in climate change negotiations.




Page 1 | Page 2 | Page 3 | Page 4 | Page 5 | Page 6 | Page 7 | Page 8 | Page 9