News articles on avoided deforestation

---
Mongabay.com news articles on avoided deforestation in blog format. Updated regularly.





Fighting deforestation—and corruption—in Indonesia


(04/11/2013) The basic premise of the Reducing Emissions from Deforestation and Degradation (REDD+) program seems simple: rich nations pay tropical countries for preserving their forests. Yet the program has made relatively limited progress on the ground since 2007, when the concept got tentative go-ahead during U.N. climate talks in Bali. The reasons for the stagnation are myriad, but despite the simplicity of the idea, implementing REDD+ is extraordinarily complex. Still the last few years have provided lessons for new pilot projects by testing what does and doesn't work. Today a number of countries have REDD+ projects, some of which are even generating carbon credits in voluntary markets. By supporting credibly certified projects, companies and individuals can claim to "offset" their emissions by keeping forests standing. However one of the countries expected to benefit most from REDD+ has been largely on the sidelines. Indonesia's REDD+ program has been held up by numerous factors, but perhaps the biggest challenge for REDD+ in Indonesia is corruption.


Improving the rigor of measuring emissions from deforestation, agriculture


(04/03/2013) While much has been written about the potential of reducing greenhouse gas emissions by protecting tropical forests, a proposed program to do just that has been challenged by a number of factors, including concerns about the accuracy of measuring for carbon reductions. Failure to properly account for carbon could undermine the effectiveness of the Reducing Emissions from Deforestation and Degradation (REDD+) program as a tool for mitigating climate change and securing benefits for local people. To help address the technical issues that underpin carbon measurement, the University of California, San Diego (UC San Diego) and the World Wildlife Fund (WWF) have launched a new Certificate in Advanced Terrestrial Carbon Accounting.


Disney buys $3.5M in REDD credits from rainforest conservation project in Peru

(03/20/2013) The Walt Disney Company has purchased $3.5 million dollars' worth of carbon credits generated via rainforest conservation in Peru, reports Point Carbon.


The need to jump-start REDD to save forests


(03/08/2013) At least US$7.3 billion has been pledged for REDD+ over the period from 2008 to 2015, with $4.3 billion pledged for REDD+ readiness during the fast-start period alone (2010-2012). In addition to these funds, private investors, private foundations, and others have been channeling financial support to developing countries for REDD+ and related programs for several years now.


A promising initiative to address deforestation in Brazil at the local level


(03/05/2013) The history of the Brazilian Amazon has long been marked by deforestation and degradation. Until recently the situation has been considered out of control. Then, in 2004, the Brazilian government launched an ambitious program to combat deforestation. Public pressure—both national and international—was one of the reasons that motivated the government to act. Another reason was that in 2004, deforestation contributed to more than 55 percent of Brazil's total greenhouse gas emissions, making Brazil the fourth-largest greenhouse gas emitter in the world.


Large blocks of Sumatra's endangered rainforest may be put up for mining, logging


(01/28/2013) The Indonesian province of Aceh on the western tip of the island of Sumatra may be preparing to lift the protected status of key areas of lowland rainforest potentially ending its bid to earn carbon credits from forest conservation and putting several endangered species at increased risk, according to reports.


Experts outline how REDD+ credits could fit into California's cap-and-trade program

(01/27/2013) Carbon credits generated by forest conservation activities in tropical countries could play a role in California's cap-and-trade program, helping mitigate climate change and providing benefits to local communities, said a panel of experts on Friday.


World Bank REDD+ forest carbon fund gets $180m injection

(01/11/2013) The World Bank's forest carbon fund got a $180 million injection from Finland, Germany and Norway, reports Point Carbon.


The year in rainforests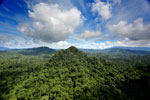 (12/31/2012) 2012 was another year of mixed news for the world's tropical forests. This is a look at some of the most significant tropical rainforest-related news stories for 2012. There were many other important stories in 2012 and some were undoubtedly overlooked in this review. If you feel there's something we missed, please feel free to highlight it in the comments section. Also please note that this post focuses only on tropical forests.


Norway to send Guyana $45m for maintaining low deforestation rate

(12/24/2012) Norway will pay Guyana $45 million for maintaining its low deforestation rate under a climate partnership between the two countries.


DR Congo gets first validated and verified REDD+ project

(12/20/2012) The Democratic Republic of the Congo (DRC) has its first Reducing Emissions from Deforestation and Degradation (REDD+) project validated and verified under the Verified Carbon Standard (VCS).


Indonesia's big REDD+ project announcement "premature", but moving forward

(12/18/2012) The Indonesian government's announcement at climate talks in Doha that it had approved the country's forest conservation project under its Reducing Emissions from Deforestation and Degradation (REDD+) program was premature, argues a new report from an Indonesian environmental group.


Brazil sues to block unlicensed REDD deal between Irish company and indigenous group

(12/17/2012) Brazil's Attorney General Office has filed a lawsuit against an Irish company and an indigenous group for unlicensed sales of carbon credits generated from an reducing emissions from deforestation and degradation (REDD+) project, reports Reuters Point Carbon.


Norway payments to Brazil for reducing deforestation reach $670 million

(12/06/2012) Norway will deposit another $180 million into Brazil's Amazon Fund after the Latin American giant reported a third straight annual drop in deforestation, reports Bloomberg. The payment comes despite a high-profile dispute over who verifies reductions in emissions from deforestation — Norway believes emissions reductions should be measured by an independent third party, but Brazil disagrees. The disagreement sidelined discussions over the REDD+ mechanism during climate talks in Doha, pushing negotiations over the program out another year.


REDD+ negotiations in Doha at impasse, potentially delaying decisions on safeguards another year


(12/03/2012) Negotiations over a program that would pay tropical countries for reducing greenhouse gas emissions from deforestation and degradation — or REDD+ — are stuck at an impasse over how emissions reductions would be verified, reports Ecosystem Marketplace. The disagreement, which has been characterized as a standoff between Brazil, which is potentially a beneficiary of REDD+, and Norway, which is the world's largest funder of tropical forest conservation, could push any final decisions on REDD+ out another year.


Indonesia lost 8.8m ha of forest in the 2000s, generating 7 billion tons of CO2

(12/02/2012) Indonesia's greenhouse gas emissions from deforestation could have been reduced by hundreds of millions of tons had a moratorium on new concessions in high carbon forest areas and peatlands been implemented earlier, reported a researcher presenting at a forests conference on the sideline of climate talks in Doha.


5 years in, debates over REDD+ continue


(11/28/2012) An initiative that aims to slow global warming by paying developing countries to protect and better manage their forests is expected to be an important storyline during climate talks in Doha this week and next. REDD+ (Reducing Emissions from Deforestation and Degradation), as the mechanism is known, has grown in complexity since it gained momentum during the 2005 climate talks in Montreal, but is arguably moving forward faster than other areas of climate negotiations. Still, many elements of REDD+ continue to be as hotly debated today as they were five years ago when it got the conceptual OK from the U.N. These include the process for establishing baselines to measure reductions in emissions, safeguards to protect against adverse outcomes for biodiversity and forest-dependent communities, and financing and markets.


Colombia gets world's first VCS validated and verified REDD project on collective lands

(11/16/2012) A conservation project in Colombia has broken new ground in the world of forest carbon credits. The project, run as partnership between an Afro-indigenous community and a Colombian company, is the first REDD+ project certified under the Verified Carbon Standard (VCS) in Colombia. More importantly, it is also the first certified REDD+ project on community-owned, collectively-titled land.


REDD+ must consider biodiversity, forest livelihoods to have any chance of success

(11/16/2012) Safeguarding biodiversity is a critical component in any plan to mitigate climate change through forest protection, argues a comprehensive new assessment published by the International Union of Forest Research Organizations (IUFRO), the world's largest network of forest scientists.


Agriculture causes 80% of tropical deforestation


(09/27/2012) Agriculture is the direct driver of roughly 80 percent of tropical deforestation, while logging is the biggest single driver of forest degradation, says a new report funded by the British and Norwegian governments. The report presents an overview of drivers of deforestation to inform policymakers involved in developing the REDD+ mechanism, an international program that aims to reduce emissions from deforestation and forest degradation.


Commentary: Protecting the people, not the polluters, says Greenpeace

(09/27/2012) Greenpeace is dedicated to ending deforestation and preventing catastrophic climate change. We are often recognized for putting our lives and freedoms on the line to accomplish these goals. In the U.S. alone, Greenpeace is campaigning to save ancient forests, speaking out against the coal industry; mobilizing millions to save the arctic from new oil drilling; and pushing key industries to commit to renewable energy.


Commentary: Greenpeace report threatens climate change mitigation and tropical forests

(09/25/2012) From 2008 through 2010, deforestation in the states of the Brazilian Amazon declined steeply, lowering reductions in CO2 emissions to the atmosphere by approximately 1.5 billion tons. During this same period, the 30 nations that participate in the world's largest carbon market—the European Union's "Emissions Trading Scheme" (EU ETS)—reduced emissions by about 1.9 billion tons (Figure 1). There is an important difference between these two extremely important steps towards emissions reductions. The first was achieved through climate-related donations of approximately US$ 0.47 billion. The second involved financial transactions of US$ 411 billion—roughly 875 times more money. Greenpeace's new report , Outsourcing Hot Air, could help to slow—or reverse—the progress of tropical states and provinces around the world in reducing emissions from deforestation and forest degradation (REDD).


Greenpeace targets forest carbon offsets in California's cap-and-trade

(09/25/2012) California's inclusion of forest conservation-based carbon offsets in its climate change legislation may not lead to net reductions in greenhouse gas emissions and could exacerbate social conflict in places like southern Mexico, argues a report released Monday by Greenpeace. But the activist group faced sharp criticism from backers of California's initiative.


Greenpeace calls for global REDD standards to reduce negative impacts of forest carbon projects

(06/26/2012) Greenpeace has launched a consultation process to establish global standards for Reducing Emissions from Deforestation and Degradation (REDD+) projects.


Deforestation accounts for 10 percent of global carbon emissions, argues new study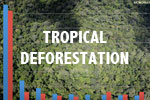 (06/21/2012) Tropical deforestation accounted for 10 percent of global carbon dioxide emissions between 2000-2005 — a substantially smaller proportion than previously estimated — argues a new study published in Science. The paper estimates gross carbon emissions from deforestation at 810 million metric tons (with a 90 percent confidence interval of 0.57-1.22 billion tons) per year from 2000-2005, significantly below earlier calculations. Brazil and Indonesia accounted for 55 percent of gross emissions from tropical deforestation during the study period, while dry forests accounted for 40 percent of tropical forest loss but amounted to only 17 percent of emissions.


In Rio, 5 big companies to launch initiative to boost demand for REDD+ carbon credits

(06/16/2012) Five large corporations have launched an effort to boost demand for carbon credits from 'high quality' Reducing Emissions from Deforestation and Degradation (REDD+) projects in tropical countries.


For Earth Day, 17 celebrated scientists on how to make a better world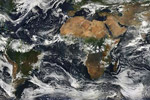 (04/22/2012) Seventeen top scientists and four acclaimed conservation organizations have called for radical action to create a better world for this and future generations. Compiled by 21 past winners of the prestigious Blue Planet Prize, a new paper recommends solutions for some of the world's most pressing problems including climate change, poverty, and mass extinction. The paper, entitled Environment and Development Challenges: The Imperative to Act, was recently presented at the UN Environment Program governing council meeting in Nairobi, Kenya.


Amazon tribe becomes first to get OK to sell REDD credits for rainforest conservation

(04/12/2012) An Amazon tribe has become the first indigenous group in the world's largest rainforest to win certification of a forest carbon conservation project, potentially setting a precedent for other forest-dependent groups to seek compensation for safeguarding their native forests.


Global rainforest carbon map released online

(03/18/2012) Researchers have posted carbon stock data for the world's tropical forests on ArcGIS Online, a web-based mapping platform developed by Esri.


10 rules for making REDD+ projects more equitable

(02/02/2012) The International Institute for Environment and Development has published a new report on benefit distribution under Reducing Emissions from Deforestation and Forest Degradation (REDD+) programs. The report includes a top ten list of recommendations to ensure REDD+ works for poor communities that live in and around forests.


Indonesia could earn billions from well-designed deforestation-reduction program, finds study

(01/12/2012) Indonesia could have earned $5 billion in revenue and avoided 1 billion tons of carbon dioxide emissions between 2000 and 2005 had a reducing emissions from deforestation and degradation (REDD+) program been in place, reports an assessment published in the journal Proceedings of the National Academy of Science.


Tool to track U.S. REDD+ finance released

(12/09/2011) A new online tool allows anyone to check U.S. government financial pledges made toward reducing emissions from deforestation and forest degradation (REDD+) programs in developing countries.


Jump-starting REDD finance: $3 billion Forest Finance Facility needed to halve deforestation within a decade

(12/06/2011) How to finance a means to reduce deforestation, which contributes emissions equivalent to the entire transport sector combined, has had some encouragement at the UN Climate meeting in Durban this week. An à la carte approach, where no source is ruled out, is emerging, leaving the door open to private sector finance for the first time. And with progress imminent in two other crucial areas of safeguards and reference levels, REDD+, a novel mechanism to halt deforestation, is once more likely to be the biggest winner.


REDD project gets initial go-ahead in Cameroon

(12/05/2011) The government of Cameroon approved a feasibility assessment for the first REDD+ project in the Central African nation, reports the Global Green Carbon Corporation, which is developing the project.


Protections for indigenous rights, biodiversity weakened in latest REDD+ text

(12/04/2011) Safeguards to ensure forest carbon projects protect biodiversity and respect the rights of local and indigenous communities were weakened in the latest draft text on REDD+ at climate talks in Durban, reports CIFOR, a forest policy and research institution. The draft text, which will now move forward to a plenary session for approval, also dropped any decision on financing of REDD+ projects.


Carbon piracy, lack of recognition of indigenous rights undermining REDD in Peru, alleges report

(11/30/2011) Lack of meaningful consultation with indigenous communities over forest carbon projects is causing social conflict and undermining efforts to responsibly reduce emissions from deforestation and forest degradation in Peru under the REDD mechanism, argues a new report released during international climate talks in Durban.


Forest carbon projects rake in $178 million in 2010


(09/29/2011) Investors funneled $178 million into forest carbon projects intended to mitigate global climate change last year, according to a new report by Forest Trends' Ecosystem Marketplace. By trading a record 30.1 million tons of carbon dioxide equivalent (MtC02e), the market saw a 48 percent rise over 2009—including a rise in private investors over non-profits as well as greater support for the global program Reduced Emissions from Deforestation and forest Degradation (REDD)—shows that the burgeoning market may be beginning to make good on its promise to provide funds to save forests for their ecosystem services with an initial focus on carbon.


Conservationists renew push for 'rainforest bonds'

(09/19/2011) Conservationists are renewing a push for a special class of 'rainforest bonds' to fund efforts to conserve tropical forests.


REDD calculator and mapping tool for Indonesia launched

(07/13/2011) Researchers have launched a new tool to help policy-makers, NGOs, and landowners evaluate the potential benefits and costs of Indonesia's reducing emissions from deforestation and degradation (REDD+) program at provincial and district levels.


Interview with Indonesian climate official on rainforest logging moratorium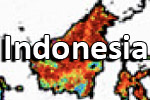 (06/03/2011) In May, Indonesia President Susilo Bambang Yudhoyono issued a presidential instruction laying out the specifications for a two-year moratorium on new concessions in primary forests and peatlands. The moratorium aims to create a window for Indonesia to enact reforms needed to slow deforestation and forest degradation under its Letter of Intent with Norway, which would pay the Southeast Asian nation up to a billion dollars for protecting forests.


REDD should fund efficient stoves, crop yield increases, says study

(05/31/2011) Efforts to reduce greenhouse gas emissions from deforestation and forest degradation (REDD) must incorporate the implementation cost of programs to meet resource demands of local people in order to be successful, argues a new study published in Nature Climate Change.


Lack of clarity complicates Indonesia's logging moratorium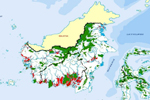 (05/27/2011) Lack of clarity makes it difficult to assess whether Indonesia's moratorium on new logging concessions in primary forest areas and peatlands will actually reduce greenhouse gas emissions from deforestation, according to a new comprehensive assessment of the instruction issued last week by Indonesian President Susilo Bambang Yudhoyono. The analysis, conducted by Philip Wells and Gary Paoli of Indonesia-based Daemeter Consulting, concludes that while the moratorium is "potentially a powerful instrument" for achieving the Indonesian president's goals of 7 percent annual growth and a 26 percent reduction in greenhouse gas emissions from a projected 2020 baseline, the language of the moratorium leaves significant areas open for interpretation, potentially offering loopholes for developers.


Indonesia's moratorium disappoints environmentalists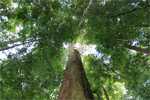 (05/20/2011) The moratorium on permits for new concessions in primary rainforests and peatlands will have a limited impact in reducing deforestation in Indonesia, say environmentalists who have reviewed the instruction released today by Indonesian President Susilo Bambang Yudhoyono. The moratorium, which took effect January 1, 2011, but had yet to be defined until today's presidential decree, aims to slow Indonesia's deforestation rate, which is among the highest in the world. Indonesia agreed to establish the moratorium as part of its reducing emissions from deforestation and degradation (REDD) agreement with Norway. Under the pact, Norway will provide up to a billion dollars in funds contingent on Indonesia's success in curtailing destruction of carbon-dense forests and peatlands.


Indonesia signs moratorium on new permits for logging, palm oil concessions

(05/19/2011) After five-and-a-half months of delay due to political infighting, Indonesian President Susilo Bambang Yudhoyono finally signed a two-year moratorium on the granting of new permits to clear rainforests and peatlands, reports Reuters.


Is Indonesia losing its most valuable assets?


(05/16/2011) Deep in the rainforests of Malaysian Borneo in the late 1980s, researchers made an incredible discovery: the bark of a species of peat swamp tree yielded an extract with potent anti-HIV activity. An anti-HIV drug made from the compound is now nearing clinical trials. It could be worth hundreds of millions of dollars a year and help improve the lives of millions of people. This story is significant for Indonesia because its forests house a similar species. In fact, Indonesia's forests probably contain many other potentially valuable species, although our understanding of these is poor. Given Indonesia's biological richness — Indonesia has the highest number of plant and animal species of any country on the planet — shouldn't policymakers and businesses be giving priority to protecting and understanding rainforests, peatlands, mountains, coral reefs, and mangrove ecosystems, rather than destroying them for commodities?


REDD project developer Carbon Conservation partly acquired by mining company

(05/03/2011) East Asia Minerals Corporation, an Asian mining company, has acquired a 50% stake in Carbon Conservation, a Australian company that developed one of the world's first forest conservation projects funded by carbon credits, for $500,000, according to a press release from the mining company.


Norway: rainforest protection efforts must work through corruption challenge

(04/29/2011) Corruption in poor countries shouldn't deter developed countries from supporting initial efforts to save the world's tropical forests, Norway's environment minister told Reuters.


Tropical countries aim for global forest pact

(04/18/2011) Representatives from more than 30 countries are expected to hammer out a formal agreement for future discussions on forest and climate issues when they meet next month in the Republic of Congo, reports the Wildlife Conservation Society (WCS).


Greenpeace says McKinsey's REDD+ work could encourage deforestation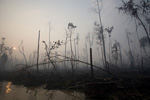 (04/07/2011) One of the world's top consultancies, McKinsey & Co., is providing advice to governments developing 'Reducing Emissions from Deforestation and Degradation' (REDD+) programs that could increase risks to tropical forests, claims a new report published by Greenpeace. The report, Bad Influence – how McKinsey-inspired plans lead to rainforest destruction, says that McKinsey's REDD+ cost curve and baseline scenarios are being used to justify expansion of industrial capacity in Indonesia, Papua New Guinea, Democratic Republic of Congo, and Guyana.


What is the current status of REDD+?


(03/23/2011) The Reducing Emissions from Deforestation and Degradation (REDD) mechanism is supposed to be the great hope for saving the world's forests. Advocates say REDD — now known as REDD+ — could finally create financial incentives for keeping forests standing instead of chopping them down for timber, pulp and paper, cattle, palm oil, and rubber. At the same time, REDD could generate benefits for the rural poor, while safeguarding biodiversity and other ecosystem services. But the devil is in the details. Ensuring that REDD is properly designed, funded, and implemented means that progress has been slower than some supporters have hoped. A poorly designed REDD may be worse than no REDD at all. So where does that leave REDD now? Mongabay asked John-O Niles, the Director of the Tropical Forest Group, for his thoughts on the current status of REDD policy.



Page 1 | Page 2 | Page 3 | Page 4 | Page 5 | Page 6 | Page 7 | Page 8