News articles on asia

---
Mongabay.com news articles on asia in blog format. Updated regularly.





Camera traps snap 35 Javan rhinos, including calves

(01/04/2012) Camera traps have successfully taken photos of 35 Javan rhinos (Rhinoceros sondaicus) in Ujung Kulon National Park. The small population, with an estimated 45 or so individuals, is the species' last stand against extinction. Late last year, a subspecies of the Javan rhino, the Vietnamese rhino (Rhinoceros sondaicus annamiticus), was declared extinct.


Frog plague found in India

(01/03/2012) The chytrid fungus, which is responsible for the collapse of numerous amphibian populations as well as the extinction of entire species, has been located for the first time in India, according to a paper in Herpetological Review. Researchers took swabs of frog in the genus Indirana in the Western Ghats and found the killer fungus known as chytridiomycosis.


Mouths are sewn shut in protest against deforestation in Indonesia

(01/03/2012) Twenty-eight Indonesians have taken the extreme measure of sewing their mouths shut in a protest turned hunger-strike against a forest concession on Padang Island, reports the Jakarta Globe. Around a hundred protesters, mostly natives of Padang Island, have camped outside the Indonesian Senate building since December 19th to protest a logging concession held by PT Riau Andalan Pulp and Paper (RAPP) on their island, which lies off the east coast of Sumatra.


Small town rises up against deforestation in Pakistan

(01/02/2012) The town of Ayun, home to 16,000 people in the Chitral district of Pakistan, has been rocked by large-scale protests and mass arrests over the issue of corruption and deforestation in recent days. Villagers are protesting forest destruction in the Kalasha Valleys, the home of the indigenous Kalash people.


CI refutes Cambodian logging story

(12/23/2011) Conservation International (CI) issued a sharp rebuke of a Phnom Pehn Post story that alleged involvement in illegal rosewood logging in Cambodia's Central Cardamom Protected Forest.


Top 10 Environmental Stories of 2011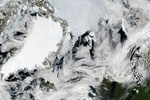 (12/22/2011) Many of 2011's most dramatic stories on environmental issues came from people taking to the streets. With governments and corporations slow to tackle massive environmental problems, people have begun to assert themselves. Victories were seen on four continents: in Bolivia a draconian response to protestors embarrassed the government, causing them to drop plans to build a road through Tipnis, an indigenous Amazonian reserve; in Myanmar, a nation not known for bowing to public demands, large protests pushed the government to cancel a massive Chinese hydroelectric project; in Borneo a three-year struggle to stop the construction of a coal plant on the coast of the Coral Triangle ended in victory for activists; in Britain plans to privatize forests created such a public outcry that the government not only pulled back but also apologized; and in the U.S. civil disobedience and massive marches pressured the Obama Administration to delay a decision on the controversial Keystone XL pipeline, which would bring tar sands from Canada to a global market.


The dark side of new species discovery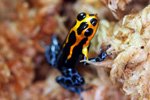 (12/21/2011) Scientists and the public usually rejoice when a new species is discovered. But biologist Bryan Stuart has learned the hard way that the discovery of new species, especially when that species is commercially valuable, has a dark side-one that could potentially wipe out the new species before protections can be put in place. Stuart has discovered 27 species unknown previously to scientists - so far. That includes 22 species of frogs, three types of snakes, and two salamanders. His experience with one of these, a warty salamander from Laos with striking markings (Laotriton laoensis), opened his eyes to a dark side of scientific discovery: commercial overexploitation before protections are in place. Shortly after Stuart described the previously unknown species Paramesotriton laoensis in a scientific paper published in 2002, commercial dealers began collecting this Lao newt for sale into the pet trade. In essence, the dealers used Stuart's geographic description in the paper as a "roadmap" to find the rare newt.


Earth systems disruption: Does 2011 indicate the "new normal" of climate chaos and conflict?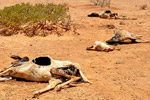 (12/21/2011) The year 2011 has presented the world with a shocking increase in irregular weather and disasters linked to climate change. Just as the 2007 "big melt" of summer arctic sea ice sent scientists and environmentalists scrambling to re-evaluate the severity of climate change, so have recent events forced major revisions and updates in climate science.


Indonesia grants exemption from logging moratorium for 3.6m ha of forest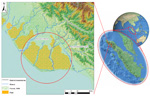 (12/21/2011) Indonesia exempted 3.6 million hectares of forests and peatlands from protected status under its two-year moratorium on forest concessions, according to a revised version of its moratorium map released near the end of climate talks in Durban. The new Indicative Map includes 10.7 million hectares of peatlands, down from 15.5 million hectares in the previous version of the map that defines areas off-limits for new concessions. Some 1.2 million hectares of previously unprotected "primary forest" has been added to the moratorium area, resulted in a net decline of 3.6 million hectares under the moratorium, according to analysis by Daemeter Consulting, an Indonesia-based forestry consultancy.


Camera trap videos capture stunning wildlife in Thailand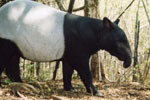 (12/20/2011) A year's worth of camera trap videos (see photos and video below) are proving that scaled-up anti-poaching efforts in Thailand's Western Forest Complex are working. Capturing rare glimpses of endangered, elusive animals—from clouded leopards (Neofelis nebulosa) to banteng (Bos javanicus), a rarely seen wild cattle—the videos highlight the conservation importance of the Western Forest Complex, which includes 17 protected areas in Thailand and Myanmar.


Philippines disaster may have been worsened by climate change, deforestation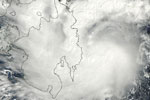 (12/20/2011) As the Philippines begins to bury more than a 1,000 disaster victims in mass graves, Philippine President Benigno Aquino has ordered an investigation into last weekend's flash flood and landslide, including looking at the role of illegal logging. Officials have pointed to both climate change and vast deforestation as likely exacerbating the disaster.


Photo essay: Lion-tailed macaques of India's Western Ghats rainforest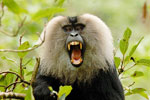 (12/19/2011) The rainforests of Western Ghats are home to some of the most wonderful creatures which are found only in these forests and no where else on the earth. The Lion-tailed Macaque Macaca silenus is the symbol of this endemic diversity of this biodiversity hotspot. Less than 2500 of these survive today making it one of the most endangered primates in the world. In 2008, a healthy population of 32 groups of these macaques were found in central Karnataka giving hope to the future of these Knights of the Western Ghats


Is the Russian Forest Code a warning for Brazil?


(12/19/2011) Brazil, which last week moved to reform its Forest Code, may find lessons in Russia's revision of its forest law in 2007, say a pair of Russian scientists. The Brazilian Senate last week passed a bill that would relax some of forest provisions imposed on landowners. Environmentalists blasted the move, arguing that the new Forest Code — provided it is not vetoed by Brazilian President Dilma Rousseff next year — could undermine the country's progress in reducing deforestation.


Herpetology curator: behind-the-scenes of 'new species' discoveries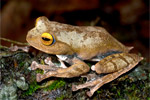 (12/18/2011) Bryan Stuart's mission as a curator of amphibians and reptiles at the North Carolina Museum of Natural Sciences is to understand the diversity of life on earth. For that, he documents what species occur where and why. He's particularly attracted to areas where there's a dearth of knowledge, like Laos, Cambodia, Vietnam and Gabon, and so far has discovered 27 species unknown previously to scientists: three species of snakes, two types of salamanders, and 22 kinds of frogs.


Indonesia to investigate beheadings allegedly conducted by palm oil security forces

(12/17/2011) Indonesian President Susilo Bambang Yudhoyono has ordered an investigation into a grisly beheading of two men alleged by security forces hired to defend an oil palm plantation, reports The Jakarta Post.


WWF: Asia Pulp & Paper misleads public about its role in destroying Indonesia's rainforests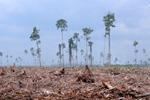 (12/16/2011) Asia Pulp & Paper (APP) continues to mislead the public about its role in destroying rainforests and critical tiger habitat across the Indonesian island of Sumatra, alleges a new report from Eyes on the Forest, a coalition of Indonesian environmental groups including WWF-Indonesia. The report, titled The truth behind APP's Greenwash, is based on analysis of satellite imagery as well as public and private documentation of forest cleared by logging companies that supply APP, which is owned by the Indonesian conglomerate, Sinar Mas Group (SMG). The report concludes APP's fiber suppliers have destroyed 2 million hectares of forest in Sumatra since 1984.


Environmental groups to Japan: stop importing illegally logged timber

(12/16/2011) A coalition of environmental NGOs have called upon Japan to adopt stronger measures to block illicit timber imports, alleging that Japanese companies are buying illegally logged wood from Samling Global, a Malaysian logging company.


Photos: 208 species discovered in endangered Mekong region in 2010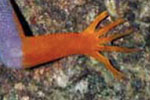 (12/14/2011) Last year researchers scoured forests, rivers, wetlands, and islands in the vanishing ecosystems of the Mekong Delta to uncover an astounding 208 new species over a twelve month period. A new report by the World Wide Fund for Nature (WWF) highlights a number of the new species—from a new snub-nosed monkey to five new meat-eating pitcher plants to a an all-female, cloning lizard—while warning that many of them may soon be gone as the Mekong Delta suffers widespread deforestation, over-hunting and poaching, massive development projects, the destruction of mangroves, pollution, climate change, and a growing population.


Paper commitments for the Indonesian industry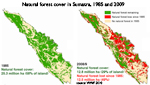 (12/13/2011) The Indonesian group Asia Pulp & Paper (APP) has been the target of many NGOs for years due to its alleged negative impacts on tropical forests. This culminated in a spectacular campaign launched by Greenpeace in 2011 based on Ken "dumping" Barbie. The rationale was that toy brand Mattel was accused of using APP paper products linked to the clear-cutting of natural forests in the Indonesian archipelago. APP organized a counter-attack in the media with the daily publication of advertisements promoting its sustainable development practices. Journalists from all over the world were also invited to attend guided tours of APP concessions to demonstrate their conservation efforts, and a number of articles were subsequently written.


Giant snakes commonly attacked modern hunter-gatherers in Philippines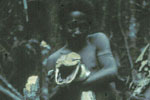 (12/13/2011) Humans have an ambivalent relationship with snakes. The legless reptiles are often feared and reviled, becoming stand-ins for the Devil and movie monster characters; yet many people have grown to love snakes, raising large, even dangerous, specimens as pets. Now, new research suggests that the ecological role between snakes and humans, as well as other primates, is more nuanced than expected. After spending decades living among the Agta Negritos people in the Philippines, anthropologist Thomas Headland has found that the hunter gatherer tribes were quite commonly attacked by reticulated pythons (Python reticulatus), while the people themselves had no qualms with hunting, killing, and consuming python.


Interview with conservation legend George Schaller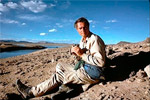 (12/13/2011) Dr George Schaller is a veteran ecologist affiliated with two conservation organizations in New York, Panthera and the Wildlife Conservation Society. Spending much of his time during the past six decades in various countries of Asia, Africa and South America, he has studied and helped protect species as diverse as the Tiger, Mountain Gorilla, Giant Panda and Tibetan Antelope. In addition, he has promoted the establishment of about 15 protected areas. His studies have been the basis for his scientific and popular writings.


New species of frog sings like a bird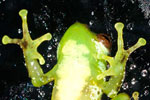 (12/12/2011) If you're trudging through the high-altitude rainforests of northern Vietnam and you hear bird song, you might want to check the trees for frogs. Yes, that's right: frogs. A new species of tree frog has been discovered in Vietnam that researchers say has a uniquely complex call that makes it sound more like a bird than a typical frog. Discovered in Pu Hoat Proposed Nature Reserve, the new species, dubbed Quang's tree frog (Gracixalus quangi), dwells in the forests at an altitude 600-1,300 meters (nearly 2,000-4,265 feet).


Controversial pulp and paper companies underwrite Indonesia's climate change pavilion in Durban

(12/10/2011) A 'significant proprtion' of Indonesia's $3.3. million pavilion at climate talks in Durban was funded by Indonesian pulp and paper companies companies, reports Reuters Alertnet.


Photos: two new paper clip-sized frogs discovered in Vietnamese mountains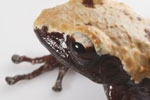 (12/07/2011) Researchers have discovered two new frog species living in the montane tropical forests of Vietnam. Known as moss frogs, these small amphibians employ camouflage as one way to keep predators at bay, in some cases resembling the moss that gives them their name.


Palm oil, pulp companies commit to zero-tolerance policy for orangutan killing


(12/06/2011) Two Indonesian plantation companies have signed an agreement to train workers not to kill or injure orangutans and other protected species. The agreement was brokered by the Indonesian government between Orangutan Foundation International (OFI), a non-profit with operations in Central Kalimantan, Indonesian Borneo, and two major plantation firms: PT Smart, one of Indonesia's largest palm oil producers, and PT Lontar Papyrus, which supplies wood-pulp to Asia Pulp & Paper (APP). Both companies are holdings of the Sinar Mas Group. Under the terms of the deal, OFI will assist the companies 'in delivering a best management practices training program on orangutans and endangered species for its employees, affiliates and pulpwood suppliers.'


On the edge of extinction, giant ibis discovered in new region of Cambodia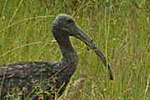 (12/06/2011) The world's largest ibis, and one of the world's most endangered birds, has received some good news. A giant ibis (Thaumatibis giganteawas) has been photographed in the Kampong Som Valley in Koh Kong Province in Cambodia, the first record from this province in nearly a hundred years. Adults can grow to reach nearly 3.5 feet (106 centimeters) long.


Photos: biologists surprised by world's biggest leopard in Afghanistan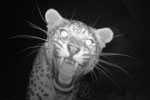 (12/05/2011) When biologists with the Wildlife Conservation Society (WCS) reviewed recent photos from camera traps in the Hindu Kush region of Afghanistan they were shocked to find a snarling image of the world's largest leopard: the Persian leopard (Panthera pardus saxicolor). Listed as Endangered by the IUCN Red List, the subspecies was thought long-vanished from the Hindu Kush. Photos from the camera traps—automated cameras that use an infrared trigger to catch wildlife—also showed lynx (Lynx lynx), wild cat (Felis silvestris), Eurasian wolf (Canis lupus lupus), red fox (Vulpes vulpes), and stone marten (Martes foina).


Wildlife official: palm oil plantations behind decline in proboscis monkeys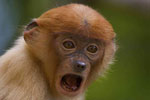 (12/05/2011) The practice of palm oil plantations planting along rivers is leading to a decline in proboscis monkeys (Nasalis larvatus) in the Malaysian state of Sabah on Borneo, says the director of the Sabah Wildlife Department, Laurentius Ambu. Proboscis monkeys, known for their bulbous noses and remarkable agility, depend on riverine forests and mangroves for survival, but habitat destruction has pushed the species to be classified as Endangered by the IUCN Red List.


Sarawak ruler has acquired billions in 'illicit' assets, alleges investigation

(12/04/2011) The leader of the Malaysian state of Sarawak has acquired billions of dollars' worth of "illicit" assets, alleges a new investigation by the Bruno Manser Fund, which reveals holdings in over 400 companies across two dozen countries.


World's most endangered primate still losing habitat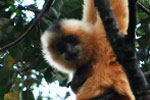 (12/04/2011) Just twenty-three Hainan gibbons (Nomascus hainanus) survive in the world. Confined to a single protected area on a lone island, Hainan gibbons are losing their habitat at a steady rate of 20 hectares per day finds a new study by Greenpeace. In all, nearly a quarter of the Critically Endangered lesser ape's habitat has been lost since 2001.


Global carbon emissions rise 49 percent since 1990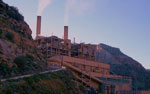 (12/04/2011) Total carbon emissions for the first time hit 10 billion metric tons (36.7 billion tons of CO2) in 2010, according to new analysis published by the Global Carbon Project (GCP) in Nature Climate Change. In the past two decades (since the reference year for the Kyoto Protocol: 1990), emissions have risen an astounding 49 percent. Released as officials from 190 countries meet in Durban, South Africa for the 17th UN Summit on Climate Change to discuss the future of international efforts on climate change, the study is just the latest to argue a growing urgency for slashing emissions in the face of rising extreme weather incidents and vanishing polar sea ice, among other impacts.


Africa, China call out Canada for climate betrayal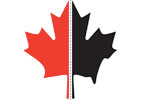 (12/01/2011) Purchasing a full page ad in the Canadian paper the Globe and Mail, a group of African leaders and NGOs is calling on Canada to return to the fold on climate change. Canada has recently all-but-confirmed that after the ongoing 17th UN Summit on Climate Change in Durban, South Africa, it will withdraw entirely from the Kyoto Treaty. The country has missed its targets by a long-shot, in part due to the exploitation of its tar sands for oil, and is increasingly viewed at climate conferences as intractable and obstructive. In the eyes of those concerned about climate change, Canada has gone from hero to villain. Yet notable African activists, including Archbishop Desmond Tutu, are pushing back.


Smelly frogs may be key to fighting antibiotic-resistant infections

(12/01/2011) Foul smelling frogs may save lives, according to new research in the Journal of Proteome Research. Examining nine species of Chinese frogs, known as "odorous" frogs for their off-putting smell, researchers have discovered an astounding variety of antimicrobial peptides, or put simply bacteria-killers.


Eat like an orangutan to save rainforests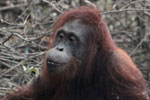 (11/30/2011) One doesn't have to be a scientist or a government official to help save the world's vanishing rainforests, one can also be a chef. World-renowned chef Andre Chiang has added a new item to his menu called Orangutan Salad, reports the Wall Street Journal, which he hopes will raise awareness for the endangered apes at his Singapore eatery, Restaurant Andre. The new salad gives restaurant-goers the chance to enjoy all the subtle, earthy tastes of a typical orangutan meal, including ferns, tree fungi, figs, berries, orchid leaves, and durian flowers.


Carbon credit market for HFC-23 racked by fraud

(11/30/2011) An effort to decrease emissions of the super greenhouse gas HFC-23 has led to a largely-false carbon market that should be eliminated, argues the Environmental Investigation Agency (EIA). HFC-23 is a byproduct of the refrigerant HCFC-22, which is currently being phased out under the Montreal Protocol for its ozone-depleting and greenhouse gas properties. However, the effort to reduce HFC-23 through a carbon market has been hampered by companies in India and China producing extra HFC-23 just so they can capture and destroy it—and receive lucrative carbon funds.


Rare apes saved in India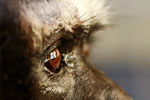 (11/30/2011) Two Hoolock gibbons have been successfully translocated from a fragmented forest to Mehao Wildlife Sanctuary in the beginning of a desperate bid to save 18 family groups of India's last apes. Living near the village of Dello in northeastern India, the apes were straining to survive amid heavy deforestation and fragmentation.


Photos: bizarre new mammal discovered in Vietnam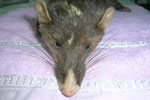 (11/28/2011) A new species of omnivorous mammal has been found in Cuc Phuong National Park, Vietnam. A part of the weasel family, the new species is known as a ferret-badger, a strange subfamily of mammals that have been little-studied by researchers. Smaller than proper badgers, ferret-badgers have elongated faces and long bushy tails.


Peace accord reached in violent conflict between locals and Indonesian state plantation company

(11/23/2011) A peace accord has been announced to resolve a long-running conflict between a giant state-owned plantation company and local communities on the Indonesian island of Java.


Bathtub-sized marine sponge rediscovered after a century of extinction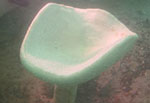 (11/22/2011) Not found alive for over a century the evocatively named Neptune's cup sponge (Cliona patera) has been rediscovered off the shores of Singapore. Researchers with the environmental consulting DHI Group found the species during a routine dive. Although the specimen they found was small, the goblet-shaped sponge can reach nearly 5 feet (1.5 meters) high and the same in diameter.


Extinct frog rediscovered in Israel

(11/21/2011) After its marshland was drained, researchers thought the Hula painted frog (Discoglossus nigriventer) had vanished for good. However a patrol at the Ha-Hula lake in Israel recently discovered a single female amphibian that turned out to be the long-lost, and long-sought, Hula painted frog.


Dole abandons banana plantation in National Park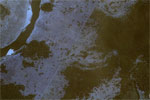 (11/21/2011) After a threat of lawsuit, Dole Inc. has abandoned a banana plantation in Somawathiya National Park in Sri Lanka. The US-based food giant had partnered with a local company, Letsgrow Ltd, to grow bananas for export markets at the bank of the Mahaweli River, but Dole ran into trouble when local conservation organizations pointed out they were illegally destroying forest and planting crops in Somawathiya National Park, home to elephants and many other imperiled species. Local group, Environmental Foundation Limited (EFL), obtained past and current satellite images to prove that the company was operation within the park.


The dam-maker: China involved in 289 dam projects worldwide

(11/06/2011) China is currently involved in 289 hydroelectric projects worldwide, as reported by International Rivers. Most of the dams are built for hydropower, and over half are considered 'large' projects. The list includes completed dams, one currently under construction, and ones in initial planning stages.


Greenpeace legally registered in Indonesia, despite assertions to the contrary

(11/06/2011) Dispelling claims by critics that it operates illegally in Indonesia following two high-profile incidents with its non-Indonesian campaigners, Greenpeace Indonesia said it is legally registered to operate in the country.


South Africa hits record poaching of rhinos—again


(11/03/2011) Two months before the end of the year, the number of rhinos killed for their horns in South Africa has surpassed last year's breaking record, reports conservation organizations WWF and TRAFFIC. So far, 341 rhinos have been lost to poaching this year; while last year saw a total record of 333. The news follows last week's announcement that the Vietnamese rhino (Rhinoceros sondaicus annamiticus), a subspecies of the Javan rhino, has gone extinct—the last individual killed by a poachers' bullet. Rhinos are killed for their horns which are used in traditional Chinese medicine, even though numerous studies have shown there is no medicinal benefit to consuming rhino horn.


Picture of the day: Mekong sunrise

(11/02/2011) The Mekong River, the world's 10th largest, flows through six countries in East Asia: China, Thailand, Laos, Myanmar, Cambodia, and Vietnam.


Climate change already worsening weird, deadly, and expensive weather

(11/02/2011) Unprecedented flooding in Thailand, torrential rains pummeling El Salvador, long-term and beyond-extreme drought in Texas, killer snowstorm in the eastern US—and that's just the last month or so. Extreme weather worldwide appears to be both increasing in frequency and intensity, and a new report from the Intergovernmental Panel on Climate Change (IPCC) connects the dots between wilder weather patterns and global climate change.


Hydroelectric dam still a greenhouse gas source after 10 years

(11/01/2011) Hydroelectric power is often promoted as green energy, yet dams, especially in the tropics, can be significant sources of greenhouse gas emissions. When built, reservoirs trap vegetation, which, as it rots, emits both methane and carbon into the atmosphere. A new study in Science of the Total Environment found that a dam in Lao PDR remained a significant source of greenhouse gas emission even a decade after construction.


Featured video: could a forest be worth more than a gold mine?

(10/31/2011) Jason A. Sohigian, the Deputy Director of the Armenia Tree Project (ATP), presents at TEDx on the often-unacknowledged economic value of forests, including wildlife habitat, safeguarding watersheds, soil health, and tourism. In Amerina, Sohigian estimates the economic value of forests to be between $7 million to $1.1 billion annually, if not more.


Photos: three bizarre bats discovered in Southeast Asia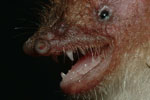 (10/30/2011) In the forests of Cambodia and Vietnam, researchers have discovered three new species of tube-nosed bats, known for extraordinary nostrils that look like blooming flowers. The new bats, described in the Journal of Mammalogy, are likely imperiled by deforestation. "They all possess specially shaped nostrils (hence the name for the group) the exact role of which not known yet," Gabor Csorba, lead author of the paper with the Hungarian Natural History Museum, told mongabay.com.


Indonesian palm oil giant seeks $200 m for expansion

(10/28/2011) Royal Golden Eagle, the parent Indonesia-based conglomerate for pulp and paper producer APRIL and palm oil giant Asian Agri Group, is looking to raise $200 million for expansion, reports Debtwire.



Page 1 | Page 2 | Page 3 | Page 4 | Page 5 | Page 6 | Page 7 | Page 8 | Page 9 | Page 10 | Page 11 | Page 12 | Page 13 | Page 14 | Page 15 | Page 16 | Page 17 | Page 18 | Page 19 | Page 20 | Page 21 | Page 22 | Page 23 | Page 24 | Page 25 | Page 26 | Page 27 | Page 28 | Page 29