News articles on asia

---
Mongabay.com news articles on asia in blog format. Updated regularly.





Tropical islanders win battle against palm-oil

(01/16/2008) Mongabay has confirmed that the Milne Bay government has pulled plans to allow Vitroplant to log 70% of Woodlark Island for palm oil plantations. The Minister for Agriculture and Livestock, Hon John Hickey, stated in a press release that "Vitroplant did do a feasibility study and were keen to invest on the island. However due to landowner objections on the development of the oil palm industry on the island, the company has decided to pull out." Vitroplant has yet to comment.


E.U. may ban palm oil biodiesel

(01/15/2008) The E.U. may ban imports of certain biofuel feedstocks that damage the environment, reports The New York Times. Environmentalists say some biofuels like palm oil are driving the destruction of biologically-rich rainforests and may produce more emissions than conventional fossil fuels.


Indonesia seeks to cut fuel subsidies via biofuels

(01/15/2008) Biofuels will make up 10 percent of Indonesia's fuel transport consumption by 2010 under a plan announced Monday by a senior government official, according to Reuters. The initiative could ease the economic impact of fuel subsidies - currently some of the highest in the world - in Indonesia, while boosting demand for locally produced bioenergy crops including palm oil, jatropha, sugar cane and cassava.


Starfish invasion threatens world's richest coral reefs

(01/14/2008) Outbreaks of the notorious crown of thorns starfish now threaten the "coral triangle," the richest center of coral reef biodiversity on Earth, according to recent surveys by the Bronx Zoo-based Wildlife conservation Society and ARC Centre of Excellence for Coral Reef Studies.


Palm oil developer abandons plan to log 70% of Woodlark Island

(01/14/2008) Vitro Plant, a developer that planned to log 70 percent of Papua New Guinea's Woodlark Island for oil palm plantations, has pulled out of the project reports The National, a Papuan newspaper.


China bans plastic bags

(01/13/2008) In effort to stem plastic pollution, China has banned stores from using flimsy plastic bags and is mandating an additional charge if customers opt for a more durable plastic bag. Joining countries such as Ireland, Taiwan, and parts of South Africa, this new measure is aimed at encouraging the use of cloth bags and other reusable containers. Bangladesh has banned plastic shopping bags completely since 2002 when they were found to block drainage systems and cause flooding during monsoon rains. Australia is contemplating the move, as are cities such as London and Boston.


Extremely high levels of mercury and arsenic found in Chinese lake

(01/10/2008) A team of researchers, led by biologists at Dartmouth, has found potentially dangerous levels of mercury and arsenic in Lake Baiyangdian, the largest lake in the North China Plain and a source of both food and drinking water for the people who live around it.


Scientists propose conservation areas for the unique island of Sulawesi

(01/06/2008) Little-known Sulawesi may be the world's most strangely shaped island: with four large peninsulas jutting outward, the island could either resemble a mangled lower-case 'k' or an upside-down emaciated mermaid—depending on one's perspective. However when Dr. Charles Cannon states that the island is "one of the most unique spots on Earth", he is not referring to Sulawesi's shape but its ecology.


Rainforest chief killed in Borneo for his opposition to logging

(01/03/2008) Keleasu Naan, a Penan chieftain and longtime activist against logging, disappeared in October while checking animal traps. His tribes' worst fears were confirmed when they found what they believed to be Naan's remains last month. According to the Associated Press, the chieftain's nephew, Michael Ipa, has stated that the body had several broken bones, leading Ipa to believe that "he has been killed by people involved in logging".


Can China Go Green?

(01/03/2008) China's booming economic growth over the past generation has come at the expense of the environment, putting its economic health at risk, argues a policy piece published in the journal Science.


Orangutan should become symbol of palm-oil opposition

(01/02/2008) In a letter published today in Nature, Oscar Venter, Erik Meijaard and Kerrie Wilson argue that proposals for conservation groups to purchase and run oil palm plantations for the purpose of generating funds for forest protection are unlikely to be successful. The concept was originally put forth by Lian Pin Koh and David S. Wilcove in a 2007 Nature article.


Lack of A-bomb signatures suggest 50 years of shrinking Tibetan glaciers

(12/30/2007) Ice cores drilled last year from the summit of a Himalayan ice field lack the distinctive radioactive signals that mark virtually every other ice core retrieved worldwide. That missing radioactivity, originating as fallout from atmospheric nuclear tests during the 1950s and 1960s, routinely provides researchers with a benchmark against which they can gauge how much new ice has accumulated on a glacier or ice field.


Japan cancels plan to kill 50 humpback whales

(12/21/2007) Japan has canceled highly controversial plans to kill 50 humpback whales for purported "scietific purposes" (the meat is sold in fish markets) after widespread condemnation from environmentalists and governments. .


Thailand's forests could support 2,000 tigers

(12/19/2007) Thailand's network of parks could support 2,000 tigers, reports a new study by Thailand's Department of National Park, Wildlife, and Plant conservation and the New York-based Wildlife conservation Society.


Rainforest destruction increasingly driven by corporate interests, not poverty



(12/18/2007) Tropical deforestation is increasingly enterprise-driven rather than the result of subsistence agriculture, a trend that has critical implications for the future of the world's forests, says Dr. Thomas Rudel, a researcher from Rutgers University. As urbanization and government-sponsored development programs dwindle in the tropics, industrial logging and conversion for large-scale agriculture -- including oil palm plantations, soy farms, and cattle ranches -- are ever more important causes of forest destruction.


Palm oil is a net source of CO2 emissions when produced on peatlands

(12/17/2007) Researchers have confirmed that converting peat forests for oil palm plantations results in a large net release of carbon dioxide, indicating industry claims that palm oil helps fight climate change are unfounded, at least when plantations are established in peatlands.


Photos: Two unknown mammal species discovered in "lost world"

(12/16/2007) Two mammal species -- a tiny possum and a giant rat — discovered on a recent expedition to Indonesia's remote Foja Mountains in New Guinea are likely new to science, report researchers from conservation International (CI) and Indonesia Institute of Science (LIPI). The area won international fame after a December 2005 survey turned up dozens of new species and gave urgency to conservation efforts in a region where logging and forest clearing for agriculture are a serious concern.


Bali delegates agree to support forests-for-climate (REDD) plan

(12/16/2007) Delegates meeting at the U.N. climate conference in Bali agreed to include forest conservation in future discussions on a new global warming treaty, reports the Associated Press. The move could lead to the transfer of billions of dollars -- in the form of carbon credits -- from industrialized countries to tropical nations for the purpose of slowing greenhouse gas emissions by reducing deforestation rates. Deforestation presently accounts for roughly 20 percent of anthropogenic emissions worldwide.


70% of rainforest island to be cleared for palm oil

(12/13/2007) Mongabay.com received information this week that the Malaysian company Vitroplant has been granted the permit it needs to begin developing 70% of Woodlark Island into palm oil plantations. In an e-mail received by one of the opposition leaders to Vitroplant, Dr. Simon Piyuwes said that "the government granted the permit to the oil palm company despite a widespread campaign and pressure from NGOs". In an earlier article Dr. Piyuwes stated that "we [the islanders] do not have money to fight the giant. We only hope for the support from the NGOs, and the mercy of the government to withdraw the project." It seems the government has refused Dr. Piyuwes what he hoped for.


Communities must benefit for forest carbon schemes to be effective

(12/13/2007) Much has been promised by what avoided deforestation carbon credits can do to support forest protection, increase tax revenues, and develop sustainable rural economies in our Zamrud Khatulistiwa or Emerald on the Equator.


10% of global CO2 emissions result from swamp destruction

(12/10/2007) More than 10 percent of annual carbon dioxide emissions result from the degradation and destruction of peat swamps, reports the first comprehensive global assessment on the links between peatland degradation and climate change.


Photos: Elusive long-eared jerboa caught on film for the first time

(12/10/2007) Extraordinary footage of the endangered long-eared jerboa was taken by scientists from the EDGE; this is the first time the jerboa, a hopping rodent that sports massive ears, has ever been caught on film. The nocturnal animal was captured springing across the desert sands, digging a burrow, and, oddly enough, persistently seeking the comfort of a scientist's sandals.


Rainforest destruction continues in tropical Asia

(12/09/2007) Tropical forests in Asia have been rapidly and extensively destroyed over the past generation, with significant implications for the region's biodiversity and global climate. A new study, published in the December volume of Current Science, finds that Asian forest loss has occurred mostly in poor, corrupt countries that have high population density and robust population growth rates.


China relaxing its control over the forestry sector

(12/06/2007) China's reforms in its forestry sector have slowed deforestation, improved environmental quality, and enhanced the competitiveness of Chinese wood products despite pressure from growing internal demand for wood products and a profitable export market, according to an assessment published in Science. The authors say the trend towards public sector management of forests is likely to grow.


Kyoto pact ignores CO2 emissions from biofuels

(12/05/2007) The Kyoto climate pact, as it currently stands, ignores millions of tons of carbon dioxide emissions from the drainage of peatsoils for palm oil production in Indonesia and Malaysia, warnned Wetlands International, an international NGO, in a report released at the UN climate meeting in Bali.


Earthquake triggers decline in a frog species

(12/03/2007) In 1999 a 7.3 earthquake struck Nantou County at the center of quake-prone Taiwan. The earthquake caused considerable damage: over 2,000 people died and just under 45,000 houses were destroyed. It was Taiwan's strongest quake in a hundred years. The quake also devastated a subpopulation of riparian frogs, Rana swinhoana, which had been under scientific study for three years prior. This devastation allowed scientists the opportunity to study the population changes in a species affected suddenly and irretrievably by natural disaster.


Largest-ever climate meeting begins in Bali

(12/02/2007) In Bali, Indonesia, more than 10,000 delegates, scientists, journalists, and activists from around the world kicked off the largest-ever climate change conference Monday. Organizers hope that the meeting lays the groundwork for a new international pact to replace the Kyoto Protocol when it expires in 2012.


Can wildlife conservation banking generate investment returns?

(11/27/2007) A commercial venture in the Malaysian rainforest will seek to generate competitive returns on investment by protecting wildlife. The scheme -- signed by the Sabah government and Sydney-based New Forests Pty Ltd -- will establish a wildlife habitat conservation bank to manage the 34,000 ha Malua Forest Reserve on the island of Borneo.


Carbon credits for forest conservation concept faces challenges

(11/27/2007) While environmentalists, scientists, development exports, and policymakers across the political spectrum are ethusiastic about the idea of offsetting carbon emissions by preventing deforestation (a concept known as "avoided deforestation" or Reduced Emissions from Deforestation and Degradation (REDD)), the concept still faces many challenges, especially in implementation.


Is the oil-palm industry using global warming to mislead the public?

(11/23/2007) Members of the Indonesian Palm Oil Commission are distributing materials that misrepresent the carbon balance of oil-palm plantations, according to accounts from people who have seen presentations by commission members. These officials are apparently arguing that oil-palm plantations store and sequester many times the amount of CO2 as natural forests, and therefore that converting forests for plantations is the best way to fight climate change. In making such claims, these Indonesian representatives evidently are ignoring data that show the opposite, putting the credibility of the oil-palm industry at risk, and undermining efforts to slow deforestation and rein in greenhouse gas emissions.


Asian countries sign symbolic global warming pact

(11/21/2007) Leaders of 16 Asian countries have signed a "vague" pact on climate change according to Reuters.


Carbon offset returns beat forest conversion for agriculture in Indonesia

(11/21/2007) Conversion of forests and peatlands for agriculture in Indonesia has generated little economic benefit while releasing substantial amounts of greenhouse gases into the atmosphere, reports a new study from the the World Agroforestry Centre (ICRAF), the Center for International Forestry Research (CIFOR) and their Indonesian partners.


Indonesia will need 7 years to stop illegal logging

(11/16/2007) Indonesia will take seven years to stop illegal logging and deforestation, said the country's minister of forestry.


Law enforcement key to saving Borneo's rainforests



(11/13/2007) In an interview with mongabay.com, Dr. Rhett Harrison, a Smithsonian Tropical Research Institute (STRI) associate researcher and Secretary for the Asia-Pacific Chapter of ATBC, says that law enforcement could be the key to safeguarding biodiversity contained in Borneo's lowland parks. Harrison says there may be opportunities for conservationists to work with oil palm to developers to ensure that existing forests are not converted for plantations and that palm oil can be produced in a sustainable manner. He also adds that carbon offsets may eventually offer a means to fund conservation and sustainable development efforts in areas that still have standing forest.


Sun Bears reclassified by IUCN as Vulnerable

(11/13/2007) The world's smallest bear has been recently classified as vulnerable by the IUCN due to habitat loss and poaching. Co-chair of the IUCN Bear Specialist Group, Dave Garshelis, states that "although we do not have any reliable population estimates for the sun bear, or any of the other Asian bears for that matter, we fear that bears in Southeast Asia are declining at a particularly rapid rate due to extensive loss of forest habitat combined with rampant poaching."


Greenwashing the palm oil industry

(11/12/2007) A new report from Greenpeace alleges that members of the Roundtable on Sustainable Palm Oil -- an industry-driven initiative to clean up palm oil production -- are using palm oil derived by clearing endangered rainforests and draining carbon-rich peatlands on the Indonesian island of Sumatra.


Planned logging of Woodlark Island for biofuels opposed by islanders and scientists

(11/12/2007) On Woodlark Island, one-hundred and seventy miles from Papua New Guinea, a struggle is occurring between islanders and biofuel company Vitroplant Ltd. The company is planning to clear much of the island's forest for oil palm plantations to produce biofuels. Vitorplant Ltd.'s contract specifies that they would deforest 60,000 hectares of land for plantations; Woodlark Island is 85,000 hectares in total, meaning over 70% of the island would be converted. Last week, one hundred islanders (out of a total population of 6,000) traveled to the capital of Milne Bay Province, Alotau, to voice their concern over the plans to turn their forested island into plantations.


China begins blocking river for second largest dam

(11/12/2007) China began damming the Jinsha River for its biggest hydroelectric project after the Three Gorges Project, reports Chinese state media.


Sun bear gets 'vulnerable' listing due to deforestation, poaching

(11/12/2007) The sun bear, the world's smallest bear, has been added to the global list of species threatened with extinction, said the World conservation Union (IUCN).


Oil palm does not store more carbon than forests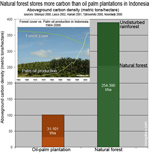 (11/08/2007) Officials from the Indonesian ministry of agriculture and the palm oil industry are distributing materials that misrepresent the carbon balance oil palm plantations, according to accounts from people who have seen presentations by members of the Indonesian Palm Oil Commission. Ministry of agricultural officials are apparently arguing that oil palm plantations store and sequester many times the amount of CO2 as natural forests and therefore converting forests for plantations is the best way to fight climate change. In making such claims, these Indonesian officials are ignoring data that show the opposite, putting the credibility of the oil palm industry at risk, and undermining efforts to slow deforestation and reign in greenhouse gas emissions.


Saving tigers in India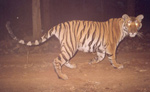 (11/08/2007) Over the past century the number of tigers in India has fallen from about 40,000 to less than 4,000 (and possibly as few as 1,500). Relentless poaching and clearing of habitat for agriculture have been the primary drivers of this decline, though demand for tiger skins and parts for "medicinal" purposes has become an increasingly important threat in recent years.


Asia's tigers could get big boost from small conservation efforts

(11/05/2007) Small changes to the management of wildlife reservers in India, Bangladesh, Bhutan, and Nepal could dramatically boost endangered tiger populations, reports a new study published in the journal Biological conservation.


China's coal pollutes the U.S.

(11/04/2007) It takes five to 10 days for the pollution from China's coal-fired plants to make its way to the United States, like a slow-moving storm. It shows up as mercury in the bass and trout caught in Oregon's Willamette River. It increases cloud cover and raises ozone levels. And along the way, it contributes to acid rain in Japan and South Korea and health problems everywhere from Taiyuan to the United States. This is the dark side of the world's growing use of coal.


Agriculture is primary driver of mangrove destruction

(10/31/2007) Agricultural expansion -- not shrimp farming -- is driving the rapid destruction of the world's mangrove forests, reports a new study published in the Journal of Biogeography.


WSJ inquiry pushes FSC to cancel logging certification in endangered forest

(10/30/2007) An inquiry by The Wall Street Journal prompted the Forest Stewardship Council (FSC), an environmental body that runs a widely accepted "green" labeling system for forestry products, to revoke certification for a Singapore-based Asia Pulp & Paper Co. (APP) project on the Indonesian island of Sumatra.


China struggles with urban pollution

(10/29/2007) About 60 percent of Chinese cities still regularly suffer from air pollution and have no centralized sewage treatment facilities, according to a report by China's environment watchdog, the State Environmental Protection Administration (SEPA).


China to spend $14.4 billion clean up polluted lake

(10/29/2007) China will spend $14.4 billion to clean up one of the country's largest and most polluted lakes, according to a report in the International Herald Tribune.


Avoided deforestation beats timber, palm oil, in tax revenue for Indonesia

(10/29/2007) Indonesia could more than double its tax revenue by protecting forests and selling the resulting carbon emission credits instead of timber and palm oil, a University of Michigan researcher told Bloomberg.


Does palm oil alleviate rural poverty in Malaysia?



(10/23/2007) While it is often argued that the economic benefits of oil palm plantations outweigh the environmental costs of converting biodiverse ecosystems to monocultures, new analysis suggests that the role of plantations in reducing rural poverty may be overstated.


Black jellyfish, strange marine species discovered in deep ocean

(10/17/2007) An expedition to an unexplored deep ocean basin south of the Philippine Islands has turned up a trove of previous undiscovered species including a black jellyfish, a transparent sea cucumber, and a tentacled worm that resembles a squid.



Page 1 | Page 2 | Page 3 | Page 4 | Page 5 | Page 6 | Page 7 | Page 8 | Page 9 | Page 10 | Page 11 | Page 12 | Page 13 | Page 14 | Page 15 | Page 16 | Page 17 | Page 18 | Page 19 | Page 20 | Page 21 | Page 22 | Page 23 | Page 24 | Page 25 | Page 26 | Page 27 | Page 28 | Page 29