News articles on asia

---
Mongabay.com news articles on asia in blog format. Updated regularly.





Australian 'green' buildings used illegally logged wood from rainforests allege activists

(07/27/2011) A 'green' building development being built by Frasers Property Australia in Sydney has been accused of using illegally-sourced plywood from Malaysian state of Sarawak in Borneo, according to a new Greenpeace report. The wood in question comes from a subsidiary of Samling, a company that has been connected to illegal logging and abusing the rights of indigenous groups in the past. After the revelations came to light, Frasers Property Australia said they would conduct an audit of the wood which was provided to them by Australian Wood Panels (AWP).


Video: Tiger trapped in Asia Pulp and Paper logging concession dies a gruesome death

(07/25/2011) Caught in a snare and left for days without access to food and water, a wild Sumatran tiger (Panthera tigris sumatrae) perished from its wounds hours after forest officers reached it. As reported by Greenpeace—which photographed and filmed the rescue attempt—the tiger was trapped at the edge of a acacia plantation and remaining forest area actively being logged by Asia Pulp and Paper (APP) in Riau Province. Sumatran tigers are listed as Critically Endangered by the IUCN Red List; the subspecies, restricted to the Indonesian island, is in decline due to large-scale habitat loss and poaching.


WWF partnering with companies that destroy rainforests, threaten endangered species


(07/25/2011) Arguably the globe's most well-known conservation organization, the World Wide Fund for Nature (WWF), has been facilitating illegal logging, vast deforestation, and human rights abuses by pairing up with notorious logging companies in a flagging effort to convert them to greener practices, alleges a new report by Global Witness. Through its program, the Global Forest and Trade Network (GFTN), WWF—known as World Wildlife Fund in the US and Canada—has become entangled with some dubious companies, including one that is imperiling orangutans in Borneo and another which has been accused of human rights abuses in the Congo rainforest. Even with such infractions, these companies are still able to tout connections to WWF and use its popular panda logo. The Global Witness report, entitled Pandering to the Loggers, calls for WWF to make large-scale changes in order to save the credibility of its corporate program.


Hundreds of Critically Endangered apes found in remote Vietnam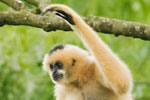 (07/18/2011) A new population—hundreds strong—of northern white-cheeked crested gibbon (Nomascus leucogenys) has been found in Vietnam by researchers with Conservation International (CI). The group estimates that around 130 gibbon groups—455 individuals—survive in Pu Mat National Park, making it the only known viable population of this species in the world and effectively tripling the global populations. Unfortunately, these newly-discovered gibbons are imperiled by road-building through the park.


Animal picture of the day: radio collaring a slow loris

(07/17/2011) Researchers in the Malaysian state of Sabah recently radio-collared a Bornean slow loris (Nycticebus menagensis) in order to study the little known species. A small, but big-eyed, primates slow loris spend the days sleeping and the night tracking prey, such as insects and lizards, with its large flashlight-like eyes.


'Trophy' cell phone pictures lead to arrests of tiger poachers

(07/14/2011) Two poachers were arrested in Thailand after a cell phone they left behind in the forest provided evidence of tiger poaching, reports the Wildlife Conservation Society (WCS).


First ever picture of long lost rainbow toad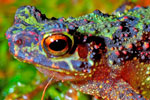 (07/13/2011) Scientists are elated after the surprise rediscovery of a wildly-colored frog not seen for 87 years and never before photographed—until now. The Bornean rainbow toad, also known as the Sambas Stream toad (Ansonia latidisca) was rediscovered on Borneo in the Malaysian state of Sarawak by local scientists inspired by a 2010 search for the world's missing amphibians by Conservation International (CI). Leading up to its search CI released the World's Top 10 Most Wanted Lost Frogs (out of a hundred being searched for): the Bornean rainbow toad was listed as number 10.


Viable population of snow leopards still roam Afghanistan (pictures)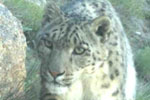 (07/13/2011) Decades of war and poverty has not exterminated snow leopards (Panthera uncia) in Afghanistan according to a new paper in the International Journal of Environmental Studies, written by researchers with the Wildlife Conservation Society (WCS). Instead the researchers report a healthy population of the world's most elusive big cat in Afghanistan's remote and peaceful Wakhan Corridor region. Monitored by camera trap in the region, WCS researchers were able to identify 30 snow leopards in 16 different locations.


Indonesia's new forest moratorium map improved, say experts

(07/13/2011) The latest version of Indonesia's forest moratorium map is much improved over its predecessor, say forestry analysts from Daemeter Consulting.


Plantation fires in Indonesia trigger haze-related health warnings in Malaysia

(07/13/2011) Smoke from plantation fires in Indonesian Borneo and Sumatra are casting a pall over cities in Malaysia, triggering health warnings from officials, reports The Straits Times.


Photo: four new jewel beetles uncovered in Thailand and Indonesia

(07/10/2011) Researchers have discovered four new species of jewel beetles, one from Thailand and three from Indonesia. Jewel beetles, in the beetle family Bupretidae, are known for their iridescent colors.


Lego banishes Asia Pulp & Paper due to deforestation link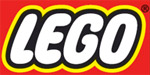 (07/07/2011) In response to a campaign by Greenpeace asserting that packaging used for its iconic toy building blocks is contributing to deforestation in Indonesia, the LEGO Group on Thursday announced it is taking steps to reduce the environmental impact of packaging materials and paper used in its products.


Indonesia reduces area of forest protected under moratorium

(07/07/2011) Indonesia reduced the extent of areas protected under the country's moratorium on new logging concessions, reports the Jakarta Globe.


Community control, rather than govt control, helps forests recover, says study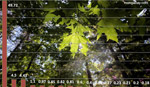 (07/07/2011) A new study says that giving local communities control over forest resources can help slow and even reverse deforestation. The research, published by the Rights and Resources Initiative (RRI) on the eve of a forestry workshop in Lombok, Indonesia, analyzed trends in countries that have either maintained or expanded forest cover since 1990.


Eating rhino horn sends woman to hospital

(06/30/2011) A Vietnamese woman ended up in the hospital after consuming rhino horn, reports savingrhinos.org. Used for a rash around her mouth, the rhino horn instead caused a serious allergic reaction, including reddening skin, itching, and fever. Listed under the Convention on International Trade in Endangered Species of Wild Fauna and Flora (CITES), rhino horn is illegal to purchase or sell worldwide.


Is the Ministry of Forestry undermining Indonesia's logging moratorium?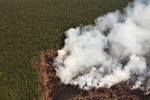 (06/28/2011) Indonesia's Ministry of Forestry is already undermining the moratorium on new forestry concessions on peatlands and in primary forest areas, alleges a new report from Greenomics-Indonesia. The report, The Toothless Moratorium, claims that a new decree from the Ministry of Forestry converts 81,490 hectares of forest protected under the moratorium into logging areas. The area affected is larger than Singapore.


Fire detected in plantation that allegedly breached Indonesia's moratorium

(06/28/2011) A fire is burning within a concession controlled by PT Menteng Jaya Sawit Perdana in Indonesian Borneo turning up the heat on its parent company, the Malaysia-based conglomerate Kuala Lumpur Kepong Berhad (KLK), which supplies "sustainably-produced" palm oil to companies like Cargill and is already under investigation for breaching Indonesia's new moratorium on forest conversion, according to the Environmental Investigation Agency (EIA).


Camera traps reveal no tigers, but other carnivores in Khao Yai National Park

(06/27/2011) A four-year camera trap project has revealed that Khao Yai National Park in Thailand is still home to a wide-variety of carnivore species, but tigers may be on their way out or already gone finds a new study from mongabay.com's open access journal Tropical Conservation Science. Photographing with 15 cameras the study snapped photos of 14 carnivore species in the park. However, the photographic evidence implies that predator populations have fallen in the park over the past decade due to human activities, including poaching.


Photos: wildlife survives warfare in eastern Afghanistan

(06/27/2011) Despite ongoing warfare and strife, wildlife is surviving in Afghanistan, reports a new study published in the journal Oryx.


Back from a century of extinction, conservation proposed for elusive Asian flying squirrel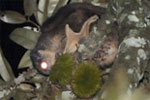 (06/27/2011) The Travancore flying squirrel (Petinomys fuscocapillus) occurs in the forests of the Western Ghats and Sri Lanka, a global biodiversity hotspot, and is listed as Near Threatened on the IUCN Red List. During the first half of the 20th century the species was thought to be extinct, but was rediscovered in the 1960s, then not seen again for over twenty years.


Green tigers: new research shows protecting forests will deliver new economic boom for Southeast Asia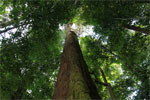 (06/27/2011) A raft of new studies show that protecting Southeast Asia's forests could provide an enormous economic lift for Southeast Asia. Indeed, the studies suggest, forest conservation, sustainable forestry, and agricultural improvements, along with investments in clean energy, could spur the rise of regional "Green Tiger" economies whose development levels surpass even those achieved during the boom years of the 1990's. The studies provide a striking rebuttal to palm oil and timber industries' claims that deforestation is necessary for the region's growth.


Pictures: Turquoise 'dragon' among 1,000 new species discovered in New Guinea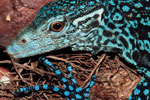 (06/27/2011) Scientists discovered more than 1,000 previously unknown species during a decade of research in New Guinea, says a new report from WWF. While the majority of 1,060 species listed are plants and insects, the inventory includes 134 amphibians, 71 fish, 43 reptiles, 12 mammals, and 2 birds. Among the most notable finds: a woolly giant rat, an endemic subspecies of the silky cuscus, a snub-fin dolphin, a turquoise and black 'dragon' or monitor lizard, and an 8-foot (2.5-m) river shark.


Sabah applies for heritage status for rainforest reserves to block political expropriation

(06/23/2011) Sabah, the eastern-most state in Malaysian Borneo, has applied for World Heritage status for three rainforest areas, reports the Sabah Wildlife Department.


Rainforests in Sumatra, Honduras added to UN's danger list

(06/23/2011) Rainforests in Honduras and on the Indonesian island of Sumatra have been added to the U.N.'s "danger" list due to illegal logging, encroachment, and road contruction, reports UNESCO.


Laos announces crackdown on illegal logging, timber smuggling

(06/22/2011) Laos Prime Minister Thongsing Thammavong ordered authorities to crack down on illegal logging and timber trafficking in the midst of accelerating forest loss, reports the Vientiane Times.


Embattled Malaysian minister denies secret Swiss accounts, but not other holdings

(06/22/2011) Abdul Taib Mahmud, chief minister of Sarawak, on Wednesday denied charges that he holds secret Swiss bank accounts containing wealth attained through close ties with logging companies and palm oil firms operating in the Malaysian Borneo state, reports the Associated Press.


Indonesia to investigate palm oil company that allegedly breached moratorium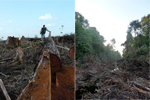 (06/21/2011) Indonesia's REDD+ Task Force will investigate charges that PT Menteng Jaya Sawit Perdana (PT Menteng), a palm oil company owned by Malaysia-based Kuala Lumpur Kepong Berhad (KLK), has cleared peat forest in breach of the country's newly-signed moratorium on the granting of new forestry licenses on peatlands and in primary forest areas. The allegation was levied by the Environmental Investigation Agency, an international NGO, and Telapak, an Indonesian group, after an on-the-ground undercover investigation. EIA and Telapak found that PT Menteng had cleared peat forest near Sampit in Indonesia's Central Kalimantan province without securing proper licenses.


Indonesia's moratorium undermines community forestry in favor of industrial interests


(06/21/2011) Indonesia's moratorium on new concessions in primary forest areas and peatlands "completely ignores" the existence of community forestry management licenses, jeopardizing efforts to improve the sustainability of Indonesia's forest sector and ensure benefits from forest use reach local people, say environmentalists. According to Greenomics-Indonesia, a Jakarta-based NGO, community and village forestry licenses are not among the many exemptions spelled under the presidential instruction that defines the moratorium. The instruction, issued last month, grants exemptions for industrial developers and allows business-as-usual in secondary forest areas by the pulp and paper, mining and palm oil industries.


Endangered Madagascar wildlife on sale in Thailand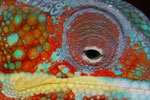 (06/19/2011) Conservation group TRAFFIC uncovered nearly 600 Madagascar reptiles and amphibians on sale in Thai markets, including endangered species and those banned for sale by the Convention on International Trade in Endangered Species of Wild Fauna and Flora (CITES). The animals, representing 24 reptiles species and 9 amphibians, are being sold for the international pet trade. "We know there is a significant ongoing illegal trade in protected species from Madagascar, mainly destined for Asia, which has been exacerbated by the current political situation in the country leading to weaker enforcement of existing laws and safeguarding of protected areas," says Richard Hughes, WWF's Representative in Madagascar.


Indonesia's forest moratorium

(06/17/2011) World Resource Institute's summary of key elements, and unanswered questions, in Indonesia's recent moratorium on new forest permits.


Malaysian palm oil company violates Indonesia's logging moratorium

(06/16/2011) An undercover investigation has found evidence that a subsidiary of Malaysian palm oil company has illegally cleared forest in breach of the Indonesia's moratorium on new permits in primary forest areas and peatlands.


Environment versus economy: local communities find economic benefits from living next to conservation areas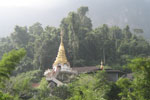 (06/12/2011) While few would question that conserving a certain percentage of land or water is good for society overall, it has long been believed that protected areas economically impoverish, rather than enrich, communities living adjacent to them. Many communities worldwide have protested against the establishment of conservation areas near them, fearing that less access and increased regulations would imperil their livelihoods. However, a surprising study overturns the common wisdom: showing that, at least in Thailand and Costa Rica, protected areas actually boost local economies and decrease poverty.


Vietnam plans to build 90 coal plants

(06/12/2011) Vietnam's government has announced plans to build 90 coal-fired plants over the next 15 years even while being listed as among the top 11 most vulnerable nation's to climate change in the world, according to Eco-Business.


Barbie, Legos, other toys linked to destruction of Indonesia's rainforests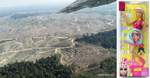 (06/07/2011) Some of the world's largest and most prominent toy-makers are sourcing their packaging materials from companies linked to large-scale destruction of Indonesia's rainforests, alleges a new report from Greenpeace. The report, How APP is Toying with Extinction, is based on forensic analysis of toy packaging from Mattel, which manufacturers Barbie and Hot Wheels toys; Disney, which makes a variety of toys linked to its movies; Hasbro, which produces GI Joe, Star Wars, and Sesame Street toys and various games like Monopoly and Scrabble; and Lego, which makes the iconic plastic building blocks. The analysis found traces of mixed-tropical hardwood (MTH) and acacia fiber which are principally sourced from Asia Pulp & Paper (APP), an umbrella paper products brand that sources from several companies that have been linked to rainforest destruction in Sumatra.


Scientists urge Indonesia to stop road construction in tiger-rich national park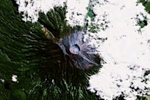 (06/06/2011) The Association for Tropical Biology and Conservation (ATBC) has drafted a resolution urging the Indonesian government to cancel plans to build four 40-foot wide roads through the countries oldest national park, Kerinci Seblat National Park. According to the ATBC, the world's largest professional society devoted to studying and conserving tropical forests, the road-building would imperil the parks' numerous species—many of which are already threatened with extinction—including Sumatra's most significant population of tigers.


Interview with Indonesian climate official on rainforest logging moratorium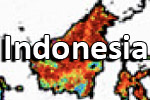 (06/03/2011) In May, Indonesia President Susilo Bambang Yudhoyono issued a presidential instruction laying out the specifications for a two-year moratorium on new concessions in primary forests and peatlands. The moratorium aims to create a window for Indonesia to enact reforms needed to slow deforestation and forest degradation under its Letter of Intent with Norway, which would pay the Southeast Asian nation up to a billion dollars for protecting forests.


Photos: Cambodians rally as 'Avatars' to save one of the region's last great rainforests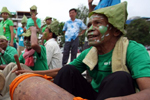 (05/31/2011) Two hundred Cambodians rallied in Phnom Penh last week to protest the widespread destruction of one of Southeast Asia's last intact lowland rainforests, known as Prey Lang. In an effort to gain wider media attention, protestors donned dress and make-up inspired by the James Cameron film, Avatar, which depicts the destruction of a forest and its inhabitants on an alien world. The idea worked as the rally received international attention from Reuters, CNN (i-report), MSNBC, and NPR, among other media outlets.


Lack of clarity complicates Indonesia's logging moratorium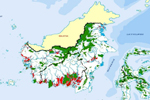 (05/27/2011) Lack of clarity makes it difficult to assess whether Indonesia's moratorium on new logging concessions in primary forest areas and peatlands will actually reduce greenhouse gas emissions from deforestation, according to a new comprehensive assessment of the instruction issued last week by Indonesian President Susilo Bambang Yudhoyono. The analysis, conducted by Philip Wells and Gary Paoli of Indonesia-based Daemeter Consulting, concludes that while the moratorium is "potentially a powerful instrument" for achieving the Indonesian president's goals of 7 percent annual growth and a 26 percent reduction in greenhouse gas emissions from a projected 2020 baseline, the language of the moratorium leaves significant areas open for interpretation, potentially offering loopholes for developers.


Green groups to Japan: don't buy illegally logged wood from Indonesia to aid reconstruction

(05/26/2011) Following Japan's devastating earthquake and tsunami, it needs to rebuild and do so the battered nation has already turned to a neighbor, Indonesia, for timber. However, the Environmental Investigation Agency (EIA) and Indonesian NGO, Telapak, warn that much of the timber that reaches Japan's shores from Indonesia could be illegally logged from rainforests, unless Japan pledges to only purchase legally-certified wood under Indonesia's new assurance system.


On the edge of extinction, Philippine eagles being picked off one-by-one

(05/23/2011) Down to a few hundred individuals, every Philippine eagle is important if the species is to survive. However, the Philippine Eagle Foundation (PEF) has recently announced that people continue to illegally trap and keep eagles captive. Since December the organization has taken-in four confiscated Philippine eagles (Pithecophaga jefferyi), according to The Philippine Star. One died of a fungal infection after confiscation, while two others has suffered serious injuries.


Indonesia's moratorium allows mining in protected forests

(05/23/2011) Indonesia's mining industry expects the just implemented moratorium on new forestry concessions in primary forests and peatlands to open up protected areas to underground coal and gold mining, reports the Jakarta Globe.


Photos: the top ten new species discovered in 2010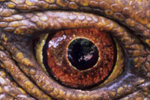 (05/23/2011) If we had to characterize our understanding of life on Earth as either ignorant or knowledgeable, the former would be most correct. In 250 years of rigorous taxonomic work researchers have cataloged nearly two million species, however scientists estimate the total number of species on Earth is at least five million and perhaps up to a hundred million. This means every year thousands of new species are discovered by researchers, and from these thousands, the International Institute for Species Exploration at Arizona State University selects ten especially notable new species.


Indonesia's moratorium disappoints environmentalists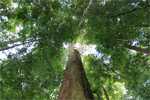 (05/20/2011) The moratorium on permits for new concessions in primary rainforests and peatlands will have a limited impact in reducing deforestation in Indonesia, say environmentalists who have reviewed the instruction released today by Indonesian President Susilo Bambang Yudhoyono. The moratorium, which took effect January 1, 2011, but had yet to be defined until today's presidential decree, aims to slow Indonesia's deforestation rate, which is among the highest in the world. Indonesia agreed to establish the moratorium as part of its reducing emissions from deforestation and degradation (REDD) agreement with Norway. Under the pact, Norway will provide up to a billion dollars in funds contingent on Indonesia's success in curtailing destruction of carbon-dense forests and peatlands.


China failing commitment to save tigers

(05/20/2011) Chinese Premier Wen Jiabao pledged that China would work with other nations to end the trade in tiger parts and revive tiger populations at the Global Tiger Forum last fall, but the country has since fallen short of its commitments, says an environmental group.


Indonesia signs moratorium on new permits for logging, palm oil concessions

(05/19/2011) After five-and-a-half months of delay due to political infighting, Indonesian President Susilo Bambang Yudhoyono finally signed a two-year moratorium on the granting of new permits to clear rainforests and peatlands, reports Reuters.


Down to 50, conservationists fight to save Javan Rhino from extinction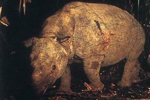 (05/17/2011) Earlier this year, the International Rhino Foundation launched Operation Javan Rhino to prevent the extinction of the critically endangered Javan Rhinoceros (Rhinoceros sondaicus), formerly found in rain forests across Southeast Asia. Operation Javan Rhino is a multi-layered project which links field conservation, habitat restoration, and management efforts with the interests of local governments and communities. The following is an interview with Susie Ellis, Executive Director of the International Rhino Foundation.


Bear bile trade, both legal and illegal, ubiquitous in Asia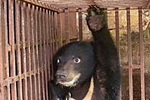 (05/16/2011) Surveying 13 nations and territories in Asia, the wildlife trade organization TRAFFIC found that the bear bile trade remains practically ubiquitous in the region. In many cases the trade, which extracts bile from captive bears' gall bladders for sale as a pharmaceutical, flouts both local and international law, including Appendix I of Convention on International Trade in Endangered Species of Wild Fauna and Flora (CITES ).


Is Indonesia losing its most valuable assets?


(05/16/2011) Deep in the rainforests of Malaysian Borneo in the late 1980s, researchers made an incredible discovery: the bark of a species of peat swamp tree yielded an extract with potent anti-HIV activity. An anti-HIV drug made from the compound is now nearing clinical trials. It could be worth hundreds of millions of dollars a year and help improve the lives of millions of people. This story is significant for Indonesia because its forests house a similar species. In fact, Indonesia's forests probably contain many other potentially valuable species, although our understanding of these is poor. Given Indonesia's biological richness — Indonesia has the highest number of plant and animal species of any country on the planet — shouldn't policymakers and businesses be giving priority to protecting and understanding rainforests, peatlands, mountains, coral reefs, and mangrove ecosystems, rather than destroying them for commodities?


Program that cuts illegal logging by providing high quality health care in Borneo wins major conservation award

(05/14/2011) The co-founder of an initiative that discourages illegal logging by bringing affordable, high quality health care to impoverished communities in Indonesian Borneo has been recognized with a prestigious conservation award.


Fires burn in Sumatra, drive air pollution in Malaysia

(05/13/2011) More than 100 Indonesian firefighters are battling peatland fires set by oil palm plantation developers in Riau province on the island of Sumatra, reports the AFP.



Page 1 | Page 2 | Page 3 | Page 4 | Page 5 | Page 6 | Page 7 | Page 8 | Page 9 | Page 10 | Page 11 | Page 12 | Page 13 | Page 14 | Page 15 | Page 16 | Page 17 | Page 18 | Page 19 | Page 20 | Page 21 | Page 22 | Page 23 | Page 24 | Page 25 | Page 26 | Page 27 | Page 28 | Page 29 | Page 30 | Page 31 | Page 32 | Page 33