News articles on asia

---
Mongabay.com news articles on asia in blog format. Updated regularly.






Giant panda population rises by nearly 17 percent
(03/02/2015) One of the most iconic animals on the planet got good news this week. The world's giant panda population has risen by 268 individuals over the last decade, hitting a total of 1,864 animals, according to China's fourth decadal survey. This represents a total rise of 16.8 percent.
Reports slam Malaysian timber companies, urge reforms in forest management
(02/27/2015) Two international NGOs have called out Malaysia in recent months over the country's widespread illegal logging. Malaysia has been accused of not doing enough to protect its diminishing forests and thwart the illicit timber trade, particularly in Sarawak, the site of the country's worst deforestation. Lax oversight, endemic corruption and limited transparency have allowed for Malaysia's forests to be plundered by both the government and the private sector.
Jokowi's environmental commitments in Indonesia
(02/26/2015) Last fall Indonesia elected its first president with no ties to the established political order or the military. Joko Widodo's election was widely heralded by reformers who hoped the politician's capable management in his stints as mayor of the town of Solo and metropolis of Jakarta could transform Indonesia's chronically underperforming bureaucracy, potentially ushering in a new era of improved human rights, better environmental stewardship, reduced corruption, and healthier economic growth.
Photos: Amur leopard population hits at least 65
(02/26/2015) Most of the world's big predators are in decline, but there are some happy stories out there. This week, WWF announced that the Amur leopard population has grown to a total of 65-69 cats. This represents a more than doubling of the population in eight years. Still, the Critically Endangered subspecies remains perilously close to extinction.
Reports blame illegal logging for felling Sarawak forest
(02/25/2015) A recent report by the international affairs think tank Chatham House has highlighted Malaysia's lack of progress in dealing with illegal logging, blaming corruption and a lack of transparency on the country's sluggish approach to environmental policy reform.
Cambodia deports activist leader...then suspends controversial dam

(02/25/2015) On Monday, Cambodia deported well-known environmental activist, Alex Gonzalez-Davidson, back to his native Spain. Co-founder of the Cambodian NGO, Mother Nature, Gonzalez-Davidson played a vital role in blocking efforts to build the Cheay Areng Dam. But a day after deporting the activist, Cambodia's Prime Minister, Hun Sen, said the country would postpone the dam until 2018.
Rainforest loss increased in the 2000s, concludes new analysis
(02/25/2015) Loss of tropical forests accelerated roughly 60 percent during the 2000s, argues a paper published in the journal Geophysical Research Letters. The findings contradict previous research suggesting that deforestation slowed since the 1990s. The study is based on a map of 1990 forest cover developed last year by Do-Hyung Kim and colleagues from the University of Maryland. The map, which includes 34 countries that contain 80 percent of the world's tropical forests, enabled the researchers to establish a consistent baseline for tracking forest cover change across regions and countries over time.
Santander Bank cuts off APRIL due to deforestation

(02/24/2015) Banking giant Santander says it will not extend further financing to Asia Pacific Resources International Limited (APRIL) due to evidence that the Singapore-based pulp and paper company is continuing to destroy rainforests in Indonesia. The move comes after Greenpeace launched a global campaign against the bank.
Locals lead scientists to new population of near-extinct reptile
(02/24/2015) By the early Twentieth Century, the world had pretty much given up on the Arakan forest turtle, named after the hills where it was found in 1875 in western Myanmar. Now, this Lazarus reptile —which has been dubbed one of the 25 most threatened turtles on the planet —has more good news: researchers have documented an entirely new population where no one
New Guinea rainforest being leveled for palm oil, revealing gaps in zero deforestation pacts
(02/23/2015) An Indonesian palm oil firm is destroying rainforests in New Guinea despite high profile zero deforestation pledges from its customers, finds research by Greenomics-Indonesia. Landsat imagery acquired and analyzed by Greenomics shows that Austindo Nusantara Jaya Agri (ANJ) is clearing high carbon stock forests in the southern part of West Papua's Bird's Head Peninsula in Indonesian New Guinea.
Are small-scale hydro projects always greener?
(02/23/2015) Rising energy demand and global efforts to mitigate climate change have made renewable energy projects increasingly attractive. One widely known and well-developed source of renewable energy is hydroelectricity. However, past environmental campaigns against large dams have resulted in policy changes in some parts of the world, leading to an increasing number of small hydropower projects.
Authorities catch kingpin responsible for killing 20 rhinos
(02/19/2015) With the aid of Interpol, authorities have arrested the leader of a rhino poaching gang responsible for killing a 20 Indian rhinoceros in Nepal. Last month, authorities nabbed Raj Kumar Praja in Malaysia where he had been evading capture for two years. Kumar was already evicted of 15 poaching incidents in absentia and sentenced to 15 years in prison.
Chinese banks funding rainforest destruction in Indonesia

(02/18/2015) While Santander Bank has made headlines in recent days for financing an Indonesian forestry giant's ongoing clearance of carbon-dense forests in Sumatra, Chinese banks among the largest funders of the company, reveals analysis conducted by BankTrack.org.
Indonesian forestry and fishery ministries move to eradicate corruption
(02/17/2015) Today Indonesia's Corruption Eradication Commission (KPK) signed a memorandum of understanding with the national forestry and fishery ministries as well as a number of provincial governors to better integrate management and monitoring of the country's oceans and forests.
42 pangolins rescued...then sold to restaurants

(02/17/2015) On February 1st, local police seized 42 live Sunda pangolins from poachers and handed them over to forest rangers in Vietnam's northern province of Bac Ninh. While the poachers were slapped with a fine, the rangers turned around and sold the live pangolins to local restaurants for a reported $56 a kilo, netting a total of $11,300 for the Critically Endangered mammals.
Sabah shocked by banteng poaching

(02/16/2015) Malaysia's Daily Express recently published graphic photos of poachers in the Malaysian state of Sabah posing proudly with a number of illegally slaughtered large animals, including the incredibly rare and cryptic banteng. Wild, forest cattle, banteng are scattered across parts of Southeast Asia, but Borneo is home to a distinct subspecies: Bos javanicus lowi.
Indonesia dissolves agency charged with forestry reform
(02/11/2015) The world's first cabinet-level ministry dedicated to implementing REDD+ has been dissolved. In accordance with Indonesian Presidential Decree No. 16/2015 the agency known as BP REDD+, along with the National Council on Climate Change, has been absorbed into the newly merged Ministry of the Environment and Forestry (MoEF) as part of a massive government restructuring.
Pollinator collapse could lead to a rise in malnutrition

(02/09/2015) Saving the world's pollinators may be a public health issue, according to recent research. Scientists have long believed that pollinators are important for human nutrition, but this is first time they have tested the hypothesis. What they found is disturbing: pollinator collapse could increase nutrient deficiency across local populations by a up to 56 percent in four developing counties.
Forestry giant's zero deforestation commitment put to test
(02/05/2015) An independent audit of the world's largest pulp and paper producer found that the company had achieved a wide range of results in meeting promises to end deforestation and resolve conflicts with forest communities. In 2013 Asia Pulp and Paper (APP) announced its Forest Conservation Policy (FCP), which included a pledge to end deforestation among its suppliers, improve communication and conflict resolution with forest communities, protecting peatlands, and sourcing fiber only from responsible suppliers.
When is a forest a forest? How definitions affect monitoring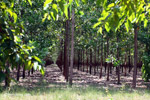 (01/29/2015) What exactly is a forest? With forest definitions differing from country to country, and primary forests, secondary forests, and even tree plantations all perceived collectively as "tree cover" by satellite data, how does one accurately keep tabs on land changes?
China tries out logging ban in northeastern province
(01/28/2015) China's Heilongjiang province, which borders Russia to its north and east, contains 18.5 million hectares of state forest - more natural forest than any other province in the country. However, since the mid-twentieth century, Heilongjiang has had over 600 million cubic meters of timber extracted from its woodlands. Now, China is trying out a complete ban on commercial logging in the province's state-owned forests.
China's recent forest tenure reforms threaten panda habitat
(01/27/2015) Since the 1950s, plantations and second-growth forests in China have been locally managed by village communities as collective forests, which today account for 58 percent of China's forestland. Many of these collective forests lie within mountainous rural areas, some of which are also home to the 1,600 or so wild giant pandas (Ailuropoda melanoleuca) that survive today.
Rogue cop missing from jail

(01/27/2015) An Indonesian police official busted for illegal logging in West Papua has been missing from jail for nearly a year after being granted permission to seek medication treatment, reports the The Jakarta Post.
Half of Borneo's mammals could lose a third of their habitat by 2080
(01/22/2015) Borneo consistently makes the list of the world's "biodiversity hotspots" – areas full of a wide variety of forms of life found nowhere else, but which are also under threat. To better understand the hazards, a study published today in the journal Current Biology examines the effects of climate change and deforestation in the coming decades on mammals living on the island.
Sundarbans still reeling from effects of December oil spill
(01/21/2015) Last month, an estimated 350,000 liters of fuel oil spilled into the Sundarbans delta on the Bay of Bengal. An oil tanker that had collided with a cargo vessel on December 9th sank into the Shela River, spilling its oil into a protected sanctuary for the rare and endangered Irrawaddy dolphins (Orcaella brevirostris) and the Ganges river dolphins (Platanista gangetica).
Video: clouded leopards and elephants grace drowned forest in Thailand

(01/21/2015) Camera trap video from Khlong Saeng Wildlife Sanctuary in southern Thailand has revealed an impressive array of wildlife, including scent-marking clouded leopards and a whole herd of Asian elephant. The camera traps were set by HabitatID, an organization devoted to using remote camera traps to prove to government officials that wildlife still flourishes in forgotten places.
India's tiger population up by more than 500 animals in four years

(01/20/2015) The tiger is in major trouble. In 1900, the global population was over 100,000 animals; today, it is on the precipice of extinction, hovering around just 3,000. In response, tiger range countries have pledged to double to the population by 2022. But there has been little evidence of success until now: India has announced that its tiger population has jumped a remarkable 29 percent in the last four years.
Indonesia's moratorium not enough to achieve emissions reduction target
(01/20/2015) When Indonesia's former president Susilo Bambang Yudhoyono declared a moratorium in May 2012 on the issuance of new permits for logging in primary forests and on peat lands, it was widely hailed as an important, albeit far too limited, step in clamping down on the country's levels of deforestation.
High deforestation rates in Malaysian states hit by flooding
(01/19/2015) Five states hard hit by flooding last month in Malaysia had high rates of forest loss in recent years, bolstering assertions that environmental degradation may have worsened the disaster. According to satellite data from researchers led by the University of Maryland's Matt Hansen and displayed on Global Forest Watch, the states of Johor, Kelantan, Pahang, Perak, and Terengganu each lost more than 10 percent of their forest cover between 2001 and 2012. Loss was greatest in areas with dense tree cover.
Mother and cub: researchers photograph rare cat with cub in Sumatra
(01/13/2015) Researchers working in Kerinci Seblat National Park have captured a remarkable image of a mother Asian golden cat (Catopuma temminckii) carrying her young in her mouth. The image was taken in mid-2014 as reported by Mongabay Indonesia by the Sumatran Tiger Research Team.
Will Indonesia's REDD+ Agency be dissolved?
(01/13/2015) Indonesia's cabinet-level agency tasked with reducing emissions from deforestation and degradation (BP REDD+), may be dissolved after only one year in operation. The head of the newly merged Ministries of the Environment and Forestry has indicated she intends to absorb the group into her agency—stripping BP REDD+ of its ability to operate independently.
New bat species has fangs you won't believe
(01/08/2015) What big teeth you have, my dear! The better to eat insects with—and make one's own ecological niche. Scientists have uncovered a new bat with stupendous canines in the rainforests of Lao PDR and Vietnam, aptly naming it Hypsugo dolichodon, or the long-toothed pipistrelle.
Half of Indonesia's deforestation occurs outside concession areas
(01/06/2015) Roughly half of Indonesia's natural forest loss occurs outside officially designated concession areas, concludes a new assessment that also finds higher deforestation rates in places with worse forest governance scores. The report, released last month by Forest Watch Indonesia, is based on analysis of satellite data spanning the archipelago. Unlike assessments by the Ministry of Forestry, the data includes areas outside the 'forest estate'.
Featured video: new documentary highlights 'Sumatra Burning'

(01/05/2015) A new half-hour documentary investigate the impact of the palm oil industry in Indonesia, including burning forests and peatlands as well as haze spreading across Indonesian borders. Entitled Sumatra Burning, the documentary explores palm oil production on the island of Sumatra, which is experiencing some of the highest deforestation rates on the planet.
Monkey sleep, monkey do: how primates choose their trees
(12/31/2014) Primates don't monkey around when deciding where to spend the night, but primatologists have had a poor grasp on what drives certain monkeys toward specific trees. Now, two extensive studies of Indonesian primates suggest that factors in selecting trees each evening are site-specific and different for each species—and that some overnight spots result in conflicts between monkeys and humans.
Endangered mussel still harvested for food in Laos
(12/29/2014) Only one freshwater pearl mussel species is known to inhabit tropical water systems. However, despite being listed as Endangered by the IUCN, it is also still a part of the diet of villagers in Northern Laos. A study published recently found that the dwindling populations of the bivalve would benefit from a ban on their capture.
Top 10 HAPPY environmental stories of 2014
(12/29/2014) In what was widely seen as a possible breakthrough in the battle to coordinate some kind of response to global warming, China and the U.S. announced joint actions this year. On November 12th, the world's two most powerful countries surprised pretty much everyone by announcing that they would work together to tackle the crisis.
Indonesia's silent wildlife killer: hunting
(12/26/2014) By and large, Indonesia is a peaceful country. In fact, on the United Nations Office of Drugs and Crime's list of homicide rates, Indonesia ranks number 10, making Indonesians one of the least murderous people on Earth. A ban on gun ownership probably helps, although obviously there are many other ways to snuff out another person. Maybe Indonesia's general tendency to avoid conflict helps, too. Whatever the reason why Indonesians are relatively unlikely to kill each other, such favors are not extended to Indonesia's non-human wildlife. The relative safety of Indonesia's people does not guarantee similar security for its animals.
Top 10 Environmental Stories of 2014
(12/23/2014) In 2014, the unimaginable happened: companies representing the majority of palm oil production and trade agreed to stop cutting down rainforests and draining peatlands for new oil palm plantations. After years of intense campaigning by environmentalists and dire warnings from scientists, nearly two dozen major producers, traders, and buyers established zero deforestation policies.




Page 1 | Page 2 | Page 3 | Page 4 | Page 5 | Page 6 | Page 7 | Page 8 | Page 9 | Page 10 | Page 11 | Page 12 | Page 13 | Page 14 | Page 15 | Page 16 | Page 17 | Page 18 | Page 19 | Page 20 | Page 21 | Page 22 | Page 23 | Page 24 | Page 25 | Page 26 | Page 27 | Page 28 | Page 29 | Page 30 | Page 31 | Page 32 | Page 33 | Page 34 | Page 35 | Page 36 | Page 37 | Page 38