News articles on archive

---
Mongabay.com news articles on archive in blog format. Updated regularly.






Damming Dissent: Community leaders behind bars in Guatemala after opposing hydro projects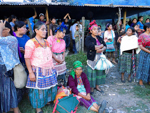 (07/02/2015) The Guatemalan government has granted concessions for several hydroelectric dams in the department of Huehuetenango without consulting the local Mayan population or obtaining their consent, activists charge. Communities resisting the dam projects have been experiencing a multi-pronged crackdown, including arrests and at least three murders.
Amazon tribe creates 500-page traditional medicine encyclopedia
(06/24/2015) In one of the great tragedies of our age, indigenous traditions, stories, cultures and knowledge are winking out across the world. Whole languages and mythologies are vanishing, and in some cases even entire indigenous groups are falling into extinction. This is what makes the news that a tribe in the Amazon have created a 500-page encyclopedia of their traditional medicine all the more remarkable.
Social-media firestorm defends popular man-eating tiger in India, raising conservation questions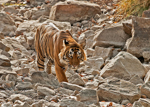 (06/23/2015) On May 8, 56-year-old forest guard Rampal Saini was attacked and killed by a tiger named Ustad with a bite to the neck. Ustad was hugely popular with tourists and had gained a massive online following. But Saini was Ustad's fourth victim in a span of five years, and his death unleashed a heated debate — especially online — about whether the ensuing decision to banish him to captivity was the right one.
Can we save the Sumatran rhino? Indonesia holds out hope
(06/19/2015) 'One percent of the world's population,' veterinarian Zulfi Arsan says as he nods towards Bina, a 714-kilogram, 30-year-old female Sumatran rhinoceros leisurely crunching branches whole. A gentle and easygoing rhino, pink-hued Bina doesn't seem to mind the two-legged hominids snapping pictures and awing at her every move at the Sumatran Rhino Sanctuary.
Amid rhinoceros poaching frenzy, dark days for South African society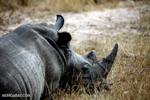 (06/05/2015) South Africa is in the eye of a global rhino-poaching cyclone, with highly organized and elusive international syndicates running a brisk black-market trade in rhino horn. Public trust is faltering: 'Rhino money buys many people at all levels,' a senior antipoaching official said.
Photo essay: Polluted, overfished, and choked by weeds, world's second-largest lake is 'on its knees'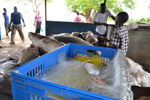 (06/02/2015) Lake Victoria is choking with pollution from industrial, agricultural, and human waste. Its problems are compounded by illegal fishing, catching of juvenile fish, and infestations of water hyacinth and the carnivorous Nile perch, which has wiped out many native fish species. Activists say lax law enforcement and a lack of political will are failing the lake, whose fisheries help feed nearly 22 million people.
Vaquita porpoises down to 'way less than 100,' Mexican agents shoot fisherman while enforcing new protected area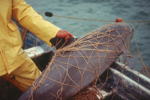 (05/29/2015) With fewer than 100 individuals alive and dropping fast, the vaquita porpoise is just a swish of the tail away from extinction. In April, alerted by scientists that the vaquita population had recently suffered its biggest decline ever, the Mexican government announced an emergency two-year ban on gillnet fishing across the porpoise's main habitat in the upper Gulf of California. A frenzied race to fish for another critically endangered species, the totoaba, is behind the plummeting porpoise numbers.
Drone Herders: Tanzanian rangers and researchers use UAVs to protect elephants and crops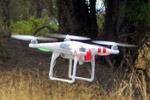 (05/27/2015) HEC, otherwise known as human elephant conflict, is a centuries-old problem responsible for the deaths of untold numbers of elephants. This ongoing battle between African farmers trying to grow crops and hungry elephants foraging for a meal, has motivated conservationists to find solutions for protecting the largest and one of the most intelligent land animals on the planet. Scientists' most recent effort -- Unmanned Aerial Vehicles (UAVs), frisbee-sized remote controlled quad-helicopters -- may provide the answer that researchers have been looking for.
Consumer choice: Shade-grown coffee and cocoa good for the birds, farmers, ecosystems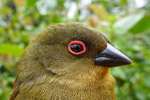 (05/22/2015) The next time you order that "wake up" cup of Joe or reach for a sweet treat, you may want to consider whether those coffee or cocoa beans were grown in the shade or open sun. Choosing the shade grown variety can offer huge benefits to tropical birds, their ecosystems and farmers says a new study by Cagan Şekercioğlu published in the Journal of Ornithology.
What's the current deforestation rate in the Amazon rainforest?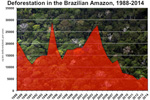 (05/15/2015) Nearly two-thirds of the Amazon rainforest is located in Brazil, making it the biggest component in the region's deforestation rate. Helpfully, Brazil also has the best systems for tracking deforestation, with the government and Imazon, a national civil society organization, releasing updates on a quarterly and monthly basis using MODIS satellite data, respectively. Both the Brazilian government and Imazon release more accurate data on an annual basis using higher resolution Landsat satellite imagery.
Videos reveal rare birds, wild monkeys, and jaguar family in oil-exploited park
(05/11/2015) A compilation of new camera trap videos from Yasuni National Park shows off rarely seen species like the rufuos-vented ground cuckoo and the short-eared dog as well as odd behavior, like sloths licking salt from the ground. The compilation is produced by Diego Mosquera, manager and head of the camera trap program at Tiputini Biodiversity Station.
Ongoing overkill: loss of big herbivores leading to 'empty landscapes'
(05/01/2015) Ten thousand years from now, human historians—or alien ones—may view the current wave of biodiversity loss and extinctions as concurrent with the Pleistocene extinction. At that time, peaking around 11,000 years ago, many scientists argue that human hunters killed off the majority of the world's big species. According to a paper today in history may be repeating itself.
Officials: Sumatran rhino is extinct in the wild in Sabah
(04/23/2015) There are no Sumatran rhinos left in the wild in the Malaysian state of Sabah, confirmed Masidi Manjun, the Tourism, Culture and Envi­ronment Minister, over the weekend. In 2008, conservationists estimated there were around 50 rhinos in the state. Five years later, it dropped that estimate to just ten. Now, it's admitted the awful truth: the wild rhino is very likely gone.
Photo essay: the flying fox show
(04/22/2015) Rain or clear, wind or still, full moon or no. Every night thousands of flying foxes rise from a small mangrove island among the lesser Sunda islands of Indonesia. Around sunset the Sunda flying fox begin to stir in their roots—their stomachs waking them—until the boldest among them takes off into the sky.
Of leopards and lemons: Superstition aids wildlife researchers in India
(04/22/2015) Many Westerners see science and superstition as lying at extreme ends of the logic spectrum. However, those familiar with India know that these two seeming strangers can walk hand-in-hand: Information technology companies are inaugurated with the breaking of the ceremonial coconut and pumpkin.
Your name here: auctioning the naming rights to new species to fund conservation
(04/17/2015) Meg Lowman is on a mission to save northern Ethiopia's church forests, one at a time. Numbering around 3,500, these small "sacred" patches of forest surrounding churches are isolated natural oases in Ethiopia's otherwise mostly agricultural terrain, and they are losing ground to human activity at an alarming rate. Church forests are considered critical conservation areas. They are home to hundreds of species found nowhere else in the world, with new discoveries still being made.
Photo Essay: Geopolitical pawns, the fishermen of Lý Sơn, Vietnam
(04/17/2015) 'When they came, what could we do?' 46-year-old fisherman Nguyên Phú asks, crouching down like a frog with his hands above his head. 'We just put our hands up like this, and said, 'Don't shoot! Don't shoot!'' Their caution is warranted. If they venture too deeply into Vietnam's claimed territorial waters, a Chinese patrol boat will swoop down on them.
Empowering women in order to save the harvest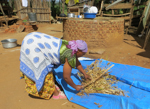 (04/16/2015) There are plenty of technological challenges to reducing food waste in sub-Saharan Africa, but a challenge that might prove more important to overcome is gender inequality. Women are responsible for nearly half of agricultural labor in sub-Saharan Africa, with some estimates reaching up to 90 percent. But they often don't have the authority to make financial decisions for their families, even when it comes to managing or selling the crops they've grown themselves.
The crop-saving champion of Tanzania: Bertha Mjawa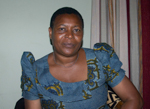 (04/15/2015) In the late 1980s, Bertha Mjawa remembers seeing endless quantities of fruits and vegetables getting thrown out across Tanzania because rot or insects had gotten to them. Years later, she has helped turn Tanzania into a model for reducing food waste.
Unique center trains Tanzanian farmers to preserve their fruits and veggies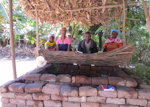 (04/14/2015) Farmers and traders throughout sub-Saharan Africa lose nearly half of their fruits and vegetables before they reach the consumer. To get more food to people who need it, the Postharvest Training and Services Center teaches them better methods of storing, processing, and transporting their crops.
Scientists find new monkey with unique penis
(04/10/2015) Researchers were in for a surprise when they viewed footage from a remote and little-explored area of southeastern Tibet. Among the more than 700 photos of macaques, they spotted several with physical characteristics that hadn't been documented before; namely, genitals that were shaped and colored differently than other known macaques in the region. The scientists say these differences may make these macaques a new species.
New group hopes to raise global profile of the peace-loving bonobo
(04/08/2015) Of the world's six species of great ape (not including us), it's safe to say that bonobos (Pan paniscus) are the least studied and least known publicly. But a new organization, the Bonobo Project, is hoping to change that. To the untrained eye, a bonobo looks little different from their closest relative, the chimpanzee. But the differences between these two cousins are actually quite large.
Fighting fire with money: can finance protect Indonesia's forests?
(04/06/2015) In previous articles, we have seen an overview of the problems with the Indonesian palm oil industry. Such problems are largely caused by rent-seeking politicians and businessmen, who are willing to sacrifice endangered wildlife, the health of their countrymen and long-term environmental stability in the pursuit of profit. These actors exert a significant influence on and within the Indonesian government. As a result, Indonesia remains conflicted between the opposing goals of conservation and economic growth.
9 months after Amazonian oil pipeline spill, effects and fears linger
(03/30/2015) When Peru's state-run oil company pulled out of this small Kukama Indian village in mid-December after cleaning up an oil pipeline spill, residents thought life could slowly return to normal. But more than three months later, wisps of oil floating down the Cuninico River—along with a larger spill in the neighboring community of San Pedro—are a reminder that the problems are not over.
Photos: expedition to Amazon's white sands may have found new primate
(03/24/2015) Most people think of the Amazon rainforest as one massive, homogenous ecosystem—a giant castle of green. However, within the Amazon rainforest lie a myriad of distinct ecosystems, sporting unique characteristics and harboring endemic species. One of the rarer ecosystems in the Amazon is the white sands forest.
Halloween in the Amazon: baby bird dresses up like killer caterpillar
(03/23/2015) 'Mama, I wanna be a toxic caterpillar,' says the little bird. 'Okay,' mamma answers, 'but first you gotta study your Batesian mimicry.' Meet the cinereous mourner, an ash-colored, Amazonian bird that looks rather hum-drum compared to many other birds found in the region. Yet, scientists have discovered something special about the birds: its newborn babies look and move like a neon orange, toxic caterpillar.
Who's funding palm oil?
(03/19/2015) Palm oil may be the single most important crop that you never heard of. A vegetable fat that resembles reddish butter at room temperature, palm oil is derived from the fruit of the oil palm tree. Both nutritious and highly versatile, palm oil is now an important component of products ranging from biofuels and food to soaps and cosmetics. Estimates indicate that as much as 50 percent of the products used by the average Western consumer every day contain palm oil or its derivatives.
Discovery of 'Lost City' spurs conservation pledge
(03/18/2015) Earlier this month, National Geographic made big news: the discovery of what it called a 'lost city' below the thick jungles of Honduras. While the coverage has led to scientists crying sensationalism, it also resulted this week in a commitment of protection by the Honduras President, Juan Orlando Hernández, for a long-neglected portion of the country.
Conservationists catch-and-release record-smashing freshwater fish
(03/17/2015) Conservationists and scientists have managed to catch-and-release what could be the world's biggest freshwater fish ever for an upcoming episode of Ocean Mysteries. Naturalist and host of the show, Jeff Corwin—along with wildlife veterinarian, Nantarika Chansue, and the tourist fishing group, fishsiam.com—managed to reel in a giant freshwater stingray.
Even cockroaches have personalities
(03/12/2015) When I was ten, I acquired my first dog. Rani was a Doberman Pinscher—tall, lean, and a huge pushover. She was wonderfully friendly, but sadly misunderstood her whole life, regularly frightening all except those who knew her intimately. There were two innocuous reasons for this—both of which reveal the power of emotions shared across species.
New study argues the Anthropocene began in 1610
(03/11/2015) In 1610, William Shakespeare began penning one of his greatest plays, The Tempest, which some critics view as a commentary on European colonization of far-away islands and continents. Along those lines, a study today in Nature argues that 1610 is the first year of the human-dominated epoch, known as the Anthropocene, due to the upheavals caused by the 'discovery' of the New World.
Citizen scientists help demystify Serengeti's wildlife with photos
(03/10/2015) Africa's Serengeti conjures up romantic images of millions of migrating wildebeest and zebras, prides of lions feasting on their prey, and hyenas prowling in the background. But not everyone is fortunate to see them up close. Snapshot Serengeti, a citizen science project, is changing that. It lets anyone, with or without a background in science or ecology, become a part of Africa's wilderness from their homes.
Tiger family photo surprises scientists
(03/10/2015) In a frigid Russian forest, a camera trap snapped 21 family photos over two minutes. This wasn't a usual family, though, this was a tiger family, more specifically an Amur tiger family. And this wasn't even a usual tiger family: the cameras showed a dad leading the way.
Human impacts are 'decoupling' coral reef ecosystems
(03/09/2015) There is a growing consensus among scientists that we have entered the age of the Anthropocene, or the epoch of humans. In other words, at some point between the 12,000 years separating the beginning of agriculture and the Industrial Revolution, humans became the dominant source of change on the planet, shaping everything from the land to the atmosphere to even the geologic record where we etch our reign.
Employing shame for environmental change
(03/03/2015) Anyone who has ever felt the sting of shame, knows its power. Shame has long been used by societal institutions—families, communities, governments, religions—for making individuals tow the line of the majority. But a new book explores another—arguably more positive—side of shame: its potential to challenge rule-breaking and ethically-defunct corporations.
How the Sahara keeps the Amazon rainforest going
(03/02/2015) Scientists have just uncovered an incredible link between the world's largest desert (the Sahara) and its largest rainforest (the Amazon). New research published in Geophysical Research Letters theorizes that the Sahara Desert replenishes phosphorus in the Amazon rainforest via vast plumes of desert dust blowing over the Atlantic Ocean.
Protected areas receive 8 billion visits a year, but still underfunded
(02/25/2015) The world loves its protected areas, according to a new study in the open access PLOS Biology. U.S. and UK researchers estimated that the world's protected areas received eight billion visits every year. Moreover, the research found that the world's 140,000 protected areas likely brought in at least $600 billion to national economies.
Partnering for conservation benefits Tacana people, Bolivian park
(02/25/2015) Kneeling in a small clearing amid tropical trees, Baldemar Mazaro skillfully arranges a circle of sticks and a noose of cord in the community of San Miguel de Bala. He hands a branch to a tourist and asks her to prod the sticks as if the branch were the nose of an animal snuffling around, looking for food.
$7 million could save lemurs from extinction
(02/25/2015) Last year, scientists released an emergency three-year plan that they argued could, quite literally, save the world's lemurs from mass extinction. Costing just $7.6 million, the plan focused on setting up better protections in 30 lemur hotspots. However, there was one sticking point: donating to small programs in one of the world's poorest countries was not exactly user friendly.
Locals lead scientists to new population of near-extinct reptile
(02/24/2015) By the early Twentieth Century, the world had pretty much given up on the Arakan forest turtle, named after the hills where it was found in 1875 in western Myanmar. Now, this Lazarus reptile —which has been dubbed one of the 25 most threatened turtles on the planet —has more good news: researchers have documented an entirely new population where no one
Are small-scale hydro projects always greener?
(02/23/2015) Rising energy demand and global efforts to mitigate climate change have made renewable energy projects increasingly attractive. One widely known and well-developed source of renewable energy is hydroelectricity. However, past environmental campaigns against large dams have resulted in policy changes in some parts of the world, leading to an increasing number of small hydropower projects.
Bison-sized rodent may have used teeth like elephant tusks

(02/23/2015) The world's largest rodent today is the capybara, weighing in at around at about 45 kilograms (100 pounds), though the record breaking female weight in at 91 kilograms (201 pounds). But that's nothing compared to the biggest rodent ever to live. Discovered in Uruguay in 2008, Josephoartigasia monesi may have weighed in at 1,000 kilograms (2,200 pounds).
Scientists uncover new seadragon
(02/18/2015) For 150 years, scientists have known of just two so-called seadragons: the leafy seadragon and the weedy seadragon. But a new paper in the Royal Society Open Science has announced the discovery of a third, dubbed the ruby seadragon for its incredible bright-red coloring. Found only off the southern Australian coastline, seadragons belong to the same family as the more familiar seahorses: the Syngnathidae.
42 pangolins rescued...then sold to restaurants

(02/17/2015) On February 1st, local police seized 42 live Sunda pangolins from poachers and handed them over to forest rangers in Vietnam's northern province of Bac Ninh. While the poachers were slapped with a fine, the rangers turned around and sold the live pangolins to local restaurants for a reported $56 a kilo, netting a total of $11,300 for the Critically Endangered mammals.
Arctic upheaval: new book outlines challenges at the top of the world
(02/16/2015) For most of us, the Arctic is not at the front of our minds. We view it as cold, stark, and, most importantly, distant. Yet, even in an age of vast ecological upheaval, one could argue that no biome in the world is changing so rapidly or so irrevocably. Two hundred plus years of burning fossil fuels has warmed up the top of our planet more quickly than anywhere else.
Sabah shocked by banteng poaching

(02/16/2015) Malaysia's Daily Express recently published graphic photos of poachers in the Malaysian state of Sabah posing proudly with a number of illegally slaughtered large animals, including the incredibly rare and cryptic banteng. Wild, forest cattle, banteng are scattered across parts of Southeast Asia, but Borneo is home to a distinct subspecies: Bos javanicus lowi.
How do parks affect the poor? Jury's still out, some experts say
(02/13/2015) In Peru's vast northeastern region, where roads are scarce and forests abundant, crackdowns on the illegal plundering of timber, fish, and wildlife are sporadic and expensive. To fill the gap, the Peruvian National Park Service and non-profit conservation organizations encourage community groups to patrol their lakes and forests and control fishing and hunting.
U.S. Central Plains and Southwest will likely face apocalyptic drought
(02/12/2015) In the recent film Interstellar, a mysterious phenomenon known as "the blight" is wiping out agriculture around the world until only corn—for some reason—survives. Humanity is on the brink of starvation. While the blight may be science fiction, global warming is not, and a new study finds that future warming could decimate the western U.S. over the next century.
Innovating Brazil nuts: a business with roots in the rainforest
(02/11/2015) Scientist and entrepreneur turn to Brazil nuts to protect Peru's threatened forests. Sofía Rubio was eight years old when she decided she wanted to be a biologist. 'I would skip school to go to the woods with my father or mother,' who did research in what is now the Tambopata National Reserve in the southeastern Peruvian Amazon, she says.
Pollution from fossil fuels decreased rainfall in Central America
(02/10/2015) Fossil fuel pollution may have caused a southern shift in a vital rainfall belt across Central America, according to a new study in Nature Geoscience, potentially leading to drier conditions and droughts in some northern tropical countries. Using data from a single stalagmite in a Belizean cave, the researchers were able to create an accurate record of both rainfall and temperature for the last 450 years.
Video: innovative tourism helps protect forests in Amazonian Peru
(02/05/2015) A new short documentary highlights the innovative, locally-grown tourist ventures sprouting up in the buffer zone around Peru's Tambopata National Reserve. Not only do these tourist adventures--some specializing in rehabilitating wildlife, others in finding out how locals live, and some even in jungle yoga--help provide jobs and income in a region dominated by extractive industries, but they are also help to keep forests standing.
Community tourism fills niche around Tambopata National Reserve
(01/29/2015) When Víctor Zambrano retired from the military and returned to his family's old homestead outside the fast-growing jungle town of Puerto Maldonado in Peru, he got an unpleasant surprise. Strangers had moved in and cleared the trees to raise cattle. As Zambrano tells it, he ran up the Peruvian flag, chased the invaders off, and set to work planting 19,000 native tree seedlings.
Adorbs: scientists capture first photos of African golden cat kittens
(01/28/2015) The African golden cat is arguably the continent's least known feline, inhabiting dense tropical forests, almost never seen, and, of course, long-upstaged by Africa's famous felines. But a few intrepid scientists are beginning to uncover the long-unknown lives of these wild cats. Researchers working in Uganda's Kibale National Park have captured remarkable photos of African golden cats...with kittens.
Accounting for natural capital on financial exchanges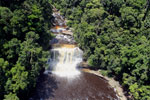 (01/26/2015) Last month, Norway's stock exchange, the Oslo Børs, introduced a way for investors to use their money to promote sustainability. A new list by the stock exchange highlights green bonds, financial products issued by companies to raise capital for environmentally friendly projects. Notably, the list requires that issuing companies obtain and publicize outside opinions on the projects' environmental features.
Indigenous territories play dual role as homelands and protected areas
(01/22/2015) Indigenous communities claim—and scientific evidence increasingly shows—that indigenous forested territories are as well protected as, or better protected than, government-designated parks. In areas under pressure from roads or development projects, deforestation rates are sometimes even lower in indigenous territories than in official protected areas.
Environmental wisdom: keeping indigenous stories alive
(01/21/2015) Enchanted lakes and magic hills: how traditional stories support conservation and abundance. 'Long ago, when animals were gente...' Those words, uttered countless times by indigenous Amazonian storytellers, blur the boundary between humans and other creatures in the forests and rivers, revealing a different view of the way human and non-human worlds intertwine.
Video: clouded leopards and elephants grace drowned forest in Thailand

(01/21/2015) Camera trap video from Khlong Saeng Wildlife Sanctuary in southern Thailand has revealed an impressive array of wildlife, including scent-marking clouded leopards and a whole herd of Asian elephant. The camera traps were set by HabitatID, an organization devoted to using remote camera traps to prove to government officials that wildlife still flourishes in forgotten places.
A model forest? Regional park balances local needs and conservation
(01/21/2015) Regional conservation area safeguards subsistence and spirituality in the Peruvian Amazon. For Alfredo Rojas, the history of the remote villages along the Ampiyacu River is one of enslavement. Growing up here, Rojas listened to his parents tell stories of the rubber barons who beat and killed the Indians who failed to meet their latex quota.
Changing California forests may help us prepare for the future
(01/21/2015) A new study published by the Proceedings of the National Academy of Sciences examines how California's forests have changed since the 1930s--and, according to its authors, can help us understand how forests will respond to the changing global climate in the future.
Tree climbing as a tool to build respect for forests
(01/16/2015) The bulk of life in the rainforest is found the leafy layers of the canopy. But little was known about this world until relatively recently, when hobbyists, naturalists, and researchers began devising ways to access the upper levels of the forest. These efforts accelerated in the 1970s when scientists started to use mountaineering techniques and ropes to climb towering rainforest trees for long-term study and observation.
Ocean's 15: meet the species that have vanished forever from our seas
(01/15/2015) In the last 500 years, the oceans have suffered far fewer extinctions than on land—at least that we know of. According to a recent study in Science, 15 animals are known to have vanished forever from the oceans while terrestrial ecosystems have seen 514 extinctions. The researchers, however, warn that the number of marine extinctions could rise rapidly as the oceans are industrialized.
Empty seas? Scientists warn of an industrialized ocean
(01/15/2015) This is obvious, but still important: humans are not a marine species. Even as we have colonized most of our planet's terrestrial landscapes, we have not yet colonized the oceans. And for most of our history, we have impacted them only on the periphery. A new review in Science finds that this has saved marine species and ecosystems from large-scale damage—that is, until the last couple centuries.
No experience necessary: how studying tamarins led to an innovative research organization in the Amazon
(01/15/2015) While conducting doctoral research on tamarin reproductive biology in the Peruvian Amazon, Mrinalini Watsa realized she needed help in the field. Rather than hiring seasonal assistance she, along with Gideon Erkenswick, decided to create a life-changing non-profit organization, PrimatesPeru. The new NGO would allow students to conduct field research in one of the most biodiverse, yet threatened, places on Earth.
Amazon gold rush destroying huge swaths of rainforest
(01/14/2015) The rainforests of South America face many threats. The deforestation occurring on the continent is among the highest in the world and results in losses of habitat, biodiversity and massive amounts of sequestered carbon. While the usual culprits such as farming, ranching and logging are well known, gold mining is fast extending its destructive reach into some of the world's most untouched landscapes, according to new research.
Mother and cub: researchers photograph rare cat with cub in Sumatra
(01/13/2015) Researchers working in Kerinci Seblat National Park have captured a remarkable image of a mother Asian golden cat (Catopuma temminckii) carrying her young in her mouth. The image was taken in mid-2014 as reported by Mongabay Indonesia by the Sumatran Tiger Research Team.
Video: global carbon dispersal looks like an impressionistic painting in motion

(01/12/2015) A new video showing the global movements of carbon dioxide during one year may look beautiful, but such impressions are misleading. The video, produced by NASA, shows just how much humans are impacting the world's atmosphere, leading to rising temperatures, ocean acidification, melting glaciers, vanishing sea ice, and untold impacts on both wildlife and human communities.
New bat species has fangs you won't believe
(01/08/2015) What big teeth you have, my dear! The better to eat insects with—and make one's own ecological niche. Scientists have uncovered a new bat with stupendous canines in the rainforests of Lao PDR and Vietnam, aptly naming it Hypsugo dolichodon, or the long-toothed pipistrelle.
How black rhinos and local communities help each other in Namibia
(01/07/2015) Africa's rhinos are in a state of crisis. Poaching for their horn has resulted in the deaths of thousands of animals and pushed the continent's two species—the white and black rhino—against the wall. Yet, despite the crisis, there are pockets of rhino territory where poaching remains rare and rhinos live comparatively unmolested. Indeed, one of the brightest spots for rhinos is in Namibia.
Meet Biofaces: the Facebook for wildlife enthusiasts
(12/30/2014) Love wildlife? Wish you had a place online to share your photos, videos, and stories with other wild enthusiasts—kind of like a Facebook for wildlife lovers? Well, look no further than Biofaces, a new website meant to "make wildlife loving people happy," according to its creator, Leonardo Avelino Duarte.
Tropical deforestation could disrupt rainfall globally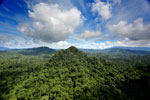 (12/18/2014) Large-scale deforestation in the tropics could drive significant and widespread shifts in rainfall distribution and temperatures, potentially affecting agriculture both locally and far from where forest loss is occurring, concludes a study published today in Nature Climate Change.
Deforestation taking toll on nesting birds in Cameroon
(12/17/2014) The tropical montane forests of the Cameroon mountain ranges boast fertile volcanic soils, high biodiversity of grasses and non-woody plants, as well as many endemic bird species that can be found only in this high-altitude region. Yet, many of these endemic bird species may be at risk due to increased nest predation linked with human-induced forest degradation, according to a new study.
Striking new gecko discovered in Thailand
(12/09/2014) A research team based in western Thailand has discovered a new gecko species in the Kanchanaburi Province, a region renowned for its number of species found nowhere else in the world. A recent publication describes the Sai Yok bent-toed gecko (Cyrtodactylus saiyok), the sixth reptile species endemic to the region known to science.
Relief for Kenya's rare coastal forest
(12/09/2014) In October this year, CAMAC Energy, an oil and gas exploration and production company, announced that they would conduct seismic surveys for oil and gas within Arabuko-Sokoke Forest, one of the last remaining fragments of coastal forests in East Africa. But following immense pressure from the environmental front, CAMAC Energy cancelled their plans to conduct surveys inside the forest.
How an indigenous community in Ecuador stood up to big oil - and won
(12/05/2014) The Sarayaku, a Kichwa indigenous people numbering 1,200 from the Ecuadorian Amazon, won a historic court case in 2012. The Inter-American Court of Human Rights ruled that the government of Ecuador must publicly apologize, consult with, and recompense the Sarayaku for allowing oil exploration by Argentine Compañia General de Combustibles on their territory without prior consultation
Giant stone face unveiled in the Amazon rainforest (video)
(12/04/2014) A new short film documents the journey of an indigenous tribe hiking deep into their territory in the Peruvian Amazon to encounter a mysterious stone countenance that was allegedly carved by ancient peoples. According to Handcrafted Films, which produced the documentary entitled The Reunion, this was the first time the Rostro Harakbut has been filmed.
New endangered bird species discovered in Brazil
(12/04/2014) The Bahian mouse-colored tapaculo (Scytalopus gonzagai) has only just been discovered by scientists in the heavily logged Atlantic Forest of southeast Brazil -- and it's already believed to be endangered.
One-two punch: farming, global warming destroying unique East African forests
(12/03/2014) Lush mountains speckle East Africa's grasslands and desert, from Mozambique to Ethiopia. These isolated habitats are home to a plethora of species, and are considered by scientists to be some of the most biodiverse regions in the world. However, their forests are being cut down for farmland and are threatened by global warming, putting at risk multitudes of species that have nowhere else to go.
New survey finds surprisingly large population of endangered owl
(12/03/2014) The Anjouan scops owl—an elusive owl found only on its tiny eponymous island—was once considered among the world's most endangered owls, and even the most threatened birds. However, the first in-depth survey of the owls on the island finds that, in fact, the population is far larger than initially estimated.
Meet the world's rarest chameleon: Chapman's pygmy
(11/25/2014) In just two forest patches may dwell a tiny, little-known chameleon that researchers have dubbed the world's most endangered. Chapman's pygmy chameleon from Malawi hasn't been seen in 16 years. In that time, its habitat has been whittled down to an area about the size of just 100 American football fields.
Chameleon crisis: extinction threatens 36% of world's chameleons
(11/24/2014) Chameleons are an unmistakable family of wonderfully bizarre reptiles. They sport long, shooting tongues; oddly-shaped horns or crests; and a prehensile tail like a monkey's. But, chameleons are most known for their astonishing ability to change the color of their skin. Now, a update of the IUCN Red List finds that this unique group is facing a crisis that could send dozens of chameleons, if not more, to extinction.
Scientists capture first-ever footage of wild red pandas in Myanmar (VIDEO)
(11/21/2014) This year, a team of scientists in Myanmar (also called Burma), caught a pair of reclusive red pandas on camera, for the first time ever. The bushy tailed pandas were climbing up a rocky pile of rubble left behind in the region by Chinese loggers. For the scientists, the footage was bitter-sweet.
Jane Goodall: 5 reasons to have hope for the planet
(11/19/2014) Jane Goodall is not only arguably the most famous conservationist who ever lived, but also the most well-known and respected female scientist on the planet today. Her path to reach that stature is an unlikely as it is inspiring. Told to 'never give up' by her mother, Goodall set out in her 20s to pursue her childhood dream: to live with animals in Africa. By the time she was 26 she doing just this.
How remote sensing could change conservation forever

(11/18/2014) Remote sensing has changed the way we see our planet. And it has the power to change how we do conservation work, according to a new paper in Conservation Biology. Written by 32 scientists from organizations as diverse as NASA and the Jane Goodall Institute, the paper highlights ten areas where conservation efforts could benefit from remote sensing data.
A nature photographer's dream: staff photographer for the Wildlife Conservation Society
(11/17/2014) Julie Larsen Maher has what many wildlife photographers would consider a dream job: staff photographer for the Wildlife Conservation Society (WCS), a non-profit that runs five zoos and aquariums in New York City as well as numerous site-based field programs in the U.S. and overseas. As staff photographer, Maher helps tell the stories behind WCS's conservation work, which ranges from veterinary procedures with Bronx Zoo animals to working with local communities in remote parts of Zambia to protect wildlife.
Man plants forest, becomes film star
(11/14/2014) Jadav "Molai" Payeng is a 51-year-old man who lives in India's north-eastern state of Assam in the village of Aruna Chapori. A member of Assam's indigenous Mising tribe, Payeng is better known as the "Forest Man" for spending the last 35 years planting a forest bigger than New York City's Central Park.
One man plants forest larger than Central Park
(11/13/2014) Jadav "Molai" Payeng resides in northeast Assam's Jorhat district in the village of Aruna Chapori. Here, for the past 35 years, he has worked to plant trees on a sandbar island in the river near his home—and in the process, single-handedly established a forest larger than New York City's Central Park.
'Guns kill trees too': overhunting raises extinction threat for trees
(11/12/2014) A new paper confirms what ecologists have long feared: hunting birds and mammals drastically raises the risk of extinction for tropical trees. Following the long-lifespan of a single canopy tree, Miliusa horsfieldii, researchers discovered that overhunting of animals could increase the chances of extinction for the species fourteen times over a century, from 0.5 percent to seven percent.
It only took 2,500 people to kill off the world's biggest birds
(11/10/2014) The first settlers of New Zealand killed off nine species of giant birds, known as moas, with a population no bigger than a few thousand people, according to new research published in Nature Communications. The biggest moas stood up to 3.6 meters (12 feet) tall, making these mega-birds the largest animals in the country and contenders for the biggest birds ever.
Is the world moving backwards on protected areas?
(11/06/2014) Protected areas are undoubtedly the world's most important conservation success story. But, despite this, progress on protected areas is stalling and in some cases even falling behind. According to a sobering new paper, only 20-50 percent of the world's land and marine protected areas are meeting their goals, while the rest are hampered by lack of funding, poor management, and government ambivalence.




Page 1 | Page 2 | Page 3 | Page 4 | Page 5 | Page 6 | Page 7 | Page 8 | Page 9 | Page 10 | Page 11 | Page 12 | Page 13 | Page 14 | Page 15