News articles on apes

---
Mongabay.com news articles on apes in blog format. Updated regularly.






Orangutan populations collapse in pristine forest areas
(08/12/2010) Orangutan encounter rates have fallen six-fold in Borneo over the past 150 years, report researchers writing in the journal PLoS One. Erik Meijaard, an ecologist with People and Nature Consulting International, and colleagues compared present-day encounter rates with collection rates from naturalists working in the mid-19th Century. They found orangutans are much rarer today even in pristine forest areas. The results suggest hunting is taking a toll on orangutan populations.
Camp merges technology and conservation for local students

(08/03/2010) From July 23-25, Taiwanese undergraduates held a camp in Bukit Lawang, Sumatra, that taught local high school students to use technology as a conservation tool. The Taiwanese volunteers aimed to help local people in this popular rainforest tourism destination to use the Internet to research and promote sustainable tourism practices. The high school students, who had no formal training in using the Internet, learned to use email, produce a blog, conduct research, and use GPS devices to create a map of part of the local trail system.
Scientists condemn current development plan in Kalimantan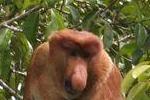 (08/02/2010) Scientists with the Association for Tropical Biology and Conservation (ATBC) have released a resolution opposing the current development plan for a road and bridge crossing Balikpapan Bay in the Indonesian state of Kalimantan. The resolution states that the plan threatens not only the fragile ecosystems within the bay, but of the nearby mangroves as well as the Sungai Wain forest and its watershed, vital for local industry and people. According to ATBC, the plan could be easily remedied by officials picking an alternate route, which is also favored by locals since it would be 80 kilometers shorter.
Indonesian people-not international donors or orangutan conservationists-will determine the ultimate fate of Indonesia's forests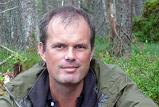 (07/29/2010) Many of the environmental issues facing Indonesia are embodied in the plight of the orangutan, the red ape that inhabits the islands of Borneo and Sumatra. Orangutan populations have plummeted over the past century, a result of hunting, habitat loss, the pet trade, and human-ape conflict. Accordingly, governments, charities, and concerned individuals have ploughed tens of millions of dollars into orangutan conservation, but have little to show in terms of slowing or reversing the decline. The same can be said about forest conservation in Indonesia: while massive amounts of money have been put toward protecting and sustainable using forests, the sum is dwarfed by the returns from converting forests into timber, rice, paper, and palm oil. So orangutans—and forests—continue to lose out to economic development, at least as conventionally pursued. Poor governance means that even when well-intentioned measures are in place, they are often undermined by corruption, apathy, or poorly-designed policies. So is there a future for Indonesia's red apes and their forest home? Erik Meijaard, an ecologist who has worked in Indonesia since 1993 and is considered a world authority on orangutan populations, is cautiously optimistic, although he sees no 'silver bullet' solutions.
Captive orangutans: enriching bodies, minds, and lives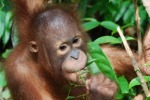 (07/22/2010) Visitors to the Orangutan Care Center and Quarantine (OCCQ) are always delighted by the sight of playful young orangutans. Hairy orange youngsters swinging through the branches or tossing balls around always induce fits of cooing and camera clicking. These activities appear to be so natural that it is easy to forget these are orphans in rehabilitation school and one of the main classes is Enrichment. The term enrichment has become a catchword in the world of captive animal husbandry in the past few years and for many organizations, enrichment has become a new focus as more and more research reveals how critical enrichment is to the physical, mental, and emotional wellbeing of captive animals.
Forest loss occurring around Kibale National Park in Uganda

(06/28/2010) A new study in Tropical Conservation Science finds that Kibale National Park in Uganda has retained its tropical forest despite pressures of a dense human population and large-scale clearing activities just beyond the border of the park. Home to twelve primate species, including Chimpanzees, the park is known as a safe-haven for African primates.
New plan to save the chimpanzee from extinction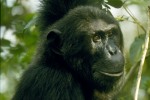 (06/21/2010) Humankind's closest relative, the chimpanzee, is classified as Endangered by the IUCN Red List. Threatened by habitat and forest loss, hunting for bushmeat, trafficking for the illegal pet trade, mining, and disease, the species remains in a precarious position. Yet a new 10-year-plan with East and Central African hopes to ensure the chimpanzee's (Pan troglodytes) survival. The plan, which focuses on one subspecies of four, the eastern chimpanzee (Pan troglodytes schweinfurthii), pushes for the conservation of 16 core areas that would protect 96 percent of the eastern chimpanzee population.
Wildlife-rich river threatened by sand-dredging in Borneo

(06/15/2010) The Kinabatangan River in Malaysian Borneo is home to a fabulous wealth of species, including orangutans, proboscis monkeys, and a sizeable population of the world's smallest elephant, the Borneo pygmy elephant. While local politicians have stated numerous times that the ecology of the river will be protected, locals are reporting a number of legally sanctioned sang dredging operations on the river. Dredging can affect river flows, negatively impact wildlife, and release toxins from the sediments.
Protected areas vital for saving elephants, chimps, and gorillas in the Congo

(05/10/2010) In a landscape-wide study in the Congo, the Wildlife Conservation Society (WCS) found that core protected areas and strong anti-poaching efforts are necessary to maintain viable populations of forest elephants, western lowland gorillas, and chimpanzees—all of which are threatened with extinction.
Farming snails to save the world's rarest gorillas

(04/28/2010) In a place of poverty and hunger, how do you save a species on the edge of extinction? A difficult question that conservationists have long-been working to tackle, the Wildlife Conservation Society (WCS) has come up with a new plan to protect the world's most endangered gorilla, the Cross River gorilla, from poachers by providing locals with an alternate and better income from farming snails.
Jane Goodall renews her faith in nature and humanity during the "Gombe 50" anniversary, An interview with Dr. Jane Goodall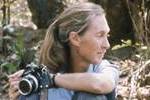 (04/12/2010) 2010 marks a monumental milestone for the Jane Goodall Institute (JGI) and its founder, Dr. Jane Goodall, DBE. Fifty years ago, Goodall, who is today a world-renowned global conservation leader, first set foot on the shores of Lake Tanganyika, in what is now Tanzania's Gombe National Park. The chimpanzee behavioral research she pioneered at Gombe has produced a wealth of scientific discovery, and her vision has expanded into a global mission 'to empower people to make a difference for all living things.' Time, however, has not stood still for Gombe. The wild chimps of the area have suffered as the local human population has swelled. Gombe National Park is now a forest fragment, a 35-square-kilometer island of habitat isolated in a sea of subsistence farming. Because the problems facing Gombe—unsustainable land practices, overpopulation, and a cycle of poverty—are typical of many other areas, lessons learned by Dr. Goodall and her team provide valuable insights for solutions at Gombe and beyond.
Hope for survival as isolated orangutans joined by rope bridge
(04/11/2010) Researchers in the Malaysian state of Sabah in Borneo are joyful after receiving confirmation that a young male orangutan used a rope bridge to cross a river, which has separated one orangutan population from another. Due to logging and clearing forests for oil palm plantations, which cover 18 percent of land in Sabah, orangutans on the Kinabantangan River have been cut into fragmented populations.
Orangutans use calls for a variety of reasons

(03/10/2010) Mature male orangutans produce what scientists call 'long calls', which can be heard for one kilometer in all directions even in dense forests. New research in Ethology has uncovered that these calls are employed for a number of reasons and provide information about who is calling and why.
Why we are failing orangutans

(03/01/2010) It is no secret that orangutans are threatened with extinction because their rain forests are being destroyed at an alarming rate. Ten years ago, Shawn Thompson, a writer, former journalist and university professor, set out to chronicle the threat to orangutans in a book released in March 2010. The book is called The Intimate Ape: Orangutans and the Secret Life of a Vanishing Species. The book spends most of the time talking about the nature of orangutans and the relationships between orangutans and people. But the ultimate underlying message is there about the source of the peril to orangutans and the solution. Thompson says that the problem of saving orangutans has to do with communications and human nature.
Humans push half of the world's primates toward extinction, lemurs in particular trouble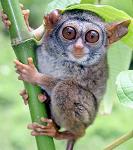 (02/18/2010) Of the known 634 primate species in the world 48 percent are currently threatened with extinction, making mankind's closes relatives one of the most endangered animal groups in the world. In order to bring awareness to the desperate state of primates, a new report by the International Union for the Conservation of Nature highlights twenty-five primates in the most need of rapid conservation action. Compiled by 85 experts the report, entitled Primates in Peril: The World's 25 Most Endangered Primates, 2008–2010, includes six primates from Africa, eleven from Asia, three from Central and South America, and five from the island of Madagascar.
Orangutans vs palm oil in Malaysia: setting the record straight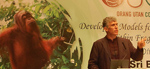 (01/16/2010) The Malaysian palm oil industry has been broadly accused of contributing to the dramatic decline in orangutan populations in Sabah, a state in northern Borneo, over the past 30 years. The industry has staunchly denied these charges and responded with marketing campaigns claiming the opposite: that oil palm plantations can support and nourish the great red apes. The issue came to a head last October at the Orangutan Colloquium held in Kota Kinabalu. There, confronted by orangutan biologists, the palm oil industry pledged to support restoring forest corridors along rivers in order to help facilitate movement of orangutans between remaining forest reserves across seas of oil palm plantations. Attending NGOs agreed that they would need to work with industry to find a balance that would allow the ongoing survival of orangutans in the wild. Nevertheless the conference was still marked by much of the same rhetoric that has characterized most of these meetings — chief palm oil industry officials again made dubious claims about the environmental stewardship of the industry. However this time there was at least acknowledgment that palm oil needs to play an active role in conservation.
World's rarest gorilla caught on film

(12/16/2009) The first ever professional footage of the world's rarest gorilla, the Cross River gorilla ( Gorilla gorilla diehli), has been shot deep in the forested mountains of Cameroon. The only other existing footage of this Critically Endangered subspecies was taken from far away by a field researcher in 2005.
African children on 'gorilla warfare' mission in run-up to COP15

(12/06/2009) "It's the gorillas I've got to thank for bringing me here," said Sephora Binet-Mboti, (13), as she gazed up, wide-eyed, at the Eiffel Tower in Paris. She was a long way from her in home in Central Africa where she lives in Gabon at subsistence level in a clapboard house with her parents and nine brothers and sisters. Sephora had never traveled as far as the capital of Gabon, let alone to the developed world, but on Thursday (3rd December) she boarded a plane for an all-expenses-paid dream week in Paris, the city of lights.
Hyenas cooperate more easily than chimpanzees

(12/06/2009) Spotted hyenas (Crocuta crocuta) could show chimpanzees a thing or two about working together, according to a new study. Hyenas, prodigious hunters, pull down prey together. Christine M. Drea, an associate professor in the department of Evolutionary Biology at Duke University, started to ask questions about the cooperative hunting habits of hyenas while she was reading The Spotted Hyena: A Study of Predation and Social Behavior by Hanz Kruuk.
Transmitters implanted in orangutans for tracking after release into the wild

(11/23/2009) For the first time transmitters have been implanted in orangutans to track their daily movements. The Sabah Wildlife Department (SWD) has implanted transmitters into three orangutans that have been released back into the wild from Sepilok Orangutan Rehabilitation Center in the Malaysian state of Sabah on the island of Borneo.
"Money is not a problem," palm oil CEO tells conservationists during speech defending the industry
(10/26/2009) Earlier this month at a colloquium to implement wildlife corridors for orangutans in the Malaysian state of Sabah, Dr. Yusof Basiron, the CEO of Malaysian Palm Oil Council (MPOC), told conservationists and primate experts that the palm oil industry was ready to fund reforestation efforts in the corridors. "We can raise the money to replant [the corridors] and keep contributing as a subsidy in the replanting process of this corridor for connecting forests," Basiron said in response to a question on how the palm oil industry will contribute. "Money is not a problem. The commitment is already there, the pressure is already very strong for this to be done, so it's just trying to get the thing into motion."
Emotional call for palm oil industry to address environmental problems
(10/21/2009) During what was at times an emotional speech, Sabah's Minister of Tourism, Culture, and Environment, Datuk Masidi Manjun, called on the palm oil industry to stop polluting rivers and work with NGOs to save orangutans and other wildlife. He delivered the speech on the first day of an Orangutan Conservation Colloquium held in early October in the Malaysian state of Sabah on the island of Borneo.
Palm oil industry pledges wildlife corridors to save orangutans

(10/03/2009) In an unlikely—and perhaps tenuous—alliance, conservationists and the palm oil industry met this week to draw up plans to save Asia's last great ape, the orangutan. As if to underscore the colloquium's importance, delegates on arriving in the Malaysian State of Sabah found the capital covered in a thick and strange fog caused by the burning of rainforests and peat lands in neighboring Kalimantan. After two days of intensive meetings the colloquium adopted a resolution which included the acquisition of land for creating wildlife buffer zones of at least 100 meters along all major rivers, in addition to corridors for connecting forests. Researchers said such corridors were essential if orangutans were to have a future in Sabah.
Two of the world's most endangered (and strangest) primates receive protection from new reserves in China and Vietnam
(09/24/2009) There are 200 Tonkin snub-nosed monkeys left in the world. The cao vit gibbon, however, is even worse off with only 110 individuals remaining, giving it the dubious honor of being the second most endangered primate in the world (the closely-related Hainan gibbon with only 17 individuals is likely number one). Both of these species—the cao vit gibbon and Tonkin snub nosed monkey—have received good news recently as new reserves in China and Vietnam have been created in part to aid their survival.
Palm oil both a leading threat to orangutans and a key source of jobs in Sumatra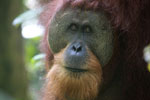 (09/24/2009) Of the world's two species of orangutan, a great ape that shares 96 percent of man's genetic makeup, the Sumatran orangutan is considerably more endangered than its cousin in Borneo. Today there are believed to be fewer than 7,000 Sumatran orangutans in the wild, a consequence of the wildlife trade, hunting, and accelerating destruction of their native forest habitat by loggers, small-scale farmers, and agribusiness. Gunung Leuser National Park in North Sumatra is one of the last strongholds for the species, serving as a refuge among paper pulp concessions and rubber and oil palm plantations. While orangutans are relatively well protected in areas around tourist centers, they are affected by poorly regulated interactions with tourists, which have increased the risk of disease and resulted in high mortality rates among infants near tourist centers like Bukit Lawang. Further, orangutans that range outside the park or live in remote areas or on its margins face conflicts with developers, including loggers, who may or may not know about the existence of the park, and plantation workers, who may kill any orangutans they encounter in the fields. Working to improve the fate of orangutans that find their way into plantations and unprotected community areas is the Orangutan Information Center (OIC), a local NGO that collaborates with the Sumatran Orangutan Society (SOS).
Saving gorillas by bringing healthcare to local people in Uganda, an interview with Dr. Gladys Kalema-Zikusoka
(09/16/2009) How can bringing healthcare to local villagers in Uganda help save the Critically Endangered mountain gorilla? The answer lies in our genetics, says Dr. Gladys Kalema-Zikusoka, wildlife veterinarian and director of Conservation through Public Health (CTPH). "Because we share 98.4% genetic material with gorillas we can easily transmit diseases to each other." Therefore, explains Kalema-Zikusoka "our efforts to protect the gorillas will always be undermined by the poor public health of the people who they share a habitat with. In order to effectively improve the health of the gorillas we needed to also improve the health of the people, which will not only directly reduced the health threat to gorillas through improvement of public health practices, but also improved community attitudes toward wildlife conservation."
46 rescued orangutans returned to the wild by helicopter in Borneo

(09/05/2009) The Borneo Orangutan Survival Foundation (BOSF) has successfully released 46 orangutans back into the wild. The orangutans had been rescued from forest fragments and housed for months at the Nyaru Menteng Rescue and Reintroduction Project in Central Kalimantan until suitable — and secure — habitat was located. The release site is a section of rainforest in the upper Barito region of Central Kalimantan, within the Heart of Borneo.
Rehabilitation not enough to solve orangutan crisis in Indonesia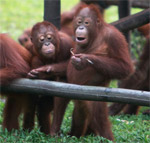 (08/20/2009) A baby orangutan ambles across the grass at the Borneo Orangutan Survival Foundation's Nyaru Menteng rehabilitation center in Central Kalimantan, in the heart of Indonesian Borneo. The ape pauses, picks up a stick and makes his way over to a plastic log, lined with small holes. Breaking the stick in two, he pokes one end into a hole in an effort to extract honey that has been deposited by a conservation worker. His expression shows the tool's use has been fruitful. But he is not alone. To his right another orangutan has turned half a coconut shell into a helmet, two others wrestle on the lawn, and another youngster scales a papaya tree. There are dozens of orangutans, all of which are about the same age. Just outside the compound, dozens of younger orangutans are getting climbing lessons from the Borneo Orangutan Survival Foundation (BOS) staff, while still younger orangutans are being fed milk from bottles in a nearby nursery. Still more orangutans—teenagers and adults—can be found on "Orangutan Island" beyond the center's main grounds. Meanwhile several recently wild orangutans sit in cages. This is a waiting game. BOS hopes to eventually release all of these orangutans back into their natural habitat—the majestic rainforests and swampy peatlands of Central Kalimantan, on the island of Borneo. But for many, this is a fate that may never be realized.
Examining monkey tools: archaeology expands to include non-human primates

(08/17/2009) Archaeology, the study of ancient cultures and their artifacts, has always been confined to the technology of humans and direct human ancestors. However, a new study recently published in the journal Nature examines the benefits of expanding the field of archaeology to include non-human primates.
Gorillas orphaned by bushmeat trade set free on island
(08/10/2009) The Fernan-Vaz Gorilla Project has set free six young gorillas on an island outside of Loango National Park in Gabon. The release marks a new stage in the rehabilitation of the gorillas. The six western lowland gorillas, ranging from two to seven years of age, were orphaned when their respective parents were killed for bushmeat. The island provides a refuge from poachers and other predators where the gorillas are able to acclimate to the wild in safety.
Borneo orangutan release in jeopardy over fate of coal mining concession
(07/29/2009) A plan to release orangutans in a 250,000-hectare (618,000-acre) tract of forest in the Heart of Borneo has been disrupted by uncertainty around BHP Billiton's decision to pull out of a coal mining project in Kalimantan, the Indonesian part of Borneo, reports the Independent and conservation groups familiar with the situation. BHP Billiton had provided funds to help establish the forest reserve in Central Kalimantan and offered conservationists mapping support and use of helicopters to deposit orangutans into otherwise inaccessible areas. The two-year program would have reintroduced scores of orangutans but the first scheduled airlift of 48 orangutans for July 20 was canceled after BHP warned it could no longer guarantee the safety of reintroduced orangutans.
Malaysian palm oil chief claims oil palm plantations help orangutans
(06/18/2009) Dr. Yusof Basiron, CEO of the Malaysian Palm Oil Council, the government-backed marketing arm of the Malaysian palm oil industry, claims on his blog that endangered orangutans benefit from living in proximity to oil palm plantations. Environmentalists scoff at the notion, maintaining that oil palm expansion is one of the greatest threats to orangutans.
First captive bonobos released into the wild

(06/16/2009) A group of 17 orphaned bonobos are being released into the wild for the first time this month. Set free by the world's only bonobo sanctuary, Lola ya Bonobo in the Democratic Republic of Congo (DRC), the bonobos will be released into a 50,000 acre (20,000 hectare) forest where the species has been absent for years.
Range extended for world's most mysterious gorilla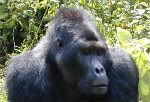 (06/11/2009) The Wildlife Conservation Society (WCS) announced yesterday the discovery of eastern lowland gorilla nests in an unexplored area of the Democratic Republic of Congo (DRC), expanding the range of this little-known subspecies by 30 miles (50 kilometers). The eastern lowland gorilla, also known as Grauer's gorilla, is currently listed as Endangered in the IUCN Red List. Scientists estimate that the gorilla has as few as 8,000 individual left. Although closely related to mountain gorillas, the eastern lowland gorilla is the world's largest living primate, weighing over 500 pounds at maximum, and is endemic to the DRC.
Orangutan guerrillas fight palm oil in Borneo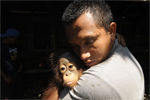 (06/01/2009) Despite worldwide attention and concern, prime orangutan habitat across Sumatra and Borneo continues to be destroyed by loggers and palm oil developers, resulting in the death of up to 3,000 orangutans per year (of a population less than 50,000). Conservation groups like Borneo Orangutan Survival report rescuing record numbers of infant orangutans from oil palm plantations, which are now a far bigger source of orphaned orangutans than the illicit pet trade. The volume of orangutans entering care centers is such that these facilities are running out of room for rescued apes, with translocated individuals sometimes waiting several months until suitable forest is found for reintroduction. Even then they aren't safe; in recent months loggers have started clearing two important reintroduction sites (forests near Bukit Tigapuluh National Park in Sumatra and Mawas in Central Kalimantan). Meanwhile across half a dozen rehabilitation centers in Malaysia and Indonesia, more than 1,000 baby orangutans—their mothers killed by oil palm plantation workers or in the process of forest clearing—are being trained by humans for hopeful reintroduction into the wild, assuming secure habitat can be found. Dismayed by the rising orangutan toll, a grassroots organization in Central Kalimantan is fighting back. Led by Hardi Baktiantoro, the Center for Orangutan Protection (COP) has mounted a guerrilla-style campaign against companies that are destroying orangutan habitat in Kalimantan, the Indonesian part of Borneo.
New rainforest reserve in Congo benefits bonobos and locals

(05/25/2009) A partnership between local villages and conservation groups, headed up by the Bonobo Conservation Initiative (BCI), has led to the creation of a new 1,847 square mile (4,875 square kilometer) reserve in the Democratic Republic of Congo (DRC). The reserve will save some of the region's last pristine forests: ensuring the survival of the embattled bonobo—the least-known of the world's four great ape species—and protecting a wide variety of biodiversity from the Congo peacock to the dwarf crocodile. However, the Kokolopori Bonobo Reserve is worth attention for another reason: every step of its creation—from biological surveys to reserve management—has been run by the local Congolese NGO and villages of Kokolopori.
APP, Sinar Mas plan to log habitat of critically endangered orangutans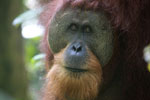 (05/20/2009) Asia Pulp & Paper and Sinar Mas Group have acquired a license to clear hundreds of hectares of unprotected rainforest near Bukit Tigapuluh National Park on the Indonesian island of Sumatra, report environmental groups who say the activity threatens a population of critically endangered orangutans that have been re-introduced into the wild. The companies intend to log the concession for timber and plant it for industrial timber and oil palm plantations.
Orangutan population in Borneo park plunges 90% in 5 years

(05/16/2009) The population of orangutans in Indonesia's Kutai National Park has plunged by 90 percent in the past five years due to large-scale deforestation promoted by local authorities, reports The Centre for Orangutan Protection (COP), an Indonesian environmental group.
Chimpanzee population plummets 90 percent in supposedly strong region

(05/06/2009) Chimp populations continue to decline in Africa. A new survey of our closest relatives in the Cote D'Ivoire found that the population fell from an estimated 8,000 to 12,000 individuals to a paltry 800 to 1,200, a decline that took place in less than twenty years.
Male chimps use meat to seduce
(04/07/2009) Male chimpanzees who share meat with females over a long period of time have a better chance of mating, according to a new study published in PLoS ONE. Studying chimps in Tai National Park, Côte d'Ivoire, researchers from the Mac Planck Institute for Evolutionary Anthropology observed that female chimps have sex more frequently with males who have shared meat with them at least once as opposed to males who never share.
Flu epidemic killing bonobos in Congo sanctuary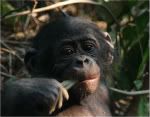 (03/29/2009) Six bonobos, a species of chimpanzee, have died from a flu epidemic in a month at the Lola Ya Bonobo in the Democratic Republic of Congo (DRC). Ten more have contracted the flu. "There is no fever. Antibiotics don't do anything. The bonobos have severe respiratory infections and then they can't breath for 3 days then they die," writes a staff member on the sanctuary's blog through the conservation organization WildlifeDirect. The staff of Lola Ya Bonobo have sent out a plea for help and donations, as the flu continues to sweep through their center.
More than 300 gorillas butchered each year in the Republic of Congo

(03/27/2009) During 2008 and early 2009, Endangered Species International (ESI) conducted monitoring activities using undercover methods at key markets in the city of Pointe Noire, the second biggest city in Congo. Findings reveal that 95 percent of the illegal bushmeat sold originates from the Kouilou region about 100-150 km northwest to Pointe Noire where primary and unprotected rainforest still remains. The Kouilou region is one the last reservoirs of biodiversity and endangered animals in the area.
After seizure, gorilla receives MRI scan free of charge
(03/26/2009) The Wildlife Conservation Society announced today that a 42-year-old western lowland gorilla named Fubo received a free MRI scan after suffering a seizure at his home in the Bronx Zoo's Congo Gorilla Forest exhibit. The MRI was provided by The Brain Tumor Foundation, which sent a 48-foot-long moveable MRI facility to the zoo. Overseen by vets, zookeepers, and various medical personnel, the scan revealed that Fubo had a lesion on his left temporal lobe of his brain.




Page 1 | Page 2 | Page 3 | Page 4 | Page 5 | Page 6