News articles on ape

---
Mongabay.com news articles on ape in blog format. Updated regularly.






Satellite images show deforestation on fringes of UNESCO World Heritage Site in Cameroon
(05/14/2015) In the push to become a middle-income country in the next two decades, Cameroon has courted investments in its vast natural resource wealth in the form of mining, logging and large-scale agriculture. But deforestation revealed by a recent Greenpeace Africa investigation highlights a lack of coordination in determining how to use the country's land.
Hundreds of Critically Endangered apes found in remote Vietnam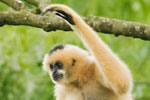 (07/18/2011) A new population—hundreds strong—of northern white-cheeked crested gibbon (Nomascus leucogenys) has been found in Vietnam by researchers with Conservation International (CI). The group estimates that around 130 gibbon groups—455 individuals—survive in Pu Mat National Park, making it the only known viable population of this species in the world and effectively tripling the global populations. Unfortunately, these newly-discovered gibbons are imperiled by road-building through the park.
Counting orangutans: the best way to survey the great apes

(03/28/2011) How do you count orangutans when they are difficult to spot in the wild given that they are shy, arboreal, and few and far between? To find a solution, biologists have turned to estimating orangutan populations by counting their nests, which the great apes make anew every night. In order to make the most accurate count possible, researchers have studied the different factors that could impact the success, or lack thereof, of nest-counters in mongabay.com's open access journal Tropical Conservation Science.
Saving the best for last: a journey into the final phases of orangutan rehabilitation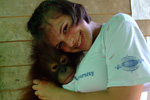 (11/08/2010) Rehabilitation is a powerful word these days. Fashionable, too. In wildlife conservation, rehabilitation can serve functions ranging from augmenting threatened animal populations to desperate attempts to save species from permanent extinction. At its base, rehabilitation consists of handling, preparing and releasing wild animals that have been in some way negatively affected by humans. Rehabilitation programs cover the globe (from cottage-scale sparrow and raccoon rescues in suburban parks to well-established raptor protection programs, wolf rehabilitation and public education about these wild predators in Colorado, semi-touristy rehabilitation centers in Thailand housing everything from gibbons to elephants, vet hospitals dedicated to flu-ridden bobtail lizards in Australia, and sexy lion and cheetah hubs in southern Africa which breed endangered serval cats). The motivations behind these programs are also diverse, but the umbrella goal is unified: to aid the continued survival, so often precarious, of animals valued by people.
Environmentalists must recognize 'biases and delusions' to succeed

(10/18/2010) As nations from around the world meet at the Convention on Biological Diversity in Nagoya, Japan to discuss ways to stem the loss of biodiversity worldwide, two prominent researchers argue that conservationists need to consider paradigm shifts if biodiversity is to be preserved, especially in developing countries. Writing in the journal Biotropica, Douglas Sheil and Erik Meijaard argue that some of conservationists' most deeply held beliefs are actually hurting the cause.
Financial crisis pummels wildlife and people in the Congo rainforest

(09/27/2010) Spreading over three central African nations—Cameroon, Central African Republic, and Republic of Congo—the Sangha tri-national landscape is home to a variety of actors: over 150,000 Bantu people and nearly 20,000 pygmies; endangered species including forest elephants and gorillas; and, not least, the Congo rainforest ecosystem itself, which here remains largely intact. Given its interplay of species-richness, primary rainforest, and people—many of whom are among the poorest in the world—the landscape became internationally important in 2002 when under the Congo Basin Forest Partnership (CBFP) conservation groups and development agencies agreed to work together to preserve the ecosystems while providing development in the region.
Into the Congo: saving bonobos means aiding left-behind communities, an interview with Gay Reinartz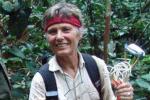 (09/23/2010) Unlike every other of the world's great apes—the gorilla, chimpanzee, and orangutan—saving the bonobo means focusing conservation efforts on a single nation, the Democratic Republic of the Congo. While such a fact would seem to simplify conservation, according to the director of the Bonobo and Congo Biodiversity Initiative (BCBI), Gay Reinartz, it in fact complicates it: after decades of one of world's brutal civil wars, the DRC remains among the world's most left-behind nations. Widespread poverty, violence, politically instability, corruption, and lack of basic infrastructure have left the Congolese people in desperate straits.
Scientists warn little known gibbons face immediate extinction

(09/19/2010) It's not easy to be a gibbon: although one of the most acrobatic, fast, and marvelously loud of the world's primates, the gibbon remains largely unknown to the global public and far less studied than the world's more 'popular' apes. This lack of public awareness, scientific knowledge, and, thereby, conservation funding combined with threats from habitat loss to hunting to the pet trade have pushed seven gibbon species, known as 'crested', to the edge of extinction according to scientists attending the 23rd Congress of the International Primatological Society.
Captive orangutans: enriching bodies, minds, and lives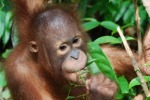 (07/22/2010) Visitors to the Orangutan Care Center and Quarantine (OCCQ) are always delighted by the sight of playful young orangutans. Hairy orange youngsters swinging through the branches or tossing balls around always induce fits of cooing and camera clicking. These activities appear to be so natural that it is easy to forget these are orphans in rehabilitation school and one of the main classes is Enrichment. The term enrichment has become a catchword in the world of captive animal husbandry in the past few years and for many organizations, enrichment has become a new focus as more and more research reveals how critical enrichment is to the physical, mental, and emotional wellbeing of captive animals.
Forest loss occurring around Kibale National Park in Uganda

(06/28/2010) A new study in Tropical Conservation Science finds that Kibale National Park in Uganda has retained its tropical forest despite pressures of a dense human population and large-scale clearing activities just beyond the border of the park. Home to twelve primate species, including Chimpanzees, the park is known as a safe-haven for African primates.
New plan to save the chimpanzee from extinction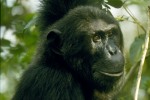 (06/21/2010) Humankind's closest relative, the chimpanzee, is classified as Endangered by the IUCN Red List. Threatened by habitat and forest loss, hunting for bushmeat, trafficking for the illegal pet trade, mining, and disease, the species remains in a precarious position. Yet a new 10-year-plan with East and Central African hopes to ensure the chimpanzee's (Pan troglodytes) survival. The plan, which focuses on one subspecies of four, the eastern chimpanzee (Pan troglodytes schweinfurthii), pushes for the conservation of 16 core areas that would protect 96 percent of the eastern chimpanzee population.
Wildlife-rich river threatened by sand-dredging in Borneo

(06/15/2010) The Kinabatangan River in Malaysian Borneo is home to a fabulous wealth of species, including orangutans, proboscis monkeys, and a sizeable population of the world's smallest elephant, the Borneo pygmy elephant. While local politicians have stated numerous times that the ecology of the river will be protected, locals are reporting a number of legally sanctioned sang dredging operations on the river. Dredging can affect river flows, negatively impact wildlife, and release toxins from the sediments.
Protected areas vital for saving elephants, chimps, and gorillas in the Congo

(05/10/2010) In a landscape-wide study in the Congo, the Wildlife Conservation Society (WCS) found that core protected areas and strong anti-poaching efforts are necessary to maintain viable populations of forest elephants, western lowland gorillas, and chimpanzees—all of which are threatened with extinction.
Farming snails to save the world's rarest gorillas

(04/28/2010) In a place of poverty and hunger, how do you save a species on the edge of extinction? A difficult question that conservationists have long-been working to tackle, the Wildlife Conservation Society (WCS) has come up with a new plan to protect the world's most endangered gorilla, the Cross River gorilla, from poachers by providing locals with an alternate and better income from farming snails.
Orangutans use calls for a variety of reasons

(03/10/2010) Mature male orangutans produce what scientists call 'long calls', which can be heard for one kilometer in all directions even in dense forests. New research in Ethology has uncovered that these calls are employed for a number of reasons and provide information about who is calling and why.
Humans push half of the world's primates toward extinction, lemurs in particular trouble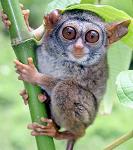 (02/18/2010) Of the known 634 primate species in the world 48 percent are currently threatened with extinction, making mankind's closes relatives one of the most endangered animal groups in the world. In order to bring awareness to the desperate state of primates, a new report by the International Union for the Conservation of Nature highlights twenty-five primates in the most need of rapid conservation action. Compiled by 85 experts the report, entitled Primates in Peril: The World's 25 Most Endangered Primates, 2008–2010, includes six primates from Africa, eleven from Asia, three from Central and South America, and five from the island of Madagascar.
Hyenas cooperate more easily than chimpanzees

(12/06/2009) Spotted hyenas (Crocuta crocuta) could show chimpanzees a thing or two about working together, according to a new study. Hyenas, prodigious hunters, pull down prey together. Christine M. Drea, an associate professor in the department of Evolutionary Biology at Duke University, started to ask questions about the cooperative hunting habits of hyenas while she was reading The Spotted Hyena: A Study of Predation and Social Behavior by Hanz Kruuk.
Transmitters implanted in orangutans for tracking after release into the wild

(11/23/2009) For the first time transmitters have been implanted in orangutans to track their daily movements. The Sabah Wildlife Department (SWD) has implanted transmitters into three orangutans that have been released back into the wild from Sepilok Orangutan Rehabilitation Center in the Malaysian state of Sabah on the island of Borneo.
"Money is not a problem," palm oil CEO tells conservationists during speech defending the industry
(10/26/2009) Earlier this month at a colloquium to implement wildlife corridors for orangutans in the Malaysian state of Sabah, Dr. Yusof Basiron, the CEO of Malaysian Palm Oil Council (MPOC), told conservationists and primate experts that the palm oil industry was ready to fund reforestation efforts in the corridors. "We can raise the money to replant [the corridors] and keep contributing as a subsidy in the replanting process of this corridor for connecting forests," Basiron said in response to a question on how the palm oil industry will contribute. "Money is not a problem. The commitment is already there, the pressure is already very strong for this to be done, so it's just trying to get the thing into motion."
Emotional call for palm oil industry to address environmental problems
(10/21/2009) During what was at times an emotional speech, Sabah's Minister of Tourism, Culture, and Environment, Datuk Masidi Manjun, called on the palm oil industry to stop polluting rivers and work with NGOs to save orangutans and other wildlife. He delivered the speech on the first day of an Orangutan Conservation Colloquium held in early October in the Malaysian state of Sabah on the island of Borneo.
Palm oil industry pledges wildlife corridors to save orangutans

(10/03/2009) In an unlikely—and perhaps tenuous—alliance, conservationists and the palm oil industry met this week to draw up plans to save Asia's last great ape, the orangutan. As if to underscore the colloquium's importance, delegates on arriving in the Malaysian State of Sabah found the capital covered in a thick and strange fog caused by the burning of rainforests and peat lands in neighboring Kalimantan. After two days of intensive meetings the colloquium adopted a resolution which included the acquisition of land for creating wildlife buffer zones of at least 100 meters along all major rivers, in addition to corridors for connecting forests. Researchers said such corridors were essential if orangutans were to have a future in Sabah.
Gorillas orphaned by bushmeat trade set free on island
(08/10/2009) The Fernan-Vaz Gorilla Project has set free six young gorillas on an island outside of Loango National Park in Gabon. The release marks a new stage in the rehabilitation of the gorillas. The six western lowland gorillas, ranging from two to seven years of age, were orphaned when their respective parents were killed for bushmeat. The island provides a refuge from poachers and other predators where the gorillas are able to acclimate to the wild in safety.
Auckland Zoo bans Cadbury chocolate due to palm oil content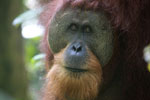 (07/12/2009) Auckland Zoo has pulled Cadbury chocolates from its shops and restaurants following the candy maker's decision to start adding palm oil to its chocolates, reports the Sunday Star Times. The zoo is also removing other products that contain palm oil, due to concerns that its production is driving rainforest destruction across Southeast Asia, putting orangutans and other species at risk. Cadbury said it made the change to palm oil for economic reasons. Palm oil, described as "vegetable fat" on its packaging, is cheaper than cocoa butter.