News articles on anthropology

---
Mongabay.com news articles on anthropology in blog format. Updated regularly.






Discovery of 'Lost City' spurs conservation pledge
(03/18/2015) Earlier this month, National Geographic made big news: the discovery of what it called a 'lost city' below the thick jungles of Honduras. While the coverage has led to scientists crying sensationalism, it also resulted this week in a commitment of protection by the Honduras President, Juan Orlando Hernández, for a long-neglected portion of the country.
By the bones: herring populations were superabundant before commercial fisheries
(06/09/2014) Scientists analyzed almost half a million fish bones to shed light on the population history of Pacific herring (Clupea pallasii) in the North Pacific Ocean. Their paper reveals a decline of unprecedented scale, and suggests that while the abundance of Pacific herring does fluctuate naturally, their numbers have fallen precipitously since commercial fishing started targeting the species in the 19th century.
Through careful management, indigenous people have shaped Asian rainforests for 11,000 years
(01/28/2014) Humans have been actively managing vast areas of Southeast Asia's forests for longer than previously believed, according to research by paleoecologists from the United Kingdom presented in the current Journal of Archaeological Science. Strong evidence suggests that humans in Borneo, Sumatra, Java, Thailand and Vietnam have engaged in agricultural practices for the last 11,000 years. These findings may help bolster the claims of local indigenous peoples under threat of eviction from their traditional lands.
Madagascar occupied by humans 2,500 years earlier than previously thought
(07/22/2013) New research indicates that Madagascar was occupied some 2,500 years earlier than previously established. The findings, published in Proceedings of the National Academy of Sciences, suggests a more complex view of the human role in the extinction of the island's mega-fauna. A large body of research holds that village communities began to appear in Madagascar around 500 AD. These were established by people of Indonesian and East African heritage, according to past studies that found linguistic similarities between the Malagasy languages of southeastern Borneo as well as genetic markers tying modern-day Malagasy people to both Indonesia and East Africa. But there have been plenty of hints that people came to the world's third largest island well before 500 AD.
Into the unknown mountains of Cambodia: rare birds, rice wine, and talk of tigers
(03/14/2013) Ringed with forested mountains forming the borders with Laos and Vietnam, the northeast corner of Cambodia has been an intriguing blank spot among my extensive travels through the country. Nestled up against this frontier is Virachey National Park, created in 1993. I began searching for a way to explore this area a couple of years ago, hoping to connect with conservation NGOs to get me into the park; no one seemed to know much about it. I learned that the area had been written off by these groups due to massive land concessions given to logging and rubber concerns. The World Bank abandoned its 8-year effort to create a management scheme for Virachey after the concessions were granted in 2007. A moratorium on the concessions is temporarily in place, but illegal logging incursions into the park continue.
Experts dispute recent study that claims little impact by pre-Columbian tribes in Amazon
(07/05/2012) A study last month in the journal Science argued that pre-Columbian peoples had little impact on the western and central Amazon, going against a recently composed picture of the early Amazon inhabited by large, sophisticated populations influencing both the forest and its biodiversity. The new study, based on hundreds of soil samples, theorizes that indigenous populations in much of the Amazon were tiny and always on the move, largely sticking to rivers and practicing marginal agriculture. However, the study raised eyebrows as soon as it was released, including those of notable researchers who openly criticized its methods and pointed out omissions in the paper, such as no mention of hundreds of geoglyphs, manmade earthen structures, found in the region.
Traditional belief in mythical beasts help protect forests

(06/19/2012) Cultural practices including beliefs in mythical beasts and animals that dance have helped maintain forests in the West African country of the Gambia and Malaysian Borneo, said a researcher from Oxford University speaking at the annual meeting of the Association for Tropical Biology and Conservation in Bonito, Brazil.
Giant snakes commonly attacked modern hunter-gatherers in Philippines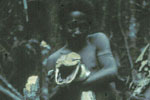 (12/13/2011) Humans have an ambivalent relationship with snakes. The legless reptiles are often feared and reviled, becoming stand-ins for the Devil and movie monster characters; yet many people have grown to love snakes, raising large, even dangerous, specimens as pets. Now, new research suggests that the ecological role between snakes and humans, as well as other primates, is more nuanced than expected. After spending decades living among the Agta Negritos people in the Philippines, anthropologist Thomas Headland has found that the hunter gatherer tribes were quite commonly attacked by reticulated pythons (Python reticulatus), while the people themselves had no qualms with hunting, killing, and consuming python.
New Amazonian reserve saves over a million acres in Peru
(08/30/2009) On August 27th Peru's Ministry of the Environment approved the creation of the Matses National Reserve to protect the region's biodiversity, ensure its natural resources, and preserve the home of the Matses indigenous peoples (known as the Mayorunas in Brazil). The park is 1,039,390 acres (or 420,626 hectares) of lowland Amazonian rainforest in eastern Peru. The park is the culmination of over a decade of work by the local non-profit CEDIA (the Center for the Development of the Indigenous Amazonians) funded in part by the Worldland Trust.
Examining monkey tools: archaeology expands to include non-human primates

(08/17/2009) Archaeology, the study of ancient cultures and their artifacts, has always been confined to the technology of humans and direct human ancestors. However, a new study recently published in the journal Nature examines the benefits of expanding the field of archaeology to include non-human primates.
Chocolate has been a delicacy north of Mexico for a thousand years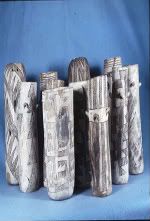 (02/02/2009) Chocolate, produced from cacao beans, has been a part of American culture for a thousand years according to new paper published in the Proceedings of the National Academy of Sciences. Analyzing chemical residue from jars of native peoples in New Mexico, researchers Patricia Crown and Jeffrey Hurst discovered theobromine, a chemical signature of cacao. The jars have been dated from 1000 to 1125 AD, well over three hundred years before Columbus and the earliest recorded discovery of cacao north of Mexico. The cacao jars are from Pueblo Bonito, an archaeological site in Chaco Canyon, which is located in northwestern New Mexico. Chaco Canyon, once home to 2,000-5,000 inhabitants, was composed of a dense group of pueblos, of which Bonito was the largest. Incorporating 800 rooms, Pueblo Bonito was the center of a number of towns and villages in Chaco Canyon.
Rural depopulation to have biodiversity impacts

(12/01/2008) Urbanization -- and accompanying rural abandonment -- may have profound implications for global biodiversity and therefore should factor into conservation planning, argue researchers writing in the December issue of Tropical Conservation Science.
Pre-Colombian Amazonians lived in sustainable 'urban' society

(08/28/2008) Researchers have uncovered new evidence to support the controversial theory that parts of the Amazon were home to dense 'urban' settlements prior to the arrival of Europeans in the 15th century. The study is published this Friday in the journal Science. Conducting archeological excavations and aerial imagery across a number of sites in the Upper Xingu region of the Brazilian Amazon, a team of researchers led by Michael Heckenberger found evidence of a grid-like pattern of 150-acre towns and smaller villages, connected by complex road networks and arranged around large plazas where public rituals would take place.
A comprehensive look at the use of animals in Brazilian medicine

(12/10/2007) For millennia animals have been used in medicine as remedies. While this practice has all but disappeared in western countries, many cultures still employ traditional medicine that includes animal-derived remedies. Probably the most famous of these are the Chinese, who for example use seahorses for a variety of ailments and rhinoceros horn as an aphrodisiac. Lesser known and studied, though just as varied and rich is Brazil's long tradition of animal-remedies for all kinds of ailments. A recent study set out to document the wide-range of animals used in Brazilian traditional medicine and its possible consequences on animal populations, the environment, and Brazilian society.
New theory on the evolution of pygmies

(12/10/2007) The small body size of forest-dwelling "pygmies" evolved as a life history consequence of early death, not as an adaptation to their environment or endurance against starvation, argues a new study published in the journal Proceedings of the National Academy of Sciences (PNAS).
Amazon rainforest children to get medicinal plant training from shamans

(11/21/2007) The Amazon conservation Team (ACT) -- a group using innovative approaches to preserving culture and improving health among Amazonian rainforest tribes -- has been awarded a $100,000 grant from Nature's Path, an organic cereal manufacturer. The funds will allow ACT to address one of the most pressing social concerns for Amazon forest dwellers by expanding its educational and cultural "Shamans and Apprentice" program for indigenous children in the region.
Chocolate first used more than 3100 years ago

(11/12/2007) Cacao, the source of chocolate, was in use at least at least 3000 years ago according to evidence found by archaeologists working in Honduras. The discovery pushes back the earliest known use of cacao by 500 years.
Climate change drove human evolution

(09/03/2007) Climate change appears to have been a significant driver of human evolution, report researchers writing in this week's issue of the journal Proceedings of the National Academy of Science (PNAS).
Killers of renowned anthropologist sentenced in Brazil

(07/12/2007) The men charged with the 2005 killing of University of Vermont anthropology professor James Petersen in the Amazon rainforest were sentenced Tuesday to nearly 30 years in prison, close to the maximum under Brazilian law.
Orangutans use water as a tool

(07/06/2007) German researchers have observed orangutans using water as a tool. Natacha Mendes, Daniel Hanus, and Josep Call of the Max-Planck-Institute for Evolutionary Anthropology in Leipzig, Germany conducted an experiment with five orangutans to see whether the red apes could access an out-of-reach peanut floating inside a vertical transparent tube. They quickly found that all five orangutans were able to do so by collecting water from a drinker and spitting it into the tube to raise the water level and win access to the peanut.
Polynesians brought chickens to Americas before Columbus
(06/04/2007) New DNS analysis shows that Polynesians introduced chickens to South America well before Christopher Columbus first set foot in the New World. The evidence supports the theory that the Americas were visited by sea-faring groups from the East prior to the arrival of Europeans. Using carbon dating and analysis DNA to determine the origin of chicken bones discovered at El Arenal, an archaeological site in Chile, a team of researchers led by Alice Storey of the University of Auckland found that the birds were descended from Polynesian stock and were introduced at least 100 years before the arrival of Europeans on the continent. The findings undermine claims that chickens were native to South America or that they were introduced by Spanish or Portuguese explorers.
Unknown tribe found in the Amazon

(06/04/2007) An unknown Indian tribe has been discovered in the Amazon rainforest reports the Associated Press. The Metyktire tribe, with about 87 members, was found in late May around 1,200 northwest of Rio de Janeiro. Brazil's Federal Indian Bureau (FUNAI) says the tribe is a subgroup of the Kayapo tribe and lives on the Kayapos, 12.1-million-acre Menkregnoti Indian reservation.
Global warming killed Neanderthals in Spain

(04/30/2007) New research fingers climate change, not humans, as the culprit for the extinction of Neanderthals on the Iberian Peninsula. The research condradicts prevailing theory which holds modern humans responsible for their demise.
Maize cultivated at least 7,300 years ago in Mexico

(04/09/2007) Anthropologists have found the earliest known evidence of maize cultivation in Mexico. The discovery, published in the April 9-13 edition of the journal Proceedings of the National Academy of Science, pushes back farming of the ancestor of modern corn to about 7,300 years ago.
Pre-Colombian Amazon rainforest not heavily populated
(03/06/2007) Much of the Amazon rainforest was not heavily populated by pre-Colombian indigenous cultures argues a new paper published in the journal Philosophical Transactions of the Royal Society B: Biological Sciences. The work challenges an increasingly accepted theory -- popularized in Charles C. Mann's 1491: 'New Revelations of the Americas Before Columbus' -- the Amazon supported dense, sedentary populations prior to the arrival of Europeans.
Humans pre-date Clovis population in North America

(02/22/2007) The belief that the Clovis People were the first to populate North America some 11,500 years ago has been widely challenged in recent years, and a Texas A&M University anthropologist has found evidence he says could be the final nail in the coffin for the Clovis first model.
Does language extinction matter?

(02/16/2007) Most of humanity's 6,000 languages could be extinct within the next two centuries. Does it matter? At the American Association for the Advancement of Science annual meeting, University of Alaska Fairbanks professor emeritus Michael Krauss argued it does.
Captive chimpanzees 'talk' to humans

(01/29/2007) Captive chimpanzees use specific vocalizations to communicate with humans according to new research published in the current issue of the journal Animal Behaviour. The researchers, lead by Dr. William Hopkins of Yerkes National Primate Research Center at Emory University, say these sounds are not used in other contexts -- only to elicit attention from humans. The researchers say the findings may help explain the evolution of language in primates.
Amazon Indians use Google Earth, GPS to protect forest home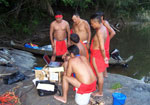 (11/15/2006) Deep in the most remote jungles of South America, Amazon Indians are using Google Earth, Global Positioning System (GPS) mapping, and other technologies to protect their fast-dwindling home. Tribes in Suriname, Brazil, and Colombia are combining their traditional knowledge of the rainforest with Western technology to conserve forests and maintain ties to their history and cultural traditions, which include profound knowledge of the forest ecosystem and medicinal plants. Helping them is the Amazon conservation Team (ACT), a nonprofit organization working with indigenous people to conserve biodiversity, health, and culture in South American rainforests.
Indians are key to rainforest conservation efforts says renowned ethnobotanist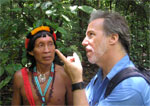 (10/31/2006) Tropical rainforests house hundreds of thousands of species of plants, many of which hold promise for their compounds which can be used to ward off pests and fight human disease. No one understands the secrets of these plants better than indigenous shamans -medicine men and women - who have developed boundless knowledge of this library of flora for curing everything from foot rot to diabetes. But like the forests themselves, the knowledge of these botanical wizards is fast-disappearing due to deforestation and profound cultural transformation among younger generations. The combined loss of this knowledge and these forests irreplaceably impoverishes the world of cultural and biological diversity. Dr. Mark Plotkin, President of the non-profit Amazon conservation Team, is working to stop this fate by partnering with indigenous people to conserve biodiversity, health, and culture in South American rainforests. Plotkin, a renowned ethnobotanist and accomplished author (Tales of a Shaman's Apprentice, Medicine Quest) who was named one of Time Magazine's environmental "Hero for the Planet," has spent parts of the past 25 years living and working with shamans in Latin America. Through his experiences, Plotkin has concluded that conservation and the well-being of indigenous people are intrinsically linked -- in forests inhabited by indigenous populations, you can't have one without the other. Plotkin believes that existing conservation initiatives would be better-served by having more integration between indigenous populations and other forest preservation efforts.
Traditional customs pit young versus old in Indonesia's Torajaland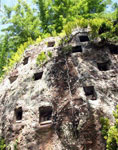 (10/19/2006) Cultural Bankruptcy: Maintaining History at a Tremendous Cost in Sulawesi's Torajaland. The Torajanese people of Central Sulawesi, Indonesia, have long been renown for their extravagant celebrations of the dead in their funerals, graves and effigies. Just outside of Rantepao, the regional capital of Torajaland, ostentatious, costly and increasingly generationally divisive funerals take place on a regular basis. Like other indigenous cultures around the world, a growing rift between the young and old generations is calling the foundations of tradition into question.
Bering Strait land bridge may have flooded earlier than thought

(10/11/2006) Researchers have found evidence suggesting that the Bering Strait land bridge believed to be the major route for human migration from Asia to the Americas may have flooded about 1,000 years earlier than widely thought. The findings may help scientists develop ocean and climate histories for the region to better understand human migration. The study is published in the October issue of Geology magazine by researchers at the Woods Hole Oceanographic Institution, the Scripps Institution of Oceanography, and the University of Massachusetts, Amherst.
Oldest juvenile skeleton discovered in Ethiopia

(09/20/2006) Discovery of a nearly intact 3.3 million year-old juvenile skeleton is filling an important gap in understanding the evolution of a species thought to be among the earliest direct ancestors to humans, says William Kimbel, a paleoanthropologist with ASU's Institute of Human Origins. Kimbel is part of the team that studied the skeleton of an approximately three-year-old female Australopithecus afarensis, the same species as the well known Lucy, from Dikika, Ethiopia.
Bison-hunting Plains indians more advanced than thought

(08/15/2006) A controversial new theory argues that ancient plains Indians may have developed complex tribal social structures far earlier than many researchers believe. Dr. Dale Walde, an archaeologist at the University of Calgary, says that evidence from bison kill sites together with ceramics found in Alberta and Saskatchewan suggests that pressure from agricultural societies from the Midwestern U.S. may have prompted Bison hunters to change their bison hunting strategies and to organize themselves into larger groups.
Is climate change worsening malaria?

(03/21/2006) A widely-cited study published a few years ago said global warming was not contributing to the resurgence of malaria in the East African Highlands, but new research by an international team that includes University of Michigan theoretical ecologist Mercedes Pascual finds that, while other factors such as drug and pesticide resistance, changing land use patterns and human migration also may play roles, climate change cannot be ruled out.
Easter Island settled around 1200, later than originally believed

(03/13/2006) New evidence suggests that colonization of Easter Island (Rapa Nui) took place later than originally believed. The research is published in this week's issue of the journal Science. A later settlement supports the premise that human impact on the environment played a key role in the downfall of Easter Island society
Indigenous Amazonians Display Core Understanding Of Geometry

(01/23/2006) Researchers in France and at Harvard University have found that isolated indigenous peoples deep in the Amazon readily grasp basic concepts of geometry such as points, lines, parallelism and right angles, and can use distance, angle and other relationships in maps to locate hidden objects. The results suggest that geometry is a core set of intuitions present in all humans, regardless of their language or schooling.
Simplified stereotypes of "typical" Americans, Brazilians, Chinese are common but mistaken

(10/06/2005) Simplified stereotypes of "typical" Americans, Brazilians, Chinese, and other groups are common but highly mistaken, according to a National Institute on Aging (NIA) study that examined the accuracy of national character stereotypes in 49 cultures worldwide. The finding has important implications regarding beliefs that characterize groups of people, including the elderly, the researchers said.
Q&A: What are the most spoken languages on earth?

(07/25/2005) According to figures from UNESCO, the United Nations Educational, Scientific and Cultural Organization, the most widely spoken language on earth is Mandarin which is spoken as a first language by nearly a billion people. Second on the list is English with around 358 million, followed by Spanish. French is spoken as a first language by a mere 81 million, good for number on the list.
How did rainforest shamans gain their boundless knowledge on medicinal plants?

(05/14/2005) For thousands of years, indigenous people have extensively used rainforest plants for their health needs -- the peoples of Southeast Asian forests used 6,500 species, while Northwest Amazonian forest dwellers used 1300 species for medicinal purposes. Perhaps more staggering than their boundless knowledge of medicinal plants, is how shamans and medicinemen could have acquired such knowledge. There are over 100,000 plant species in tropical rainforests around the globe, how did indigenous peoples know what plants to use and combine especially when so many are either poisonous or have no effect when ingested. Many treatments combine a wide variety of completely unrelated innocuous plant ingredients to produce a dramatic effect.
Project seeks to understand human origins and migration

(05/09/2005) Ted Waitt, founder of the Waitt Family Foundation, believes the Genographic Project will promote harmonious living across national boundaries and cultural lines by improving and expanding understanding and awareness about shared origins and journeys.