News articles on animals

---
Mongabay.com news articles on animals in blog format. Updated regularly.








Scientists uncover new marine mammal genus, represented by single endangered species
(05/14/2014) This is the story of three seals: the Caribbean, the Hawaiian, and the Mediterranean monk seals. Once numbering in the hundreds of thousands, the Caribbean monk seal was a hugely abundant marine mammal found across the Caribbean, and even recorded by Christopher Columbus during his second voyage, whose men killed several for food.
Scientists release odd-looking, Critically Endangered crocodiles back into the wild (PHOTOS)
(05/13/2014) Among the largest and most endangered crocodilians in the world, the gharial is on the verge of extinction today. This harmless fish-eating crocodile has fewer than 200 adult breeding individuals in the wild, their numbers having plummeted rapidly over the past few decades. But among this gloom and doom, conservationists have been working tirelessly to reinstate the wild populations.
After 89-year absence a wolf returns to Iowa...and is shot dead

(05/12/2014) DNA testing has confirmed that an animal shot in February in Iowa's Buchanan County was in fact a wolf, according to the Iowa Department of Natural Resources. This is the first confirmed gray wolf (Canis lupus) in the U.S. state since 1925.
Underwater horrors: shells of marine life melting off the coast of the U.S.
(05/08/2014) It could be the plot of a horror movie: humans wake up one day to discover that chemical changes in the atmosphere are dissolving away parts of their bodies. But for small marine life known as sea butterflies, or pteropods, this is what's happening off the West Cost of the U.S. Increased carbon in the ocean is melting away shells of sea butterflies.
When the orangutan and the slow loris met - and no one was eaten
(05/05/2014) In 2004 and 2012, scientists recorded rare encounters between two very different primates: southern Bornean orangutans (Pongo pygmaeus wurmbii) and Philippine slow loris (Nycticebus menagensis). But in neither case did the Bornean orangutan appear to attempt to kill the slow loris for consumption, which Sumatran orangutans are known to do, albeit very rarely.
The Harry Potter wasp: public votes to name new species after soul-sucking ghouls
(05/05/2014) Whether a die-hard Harry Potter fan or not, you probably know what dementors are. They were the guards of Azkaban —dark hooded evil beings that sucked the soul out of their victims, leaving them alive but 'empty-shelled.' These fictional creatures now share their name with a new species of cockroach wasp, insects that turn cockroaches into zombies.
Bambi in the 21st Century: roe deer not adapting to climate change
(05/01/2014) Once almost extinct in parts of Europe in the late 17th century, the roe deer (Capreolus capreolus) eventually bounced back, and how: today, it is one of the most widespread deer in Europe. But will its luck dry out in the future? A new study published in PLoSBiology suggests that while roe deer populations are still increasing, it may not be adapting to climate change.
Saudi Prince kills two percent of global population of endangered bird
(05/01/2014) In a three week hunting safari between January 11th and 31st of this year, Saudi Arabian Prince Fahd bin Sultan bin Abdulaziz Al Saud and his party allegedly shot down 2,100 Asian Houbara bustards (Chlamydotis macqueenii) in Balochistan, Pakistan. Scientists aren't certain how many Houbara bustards survive today, but their best estimate is around 100,000 and declining.
Fish-terrorizing, prehistoric-looking turtle actually three species
(04/30/2014) So, you're a fish swimming in a river in Louisiana. Hungry, you see a little worm wiggling out from the river bed. You swoop in for the ambush only to have that little worm turn into the gaping maw of some prehistoric-looking monster out of fishy nightmares. You've been duped: it's too late to escape as the beast's jagged jaws close over you. Meet the alligator snapping turtle...or one of several species.
Chinese who eat endangered species could face over ten years in jail

(04/29/2014) It's well known that much of the world's massive illegal wildlife trade ends up in China, including poached tigers, pangolins, and bears. But now those who order pangolin fetuses, tiger blood, or bear bile at a restaurant or market may see significant jail time.
Loggers plan to clear 20 percent of tropical island paradise
(04/28/2014) Seven years ago, a palm oil company set its eyes on Woodlark Island—a small rainforest island nearly 200 miles off the coast of Papua New Guinea—but was rebuked by the local populace. But locals and conservationists who spoke to mongabay.com at the time felt that wouldn't be the end of it: they were right. Recently, a company, Karridale Limited, has landed machinery on the island.
The remarkable story of how a bat scientist took on Russia's most powerful...and won
(04/28/2014) In a country increasingly known for its authoritarian-style crackdown on activists and dissidents, a bat scientist has won a number of impressive victories to protect the dwindling forests of the Western Caucasus. For his efforts, Gazaryan was awarded today with the Goldman Environmental Prize, often called the Nobel Prize for the environment, along with five other winners around the world.
Small monkeys take over when big primates have been hunted out in the Amazon
(04/21/2014) The barbecued leg of a spider monkey might not be your idea of a sumptuous dinner, but to the Matsés or one of the fifteen tribes in voluntary isolation in Peru, it is the result of a successful hunt and a proud moment for the hunter's family. However, a spider monkey tends to have only a single infant once every 30 months, which necessarily limits the number of adult monkeys available to subsistence hunters.
Okapi-killing warlord shot dead in the Democratic Republic of the Congo
(04/17/2014) The head of an informal militia and poaching group, Paul Sadala a.k.a. 'Morgan,' was killed on Monday after surrendering himself to the army in the Democratic Republic of the Congo (DRC). A well-known elephant poacher and terrorist, Morgan became most famous for leading an attack on the Okapi Wildlife Reserve station in 2012.
New relative of the 'penis snake' discovered in Myanmar
(04/17/2014) Scientists have discovered a new species of limbless amphibians, known as caecilians, in Myanmar. Dubbing the species, the colorful ichthyophis (Ichthyophis multicolor), the researchers describe the new amphibian in a recent paper published in Zootaxa. The world's most famous caecilian is the so-called penis snake (Atretochoana eiselti) which was rediscovered in Brazil in 2011.
Malaysia imperils forest reserves and sea turtle nesting ground for industrial site (photos)
(04/15/2014) Plans for an industrial site threaten one of Malaysia's only marine turtle nesting beaches and a forest home to rare trees and mammals, according to local activists. Recently, the state government of Perak approved two industrial project inside Tanjung Hantu Permanent Forest Reserve. But activists say these will not only cut into the reserve, but also scare away nesting turtles from Pasir Panjang.
Riddled with tumors: another blow to the Sumatran rhino species
(04/14/2014) Conservation for Sumatran rhinos suffered another blow last week, only days after Suci—one of only ten rhinos in captive breeding efforts—died at Cincinnati Zoo. Scientists in the Malaysian state of Sabah revealed that a newly captured female, Iman, suffers from an assortment of tumors in her uterus, hugely complicating reproduction efforts.
Giant ibis, little dodo, and the kakapo: meet the 100 weirdest and most endangered birds
(04/10/2014) The comic dodo, the stately great auk, the passenger pigeon blotting out the skies: human kind has wiped out nearly 200 species of birds in the last five hundred years. Now, if we don't act soon we'll add many new ones to the list: birds such as the giant ibis, the plains-wanderer, and the crow honeyeater. And these are just a few of the species that appear today on the long-awaited EDGE list.
How locals and conservationists saved the elephants of Mali amidst conflict and poverty
(04/02/2014) At a time when Africa's elephants are facing a relentless poaching crisis, one community has managed to safeguard their elephants in the most unlikely of places: Mali. In a country that has suffered from widespread poverty, environmental degradation, and, most recently, warfare, a collaboration between conservationists and the local community has kept Mali's elephants from extinction.
Chile turns to owls to combat fatal disease
(04/01/2014) This year the Hanta virus has already caused 15 deaths in Chile, according to reports in The Santiago Times. It isn't always fatal—the 15 deaths were of a total of 36 cases over six months—but the symptoms are severe. Those affected experience flu-like symptoms, as well as nausea, vomiting, diarrhoea and trouble breathing. But now Chile is using a novel method to fight the disease: owls.
Kala: the face of tigers in peril
(03/27/2014) In 1864, Walter Campbell was an officer in the British Army, stationed in India when he penned these words in his journal: "Never attack a tiger on foot—if you can help it. There are cases in which you must do so. Then face him like a Briton, and kill him if you can; for if you fail to kill him, he will certainly kill you." In a stroke of good fortune for the tiger, perceptions in India have changed drastically since Campbell's time. Tiger hunting is now banned and conservationists are usually able to rescue the big cats if they become stranded while navigating increasingly human-occupied areas. But is this enough to save the tiger?
Wonderful Creatures: life is a gamble (inside a caterpillar) for the trigonalid wasp
(03/27/2014) Among the huge diversity of insects there are some bewilderingly complex life cycles, but few can compete with the trigonalid wasps for the seemingly haphazard way they ensure their genes are passed to the next generation. In most cases, a female parasitoid wasp deposits her eggs on or in the host, but this is far too pedestrian and safe for the trigonalids. These mavericks of the wasp world, which are also parasitoids, like to make things more difficult for themselves.
Europe approves vet drug that killed off almost all of Asia's vultures
(03/25/2014) When Europeans first arrived in North America, they exterminated three to five billion passenger pigeons (Ectopistes migratorius) in the short span of a century through a combination of habitat destruction and hunting. In 1914, the last living passenger pigeon perished at the Cincinnati Zoo. Despite the staggering scale of this extinction event, three species of vulture from Southeastern Asia retain the dubious distinction of having had the most rapid population crash of any avian fauna. They might not have begun with numbers as large as the passenger pigeon, but within the space of a single decade, their populations were reduced by 96 to 99 percent.
Long lost mammal photographed on camera trap in Vietnam
(03/25/2014) In 1929, two sons of Theodore Roosevelt (Teddy Junior and Kermit) led an expedition that killed a barking deer, or muntjac, in present-day Laos, which has left scientists puzzled for over 80 years. At first scientists believed it to be a distinct species of muntjac and named it Roosevelts' muntjac (Muntiacus rooseveltorum), however that designation was soon cast into doubt with some scientists claiming it was a specimen of an already-known muntjac or a subspecies. The problem was compounded by the fact that the animal simply disappeared in the wild. No one ever documented a living Roosevelts' muntjac again—until now.
Over 9,000 primates killed for single bushmeat market in West Africa every year
(03/24/2014) Over the past 25 years, West Africa's primates have been put at risk due to an escalating bushmeat trade compounded with forest loss from expanding human populations. In fact, many endemic primates in the Upper Guinea forests of Liberia and Ivory Coast have been pushed to the verge of extinction. To better understand what's happening, a recent study in mongabay.com's open-access journal Tropical Conservation Science investigated the bushmeat exchange between these neighboring countries.
Bizarre, endangered bird discovered in high densities

(03/24/2014) The turkey-sized, noisy, fruit-feasting guans are arguably one of the strangest wildlife sightings in the tropical forests of Central and South America. Ancient animals, these birds are members of the Cracidae family—which also include equally-odd currasows and chachalacas—and are actually distantly related to megapode, or mound-building, birds of Australiasia. A new study in mongabay.com's open-access journal Tropical Conservation Science looks at a particularly endangered guan: the Cauca gaun (Penelope perspicax).
Meet Iman: the Sumatran rhino's newest hope for survival
(03/24/2014) Hopes for one of the world's most imperiled megafauna rose this month when wildlife conservationists succeeded in catching a female Sumatran rhino named Iman in the Malaysian state of Sabah. The female, which experts believe to be fertile, has since been successfully transferred via helicopter to the Borneo Rhino Sanctuary where experts plan to mate her with the local male, Tam. Located in Tabin Wildlife Reserve, the Borneo Rhino Sanctuary is an uncompleted semi-wild enclosure and home to one of several last-ditch efforts to save the vanishing species from extinction.
Next big idea in forest conservation? Offer health care for forest protection
(03/21/2014) Dr. Kinari Webb has a superpower: the ability to provide high-quality health care in a remote and rural landscape. And she uses her power not only to save lives, but also to protect the remaining Bornean rainforests. Twenty-one years ago, Kinari Webb traveled to Borneo to work with orangutans. She witnessed the faltering health of both the people and the environment and saw that the two issues were inseparable. When families must choose between the health of their children and the health of the forest that supports them, everyone loses. But in the region of Gunung Palung National Park — where an estimated 10 percent of the world's orangutans live — illegal logging and slash and burn farming methods paid the bills and locals saw few alternatives. Kinari vowed to study medicine and return with more to offer.
Panda lemur making a comeback
(03/20/2014) One of the world's biggest populations of greater bamboo lemurs (Prolemur simus)—sometimes known as the panda lemur—has doubled in just three years, giving conservationists new hope that the species can be kept from extinction. With the recent arrival of twenty babies, a community conservation project run by the Aspinall Foundation has boosted the local population to over 100 individuals in Andriantantely, one of Madagascar's only surviving lowland rainforests. Greater bamboo lemurs are currently categorized as Critically Endangered, though they were once believed extinct until hidden populations were uncovered in the 1980s.
Scientist discovers a plethora of new praying mantises (pictures)
(03/19/2014) Despite their pacific name, praying mantises are ferocious top predators with powerful, grasping forelimbs; spiked legs; and mechanistic jaws. In fact, imagine a tiger that can rotate its head 180 degrees or a great white that blends into the waves and you'll have a sense of why praying mantises have developed a reputation. Yet, many praying mantis species remain little known to scientists, according to a new paper in ZooKeys that identifies an astounding 19 new species from the tropical forests of Central and South America.
Several Amazonian tree frog species discovered, where only two existed before
(03/18/2014) We have always been intrigued by the Amazon rainforest with its abundant species richness and untraversed expanses. Despite our extended study of its wildlife, new species such as the olinguito (Bassaricyon neblina), a bear-like carnivore hiding out in the Ecuadorian rainforest, are being identified as recently as last year. In fact, the advent of efficient DNA sequencing and genomic analysis has revolutionized how we think about species diversity. Today, scientists can examine known diversity in a different way, revealing multiple 'cryptic' species that have evaded discovery by being mistakenly classified as a single species based on external appearance alone.
Blame humans: new research proves people killed off New Zealand's giant birds
(03/17/2014) Moas were a diverse group of flightless birds that ruled over New Zealand up to the arrival of humans, the biggest of these mega-birds stood around 3.5 meters (12 feet) with outstretched neck. While the whole moa family—comprised of nine species—vanished shortly after the arrival of people on New Zealand in the 13th Century, scientists have long debated why the big birds went extinct. Some theories contend that the birds were already in decline due to environmental changes or volcanic activity before humans first stepped on New Zealand's beaches. But a study released today in the Proceedings of the National Academy of Sciences (PNAS) finds no evidence of said decline, instead pointing the finger squarely at us.
Mother of God: meet the 26 year old Indiana Jones of the Amazon, Paul Rosolie
(03/17/2014) Not yet 30, Paul Rosolie has already lived a life that most would only dare dream of—or have nightmares over, depending on one's constitution. With the Western Amazon as his panorama, Rosolie has faced off jaguars, wrestled anacondas, explored a floating forest, mentored with indigenous people, been stricken by tropical disease, traveled with poachers, and hand-reared a baby anteater. It's no wonder that at the ripe age of 26, Rosolie was already written a memoir: Mother of God.
Frog creates chemical invisibility cloak to confuse aggressive ants
(03/14/2014) The African stink ant creates large underground colonies that are home to anywhere from hundreds to thousands of ants, and occasionally a frog or two. The West African rubber frog hides in the humid nests to survive the long dry season of southern and central Africa. However, the ant colonies are armed with highly aggressive ant militias that fight off intruders with powerful, venomous jaws. So how do these frogs escape attack?
A Turtle's Tale: researchers discover baby turtles' kindergarten (photos)
(03/14/2014) Kate Mansfield, at her lab in the University of Central Florida, is holding a baby loggerhead turtle, smaller than her palm, painting manicure acrylic on its shell. When the base coat dries out, she glues on top a neoprene patch from an old wetsuit with hair extensions adhesive. Finally, she attaches a satellite tracker on top, the size of a two "party cheese" cubes, with flexible aquarium silicone, powered by a tiny solar battery. Now the little turtle is ready to be released back into the ocean.
Conservationists catch wild Sumatran rhino, raising hope for world's most endangered rhinoceros
(03/12/2014) Conservationists have succeeded in catching a wild Sumatran rhino in the Malaysia state of Sabah in Borneo, according to local media reports. Officials are currently transferring the rhino, an unnamed female, to a rhino sanctuary in Tabin National Park where experts will attempt to mate it with the resident male, Tam. The Sumatran rhino (Dicerorhinus sumatrensis) is one of the world's most imperiled species with less than 100 individuals left.
Scientists spy on whales from space

(03/11/2014) Although whales are the biggest animals on the planet, scientists have found in difficult to count them. But a new study in PLOS ONE may change this: researchers tested the idea of counting whales using high resolution satellite imagery. Employing a single image from the WorldView2 satellite, scientists went about counting a pod of southern right whales in the Golfo Nuevo off the coast of Argentina.
Rare Birds of North America – book review

(03/10/2014) Rare Birds of North America, written by renowned birders Steve N. G. Howell, Ian Lewington, and Will Russell, is a technical tour de force. Its technical expertise is exact and passionate. Reading Rare Birds of North America will simply make you a better birder and better naturalist.
Local knowledge sheds light on some of the world's strangest mammals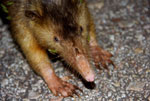 (03/07/2014) One of the difficulties of studying rare and endangered species is that they are, by definition, hard to find. Scientists attempting to understand their distributions and the threats to their survival can spend hundreds of hours in the field while collecting little data, simply because sightings are so few and far between.
Wonderful Creatures: meet the beetle-riding arachnid
(03/06/2014) Without wings, smaller terrestrial animals are really restricted when it comes to moving long distances to find new areas of habitat. However, lots of species get around this problem simply by clinging on to other, more mobile animals. The common, yet overlooked pseudoscorpions are among the most accomplished stowaways, one of which (Cordylochernes scorpiodes) has forged a fascinating relationship with the harlequin beetle, a large, strikingly colored insect.
Rhino with bullet in its brain and hacked off horn wanders for days before being put down
(03/05/2014) Last week, visitors in Kruger National Park came on a horrifying sight of the poaching trade: a rhino, still alive, with its horn and part of its face chopped off. The gruesome photo of the young rhino went viral and sent South African authorities scrambling. Five days after the sighting, South African National Parks (SANParks) has announced they found the rhino and put it out of its misery.





Javan rhino population jumps by over 10 percent

(03/04/2014) The Javan rhino population has increased by over ten percent from 2012 to last year, according to new figures released by Ujung Kulon National Park. Using camera traps, rangers have counted a total of 58 Javan rhinos, up from 51 in 2012. Although the species once roamed much of Southeast Asia, today it is only found in Ujung Kulon National Park in western Javan and is known as one of the most imperiled mammals on the planet.





Lost Animals: Extinction and the Photographic Record – book review

(03/04/2014) Lost Animals: Extinction and the Photographic Record reaches into your imagination and draws you closer to the final days of a variety of extinct animals on Earth. Lost Animals: Extinction and the Photographic Record is filled with poignant and powerful first-hand accounts, photographic records, and illustrations.





South Africa loses nearly 150 rhinos to poachers so far this year

(02/28/2014) Since the first of the year, South Africa has lost 146 rhinos to poachers or approximately 2.5 rhinos every day. This is a slight dip from last year's poaching rate, which hit 1,004 for the whole year or 2.75 a day. South Africa is home to more rhinos than any other country on the planet, but the populations have been hit hard by poachers in recent years seeking rhino horn.





Palm oil plantations allegedly poison seven Critically Endangered elephants in Sumatra

(02/28/2014) Wildlife officials suspect foul play in the deaths of seven Sumatran elephants on the outskirts of Tesso Nilo National Park. Officials stumbled on the corpses of one female elephant, five young males, and one male calf in mid-February. Although the males had their tusks hacked off, the officials suspect the elephant were poisoned in revenge for disturbing illegal palm oil plantations inside the park.




Page 1 | Page 2 | Page 3 | Page 4 | Page 5 | Page 6 | Page 7 | Page 8 | Page 9 | Page 10 | Page 11 | Page 12 | Page 13 | Page 14 | Page 15 | Page 16 | Page 17 | Page 18 | Page 19 | Page 20 | Page 21 | Page 22 | Page 23 | Page 24 | Page 25 | Page 26 | Page 27 | Page 28 | Page 29 | Page 30 | Page 31 | Page 32 | Page 33 | Page 34 | Page 35 | Page 36 | Page 37 | Page 38 | Page 39 | Page 40 | Page 41 | Page 42 | Page 43 | Page 44 | Page 45 | Page 46 | Page 47 | Page 48 | Page 49 | Page 50 | Page 51 | Page 52 | Page 53 | Page 54 | Page 55 | Page 56 | Page 57 | Page 58 | Page 59