News articles on animals

---
Mongabay.com news articles on animals in blog format. Updated regularly.






Jackpot: how international community could raise $141 billion for biodiversity

(10/20/2010) Leaders from around the world meeting in Nahoya, Japan for the Convention on Biological Diversity (CBD) to discuss solutions to stem the current mass extinction crisis may be in need of a little book: The Little Biodiversity Finance Book. While a recent report by The Economics of Ecosystems and Biodiversity (TEEB) found that degradation of ecosystems—including biodiversity loss—was costing the global economy $2-5 trillion annually, one of the primary threats to wildlife around the world is simply a lack of funds to enact program. But The Little Biodiversity Finance Book says that with the right policy initiatives the burgeoning ecosystem market could be worth $141 billion by 2020.
Already Critically Endangered, bluefin tuna hit hard by BP oil disaster

(10/19/2010) Using satellite data from the European Space Agency, researchers estimate that over 20% of juvenile Atlantic bluefin tuna in the Gulf of Mexico were killed by the BP oil spill. Although that percentage may not seem catastrophic, the losses are on top of an 82% decline in the overall population over the past three decades due to overfishing. The population plunge has pushed the International Union for the Conservation of Nature (IUCN) to categorize the fish as Critically Endangered, its highest rating before extinction.
Photos: weird new species discovered in deep sea trench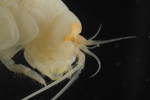 (10/18/2010) Fish were not expected to be able to survive so deep, but scientists have captured footage of a new species of a scavenger-hunting snailfish swimming at an astounding 7,000 meters below the surface. The video, taken from an 8,000 meter-deep sea trench in the Southeast Pacific Ocean, showed a level of biodiversity that surprised seasoned marine biologist, who have previously surveyed five other deep sea trenches.
Flickr reveals longest whale migration

(10/14/2010) Communal photo sharing site, Flickr, has allowed researchers to discover the longest migration by a whale yet recorded. Ten years ago a female humpback whale swam from Brazil to Madagascar, covering around 6,090 miles (9,800 kilometers). The migration tops the previous record by 2,485 miles (4,000 kilometers). Not only is this a record for a whale, it's a record for non-human mammals.
Video: camera trap catches bulldozer clearing Sumatran tiger habitat for palm oil

(10/14/2010) Seven days after footage of a Sumatran tiger (Panthera tigris sumatrae) was taken by a heat-trigger video camera trap, the camera captured a bulldozer clearing the Critically Endangered animal's habitat. Taken by the World Wildlife Fund—Indonesia (WWF), the video provides clear evidence of forest destruction for oil palm plantations in Bukit Batabuh Protected Forest, a protected area since 1994.
Humanity consuming the Earth: by 2030 we'll need two planets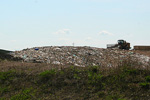 (10/13/2010) Too many people consuming too much is depleting the world's natural resources faster than they are replenished, imperiling not only the world's species but risking the well-being of human societies, according to a new massive study by the World Wildlife Fund (WWF), entitled the Living Planet Report. The report finds that humanity is currently consuming the equivalent of 1.5 planet Earths every year for its activities. This overconsumption has caused biodiversity—in this case, representative populations of vertebrate animals—to fall by 30 percent worldwide since 1970. The situation is more dire in tropical regions where terrestrial species' populations have fallen by 60 percent and freshwater species by 70 percent.
Monarch butterflies medicate their sick kids

(10/12/2010) A new study in Ecology Letters has discovered that monarch butterflies employ medicinal plants to treat their larva. Researchers found that certain species of milkweed, which the larva feed on, can reduce the threat of a sometime deadly parasite. However, even more surprising: "we have also found that infected female butterflies prefer to lay their eggs on plants that will make their offspring less sick, suggesting that monarchs have evolved the ability to medicate their offspring," says lead author Jaap de Roode.
Slaughtered elephant served up at Zimbabwean rally with president

(10/12/2010) On the menu at the most recent rally for the Zimbabwe African National Union Political Front (ZANU-PF): 3 African buffalo, 3 elephants, and a lot of smaller game according to SW Radio Africa. Attended by Zimbabwe's President and founder of ZANU-PF, Robert Mugabe, the rally also celebrated the opening of the Women's Celebration Bank.
Picture: unknown carnivore discovered in Madagascar lake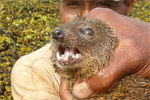 (10/10/2010) Researchers have identified a previously unknown species of carnivore lurking in one of the world's most endangered lakes. Durrell's vontsira (Salanoia durrelli), named in honor of the late conservationist and writer Gerald Durrell, was first photographed swimming in Madagascar's Lake Alaotra in 2004. Subsequent surveys by scientists at the the Durrell Wildlife Conservation Trust, the Natural History Museum, London, Nature Heritage, Jersey, and Conservation International confirmed the mongoose-like creature was indeed a new species.
Chinese court sentences rhino horn smuggler to 12 years

(10/07/2010) A traditional Chinese medicine businessman has been sentenced to 12 years in prison for attempting to smuggler rhino horn from Vietnam to China, according to Saving Rhinos which has been following the case on ChinaCourt.org.
Losing nature's medicine cabinet
(10/04/2010) In all the discussions of saving the world's biodiversity from extinction, one point is often and surprisingly forgotten: the importance of the world's species in providing humankind with a multitude of life-saving medicines so far, as well as the certainty that more vital medications are out there if only we save the unheralded animals and plants that contain cures unknown. Already, species have provided humankind everything from quinine to aspirin, from morphine to numerous cancer and HIV-fighting drugs. "As the ethnobotanist Dr. Mark Plotkin commented, the history of medicine can be written in terms of its reliance on and utilization of natural products," physician Christopher Herndon told mongabay.com. Herndon is co-author of a recent paper in the journal Biotropica, which calls for policy-makers and the public to recognize how biodiversity underpins not only ecosystems, but medicine.
Yasuni on film: could a documentary save the world's most biodiverse ecosystem?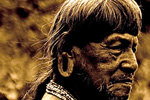 (10/04/2010) How do you save one of the most biologically and culturally diverse places in the world if most people have never heard of it? If you want a big audience—you make a film. This is what wildlife-filmmaker Ryan Killackey is hoping to do with his new movie Yasuni Man. Killackey says the film will show-off the wonders of Yasuni National Park while highlighting the complexity of its biggest threat: the oil industry. "Conceptually, the film resembles a true-life cross between the documentary Crude and the blockbuster Avatar—except it's real and it's happening now," Killackey told mongabay.com.
Brazil's Operation Jaguar: Busting a Poaching Ring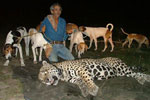 (10/03/2010) Twenty years ago Brazil's most notorious jaguar hunter, Teodoro Antonio Melo Neto, also known as 'Tonho da onça' or 'Jaguar Tony,' swore off poaching after logging 600 kills. The foe turned ally of the jaguar then convinced environmental and research institutes, such as the non-governmental organization Instituto Pró-Carnívoros, of his about face and to employ his tracking skills for conservation. Thus began years of assisting these agencies find the animals so that they could monitor their movements and research their habits. His dramatic change of heart even became the subject of a children's book titled Tonho da onça, which related a conservation message. But on July 20, 2010, 'Jaguar Tony,' now 71 years old, revealed his true spots when federal agents arrested him along with seven others preparing for another in a long series of illegal hunts.
Hope remains for India's wild tigers, says noted tiger expert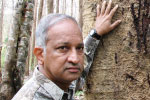 (09/30/2010) As 2010 marks 'The Year of the Tiger' in many Asian cultures, there has been global interest in the long-term viability of tiger populations in the wilds of Asia. Due to increasing pressures on remaining tiger habitats and a surge in demand for tiger parts from traditional medicine trades, many conservation experts consider the current outlook for wild tiger populations bleak. Dr Ullas Karanth of the Wildlife Conservation Society (WCS) India does not share this view. He believes that a collaboration of global and local interests can secure a future for tigers in the wild.
Stunning toxic frog protected as a result of drug trafficking conflict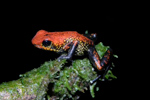 (09/29/2010) A spectacular poison dart frog on the edge of extinction in the wild has been afforded temporary protection by warring drug gangs in Colombia's Chocó region, reports ProAves. The La Brea Poison Frog (Oophaga occultator), a colorful species only documented by scientists in 1975, has suffered from unsustainable collection for the pet trade, severe deforestation for coca cultivation, and aerial spraying for coca eradication, resulting in a substantial population decline. But the species has clung to life in a deforested landscape along the Saija River in Colombian Pacific coast in part due to conflict between three armed groups which has kept collectors out of the area.
Fighting poachers, going undercover, saving wildlife: all in a day's work for Arief Rubianto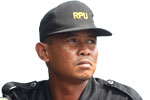 (09/29/2010) Arief Rubianto, the head of an anti-poaching squad on the Indonesian island of Sumatra best describes his daily life in this way: "like mission impossible". Don't believe me? Rubianto has fought with illegal loggers, exchanged gunfire with poachers, survived four days without food in the jungle, and even gone undercover—posing as a buyer of illegal wildlife products—to infiltrate a poaching operation. While many conservationists work from offices—sometimes thousands of miles away from the area they are striving to protect—Rubianto works on the ground (in the jungle, in flood rains, on rock faces, on unpredictable seas, and at all hours of the day), often risking his own life to save the incredibly unique and highly imperiled wildlife of Sumatra.
Rivers worldwide in peril: society treats symptoms, ignores causes
(09/29/2010) Dams, agricultural runoff, pesticides, sewage, mercury pollution from coal plants, invasive species, overconsumption, irrigation, erosion from deforestation, wetland destruction, overfishing, aquaculture: it's clear that the world's rivers are facing a barrage of unprecedented impacts from humans, but just how bad is the situation? A new global analysis of the world's rivers is not comforting: the comprehensive report, published in Nature, finds that our waterways are in a deep crisis which bridges the gap between developing nations and the wealthy west. According to the study, while societies spend billions treating the symptoms of widespread river degradation, they are still failing to address the causes, imperiling both human populations and freshwater biodiversity.
U.S. government bombs Guam with frozen mice to kill snakes

(09/28/2010) In a spectacularly creative effort to rid the island of Guam of an invasive species, the US Department of Agriculture is planning to 'bomb' the rainforests with dead frozen mice laced with acetaminophen. The mice-bombs are meant to target the brown tree snake, an invasive species which has ravaged local wildlife, and angered local residents, since arriving in the 1940s.
Discovery of new population boosts almost-extinct Colombian bird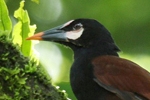 (09/28/2010) The Baudo oropendola (Psarocolius cassini) has gone from less than a dozen known individuals to nearly a hundred due to the discovery of two new colonies in northwestern Colombia by local conservation group, Fundación ProAves. However, the new colonies are located in an unprotected area currently being impacted by deforestation. George Fenwick, president of American Bird Conservancy which focuses on bird conservation, said in a press release that his organization "is thrilled to have helped fund the research expedition that led to this stunning discovery of these two new colonies of this rare bird. Now we need to work with ProAves to conserve and protect them."
Traveler caught with 200 pounds of elephant ivory in four suitcases

(09/27/2010) Customs officials found 16 pieces of cut ivory on searching a 62-year-old Malaysian man at Suvarnabhumi International Airport in Thailand in August. Recently released information shows that the traveler was carrying nearly 200 pounds (90 kilograms) of ivory in four suitcases after arriving from Addis Ababa, Ethiopia.
The effect of forest regeneration strategies on beetles

(09/27/2010) As conservationists attempt to find the best way to re-establish forests in abandoned areas, a new study in the open-access journal Tropical Conservation Science compares the impacts on bess beetles of different method to regeneration forest. Bess beetles are important dead wood-recyclers in the forest. Looking at three different forests in the Colombian Andes—natural regeneration, monoculture reforestation, and an old-growth forest as a baseline—researchers found that old-growth and natural regeneration had the highest diversity of bess beetles, while old-growth sported the greatest abundance of beetles.
Threatened on all sides: how to save the Serengeti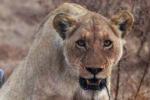 (09/27/2010) Tanzania's plan to build a road through the Serengeti has raised the hackles of environmentalists, conservationists, tourists, and wildlife-lovers worldwide, yet the proposed road is only the most recent in a wide variety of threats to the Serengeti ecosystem. A new study in mongabay.com's open-access journal Tropical Conservation Science looks at the wide variety of issues facing the Serengeti and how to save one of the world's most beloved landscapes and wildlife communities.
Tigers successfully reintroduced in Indian park

(09/27/2010) Poachers killed off the last Bengal tiger in India's Sariska Tiger Reserve in 2004. Four years later, officials transferred three tigers from Ranthambhore National Park to Sariska in an attempt to repopulate the park with the world's biggest feline. A new study in mongabay.com's open-access journal Tropical Conservation Science evaluates the reintroduction by tracking radio-collared tigers and studying their scat.
Financial crisis pummels wildlife and people in the Congo rainforest

(09/27/2010) Spreading over three central African nations—Cameroon, Central African Republic, and Republic of Congo—the Sangha tri-national landscape is home to a variety of actors: over 150,000 Bantu people and nearly 20,000 pygmies; endangered species including forest elephants and gorillas; and, not least, the Congo rainforest ecosystem itself, which here remains largely intact. Given its interplay of species-richness, primary rainforest, and people—many of whom are among the poorest in the world—the landscape became internationally important in 2002 when under the Congo Basin Forest Partnership (CBFP) conservation groups and development agencies agreed to work together to preserve the ecosystems while providing development in the region.
Indian carnivore eats mostly fruit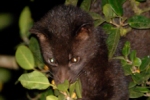 (09/27/2010) When is a carnivore no longer a carnivore? A new study in mongabay.com's open access journal Tropical Conservation Science has found that the brown palm civet (Paradoxurus jerdoni), a cat-sized tree-loving carnivore, lives almost entirely off fruit and seeds. Studying over a 1000 feces from the brown palm civet during three years, researchers found that 97 percent of its diet was composed of plants, not meat. Given its penchant for fruit, researchers argue that the brown palm civet is an important disperser of tropical plants, playing a vital ecological role rarely connected to civets.
Into the Congo: saving bonobos means aiding left-behind communities, an interview with Gay Reinartz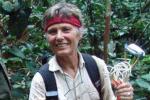 (09/23/2010) Unlike every other of the world's great apes—the gorilla, chimpanzee, and orangutan—saving the bonobo means focusing conservation efforts on a single nation, the Democratic Republic of the Congo. While such a fact would seem to simplify conservation, according to the director of the Bonobo and Congo Biodiversity Initiative (BCBI), Gay Reinartz, it in fact complicates it: after decades of one of world's brutal civil wars, the DRC remains among the world's most left-behind nations. Widespread poverty, violence, politically instability, corruption, and lack of basic infrastructure have left the Congolese people in desperate straits.
Orangutans can survive in timber plantations, selectively logged forests
(09/23/2010) Selectively logged forests and timber plantations can serve as habitat for orangutans, suggesting that populations of the endangered ape may be more resilient than previously believed, reports research published in the journal PlosONE. The study, conducted by a team of researchers led by Erik Meijaard of Jakarta-based People and Nature Consulting International, found roughly equivalent population densities between natural forest areas and two pulp and paper plantation concessions in East Kalimantan, Indonesian Borneo.
New ape species uncovered in Asia

(09/21/2010) Discovering a species unknown to science is a highlight of any biologist's career, but imagine discovering a new ape? Researchers with the German Primate Center (DPZ) announced today the discovery of a new species of ape in the gibbon family, dubbed the northern buffed-cheeked gibbon (Nomascus annamensis), according to the AFP. The new species was discovered in rainforests between the borders of Vietnam, Laos, and Cambodia: an area that contains a number of gibbon species.
Tigers discovered living on the roof of the world

(09/20/2010) A BBC film crew has photographed Bengal tigers, including a mating pair, living far higher than the great cats have been documented before. Camera traps captured images and videos of tigers living 4,000 meters (over 13,000 feet) in the tiny Himalayan nation of Bhutan.
How the overlooked peccary engineers the Amazon, an interview with Harald Beck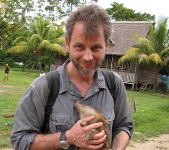 (09/20/2010) When people think of the Amazon rainforest, they likely think of roaring jaguars, jumping monkeys, marching ants, and squeezing anacondas. The humble peccary would hardly be among the first animals to cross their mind, if they even know such pig-like animals exists! Yet new research on the peccary is proving just how vital these species are to the world's greatest rainforest. As seed dispersers and seed destroyers, engineers of freshwater habitats and forest gaps, peccaries play an immense, long overlooked, role in the rainforest. "Peccaries have the highest density and biomass of any Neotropical mammal species. Obviously these fellows have quite an appetite for almost anything, but primarily they consume fruits and seeds. Their specialized jaws allow them to crush very hard seeds. The cracking sounds can be heard through the thick vegetation long before we could see them. As peccary herds bulldoze through the leaf litter in search for insects, frogs, seeds, and fruits, they destroy (i.e. snap and trample) many seedlings and saplings, sometimes leaving only the bare ground behind," Harald Beck, assistant professor at Towson University in Maryland, told mongabay.com in an interview.
Determining which birds cause airplanes to crash: an interview with a feather expert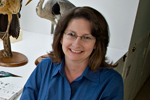 (09/19/2010) Marcy Heacker, a wildlife forensic scientist at the Smithsonian Institution's Feather Identification Lab in Washington, DC, spoke with Laurel Neme on her 'The WildLife' radio show and podcast about wildlife forensics, bird strikes and feather identification, and how her analyses help airports manage wildlife to enhance airline safety. She also discussed how she and other forensic scientists at this lab helped analyze the crash of U.S. Airways Flight 1549, otherwise known as the 'miracle on the Hudson.'
Scientists warn little known gibbons face immediate extinction

(09/19/2010) It's not easy to be a gibbon: although one of the most acrobatic, fast, and marvelously loud of the world's primates, the gibbon remains largely unknown to the global public and far less studied than the world's more 'popular' apes. This lack of public awareness, scientific knowledge, and, thereby, conservation funding combined with threats from habitat loss to hunting to the pet trade have pushed seven gibbon species, known as 'crested', to the edge of extinction according to scientists attending the 23rd Congress of the International Primatological Society.
Unknown elephant relative photographed in Kenya

(09/16/2010) Scientists conducting research in the Boni-Dodori forest on the coast of northeastern Kenya may have discovered a new species of giant elephant-shrew, reports the Zoological Society of London (ZSL).
Saving wild tigers will cost $82M/year

(09/15/2010) The cost of maintaining the planet's 3,500 remaining wild tigers is around $80 million a year, according to a new study published in the journal PLoS Biology.
Goats, cats trigger near extinction of Hawaiian bird in past 7 years

(09/14/2010) A new survey by the United States Geological Survey shows the population of the Palila (Loxioides bailleui), a beautiful songbird found only in Hawaii, has fallen from 4,400 birds to 1,200 birds since 2003, a decline of nearly 75 percent. The bird is being driven toward extinction by introduced sheep and goats, which are destroying the Palila's key food source, and feral cats, which are killing off adult birds and hatchlings, according to the American Bird Conservancy.
Photos: the world's most endangered turtles

(09/10/2010) More than 40 percent of the world's freshwater turtle species are threatened with extinction, according to a new assessment by Conservation International. Turtles are threatened primarily by hunting, habitat destruction, and the pet trade, making them among the most endangered groups of animals.
Frogs and friends at risk from booming global wildlife trade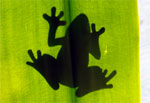 (09/08/2010) Alejandra Goyenechea, International Counsel at Defenders of Wildlife and Chair of the Species Survival Network's (SSN) Amphibian Working Group, spoke with Laurel Neme on her 'The WildLife' radio show and podcast about the global amphibian trade. In her interview, Alejandra Goyenechea discusses the benefits of frogs and the many threats – such as habitat loss, climate change, pollution, invasive species, disease, and overexploitation – to their survival. Did you know frogs indicate environmental quality, like canaries in a coal mine? Or that many have medicinal properties, like the phantasmal poison dart frog which produces a painkiller 200 times the potency of morphine?
The role of wildlife conservation in human health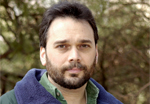 (09/07/2010) Livestock farming is an important traditional way for communities in sub-Saharan Africa to build and maintain wealth, as well as attain food security. Essentially, the transfrontier or transboundary conservation areas (TFCA) concept and current internationally accepted approaches to the management of transboundary animal diseases (TADs) are largely incompatible. The TFCA concept promotes free movement of wildlife over large geographic areas, whereas the present approach to the control of TADs (especially for directly transmitted infections) is to use vast fences to prevent movement of susceptible animals between areas where TADs occur and areas where they do not, and to similarly restrict trade in commodities derived from animals on the same basis. In short, the incompatibility between current regulatory approaches for the control of diseases of agro-economic importance and the vision of vast conservation landscapes without major fences needs to be reconciled in the interest of regional risk-diversification of land-use options and livelihood opportunities. An integrated, interdisciplinary approach offers the most promising way to address these issues—one where the well-being of wildlife and ecosystems, domestic animals, and Africa's people are assessed holistically, with a "One World – One Health" perspective.
Could camera traps save wildlife worldwide?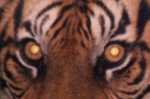 (08/31/2010) It's safe to say that the humble camera trap has revolutionized wildlife conservation. This simple contraption—an automated digital camera that takes a flash photo whenever an animal triggers an infrared sensor—has allowed scientists to collect photographic evidence of rarely seen, and often globally endangered species, with little expense and relative ease—at least compared to tromping through tropical forests and swamps looking for endangered rhino scat . Now researchers with the Wildlife Conservation Society (WCS) and the Zoological Society of London (ZSL) are taking the utility of the camera trap one step further: a study in Animal Conservation uses a novel methodology, entitled the Wildlife Picture Index (WPI), to analyze population trends of 26 species in Bukit Barisan Selatan National Park on the Indonesian island of Sumatra. While the study found a bleak decline in species, it shows the potential of camera traps for moving conservation forward since it marks the first time researchers have used camera traps to analyze long-term population trends of multiple species.
Cold snap may have killed millions of fish in Bolivia, poisoning rivers

(08/31/2010) Although the last few months have been some of the warmest worldwide on record, including 17 countries reaching or breaking all-time highs, temperatures have not been above average everywhere. Cold air from Antarctica has brought chilling temperatures to parts of South America, including Bolivia where millions of fish and thousands of caimans, turtles, and river dolphins have perished according to Nature Communications.
A slow comeback for the endangered Eurasian otter in France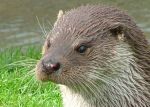 (08/29/2010) In the late 1970s, the fate of the Eurasian Otter (Lutra lutra) in France was very gloomy. By just looking at the otter's range map, one could see that most of the country was left with vast regions devoid of a species that was once found in every region. Estimations barely reached 1,500 otters left in the wild for the whole country. Today, 2,000 to 3,000 individuals are believed to room in creeks and rivers mostly in the Massif Central, the Atlantic side (Bretagne) and western area, in particular in the wetland of Poitevin. The upward trend in population size is good news and a step towards reconstituting sustainable populations, however, the overall population is still critically low. By contrast, in the early 1900s otters were quite abundant in France with over 50,000 wild animals.
Photos: Asia's tiniest frog discovered living inside carnivorous plants in Borneo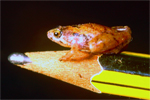 (08/25/2010) One of the world's smallest frogs has been discovered living inside carnivorous plants in Borneo, reports Conservation International, a conservation group that is jointly supporting a campaign with IUCN to search for some of the world's 'lost amphibians.' The species, described in Zootaxa by Indraneil Das and Alexander Haas of the Institute of Biodiversity and Environmental Conservation at the Universiti Malaysia Sarawak and Biozentrum Grindel und Zoologisches Museum of Hamburg, is named Microhyla nepenthicola after the plant in which is was found, Nepenthes ampullaria, a species of pitcher plant from Malaysian Borneo.
Saving Prairie Chickens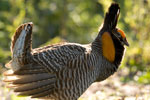 (08/24/2010) It's not so complicated, but it's much easier said than done. I'm referring to the restoration of a species to a habitat that has been transformed over time in the absence of keystone grazing species like bison which served essentially as landscape architects and grounds crew for expansive grassland habitat. In an effort to restore the endangered Attwater's prairie-chicken (Tympanuchus cupido attwateri) to the coastal prairie ecosystems of Texas and Louisiana, restoration biologists had to find such available and suitable habitat.




Page 1 | Page 2 | Page 3 | Page 4 | Page 5 | Page 6 | Page 7 | Page 8 | Page 9 | Page 10 | Page 11 | Page 12 | Page 13 | Page 14 | Page 15 | Page 16 | Page 17 | Page 18 | Page 19 | Page 20 | Page 21 | Page 22 | Page 23 | Page 24 | Page 25 | Page 26 | Page 27 | Page 28 | Page 29 | Page 30 | Page 31 | Page 32 | Page 33 | Page 34 | Page 35 | Page 36 | Page 37 | Page 38 | Page 39 | Page 40 | Page 41 | Page 42 | Page 43 | Page 44 | Page 45 | Page 46 | Page 47 | Page 48 | Page 49 | Page 50 | Page 51 | Page 52 | Page 53 | Page 54 | Page 55 | Page 56 | Page 57 | Page 58