News articles on animals

---
Mongabay.com news articles on animals in blog format. Updated regularly.






Africa gains new elephant species
(01/19/2011) DNA evidence has shown that the forest elephant-Africa's smaller, shyer pachyderm-is indeed a separate species from the much more well-known savanna elephant. While scientists have long debated the status of the forest elephant (should it be considered a separate population, a subspecies, or a unique species?) a new study in the open-access journal PLoS Biology finds that genetically the forest elephant is unarguably a new species. If conservation authorities accept the new study, it will change elephant conservation efforts throughout Africa.
Lion poisonings decimating vultures in Kenya

(01/19/2011) It's a common image of the African savanna: vultures flocking to a carcass on the great plains. However, a new study has found that vulture populations are plummeting in Kenya's Masai Mara National Reserve, a part of the Serengeti plains, due to habitat loss as well as the illegal killing of lions. Increasingly farmers and livestock owners have targeted lions and other big predators by poisoning livestock carcasses with toxic pesticides, such as Furadan. Not only illegal, such poisonings take their toll on other Serengeti wildlife, including vultures that perish after feeding on the laced carcasses.
American cougars on the decline: 'We're running against the clock,' says big cat expert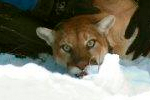 (01/17/2011) It holds the Guinness World Record for having the most names of any animal on the planet, with 40 in English alone. It's also the widest-ranging native land animal in the Americas, yet is declining throughout much of its range. Mongabay talks with big cat expert Dr. Howard Quigley about the status and research implications of the elusive, enigmatic, and unique cougar.
Wildlife crime goes largely unpunished in Indonesia
(01/10/2011) Indonesia is famed for its wildlife diversity. Straddling the contact zone between Asia and Australia, evolution has created some of the earth's most remarkable species here. Think babirusa , Komodo dragon, orangutan and birds of paradise, and you get the picture. Indonesia is famed for its wildlife diversity. Straddling the contact zone between Asia and Australia, evolution has created some of the earth's most remarkable species here. Think babirusa, Komodo dragon, orangutan and birds of paradise, and you get the picture. Most of us also know that Indonesia has a major problem maintaining this diversity through effective conservation programs. Not a day goes by without Indonesia appearing somewhere in the world's media with a negative story on how it is managing its wildlife.
Malaysian customs seizes 1,800 trafficked reptiles

(01/04/2011) Malaysia ended 2010 with the confiscation of 4.3 metric tons of reptiles near the Thai border on December 20th, reports the Wildlife Trade Monitoring Network, TRAFFIC. The confiscation was the largest of the year and consisted of over 1,800 monitor lizards, snakes, freshwater turtles, and tortoises.
Lemur poaching continues in Madagascar [warning: graphic pictures]

(01/03/2011) A lemur poacher was intercepted with 32 dead lemurs on New Year's Eve in Madagascar's northeastern town of Vohemar, suggesting that killing of lemurs for the commercial bushmeat trade continues on the island nation, reports Fanamby, a Madagascar-based conservation group.
Lemur milestone: captive-born female successfully breeds with wild male

(01/01/2011) After 13 years of releasing captive-born lemurs into the wild, the Madagascar Fauna Group (MFG) has finally succeeded in breeding a captive-born black-and-white ruffed lemur female with a wild male, a pairing that last October produced twins in Betampona Natural Reserve. This is a milestone for lemur conservation, since it is the first time a captive-born lemur and a wild lemur have successfully mated and given birth.
Disappearance of arctic ice could create 'grolar bears', narlugas; trigger biodiversity loss

(12/22/2010) The melting of the Artic Ocean may result in a loss of marine mammal biodiversity, reports a new study published in the journal BNature and conducted jointly by the National Oceanic and Atmospheric Association (NOAA), the University of Alaska, and the University of Massachusetts. The study is the first to project what might happen if species pushed into new habitats because of ice loss hybridize with one another, resulting in such crossbreeds as "narlugas" and "grolar bears".
Biodiversity and slash-and-burn agriculture in Papua New Guinea

(12/20/2010) As pressures increase on the rich forests of Papua New Guinea, how will biodiversity fare? A new study in mongabay.com's Tropical Conservation Science attempts to answer this question by looking at how bird species are impacted by slash-and-burn agriculture. While locals have been practicing such agriculture for 5,000 years, rising populations and societal changes are expected to increase the pressure of slash-and-burn agriculture on forests and the species that live there.
The hair-snare: non-invasive animal research technique makes good in Mexico

(12/19/2010) It's not easy or cheap to catch an elusive wild cat, and trapping such an animal can prove harmful to the individual. With such factors in mind, researchers are consistently turning to non-invasive methods of gathering data about species, including collecting feces and the increasingly popular camera trap. But one method rarely gets mentioned: the humble hair-snare. A new study in mongabay.com's open access journal Tropical Conservation Science has demonstrated the success of hair-snare in gathering data about mammals in Mexico, including the first successful hair catch of two rarely seen cat species, the jaguarundi (Puma yagouaroundi) and the margay (Leopardus wiedii).
New hope for polar bears

(12/17/2010) Once thought of as a doomed species, new research published in the journal Nature and conducted by scientists from several institutions, including the National Science Foundation and the U.S. Geological Survey, finds that polar bears could be saved from extinction - if certain measures are taken.
Teaching orangutans to be wild – orangutan rehabilitation
(12/15/2010) Michelle Desilets, Executive Director of the Orangutan Land Trust, spoke with Laurel Neme on her 'The WildLife' radio show and podcast about the process of rehabilitating orphaned orangutans and teaching them to be wild. This is the second in a two-part interview. The first part covered orangutan biology, habits and the interconnected threats, from the pet trade to habitat loss and expansion of oil palm plantations, facing these creatures. This second part focuses on what happens to surviving orangutans.
Primatologists: the best hope for apes is the best hope for us
(12/15/2010) Distinguished conservation luminaries, eminent primate experts, ape-suited bucket wielders, a group of African drummers and nearly 1,500 people gathered in London last week for an evening of talks to shine the spotlight on the plight of apes and the forests in which they live, sending a strong message to the climate negotiators hammering out a REDD+ mechanism in Cancun. Hosted by conservation heavyweight Sir David Attenborough, Hope 4 Apes was something of a reunion of the first Hope 4 Apes event that took place ten years ago to raise awareness of -- and funding for -- ape conservation.
Deforestation sparks giant rodent invasions
(12/15/2010) Capybara are expanding into areas of deforestation throughout South America, reports a new study conducted by Kansas State University researchers and published in the journal of Global Change Biology. The study is the first to report capybara populations invading historically arid regions and finds that the presence of invasive capybara can hinder habitat restoration.
The secrets of animal TV: many nature shows rely on unethical tactics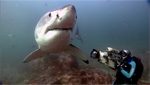 (12/14/2010) Classic animal series like Shark Week hosted by the Discovery Channel and Wild America by Marty Stouffer have captivated audiences for years, bringing them closer than ever to nature from the comfort of their living room. Unfortunately what the audience doesn't know is that many of those wildlife films incorporate unethical behavior including animal harassment, staged scenes, and the use of trained animals. These claims come from Chris Palmer, a veteran wildlife filmmaker with over 300 hours of original programming for prime time television and the giant screen, director of the Center for Environmental Filmmaking at American University and author of Shooting in the Wild: An Insider's Account of Making Movies in the Animal Kingdom (Sierra Club Books, 2010). Palmer concedes that his films have used these unethical techniques and that significant proportion of the wildlife programming we find ourselves enthralled with is as fake and scripted as any Hollywood movie.
The problem-solving ape: what makes orangutans special and why they are threatened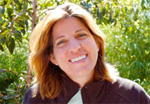 (12/13/2010) Michelle Desilets, Executive Director of the Orangutan Land Trust, spoke with Laurel Neme on her "The WildLife" radio show and podcast about orangutans. In the first part of her interview, they discussed orangutan biology, habits and the interconnected threats, from the pet trade to habitat loss and expansion of oil palm plantations, facing these creatures. The second part covers the process of rehabilitating orangutans and teaching them to be wild.
Mountain gorilla population up by 100 individuals

(12/07/2010) Conservation appears to be working for the Critically Endangered mountain gorilla (Gorilla beringei beringei) in the Virunga massif region, as a new census shows an additional 100 individuals from the last census in 2003, an increase of over a quarter. The Virunga massif is a region in three nations—Rwanda, the Democratic Republic of Congo, and Uganda—and covering three protected area.
Saving the maleo, a geothermal nesting bird, in Sulawesi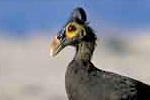 (12/06/2010) More species are threatened with extinction in Indonesia than any other country on Earth. If we are to save them, it will take more protected areas, radical shifts in deforestation, and better anti-poaching efforts, but in many cases it will also take species-specific conservation efforts that work directly with local people. The Alliance for Tompotika Conservation (AlTo) is a model organization for this method, founder Marcy Summers describes it as 'very small, community-based, and efficient, with very low overhead.' By focusing on the wonderfully bizarre maleo, a ground-dwelling bird on the island of Sulawesi, the organization has succeeded in protecting a vital nesting area while initiating a moratorium on the egg-harvesting, which once devastated the species.
Saving Sulawesi's 'pig-deer', the babirusa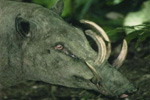 (12/06/2010) The babirusa of Sulawesi may be one of the world's oddest looking—and acting—mammals. Literally meaning 'pig-deer' the babirusa, which includes four species, belongs to its own genus 'Babyrousa' in the pig family. Males are especially unique, sporting four tusks, two of which appear to come right out of the animal's snout. To make it to the top of the babirusa hierarchy, males will combat each other in an activity dubbed 'boxing' where they will rear up on their hind legs and club at each other. Despite their many oddities, the babriusa were not formally studied until the late 1980s when Dr. Lynn Clayton spent four years in Sulawesi's forest observing them.
World has run out of fishing grounds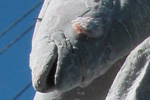 (12/06/2010) The world's oceans can no longer accommodate fisheries expansion, confirms a study conducted by joint effort between the University of British Columbia and the National Geographic Society. The study is the first of its kind to analyze the geographic expansion of global fisheries. Published in the journal PLoS ONE, the study lends additional credence to reports that current fishing practices are unsustainable. Researchers holistically determined the ecological footprint of commercial fisheries by looking at primary production—the tiny organisms that make up the bottom of the food chain—and calculating the amount necessary to support current fishing yields around the world from 1950 to 2005. The study finds that the amount of primary production required to maintain commercial fishing at current levels far exceeds that which exists.
Thousands pledge to boycott restaurants serving bluefin tuna

(12/01/2010) So far over 14,000 people have pledged to boycott eating bluefin tuna or visiting any restaurant that serves the imperiled species. The boycott, begun by US-conservation organization Center for Biological Diversity (CBD), is striving to raise awareness about a species that many scientists say is being fished to the brink of extinction.
'Environmental and social aggression': oil exploration threatens award-winning marine protected area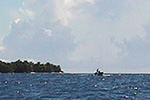 (12/01/2010) The Seaflower Marine Protected Area (MPA), which recently won top honors at the Convention on Biological Diversity (CBD) in Japan, is now under threat by planned oil exploration in the region, according to the Providence Foundation which is devoted to protecting the area. Proposed blocs for exploration by the Colombian government lie in the North Cays adjacent to the park, and perhaps even inside MPA boundaries. Spreading over 65,000 square kilometers (6.5 million hectares), Seaflower MPA lies within the Colombian Caribbean department known as the Archipelago of San Andres, Old Providence and Santa Catalina. This richly diverse Archipelago is home to a known 57 coral species, over 400 fish, and some 150 birds, as well as the ethnic and cultural minority: the Raizal people. The prospect of massive infrastructure or, even worse, oil spills in the area could devastate the park and locals' livelihoods.
Study: REDD could save species from extinction, if well-funded

(12/01/2010) The burgeoning global program REDD+ (Reduced Emissions from Deforestation and Forest Degradation) could do more than mitigate climate change, according to a new study in Conservation Letters by scientists with Conservation International (CI). Analyzing a sample of 2,500 forest animals, including mammals, birds and amphibians, researchers found that REDD+ could reduce the rate of extinction among these species by 46-82% over five years. The wide range in the study's findings depends on the amount of funds devoted to REDD+: more funds means greater forest preservation and, thereby, less extinction.
Logging concession could extinguish endangered Sumatran elephant population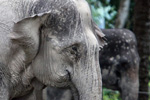 (11/30/2010) Local conservationists are urging the Indonesian government to halt the destruction of a 42,000 hectare forest in the renowned Bukit Tigapuluh Forest Landscape for a pulpwood plantation. According to researchers, the forest concession—owned by PT Lestari Asri Jaya, a subsidiary of Barito Pacific Group—contains the last population of Sumatran elephants (Elephas maximus sumatranus) in the Bukit Tigapuluh and approximately 5% of the island's total population. In a letter being sent to the Ministry of Forests, conservationists write that the destruction of the forest "would immediately lead to local extinction of elephants in Bukit Tigapuluh". They argue that given its ecological importance, the PT Lestari Asri Jaya forest concession should be placed under permanent protection.
Hairy enigma of the Serengeti photographed again

(11/29/2010) A mysterious—and extremely hairy—animal has been photographed again in the Serengeti. Robert Berntsen, a frequent traveler to East Africa, photographed the creature, almost certainly a gazelle, in Kenya's Masai Mara Reserve. It was earlier photographed by Paolo Torchio in the same reserve.
Environmentalists: fishing quota could be death sentence for bluefin tuna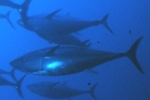 (11/28/2010) Once again, the International Commission for the Conservation of Atlantic Tuna (ICCAT) has flouted warnings from conservationists, evidence from scientists, and even recommendations from the European Commissioner Fisheries and Maritime Affairs in its most recent fishing quota for the Atlantic bluefin tuna. Meeting last week in Paris, ICCAT agreed to a 2011 fishing quota of 12,900 metric tons, 600 less than this year's quota. Yet, environmentalists from a wide-range of organizations have been warning for years that without a moratorium on bluefin fishing—or at least a drastic reduction in quotas—the species is at risk of extinction. ICCAT's own scientists say that the current quota gives the species a 70% chance of recovery.
Tiger summit reaches bold agreement and raises $300 million

(11/24/2010) The summit to save the world's biggest cat, and one of the world's most popular animals, has agreed to a bold plan dubbed the Global Tiger Recovery Program. Meeting in St. Petersburg, 13 nations have set a goal to double the wild tiger's (Panthera tigris) population worldwide by 2022. Given that tiger numbers continue to decline in the wild, this goal is especially ambitious, some may even say impossible. However, organizations and nations are putting big funds on the table: around $300 million has already been pledged, including $1 million from actor, and passionate environmental activist, Leonardo Dicaprio.
Genetic analysis uncovers new parrot on the edge of extinction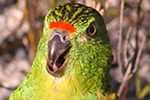 (11/23/2010) Down to just over 100 individuals, DNA analysis has revealed one of the world's most imperiled bird species: the western ground parrot Pezoporus flaviventris.. Genetic evidence collected from museums specimens, some well-over a century old, have led scientists to "cautiously suggest" that Australia's ground parrot be split into two distinct species—the eastern and the western—and not subspecies as they are currently considered. According to the study, the ground parrot species split apart some two million years ago, around the same time as the first members of the genus Homo evolved.
New population of Critically Endangered monkey discovered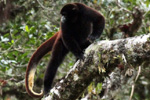 (11/22/2010) Classified as Critically Endangered by the IUCN Red List, listed among the Top 25 Most Endangered primates in the world, and rated number 71 on the EDGE's list of world's most endangered and unique mammals, the yellow-tailed woolly monkey needed some good news—and this week it got it. The conservation organization, Neotropical Primate Conservation (NPC), has announced the discovery of an unknown population of the yellow-tailed woolly monkey (Oreonax flavicauda), buttressing hopes that the species will survive in the long-term.
Photos: wild, weird, and rare mammals storm the conservation world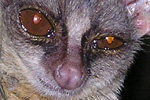 (11/21/2010) What do the New Zealand greater short-tailed bat, the black-and-white ruffed lemur, and the numbat have in common? They are all new members of the Zoological Society of London's EDGE top 100 most endangered and unique mammals list. Arguably the most innovative conservation program in the world, EDGE decides which species to focus conservation efforts on not based on popularity or fund-raising potential, but on hard data, only working with species that are considered the most endangered and evolutionarily distinct.
Reforestation effort launched in Borneo with nearly-extinct rhinos in mind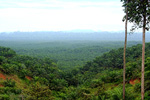 (11/18/2010) The Rhino and Forest Fund (RFF) has partnered with the Forestry Department of Sabah in northern Borneo to launch a long-term reforestation project to aid Malaysia's threatened species with particular emphasis on the Bornean rhino (Dicerorhinus sumatrensis harrissoni), one of the world's most imperiled big mammals. The reforestation project will be occurring in and adjacent to Tabin Wildlife Reserve, which is surrounded on all sides by oil palm plantations.
Rebuttal: Slaughtering farmed-raised tigers won't save tigers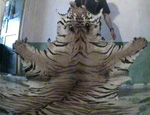 (11/18/2010) A recent interview with Kirsten Conrad on how legalizing the tiger trade could possibly save wild tigers sparked off some heated reactions, ranging from well-thought out to deeply emotional. While, we at mongabay.com were not at all surprised by this, we felt it was a good idea to allow a critic of tiger-farming and legalizing the trade to officially respond. The issue of tiger conservation is especially relevant as government officials from tiger range states and conservationists from around the world are arriving in St. Petersburg to attend next week's World Bank 'Tiger Summit'. The summit hopes to reach an agreement on a last-ditch effort to save the world's largest cat from extinction.
Massive shark sanctuary declared in the Coral Triangle

(11/17/2010) A shark sanctuary has been declared around the Raja Ampat islands in Indonesia. Larger than Denmark, the new sanctuary covers 17,760 square miles (46,000 square kilometers) of one of the world's richest marine biodiverse region, the Coral Triangle. Protections not only cover sharks, but dugongs, marine turtles, mobulas, and manta rays as well. In addition, reef bombing and fishing for the aquarium trade are banned.
New bat species confirmed in Ecuador, may already be extinct

(11/16/2010) Although the first specimen was collected over 30 years ago, scientists have only now confirmed that a tiny brown bat is indeed a unique species. Named Myotis diminutus for its incredibly small size, the new bat was discovered in the Chocó biodiversity hotspot, amid the moist forests of western Ecuador.
Back from extinction: Tasmanian tiger caught on video?

(11/16/2010) A 9 second video released today on YouTube claims to show a living Tasmanian tiger. The footage was captured by Murray McAllister last year. McAllister says he has seen the believed-to-be-extinct Tasmanian tiger several times in the last few years.
What do wolves and sharks have in common?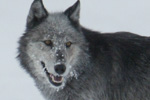 (11/15/2010) Sharks dwell in the ocean, wolves on land; sharks are a type of fish, wolves are a mammal; sharks go back some 400 million years, wolves only some 2 million years. So, these animals should have little in common, right? However, a new study in Frontiers in Ecology and the Environment points to surprising similarities among these disparate animals. As top predators, both wolves and sharks impact their prey and other species in similar ways.
Critics say Obama slow on endangered species

(11/15/2010) The Obama Administration is lagging behind past administrations in its listing of dwindling species under the Endangered Species Act (ESA). To date the US Fish and Wildlife Service has added 51 species to the ESA since Obama's took office, according to the conservation group, Center for Biological Diversity. By contrast, the Clinton Administration averaged 65 species a year with a total of 522 species protected. Obama is more proactive than George W. Bush, however, who was seen by many critics as actively undercutting the ESA. Only one of the species protected so far by the Obama Administration is found in the continental US.
Cheetahs reproduce more successfully after early pregnancies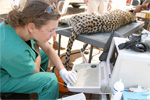 (11/15/2010) Early pregnancies prepare a cheetah for a life of productive motherhood, new research shows. A study published on 20 September in Conservation Letters advises captive breeding programs to focus on breeding female cheetahs at young ages to set the stage for many litters throughout their lives. The world's fastest animal, the cheetah has not outpaced a disheartening march toward extinction. Populations have declined from an estimated 100,000 a century ago to about 13,000 today. For years, researchers have pointed to the high genetic similarities among individual cheetahs as the main reason why captive cheetahs don't often get pregnant.
Rainforests, wildlife preserved by indigenous spiritual beliefs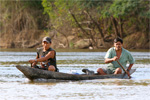 (11/15/2010) New research within the native Wapishana and Makushi communities of Guyana suggests that indigenous cultural beliefs such as shamanism help preserve tropical forests and wildlife. The analysis, published in the September 2010 Journal of Latin American Geography, draws from a massive data set that tracks wildlife populations, hunting kill sites, and spiritually significant features of the landscape within a 48,000-square-kilometer area in southern Guyana. The authors recruited the hunters themselves to record much of the data.
Would legalizing the trade in tiger parts save the tiger?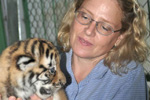 (11/15/2010) Just the mention of the idea is enough to send shivers down many tiger conservationists' spines: re-legalize the trade in tiger parts. The trade has been largely illegal since 1975 under the Convention on International Trade in Endangered Species (CITES). The concept was, of course, a reasonable one: if we ban killing tigers for traditional medicine and decorative items worldwide then poaching will stop, the trade will dry up, and tigers will be saved. But 35 years later that has not happened—far from it. "Words such as 'collapse' are now being used to describe the [tiger's] situation both in terms of population and habitat. Wild tiger numbers continue to drop so that we have about 3,500 today across 13 range states occupying just 7% of their original habitat. It's universally acknowledged that we're losing the battle," Kirsten Conrad, tiger conservation expert, told mongabay.com in a recent interview.
Thousands of marine turtles slaughtered in Madagascar for food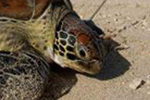 (11/14/2010) Over 10,000 marine turtles are being killed in one region of Madagascar for food every year, according to a new study in Animal Conservation. Although fishing for marine turtles is illegal, it has not stopped local artisanal fishermen from pursuing four different endangered marine turtle species. "We conducted this study because we know this small-scale, artisanal fishing is going on despite it being illegal to catch turtles under Malagasy law," Annette Broderick, from the Center for Ecology and Conservation (Cornwall) at the University of Exeter, said in a press release. "Because turtles are an endangered species, it's important for us to know what's going on in the region so we can work with the local community to find a sustainable way forward."
RSPO to recognize secondary forests as conservation priority

(11/12/2010) The Roundtable on Sustainable Palm Oil (RSPO), a body that sets environmental standards for palm oil production, has passed a resolution to reconfirm that secondary and degraded forests can classified as High Conservation Value (HCV) areas. The designation could increase the area of forest conserved within oil palm plantations provided it has high conservation significance, such as serving as habitat for endangered species like orangutans, Sumatran tigers, and rhinos.
Chaco expedition working to "minimize the risk" of running into uncontacted natives

(11/11/2010) A joint expedition by the Natural History Museum (NHM), London and the Natural History Museum, Asuncion to study the biodiversity of the dwindling dry forests of Chaco in Paraguay have responded to recent concerns that they risk encountering uncontacted natives, which could potentially threaten the natives' lives as well as their own.
Beyond gloom: solutions to the global coral reef decline

(11/10/2010) The world's coral reefs are in trouble. Due to a variety of factors—including ocean acidification, warming temperatures from climate change, overfishing, and pollution—coral cover has decline by approximately 125,000 square kilometers in the past 50 or so years. This has caused some marine biologists, like Charlie Veron, Former Chief Scientist of the Australian Institute of Marine Science, to predict that coral reefs will be largely extinguished within a century. This year alone, large-scale coral bleaching events, whereby coral lose their symbiotic protozoa and become prone to disease and mortality, were seen off the coasts of Indonesia, the Philippines, and some Caribbean islands. However a new paper in Trends in Ecology and Evolution attempts to dispel the gloom over coral reefs by pointing to strategies, and even some successes, to save them.
Researchers track the little-known giant sunfish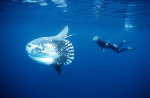 (11/10/2010) Getting to know the heaviest bony fish in the world is surprisingly hard. At 3 m (10 ft) long and 2,200 kg (4,850 lb), the Mola mola, or ocean sunfish, is an elusive giant. A typical day in its life is still a mystery. Now, a study published on 30 September in the Journal of Experimental Marine Biology and Ecology has opened a small portal onto their behaviors – and has underlined concerns that sunfish die in alarming numbers as unintentional catches in commercial fisheries.
African apes threatened by rising temperatures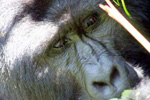 (11/10/2010) Most people wish each day had more than 24 hours. But as the planet heats up, that limited number of hours might push endangered African apes even closer to extinction by making their current habitats unsuitable for their lifestyle, according to a controversial study published on 23 July in the Journal of Biogeography.




Page 1 | Page 2 | Page 3 | Page 4 | Page 5 | Page 6 | Page 7 | Page 8 | Page 9 | Page 10 | Page 11 | Page 12 | Page 13 | Page 14 | Page 15 | Page 16 | Page 17 | Page 18 | Page 19 | Page 20 | Page 21 | Page 22 | Page 23 | Page 24 | Page 25 | Page 26 | Page 27 | Page 28 | Page 29 | Page 30 | Page 31 | Page 32 | Page 33 | Page 34 | Page 35 | Page 36 | Page 37 | Page 38 | Page 39 | Page 40 | Page 41 | Page 42 | Page 43 | Page 44 | Page 45 | Page 46 | Page 47 | Page 48 | Page 49 | Page 50 | Page 51 | Page 52 | Page 53 | Page 54 | Page 55 | Page 56 | Page 57 | Page 58 | Page 59