News articles on animals

---
Mongabay.com news articles on animals in blog format. Updated regularly.





Banning Tiger Tourism in India: a perspective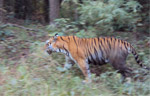 (05/05/2010) A debate rages in India over a proposal to ban tiger tourism in India. Proponents of the ban say tiger tourism is intrusive and disturbs tigers and wildlife in tiger reserves. Opponents say that among all the threats to the tiger, tourism is the least potent and raises awareness. Shubhobroto Ghosh of TRAFFIC India weighs in on the issue after seeing his first wild tiger in the flesh.


Who's to blame for the oil spill?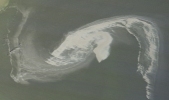 (05/04/2010) America, we deserve the oil spill now threatening the beautiful coast of Louisiana. This disaster is not natural, like the earthquake that devastated Haiti or tsunami that swept Southeast Asia in 2006; this disaster is man-made, American-made in fact, pure and simple. So, while in the upcoming weeks and months—if things go poorly—we may decry the oil-drenched wildlife, the economic loss for the region, the spoiled beeches, the wrecked ecosystems, the massive disaster that could take decades if not longer to recover from, we, as Americans, cannot think smugly that we are somehow innocent of what has happened. You play with fire: you will get burned. You drill for oil 1,500 meters below the surface of the ocean, you open up oil holes across the surface of your supposedly-beloved landscape, sooner or later there will be a spill, and sometimes that spill will be catastrophic.


How an agricultural revolution could save the world's biodiversity, an interview with Ivette Perfecto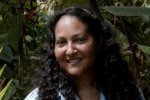 (05/04/2010) Most people who are trying to change the world stick to one area, for example they might either work to preserve biodiversity in rainforests or do social justice with poor farmers. But Dr. Ivette Perfecto was never satisfied with having to choose between helping people or preserving nature. Professor of Ecology and Natural Resources at the University of Michigan and co-author of the recent book Nature's Matrix: The Link between Agriculture, Conservation and Food Sovereignty, Perfecto has, as she says, "combined her passions" to understand how agriculture can benefit both farmers and biodiversity—if done right.


Gulf oil spill could impact non-coastal songbirds

(05/03/2010) Even though they don't stop over in the Gulf of Mexico, many migrating songbirds could be impacted by the catastrophic oil spill, warns the American Bird Conservancy (ABC). The threats to marine and coastal birds have been well-outlined during the past few days, however birds flying high above the spill could also be vulnerable.


Logging in Tongass rainforest would imperil rare species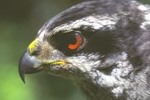 (05/03/2010) According to a letter from three past employees of the Alaska Division of Wildlife Conservation to Sean Parnell, the Governor of Alaska, a proposal to bill logging the Tongass temperate rainforest would threaten two endangered species. In fact, the letter warns that if the bill passes and the company in question, Sealaska, proceeds with logging it is likely the Alexander Archipelago wolf and the Queen Charlotte goshawk would be pushed under the protection of the US Endangered Species Act (ESA).


Oil spill in Gulf of Mexico heading towards full-scale environmental disaster

(04/29/2010) With the news that the amount of oil leaking from below the surface of the Gulf of Mexico could be as much as five times the original estimate put forward by British oil-giant BP, the situation moved from worrisome to desperate.


Despite promises, world governments failing to save biodiversity

(04/29/2010) In 2002 world leaders committed to reducing the global rate of biodiversity loss within eight years time: 2010. While many have noted that world governments have largely failed on their promises, a new study in Science looks at the situation empirically and agrees that their has been no significant reduction in biodiversity loss and, at the same time, pressures on the world's species have risen, not fallen.


Video: Madagascar could become "Haiti-like"

(04/28/2010) Niall O'Connor from the World Wildlife Fund warns in a Carte Blanche production that if the ecological destruction of Madagascar continues, the poor island country could become "Haiti-like", where he says, "most of the biodiversity, most of the forests are gone".


Farming snails to save the world's rarest gorillas

(04/28/2010) In a place of poverty and hunger, how do you save a species on the edge of extinction? A difficult question that conservationists have long-been working to tackle, the Wildlife Conservation Society (WCS) has come up with a new plan to protect the world's most endangered gorilla, the Cross River gorilla, from poachers by providing locals with an alternate and better income from farming snails.


A day to celebrate (and save) the world's amphibians: the 2nd Annual Save the Frogs Day



(04/28/2010) Friday, April 30th is for the frogs: educational programs, conservation walks with experts, frog leaping races, and the world's first protest to save frogs are all planned for the world's 2nd Annual Save the Frogs Day. Organized by the non-profit SAVE THE FROGS!, events are so far planned in 15 countries on every continent besides Antarctica—fittingly the only continent that lacks amphibians.


Photo: monster worm is less than a monster

(04/28/2010) Some places have Loch Ness and Bigfoot, but the Palouse prairie of the western United States has the giant Palouse earthworm. Reported to stretch 3 feet long, spit, and—even more strangely—smell like lilies, the earthworm has become apart of the region's folklore and has only been seen a few times since the 1980s leading to concerns that it was gravely endangered and maybe even extinct.


Photo: Fire-headed dragon discovered in Southeast Asia

(04/27/2010) Just weeks after scientists announced the discovery of a new monitor lizard in the Philippines, researchers have uncovered another unknown monitor inhabiting Southeast Asia. Described in Zootaxa, the new torch monitor (Varanus obor) is found only on the tiny island of Sanana, in the western Moluccan islands of Indonesia.


After oil rig explosion, leaking crude threatens Gulf of Mexico

(04/26/2010) Just weeks after a Chinese coal barge rammed the Great Barrier Reef, cutting a nearly two-mile swath through the reef and spilling three tons of engine fuel, fragile marine ecosystems are again threatened. Last Tuesday a BP oil rig platform exploded in the Gulf of Mexico, likely killing eleven workers. The blast also left oil leaking from the drill hole estimated at 42,000 gallons (or 1,000 barrels) of oil per day.


How hornbills keep Asian rainforests healthy and diverse, an interview with Shumpei Kitamura



(04/26/2010) Hornbills are one of Asia's most attractive birds. Large, colorful, and easier to spot than most other birds, hornbills have become iconic animals in the tropical forests of Asia. Yet, most people probably don't realize just how important hornbills are to the tropical forests they inhabit: as fruit-eaters, hornbills play a key role in dispersing the seeds of tropical trees, thereby keeping forests healthy and diverse. Yet, according to tropical ecologist and hornbill-expert Shumpei Kitamura, these beautiful forest engineers are threatened by everything from forest loss to hunting to the pet trade.


Killer whales split into three separate species

(04/25/2010) Using genetic evidence scientists have discovered that the world's killer whales, also known as orcas (Orcinus orca), likely represent at least three separate species.


World failing on every environmental issue: an op-ed for Earth Day


(04/22/2010) The biodiversity crisis, the climate crisis, the deforestation crisis: we are living in an age when environmental issues have moved from regional problems to global ones. A generation or two before ours and one might speak of saving the beauty of Northern California; conserving a single species—say the white rhino—from extinction; or preserving an ecological region like the Amazon. That was a different age. Today we speak of preserving world biodiversity, of saving the 'lungs of the planet', of mitigating global climate change. No longer are humans over-reaching in just one region, but we are overreaching the whole planet, stretching ecological systems to a breaking point. While we are aware of the issues that threaten the well-being of life on this planet, including our own, how are we progressing on solutions?


Close to a billion species: ocean exploration reveals shocking diversity of tiny marine life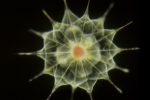 (04/19/2010) Biologists worldwide may have to start re-evaluating their estimates of the number of species on Earth, since expeditions documenting the oceans' tiniest species have revealed shocking diversity: in the tens of millions of species, at least, and according to one researcher "closer to a billion". Fourteen field projects sent out by the Census of Marine Life focused on the oceans' smallest inhabitants: microbes, zooplankton, and tiny burrowing species inhabiting the deep sea bed. What they found was astounding.


Turning to the matrix: a more accurate way to predict extinction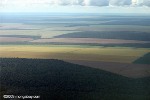 (04/14/2010) According to most conservationists the globe is striding into the midst of the Sixth Mass Extinction. Species populations worldwide are dropping and in many cases species are vanishing all together due to pollution, climate change, poaching and hunting, overconsumption, invasive species, and exotic diseases, but no threat proves more pervasive and devastating for the world's species than habitat loss.


Jane Goodall renews her faith in nature and humanity during the "Gombe 50" anniversary, An interview with Dr. Jane Goodall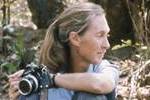 (04/12/2010) 2010 marks a monumental milestone for the Jane Goodall Institute (JGI) and its founder, Dr. Jane Goodall, DBE. Fifty years ago, Goodall, who is today a world-renowned global conservation leader, first set foot on the shores of Lake Tanganyika, in what is now Tanzania's Gombe National Park. The chimpanzee behavioral research she pioneered at Gombe has produced a wealth of scientific discovery, and her vision has expanded into a global mission 'to empower people to make a difference for all living things.' Time, however, has not stood still for Gombe. The wild chimps of the area have suffered as the local human population has swelled. Gombe National Park is now a forest fragment, a 35-square-kilometer island of habitat isolated in a sea of subsistence farming. Because the problems facing Gombe—unsustainable land practices, overpopulation, and a cycle of poverty—are typical of many other areas, lessons learned by Dr. Goodall and her team provide valuable insights for solutions at Gombe and beyond.


Hope for survival as isolated orangutans joined by rope bridge


(04/11/2010) Researchers in the Malaysian state of Sabah in Borneo are joyful after receiving confirmation that a young male orangutan used a rope bridge to cross a river, which has separated one orangutan population from another. Due to logging and clearing forests for oil palm plantations, which cover 18 percent of land in Sabah, orangutans on the Kinabantangan River have been cut into fragmented populations.


Photo: Lemur species rediscovered after 100 years

(04/09/2010) A species of lemur has been rediscovered more than a century after it was last spotted, report researchers from McGill University, the German Primate Centre in Göttingen Germany, the University of Antananarivo in Madagascar, and the University of Massachusetts.


Photos: rescued sun bears in Borneo moved to new facility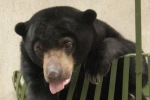 (04/08/2010) Rescued sun bears in Sabah, Borneo are getting a new home this week. The Bornean Sun Bear Conservation Center (BSBCC) has finished Phase 1 of its construction of a new home for the bears. Eventually the center will include visitor facilities and observation gallery where tourists will have the chance to watch the bears. For now, though, the bears will enjoy brand new state-of-the-art facilities and, for the first time, access to a pristine forest.


Scientists: 60 million USD needed to gauge the global threat to biodiversity

(04/08/2010) One of the greatest barriers to saving the world's biodiversity is simply a lack of knowledge: to date less than 50,000 species have been surveyed by the IUCN Red List regarding their threat level, while the vast majority of the world's species are left unanalyzed especially fungi, plants, fish, reptiles, and insects and other invertebrates. To address this problem, some of the world's top biologists have proposed a 60-million US dollar program they dub the 'barometer of biodiversity' to gather a representative sample of all taxons.


Forgotten species: the subterranean Gekko gigante



(04/08/2010) Travelers to tropical destinations are likely familiar with the gecko. Clinging to walls and ceilings of buildings—sometimes staring down at you from the bedroom ceiling or glancing at you quizzically from the bathroom door—the small adhesive-footed lizard could be aptly described in some tropical areas as ubiquitous. Despite the apparent commonness of some species, geckos are delightful lizards with round wide eyes, a thick gripping tongue, and of course that amazing knack of seemingly defying gravity with specialized toe pads. But not all geckos are as easily found—or as common—as those hanging out, literally, in a jungle lodge. The Gekko gigante, also known as the Gigante narrow-disked gecko, has been little- noticed by the public. Even scientists know little about the lovely gray-and-blue gecko beyond the fact that it lays its eggs on cool moist cave walls in two Philippine Islands.


Unilever backtracks: may purchase palm oil from Sinar Mas


(04/07/2010) The world's biggest buyer of palm oil, Unilever, says it will again purchase palm oil from PT SMART, a subsidiary of Indonesian company Sinar Mas, if allegations about deforestation and peatland destruction prove untrue, or if Sinar Mas shows it is addressing the issue. Last December, the food and cosmetic giant, Unilever, suspended its $32.6 million contract with Sinar Mas after an independent audit—spurred by a 2008 Greenpeace report—showed that the Indonesian company was involved in the illegal destruction of rainforests and peatlands. Yet the company now seems to be signaling that the contract is back on the table even as it touts its sustainability efforts to the public.


Photo: Fruit-eating dragon discovered in the Philippines

(04/07/2010) Scientists have discovered a new species of giant lizard in the unlikeliest of places: a highly populated, deforested landscape in the Philippines.


New blind snake discovery



(04/06/2010) Call them survivors: blindsnakes have been identified as one of the few groups of organisms that inhabited Madagascar when it broke from the Indian subcontinent around 100 million years ago. According to a new study in Biology Letters, blindsnakes not only survived the split of Madagascar and India, but likely traveled from Asia to Australia and Africa to South America on floating vegetation, the latter a journey that may have taken six months of drifting on ocean currents. "Blindsnakes are not very pretty, are rarely noticed, and are often mistaken for earthworms," says Blair Hedges of her subjects. "Nonetheless, they tell a very interesting evolutionary story."


New report finds millions of marine turtles killed by fisheries, not thousands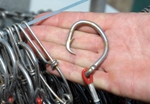 (04/06/2010) Humankind's appetite for seafood has had a bigger impact on the world's marine turtles than long thought. A new report by Conservation International (CI) in partnership with Duke University's Project GloBAL (Global By-catch Assessment of Long-lived Species) finds that in the past eighteen years it is likely millions of marine turtles have been killed as bycatch by the world's fisheries.


Once common tortoise from Madagascar will be 'extinct in 20 years'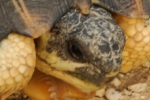 (04/05/2010) The radiated tortoise, once common throughout Madagascar, faces extinction within the next 20 years due to poaching for its meat and the illegal pet trade, according to biologists with the Turtle Survival Alliance (TSA) and the Wildlife Conservation Society (WCS). Returning from field surveys in southern Madagascar's spiny forest, they found regions without a single turtle. Locals said that armed bands of poachers were taking truckloads of tortoises to be sold in meat markets. The tortoise is also popular in the underground pet trade, although it is protected by CITES (Convention on International Trade in Endangered Species).


History repeats itself: the path to extinction is still paved with greed and waste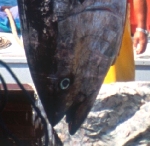 (04/05/2010) As a child I read about the near-extinction of the American bison. Once the dominant species on America's Great Plains, I remember books illustrating how train-travelers would set their guns on open windows and shoot down bison by the hundreds as the locomotive sped through what was left of the wild west. The American bison plunged from an estimated 30 million to a few hundred at the opening of the 20th century. When I read about the bison's demise I remember thinking, with the characteristic superiority of a child, how such a thing could never happen today, that society has, in a word, 'progressed'. Grown-up now, the world has made me wiser: last month the international organization CITES (Convention on International Trade in Endangered Species) struck down a ban on the Critically Endangered Atlantic bluefin tuna. The story of the Atlantic bluefin tuna is a long and mostly irrational one—that is if one looks at the Atlantic bluefin from a scientific, ecologic, moral, or common-sense perspective.


Seed dispersal in the face of climate change, an interview with Arndt Hampe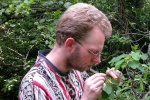 (04/05/2010) Without seed dispersal plants could not survive. Seed dispersal, i.e. birds spreading seeds or wind carrying seeds, means the mechanism by which a seed is moved from its parent tree to a new area; if fortunate the seed will sprout in its new resting place, produce a plant which will eventually seed, and the process will begin anew. But in the face of vast human changes—including deforestation, urbanization, agriculture, and pasture lands, as well as the rising specter of climate change, researchers wonder how plants will survive, let alone thrive, in the future?


Sumatran rhino loses pregnancy: conservationists saddened but remain resolute

(03/31/2010) Rhino conservationists' hopes were dampened today by news that Ratu, a female Sumatran rhino, had lost her pregnancy. Just months after the announcement of the pregnancy—the first at Indonesia's Sumatran Rhino Sanctuary in Way Kambas National Park—Ratu lost the embryo. Still, say conservationists, the very fact that Ratu became pregnant at all should keep hope alive for the beleaguered species.


First-ever photo of rare and spectacular hummingbird from Colombia

(03/31/2010) A conservationist has taken the first-ever photos of a living Santa Marta Sabrewing (Campylopterus phainopeplus) in the El Dorado Nature Reserve in the Sierra Nevada de Santa Marta in Colombia, reports ProAves, a bird conservation group.


Rockhopper penguins benefit from new park in Argentina



(03/31/2010) Southern rockhopper penguins (Eudyptes chrysocome) are easily distinguished by the spiked plumes on their head, their neon-yellow eyebrows, and red eyes. But these wild-looking penguins are also endangered: the IUCN Red List classifies them as Vulnerable to extinction due to pollution and drowning by fishing nets.


When it comes to Yellow Fever, conserving howler monkeys saves lives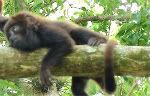 (03/29/2010) Abundant and diverse wildlife help people in many ways: for example bees pollinate plants, birds and mammals disperse seeds, bats control pest populations, and both plants and animals have produced life-saving medicines and technological advances. But how could howler monkeys save people from a Yellow Fever outbreak? A new study in the open-access journal Tropical Conservation Science explores the link between howler monkeys, mosquitoes, and humans during a recent yellow fever outbreak in the state of Rio Grande do Sul, Brazil.


Diverse habitats needed for survival of small mammals in Mexico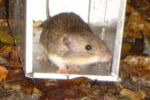 (03/29/2010) A new study in Tropical Conservation Science shows that small tropical mammals in Mexico—bats and rodents—require a variety of habitats to thrive. Surveying mammal populations in the Isthmus of Tehuantepec, Oaxaca, Mexico, researchers found that sites comprising the greatest habitat diversity carried also the greatest diversity of rodents. In turn bats lived in all variety of habitats and moved easily from one to another.


More research and conservation efforts needed to save Colombia's monkeys

(03/29/2010) Approximately thirty monkey species inhabit the tropical forests of Colombia with at least five found no-where else in the world. A new review appearing the open access journal Tropical Conservation Science of Colombia's primates finds that a number of these species, including some greatly endangered species, have been neglected by scientists. The researchers looked at over 3,500 studies covering over a century of research by primatologists.


Finding forest for the endangered golden-headed lion tamarin



(03/29/2010) Brazil's golden-headed lion tamarin is a small primate with a black body and a bright mane of gold and orange. Listed as Endangered by the IUCN Red List, the golden-headed lion tamarin (Leontopithecus chrysomelas) survives in only a single protected reserve in the largely degraded Atlantic Forest in Brazil. Otherwise its habitat lies in unprotected patches and fragments threatened by urbanization and agricultural expansion. Currently, a natural gas pipeline is being built through prime tamarin habitat.


Wildlife Management Areas in Africa require changes to become sustainable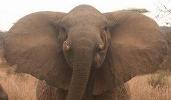 (03/29/2010) Wildlife Management Areas in Africa were created to serve a dual purpose. By granting local communities usage rights over wildlife in designated areas, African countries hoped both to allow communities to benefit from their wildlife while taking an active part in conservation. A new paper in published in the open access journal Tropical Conservation Science outlines the current problems facing WMAs, using Tanzania as an example, and recommends possible solutions.


Just how bad is meat-eating for the environment?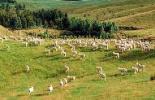 (03/28/2010) Meat is booming. In the past thirty years, livestock production has increased threefold. In many parts of the world where incomes are expanding, meat, once a delicacy, is now eaten regularly and voraciously. But what are the environmental impacts of this 'livestock revolution'? Two recent studies look at the global impact of the livestock industry, one alleges that its environmental impacts in relation to greenhouse gas emissions has been overestimated, while the other takes a holistic view of the industry's environmental impact.


Guerrillas could drive gorillas toward extinction in Congo, warns UN

(03/25/2010) Gorillas may disappear across much of the Congo Basin by the mid 2020s unless action is taken to protect against poaching and habitat destruction, warns a new report issued by United Nations and INTERPOL.


Photo: Camouflage expert discovered in Cambodia

(03/25/2010) Researchers have discovered a cryptic species of gecko in the Cardamom Mountains of Cambodia, reports Fauna & Flora International (FFI), a conservation group that operates in the region.


Half of Indonesia's mangroves gone in less than thirty years

(03/23/2010) The Jakarta Post reports that, according to the local NGO People's Coalition for Justice in Fisheries (Kiara), Indonesia's has lost 2.2 million hectares of mangroves in less than thirty years, going from covering 4.2 million hectares in 1982 to just 2 million hectares today.


CITES chooses 'commerce' over sharks, leaving endangered species vulnerable



(03/23/2010) Only the porbeagle shark received protection today from the Convention on International Trade in Endangered Species (CITES). Seven other shark species failed to win international protection despite plummeting populations due to overfishing. Once again, Japan led the opposition to regulating the trade in white-tipped sharks and scalloped hammerheads, including two look-alike species: the great hammerhead and the smooth hammerhead. Japan has dominated the CITES meeting, successfully leading resistance to banning the trade in the Critically Endangered Atlantic bluefin tuna and against monitoring the coral trade.


Nestle fiasco continues: Indonesian oil palm planters threaten boycott too


(03/23/2010) Candy and food giant Nestle is finding itself between a rock and a hard place. The online campaign against Nestle continues: today protesters once again posted thousands of negative messages on the company's Facebook page, most demanding that Nestle cut out palm oil linked to deforestation from its products. At the same time, a new problem has cropped up for Nestle: Indonesian oil palm planters are threatening to boycott Nestle products. Proving that the issues surrounding oil palm and deforestation are nothing if not complex: Facebook protestors say they will boycott Nestle if it doesn't cut out all links to Sinar Mas, a company that Greenpeace has linked to deforestation, whereas the Indonesia Palm Oil Growers Association are preparing a boycott if Nestle stops buying from Sinar Mas, according to the Jakarta Post.


Rise in poaching pushes CITES to vote 'no' to ivory sales

(03/22/2010) The Convention on International Trade in Endangered Species (CITES) has pleased conservationists with its decision to not allow the one-off sales of ivory from government stockpiles in Tanzania and Zambia given the recent rise in elephants poaching in Africa.


Scientists discover world's first amphibious insects: Hawaiian caterpillars

(03/22/2010) Scientists have never before discovered a truly amphibious insect until now: writing in the Proceedings of the National Academy of Sciences researchers have announced the discovery of 12 species of Hyposmocoma moths in the Hawaiian islands which they consider truly amphibious—that is a species able to survive both on land and underwater indefinitely.


CITES rejects monitoring of coral trade

(03/21/2010) After denying protection to polar bears, sharks, and the Critically Endangered Atlantic bluefin tuna, the Convention on International Trade in Endangered Species (CITES) has today voted against additional protections for harvested coral species, according to TRAFFIC, a wildlife trade monitoring group. The joint US and EU measure would have put in place scientific and trade monitoring of over thirty species of red and pink coral in the Mediterranean and western Pacific.


The Asian Animal Crisis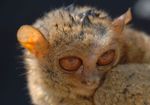 (03/18/2010) The United Nation declared 2010 as the International Year of Biodiversity (IYB). One of the goals of the IYB is to celebrate the achievements of the Convention of Biological Diversity signed by 192 countries since 1992. But what have we accomplished since 1992? Did we put an end to biodiversity loss? The truth is that there is not much to celebrate at all. Asia is a perfect example where the animal crisis and the loss of biodiversity have worsened over decades. The first question that should come to mind is: how many species have vanished in Asia because of human activities? Records of recently extinct species in Asia show 71 species that have disappeared in the wild. Examples include the Yunnan lake newt (Cynops wolterstorffi) from China, the Bonin thrush (Zoothera terrestris) from Japan, or the redtailed black shark (Epalzeorhynchos bicolor) from Thailand.


Critically Endangered bluefin tuna receives no reprieve from CITES

(03/18/2010) A proposal to totally ban the trade in the Critically Endangered Atlantic bluefin tuna failed at the Convention on International Trade in Endangered Species (CITES), surprising many who saw positive signs leading up to the meeting of a successful ban.



Page 1 | Page 2 | Page 3 | Page 4 | Page 5 | Page 6 | Page 7 | Page 8 | Page 9 | Page 10 | Page 11 | Page 12 | Page 13 | Page 14 | Page 15 | Page 16 | Page 17 | Page 18 | Page 19 | Page 20 | Page 21 | Page 22 | Page 23 | Page 24 | Page 25 | Page 26 | Page 27 | Page 28 | Page 29 | Page 30 | Page 31 | Page 32 | Page 33 | Page 34 | Page 35 | Page 36 | Page 37 | Page 38 | Page 39 | Page 40 | Page 41 | Page 42 | Page 43 | Page 44 | Page 45 | Page 46 | Page 47 | Page 48 | Page 49 | Page 50 | Page 51 | Page 52 | Page 53