News articles on animals

---
Mongabay.com news articles on animals in blog format. Updated regularly.






Bird-killing oil spill New Zealand's 'worst environmental disaster'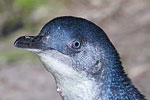 (10/12/2011) An oil spill from a grounded container ship in New Zealand's Bay of Plenty is threatening to worsen as authorities fear the ship is breaking up. Already, 350 tons of oil from the ship, the MV Rena, has leaked out with some reaching nearby beaches including a popular holiday spot, Papamoa Beach. To date the spill has killed over 200 birds, including little blue penguins, shags, petrels, albatrosses and plovers. If the ship breaks up and sinks, authorities fear it could release its remaining 1,400 tons into the marine ecosystem.
'Indisputable proof' of Yeti discovered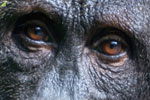 (10/10/2011) A conference has announced that given recent evidence they are 95 percent convinced the yeti, a mythical or perhaps actual primate, exists in the cold wilds of Siberia. Scientists and cryptozoologists (those who have a fascination for the 'study of hidden species' such as Bigfoot) met in the Kemerovo region of Russia to exchange information on the yeti, also known as the Abominable Snowman, and to conduct fieldwork. According to a statement from the conference, members found new evidence of the yeti's cryptic existence.
Tea Party rallies in favor of Gibson Guitar, ignores reasons instrument-maker is under investigation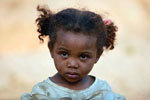 (10/10/2011) This weekend around 500 people showed up for a rally and concert in Nashville, Tennessee. The rally was in support of Gibson Guitars, a US-company currently under investigation for allegedly importing illegally logged wood into the country, an action that breaks a recent bipartisan amendment to the Lacey Act. While the Tea Party-affiliated groups that held the rally were expressing frustration with perceived over-regulation by the federal government, the issue at stake—a global effort to help stem illegal logging—was actually overlooked by the organizers.
Gorilla poachers brutally murder forest ranger

(10/09/2011) Forest ranger, Zomedel Pierre Achille, was brutally murdered by gorilla poachers near Lobéké National Park in Cameroon, according to the World Wide Fund for Nature (WWF).
Little-known animal picture of the day: Thomas's leaf monkey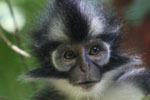 (10/06/2011) With unmistakable coloring and a philosophical, at times almost melancholy expression, the Thomas's leaf monkey (Presbytis thomasi) is one of Asia's little-known primates. Thomas's leaf monkey (also known as Thomas's langur) is found only on the island of Sumatra in Indonesia. The monkeys roam forests eating fruits and flowers, and sometimes snails, mushrooms, and coconut stalks.
Animal picture of the day: hyacinth macaw

(10/05/2011) Hyacinth macaws (Anodorhynchus hyacinthinus) are the world's largest macaw. They are found in Brazil, Bolivia, and Paraguay and prefer swamps and wooded savannah over rainforest habitats.
Satellite imagery confirms Dole destroying national park land for bananas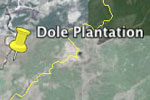 (10/04/2011) Environmental NGOs in Sri Lanka have accused US food giant Dole of illegally growing bananas in Somawathiya National Park, however Dole has denied the charge saying the land in question is 'not in the [park]'. Mongabay.com has received the coordinates of the Dole plantation from an anonymous source in Sri Lanka familiar with the issue, and using Google Earth has found that the plantation in question is clearly inside park boundaries.
Dole responds to allegations it is illegally growing bananas in national park

(10/02/2011) Dole Food Company has responded to allegations that it is clearing land in a national park in Sri Lanka known for its population of elephants as well as a number of threatened species. According to reports, the US-based food giant has partnered with a local company, Letsgrow Ltd, to grow bananas for export markets in Somawathiya National Park.
Cute animal picture of the day: ginger-haired baby monkey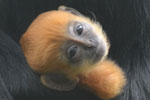 (09/29/2011) One of the world's most endangered primates recently gave birth to an orange-haired baby at the Zoological Society of London (ZSL) Zoo in London. It's the mother Francois langur (Trachypithecus francoisi)'s first birth. The fire-orange hair of the baby is typical of this species and will only last around six months.
Group pushes entrepreneurship model for conservation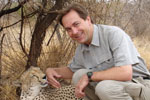 (09/28/2011) The Wildlife Conservation Network (WCN) is dedicated to protecting endangered species and preserving their natural habitats. This group supports innovative strategies for people and wildlife to co-exist and thrive. This year the group celebrates it's ten year anniversary. The WCN Expo is October 1st and 2nd, 2011. The following is an interview with Charles Knowles, the WCN's Executive Director and co-founder.
Scientists find frog genes that provide immunity to extinction plague

(09/27/2011) Scientists with Cornell have discovered genetics that may provide immunity to frogs in face of the killer amphibian-disease chytridiomycosis. This plague, which is spreading to amphibian populations worldwide, is responsible for a number of frog species' recent extinction. But now researchers report in a new study in the Proceedings of the National Academy of Sciences (PNAS) that they are one step closer to understanding why some frog populations are able to fend off the disease, while others succumb with lightning-speed. In time, the results may lead to breeding strategies in captivity that could produce immune populations.
Kenya should embrace living with nature as the model for a healthier, wealthier nation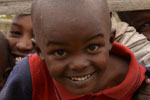 (09/27/2011) Hundreds of thousands of Kenyans are supporting government efforts to enact progressive new policies through its Vision 2030 initiative as it promises to lift us out of a depressed economy and to take us onto a path to becoming a prosperous developed nation. For this to occur, development must be sustainable —but for now what the people want and need most is for the basic necessities for life to be assured like adequate water, sanitation, energy, health, education, homes, and jobs. It is unfortunate that some of our leaders are mistaken in believing that this means Kenya should look like USA or Europe with concrete cities and mega highways, speed trains, and artificial gardens—it will all be at the cost of our spectacular natural environment and wildlife heritage. Kenya hardly has any natural resources, what we have is wilderness and wildlife. For Kenya to stand apart, she must aspire to safeguard the environment and protect forests and wildlife as a central means of to attaining this sustainable development goal.
Primary forest best for birds in Papua New Guinea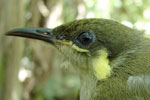 (09/26/2011) A new survey recorded 125 birds in Papua New Guinea's Waria Valley, of which an astounding 43 percent were endemic to the island. The survey, published in mongabay.com's open-access journal Tropical Conservation Science, was the first of its kind for the rainforest-studded valley and found that bird populations were most diverse and abundant in primary forests. The bird surveys were carried out in four different habitats including primary forest, primary forest edges, secondary forest edges, and agricultural landscape.
REDD+ would leave some species unprotected

(09/26/2011) REDD+ programs could leave some species high and dry even if its preserves the forests they call home, argues a new opinion piece in mongabay.com's open access journal Tropical Conservation Science. While the program would likely help habitat-dependent species, other important species could still vanish without additional measures to stem threats such as overexploitation and disease. While REDD+, or Reduced Emissions from Deforestation and Degradation, has set preserving forests for their carbon value as its primary goal, the young program has been increasingly connected to efforts to conserve the world's biodiversity. However, the new paper, argues that conservationists must not become complacent.
Could blockbuster animated movies help save life on Earth?
(09/26/2011) Some scientists may scoff at the idea that animated anthropomorphized animals—from Bambi to Simba to Nemo—could have an important impact on conservation efforts to save real-world species, but a new opinion piece in mongabay.com's open-access journal Tropical Conservation Science argues that conservationists would do well to join forces with the makers of animated blockbusters to help save the world's dwindling biodiversity. The paper points out that a number of recent films focused on imperiled places, such as coral reefs (Finding Nemo) and the Atlantic Forest (Rio), as well as conservation problems like overfishing (Happy Feet) and climate change (Ice Age: the Meltdown).
How to monitor biodiversity for REDD projects

(09/26/2011) Although the international program Reduced Emissions from Deforestation and Degradation (REDD) was developed in order to lower greenhouse gas emissions by protecting standing forests, conservationists have long pointed out that another result from a well-crafted REDD program could be to conserve biodiversity. But one of the difficulties of including biodiversity is how to measure the success or failure of conservation in a REDD site. A new opinion piece in mongabay.com's open-access journal Tropical Conservation Science analyzes two effective ways to monitor biodiversity in REDD sites focusing on bats and big mammals.
Featured video: Sumatran species spring to life on video camera traps

(09/21/2011) New video camera trap footage has revealed the stunning and often hidden biodiversity of Sumatra's Leuser Ecosystem, the only place in the world inhabited by elephants, orangutan, tigers, and rhinos. The video camera trap project, dubbed Eyes on Leuser, has captured 26 species to date usinf 10 video camers, including astounding footage of a sniffing Sumatran tiger, a great argus pheasant displaying for the camera, a springing sambar, and an emerald dove chasing away a mouse deer.
Scientists confirm ancient Egyptian knowledge: Nile crocodile is two species

(09/20/2011) DNA has shown that the Nile crocodile is in fact two very different species: a bigger, more aggressive crocodile and a smaller, tamer species that today survives only in West Africa. While the taxonomy of the Nile crocodile has been controversial for over a century, the new study points out that the ancient Egyptians recognized the differences in the species and avoided the big crocodile for its rituals.
Old-growth forests are irreplaceable for sustaining biodiversity
(09/14/2011) Old growth rainforests should be a top conservation priority when it comes to protecting wildlife, reports a new comprehensive assessment published in the journal Nature. The research examined 138 scientific studies across 28 tropical countries. It found consistently that biodiversity level were substantially lower in disturbed forests.
Sea turtle deaths in U.S. waters reduced 90%, but shrimp trawling accounts for 98% of kill

(09/14/2011) The number of sea turtles accidentally caught and killed in United States coastal waters has declined by an estimated 90 percent since 1990, reports a new study published in the journal Biological Conservation. The authors, including researchers at Duke University and Duke University, say regulations to reduce bycatch are responsible for the decline.
Logged rainforests are a cheap conservation option
(09/14/2011) With old-growth forests fast diminishing and land prices surging across Southeast Asia due to rising returns from timber and agricultural commodities, opportunities to save some of the region's rarest species seem to be dwindling. But a new paper, published in the journal Conservation Letters, highlights an often overlooked opportunity for conservation: selectively logged forests.
Featured video: the Caribbean's last mammals

(09/11/2011) Although they are little-known, the hutia and solenodon are some of the last surviving mammals of the Caribbean. A hefty rodent, the hutia spends its time grazing in trees like a giant arboreal hamster. While, the solenodon may be one of the world's oddest creatures: a 'living fossil', the solenodon's evolutionary origins goes back all the way to the time of dinosaurs.
Loving the tapir: pioneering conservation for South America's biggest animal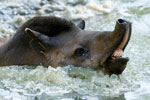 (09/11/2011) Compared to some of South America's megafauna stand-out species—the jaguar, the anaconda, and the harpy eagle come to mind—the tapir doesn't get a lot of love. This is a shame. For one thing, they're the largest terrestrial animal on the South American continent: pound-for-pound they beat both the jaguar and the llama. For another they play a very significant role in their ecosystem: they disperse seeds, modify habitats, and are periodic prey to big predators. For another, modern tapirs are some of the last survivors of a megafauna family that roamed much of the northern hemisphere, including North America, and only declined during the Pleistocene extinction. Finally, for anyone fortunate enough to have witnessed the often-shy tapir in the wild, one knows there is something mystical and ancient about these admittedly strange-looking beasts.
Sowing the seeds to save the Patagonian Sea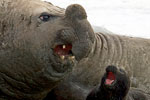 (09/07/2011) With wild waters and shores, the Patagonia Sea is home to a great menagerie of marine animals: from penguins to elephants seals, albatrosses to squid, and sea lions to southern right whales. The sea lies at crossroads between more northern latitudes and the cold bitter water of the Southern Ocean, which surround Antarctica. However the region is also a heavy fishing ground, putting pressure on a number of species and imperiling the very ecosystem that supplies the industry. Conservation efforts, spearheaded by marine conservationist Claudio Campagna and colleagues with the Wildlife Conservation Society (WCS), are in the early stages. Campagna, who often writes about the importance of language in the fight for preservation, has pushed to rename the area to focus on its stunning wildlife.
Mass walrus haul-outs, polar bear cub mortality linked to climate change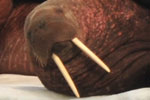 (09/01/2011) Recent, unprecedented walrus haul-outs and increased instances of long-distance swims by polar bears show the direct impacts on wildlife of dwindling Arctic sea ice from climate change. These threatened species also face the prospect of offshore drilling in the Arctic after the Obama Administration recently approved a number of plans to move forward on oil exploration. At least 8,000 walruses hauled out on an Alaskan beach along the Chukchi Sea on August 17. Only a day before, the U.S. Geological Survey announced it would begin tagging walruses near Point Lay, Alaska to study how a lack of sea ice is affecting the species.
Controversial study finds intensive farming partnered with strict protected areas is best for biodiversity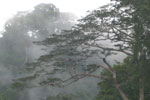 (09/01/2011) Given that we have very likely entered an age of mass extinction—and human population continues to rise (not unrelated)—researchers are scrambling to determine the best methods to save the world's suffering species. In the midst of this debate, a new study in Science, which is bound to have detractors, has found that setting aside land for strict protection coupled with intensive farming is the best way to both preserve species and feed a growing human world. However, other researchers say the study is missing the point, both on global hunger and biodiversity.
The heroic wolf: are wolves the key to saving the Canada lynx?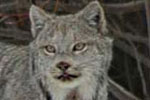 (08/31/2011) In 2000 the Canada lynx (Lynx canadensis) was listed as threatened under the US Endangered Species Act (ESA). While remaining stable in Canada and Alaska, the Canada lynx population had essentially collapsed in much of the continental US, excluding Alaska. Aside from habitat loss, one of the main factors imperiling the medium-sized wild cat was a decline in prey, specifically snowshoe hares (Lepus americanus). Researchers have now come up with an innovative way to aid hungry lynx in the US: wolves.
Busted: 1,835 elephant tusks confiscated in two seizures connected by Malaysia

(08/31/2011) Two massive seizures in the last week—one in Zanzibar and the other in Hong Kong—have confiscated nearly two thousand ivory tusks as elephant poaching continues to rise. Both seizures have connections to Malaysia, highlighting the growing role of a new intermediate player in the illegal ivory trade.
One of world's rarest cats caught on video for the first time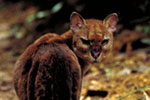 (08/30/2011) Africa is known as a continent of felines: leopards, cheetahs, servals, caracals, and of course the one who wears the crown, the lion. But, few people travel to Africa to see, or have probably ever heard of, the African golden cat. Native to the rainforests of central Africa (from Kenya to Cameroon) with a separate population in West Africa, the African golden cat (Caracal aurata) is considered the continent's least-studied feline. However, a team of researchers is hoping to change this: using camera traps scientists have taken the first ever public video of the African golden cat.
New seabird discovered from Hawaii, but no one knows where it lives

(08/30/2011) Researchers have uncovered a new seabird native to Hawaii stuffed in a museum. Originally identified as a smaller variation of a little shearwater (Puffinus assimilis), DNA tests showed that the bird, which was collected over four decades ago, was in fact a unique species. Named Bryan's shearwater (Puffinus bryani), the fate of this bird in the wild remains unknown.
BBC plans to cancel fruitful Wildlife Conservation Fund

(08/29/2011) The announcement that the BBC plans to axe its 4-year-old Wildlife Conservation Fund, which has raised nearly $5 million (£3 million) for endangered species worldwide, has spurred an online campaign to save the program. The fund, which raises money largely from BBC viewers—especially those watching its renowned wildlife documentaries—has financed 87 programs around the world to date.
Meet the just discovered 'Komodo dragon' of wasps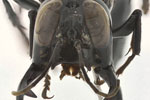 (08/28/2011) A new species of warrior wasp has been discovered on the Indonesian island of Sulawesi that is so large and, frankly, terrifying-looking that it has been dubbed the 'Komodo dragon' of the wasp family. Bizarrely, the male of the species has jaws that outstretch its limbs. "I don't know how it can walk," said the wasp's discoverer, entomologist Lynn Kimsey of the University of California, Davis and director of the Bohart Museum of Entomology, in a press release. "Its jaws are so large that they wrap up either side of the head when closed."
Leopards losing out to bushmeat hunters in competition for prey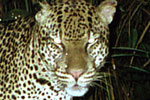 (08/25/2011) According to a surprising new study in the Journal of Zoology, bushmeat hunting is imperiling jungle-dwelling leopards (Panthera pardus) in Africa, even though hunters aren't targeting the elusive big cats themselves. Instead, by hunting many of the leopard's preferred prey—such as red river hogs and forest antelopes—bushmeat hunters are out-competing leopards.
Photo: new titi monkey discovered in Amazon area under siege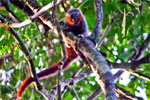 (08/25/2011) A new species of titi monkey has been discovered in the Brazilian Amazon. Found during a 2010 December expedition, this is the second new titi monkey discovered in the Amazon in three years. In 2008 another new titi, dubbed the Caquetá titi, was discovered in the Colombian Amazon, although it was only announced last year. An expedition backed by WWF-Brazil found the new titi between the Guariba River and the Roosevelt River in northwestern part of Mato Grosso, a state of Brazil known as a center of Amazon destruction.
National parks do not contribute to poverty, finds decade-long study

(08/24/2011) A new study of Uganda's Kibale National Park refutes the conventional wisdom that parks cause poverty along their borders. 'Apparently the park provides a source of insurance; [locals] can hunt, or sell firewood or thatch from the park' explains Jennifer Alix-Garcia, co-author of the study, with the University of Wisconsin, Madison. 'It's misleading. If you look, you see more poor people living near the park. But when you look at the change in assets, you see that the poor people who live next to the park have lost less than poor people who live further away.'
Humanity knows less than 15 percent of the world's species
(08/23/2011) Scientists have named, cataloged, and described less than 2 million species in the past two and a half centuries, yet, according to an new innovative analysis, we are no-where near even a basic understanding of the diversity of life on this small blue planet. The study in PLoS Biology, which is likely to be controversial, predicts that there are 8.7 million species in the world, though the number could be as low as 7.4 or as high as 10 million. The research implies that about 86 percent of the world's species have still yet to be described.
Innovative program saves wildlife, protects forests, and fights poverty in Africa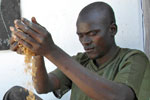 (08/23/2011) Luangwa Valley in Zambia is home to stunning scenes of Africa wildlife: elephants, antelopes, zebra, buffalo, leopards, hyena, and lions all thrive in Luangwa's protected areas, while the Luangwa River is known for multitude of snapping crocodiles and its superabundant herds of hippos. In fact, the area's hippos were filmed for the BBC's program Life, including a dramatic battle between two males (see below). Yet as in many such places in Africa, abundant plains and forest wildlife bump up against the needs of impoverished local people. The resulting conflict usually ends in large-scale wildlife declines; the same trend was documented in the Luangwa Valley until a unique initiative began to make a difference not only in the life of animals, but of people as well.




Page 1 | Page 2 | Page 3 | Page 4 | Page 5 | Page 6 | Page 7 | Page 8 | Page 9 | Page 10 | Page 11 | Page 12 | Page 13 | Page 14 | Page 15 | Page 16 | Page 17 | Page 18 | Page 19 | Page 20 | Page 21 | Page 22 | Page 23 | Page 24 | Page 25 | Page 26 | Page 27 | Page 28 | Page 29 | Page 30 | Page 31 | Page 32 | Page 33 | Page 34 | Page 35 | Page 36 | Page 37 | Page 38 | Page 39 | Page 40 | Page 41 | Page 42 | Page 43 | Page 44 | Page 45 | Page 46 | Page 47 | Page 48 | Page 49 | Page 50 | Page 51 | Page 52 | Page 53 | Page 54 | Page 55 | Page 56 | Page 57 | Page 58