News articles on animals

---
Mongabay.com news articles on animals in blog format. Updated regularly.






'Lost world' dominated by Yeti crabs discovered in the Antarctic deep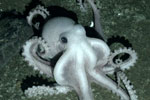 (01/03/2012) Scientists have discovered a deep sea ecosystem dominated by hairy pale crabs off of Antarctica. The new species of "Yeti crabs" survive alongside many other likely new species, including a seven-armed meat-eating starfish, off of hydrothermal vents, which spew heat and chemicals into the lightless, frigid waters. According to the paper published in PLoS ONE, this is the first discovery of a hydrothermal vent ecosystem in the Southern Ocean though many others have been recorded in warmer waters worldwide.
Frog plague found in India

(01/03/2012) The chytrid fungus, which is responsible for the collapse of numerous amphibian populations as well as the extinction of entire species, has been located for the first time in India, according to a paper in Herpetological Review. Researchers took swabs of frog in the genus Indirana in the Western Ghats and found the killer fungus known as chytridiomycosis.
The biggest new species discoveries in 2011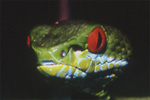 (12/26/2011) Every year scientists describe thousands of species for the first time. 2011 was no different, so here's a look at some of the significant new species discoveries for the year. New species discoveries are bound to continue as genetic analysis becomes more widespread and scientists conduct surveys of ever more habitats. But species loss also continues, and that is something considerably more difficult to quantify. Cataloging the disappearance of a species is extremely costly -- final proof can take years. Nonetheless in 2011 the book was closed on two particularly conspicuous creatures: neither the Vietnamese rhino nor the western black rhino roam the wilds any more.
Top 10 Environmental Stories of 2011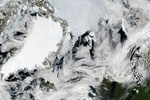 (12/22/2011) Many of 2011's most dramatic stories on environmental issues came from people taking to the streets. With governments and corporations slow to tackle massive environmental problems, people have begun to assert themselves. Victories were seen on four continents: in Bolivia a draconian response to protestors embarrassed the government, causing them to drop plans to build a road through Tipnis, an indigenous Amazonian reserve; in Myanmar, a nation not known for bowing to public demands, large protests pushed the government to cancel a massive Chinese hydroelectric project; in Borneo a three-year struggle to stop the construction of a coal plant on the coast of the Coral Triangle ended in victory for activists; in Britain plans to privatize forests created such a public outcry that the government not only pulled back but also apologized; and in the U.S. civil disobedience and massive marches pressured the Obama Administration to delay a decision on the controversial Keystone XL pipeline, which would bring tar sands from Canada to a global market.
Camera trap videos capture stunning wildlife in Thailand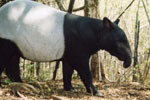 (12/20/2011) A year's worth of camera trap videos (see photos and video below) are proving that scaled-up anti-poaching efforts in Thailand's Western Forest Complex are working. Capturing rare glimpses of endangered, elusive animals—from clouded leopards (Neofelis nebulosa) to banteng (Bos javanicus), a rarely seen wild cattle—the videos highlight the conservation importance of the Western Forest Complex, which includes 17 protected areas in Thailand and Myanmar.
Photo essay: Lion-tailed macaques of India's Western Ghats rainforest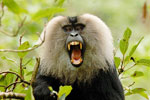 (12/19/2011) The rainforests of Western Ghats are home to some of the most wonderful creatures which are found only in these forests and no where else on the earth. The Lion-tailed Macaque Macaca silenus is the symbol of this endemic diversity of this biodiversity hotspot. Less than 2500 of these survive today making it one of the most endangered primates in the world. In 2008, a healthy population of 32 groups of these macaques were found in central Karnataka giving hope to the future of these Knights of the Western Ghats
Mysterious pygmy hippo filmed in Liberia

(12/19/2011) Conservationists have captured the first ever footage (see video below) of the elusive pygmy hippo (Choeropsis liberiensis) in Liberia. The forest-dwelling, nocturnal species—weighing only a quarter of the size of the well-known common hippo (Hippopotamus amphibius)—has proven incredibly difficult to study. But the use of camera traps in Liberia's Sapo National Park has allowed researchers a glimpse into its cryptic life.
Herpetology curator: behind-the-scenes of 'new species' discoveries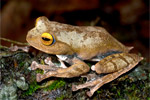 (12/18/2011) Bryan Stuart's mission as a curator of amphibians and reptiles at the North Carolina Museum of Natural Sciences is to understand the diversity of life on earth. For that, he documents what species occur where and why. He's particularly attracted to areas where there's a dearth of knowledge, like Laos, Cambodia, Vietnam and Gabon, and so far has discovered 27 species unknown previously to scientists: three species of snakes, two types of salamanders, and 22 kinds of frogs.
Cultural shifts in Madagascar drive lemur-killing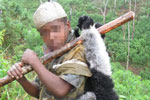 (12/15/2011) Conservationists have often found that some cultural norms, religious beliefs, and taboos play a role in holding back traditional peoples from overusing their environment. Examples of such beliefs include days wherein one cannot hunt or fish, or certain species or regions that are off limits to exploitation. But the influence of the modern world can rapidly extinguish such beliefs, sometimes for the better, in other cases not. In many parts of Madagascar, lemurs are off the menu. These primates, found only in Madagascar, play a big role in Malagasy 'fady' or taboo-related folk stories: lemurs are protectors and, in some cases, even relatives. However, according to a new paper in PLoS ONE an influx of migrants, widespread poverty, lack domestic meat, and poor law enforcement has caused a sudden rise in eating lemurs, many of which are already near-extinction due to habitat loss.
New large horned viper discovered, but biologists keep location quiet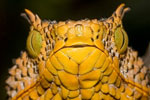 (12/15/2011) In a remote forest fragment in Tanzania, scientists have made a remarkable discovery: a uniquely-colored horned viper extending over two feet long (643 millimeters) that evolved from its closest relative over two million years ago. Unfortunately, however, the new species—named Matilda's horned viper (Atheris matildae)—survives in a small degraded habitat and is believed to be Critically Endangered. Given its scarcity, its discoverers are working to pre-empt an insidious threat to new species.
Photos: 208 species discovered in endangered Mekong region in 2010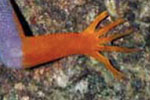 (12/14/2011) Last year researchers scoured forests, rivers, wetlands, and islands in the vanishing ecosystems of the Mekong Delta to uncover an astounding 208 new species over a twelve month period. A new report by the World Wide Fund for Nature (WWF) highlights a number of the new species—from a new snub-nosed monkey to five new meat-eating pitcher plants to a an all-female, cloning lizard—while warning that many of them may soon be gone as the Mekong Delta suffers widespread deforestation, over-hunting and poaching, massive development projects, the destruction of mangroves, pollution, climate change, and a growing population.
Giant snakes commonly attacked modern hunter-gatherers in Philippines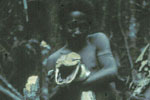 (12/13/2011) Humans have an ambivalent relationship with snakes. The legless reptiles are often feared and reviled, becoming stand-ins for the Devil and movie monster characters; yet many people have grown to love snakes, raising large, even dangerous, specimens as pets. Now, new research suggests that the ecological role between snakes and humans, as well as other primates, is more nuanced than expected. After spending decades living among the Agta Negritos people in the Philippines, anthropologist Thomas Headland has found that the hunter gatherer tribes were quite commonly attacked by reticulated pythons (Python reticulatus), while the people themselves had no qualms with hunting, killing, and consuming python.
Interview with conservation legend George Schaller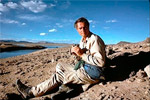 (12/13/2011) Dr George Schaller is a veteran ecologist affiliated with two conservation organizations in New York, Panthera and the Wildlife Conservation Society. Spending much of his time during the past six decades in various countries of Asia, Africa and South America, he has studied and helped protect species as diverse as the Tiger, Mountain Gorilla, Giant Panda and Tibetan Antelope. In addition, he has promoted the establishment of about 15 protected areas. His studies have been the basis for his scientific and popular writings.
New species of frog sings like a bird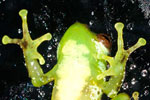 (12/12/2011) If you're trudging through the high-altitude rainforests of northern Vietnam and you hear bird song, you might want to check the trees for frogs. Yes, that's right: frogs. A new species of tree frog has been discovered in Vietnam that researchers say has a uniquely complex call that makes it sound more like a bird than a typical frog. Discovered in Pu Hoat Proposed Nature Reserve, the new species, dubbed Quang's tree frog (Gracixalus quangi), dwells in the forests at an altitude 600-1,300 meters (nearly 2,000-4,265 feet).
Locals key to saving primate-rich wetlands in Cote D'Ivoire

(12/12/2011) Saved from being converted into a vast palm oil plantation by PALM-CI in 2009, the Ehy Tanoé wetlands and forest in the Cote D'Ivoire (Ivory Coast) is home to three gravely endangered primates and as well as many other species. Since 2006, a pilot community management program has been working to protect the 12,000 hectare area, and a new study in mongabay.com's open access journal Tropical Conservation Science finds that long-term conservation of the Ehy Tanoé wetlands and forest is, in fact, vital for locals who depend on the area for hunting, fishing, firewood, building materials, and medicinal plants. In addition, the study finds that the ecosystem has special cultural and spiritual importance to locals.
Bushmeat trade driving illegal hunting in Zimbabwe park

(12/12/2011) Bushmeat hunting is one of the major threats to mammals in sub-Saharan Africa. Although widely discussed and recognized as an issues in Central and West Africa, a new study in mongabay.com's open access journal Tropical Conservation Science describes a pattern of bushmeat hunting that is also occurring in southern Africa. Interviewing 114 locals living adjacent to Gonarezhou National Park in Zimbabwe, Edson Gandiwa with Wageningen University found that the primary drivers of illegal hunting in the park were bushmeat and personal consumption (68 percent).
Picture of the day: Blue-and-yellow poison frog

(12/08/2011) The blue-and-yellow poison dart frog (Dendrobates tinctorius) — often called the dyeing dart frog — is found in the rainforests and savannas of Suriname, Guyana, French Guiana, and northern Brazil. Across its range there are several color forms.
Palm oil, pulp companies commit to zero-tolerance policy for orangutan killing
(12/06/2011) Two Indonesian plantation companies have signed an agreement to train workers not to kill or injure orangutans and other protected species. The agreement was brokered by the Indonesian government between Orangutan Foundation International (OFI), a non-profit with operations in Central Kalimantan, Indonesian Borneo, and two major plantation firms: PT Smart, one of Indonesia's largest palm oil producers, and PT Lontar Papyrus, which supplies wood-pulp to Asia Pulp & Paper (APP). Both companies are holdings of the Sinar Mas Group. Under the terms of the deal, OFI will assist the companies 'in delivering a best management practices training program on orangutans and endangered species for its employees, affiliates and pulpwood suppliers.'
On the edge of extinction, giant ibis discovered in new region of Cambodia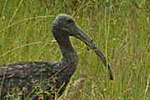 (12/06/2011) The world's largest ibis, and one of the world's most endangered birds, has received some good news. A giant ibis (Thaumatibis giganteawas) has been photographed in the Kampong Som Valley in Koh Kong Province in Cambodia, the first record from this province in nearly a hundred years. Adults can grow to reach nearly 3.5 feet (106 centimeters) long.
Featured video: saving baby orphaned sloths

(12/06/2011) The world's only sloth sanctuary works to save orphaned and injured sloths in Costa Rica. A recent short film (below) by Lucy Cooke highlights a few of the stars of the sloth sanctuary. Cooke has a new hour long film debuting on Animal Planet on December 17th at 8 PM EST, following the adventures of a number of these sloths.
Photos: biologists surprised by world's biggest leopard in Afghanistan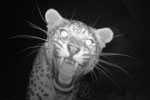 (12/05/2011) When biologists with the Wildlife Conservation Society (WCS) reviewed recent photos from camera traps in the Hindu Kush region of Afghanistan they were shocked to find a snarling image of the world's largest leopard: the Persian leopard (Panthera pardus saxicolor). Listed as Endangered by the IUCN Red List, the subspecies was thought long-vanished from the Hindu Kush. Photos from the camera traps—automated cameras that use an infrared trigger to catch wildlife—also showed lynx (Lynx lynx), wild cat (Felis silvestris), Eurasian wolf (Canis lupus lupus), red fox (Vulpes vulpes), and stone marten (Martes foina).
Wildlife official: palm oil plantations behind decline in proboscis monkeys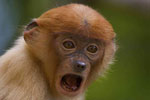 (12/05/2011) The practice of palm oil plantations planting along rivers is leading to a decline in proboscis monkeys (Nasalis larvatus) in the Malaysian state of Sabah on Borneo, says the director of the Sabah Wildlife Department, Laurentius Ambu. Proboscis monkeys, known for their bulbous noses and remarkable agility, depend on riverine forests and mangroves for survival, but habitat destruction has pushed the species to be classified as Endangered by the IUCN Red List.
Effort to save world's rarest frogs recognized with conservation award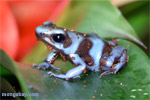 (12/05/2011) An effort to save the world's most endangered amphibians has won mongabay.com's 2011 conservation award. Amphibian Ark — a joint effort of the World Association of Zoos and Aquariums, the IUCN/SSC Conservation Breeding Specialist Group, and the IUCN/SSC Amphibian Specialist Group — is working to evaluate the status of threatened amphibians, raise awareness about the global amphibian extinction crisis, and set up captive breeding programs. The initiative is targeting 500 species that will not survive without captive breeding efforts.
Volcano and cloud forests conserved in Ecuador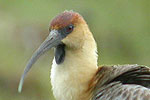 (12/05/2011) Conservation organizations and the Ecuadorian government have succeeded in securing over 250,000 acres (106,000 hectares) of cloud forest and grasslands surrounding the Antisana Volcano for protection. The area, long-used for cattle ranching, is home to Andean condors (Vultur gryphus), cougars (Puma concolor), Andean fox (Lycalopex culpaeus), silvery grebes (Podiceps occipitalis), black-faced ibis (Theristicus melanopis), spectacled bear (Tremarctos ornatus), and three species of endangered frogs. The protected area stretches from 3,900 feet (1,188 meters) to 18,700 feet (5,699 meters) above sea level.
World's most endangered primate still losing habitat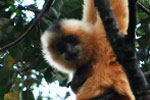 (12/04/2011) Just twenty-three Hainan gibbons (Nomascus hainanus) survive in the world. Confined to a single protected area on a lone island, Hainan gibbons are losing their habitat at a steady rate of 20 hectares per day finds a new study by Greenpeace. In all, nearly a quarter of the Critically Endangered lesser ape's habitat has been lost since 2001.
Smelly frogs may be key to fighting antibiotic-resistant infections

(12/01/2011) Foul smelling frogs may save lives, according to new research in the Journal of Proteome Research. Examining nine species of Chinese frogs, known as "odorous" frogs for their off-putting smell, researchers have discovered an astounding variety of antimicrobial peptides, or put simply bacteria-killers.
Rare apes saved in India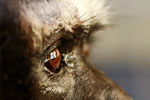 (11/30/2011) Two Hoolock gibbons have been successfully translocated from a fragmented forest to Mehao Wildlife Sanctuary in the beginning of a desperate bid to save 18 family groups of India's last apes. Living near the village of Dello in northeastern India, the apes were straining to survive amid heavy deforestation and fragmentation.
Cute animal picture of the day: the little-known cuscus

(11/29/2011) Cuscus are marsupials found in Indonesia, Australia, and Papua New Guinea. Dwelling in tropical rainforests, they inhabit a niche similar to monkey, foraging throughout the canopy for leaves and fruit. In some cases cuscus will eat birds and lizards.
$500 offered for rediscovery of extinct snake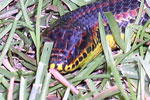 (11/29/2011) Need to make a quick 500 bucks? Easy: head to Glades County, Florida and find a specimen of the South Florida rainbow snake (Farancia erytrogramma seminola), which the US government says is extinct. In an unusual bid two NGOS, the Center for Biological Diversity (CBD) and the Center for Snake Conservation, are offering a substantial reward to the first person who can prove that the South Florida rainbow snake has not vanished forever.
Photos: bizarre new mammal discovered in Vietnam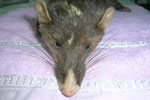 (11/28/2011) A new species of omnivorous mammal has been found in Cuc Phuong National Park, Vietnam. A part of the weasel family, the new species is known as a ferret-badger, a strange subfamily of mammals that have been little-studied by researchers. Smaller than proper badgers, ferret-badgers have elongated faces and long bushy tails.
Zoopharmacognosy: how self-healing animals could save humans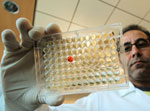 (11/27/2011) As humans we take many things for granted. When we come down with a sore throat, a fever, or the dreaded stomach flu, we drag our aching bodies into our cars and visit the doctor. Animals have no such luxury. Instead they have mastered evolution and have acquired an innate knowledge of the plants, soils, minerals, algae, and other remedies that nature offers to heal their aches and pains.
Photos: two dozen new beetles discovered in Papua New Guinea hotspot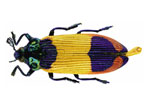 (11/23/2011) Over the past two decades, at least 24 new beetles species have been discovered in a remote mountainous rainforest region of Papua New Guinea by Swedish entomologists Ulf Nylander. Described in the new book Biodiversity, Biogeography and Nature Conservation in Wallacea and New Guinea, the new beetles found in the Aseki Province are all ecologically linked to rotting wood.
Ecotourism isn't bad for wildlife in the Amazon

(11/23/2011) Ecotourism doesn't hurt biodiversity, and in some cases may even safeguard vulnerable areas, concludes a new study from the Amazon in Mammalian Biology. Surveying large mammals in an ecotourism area in Manu National Biosphere, the researchers found that ecotourists had no effect on the animals. However, the researchers warn that not all ecotourism is the same, and some types may, in fact, hurt the very animals tourists come to see.
Bathtub-sized marine sponge rediscovered after a century of extinction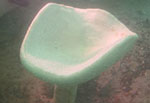 (11/22/2011) Not found alive for over a century the evocatively named Neptune's cup sponge (Cliona patera) has been rediscovered off the shores of Singapore. Researchers with the environmental consulting DHI Group found the species during a routine dive. Although the specimen they found was small, the goblet-shaped sponge can reach nearly 5 feet (1.5 meters) high and the same in diameter.
Extinct frog rediscovered in Israel

(11/21/2011) After its marshland was drained, researchers thought the Hula painted frog (Discoglossus nigriventer) had vanished for good. However a patrol at the Ha-Hula lake in Israel recently discovered a single female amphibian that turned out to be the long-lost, and long-sought, Hula painted frog.
Dole abandons banana plantation in National Park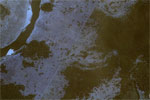 (11/21/2011) After a threat of lawsuit, Dole Inc. has abandoned a banana plantation in Somawathiya National Park in Sri Lanka. The US-based food giant had partnered with a local company, Letsgrow Ltd, to grow bananas for export markets at the bank of the Mahaweli River, but Dole ran into trouble when local conservation organizations pointed out they were illegally destroying forest and planting crops in Somawathiya National Park, home to elephants and many other imperiled species. Local group, Environmental Foundation Limited (EFL), obtained past and current satellite images to prove that the company was operation within the park.
Snake laundering rampant in the Indonesian reptile export market
(11/21/2011) Breeding farms in Indonesia are being used to launder illegally caught wildlife, finds a new study published in the journal Biological Conservation. The research is based on surveys of traders who supply the market for green pythons, a non-venomous snake popular in the pet trade for its many color forms. The authors tracked pythons from their point of capture in Indonesian New Guinea and Maluku to breeding farms in Jakarta where the snakes are exported for the pet trade as 'captive-bred'. They found that 80 percent of snakes exported annually from Indonesia are illegally wild-caught.
Picture: Baby penguins get cozy

(11/18/2011) A picture of a pair of chinstrap penguins (Pygoscelis antarcticus) at the Wildlife Conservation Society's Central Park Zoo.
Discovery Channel cuts climate change episode from Planet Earth follow-up

(11/17/2011) The new series Frozen Planet, by the creators of the super-popular and universally-acclaimed Planet Earth, details the wildlife and changing nature of the world's poles: the Antarctic and the Arctic. But while the four-year production filmed seven episodes, American audiences will only be treated to six. Discovery Channel has dropped the last episode that deals specifically with climate change.
Photos: five wild cat species documented in Sumatran forest imperiled by logging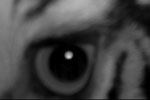 (11/16/2011) A single forest corridor in Sumatra has yielded camera trap photos of five wild cats species, including the Critically Endangered Sumatran tiger (Panthera tigris sumatrae). Photos were also taken of the Sunda clouded leopard (Neofelis diardi), the marbled cat (Pardofelis marmorata), the Asian golden cat (Pardofelis temminckii), and the leopard cat (Prionailurus bengalensis). The five species were all filmed by a WWF camera trap survey in a single forest corridor linking the forest of Bukit Tigapuluh and the Rimbang Baling Wildlife Sanctuary in Riau Province. Unfortunately this forest remains unprotected.
New app works to raise awareness of endangered species

(11/16/2011) Want to learn more about gorillas, whales, elephants, sharks, and penguins? A new mobile app hopes to raise awareness and conservation efforts for the world's endangered species. Dubbed 'Survival', the new app is a game that also raises knowledge about endangered species. Created by wildlife and media NGO, Wildscreen, the app is available free on the App store and Android Market.
Antarctic king crabs warming up to invade continental shelf, threatening unique marine community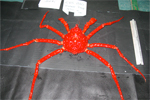 (11/15/2011) Dangerous and disruptive king crabs lurk in a deep pocket of the Antarctic continental shelf, clamoring to escape their cold-water prison to reach and permanently change the shallower, prehistoric paradise above. A team led by University of Hawaii oceanographer Craig Smith spotted the meter-long monsters in February 2010. It was the first time researchers have seen king crabs on the continental shelf.
Animal picture of the day: tracking the world's smallest elephant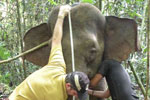 (11/15/2011) Researchers have fitted three Bornean elephants with satellite collars to track them across the Lower Kinabatangan Wildlife Sanctuary, in the Malaysian state of Sabah, Borneo. The effort means currently five elephants are being tracked. The tracking is a part of a collaborative effort by the Sabah Wildlife Department (SWD), the NGO HUTAN, and the Danau Girang Field Centre (DGFC).
10,000 dead songbirds headed to Italian restaurants confiscated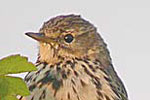 (11/15/2011) Bushmeat, referring to wild animals killed (often illegally) for consumption, is usually considered a conservation problem in developing nations in Africa, Southeast Asia, and South America. However, a recent bust on the Hungarian-Romanian border proves that Europe is not immune: Hungarian officials seized around 10,000 dead songbirds. The birds were likely heading to restaurants in northern Italy according to wildlife trade monitoring group, TRAFFIC.




Page 1 | Page 2 | Page 3 | Page 4 | Page 5 | Page 6 | Page 7 | Page 8 | Page 9 | Page 10 | Page 11 | Page 12 | Page 13 | Page 14 | Page 15 | Page 16 | Page 17 | Page 18 | Page 19 | Page 20 | Page 21 | Page 22 | Page 23 | Page 24 | Page 25 | Page 26 | Page 27 | Page 28 | Page 29 | Page 30 | Page 31 | Page 32 | Page 33 | Page 34 | Page 35 | Page 36 | Page 37 | Page 38 | Page 39 | Page 40 | Page 41 | Page 42 | Page 43 | Page 44 | Page 45 | Page 46 | Page 47 | Page 48 | Page 49 | Page 50 | Page 51 | Page 52 | Page 53 | Page 54 | Page 55 | Page 56 | Page 57 | Page 58 | Page 59