News articles on animals

---
Mongabay.com news articles on animals in blog format. Updated regularly.








B95, the great survivor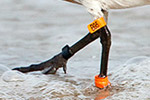 (06/11/2012) He is so long-lived that he has surpassed all expectations, touching hearts throughout the American continent, bringing together scientists and schools, inspiring a play and now even his own biography. B95 is the name of a rufus red knot (Calidris canutus rufus), a migratory bird that in his annual journeys of 16,000 kilometers (9,940 miles) each way from the Canadian Arctic to Tierra del Fuego, in Argentina, has flown a distance bigger than the one between the Earth and Moon.
Should we devote 2014 to wilderness?
(06/11/2012) American writer and philosopher, Henry David Thoreau once said, "In wilderness is the preservation of the world." Anyone who has spent time in vast untouched wild space likely understands Thoreau's comment. Yet wilderness everywhere—already vanishing—remains imperiled by a variety of threats. To draw attention to the importance of the keeping wilderness in the world, PAN Parks, an organization that works to protect wilderness in Europe, has proposed to make 2014 the International Year of Wilderness.
Conservationists successfully hatch world's fourth most endangered turtle

(06/11/2012) The world's fourth most endangered turtle has received a happy boost from breeding efforts, reports the AFP. Bangladeshi scientists have successfully hatched 25 northern river terrapins (Batagur baska) using an artificial beach constructed in the country's Bhawal National Park.
Forgotten Species: the wonder-inducing giant clam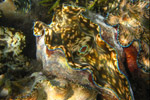 (06/11/2012) The first time I ever saw a giant clam was at a ride in Walt Disney World's Magic Kingdom. My family and I piled into the Nautilus submersible at the 20,000 Leagues Under the Sea: Submarine Voyage and descended into the playtime depths. While we saw sea turtles, sharks, lobsters, mermaids, and even a sea monster, the creature that lingered in my mind most was the giant clam, raising and closing its pearly shell in the weedy abyss. Of course, none of these aquatic wonders were real—they were animatronics—but to a child with a vivid imagination they stirred within me the deep mystery of the boundless ocean, and none more so than that monstrous clam with its gaping maw.
Elephant numbers halved in Central Africa in 5 years

(06/08/2012) Elephant numbers in areas surveyed by the Wildlife Conservation Society (WCS) in Central Africa halved between 2006 and 2011, hinting at the carnage wrought by the surging commercial ivory trade and demonstrating a need to boost protection efforts, said the Bronx Zoo-based conservation group.
Jaguars photographed in palm oil plantation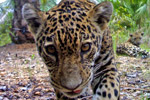 (06/06/2012) As the highly-lucrative palm oil plantation moves from Southeast Asia to Africa and Latin America, it brings with it concerns of deforestation and wildlife loss. But an ongoing study in Colombia is finding that small palm oil plantations may not significantly hurt at least one species: the jaguar. Researchers in Magdalena River Valley have taken the first ever photos of jaguars in a palm plantation, including a mother with two cubs, showing that the America's biggest cat may not avoid palm oil plantations like its Asian relative, the tiger.
Scientists to Rio+20: save biodiversity to save ourselves
(06/06/2012) World leaders need to do much more to protect the Earth's millions of species for the services they provide, according to a new scientific consensus statement in Nature based on over 1,000 research papers. Written by 17 top ecologists, the statement points out that despite growing knowledge of the importance of biodiversity for human well-being and survival, species continue to vanish at alarming rates. The statement comes just weeks before the UN'S Rio+20 Summit on Sustainable Development, which is supposed to chart a path for a less impoverished and more equitable world including an emphasis on greater environmental protections, but which has been marred by a lack of ambition.
New campaign targets snares in effort to save world's big cats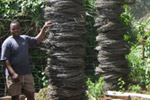 (06/05/2012) Last summer, a wild Sumatran tiger—one of only a few hundred surviving on the island—made news in a story that did not have a happy ending. The cat had become entangled in a snare in a logging concession owned by Asia Pulp and Paper (APP). The tiger spent seven days without food or water before wildlife rangers found it, but its snared right paw was a bloody black mess. Although the rangers were able to sedate and free the cat, it died shortly thereafter from its wounds.
Saving Indonesia's monkey with a heart-shaped bottom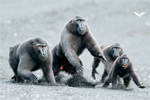 (06/05/2012) North Sulawesi is one of the world's most beautiful places. Verdant forests and stunning coral reefs, combined with high levels of species endemism, make it a top biodiversity hotspot. But pressure on the region's natural resources is mounting. Mining projects, conversion of forests for plantations, overfishing, and the expansion of a commercial bushmeat trade is endangering some of Sulawesi's most charismatic animals, including the distinctive Sulawesi crested black macaque. Found only in North Sulawesi, the crested black macaque could be one of Indonesia's most iconic conservation symbols, but relatively few people know of its existence. And the locals who do may be inclined to eat it as a delicacy.
The rarest rhino's last stand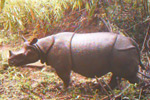 (06/04/2012) Trekking through deep mud and sawgrass we find a stinking wallow. The elite rangers, dressed completely in black despite the tropical heat, mark the site with the GPS unit, measure the mucky puddle's depth, and move on. This is the first sign of one of the planet's rarest animals—the Javan rhino. Only 35 or so remain, including none in captivity. This patch of rainforest and swamp in Ujung Kulon National Park—on the very tip of West Java—is their last and only refuge.
Animal picture of the day: tracking cheetahs in Namibia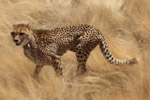 (06/04/2012) The N/a'an ku se Carnivore Conservation Research Project in Namibia has recently been tracking a male cheetah named Boris. After caught hunting in a game farm, Boris was captured, tagged with a radio collar for GPS tracking, and released back into the wild.
Regulations help fish, and fishermen, recover in the U.S.

(05/30/2012) Marine fish populations in the U.S. are generally recovering, according to a new report by the National Oceanic and Atmospheric Administration (NOAA). Last year six fish populations reached healthy levels in the U.S., boosting the total number of fish populations that have recovered to 27 since 2000. The success is due to the implementation of science-based annual catch limits which regulate how many fish are caught every year.
Less than 100 pygmy sloths survive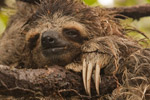 (05/24/2012) The pygmy three-toed sloth (Bradypus pygmaeus) is one of the world's most endangered mammals, according to a detailed survey of the population, which found less than 100 sloths hanging on in their island home. Only described by researchers in 2001, the pygmy sloth lives on a single uninhabited island off the coast of Panama. But human impacts, such as deforestation of the island's mangroves, may be pushing the species to extinction.
Blue tarantula, walking cactus, and a worm from Hell: the top 10 new species of 2011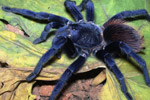 (05/23/2012) A sneezing monkey, a blue tarantula, and an extinct walking cactus are just three of the remarkable new species listed in the annual Top Ten New Species put together by the International Institute for Species Exploration at Arizona State University. This year's list includes a wide-variety of life forms from fungi to flower and invertebrate to primate.
Island bat goes extinct after Australian officials hesitate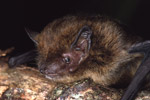 (05/23/2012) Nights on Christmas Island in the Indian Ocean will never again be the same. The last echolocation call of a tiny bat native to the island, the Christmas Island pipistrelle (Pipistrellus murrayi), was recorded on August 26th 2009, and since then there has been only silence. Perhaps even more alarming is that nothing was done to save the species. According to a new paper in Conservation Letters the bat was lost to extinction while Australian government officials equivocated and delayed action even though they were warned repeatedly that the situation was dire. The Christmas Island pipistrelle is the first mammal to be confirmed extinct in Australia in 50 years.
New frog species leaves scientists' fingers yellow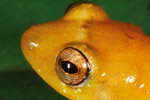 (05/22/2012) A beautiful, yellow frog species has been discovered in western Panama, according to a new paper in ZooKeys. Scientists were surprised when handling the new species to find their fingers stained bright yellow by its skin, but even after laboratory research the purpose of this dye remains a mystery. The new species, named Diasporus citrinobapheus, is a member of the large rain frog family, whose members skip the tadpole stage and instead are born directly from eggs as tiny froglets.
Charting a new environmental course in China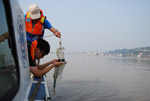 (05/21/2012) Founded in 1951, The Nature Conservancy (TNC) works in more than 30 countries and has projects in all 50 of the United States. The Conservancy has over one million members, and has protected more than 119 million acres of wild-lands and 5,000 miles of rivers worldwide. TNC has taken an active interest in China, the world's most populated nation, and in many important ways, a critical center of global development. The following is an interview with multiple directors of The Nature Conservancy's China Program.
Over half of world's tiger reserves lack minimum protection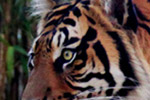 (05/21/2012) A year-and-a-half after a landmark summit that pledged to double the world's number of tigers by 2022, and still 65 percent of tiger reserves lack minimum standards of protection for the world's largest cat, according to the World Wide Fund for Nature (WWF). Reporting at the first meeting of all 13 tiger-range countries since the 2010 summit, WWF said that 41 tiger reserves of 63 did not have enough boots on the ground to combat tiger poaching.
Cute animal picture (and video) of the day: baby otters

(05/21/2012) The Wildlife Conservation Society's Prospect Park Zoo in New York City has recently seen the arrival of three baby North American river otters (Lontra canadensis), the first born in the city at a zoo or aquarium in over 50 years.
New armored lizard discovered in landmine-riddled region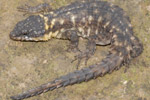 (05/21/2012) A new lizard has been discovered in a war-torn area of the Democratic Republic of the Congo (DRC). According to a paper in the African Journal of Herpetology<, the new species was found hiding under a rock in the high grasslands of the Marungu Plateau, an area known for landmines.
Picture: Shaq poses with tiny lemur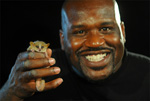 (05/18/2012) One of the world's most recognizable professional basketball players has used his stature to highlight one of the world's smallest primates: the mouse lemur from Madagascar. Shaquille O'Neal, a NBA legend who retired last year and earned a doctorate degree in education from Barry University earlier this year, posed with a mouse lemur at Zoo Miami in March. The diminutive primate, which measures only five inches and weighs two ounces, was dwarfed by the 7'1" 325-pound Shaq.
Tribe partners to protect Argentina's most endangered forest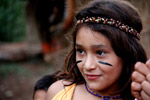 (05/17/2012) Last month, three Guarani communities, the local Argentine government of Misiones, and the UK-based NGO World Land Trust forged an agreement to create a nature reserve connecting three protected areas in the fractured, and almost extinct, Atlantic Forest. Dubbed the Emerald Green Corridor, the reserve protects 3,764 hectares (9,301 acres) in Argentina; although relatively small, the land connects three protected other protected areas creating a combined conservation area (41,000 hectares) around the size of Barbados in the greater Yaboti Biosphere Reserve. In Argentina only 1 percent of the historical Atlantic Forest survives.
Animal picture of the day: the boat-billed heron

(05/16/2012) Boat-billed herons (Cochlearius cochlearius) are found in Central and South America, as far north as Mexico and as far south as Argentina. A notably bizarre heron, the species is the only member of the genus Cochlearius. Like many heron species it feeds on a wide variety of freshwater and terrestrial animals.
New population of Myanmar snub-nosed monkey discovered in China

(05/16/2012) Scientists in China have located a second population of the Myanmar snub-nosed monkey (Rhinopithecus strykeri), a primate that was only first discovered two years ago in Myanmar, also known as Burma. Long Yongcheng, scientist with the Nature Conservancy in China, told the China Daily that his team have discovered 50-100 Myanmar snub-nosed monkeys in the Gaoligong Mountain Natural Reserve near the border with Myanmar in Yunnan Province.
Jaguar v. sea turtle: when land and marine conservation icons collide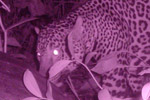 (05/16/2012) At first, an encounter between a jaguar (Panthera onca) and a green sea turtle (Chelonia mydas) seems improbable, even ridiculous, but the two species do come into fatal contact when a female turtle, every two to four years, crawls up a jungle beach to lay her eggs. A hungry jaguar will attack the nesting turtle, killing it with a bite to the neck, and dragging the massive animal—sometime all the way into the jungle—to eat the muscles around the neck and flippers. Despite the surprising nature of such encounters, this behavior, and its impact on populations, has been little studied. Now, a new study in Costa Rica's Tortuguero National Park has documented five years of jaguar attacks on marine turtles—and finds these encounters are not only more common than expected, but on the rise.
Wildlife in the tropics plummets by over 60 percent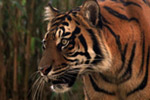 (05/15/2012) In 48 years wildlife populations in the tropics, the region that holds the bulk of the world's biodiversity, have fallen by an alarming 61 percent, according to the most recent update to the Living Planet Index. Produced by the World Wide Fund for Nature (WWF) and the Zoological Society of London (ZSL), the index currently tracks almost 10,000 populations of 2,688 vertebrate species (including mammals, birds, reptiles, amphibians, and fish) in both the tropics and temperate regions.
Educating the next generation of conservation leaders in Colombia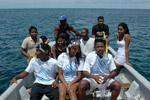 (05/14/2012) Colombia's northern departments of Cordoba and Bolivar are home to an abundance of coral reefs, estuaries, mangroves forests, and forests. Rich in both marine and terrestrial wildlife, local communities depend on the sea and land for survival, yet these ecosystems are imperiled by booming populations, overexploitation, and unsustainable management. Since 2007, an innovative education program in the region, the Guardians of Nature, has worked to teach local children about the ecology of the region, hoping to instill a conservation ethic that will aid both the present and the future.
Noel Rowe: all the world's primates "in one place"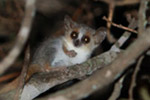 (05/14/2012) Spanning the gamut from mouse lemurs to mountain gorillas, All The World's Primates is a comprehensive database of primate species. Founded in 2004 by Noel Rowe and Marc Myers and designed primarily to aid scientists and college students in primatology research, ATWP is also readily accessible to anyone who would like to know a little more about primates. The database is continually updated when new species are discovered; from its inception in 2004 until 2010, 58 new species had been added to the site. In addition to discoveries made by primatologists in the field, All The World's Primates compiles information from the latest genetic studies. The site also includes photos and videos of many species, and was recently expanded to include a visual key for identification.
Can loggers be conservationists?
(05/10/2012) Last year researchers took the first ever publicly-released video of an African golden cat (Profelis aurata) in a Gabon rainforest. This beautiful, but elusive, feline was filmed sitting docilely for the camera and chasing a bat. The least-known of Africa's wild cat species, the African golden cat has been difficult to study because it makes its home deep in the Congo rainforest. However, researchers didn't capture the cat on video in an untrammeled, pristine forest, but in a well-managed logging concession by Precious Woods Inc., where scientist's cameras also photographed gorillas, elephants, leopards, and duikers.
App designed to fight wildlife crime in Cambodia

(05/08/2012) Conservation NGO Wildlife Alliance has launched a new iPhone app that not only teaches users about Cambodian wildlife but also gives them information on how to help the group fight pervasive wildlife crime in the country. The app includes photos and information regarding species imperiled by the wildlife trade as well as informational videos with Jeff Corwin from the Animal Planet.
First camera trap video of world's rarest gorilla includes shocking charge

(05/08/2012) Ever wonder what it would be like to be charged by a male gorilla? A new video (below) released by the Wildlife Conservation Society (WCS), gives one a first hand look. Shot in Cameroon's Kagwene Gorilla Sanctuary, the video is the first camera trap footage of the incredibly rare Cross River gorilla subspecies (Gorilla gorilla diehli); listed as Critically Endangered, the subspecies is believed to be down to only 250 individuals.
Organizations target rhino horn consumption in China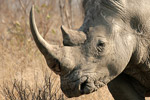 (05/07/2012) Last year nearly 450 rhinos were killed for their horns in South Africa, which has become the epicenter for the global rhino poaching epidemic. Rhinos are dying to feed rising demand for rhino horn in Asia, which is ground up and sold as traditional Chinese medicine, even though scientific studies have shown that rhino horn has no medicinal benefit. Now, two organizations, the African Wildlife Foundation (AWF) and Wildaid have announced a partnership to move beyond anti-poaching efforts and target rhino horn consumption in China.
Just how far can a polar bear swim?

(05/03/2012) Polar bears (Ursus maritimus) are capable of swimming incredible distances, according to a new study published in Zoology, which recorded polar bears regularly swimming over 30 miles (48 kilometers) and, in one case, as far as 220 miles (354 kilometers). The researchers believe the ability of polar bears to tackle such long-distance swims may help them survive as seasonal sea ice vanishes due to climate change.
Exploring Asia's lost world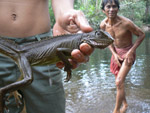 (05/03/2012) Abandoned by NGOs and the World Bank, carved out for rubber plantations and mining by the Cambodian government, spiraling into a chaos of poaching and illegal logging, and full of endangered species and never-explored places, Virachey National Park may be the world's greatest park that has been written off by the international community. But a new book by explorer and PhD student, Greg McCann, hopes to change that. Entitled Called Away by a Mountain Spirit: Journey to the Green Corridor, the book highlights expeditions by McCann into parts of Virachey that have rarely been seen by outsiders and have never been explored scientifically, including rare grasslands that once housed herds of Asian elephants, guar, and Sambar deer, before poachers drove them into hiding, and faraway mountains with rumors of tigers and mainland Javan rhinos.
Gas development pushing pronghorn out of vital wintering grounds

(05/02/2012) Development of natural gas fields in Greater Yellowstone Ecosystem is pushing pronghorn (Antilocapra americana) out of crucial wintering grounds, a situation that could result in a population decline according to a new study in Biological Conservation. By tracking 125 female pronghorn over five years in Wyoming, researchers found that highest quality habitat had fallen by over 80 percent in two vast gas fields on land owned by the government's Bureau of Land Management (BLM).
Animal picture of the day: the prehistoric peccary

(05/02/2012) The Chacoan peccary (Catagonus wagneri) was only known from fossils and thought extinct, perhaps a victim of the megafaunal extinction that ended the Pleistocene, until researchers in the 1970s stumbled on a living population in Argentina. While peccaries look like and are distantly related to the pig species that originated in the Old World, they belong to their own family, the Tayassuidae.
Over 30 Yangtze porpoises found dead in China as population nears extinction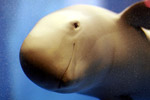 (05/01/2012) Six years after the Yangtze river dolphin (Lipotes vexillifer), or baiji, was declared "functionally extinct" by scientists, another marine mammal appears on the edge of extinction in China's hugely degraded Yangtze River. In less than two months, 32 Yangtze finless porpoises (Neophocaena asiaeorientalis asiaeorientalis), a subspecies of the finless porpoise, have been dead found in Dongting and Poyang Lakes in the Yangtze, reports the World Wide Fund for Nature (WWF).
Skink biodiversity jumps 650 percent in the Caribbean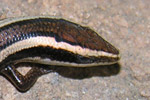 (04/30/2012) In a single paper in Zootaxa scientists have rewritten the current understanding of lizard biodiversity in the Caribbean. By going over museum specimens of skinks, scientists have discovered 24 new species and re-established nine species previously described species, long-thought invalid. The single paper has increased the number of skinks in the Caribbean by 650 percent, from six recognized species to 39. Unfortunately, half of these new species may already be extinct and all of them are likely imperiled.
Does the Tasmanian tiger exist? Is the saola extinct? Ask the leeches
(04/30/2012) The use of remote camera traps, which photograph animals as they pass, has revolutionized research on endangered and cryptic species. The tool has even allowed scientists to document animals new to science or feared extinct. But as important as camera traps have become, they are still prohibitively expensive for many conservationists and require many grueling hours in remote forests. A new paper in Current Biology, however, announces an incredibly innovative and cheaper way of recording rare mammals: seek out the leeches that feed on them. The research found that the presence of mammals, at least, can be determined by testing the victim's blood for DNA stored in the leech.
New reptile discovered in world's strangest archipelago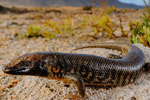 (04/25/2012) Few people have ever heard of the Socotra Archipelago even though, biologically-speaking, it is among the world's most wondrous set of islands. Over one third of Socotra's plants are found no-where else on Earth, i.e. endemic, while 90 percent of its reptiles are also endemic. Adding to its list of unique life-forms, researchers have recently uncovered a new skink species that is found only on the island of Abd al Kuri, which is slightly smaller than New York City's Staten Island. Dubbed the "the other Galapagos," the four Socotra islands are under the jurisdiction of Yemen, although geographically speaking the islands are actually closer to Somalia.
BP Deepwater Horizon deformities: eyeless shrimp, clawless crabs

(04/24/2012) Two years after the BP-leased Deepwater Horizon drilling rig exploded in the Gulf of Mexico, killing eleven and causing an oil spill that lasted three months, scientists say the impacts on the Gulf ecosystem are only beginning to come to light and the discoveries aren't pretty.
Doing good and staying sane amidst the global environmental crisis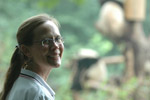 (04/23/2012) Several years ago while teaching a course in environmental science a student raised her hand during our discussion of the circumstances of modern ecological collapse and posed the question, "what happens when there is no more environment?" At the time I had no response and stumbled to formulate some sort of reply based on the typical aseptic, apathetic logic with which we are programmed through education in the scientific tradition: that there will always be some sort of environment, that life has prospered through the five previous mass extinctions and that something will survive. While this may be the case, the time has come for more of us to consider the broader spectrum of what global humanity is facing as the planet's ecology is decimated.
Eye-popping purple crabs discovered in the Philippines

(04/23/2012) Scientists have discovered four new species of brilliantly-colored freshwater crabs on the Philippine island of Palawan. Described in the Raffles Bulletin of Zoology, the new species expands the genus, Insulamon, from one known crab species to five. Although its ecosystems are threatened by widespread mining and deforestation, the Philippines is a mega-diverse country, meaning that it belongs to a select group of 17 countries that contain the bulk of the world's species.
For Earth Day, 17 celebrated scientists on how to make a better world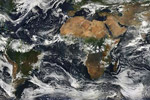 (04/22/2012) Seventeen top scientists and four acclaimed conservation organizations have called for radical action to create a better world for this and future generations. Compiled by 21 past winners of the prestigious Blue Planet Prize, a new paper recommends solutions for some of the world's most pressing problems including climate change, poverty, and mass extinction. The paper, entitled Environment and Development Challenges: The Imperative to Act, was recently presented at the UN Environment Program governing council meeting in Nairobi, Kenya.
Mad frog bonanza: up to 36 new frogs discovered in tiny Madagascar forest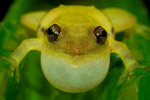 (04/19/2012) A forest less than half the size of Manhattan sports an astounding number of frogs, according to a new paper in Biodiversity Conservation. Two surveys of Madagascar's Betampona Nature Reserve, which covers 2,228 hectares, has uncovered 76 unique frogs, 36 of which may be new to science. To put this in perspective: the U.S. and Canada combined contain just 88 frog species, but cover an area nearly a million times larger than Betampona.




Page 1 | Page 2 | Page 3 | Page 4 | Page 5 | Page 6 | Page 7 | Page 8 | Page 9 | Page 10 | Page 11 | Page 12 | Page 13 | Page 14 | Page 15 | Page 16 | Page 17 | Page 18 | Page 19 | Page 20 | Page 21 | Page 22 | Page 23 | Page 24 | Page 25 | Page 26 | Page 27 | Page 28 | Page 29 | Page 30 | Page 31 | Page 32 | Page 33 | Page 34 | Page 35 | Page 36 | Page 37 | Page 38 | Page 39 | Page 40 | Page 41 | Page 42 | Page 43 | Page 44 | Page 45 | Page 46 | Page 47 | Page 48 | Page 49 | Page 50 | Page 51 | Page 52 | Page 53 | Page 54 | Page 55 | Page 56 | Page 57 | Page 58