News articles on animals

---
Mongabay.com news articles on animals in blog format. Updated regularly.






Prayers for dying elephants: Buddhists hold prayer ceremony for elephants decimated by poachers
(03/11/2013) Buddhist leaders prayed for slaughtered African elephants in Bangkok, Thailand last week, reports WWF. During a special merit-making ceremony, often reserved for the recently deceased, Buddhist monks, abbots, and leaders prayed for the tens-of-thousands of elephants that have been killed for their ivory tusks. Bangkok is currently hosting an international meeting of the Convention on International Trade in Endangered Species (CITES), where the elephant crisis is being discussed.
Crocodilian competition may hinder conservation efforts in Amazon
(03/11/2013) In the slow-moving freshwater of the Amazon River basin, a dark, scaly crocodilian known as the black caiman (Melanosuchus niger) is attempting a comeback from near extinction, but another crocodilian may threaten the recovery process, according to a new study in the journal Herpetologica.
Sharks and rays win protections at CITES
(03/11/2013) Today, for the first time, sharks and rays have won the vote for better protection under CITES (the Convention on International Trade in Endangered Species), the world's regulating body on trade in threatened species. Five shark species and manta rays, which includes two species, have received enough votes to be listed under Appendix II of CITES, which means tougher regulations, but not an outright ban. However, the votes could still be overturned before the end of the meeting.
Seeing the forest through the elephants: slaughtered elephants taking rainforest trees with them
(03/11/2013) Elephants are vanishing. The booming illegal ivory trade is decimating the world's largest land animal, but no place has been harder hit than the Congo basin and its forest elephants (Loxodonta cyclotis). The numbers are staggering: a single park in Gabon, Minkebe National Park, has seen 11,100 forest elephants killed in the last eight years; Okapi Faunal Reserve in the Democratic Republic of the Congo has lost 75 percent of its elephants in fifteen years; and a new study in PLoS ONE estimates that in total 60 percent of the world's forest elephants have been killed in the last decade alone. But what does that mean for the Congo forest?
New plantation concessions threaten Borneo pygmy elephants

(03/10/2013) Borneo pygmy elephants (Elephas maximus borneensis) are under threat in Indonesia's new North Kalimantan province, where their habitat is set to be converted for rubber, jabon and sengon plantations. Experts worry that if the planned conversion goes ahead, the entire elephant population in Indonesian Borneo could be lost.
What happened to the elephants of Bouba Ndjida? [warning: graphic photos]
(03/07/2013) A new report released by the Wildlife Conservation Society says that poachers have killed a staggering 62 percent of Africa's forest elephants in the last decade. The insatiable demand for elephant ivory hails mainly from China and Thailand, which is ironically hosting this year's CITES (CoP16) meeting. The meeting will continue until March 13 2013. The study is based on a survey of five elephant range states including Cameroon. Cameroon is the home of Bouba Ndjida National Park, where the dizzying massacre of 650 elephants occurred last year.
Starry frog rediscovered after thought extinct for 160 years (photos)
(03/07/2013) In 1853 Edward Frederick Kelaart, a physician and naturalist, collected a strange frog on the island of Sri Lanka then a British colony known as Ceylon. The specimen was a large shrub frog (about 2 inches or 5.5 centimeters long) with black-outlined white specks on lime-green skin. He dubbed it "starry" after its pale specks, but that was last anyone heard of it. Even the holotype—the body of the amphibian collected by Kelaart—went missing. Fast forward nearly 160 years—two world wars, Sri Lanka's independence, and a man on the moon—when a recent expedition into Sri Lanka's Peak Wilderness rediscovered a beguiling frog with pinkish specks.
The end of wild Africa?: lions may need fences to survive
(03/06/2013) In order for dwindling lion populations to survive in Africa, large-scale fencing projects may be required according to new research in Ecology Letters. Recent estimates have put lion populations down to 15,000-35,000, a massive drop from a population that was thought to be around 100,000 in 1960. The worsening plight of lions have pushed the researchers to suggest what is likely to be a controversial proposal: fence the top predators in.
Featured video: rare, strange mammal caught on camera in Sumatra

(03/05/2013) A video camera trap expedition into Sumatra's Leuser ecosystem has captured a rarely-seen, bizarre mammal on tape. The Sumatran serow (Capricornis sumatraensis) is a goat-antelope found both on Sumatra and mainland Southeast Asia. Rarely seen and little-studied, the animals inhabit highland areas.
Has shark fin consumption peaked at 100M dead sharks per year?
(03/05/2013) While a new study warns that up to 100M sharks are killed annually, there are signs out of China that demand for shark fin may be on the decline. A study published last week in the journal Marine Policy estimated shark deaths at 100 million in 2000 and 97 million in 2010, suggesting a slight drop in shark killing. Meanwhile reports out of China in recent months suggest an accelerating decline in shark fin consumption. China is the top market for shark fin, which is consumed as a status symbol, typically at wedding ceremonies and business dinners.
62% of all Africa's forest elephants killed in 10 years (warning: graphic images)
(03/04/2013) More than 60 percent of Africa's forest elephants have been killed in the past decade due to the ivory trade, reports a new study published in the online journal PLOS ONE. The study warns that the diminutive elephant species — genetically distinct from the better-known savanna elephant — is rapidly heading toward extinction.
Thailand's Prime Minister commits to ending ivory trade
(03/04/2013) Yesterday, Thailand's Prime Minister, Yingluck Shinawatra, committed to ending the ivory trade in her country. Her announcement came during the opening of the Convention on the International Trade in Endangered Species of Fauna and Flora (CITES) in Bangkok, which seeks to regulate trade in biodiversity across borders. Wildlife groups say that Thailand's legal trade in domestic ivory—international ivory is illegal of course—has created an easy opening for smugglers from abroad. Currently the ivory trade in Thailand is estimated to be second only to that of China.
Extinction warning: racing to save the little dodo from its cousin's fate
(03/04/2013) Sometime in the late 1600s the world's last dodo perished on the island of Mauritius. No one knows how it spent its final moments—rather in the grip of some invasive predator or simply fading away from loneliness—but with its passing came an icon of extinction, that final breath passed by the last of its kind. The dodo, a giant flightless pigeon, was a marvel of the animal world: now another island ground pigeon, known as the little dodo, is facing its namesake's fate. Found only in Samoa, composed of ten islands, the bird has many names: the tooth-billed pigeon, the Manumea (local name), and Didunculus ("little dodo") strigirostris, which lead one scientist to Christen it the Dodlet. But according to recent surveys without rapid action the Dodlet may soon be as extinct as the dodo.
Elephant and Rhino issues to be debated at CITES 16th Conference of Parties
(03/04/2013) When the Convention on International Trade in Endangered Species of Wild Fauna and Flora (CITES) meets from March 3-14 in Bangkok for its 16th Conference of Parties (CoP16), elephants and rhinos will be at the top of the agenda. While there are no proposals to open up trade in either elephant ivory or rhino horn, there are several other items on the agenda that will likely generate debate, including proposals for extension of the moratorium on ivory trade, a decision-making mechanism for ivory trade, and suspension of any rhino trophy hunting. Also to be discussed are enforcement mechanisms, including how to prevent illegal ivory from entering existing legal domestic markets.
Overview of the CITES 16th Conference of Parties in Bangkok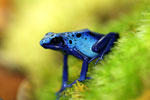 (03/01/2013) When countries meet in Bangkok, Thailand for the Convention on International Trade in Endangered Species of Wild Fauna and Flora (CITES) 16th Conference of Parties (CoP16), to be held from March 3-14, they'll consider 70 proposals submitted by 55 States regarding a range of species, from polar bears to turtles and tropical timbers. To help sort through the many agenda items, CITES Secretary-General John Scanlon provided the following overview of the most significant issues.
Two new species of mini-salamander discovered in Colombia

(02/28/2013) Biologists have discovered two new species of salamander in Tamá National Natural Park in Colombia. While the discovery should be cause for celebration, the news was dampened by the fact that both species are already infected with the deadly fungal disease, known as Batrachochytrium dendrobatidis (Bd), which has wiped out amphibian populations worldwide. Both of the new salamanders belong to the genus Bolitoglossa, which are web-footed salamanders found in the tropical Americas.
New video game turns kids into conservationists

(02/28/2013) Count coral in the Chagos Archipelago, save amphibians from the deadly chytrid fungus, replant trees in the Atlantic Forest, and count predators and prey in the African Savannah—a new free online game by Wildscreen, dubbed Team WILD, allows young players to learn about science and conservation while moving fast-paced through different ecosystems. Wildscreen is a conservation charity devoted to using imagery to raise awareness and protect wildlife.
Leatherback sea turtles suffer 78 percent decline at critical nesting sites in Pacific
(02/27/2013) The world's largest sea turtle, the leatherback (Dermochelys coriacea), is vanishing from its most important nesting sites in the western Pacific, according to a new study in Ecosphere. Scientists found that leatherback turtle nests have dropped by 78 percent in less than 30 years in the Bird's Head Peninsula on the island of New Guinea. Worryingly, these beaches account for three-fourths of the western Pacific's distinct leatherback population; globally the leatherback is listed as Critically Endangered by the IUCN Red List, the highest rating before extinction.
Chinese government creating secret demand for tiger trade alleges NGO (warning: graphic images)
(02/26/2013) The number of tigers being captive bred in China for consumption exceed those surviving in the wild—across 13 countries—by over a third, according to a new report by the Environmental Investigation Agency (EIA). The report, Hidden in Plain Sight, alleges that while the Chinese government has been taking a tough stance on tiger conservation abroad, at home it has been secretly creating demand for the internationally-banned trade. Few animals in the world have garnered as much conservation attention at the tiger (Panthera tigirs), including an international summit in 2010 that raised hundreds of millions of dollars for the vanishing wild cats.
Asiatic cheetahs: on the road to extinction?
(02/26/2013) Cheetahs (Acinonyx jubatus) are unique among large cats. They have a highly specialized body, a mild temperament, and are the fastest living animals on land. Acinonyx jubatus venaticus, the Asiatic subspecies, is unique among cheetahs and the only member of five currently living subspecies to occur outside of Africa. Listed as Critically Endangered on the IUCN Red List—with a population of between 70 and 100 individuals—the Asiatic cheetah is one of the rarest felines on the planet. But new proposed road through one of its last habitat strongholds may threaten the cat even further.
Warlords, sorcery, and wildlife: an environmental artist ventures into the Congo
(02/25/2013) Last year, Roger Peet, an American artist, traveled to the Democratic Republic of Congo (DRC) to visit one of the world's most remote and wild forests. Peet spent three months in a region that is largely unknown to the outside world, but where a group of conservationists, headed by Terese and John Hart, are working diligently to create a new national park, known as Lomami. Here, the printmaker met a local warlord, discovered a downed plane, and designed a tomb for a wildlife ranger killed by disease, in addition to seeing some of the region's astounding wildlife. Notably, the burgeoning Lomami National Park is home to the world's newest monkey species, only announced by scientists last September.
A lifetime with elephants: an interview with Iain Douglas-Hamilton
(02/22/2013) Iain Douglas-Hamilton has dedicated his life to elephants. 'I like elephants because of the way they treat each other,' he says. 'They're very nice to each other most of the time, but not all the time ... You see a lot of play...a lot of tender touching, caressing, tactile contact of one sort or another.' The affection goes both ways. Douglas-Hamilton recalls one curious female who would always approach his vehicle. 'Eventually I got so friendly with her that...I could walk with her and feed her the fruits of the wild gardenia tree. That was a very special elephant for me. She eventually brought her babies up to meet me.' Douglas-Hamilton's dedication extends to protecting the species from harm, and especially the ivory trade. He calls the current ivory trade "totally unsustainable" and recommends a total ban on the trade.
Scientists document baby giant armadillo for first time (photos)
(02/19/2013) Despite weighing as much as full-grown human, almost nothing is known about the giant armadillo (Priodontes maximus) including its breeding and reproductive behaviors. How does mating occur? How long does pregnancy last? How many babes are typically born? Scientists are simply in the dark, but a ground-breaking study employing camera traps is beginning to change this. For the first time, scientists in the Brazilian Pantanal have documented giant armadillo breeding and the happy outcome: a baby giant armadillo.
Jaguars, tapirs, oh my!: Amazon explorer films shocking wildlife bonanza in threatened forest
(02/19/2013) Watching a new video by Amazon explorer, Paul Rosolie, one feels transported into a hidden world of stalking jaguars, heavyweight tapirs, and daylight-wandering giant armadillos. This is the Amazon as one imagines it as a child: still full of wild things. In just four weeks at a single colpa (or clay lick where mammals and birds gather) on the lower Las Piedras River, Rosolie and his team captured 30 Amazonian species on video, including seven imperiled species. However, the very spot Rosolie and his team filmed is under threat: the lower Las Piedras River is being infiltrated by loggers, miners, and farmers following the construction of the Trans-Amazon highway.
Imagine a bird without feathers...

(02/18/2013) In The Unfeathered Bird, Katrina van Grouw exquisitely combines creative and intellectual curiosity and produces a wonderful book. The Unfeathered Bird simply is a delight. Each page I turned over was like reliving the awe and discovery of childhood. Broad strokes of creativity confined and structured within the natural anatomy of birds. Raw curiosity and intrigue drawn patiently one pencil stroke at a time illustrating our unfeathered friends.
Indigenous knowledge reveals widespread mammal decline in northern Australia
(02/14/2013) Over the course of four years, a team of elite Australian researchers journeyed through the remote landscapes of Northern Australia to tap a vanishing resource: the wealth of knowledge carried by the indigenous inhabitants. Their study, published this year in Biological Conservation concludes that there have been major declines in native Northern Australian mammals, and also suggests a relationship between the decline of Indigenous knowledge and the decline of biodiversity.
World's biggest camera trapping program hits 1 million photos of tropical animals (photos)
(02/14/2013) The world's largest study of wildlife using remote camera traps has captured one million photographs. The project, known as the Tropical Ecology Assessment and Monitoring (TEAM) Network, takes photos of mammals and birds in 16 protected areas across 14 tropical countries in Asia, Africa, as well as Central and South America. Remote camera traps, which take stealth photos of wildlife when no humans are around, have become an increasingly important tool in the conservationists' toolbox, allowing researchers to monitor otherwise hard-to-find animals in remote and often punishing locations.
Unique song reveals new owl species in Indonesia
(02/13/2013) Want to find a new species of owl? Just listen. A unique whistling call has led scientists to discover a new owl on the Indonesian island of Lombok, according to a new study in PLoS ONE. Two scientific expeditions, occurring separately but within a few days of each other, both noticed something different about the calls coming from owls on Lombok.
Genetics study claims to prove existence of Bigfoot
(02/13/2013) A new study purporting to uncover DNA evidence for Bigfoot has been published today in DeNovo Scientific Journal. While Bigfoot-enthusiasts have long argued that the cryptic monster is an unidentified ape species, the new study says their genetic evidence shows the Sasquatch is in fact a hybrid of modern human females mating with an unidentified primate species 13,000 years ago. The only problem: the journal in which the study is published—DeNovo Scientific Journal—appears to have been created recently with the sole purpose to publish this study.
Chasing down 'quest species': new book travels the world in search of rarity in nature
(02/13/2013) In his new book, The Kingdom of Rarities, Eric Dinerstein chases after rare animals around the world, from the maned wolf (Chrysocyon brachyurus) in Brazil to the golden langur (Trachypithecus geei) in Bhutan to Kirtland's warbler (Setophaga kirtlandii) in the forests of Michigan. Throughout his journeys, he tackles the concept of rarity in nature head-on. Contrary to popular belief, rarity is actually the norm in the wildlife world.
Tigers gobble up 49 percent of India's wildlife conservation funds, more imperiled species get nothing

(02/12/2013) Nearly half of India's wildlife budget goes to one species: the tiger, reports a recent article in Live Mint. India has devoted around $63 million to wildlife conservation for 2013-2013, of which Project Tiger receives $31 million. The Bengal tiger (Panthera tigris tigris) is currently listed as Endangered by the IUCN Red List; however India is also home to 132 species currently considered Critically Endangered, the highest rating before extinction.
Pity the pangolin: little-known mammal most common victim of the wildlife trade
(02/11/2013) Last year tens-of-thousands of elephants and hundreds of rhinos were butchered to feed the growing appetite of the illegal wildlife trade. This black market, largely centered in East Asia, also devoured tigers, sharks, leopards, turtles, snakes, and hundreds of other animals. Estimated at $19 billion annually, the booming trade has periodically captured global media attention, even receiving a high-profile speech by U.S. Secretary of State, Hillary Clinton, last year. But the biggest mammal victim of the wildlife trade is not elephants, rhinos, or tigers, but an animal that receives little notice and even less press: the pangolin. If that name doesn't ring a bell, you're not alone.
China's forest privatization move threatens pandas

(02/08/2013) China's decision to open up collective forest for sale by individuals to outside interests will put 345,700 hectares or 15 percent of the giant panda's remaining habitat at risk, warns a letter published in the journal Science.
Catching Borneo's mysterious wild cats on film
(02/07/2013) In my childhood's biology books from the 50's, the Australian marsupial tiger Thylacine is classified rare but alive. Today we know that the last thylacine died in a Tasmanian zoo 7th September, 1936, after a century of intensive hunting encouraged by bounties. The local government had finally introduced official protection 59 days before the last specimen died. Despite the optimism in my old books, no more thylacines were ever found. No film of it in the wild exists.
Animal picture of the day: the world's biggest cat

(02/07/2013) The Amur tiger (Panthera tigris altaica), also known as the Siberian tiger, is the world's biggest cat. An adult male weighs on average about 390 pounds (176 kilograms). The largest yet recorded weighed 460 pounds (207 kilograms), although there are reports of considerably larger animals in the past.
Over 11,000 elephants killed by poachers in a single park [warning: graphic photo]
(02/06/2013) Surveys in Gabon's Minkebe National Park have revealed rare and hard data on the scale of the illegal ivory trade over the last eight years: 11,100 forest elephants have been slaughtered for their tusks in this remote protected area since 2004. In all, poachers have cut down the park's elephant population by two-thirds, decimating what was once believed to be the largest forest elephant population in the world.
Over 1,500 wolves killed in the contiguous U.S. since hunting legalized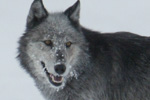 (02/06/2013) Hunters and trappers have killed approximately 1,530 wolves over the last 18 months in the contiguous U.S., which excludes Alaska. After being protected under the Endangered Species Act (ESA) for 38 years, gray wolves (Canis lupus) were stripped of their protected states in 2011 by a legislative rider (the only animal to ever be removed in this way). Hunting and trapping first began in Montana and Idaho and has since opened in Wyoming, Minnesota, and Wisconsin.
U.S. proposes to list wolverine under Endangered Species Act

(02/05/2013) Arguably one of the toughest animals on Earth, the wolverine (Gulo gulo) may soon find itself protected under the U.S.'s Endangered Species Act (ESA) as climate change melts away its preferred habitat. Last week, the U.S. Fish and Wildlife Service (FWS) announced it was proposing to place the world's largest terrestrial mustelid on the list. Only 250-300 wolverines are believed to survive in the contiguous U.S.
Sri Lanka to give poached ivory to Buddhist temple, flouting international agreements
(02/05/2013) The Sri Lankan government is planning to give 359 elephant tusks to a Buddhist temple, a move that critics say is flouting the Convention on International Trade in Endangered Species (CITES). The illegal tusks were seized in Sri Lanka last May en route to Dubai from Kenya; they are believed to stem from hundreds of butchered elephants, including juveniles, inside Africa, possibly Uganda. The decision comes after a high-profile National Geographic article, Ivory Worship, outlined how demand for ivory religious handicrafts, particularly by Catholics and Buddhists, is worsening the current poaching crisis. In 2011, it was estimated that 25,000 elephants were illegally slaughtered for their tusks.
Geneticists discover distinct lion group in squalid conditions
(02/04/2013) They languished behind bars in squalid conditions, their very survival in jeopardy. Outside, an international team of advocates strove to bring worldwide attention to their plight. With modern genetics, the experts sought to prove what they had long believed: that these individuals were special. Like other cases of individuals waiting for rescue from a life of deprivation behind bars, the fate of those held captive might be dramatically altered with the application of genetic science to answer questions of debated identity. Now recent DNA analysis has made it official: this group is special and because of their scientifically confirmed distinctiveness they will soon enjoy greater freedom.
Scientist: releasing invasive birds in Turkey to eat ticks will backfire
(02/04/2013) As Turkey raises and releases thousands of non-native helmeted guineafowl (Numida meleagris) to eat ticks that carry the deadly Crimean-Congo hemorrhagic fever virus, new research suggests guineafowl actually eat few ticks, carry the parasites on their feathers, and further spread the disease.
Vatican condemns elephant poaching, pledges steps

(02/04/2013) Responding to an investigative report by National Geographic, the Vatican has condemned elephant poaching for ivory and pledged three steps to help in the battle to save the world's elephants. The National Geographic article Ivory Worship, by Bryan Christy, looked at how religions—specifically religious items for Christians and Buddhists—were playing in the growing demand for black-market ivory, which is currently resulting in the violent deaths of tens-of-thousands of endangered elephants every year.
Gorilla paradise: new park safeguards 15,000 western lowland gorillas

(01/31/2013) In 2008 the Wildlife Conservation Society (WCS) announced a jaw-dropping discovery: remote swamp forests in northern Republic of Congo contained a stunning population of 125,000 western lowland gorillas that had somehow gone unnoticed by scientists. At the time the President of WCS, Steven E. Sanderson, called the area the "mother lode of gorillas," and expressed hope that the discovery would lead to a new park. Well, late last year, a park was finalized.
14 Bornean elephants found dead, likely poisoned
(01/31/2013) Wildlife officials in the Malaysian state of Sabah have found the bodies of 14 Bornean elephants in Gunung Rara Forest Reserve, and suspect that more may be found dead. While tests are pending, they believe the elephants were likely poisoned due to damage in the animals' digestive tracts. Only around 2,000 Bornean elephants (Elephas maximus borneensis) are left on the island of Borneo with the vast bulk found in Sabah.
Asian bear farming: breaking the cycle of exploitation (warning: graphic images)
(01/31/2013) In the forests of Asia, bears are being captured. These captives will be sent to bear farms, most unregulated and illegal, where they will be kept alive in a small cage, locked away for life. Their bodies will be used as renewable natural resources, from which profit will be made through the extraction of internal organs and fluids. By surgically inserting a permanent catheter into the bears' gall bladders, "farmers" extract several ounces of their bile. In a cycle of exploitation across east Asia, traditional medicine shops receive these daily shipments of bear bile products, while consumers support the industry through the purchase of these products, sustaining a supply-and-demand chain that puts more and more bears in cages as wild populations dwindle.
Claim of human and tiger 'coexistence' lacks perspective
(01/29/2013) Nepal's Chitwan National Park was the site of a study, published in September 2012 by Carter and others, which concluded that, tigers coexist with humans at fine spatial scales. This paper has ignited a scientific debate regarding its implications for large carnivore conservation worldwide, with scientists at institutions worldwide questioning the validity of claims of coexistence. At the foundation of this debate, perhaps, is the unresolved question, "what is coexistence?"




Page 1 | Page 2 | Page 3 | Page 4 | Page 5 | Page 6 | Page 7 | Page 8 | Page 9 | Page 10 | Page 11 | Page 12 | Page 13 | Page 14 | Page 15 | Page 16 | Page 17 | Page 18 | Page 19 | Page 20 | Page 21 | Page 22 | Page 23 | Page 24 | Page 25 | Page 26 | Page 27 | Page 28 | Page 29 | Page 30 | Page 31 | Page 32 | Page 33 | Page 34 | Page 35 | Page 36 | Page 37 | Page 38 | Page 39 | Page 40 | Page 41 | Page 42 | Page 43 | Page 44 | Page 45 | Page 46 | Page 47 | Page 48 | Page 49 | Page 50 | Page 51 | Page 52 | Page 53 | Page 54 | Page 55 | Page 56 | Page 57 | Page 58 | Page 59