News articles on animals

---
Mongabay.com news articles on animals in blog format. Updated regularly.






Monitor lizards vanishing to international trade in pets and skins
(06/04/2013) The world's monitor lizards remind us that the world was once ruled by reptiles: this genus (Varanus) includes the world's biggest lizards, such as the stunning Komodo dragon and many other island kings. A large number beautifully-colored and patterned, these lizards are known for their intelligence and their apex role in many island food chains. However, a new study finds that the world's monitors, especially those in Southeast Asia, are vanishing due to the international pet trade and for their skins, which are turned into handbags and straps for watches. Meanwhile the rapid destruction of their rainforest homes is exacerbating the situation.
Chewbacca bat, beetle with explosive farts among oddities spotted on Mozambique expedition
(06/04/2013) The 'Chewbaka' bat, a cave-dwelling frog, and a diminutive elephant shrew were among hundreds of species documented during a one-month survey of a park that was ravaged during Mozambique's 17-year civil war. The findings suggest that biodiversity in Gorongosa National Park in Central Mozambique is well on the road towards recovery, opening a new chapter for the 4,000-square-kilometer protected area.
Scientists describe over 100 new beetles from New Guinea
(06/03/2013) In a single paper, a team of researchers have succinctly described 101 new species of weevils from New Guinea, more than doubling the known species in the beetle genus, Trigonopterus. Since describing new species is hugely laborious and time-intensive, the researchers turned to a new method of species description known as 'turbo-taxonomy,' which employs a mix of DNA-sequencing and taxonomic expertise to describe species more rapidly.
The comeback kids: the role of zoos in saving species from oblivion (photos)
(06/03/2013) While many people may view zoos first and foremost as attractions, these institutions have a long history of supporting and instigating conservation work, including saving species from extinction that have vanished from their wild habitat. But such efforts require not just dedication and patience, but herculean organizational efforts. Enter, the World Association of Zoos and Aquariums (WAZA), which works with zoos and aquariums to set up conservation programs and track endangered species in captivity.
Saving Gorongosa: E.O. Wilson on protecting a biodiversity hotspot in Mozambique
(05/30/2013) If you fly over the Great African Rift Valley from its northernmost point in Ethiopia, over the great national parks of Kenya and Tanzania, and follow it south to the very end, you will arrive at Gorongosa National Park in central Mozambique. Plateaus on the eastern and western sides of the park flank the lush valley in the center. Dramatic limestone cliffs, unexplored caves, wetlands, vast grasslands, rivers, lakes, and a patchwork of savanna and forest contribute to the incredible diversity of this park. What makes this place truly unique, however, is Mount Gorongosa—a towering massif that overlooks the valley below.
Kenya getting tough on poachers, set to increase fines and jail time

(05/29/2013) The Kenyan parliament has approved emergency measures to tackle the on-going poaching crisis: last week Kenyan MPs approved legislation that should lead to higher penalties for paochers. The emergency measure passed just as Kenya Wildlife Service's (KWS) is pursuing a gang of poachers that slaughtered four rhinos over the weekend. Both rhinos and elephants have suffered heavily as poaching has escalated in Kenya and beyond.
Featured video: a glimpse into the life of Cambodia's Asian elephant

(05/29/2013) The Cambodian Government's Forestry Administration has recently teamed up with the Wildlife Conservation Society (WCS) in order to peer into the daily lives of the country's Asian Elephants (Elephas maximus). Through the use of camera traps, the organizations caught an intimate glimpse of the regular, day-to-day behavior of these animals.
Whales teach each other new feeding behavior
(05/29/2013) Humpback whales (Megaptera novaeangliae), popularly known for their majestic and alluring underwater mating songs and acrobatic breaches, have shown that they can adapt to changing prey variability by passing on new hunting techniques to each other. According to new findings in the journal Science, a team of researchers have revealed the cultural spread of new hunting techniques through a population of humpback whales over the span of 27 years.
Featured video: giant anteater wallowing and scratching like a dog

(05/28/2013) Scientists have recently taken rare and incredible footage of a giant anteater with a camera trap in the Barba Azul Nature Reserve of Bolivia. This footage captures a giant anteater wallowing in a pit of mud. The animal lies down, rolling around and scratching itself, for a period of, what seems to be, over a minute.
Snowy tigers and giant owls: conservation against the odds in Russia's Far East
(05/28/2013) The Russian Far East is one of the wildest places on Earth: where giant tigers roam snow-covered forests and the world's biggest owls stalk frozen rivers. Bordering northern China and North Korea, the forests of Primorye are known for the diversity of habitats, including coastal forests along the Sea of Japan, vast coniferous forests in the Sikhote-Alin mountains, and even steppe. These diverse ecosystems also makes the forests a hotspot for endangered species, including Amur tigers (Panthera tigris altaica), Blakiston's fish owls (Bubo blakistoni), and one of the world's rarest big cats, Amur leopards (Panthera pardus orientalis), which number only 30-50 animals.
Turning up the temperature might save frogs' lives
(05/28/2013) Over the past 30 years, amphibians worldwide have been infected with a lethal skin disease known as the amphibian chytrid fungus (Batrachochytrium dendrobatidis). "The disease can cause rapid mortality, with infected frogs of susceptible species dying within weeks of infection in the laboratory." Jodi Rowley, a herpetologist with the Australian Museum told mongabay.com. "This disease has now been associated with declines and extinctions in hundreds of species of amphibians worldwide, and is a serious threat to global amphibian biodiversity."
Rhinos moved from South Africa to Botswana for safekeeping

(05/23/2013) A private safari company has moved six white rhinos (Ceratotherium simum) from their home in South Africa to Botswana in a bid to save them from an out-of-control poaching crisis in their native land. Currently, around two rhinos are killed everyday in South Africa for their horns, which are then smuggled to East Asia.
Compromise on Serengeti road?: build an elevated highway

(05/22/2013) Famed anthropologist and conservationist Richard Leakey has proposed a possible solution to the hugely controversial Serengeti road: build an elevated highway. Leakey made the remarks during a conference at Rutgers University on May 14th, as reported by Live Science. The Tanzanian government's plans to build a road through the remote, northern Serengeti has come under both environmental and international criticism, as scientific studies and leaked government reports have found the proposed road would hugely hamper the world famous migration across the plans.
Prince Charles: take the war to the poachers

(05/22/2013) Prince Charles has warned that criminal gangs are turning to animal poaching, an unprecedented slaughter of species that can only be stopped by waging war on the perpetrators, in the latest of a series of increasingly outspoken speeches about the environment. Addressing a conference of conservationists at St James's Palace in London, the Prince of Wales announced a meeting of heads of state to take place this autumn in London under government auspices to combat what he described as an emerging, militarized crisis.
New global network bridges gap for primate conservation educators
(05/21/2013) Drawing from her personal experience as a primate educator and the challenges she saw others facing, Amy Clanin envisioned a network that would advance the field of primate conservation education by addressing three needs of educators: connections, resources, and services. It was this vision that led her to create the Primate Education Network (PEN). PEN is at the forefront of primate conservation education, providing a community and collaboration platform for primate educators.
Scientists capture one of the world's rarest big cats on film (photos)
(05/21/2013) Less than a hundred kilometers from the bustling metropolis of Jakarta, scientists have captured incredible photos of one of the world's most endangered big cats: the Javan leopard (Panthera pardus melas). Taken by a research project in Gunung Halimun-Salak National Park, the photos show the magnificent animal relaxing in dense primary rainforest. Scientists believe that fewer than 250 mature Javan leopard survive, and the population may be down to 100.
Could the Tasmanian tiger be hiding out in New Guinea?
(05/20/2013) Many people still believe the Tasmanian tiger (Thylacinus cynocephalus) survives in the wilds of Tasmania, even though the species was declared extinct over eighty years ago. Sightings and reports of the elusive carnivorous marsupial, which was the top predator on the island, pop-up almost as frequently as those of Bigfoot in North America, but to date no definitive evidence has emerged of its survival. Yet, a noted cryptozoologist (one who searches for hidden animals), Dr. Karl Shuker, wrote recently that tiger hunters should perhaps turn their attention to a different island: New Guinea.
New prehistoric animal named after Johnny Depp due to its 'scissorhands'
(05/19/2013) Half a billion years after an arthropod with long triple claws roamed the shallow Cambrian seas, scientists have named it after Hollywood movie actor, Johnny Depp: Kooteninchela deppi. Depp, known for his versatility as an actor, played Edward Scissorhands—an artificial man with long scissors for hands—in a popular 1990 film.
Crazy cat numbers: unusually high jaguar densities discovered in the Amazon rainforest
(05/16/2013) Jaguars (Panthera onca) are the biggest cat in the Americas and the only member of the Panthera genus in the New World; an animal most people recognize, the jaguar is also the third largest cat in the world with an intoxicatingly dangerous beauty. The feline ranges from the harsh deserts of southern Arizona to the lush rainforests of Central America, and from the Pantanal wetlands all the way down to northern Argentina. These mega-predators stalk prey quietly through the grasses of Venezuelan savannas, prowl the Atlantic forests of eastern Brazil, hunt along the river of the Amazon, and even venture into lower parts of the Andes.
Industrialized fishing has forced seabirds to change what they eat
(05/14/2013) The bleached bones of seabirds are telling us a new story about the far-reaching impacts of industrial fisheries on today's oceans. Looking at the isotopes of 250 bones from Hawaiian petrels (Pterodroma sandwichensis), scientists have been able to reconstruct the birds' diets over the last 3,000 years. They found an unmistakable shift from big prey to small prey around 100 years ago, just when large, modern fisheries started scooping up fish at never before seen rates. The dietary shift shows that modern fisheries upended predator and prey relationships even in the ocean ocean and have possibly played a role in the decline of some seabirds.
Five percent of ploughshare tortoise population perishes after botched smuggling attempt

(05/14/2013) In March, two people were caught attempting to smuggle 54 ploughshare tortoises (Astrochelys yniphora) into Thailand. Listed as Critically Endangered, the tortoises' wild population is down to approximately 400-500 animals in its native Madagascar, meaning the smugglers were attempting to move over 10 percent of the total population. Now, the Scientific American blog Extinction Countdown reports that nearly half of the smuggled tortoises have died of unknown causes.
Climate change to halve habitat for over 10,000 common species

(05/13/2013) Even as concentrations of carbon dioxide in the atmosphere hit 400 parts per million (ppm) for the first time in human history last week, a new study in Nature Climate Change warns that thousands of the world's common species will suffer grave habitat loss under climate change.
Why responsible tourism is the key to saving the mountain gorilla
(05/13/2013) The sunlight poured through the canopy, casting dappled shade over Makara, a large silverback mountain gorilla, as he cast his eyes around the forest clearing, checking on the members of his harem. A female gorilla reclined on a bank of dense vegetation of the most brilliant green, clutching her three day old infant close to her chest, and elsewhere, two juvenile gorillas played around a small tree, running rings around it until one crashed into the other and they rolled themselves into a roly-poly ball of jet black fluff that came to a halt a few meters in front of our delighted group.
Scientists discover that marine animals disperse seagrass

(05/09/2013) Lesser known than coral reefs, marine seagrass ecosystems are rich in biodiversity and are powerhouses when it comes to sequestering carbon dioxide. Yet, much remains unknown about the ecology of seagrass beds, including detailed information on how seagrass spread their seeds and colonize new area. Now a recent study in Marine Ecology Progress Series documents that several species of marine animal are key to dispersing seagrass, overturning the assumption that seagrass was largely dispersed by abiotic methods (such as wind and waves).
Common moth can hear higher frequencies than any other animal on Earth

(05/09/2013) A common little moth turns out to have the best ears in the animal kingdom. According to a new study in Biology Letters, the greater wax moth (Galleria mellonella) is capable of hearing frequencies up to 300,000 hertz (300kHz), which is 15 times the frequency humans can hear at their prime, around 20 kHz.
Are seagulls killing whales in Patagonia?
(05/08/2013) It sounds ludicrous, but it could just be true: scientists say seagulls may be responsible for hundreds of southern right whale moralities off the Argentine coastline. Since 2003, scientists have documented the deaths of 605 southern right whales (Eubalaena australis) near Península Valdés which the whales use as a nursery. Notably, 88 percent of these were newborn calves. The death rate is so high that researchers now fear for the whales' long-term survival.
17 poachers allegedly enter elephant stronghold in Congo, conservationists fear massacre
(05/07/2013) Local researchers and wildlife guards say 17 armed elephant poachers have gained access to Dzanga Bai, a large waterhole and clearing where up to 200 forest elephants visit daily in the Central African Republic (CAR)'s Dzanga-Ndoki National Park. WWF, which works in the region but has recently evacuated due to rising violence, is calling on the CAR government to rapidly mobilize its military to stop another elephant bloodbath in central Africa. Elephants are being killed across their range for their ivory, which is mostly smuggled to East Asia.
A Tale of Two Elephants: celebrating the lives and mourning the deaths of Cirrocumulus and Ngampit
(05/07/2013) On March 21st, the organization Save the Elephants posted on their Facebook page that two African elephants had been poached inside a nearby reserve: "Sad news from the north of Kenya. Usually the national reserves are safe havens for elephants, and they know it. But in the last two weeks two of our study animals have been shot inside the Buffalo Springs reserve. First an 18 year-old bull called Ngampit and then, yesterday, 23 year-old female called Cirrocumulus (from the Clouds family)."
Munching on marine plastic kills sperm whale
(05/07/2013) What do children's toys, balloons, mattresses and plastic bags have in common? They can, along with more non-biodegradable pollutants, be found in the belly of a sperm whale, the topic of a new study in the Marine Pollution Bulletin. The same whale that swallowed Jonah from the Bible, Geppetto from Collodi's Pinocchio, and the crew of the Pequod from Melville's Moby-Dick is now swallowing trash from the Spanish-Mediterranean coast, and in the Strait of Gibraltar.
Featured video: If I were a panda...

(05/06/2013) A new powerful video by the conservation program, APES, highlights the threat faced by many species: not being cute enough. The creative short video was produced pro bono by Ogilvy & Mather Chicago.
All the world's rarest birds in one book: photo contest enlivens new guide
(05/06/2013) The World's Rarest Birds is an extraordinary bird book. 590 different bird species are classified as Endangered or Critically Endangered, with many species only existing in captivity. A new book, The World's Rarest Birds, catalogs all of these species. Each species is shown with remarkable color-photography and illustrations. Threats to species habitat are described, population estimates per species are given, and each species has a quick response (QR) code that takes the reader to a species-specific BirdLife International webpage. The book also covers 60 Data Deficient species. Data Deficient means that there exists little to no information on the relative abundance and distribution of the species.
Hibernating primates: scientists discover three lemur species sleep like bears
(05/02/2013) Bears do it, bats do it, and now we know lemurs do it too: hibernate, that is. Since 2005, scientists have known that the western fat-tailed dwarf lemur hibernates, but a new study in Scientific Reports finds that hibernation is more widespread among lemurs than expected. At least two additional lemur species—Crossley's dwarf lemur and Sibree's dwarf lemur—have been discovered hibernating. So far lemurs, which are only found on the island of Madagascar, are the only primates known to undergo hibernation, raising curious questions about the relationship between lemur hibernation and more well-known deep sleepers.
Endangered primates and cats may be hiding out in swamps and mangrove forests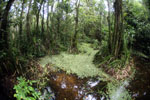 (05/02/2013) What happens to animals when their forest is cut down? If they can, they migrate to different forests. But in an age when forests are falling far and fast, many species may have to shift to entirely different environments. A new paper in Folia Primatologica theorizes that some 60 primate species and 20 wild cat species in Asia and Africa may be relying more on less-impacted environments such as swamp forests, mangroves, and peat forests.
Drill baby drill! The fate of African biodiversity and the monkey you've never heard of
(05/02/2013) Equatorial Guinea is not a country that stands very large in the American consciousness. In fact most Americans think you mean Papua New Guinea when you mention it or are simply baffled. When I left for Bioko Island in Equatorial Guinea, I also knew almost nothing about the island, the nation, or the Bioko drills (Mandrillus leucophaeus poensis). The subspecies of drill is unique to Bioko Island and encountering them was an equally unique experience. I initially went to Bioko as a turtle research assistant but ended up falling in love with the entire ecosystem, especially the Bioko drills as I tagged along with drill researchers.
13 year search for Taiwan's top predator comes up empty-handed

(05/01/2013) After 13 years of searching for the Formosan clouded leopard (Neofelis nebulosa brachyura), once hopeful scientists say they believe the cat is likely extinct. For more than a decade scientists set up over 1,500 camera traps and scent traps in the mountains of Taiwan where they believed the cat may still be hiding out, only to find nothing.
World's rarest duck on the rebound in Madagascar
(05/01/2013) After a final sighting in 1991, the Madagascar pochard was thought to have vanished for good. But this diving duck was rediscovered in 2006 when a flock of 22 individuals was found on Lake Matsaborimena in northern Madagascar by conservationists during an expedition. Soon after Madagascar pochard eggs were taken and incubated in a joint captive breeding program by Durrell, the Wildfowl & Wetlands Trust (WWT), the Peregrine Fund, Asity Madagascar, and Madagascar government, which recently announced that the population—both captive and wild—has nearly quadrupled.
Malaysia may loan Indonesia rhinos to save species from extinction
(04/30/2013) Conservationists and officials meeting last month at a rhino crisis summit in Singapore agreed to a radical plan to loan Sumatran rhinos between nations if it means saving the critically endangered species from extinction. The proposal, which could still be thwarted by red tape and political opposition, could lead Malaysia to send some of its Sumatran rhinos to semi-captive breeding facilities in Indonesia.
Conservation without supervision: Peruvian community group creates and patrols its own protected area
(04/30/2013) When we think of conservation areas, many of us think of iconic National Parks overseen by uniformed government employees or wilderness areas purchased and run from afar by big-donor organizations like The Nature Conservancy, Wildlife Conservation Society, WWF, or Conservation International. But what happens to ecosystems and wildlife in areas where there's a total lack of government presence and no money coming in for its protection? This is the story of one rural Peruvian community that took conservation matters into their own hands, with a little help from a dedicated pair of primate researchers, in order to protect a high biodiversity cloud forest.
Scientists discover new giant mole rat in Africa (photos)
(04/30/2013) Although the term "giant mole rat" may not immediately inspire love, the mole rats of Africa are a fascinating bunch. They spend practically their entire lives underground building elaborate tunnel systems and feeding on plant stems. This underground lifestyle has led them to evolve small ears, tiny eyes, forward-pointing teeth for digging, and nostrils they can shut at will while digging. Some species are quite social, such as the most famous, the naked mole rat (Heterocephalus glaber), while others live largely solitary lives. If that's not enough, the family of mole rats, dubbed Blesmols, may even help us find a cure for cancer.





Obama Administration to propose stripping protection from all gray wolves

(04/29/2013) The U.S. Fish and Wildlife Service (USFWS) is proposing to end protection for all gray wolves (Canis lupus) in the lower 48 states, save for a small population of Mexican wolves in New Mexico, reports the Los Angeles Times. The proposal comes two years after wolves were removed from the Endangered Species Act (ESA) in western states by a legislative rider on a budget bill, and soon after in the midwest. Since then hunting and trapping has killed over 1,500 wolves in these two regions.






Page 1 | Page 2 | Page 3 | Page 4 | Page 5 | Page 6 | Page 7 | Page 8 | Page 9 | Page 10 | Page 11 | Page 12 | Page 13 | Page 14 | Page 15 | Page 16 | Page 17 | Page 18 | Page 19 | Page 20 | Page 21 | Page 22 | Page 23 | Page 24 | Page 25 | Page 26 | Page 27 | Page 28 | Page 29 | Page 30 | Page 31 | Page 32 | Page 33 | Page 34 | Page 35 | Page 36 | Page 37 | Page 38 | Page 39 | Page 40 | Page 41 | Page 42 | Page 43 | Page 44 | Page 45 | Page 46 | Page 47 | Page 48 | Page 49 | Page 50 | Page 51 | Page 52 | Page 53 | Page 54 | Page 55 | Page 56 | Page 57 | Page 58