News articles on animals

---
Mongabay.com news articles on animals in blog format. Updated regularly.






Vocal-sac breeding frog possibly extinct
(07/02/2013) Somewhere in the wet pine forests of Chile, a male frog is gulping-up a bunch of eggs. No he's not eating them, he's just being a good dad. Darwin's frogs are known for their unique parenting-style: tadpoles are incubated in the vocal sac of the father. First recorded by Charles Darwin during his world famous voyage aboard the Beagle, the amphibians were common in the native Chilean pine forests until the last few decades. Now, scientists believe that one of the two species, the northern Darwin's frog (Rhinoderma rufum), may have vanished for good. And the other is hanging on by a thread.
Over 700 species added to the threatened categories on the IUCN Red List (photos)
(07/02/2013) In another sign of the global biodiversity crisis, the IUCN Red List has added 715 species to its threatened categories of Vulnerable, Endangered, and Critically Endangered in this year's update. Some of these species were evaluated by the IUCN Red List for the first time while others saw their conditions deteriorate, such as the the white-lipped peccary (Tayassu pecari) which is now listed as Vulnerable due to overhunting, deforestation, and possibly disease. As of this year, the Red List has evaluated 70,923 of the world's species—including almost all mammals, birds, and amphibians—of which 20,934 are deemed threatened.
San Francisco seafood restaurants go sustainable
(07/02/2013) The Seafood Watch Program, first created by Monterey Bay Aquarium in the late 1990s, is arguably the best-known guide to sustainably-caught seafood in the U.S. Listing seafood choices in three categories—green (best choices), yellow (good alternatives), and red (avoid)—the guide informs consumers of the best options. However, it's one thing to create a well-respected guide, and another issues altogether to get producers and consumers to use it. But a newer partnership, the San Francisco Seafood Watch Alliance, is working to bridge this gap. Maggie Ostdahl of Aquarium of the Bay works with the Seafood Watch Restaurant program and restaurants across San Francisco—one of the best places in the country for seafood—to source sustainable seafood. Restaurant partners avoid seafood on the guide's red list.
Beaten and captured orangutan dies in Indonesia's Aceh Province

(07/02/2013) An orangutan in Indonesia's Aceh province died last Thursday after being beaten by residents of a local village attempting to capture the animal. The case casts a tragic spotlight on what is becoming an increasingly serious problem in the region, as habitat decline and weak law enforcement leave wild orangutans at risk of being killed or captured and kept illegally as pets.
New forensic method tells the difference between poached and legal ivory

(07/01/2013) Forensic-dating could end a major loophole in the current global ban on ivory, according to a new paper in the Proceedings of the National Academy of Sciences (PNAS). Scientists have developed a method to determine the age of ivory, allowing traders to tell the difference between ivory taken before the ban in 1989, which is still legal, and recently-poached ivory.
Amazonian students help monitor threatened frog populations
(07/01/2013) According to the International Union for Conservation of Nature, amphibians are the most threatened group of animals on Earth: currently around 30 percent of the world's amphibians are listed as threatened with extinction. However this percentage doesn't include those species about which too little is known to evaluate (26 percent). Amphibians face many threats but two of the largest are habitat loss and the lethal chytrid fungus, which has rapidly spread worldwide and is likely responsible for numerous extinctions. But conservationists are coming up with innovative and creative ways to keep amphibians from disappearing, including a program from the Detroit Zoological Society (DZS) that is working with students in the Peruvian Amazon to monitor frog populations.
The neglected giraffe: world's tallest animal in need of conservation assistance
(06/27/2013) Just two year's before his assassination, Julius Caesar brought to Rome one of the world's most astonishing living creatures: a giraffe. The animal was among Caesar's spoils from his campaign in Egypt and according to the Roman writer, Dio, the giraffe, which was arguably the first to ever touch European soil, was paraded in the Circus for all to see. Today, over two thousand years later, the giraffe has become one of the world's most recognizable animals: after all nothing looks quite like it with its spotted coat, tufted horns, and, most importantly, that impossibly long neck. But less commonly known is that the giraffe is in trouble with some subspecies down to just a few hundred individuals.
Australia aims to end Japan's whaling
(06/27/2013) Australia is hoping to put a permanent end to Japan's annual slaughter of hundreds of whales in the Southern Ocean, in a landmark legal challenge that begins this week. Australia, a vocal opponent of Japan's annual "scientific" hunts in the Antarctic, says it is confident that the international court of justice (ICJ) in The Hague will outlaw the hunts at the end of a highly anticipated case that is due to start on Wednesday.
New bird species discovered in Cambodia's largest city

(06/26/2013) A previously unknown species of bird has been found hiding in plain sight after scientists photographed what was thought to be more abundant species at a construction site on the outskirts of Phnom Penh, Cambodia's capitol and largest city. Subsequent analysis revealed the species to be distinct.
New maps highlight global conservation priorities
(06/25/2013) What region of the world has the most imperiled mammals? Where are the most bird species found? And where are new amphibians being discovered? Indonesia and Malaysia is the answer to the first question; the Amazon, the second; and the Andes, the third. A new study in the Proceedings of the National Academy of Sciences (PNAS) has used global data on 21,000 mammals, birds, and amphibians to create magnificent maps that highlight missing priorities for conservation.
On guard: protecting wildlife in a heavily hunted Brazilian forest

(06/24/2013) The Brazilian government offers tax relief to landowners who set aside areas for preservation. While this has expanded the system of private ecological reserves considerably, the Brazilian government currently lacks funding to enforce the protection of these lands from threats such as hunting, leaving the responsibility to the landowners.
Over 16,000 wild mammals and birds sold in Nagaland market, India, annually
(06/24/2013) A comprehensive survey of the wildlife sold in the markets of Tuensang has resulted in a stunning record of the wildlife trade in the state of Nagaland in northeast India, as reported in a new study published in mongabay.com's open-access journal Tropical Conservation Science. Once a week, researchers with the Sálim Ali Centre for Ornithology and Natural History and the Near Chang Baptist group entered the Tuensang market and carried out intensive surveys and interviews of vendors selling wild birds or mammals.
Local people provide wildlife and forest data in park plagued by conflict
(06/24/2013) There are often many obstacles for scientists when gauging wildlife decline and forest loss, and one of the most difficult is civil conflict, like the situation in the Similipal Tiger Reserve in India. But a new study in mongabay.com's open access journal Tropical Conservation Science (TCS) finds that local communities may be used to gauge forest loss and wildlife decline for baseline data when conflicts or other obstacle prevent long-term research and monitoring.
Newly discovered pirate ant uses sickle-shaped mandibles to decimate rivals
(06/21/2013) A new species of ant has recently been discovered in the Hortarium of the Los Baños University in the Philippines. Scientists named it the pirate ant (Cardiocondyla pirata) due to the female's unique pigmentation pattern: a distinctive stripe across the eyes that resembles a pirates' eye-patch. The pirate ant belongs to a genus Cardiocondyla that are distributed worldwide, but mainly found in the tropics.
Building a new generation of local conservationists: how improving education in Uganda may save one of the world's great forests
(06/20/2013) Conservation work is often focused on the short-term: protecting a forest from an immediate threat, saving a species from pending extinction, or a restoring an ecosystem following degradation. While short-term responses are often borne of necessity, one could argue that long-term thinking in conservation and environmental work (as in all human endeavors) is woefully neglected, especially in the tropics. This is why programs like the Kasiisi Project are so important: by vastly improving education for primary kids near a threatened park in Uganda, the project hopes to create a "generation of committed rural conservationists," according to founder and director, Elizabeth Ross.
Featured video: Rare Syrian Brown Bear caught on camera

(06/19/2013) New camera-trap footage from the Caucasus Wildlife Refuge in Armenia, has captured rare footage of a Syrian Brown Bear (Ursus arctos syriacus), a subspecies of Brown Bear native to Eurasia. This is an important recording as there may be just one or two bears in this reserve and are listed as vulnerable in Armenia. The exact population of this subspecies is unknown and likely to be declining due to poaching, habitat destruction and diminishing sources of food in the wild.
Seabirds face big problems as sea levels rise
(06/19/2013) Migratory shorebird populations are at great risk from rising sea levels due to global climate change, warns a recent paper in Proceedings of the Royal Society B. These birds play an important role in the distribution of nutrients within wetland and coastal ecosystems, and their loss could have unknown consequences for the rest of the world.
Pesticides decimating dragonflies and other aquatic insects
(06/18/2013) While recent research (and media attention) has focused on the alleged negative impacts of pesticides on bees, the problem may be far broader according to a new study in the Proceedings of the US Academy of Sciences (PNAS). Looking at over 50 streams in Germany, France, and Australia, scientists in Europe and Australia found that pesticide contamination was capable of undercutting invertebrate biodiversity by nearly half.
Why endangered species need conservation champions
(06/13/2013) Without heroic conservationists many of today's most beloved species would be extinct: think of pandas, tigers, and elephants. By single-mindly focused on saving a particular species, these conservation champions bring much-needed research, publicity, and, most importantly, targeted actions to keep an imperiled animal from the brink. Through their own exuberance, these heroes also gather others to their cause. But, many of the world's heroic conservationists are little-known to the broader public. To address this a new book, Wildlife Heroes: 40 Leading Conservationists and the Animals They Are Committed to Saving, strives to introduce the public to some of the world's most devoted conservationists.
Tigers, orangutans, rhinos: Sumatra's big mammals on the edge of extinction

(06/12/2013) Karman Lubis's body was found near where he had been working on a Sumatran rubber plantation. His head was found several days later a mile away and they still haven't found his right hand. He had been mauled by a Sumatran tiger that has been living in Batang Gadis National Park and he was one of five people killed there by tigers in the last five years.
Bird extravaganza: scientists discover 15 new species of birds in the Amazon

(06/12/2013) From 2000-2009, scientists described on average seven new bird species worldwide every year. Discovering a new bird is one of the least common of any species group, given that birds are highly visible, mobile, and have been scrutinized for centuries by passionate ornithologists and birders. But descriptions this year already blows away the record year over the last decade (in 2001 when nine new birds were described): scientists working in the southern Amazon have recorded an incredible 15 new species of birds according to the Portuguese publication Capa Aves. In fact, this is the largest group of new birds uncovered in the Brazilian in the Amazon in 140 years.
Featured video: gorgeous golden takin caught on camera trap

(06/12/2013) The takin (Budorcas taxicolor) is a goat-antelope species that lives in the Himalayan Mountains. Takins are social bovines and are often spotted traveling in packs of 15 or more. Packs tend to be composed of female takins as the male takin is largely solitary outside of the summer rutting season. The takin is listed as a Vulnerable species by the IUCN Red List and is considered to be Endangered in China.
Syrian bald ibis may be down to a single bird

(06/11/2013) The eastern population of northern bald ibises (Geronticus eremita) has likely fallen to a single breeding bird, reports conservationists monitoring the dwindling flock. The population had believed to be obliterated starting from 1989 until a small group was discovered in 2002 in Syria. However, it now appears that this last group is vanishing one-by-one despite efforts by conservation groups to sustain the distinct population.
Conserving the long-neglected freshwater fish of Borneo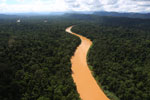 (06/11/2013) Borneo is a vast tropical island known for orangutans, rhinos, elephants, sun bears, proboscis monkeys, hornbills, and ubiquitous leeches. Conservationists have championed all of these species (aside from the leeches) in one way or another, but like many tropical regions Borneo's freshwater species have long been neglected, despite their rich biodiversity and importance to local people. But a new organization, the Kinabatangan River Spirit Initiative, is working to change that.
Flying rainbows: the scarlet macaw returns to Mexico
(06/11/2013) On April 21, 2013, the first flock of scarlet macaws (of many more to come) was released into the jungles of Aluxes Ecopark, nearby classified World Heritage Site Palenque National Park, as a part of a massive reintroduction project to restore the popular and culturally-significant bird to the well preserved rainforests of Palenque and the rest of its southern Mexico homeland—where the species has been extinct for close to 70 years.
Illegal wildlife trade flourishes in Sumatra
(06/10/2013) In a chilly rain on Sunday, in a town just a few kilometers beyond the edge of a protected Sumatran rainforest, a young orangutan sat perched on a piece of plywood and grabbed the metal wires of his tiny cage. He has sat in that cage for six months and, like dozens of other species on display in this 'zoo' in the town of Kadang in Aceh, he has a price tag. This packed assembly is an acknowledged front for illegal trafficking in wildlife.
Costa Rican environmentalist pays ultimate price for his dedication to sea turtles
(06/10/2013) On the evening of May 30th, 26-year-old Jairo Mora Sandoval was murdered on Moin beach near Limón, Costa Rica, the very stretch of sand where he courageously monitored sea turtle nests for years even as risks from poachers rose, including threats at gunpoint. A dedicated conservationist, Sandoval was kidnapped along with four women volunteers (three Americans and one from Spain) while driving along the beach looking for nesting sea turtles. Sandoval was separated from the women—who eventually escaped their captors—but the young Costa Rican was stripped naked, bound, and viciously beaten. Police found him the next day, face-down and handcuffed in the sand; Sandoval died of asphyxiation.
Tibetan monks partner with conservationists to protect the snow leopard
(06/10/2013) Tibetan monks could be the key to safeguarding the snow leopard (Panthera uncia) from extinction, according to an innovative program by big cat NGO Panthera which is partnering with Buddhist monasteries deep in leopard territory. Listed as Endangered by the IUCN Red List, snow leopard populations have dropped by a fifth in the last 16 years or so. Large, beautiful, and almost never-seen, snow leopards are the apex predators of the high plateaus and mountains of central Asia, but their survival like so many big predators is in jeopardy.
Scientist: Australia taking 'calculated actions' to push Leadbeater's possum to extinction
(06/06/2013) Australia's leading scientific expert on the endangered Leadbeater's possum has publicly lambasted the Victorian state government, claiming it is the first ever domestic administration to take "calculated actions" that it knew could wipe out a threatened species. In a letter published in the respected journal Science, Prof David Lindenmayer, of the Australian National University, states that "government-sanctioned legal logging of the reserve system will significantly increase the chance of extinction of Leadbeater's possum."
Saving the Tenkile: an expedition to protect one of the most endangered animals you've never heard of
(06/05/2013) The tenkile, or the Scott's tree kangaroo (Dendrolagus scottae) could be a cross between a koala bear and a puppy. With it's fuzzy dark fur, long tail and snout, and tiny ears, it's difficult to imagine a more adorable animal. It's also difficult to imagine that the tenkile is one of the most endangered species on Earth: only an estimated 300 remain. According to the Tenkile Conservation Alliance (TCA), the tenkile's trouble stems from a sharp increase of human settlements in the Torricelli mountain range. Once relatively isolated, the tenkile now struggles to avoid hunters and towns while still having sufficient range to live in.
African militias trading elephant ivory for weapons
(06/05/2013) The Lord's Resistance Army (LRA) is using lucrative elephant poaching for ivory to fund its activities, according to a report published on Tuesday. Eyewitness accounts from park rangers, Lord's Resistance Army (LRA) escapees and recent senior defectors report that the fugitive warlord Joseph Kony, who is wanted by the international criminal court for war crimes and crimes against humanity, ordered African forest elephants to be killed in Garamba national park in the Democratic Republic of Congo (DRC) and the tusks sent to him.
Difference within common species may predict the presence of rare animals
(06/05/2013) When deciding whether or not to clear a patch of rainforest land for development, scientists are often called in to quantify how many different species exist there. But determining the number of rare and threatened species living in a section of jungle isn't easy. If they are very rare, the individual members of the species will be hard to find; if the area being surveyed is along a steep slope it may be difficult to access the area; if there are lots of species to identify, you might need to hire a dream team of biologists—each specialized within a different area of biodiversity—and that can get expensive. However a new study in the Proceedings of the Royal Society Journal by an international group of scientists suggests a more cost-effective and efficient way to rapidly assess local biodiversity.
Loris champion: conserving the world's most surprising primate family
(06/04/2013) Before Anna Nekaris began championing the cause of the world's lorises, little was known about this cryptic family of large-eyed, nocturnal, insect-eating, venomous primates. Nekaris, with Oxford Brookes University and founder of the Little Fireface project, has been instrumental in documenting rarely-seen loris behavior, establishing conservation programs, and identifying new species of these hugely-imperiled Asian primates.
Monitor lizards vanishing to international trade in pets and skins
(06/04/2013) The world's monitor lizards remind us that the world was once ruled by reptiles: this genus (Varanus) includes the world's biggest lizards, such as the stunning Komodo dragon and many other island kings. A large number beautifully-colored and patterned, these lizards are known for their intelligence and their apex role in many island food chains. However, a new study finds that the world's monitors, especially those in Southeast Asia, are vanishing due to the international pet trade and for their skins, which are turned into handbags and straps for watches. Meanwhile the rapid destruction of their rainforest homes is exacerbating the situation.
Chewbacca bat, beetle with explosive farts among oddities spotted on Mozambique expedition
(06/04/2013) The 'Chewbaka' bat, a cave-dwelling frog, and a diminutive elephant shrew were among hundreds of species documented during a one-month survey of a park that was ravaged during Mozambique's 17-year civil war. The findings suggest that biodiversity in Gorongosa National Park in Central Mozambique is well on the road towards recovery, opening a new chapter for the 4,000-square-kilometer protected area.
Scientists describe over 100 new beetles from New Guinea
(06/03/2013) In a single paper, a team of researchers have succinctly described 101 new species of weevils from New Guinea, more than doubling the known species in the beetle genus, Trigonopterus. Since describing new species is hugely laborious and time-intensive, the researchers turned to a new method of species description known as 'turbo-taxonomy,' which employs a mix of DNA-sequencing and taxonomic expertise to describe species more rapidly.
The comeback kids: the role of zoos in saving species from oblivion (photos)
(06/03/2013) While many people may view zoos first and foremost as attractions, these institutions have a long history of supporting and instigating conservation work, including saving species from extinction that have vanished from their wild habitat. But such efforts require not just dedication and patience, but herculean organizational efforts. Enter, the World Association of Zoos and Aquariums (WAZA), which works with zoos and aquariums to set up conservation programs and track endangered species in captivity.
Saving Gorongosa: E.O. Wilson on protecting a biodiversity hotspot in Mozambique
(05/30/2013) If you fly over the Great African Rift Valley from its northernmost point in Ethiopia, over the great national parks of Kenya and Tanzania, and follow it south to the very end, you will arrive at Gorongosa National Park in central Mozambique. Plateaus on the eastern and western sides of the park flank the lush valley in the center. Dramatic limestone cliffs, unexplored caves, wetlands, vast grasslands, rivers, lakes, and a patchwork of savanna and forest contribute to the incredible diversity of this park. What makes this place truly unique, however, is Mount Gorongosa—a towering massif that overlooks the valley below.
Kenya getting tough on poachers, set to increase fines and jail time

(05/29/2013) The Kenyan parliament has approved emergency measures to tackle the on-going poaching crisis: last week Kenyan MPs approved legislation that should lead to higher penalties for paochers. The emergency measure passed just as Kenya Wildlife Service's (KWS) is pursuing a gang of poachers that slaughtered four rhinos over the weekend. Both rhinos and elephants have suffered heavily as poaching has escalated in Kenya and beyond.
Featured video: a glimpse into the life of Cambodia's Asian elephant

(05/29/2013) The Cambodian Government's Forestry Administration has recently teamed up with the Wildlife Conservation Society (WCS) in order to peer into the daily lives of the country's Asian Elephants (Elephas maximus). Through the use of camera traps, the organizations caught an intimate glimpse of the regular, day-to-day behavior of these animals.
Whales teach each other new feeding behavior
(05/29/2013) Humpback whales (Megaptera novaeangliae), popularly known for their majestic and alluring underwater mating songs and acrobatic breaches, have shown that they can adapt to changing prey variability by passing on new hunting techniques to each other. According to new findings in the journal Science, a team of researchers have revealed the cultural spread of new hunting techniques through a population of humpback whales over the span of 27 years.
Featured video: giant anteater wallowing and scratching like a dog

(05/28/2013) Scientists have recently taken rare and incredible footage of a giant anteater with a camera trap in the Barba Azul Nature Reserve of Bolivia. This footage captures a giant anteater wallowing in a pit of mud. The animal lies down, rolling around and scratching itself, for a period of, what seems to be, over a minute.
Snowy tigers and giant owls: conservation against the odds in Russia's Far East
(05/28/2013) The Russian Far East is one of the wildest places on Earth: where giant tigers roam snow-covered forests and the world's biggest owls stalk frozen rivers. Bordering northern China and North Korea, the forests of Primorye are known for the diversity of habitats, including coastal forests along the Sea of Japan, vast coniferous forests in the Sikhote-Alin mountains, and even steppe. These diverse ecosystems also makes the forests a hotspot for endangered species, including Amur tigers (Panthera tigris altaica), Blakiston's fish owls (Bubo blakistoni), and one of the world's rarest big cats, Amur leopards (Panthera pardus orientalis), which number only 30-50 animals.
Turning up the temperature might save frogs' lives
(05/28/2013) Over the past 30 years, amphibians worldwide have been infected with a lethal skin disease known as the amphibian chytrid fungus (Batrachochytrium dendrobatidis). "The disease can cause rapid mortality, with infected frogs of susceptible species dying within weeks of infection in the laboratory." Jodi Rowley, a herpetologist with the Australian Museum told mongabay.com. "This disease has now been associated with declines and extinctions in hundreds of species of amphibians worldwide, and is a serious threat to global amphibian biodiversity."






Page 1 | Page 2 | Page 3 | Page 4 | Page 5 | Page 6 | Page 7 | Page 8 | Page 9 | Page 10 | Page 11 | Page 12 | Page 13 | Page 14 | Page 15 | Page 16 | Page 17 | Page 18 | Page 19 | Page 20 | Page 21 | Page 22 | Page 23 | Page 24 | Page 25 | Page 26 | Page 27 | Page 28 | Page 29 | Page 30 | Page 31 | Page 32 | Page 33 | Page 34 | Page 35 | Page 36 | Page 37 | Page 38 | Page 39 | Page 40 | Page 41 | Page 42 | Page 43 | Page 44 | Page 45 | Page 46 | Page 47 | Page 48 | Page 49 | Page 50 | Page 51 | Page 52 | Page 53 | Page 54 | Page 55 | Page 56 | Page 57 | Page 58 | Page 59