News articles on animal rights

---
Mongabay.com news articles on animal rights in blog format. Updated regularly.






Zimbabwe selling baby elephant calves to China, says environmental group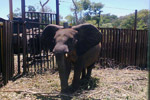 (04/17/2015) A hundred thousand African elephants were killed by poachers for their ivory between 2010 and 2012. Now a new threat looms: a growing wildlife trade in baby animals to satisfy international tourism. Zimbabwe has reportedly taken 80 elephant calves from their mothers and families in the wild, and is currently holding them in two heavily guarded facilities in Hwange National Park and near Victoria Falls. The baby animals await transport overseas for sale to unidentified buyers, possibly in China or other countries, says the international elephant rights organization, Global Action Ending Wild Capture (GAEWC).
Infamous pet and zoo supplier lost 3,500 animals a week (photos)
(10/02/2014) Nearly five years ago, a seven month long investigation, led by PETA, into an exotic animal wholesaler finally came to a dreary end. Authorities raided U.S. Global Exotics (USGE) in Arlington, Texas, confiscating over 26,400 animals from 171 species and types, held in inhumane and unsanitary conditions. The raid would become one of the largest exotic animal seizures in U.S. history.
Sold into extinction: great apes betrayed by protectors
(07/09/2014) In what appears to be corruption in high places, the international body charged with protecting endangered species has turned a blind eye to massive illegal trade of endangered Great Apes. This was my distinct impression on reading the Great Apes report prepared by the Convention on International Trade in Endangered Species (CITES) Secretariat for the 65th CITES Standing Committee meeting, which will take place in Geneva in early July this year.
Epidemic of elephant calf kidnapping hits Sri Lanka, say conservationists
(05/21/2014) In Sri Lanka, an underground wildlife racket has been simmering for a while. And a recent incident has brought it to a boil. On the night of May 1st, a gang attempted to kidnap a wild elephant calf out of the Uduwalawe National Park in Sri Lanka. But tipped off by alert villagers, police and wildlife officers foiled the abduction.
Using stories to connect people to biodiversity: an interview with Tara Waters Lumpkin, PhD
(12/18/2013) In a world where extinctions are almost commonplace and global warming barely raises an eyebrow, very few of us can return to find the places we grew up in unsullied by development. Sometimes, all that is left of a favorite grove of trees or strip of forest are memories. Through Izilwane: Voices for Biodiversity Project, an online magazine for story-tellers, Tara Waters Lumpkin has succeeded in bringing together more than one hundred "eco-writers" who have shared their memories, highlighted environmental crises in their localities and raised their voices against habitat destruction.
The swan song of India's dancing bears
(11/20/2013) India's last dancing bear has retired. As the stars of their cruel little roadshows, sloth bears danced to the piercing sounds of the damru for hundreds of years. Orphaned by poachers and trained by the Qalandars, a nomadic Muslim community, these bears trudged through towns and villages to earn their masters a meager livelihood.
The brown bears of Bulgaria – life after dancing
(09/09/2013) A rehabilitation center for retired dancing bears sounds like a typo. Yet this is exactly what the animal rights NGOs Four Paws and Foundation Brigitte Bardot created 13 years ago in Belitsa, Bulgaria. For many Bulgarians the first childhood contact with a forest animal is seeing a 'dancing bear' on the street in their city. These chained brown bears (Ursus arctos) would stand on their back feet waving their front paws on hearing their gypsy master play the gadulka (a local musical string instrument). Children used to admire the dancing bears; little did they know of the tragic fate of these animals.
Illegally captured parrots finally free to fly
(08/19/2013) In 2010, Bulgarian airport authorities confiscated 108 African grey parrots (Psittacus erithacus) from a smuggler. Last month, the 28 parrots who survived the stress of being stuffed into dog kennels, constantly handled by humans, and the absence of their native habitat, completed their three-year journey to freedom.
Loris champion: conserving the world's most surprising primate family
(06/04/2013) Before Anna Nekaris began championing the cause of the world's lorises, little was known about this cryptic family of large-eyed, nocturnal, insect-eating, venomous primates. Nekaris, with Oxford Brookes University and founder of the Little Fireface project, has been instrumental in documenting rarely-seen loris behavior, establishing conservation programs, and identifying new species of these hugely-imperiled Asian primates.
A Tale of Two Elephants: celebrating the lives and mourning the deaths of Cirrocumulus and Ngampit
(05/07/2013) On March 21st, the organization Save the Elephants posted on their Facebook page that two African elephants had been poached inside a nearby reserve: "Sad news from the north of Kenya. Usually the national reserves are safe havens for elephants, and they know it. But in the last two weeks two of our study animals have been shot inside the Buffalo Springs reserve. First an 18 year-old bull called Ngampit and then, yesterday, 23 year-old female called Cirrocumulus (from the Clouds family)."
Photographers threatening the already-abused slender loris
(03/12/2013) Caught in a beam of torchlight, the eyes of the slender loris reflect back a striking glow. In an effort to better understand these shy, nocturnal primates, a team of researchers set out to the Western Ghats of India. The resulting paper: Moolah, Misfortune or Spinsterhood? The Plight of the Slender Loris (Loris lydekkerianus) in Southern India was published in the Journal of Threatened Taxa in January of 2013. Forest walks and interviews with the Kani people, who live in close proximity to the lorises, supported evidence of a surprising new threat to the lorises: photographers.
Geneticists discover distinct lion group in squalid conditions
(02/04/2013) They languished behind bars in squalid conditions, their very survival in jeopardy. Outside, an international team of advocates strove to bring worldwide attention to their plight. With modern genetics, the experts sought to prove what they had long believed: that these individuals were special. Like other cases of individuals waiting for rescue from a life of deprivation behind bars, the fate of those held captive might be dramatically altered with the application of genetic science to answer questions of debated identity. Now recent DNA analysis has made it official: this group is special and because of their scientifically confirmed distinctiveness they will soon enjoy greater freedom.
Asian bear farming: breaking the cycle of exploitation (warning: graphic images)
(01/31/2013) In the forests of Asia, bears are being captured. These captives will be sent to bear farms, most unregulated and illegal, where they will be kept alive in a small cage, locked away for life. Their bodies will be used as renewable natural resources, from which profit will be made through the extraction of internal organs and fluids. By surgically inserting a permanent catheter into the bears' gall bladders, "farmers" extract several ounces of their bile. In a cycle of exploitation across east Asia, traditional medicine shops receive these daily shipments of bear bile products, while consumers support the industry through the purchase of these products, sustaining a supply-and-demand chain that puts more and more bears in cages as wild populations dwindle.
Cute koalas have become 'urban refugees'
(01/28/2013) According to Susan Kelly, koalas have become "urban refugees," under siege by expanding cities that bring with them deforestation, dogs, traffic, and other ills for native wildlife. Director of Global Witness, and writer, producer and director of the new documentary Koala Hospital, Kelly has spent 3 years working to understand the rising threats to one of the world's most beloved marsupials. While Koala Hospital highlights the many perils facing koalas, including climate change due to record fires across Australia, it also looks at the efforts of individuals who work to save koalas one—by—one at Port Macquarie Koala Hospital, taking in patients who have been orphaned, hit by cars, scarred in fires, or attacked by dogs.
Landmines, chains, and hope: the elephants of Thailand
(01/15/2013) Few animals draw more compassion and awe from people than elephants. Highly intelligent, deeply social, and touchingly sensitive, elephants have much in common with human beings, despite their size and shape. Yet elephants around the world are still often abused and mis-treated, whether to entertain tourists or as victims of human strife. A new film, The Last Elephants in Thailand, sets out to document both the good and bad that elephants encounter in a world dominated by homo sapiens.
Controversial wolf hunt moves to the Midwest, 196 wolves killed to date
(11/14/2012) The hugely controversial wolf hunt in the U.S. has spread from the western U.S. (Montana, Idaho, and Wyoming) to the Midwest (Minnesota and Wisconsin) this year. Although the wolf hunt is less than a month old in the region—and only eleven days old in Minnesota—196 animals so far have been shot. As in the west, the wolf hunt has raised hackles among environmentalists along with fierce defenders among hunters. Wolves, which were protected under the the Endangered Species Act (ESA) since 1973, were stripped of that status by legislation in 2009, opening the door—should a state choose—to trophy hunting.
'Where's my mama?': campaign targets cruel slow loris pet trade [warning: graphic photo]

(03/20/2012) A new campaign by The Body Shop West Malaysia and TRAFFIC Southeast Asia attempts to raise awareness of the illegal slow loris pet trade. YouTube videos of "cute" pet slow lorises have raised demand for these endangered primates, but as the campaign highlights the pet trade is fueling slow loris deaths in the wild and cruel treatment, such as pulling out their teeth, to make them more desirable pets.
Pet trade, palm oil, and poaching: the challenges of saving the 'forgotten bear'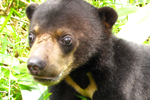 (03/20/2011) Siew Te Wong is one of the few scientists who study sun bears (Ursus malayanus). He spoke with Laurel Neme on her "The WildLife" radio show and podcast about the interesting biological characteristics of this rare Southeast Asian bear, threats to the species and what is being done to help them. Sun bears are the smallest of the eight bear species. They're about half the size of a North American black bear and typically sport a tan crescent on their chests. Similar to the "moon bear," or Asian black bear, the sun bear's name comes from this marking, which looks like a rising or setting sun.
'Cute' umbrella video of slow loris threatens primate

(03/13/2011) A new video of a slow loris holding an umbrella in a pet store has been viewed nearly a million and a half times, yet such viral videos may imperil these 'cute' and endangered primates by encouraging an illegal and often cruel pet trade. "Most people who see them in this setting want one, too!" says Angelina Navarro-Montes, a graduate student at Oxford Brookes University who has conducted studies of the slow-loris Internet trade, told mongabay.com in 2009. "There is also a big misconception on [YouTube] and a lot of viewers think it's perfectly legal to have them as pets."
Birds experience 'empathy' for their hatchlings

(03/09/2011) A new study has uncovered what many chicken owners would say is evident: a mother hen experiences empathy for her hatchlings. Published in the Proceedings of the Royal Society B, the study found that mother hens show both physiological responses and changes in behaviors when their chicks are even mildly distressed.
The ocean crisis: hope in troubled waters, an interview with Carl Safina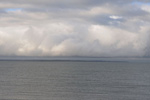 (02/07/2011) Being compared—by more than one reviewer—to Henry Thoreau and Rachel Carson would make any nature writer's day. But add in effusive reviews that compare one to a jazz musician, Ernest Hemingway, and Charles Darwin, and you have a sense of the praise heaped on Carl Safina for his newest work, The View from Lazy Point: A Natural Year in an Unnatural World. Like Safina's other books, The View from Lazy Point focuses on the beauty, poetry, and crisis of the world's oceans and its hundreds-of-thousands of unique inhabitants. Taking the reader on a journey around the world—the Arctic, Antarctic, and the tropics—Safina always returns home to take in the view, and write about the wildlife of his home, i.e. Lazy Point, on Long Island. While Safina's newest book addresses the many ways in which the ocean is being degraded, depleted, and ultimately imperiled as a living ecosystem (such as overfishing and climate change) it also tweezes out stories of hope by focusing on how single animals survive, and in turn how nature survives in an increasingly human world. However, what makes Safina's work different than most nature writing is his ability to move seamlessly from contemporary practical problems to the age-old philosophical underpinnings that got us here. By doing so, he points a way forward.
Rebuttal: Slaughtering farmed-raised tigers won't save tigers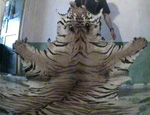 (11/18/2010) A recent interview with Kirsten Conrad on how legalizing the tiger trade could possibly save wild tigers sparked off some heated reactions, ranging from well-thought out to deeply emotional. While, we at mongabay.com were not at all surprised by this, we felt it was a good idea to allow a critic of tiger-farming and legalizing the trade to officially respond. The issue of tiger conservation is especially relevant as government officials from tiger range states and conservationists from around the world are arriving in St. Petersburg to attend next week's World Bank 'Tiger Summit'. The summit hopes to reach an agreement on a last-ditch effort to save the world's largest cat from extinction.
Would legalizing the trade in tiger parts save the tiger?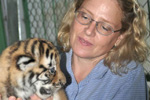 (11/15/2010) Just the mention of the idea is enough to send shivers down many tiger conservationists' spines: re-legalize the trade in tiger parts. The trade has been largely illegal since 1975 under the Convention on International Trade in Endangered Species (CITES). The concept was, of course, a reasonable one: if we ban killing tigers for traditional medicine and decorative items worldwide then poaching will stop, the trade will dry up, and tigers will be saved. But 35 years later that has not happened—far from it. "Words such as 'collapse' are now being used to describe the [tiger's] situation both in terms of population and habitat. Wild tiger numbers continue to drop so that we have about 3,500 today across 13 range states occupying just 7% of their original habitat. It's universally acknowledged that we're losing the battle," Kirsten Conrad, tiger conservation expert, told mongabay.com in a recent interview.
Villagers beat, ride on, and kill baby elephant

(10/28/2010) A video camera has captured villagers in the Indian state of Assam, beating, riding on, and eventually spearing a three-year-old elephant to death that had been abandoned by its herd after suffering an injury. The footage, available from New Delhi Television (NDTV) [warning: it is graphic], shows policemen standing by as the animal is killed. The incident took place a day after the Asian elephant was declared a National Heritage Animal status by Indian authorities, granting it special cultural status.
Guilty verdict over euthanizing tigers in Germany touches off debate about role of zoos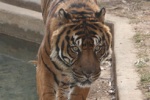 (08/11/2010) In June a German court handed down a guilty verdict to the Magdeburg Zoo director, Kai Perret, and three employees for euthanizing three tiger cubs in 2008. The zoo decided to kill the cubs when it was discovered that the cubs' father was not a 100 percent Siberian tiger (i.e. he was a mix of two different subspecies). This is generally standard practice at many zoos around the world as animals that are not 'genetically pure' are considered useless for conservation efforts. However, the court found the workers guilt of breaking animal rights laws, finding that there was "no sufficient reasons to kill less valuable, but totally healthy animals."