News articles on animal intelligence

---
Mongabay.com news articles on animal intelligence in blog format. Updated regularly.






Even cockroaches have personalities
(03/12/2015) When I was ten, I acquired my first dog. Rani was a Doberman Pinscher—tall, lean, and a huge pushover. She was wonderfully friendly, but sadly misunderstood her whole life, regularly frightening all except those who knew her intimately. There were two innocuous reasons for this—both of which reveal the power of emotions shared across species.
Not unique to humans: marmoset shows compassion for dying mate (VIDEO)
(05/07/2014) For the first time, researchers have observed an adult marmoset comforting a dying adult family member, behavior that was previously thought to be unique only to humans and chimpanzees. Researchers observed this behavior between a mated pair of common marmosets (Callithrix jacchus) in Brazil, and describe the event in a paper and video published in the journal Primates.
Predator appreciation: how saving lions, tigers, and polar bears could rescue ourselves
(01/29/2014) In the new book, In Predatory Light: Lions and Tigers and Polar Bears, authors Elizabeth Marshall Thomas, Sy Montgomery, and John Houston, and photographers Cyril Christo and Marie Wilkinson share with us an impassioned and detailed appeal to appreciate three of the world's biggest predators: lions, tigers, and polar bears. Through lengthy discussions, combining themes from scientific conservation to local community folklore, In Predatory Light takes us step by step deeper into the wild world of these awe-inspiring carnivores and their varied plight as they facedown extinction.
Like humans, marmosets are polite communicators
(11/06/2013) Common marmoset monkeys have been described as having human-like conversations according to a team of researchers from the Princeton Neuroscience Institute. Native to Brazil, marmosets are highly social animals, using simple vocalizations in a multitude of situations: during courtship, keeping groups together and defending themselves. They also, according to the study published in Current Biology, exchange cooperative conversations with anyone and everyone - not just with their mates.
Does size matter (for lemur smarts, that is)?
(08/09/2013) Does size matter? When referring to primate brain size and its relation to social intelligence, scientists at Duke University do not think the answer is a simple yes or no. In the past, scientists have correlated large brain size to large group size. However, in a new study published in PLoS ONE, scientists at Duke University provide evidence that large social networks, rather than large brains, contribute to social cognition, favoring the evolution of social intelligence.
Whales teach each other new feeding behavior
(05/29/2013) Humpback whales (Megaptera novaeangliae), popularly known for their majestic and alluring underwater mating songs and acrobatic breaches, have shown that they can adapt to changing prey variability by passing on new hunting techniques to each other. According to new findings in the journal Science, a team of researchers have revealed the cultural spread of new hunting techniques through a population of humpback whales over the span of 27 years.
A Tale of Two Elephants: celebrating the lives and mourning the deaths of Cirrocumulus and Ngampit
(05/07/2013) On March 21st, the organization Save the Elephants posted on their Facebook page that two African elephants had been poached inside a nearby reserve: "Sad news from the north of Kenya. Usually the national reserves are safe havens for elephants, and they know it. But in the last two weeks two of our study animals have been shot inside the Buffalo Springs reserve. First an 18 year-old bull called Ngampit and then, yesterday, 23 year-old female called Cirrocumulus (from the Clouds family)."
Save Lolita: new film urges release of captive killer whale
(01/22/2013) Through his new 90-second PSA, Save Lolita, filmmaker Daniel Azarian wanted to connect people to the plight of Lolita on a deeply human level; the only problem: Lolita is an orca, also known as a killer whale. But the stark, moving PSA succeeds, given the sociability of an individual—human or orca—who was stolen from her family and held in captivity for the past 42 years at Miami's Seaquarium.
Mercury hurts birds and people: what we can learn from studying our feathered friends
(01/07/2013) Birds aren't that different from people. We learn from our parents, just like zebra finches learn songs from their fathers. We are active and noisy during the day, like birds, and we can also be territorial. Also like birds, we try to attract mates through colorful displays and beautiful songs. Birds are sensitive to pollution in their environment just like we are: harmful elements such as mercury wreak similar havoc on human and bird biology alike. Because our species share so many attributes, studying birds illustrates the connections between them and us.
Western scrub jay funerals...what's all the ruckus?
(12/10/2012) The western scrub jay (Aphelocoma californica) is a common denizen of suburban neighborhoods in the U.S., loitering at bird feeders and amusing bird watchers with their entertaining antics. Known to birders as 'WESJ,' this handsome bird is non-migratory and territorial during the breeding season, but what's curious about WESJ's is the way they respond to risks in their environment. When descended on by a predator or encountering a dead member of its kind, these birds hop from perch to perch and call loudly, ensuing in a 'cacophonous reaction,' a term coined by researchers at the University of California, Davis who are studying the behavior of these unique birds.
Great apes suffer mid-life crisis too
(11/19/2012) Homo sapiens are not alone in experiencing a dip in happiness during middle age (often referred to as a mid-life crisis) since great apes suffer the same according to new research in the Proceedings of the National Academy of Sciences (PNAS). A new study of over 500 great apes (336 chimpanzees and 172 orangutans) found that well-being patterns in primates are similar to those experience by humans. This doesn't mean that middle age apes seek out the sportiest trees or hit-on younger apes inappropriately, but rather that their well-being starts high in youth, dips in middle age, and rises again in old age.
By imitating human voices, beluga whale may have been attempting to communicate

(10/23/2012) Five years after the death of a captive beluga whale named NOC, researchers have discovered that the marine mammal may have been trying to communicate with people by mimicking humans voices at the National Marine Mammal Foundation in San Diego. Analyzing tapes of human-like speech from the young male beluga whale, scientists writing in Current Biology note that while there have been reports of beluga whales making human like sounds before, this is the first time evidence has been captured on tape and analyzed.
Appreciating elephant individuality: a new approach to preventing conflicts with humans
(10/09/2012) To prevent conflicts between humans and elephants in developed areas, a new study shows there is much to learn from analyzing Asian elephant behavior at the individual level as opposed to population studies. Researchers have traditionally interpreted elephant behavior at the population level, looking for behavior patterns among elephants of similar ages, group sizes, and genders. Today, field researchers in India are studying elephant behavior at the individual level. Their goal is to appreciate the idiosyncrasies of individual elephants in the hopes of predicting their behavior. Nishant Srinivasaiah, of the Tata Institute of Fundamental Research and lead author of the study, told mongabay.com that it is vital "to get to know our elephants more intimately than ever before and, more importantly, to shift our focus from a population to include its individuals as well."
Brainless slime mold uses slimy memory to navigate

(10/08/2012) How do you navigate space efficiently without a brain? Slime, according to a surprising new study in the Proceedings of the National Academy of Sciences (PNAS) of a brainless slime mold named Physarum polycephalum. Scientists at the University of Sydney have discovered that the mold secretes slime as an 'external spatial memory' to make sure it doesn't end up going around in circles.
Fish use tools

(07/17/2011) A blackspot tuskfish (Choerodon schoenleinii) has been photographed picking up a clam in its mouth, swimming over to a rock, and then using the rock as an anvil by smashing the clam against it until it breaks open. In the journal Coral Reefs scientists argue this is the first conclusive evidence of a fish using tools. Once thought only the domain of humans, biologists have found that tool use is actually present all over the animal kingdom, from elephants to chimps, and crows to capuchins. Such tool use is often considered evidence of higher intelligence.
Brainy lizards rival birds in intelligence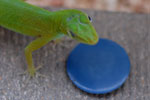 (07/13/2011) Reptiles have long been thought to be dim-witted, but a new study in Biology Letters finds that the Puerto Rican anole, a type of lizard, can match birds in smarts. Using cognitive tests that have been previously used on birds, researchers with Duke University found that the lizards were capable of solving a problem they've never encountered before, remembering the solution in future trials, and even changing techniques when presented with new challenges. In fact, the tiny anoles solved the test with fewer tries than birds. Given reptiles' reputation of being slow-on-the uptake the head author, Manuel Leal, said the findings are 'completely unexpected'.
With 24 eyes, box jellyfish are constantly looking up

(04/28/2011) Lacking brains does not mean box jellyfish are incapable of complex visual behavior, according to a new study in Current Biology. Researchers have known for over a century that box jellyfish support an astounding two-dozen eyes. Now, they are beginning to find out how these eyes are used: four of a box jellyfish's 24 eyes are always peering up out of the water finds the new study. These four eyes, no matter how the body is oriented, allow the jellyfish to navigate their shallow, obstacle-filled habitats, such as mangroves—and keep them from straying too far from home.
Fearful Symmetry—Man Made, an interview with John Vaillant, author of The Tiger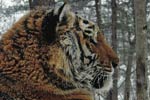 (03/14/2011) In The Tiger, John Vailliant weaves a haunting and compelling true narrative of men who live—or die—with tigers. No doubt the story itself is on-the-edge of your seat reading. As well, the book provides factual information on the 400 or so Amur Tigers remaining, and the raw milieu that is Primorye, Far East Russia—a wilderness and people unto their own. What is special, transcendent even in this story, however, murmurs uncomfortably in the background. Questions emerge from deep taiga snow, not unlike the unseen Panchelaza Tiger. What exactly is our relationship with apex predators? How do people live with them? How would you live with them in your backyard? What if your pet dog disappeared? As we ourselves are apex predators, are we wise enough, tolerant enough, compassionate enough to share this planet with them? Evidence today points to the contrary, but this can change.
Critically endangered capuchins make tools to gather termites

(03/10/2011) Less than 200 blond capuchins (Cebus falvius) survive in the highly-fragmented habitat of Brazil's Atlantic Forest. But this tiny group of monkeys, only rediscovered in 2006, is surprising scientists with its adept tool-using abilities. Displaying similar behavior to that which made the chimpanzees of Gombe famous worldwide, the blond capuchins modify sticks to gather termites from trees; however, according to the study published in Biology Letters the blond capuchins use two techniques never witnessed before: twisting the stick when inside the termite nest and tapping the nest before inserting the stick.
Elephants cooperate as well as chimps

(03/07/2011) A new study proves that elephants understand how sometimes two is better than one. Working with Asian elephants (Elephas maximus) at the Thai Elephant Conservation Center, researchers reconstructed a classic cooperation test that was originally developed for chimpanzees. Subjects must pull on a rope to receive a reward, such as food, however—and here's the crux—the treat is only released if two subjects cooperate by pulling on two different ropes simultaneously. The paper published in Proceedings of the National Academy of Sciences found that elephants were as capable of cooperation as chimpanzees.
Saving the best for last: a journey into the final phases of orangutan rehabilitation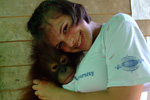 (11/08/2010) Rehabilitation is a powerful word these days. Fashionable, too. In wildlife conservation, rehabilitation can serve functions ranging from augmenting threatened animal populations to desperate attempts to save species from permanent extinction. At its base, rehabilitation consists of handling, preparing and releasing wild animals that have been in some way negatively affected by humans. Rehabilitation programs cover the globe (from cottage-scale sparrow and raccoon rescues in suburban parks to well-established raptor protection programs, wolf rehabilitation and public education about these wild predators in Colorado, semi-touristy rehabilitation centers in Thailand housing everything from gibbons to elephants, vet hospitals dedicated to flu-ridden bobtail lizards in Australia, and sexy lion and cheetah hubs in southern Africa which breed endangered serval cats). The motivations behind these programs are also diverse, but the umbrella goal is unified: to aid the continued survival, so often precarious, of animals valued by people.
Monarch butterflies medicate their sick kids

(10/12/2010) A new study in Ecology Letters has discovered that monarch butterflies employ medicinal plants to treat their larva. Researchers found that certain species of milkweed, which the larva feed on, can reduce the threat of a sometime deadly parasite. However, even more surprising: "we have also found that infected female butterflies prefer to lay their eggs on plants that will make their offspring less sick, suggesting that monarchs have evolved the ability to medicate their offspring," says lead author Jaap de Roode.