News articles on animal behavior

---
Mongabay.com news articles on animal behavior in blog format. Updated regularly.








Hibernating primates: scientists discover three lemur species sleep like bears
(05/02/2013) Bears do it, bats do it, and now we know lemurs do it too: hibernate, that is. Since 2005, scientists have known that the western fat-tailed dwarf lemur hibernates, but a new study in Scientific Reports finds that hibernation is more widespread among lemurs than expected. At least two additional lemur species—Crossley's dwarf lemur and Sibree's dwarf lemur—have been discovered hibernating. So far lemurs, which are only found on the island of Madagascar, are the only primates known to undergo hibernation, raising curious questions about the relationship between lemur hibernation and more well-known deep sleepers.
Clownfish helps its anemone host to breathe
(04/24/2013) The sight of a clownfish wriggling through the stinging tentacles of its anemone is a familiar and seemingly well-understood one to most people—the stinging anemone provides a protective home for the clownfish who is immune to such stings, and in turn the clownfish chases away any polyp-eating sunfish eyeing the anemone's tentacles for a meal. But recent research has shown that all that clownfish wriggling significantly helps to oxygenate the anemone at night, when oxygen levels in the water are low.
An insidious threat to tropical forests: over-hunting endangers tree species in Asia and Africa
(04/04/2013) A fruit falls to the floor in a rainforest. It waits. And waits. Inside the fruit is a seed, and like most seeds in tropical forests, this one needs an animal—a good-sized animal—to move it to a new place where it can germinate and grow. But it may be waiting in vain. Hunting and poaching has decimated many mammal and bird populations across the tropics, and according to two new studies the loss of these important seed-disperser are imperiling the very nature of rainforests.
Proposed coal plant threatens Critically Endangered Philippine cockatoo
(04/02/2013) One kilometer off the Philippine island of Palawan lies the Rasa Island Wildlife Sanctuary; here forest grows unimpeded from a coral island surrounded by mangroves and coral reefs. Although tiny, over a hundred bird species have been recorded on the island along with a major population of large flying foxes, while in the waters below swim at least 130 species of coral fish, three types of marine turtles, and that curious-looking marine mammal, dugongs. Most importantly, perhaps, the island is home to the world's largest population of Philippine cockatoos (Cacatua haematuropygia), currently listed as Critically Endangered. But, although uninhabited by people, Rasa Island may soon be altered irrevocably by human impacts.
Male lions require dense vegetation for successful ambush hunting
(03/20/2013) For a long time male lions were derided as the lazy ones in the pride, depending on females for the bulk of hunting and not pulling their weight. Much of this was based on field observations—female lions hunt cooperatively, often in open savannah, and therefore are easier to track at night. But new research in Animal Behaviour is showing that males are adroit hunters in their own right, except prickly males hunt alone and use dense vegetation as cover; instead of social hunting in open savannah, they depend on ambushing unsuspecting prey.
Scientists successfully reintroduce gaur in Indian park

(03/18/2013) Gaur (Bos gaurus gaurus) is one of the large wild ungulates of Asian jungles. It is the tallest living ox, and one of the four heaviest land mammals (elephant, rhino and wild buffalo are the other three), weighing up to 940 kilograms (2,070 pounds) and standing between 1.6 and 1.9 meters (5.2 to 6.2 feet) at the shoulder. Gaur were once distributed throughout the forested tracts of India and South Nepal, east to Vietnam and south to Malaya. Today, however, they are confined to just over a hundred existing, and 27 proposed, Protected Areas in India.
Seeing the forest through the elephants: slaughtered elephants taking rainforest trees with them
(03/11/2013) Elephants are vanishing. The booming illegal ivory trade is decimating the world's largest land animal, but no place has been harder hit than the Congo basin and its forest elephants (Loxodonta cyclotis). The numbers are staggering: a single park in Gabon, Minkebe National Park, has seen 11,100 forest elephants killed in the last eight years; Okapi Faunal Reserve in the Democratic Republic of the Congo has lost 75 percent of its elephants in fifteen years; and a new study in PLoS ONE estimates that in total 60 percent of the world's forest elephants have been killed in the last decade alone. But what does that mean for the Congo forest?
Jaguars, tapirs, oh my!: Amazon explorer films shocking wildlife bonanza in threatened forest
(02/19/2013) Watching a new video by Amazon explorer, Paul Rosolie, one feels transported into a hidden world of stalking jaguars, heavyweight tapirs, and daylight-wandering giant armadillos. This is the Amazon as one imagines it as a child: still full of wild things. In just four weeks at a single colpa (or clay lick where mammals and birds gather) on the lower Las Piedras River, Rosolie and his team captured 30 Amazonian species on video, including seven imperiled species. However, the very spot Rosolie and his team filmed is under threat: the lower Las Piedras River is being infiltrated by loggers, miners, and farmers following the construction of the Trans-Amazon highway.
Pity the pangolin: little-known mammal most common victim of the wildlife trade
(02/11/2013) Last year tens-of-thousands of elephants and hundreds of rhinos were butchered to feed the growing appetite of the illegal wildlife trade. This black market, largely centered in East Asia, also devoured tigers, sharks, leopards, turtles, snakes, and hundreds of other animals. Estimated at $19 billion annually, the booming trade has periodically captured global media attention, even receiving a high-profile speech by U.S. Secretary of State, Hillary Clinton, last year. But the biggest mammal victim of the wildlife trade is not elephants, rhinos, or tigers, but an animal that receives little notice and even less press: the pangolin. If that name doesn't ring a bell, you're not alone.
Claim of human and tiger 'coexistence' lacks perspective
(01/29/2013) Nepal's Chitwan National Park was the site of a study, published in September 2012 by Carter and others, which concluded that, tigers coexist with humans at fine spatial scales. This paper has ignited a scientific debate regarding its implications for large carnivore conservation worldwide, with scientists at institutions worldwide questioning the validity of claims of coexistence. At the foundation of this debate, perhaps, is the unresolved question, "what is coexistence?"
Save Lolita: new film urges release of captive killer whale
(01/22/2013) Through his new 90-second PSA, Save Lolita, filmmaker Daniel Azarian wanted to connect people to the plight of Lolita on a deeply human level; the only problem: Lolita is an orca, also known as a killer whale. But the stark, moving PSA succeeds, given the sociability of an individual—human or orca—who was stolen from her family and held in captivity for the past 42 years at Miami's Seaquarium.
Landmines, chains, and hope: the elephants of Thailand
(01/15/2013) Few animals draw more compassion and awe from people than elephants. Highly intelligent, deeply social, and touchingly sensitive, elephants have much in common with human beings, despite their size and shape. Yet elephants around the world are still often abused and mis-treated, whether to entertain tourists or as victims of human strife. A new film, The Last Elephants in Thailand, sets out to document both the good and bad that elephants encounter in a world dominated by homo sapiens.
Mercury hurts birds and people: what we can learn from studying our feathered friends
(01/07/2013) Birds aren't that different from people. We learn from our parents, just like zebra finches learn songs from their fathers. We are active and noisy during the day, like birds, and we can also be territorial. Also like birds, we try to attract mates through colorful displays and beautiful songs. Birds are sensitive to pollution in their environment just like we are: harmful elements such as mercury wreak similar havoc on human and bird biology alike. Because our species share so many attributes, studying birds illustrates the connections between them and us.
Western scrub jay funerals...what's all the ruckus?
(12/10/2012) The western scrub jay (Aphelocoma californica) is a common denizen of suburban neighborhoods in the U.S., loitering at bird feeders and amusing bird watchers with their entertaining antics. Known to birders as 'WESJ,' this handsome bird is non-migratory and territorial during the breeding season, but what's curious about WESJ's is the way they respond to risks in their environment. When descended on by a predator or encountering a dead member of its kind, these birds hop from perch to perch and call loudly, ensuing in a 'cacophonous reaction,' a term coined by researchers at the University of California, Davis who are studying the behavior of these unique birds.
Despite small brains, gray mouse lemurs use calls to avoid inbreeding
(12/03/2012) As a small-brained and largely solitary primate, the gray mouse lemur (Microcebus murinus) wasn't supposed to have the capacity to distinguish the calls of its kin calls from other lemurs. However, a new study in BMC Ecology, finds that a female gray mouse lemur is able to determine the mating calls of its father, allowing it avoid inbreeding. The discovery challenges the long-held belief that only large-brained, highly social animal are capable of determining kin from calls.
New Guinea singing dog photographed in the wild for the first time

(12/03/2012) A rarely seen canine has been photographed in the wild, likely for the first time. Tom Hewitt, director of Adventure Alternative Borneo, photographed the New Guinea singing dog during a 12-day expedition up a remote mountain in Indonesian Papua. Very closely related to the Australian dingo, the New Guinea singing dog, so named for its unique vocalizations, has become hugely threatened by hybridization with domesticated dogs.
Reduction in snow threatens Arctic seals
(11/28/2012) Arctic snowfall accumulation plays a critical role in ringed seal breeding, but may be at risk due to climate change, according to a new study in Geophysical Research Letters. Sea ice, which is disappearing at an alarming rate, provides a crucial platform for the deep snow seals need to reproduce. Ringed seals (Phoca hispida) require snow depths of at least 20 centimeters (8 inches): deep enough to form drifts that seals use as birth chambers.
Photos: Chinese leopard wins camera trap contest
(11/27/2012) The third annual BBC Wildlife Magazine Camera Trap Photo of the Year contest has produced some stunning and surprising images, including a snow leopard sticking its tongue out, a rare giant pangolin, and wrestling monitor lizards. But the winner this year was the perfect shot of a young leopard in China.
Endangered muriqui monkeys in Brazil full of surprises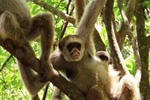 (11/26/2012) On paper, the northern muriquis (Brachyteles hypoxanthus) look like a conservation comeback story. Three decades ago, only 60 of the gentle, tree-dwelling primates lived in a fragment of the Atlantic Forest along the eastern coast of Brazil. Now there are more than 300. But numbers don't tell the whole story, according to anthropologist Karen Strier and theoretical ecologist Anthony Ives of the University of Wisconsin, Madison. The pair analyzed 28 years of data on the demographics of the muriquis, one of the longest studies of its kind. They found surprising patterns about birth and death rates, sex ratios, and even how often the monkeys venture out of their trees. These findings raise questions about the muriquis' long-term survival and how best to protect them, the scientists wrote in the Sept 17 issue of PLoS ONE.
Great apes suffer mid-life crisis too
(11/19/2012) Homo sapiens are not alone in experiencing a dip in happiness during middle age (often referred to as a mid-life crisis) since great apes suffer the same according to new research in the Proceedings of the National Academy of Sciences (PNAS). A new study of over 500 great apes (336 chimpanzees and 172 orangutans) found that well-being patterns in primates are similar to those experience by humans. This doesn't mean that middle age apes seek out the sportiest trees or hit-on younger apes inappropriately, but rather that their well-being starts high in youth, dips in middle age, and rises again in old age.
Clever crows may grasp hidden causes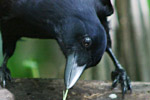 (11/15/2012) Crows may be imagining more than we imagined. New research suggests certain crows make decisions based on factors they can't see. A recent study published in the Proceedings of the National Academy of Sciences (PNAS) deepens our understanding of these crafty corvids, and could help explain how human reasoning evolved. Crows are intelligent problem solvers, capable of making hook-shaped tools to retrieve food and using multiple tools in a logical sequence. New Caledonian crows (Corvus moneduloides) are particularly adept tool users, and have often been the subject of cognitive research. In this study, the New Zealand–based researchers tested whether New Caledonian crows could trace an event back to a cause that was hidden from their view.
New species of bioluminescent cockroach possibly already extinct by volcanic eruption
(11/14/2012) While new species are discovered every day, Peter Vršanský and company's discovery of a light-producing cockroach, Lucihormetica luckae, in Ecuador is remarkable for many reasons, not the least that it may already be extinct. The new species represents the only known case of mimicry by bioluminescence in a land animal. Like a venomless king snake beating its tail to copy the unmistakable warning of a rattlesnake, Lucihormetica luckae's bioluminescent patterns are nearly identical to the poisonous click beetle, with which it shares (or shared) its habitat.
Above the ocean: saving the world's most threatened birds
(11/01/2012) A life on the ocean is a perilous one for any bird. They must expend energy staying aloft for thousands of miles and learn to be marathon swimmers; they must seek food beneath treacherous waves and brave the world's most extreme climates; they must navigate the perils both of an unforgiving sea and far-flung islands. Yet seabirds, which includes 346 global species that depend on marine ecosystems, have evolved numerous strategies and complex life histories to deal with the challenges of the sea successfully, and they have been doing so since the dinosaur's last stand. Today, despite such a track record, no other bird family is more threatened; yet it's not the wild, unpredictable sea that endangers them, but pervasive human impacts.
Happy Halloween: nine new species of tree-climbing tarantula discovered
(10/31/2012) If you suffer from acute arachnophobia, this is the perfect Halloween discovery for you: a spider expert has discovered nine new species of arboreal (tree-dwelling) tarantulas in the Brazil. Although tarantula diversity is highest in the Amazon rainforest, the new species are all found in lesser-known Brazilian ecosystems like the Atlantic Forest, of which less than 7 percent remains, and the cerrado, a massive savannah that is being rapidly lost to agriculture and cattle ranching.
By imitating human voices, beluga whale may have been attempting to communicate

(10/23/2012) Five years after the death of a captive beluga whale named NOC, researchers have discovered that the marine mammal may have been trying to communicate with people by mimicking humans voices at the National Marine Mammal Foundation in San Diego. Analyzing tapes of human-like speech from the young male beluga whale, scientists writing in Current Biology note that while there have been reports of beluga whales making human like sounds before, this is the first time evidence has been captured on tape and analyzed.
Endangered turtle urinates through its mouth

(10/11/2012) One of China's most commonly farmed turtles for consumption, the Chinese soft-shelled turtle (Pelodiscus sinensis), has a unique ability: it urinates out of its mouth. Researchers in Singapore, writing in The Journal of Experimental Biology, have discovered that the Chinese soft-shelled turtle excretes most of its urine from its mouth instead of its kidneys. They hypothesize that the turtle developed this ability in order to survive in brackish waters, which contain considerably more salt than freshwater.
Appreciating elephant individuality: a new approach to preventing conflicts with humans
(10/09/2012) To prevent conflicts between humans and elephants in developed areas, a new study shows there is much to learn from analyzing Asian elephant behavior at the individual level as opposed to population studies. Researchers have traditionally interpreted elephant behavior at the population level, looking for behavior patterns among elephants of similar ages, group sizes, and genders. Today, field researchers in India are studying elephant behavior at the individual level. Their goal is to appreciate the idiosyncrasies of individual elephants in the hopes of predicting their behavior. Nishant Srinivasaiah, of the Tata Institute of Fundamental Research and lead author of the study, told mongabay.com that it is vital "to get to know our elephants more intimately than ever before and, more importantly, to shift our focus from a population to include its individuals as well."
Brainless slime mold uses slimy memory to navigate

(10/08/2012) How do you navigate space efficiently without a brain? Slime, according to a surprising new study in the Proceedings of the National Academy of Sciences (PNAS) of a brainless slime mold named Physarum polycephalum. Scientists at the University of Sydney have discovered that the mold secretes slime as an 'external spatial memory' to make sure it doesn't end up going around in circles.
Mr. Darcy and the Manic Pixie Dream Girl: monkeys display distinct personality types
(10/01/2012) Remember the 'man with no name' played by Clint Eastwood in A Fistful of Dollars, Mr. Darcy in Jane Austen's Pride and Prejudice, or the bubbly cute girl in every romantic comedy from Legally Blonde to Breakfast at Tiffany's? Each of these characters represent an over-the-top type of human personality—loner (man with no name), aloof (Darcy), and nice (the bubbly cute girl)—but a new study in the Proceedings of the National Academy of Sciences (PNAS) finds that it's not only humans that show such distinct types, but baboons as well. Studying 45 female chacma baboons in Botswana's Moremi Game Reserve over seven years, the researchers found that such personality types, unrelated to social statues, helped to determine the animals' overall sociability and the stability of their relationships.
Sacrificial squid has unique way of deterring predators

(09/04/2012) Octopoteuthis deletron—this deep-dwelling, unassuming little squid may appear plain and boring, but when threatened, it has a peculiar way of defending itself. This foot-long invertebrate behaves a bit differently than most of its close cousins: it drops its arms.
One extinction leads to another...and another
(08/28/2012) A new study in Biology Letters demonstrates that altering the relationship between a predator and its prey can cause wide-ranging ripple effects through an ecosystem, including unexpected extinctions. Species help each other, directly or indirectly, which scientists refer to as mutualism or commensalism. For example, a species' success may rely not only upon the survival of its food source, but may also indirectly rely upon the survival of more distantly related species.
Bird uses hurricane winds to accelerate flight speed to 100 MPH

(08/24/2012) Migrating Whimbrels — a type of shorebird — may struggle for hours against winds when trying to cross the Caribbean during hurricane season but get a huge boost as they fly out of storms, report researchers from the Center for Conservation Biology in Williamsburg, Virginia.
Rodent robbers fill role of mega mammals, help spread tropical trees

(08/07/2012) In order to disperse their seeds, large-fruited tropical trees probably relied on massive mammals that roamed the earth over 10,000 years ago. But with giants such as the mastodon now extinct, thieving rodents—who continually excavate and rebury others' seeds—may be filling their role, according to a new study in the Proceedings of the National Academy of Sciences (PNAS).
Nature's Compass: The Mystery of Animal Navigation – Book Review

(07/06/2012) Migration patterns, natal homing, and daily activities by animals all require significant navigation capacities. In Nature's Compass: The Mystery of Animal Navigation, Dr. James L. Gould and Carol Grant Gould explore the mathematical and physical underpinnings of what it takes for these species to successfully navigate.
'Time pollution': loss of predators pushes nocturnal fish to take advantage of the day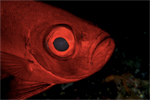 (06/25/2012) Nocturnal fish—which sport big eyes for improved night vision—are taking back the day in the coral reefs of the Tabuaeran Atoll, according to a new study in the open-access journal PLoS ONE. Overfishing has plundered the Pacific atoll of many of its notable predators, including sharks and barracudas, causing ripple effects through the ecosystem. One of these emerging changes appears to be that with less fear of being eaten, nocturnal fish are increasingly venturing out during the day.
Featured video: baby hornbills grow up in a jar

(05/29/2012) A researcher in Malaysia has captured footage of Oriental pied hornbills (Anthracoceros albirostris) raising chicks in an earthen jar in the Kenyir rainforest of Malaysia. The first video shows the father Oriental pied hornbill feeding the chicks, while the second shows a chick leaving its nest.
New frog species leaves scientists' fingers yellow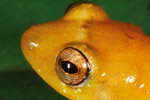 (05/22/2012) A beautiful, yellow frog species has been discovered in western Panama, according to a new paper in ZooKeys. Scientists were surprised when handling the new species to find their fingers stained bright yellow by its skin, but even after laboratory research the purpose of this dye remains a mystery. The new species, named Diasporus citrinobapheus, is a member of the large rain frog family, whose members skip the tadpole stage and instead are born directly from eggs as tiny froglets.
Jaguar v. sea turtle: when land and marine conservation icons collide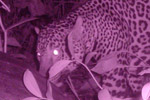 (05/16/2012) At first, an encounter between a jaguar (Panthera onca) and a green sea turtle (Chelonia mydas) seems improbable, even ridiculous, but the two species do come into fatal contact when a female turtle, every two to four years, crawls up a jungle beach to lay her eggs. A hungry jaguar will attack the nesting turtle, killing it with a bite to the neck, and dragging the massive animal—sometime all the way into the jungle—to eat the muscles around the neck and flippers. Despite the surprising nature of such encounters, this behavior, and its impact on populations, has been little studied. Now, a new study in Costa Rica's Tortuguero National Park has documented five years of jaguar attacks on marine turtles—and finds these encounters are not only more common than expected, but on the rise.
Just how far can a polar bear swim?

(05/03/2012) Polar bears (Ursus maritimus) are capable of swimming incredible distances, according to a new study published in Zoology, which recorded polar bears regularly swimming over 30 miles (48 kilometers) and, in one case, as far as 220 miles (354 kilometers). The researchers believe the ability of polar bears to tackle such long-distance swims may help them survive as seasonal sea ice vanishes due to climate change.
Animal picture of the day: Cicada emerging

(04/30/2012) Cicada's are generally large insects with broad heads and transparent wings. The group is known for some species' habitats of staying under ground for up to 17 years before emerging en masse, though many cicada species emerge annually in small groups. Once it emerges, it sheds its exoskeleten and begins to seek out mates. Males produce a loud, distinct sound.
Doing good and staying sane amidst the global environmental crisis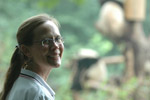 (04/23/2012) Several years ago while teaching a course in environmental science a student raised her hand during our discussion of the circumstances of modern ecological collapse and posed the question, "what happens when there is no more environment?" At the time I had no response and stumbled to formulate some sort of reply based on the typical aseptic, apathetic logic with which we are programmed through education in the scientific tradition: that there will always be some sort of environment, that life has prospered through the five previous mass extinctions and that something will survive. While this may be the case, the time has come for more of us to consider the broader spectrum of what global humanity is facing as the planet's ecology is decimated.
Sawfish impale, cleave prey with snout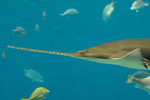 (03/05/2012) Although all seven species of sawfish are nearly extinct, scientists have spent little time studying these vanishing species. However that is changing as a new study in Current Biology sheds light on the sawfishes' most distinguishing feature: its long toothed snout, which gives the fish its name. "I was surprised to see how skilled sawfish are with their saw," said co-author Barbara Wueringer of the University of Queensland in a press release. "They use their saw to impale prey on the rostral teeth by producing several lateral swipes per second."
The camera trap revolution: how a simple device is shaping research and conservation worldwide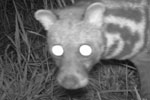 (02/14/2012) I must confess to a recent addiction: camera trap photos. When the Smithsonian released 202,000 camera trap photos to the public online, I couldn't help but spend hours transfixed by the private world of animals. There was the golden snub-monkey (Rhinopithecus roxellana), with its unmistakably blue face staring straight at you, captured on a trail in the mountains of China. Or a southern tamandua (Tamandua tetradactyla), a tree anteater that resembles a living Muppet, poking its nose in the leaf litter as sunlight plays on its head in the Peruvian Amazon. Or the dim body of a spotted hyena (Crocuta crocuta) led by jewel-like eyes in the Tanzanian night. Or the less exotic red fox (Vulpes vulpes) which admittedly appears much more exotic when shot in China in the midst of a snowstorm. Even the giant panda (Ailuropoda melanoleuca), an animal I too often connect with cartoons and stuffed animals, looks wholly real and wild when captured by camera trap: no longer a symbol or even a pudgy bear at the zoo, but a true animal with its own inner, mysterious life.
Tiny tarsier makes big, ultrasonic noise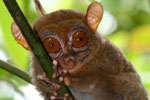 (02/13/2012) The Philippine tarsier (Tarsius syrichta), a 5-inch tall Southeast Asian primate, has long resembled a ventriloquist's doll. It would open its mouth as though chattering away, but researchers heard nothing. Now, a new study in Biology Letters has found out why: the Philippine tarsier communicates ultrasonically, surpassing all other primates, and nearly all terrestrial mammals, in its ability to create sounds in the upper registry.
Photo: new blue, red, yellow lizard discovered in the Andes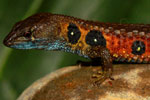 (02/13/2012) Researchers have discovered a new species of lizard in the Peruvian Andes, whose males sport beautiful colors, according to a paper in ZooKeys. The highest-dwelling known species of the genus Potamites, the new lizard, dubbed Potamites montanicola, was found in forest streams at 1,500 to 2,000 meters (4,900 to 6,500 feet). The species was discovered as a part of a biodiversity monitoring program by COGA, a Peruvian fossil fuel company.
Jurassic insect sings again

(02/06/2012) Innovative research has made a long-extinct katydid—which inhabited the world of dinosaurs like stegosaurus, allosaurus, and diplodocus—sing again. The discovery of an incredibly well-preserved fossil of a new species of katydid, dubbed Archaboilus musicus, gave biomechanical experts the opportunity to recreate a song not heard in 165 million years according to new research published in the Proceedings of the National Academy of Sciences (PNAS).
Vampire and bird frogs: discovering new amphibians in Southeast Asia's threatened forests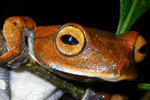 (02/06/2012) In 2009 researchers discovered 19,232 species new to science, most of these were plants and insects, but 148 were amphibians. Even as amphibians face unprecedented challenges—habitat loss, pollution, overharvesting, climate change, and a lethal disease called chytridiomycosis that has pushed a number of species to extinction—new amphibians are still being uncovered at surprising rates. One of the major hotspots for finding new amphibians is the dwindling tropical forests of Southeast Asia.




Page 1 | Page 2 | Page 3 | Page 4 | Page 5 | Page 6 | Page 7 | Page 8