News articles on andes

---
Mongabay.com news articles on andes in blog format. Updated regularly.





Scientists uncover six potentially new species in Peru, including bizarre aquatic mammal (photos)


(09/25/2014) A group of Peruvian and Mexican scientists say they have uncovered at least six new species near South America's most famous archaeological site: Machu Picchu. The discoveries include a new mammal, a new lizard, and four new frogs. While the scientists are working on formally describing the species, they have released photos and a few tantalizing details about the new discoveries.


In the shadows of Machu Picchu, scientists find 'extinct' cat-sized mammal


(09/25/2014) Below one of the most famous archaeological sites in the world, scientists have made a remarkable discovery: a living cat-sized mammal that, until now, was only known from bones. The Machu Picchu arboreal chinchilla rat (Cuscomys oblativa) was first described from two enigmatic skulls discovered in Inca pottery sculpted 400 years ago.


A paradise being lost: Peru's most important forests felled for timber, crops, roads, mining


(08/12/2014) In 1988, when British environmentalist Norman Myers first described the concept of a "biodiversity hotspot," he could have been painting a picture of the highly threatened Peruvian Andes mountain range. Today, the Andes are an immediate and looming portent of the fate of the Peruvian Amazon rainforest.


Rare bird paradise protected in war-torn Colombian mountain range (photos)


(07/22/2014) A coalition of conservation groups have established a new protected area in one of Latin America's most neglected ecosystems: the Colombian-side of the Serranía de Perijá mountain range. Following decades of bloody conflict and rampant deforestation, experts say only five percent of rainforest is left on the Colombian side of this embattled mountain range.


Is REDD+ bad for wildlife? New study says lowland forest protection bias unfair, urges change


(06/27/2014) A study published this week found tree cover does not necessarily correlate with habitat importance. It suggests that using such a metric may be leading to false assumptions of habitat importance, and that REDD+ and other carbon-centric conservation programs may actually be propelling some species towards extinction.


Scientists uncover new species of Andean marsupial frog


(03/05/2014) The term marsupial frog sound like a hoax, but, believe it or not, it's real. Recently, herpetologists welcomed a new species, known as Gastrotheca dysprosita and described in the journal Phyllomedusa. Unlike mammal marsupials, which typically carry their young in pouches on their torsos and are found primarily in Australia, the Gastrotheca genus of frogs, which contains 62 species, is found in the Andes region on South America and sport their pouches on their backs (also called a "dorsal brood pouch").


Key highland habitat for rare condor protected in Ecuador

(01/24/2014) Conservationists have acquired a 2,800-ha (7,000-acre) property that completes the acquisition of some 108,000 ha of key Andean Condor habitat in Ecuador.


Climate change could kill off Andean cloud forests, home to thousands of species found nowhere else


(09/18/2013) One of the richest ecosystems on the planet may not survive a hotter climate without human help, according to a sobering new paper in the open source journal PLoS ONE. Although little-studied compared to lowland rainforests, the cloud forests of the Andes are known to harbor explosions of life, including thousands of species found nowhere else. Many of these species—from airy ferns to beautiful orchids to tiny frogs—thrive in small ranges that are temperature-dependent. But what happens when the climate heats up?


Featured video: 'this is day one for the olinguito'

(09/04/2013) Last month scientists unveiled a remarkable discovery: a new mammal in the order Carnivora (even though it mostly lives off fruits) in the Andean cloud forests. This was the first new mammal from that order in the Western Hemisphere since the 1970s. The olinguito had long been mistaken for its closest relatives, olingos—small tree-dwelling mammals that inhabit the lowland rainforests of South and Central America—however genetic research showed the olinguito had actually been separated by 3-4 million years from its cousins.


Meet the BABY olinguito


(08/18/2013) Since its announcement on Thursday, the olinguito—the world's newest mammal—has taken the world by storm. Hundreds of articles have been written about the new species, while its cuddly appearance has already been made the subject of cartoons. Now, conservationists have released the first photos of a baby olinguito. The new photos come from La Mesenia Conservation Project in Colombia, an Andean cloud forest reserve that is a project area for the NGO SavingSpecies.


Scientists discover teddy bear-like mammal hiding out in Andean cloud forests (photos)


(08/15/2013) While the olinguito looks like a wild, tree-climbing teddy bear with a cat's tail, it's actually the world's newest mammalian carnivore. The remarkable discovery—the first mammal carnivore uncovered in the Western Hemisphere since the 1970s—was found in the lush cloud forests of the Andes, a biodiverse region home to a wide-range of species found no-where else. Dubbed the olinguito (Bassaricyon neblina), the new mammal is a member of a little-known, elusive group of mammals—olingos—that are related to raccoons, coatis, and kinkajous. However, according to its description in the journal Zookeys, the olinguito is the most distinct member of its group, separated from other olingos by 3-4 million years (or longer than Homo sapiens have walked the Earth).


Peruvian night monkey threatened by vanishing forests, lost corridors


(03/18/2013) The Peruvian night monkey (Aotus miconax) is one of the world's least known primates, having never been studied in the wild--until now. Found only in the cloud forests of northern Peru, a group of scientists with Neotropical Primate Conservation and the National University of Mayor San Marcos have spent 12 months following a single group of this enigmatic monkey species in a small forest patch. The results of their research, published in mongabay.com's open access journal Tropical Conservation Science, shows that protecting forests, even small forest fragments, is vital to the species' survival.


Climate change melting glaciers in the Andes

(01/22/2013) Glaciers are melting faster than ever in the tropical Andes, warns a new study published in The Cryosphere, which puts the blame for vanishing glaciers squarely on climate change. The study — the most comprehensive to date — found that since the 1970s glacier melt in the region has been speeding up, threatening freshwater supplies in Peru and Bolivia.


Photos: new mammal menagerie uncovered in remote Peruvian cloud forest


(10/03/2012) Every year scientists describe around 18,000 new species, but mammals make up less than half a percent of those. Yet mammal surprises remain: deep in the remote Peruvian Andes, scientists have made an incredible discovery: a rich cloud forest and alpine grassland ecosystem that may be home to no less than eight new mammal species. Although most of these new mammals are currently under study—and have not been officially described yet (a process which can take several years)—lead scientists, Horacio Zeballos of Peru and Gerardo Ceballos of Mexico are certain they have uncovered a small forest, surrounded by deforestation and farmland, that shelters a remarkable menagerie of mammals unknown to scientists until now.


Wax palm can be sustainably harvested

(09/17/2012) The wax palm can be harvested sustainably with just a few management restrictions, according to a new study in mongabay.com's open access journal Tropical Conservation Science (TCS). Found only in the Peruvian and Ecuadorian Andes, the leaves of the wax palm (Ceroxylon echinulatum) are used to make Easter handicrafts. But the practice has caused fears that the species, which is currently categorized as Vulnerable by the IUCN Red List, is being overexploited.


Pictures: Bolivian park may have the world's highest biodiversity


(09/12/2012) With over 90 species of bat, 50 species of snake, 300 fish, 12,000 plants, and 11 percent of the world's bird species, Madidi National Park in Bolivia may be the world's most biodiverse place, according to new surveys by the the Bolivian Park Service (SERNAP) with aid from the Wildlife Conservation Society (WCS).


Beautiful new bird discovered in Peruvian cloud forest

(08/07/2012) Four years ago in a remote cloud forest in Peru's Cerros del Sira mountain range, three recently graduated students from Cornell University discovered a never-before-recorded species of black, white, and scarlet bird. Now described in the scientific journal, The Auk, the bird has been dubbed the Sira barbet (Capito fitzpatricki).


3 new private conservation reserves established by communities in Peru

(03/21/2012) Three new private conservation areas in the Amazon-Andes region of Peru will help buffer the country's national park system while offering new opportunities for local people to benefit from protecting ecosystems.


Photo: new blue, red, yellow lizard discovered in the Andes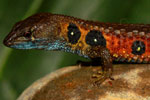 (02/13/2012) Researchers have discovered a new species of lizard in the Peruvian Andes, whose males sport beautiful colors, according to a paper in ZooKeys. The highest-dwelling known species of the genus Potamites, the new lizard, dubbed Potamites montanicola, was found in forest streams at 1,500 to 2,000 meters (4,900 to 6,500 feet). The species was discovered as apart of a biodiversity monitoring program by COGA, a Peruvian fossil fuel company.


Majority of Andes' biodiversity hotspots remain unprotected


(02/01/2012) Around 80 percent of the Andes' most biodiverse and important ecosystems are unprotected according to a new paper published in the open-access journal BMC Ecology. Looking at a broad range of ecosystems across the Andes in Peru and Bolivia, the study found that 226 endemic species, those found no-where else, were afforded no protection whatsoever. Yet time is running out, as Andean ecosystems are undergoing incredible strain: a combination of climate change and habitat destruction may be pushing many species into ever-shrinking pockets of habitat until they literally have no-where to go.


Picture of the day: the world's largest bromeliad

(01/30/2012) Found in the Andes of Peru and Bolivia, the world's biggest bromeliad Puya raimondii is imperiled by climate change and human disturbances.


Geology has split the Amazon into two distinct forests


(01/19/2012) The common view of the Amazon is that it is one massive, unbroken forest. This impression is given by maps which tend to mark the Amazon by a large glob of green or even by its single name which doesn't account for regional changes. Of course, scientists have long recognized different ecosystems in the Amazon, most especially related to climate. But a new study in the Journal of Biogeography has uncovered two distinct forest ecosystems, sharply divided, caused by million of years of geologic forces.


Using palm hearts sustainably in Colombia

(12/12/2011) Long eaten by indigenous populations, palm hearts have also popular abroad, usually in fine dining establishments. However, palm hearts are cut-out of the inner core of various palm tree species, in some cases killing the tree. A new study published in mongabay.com's open access journal Tropical Conservation Society looks at the sustainability of palm heart extraction from the palm species Prestoea acuminata in the Colombian Andes. While harvesting from Prestoea acuminata does not kill the host tree, better management is needed to ensure the practice doesn't become unsustainable.


Thousands protest giant gold mine in Peru's mountains

(11/29/2011) Fearing water contamination and pollution, over ten thousand people in Cajamarca, Peru are taking part in protests against mining plans by US-company Newmont Mining Corporation. In its sixth day, the growing protests have caused flights in and out of Cajamarca to be cancelled. According to Reuters, police also clashed with protestors today, injuring two dozen.


Featured video: camera traps catch Andean cats and others in Argentina

(11/07/2011) Camera traps set up in the Jujuy Province of Argentina have captured rare images of the elusive and playful Andean cat and Pampas cat, along with other South American wildlife, including vizcachas, culpeo foxes, and skunks.


Animal picture of the day: chestnut breasted coronet

(09/29/2011) The chestnut-breasted coronet (Boissonneaua matthewsii) is native to the Andean forests of Peru, Ecuador, Colombia.


Animal picture of the day: the brilliant cock-of-the-rock

(08/16/2011) The Andean cock-of-the-rock (Rupicola peruvianus) is an unmistakable bird, whose males support such brilliant and bushy head plumage that their beaks are often hidden entirely, giving them a look wholly unique in the animal kingdom.


Amazon still neglected by researchers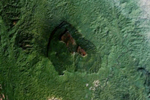 (03/28/2011) Although the Amazon is the world's largest tropical forest, it is not the most well known. Given the difficulty of access along with the fear of disease, dangerous species, indigenous groups, among other perceived perils, this great treasure chest of biology and ecology was practically ignored by scientists for centuries. Over the past few decades that trend has changed, however even today the Amazon remains lesser known than the much smaller, and more secure, tropical forests of Central America. A new study in mongabay.com's open access journal Tropical Conservation Science, which surveyed two prominent international tropical ecology journals (Biotropica and Journal of Tropical Ecology) between 1995 and 2008, finds that Central America was the subject of twice as many studies as the Amazon. In fact, according to the authors, much of the Amazon remains terra incognito to researchers, even as every year more of the rainforest is lost to human impacts.


New population discovered of the America's mini snow leopard: the Andean cat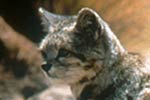 (03/16/2011) The elusive Andean cat (Leopardus jacobita), which until the late 1990s was only known to scientists by a couple photographs, has been discovered beyond the Andes mountain range for which it is named. According to researchers, the wild Andean cat resembles Asia's snow leopard, both in appearance and its habitat above altitudes of 3,000 meters (9,800 feet), only in this case the wild cat is about the size of a domesticated feline. But, scientists have now discovered that the cat, which is listed as Endangered by the IUCN Red List, also inhabits the Patagonian steppe at elevations as low as 650 meters (2,100 feet).


New population of Critically Endangered monkey discovered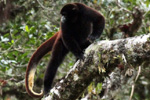 (11/22/2010) Classified as Critically Endangered by the IUCN Red List, listed among the Top 25 Most Endangered primates in the world, and rated number 71 on the EDGE's list of world's most endangered and unique mammals, the yellow-tailed woolly monkey needed some good news—and this week it got it. The conservation organization, Neotropical Primate Conservation (NPC), has announced the discovery of an unknown population of the yellow-tailed woolly monkey (Oreonax flavicauda), buttressing hopes that the species will survive in the long-term.


Amazon biodiversity older than believed

(11/11/2010) A new study in Science has found that the incredible biodiversity of the Amazon rainforest goes back much further than expected, perhaps upending old ideas about how the Amazon basin became arguably the world's most biodiverse ecosystem. According to the study, the origin of rich biodiversity in the Amazon likely goes back more than 20 million years when the Andean mountains were rising.


Eight new plants discovered in Bolivia

(11/07/2010) Researchers have described eight new species of plant from in and near Madidi National Park in the Bolivian Andes. Described in the journal Novon by botanists with the Missouri Botanical Garden and the National Herbaium in Laz Paz, Bolivia, seven of the eight plants were found as apart of the Proyecto Madidi (Project Madidi), a ten year effort to describe the plant species of three inter-connecting protected areas in Bolivia—Madidi National Park, Pilón Lajas Biosphere Reserve and Communal Lands, and Apolobamba Integrated Management Natural Area.