News articles on amphibians

---
Mongabay.com news articles on amphibians in blog format. Updated regularly.





After disease engulfs island, rare mountain chicken frogs airlifted to safety

(04/23/2009) In a rescue operation that sounds straight out of an action film, 50 mountain chicken frogs were airlifted from the Caribbean island Montserrat after the discovery of Chytridomycosis, a fungal disease that has wiped out amphibian populations worldwide. Already, hundreds of the critically-endangered mountain chicken frogs succumbed to the disease, which is thought to have made its way to the island in late 2008 or early 2009.


Amphibians could develop immunity against devastating fungal disease

(04/03/2009) The fungal disease chytridiomycosis has ravaged amphibian populations, including contributing to several extinctions. But new research may bring some hope for currently threatened amphibians.


Have Australian cane toads finally met their match?


(03/31/2009) This weekend in Queensland, Australia the government held the first 'Toad Day Out' where hundreds of locals went hunting for the invasive cane toad, catching an estimated 10,000 toads to be euthanized. At the same time, researchers announced in the journal Functional Ecology that they may have discovered a native Australian species that will finally rout the cane toad—and it's not man. The meat ant is a notoriously aggressive and abundant insect which is known to consume anything edible, including the scientists argue, cane toads.


Photos: Undocumented species discovered in Papua New Guinea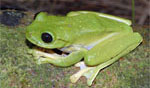 (03/25/2009) Colorful jumping spiders, a tiny frog with a "ringing song" and a striped gecko are among more than 50 previously unknown species discovered during a recent survey in the remote highlands of Papua New Guinea. More than 600 species were documented during the 2008 expedition, which was led by Conservation International (CI) under its Rapid Assessment Program (RAP).


Smallest Andean frog discovered in cloud forests of Peru


(03/18/2009) At 3,000 meters (9,842 feet) in the Andes herpetologists were surprised to discover a frog so small it could sit on a dime with room to spare. Further study showed that this new species, named Noble's pygmy frog, is the smallest frog in the Andean mountain range.


Poison frog diversity linked to the Andes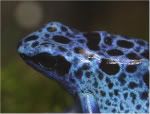 (03/10/2009) Electric colors, wild markings, and toxic skin have made poison frogs well-known inhabitants of the Amazon rainforest. With 353 recognized species, and probably more awaiting discovery, poison frogs are an incredibly diverse group of amphibians. While it has long been believed that the Amazon basin, itself, was the source of their diversity, a new study published in PLoS Biology has uncovered that the Andes mountain chain has served as an oven of evolutionary biodiversity for poison frogs over several million years.


Salamander populations collapse in Central America

(02/09/2009) Salamanders in Central America — like frogs, toads, and other amphibians at sites around the world — are rapidly and mysteriously declining, report researchers writing in the journal Proceedings of the National Academy of Sciences. Disturbingly, salamanders are disappearing from protected areas and otherwise pristine habitats.


Frogs can be used to predict biodiversity hotspots

(02/05/2009) Tree frogs may help scientists inexpensively predict biodiversity hotspots for conservation, report researchers writing in the journal Science.


Photos of new frogs discovered in Colombia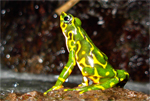 (02/03/2009) Ten undescribed species of amphibians — including nine frog and one salamander — have been discovered in the mountains of Colombia, report scientists from Conservation International (CI). The "new" amphibians included spiky-skinned, orange-legged rain frog, three poison dart frogs and three glass frogs, named for their transparent skin. The amphibians were discovered during a recent Rapid Assessment Program (RAP) expedition in the Tacarcuna area of the Darien, near the border with Panama.


12 new species of frogs discovered in India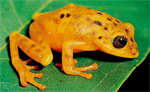 (02/03/2009) A dozen previously unknown species of frogs have been discovered in the forests of Western Ghats according to a paper published in latest issue of Zoological Journal of Linnean Society, London. The 12 species have been identified following a revision of the Philautus genus and are the result of ten years of field study in Kerala, Tamil Nadu, Karnataka. Goa, Maharashtra, and part of Gujarat, in the Western Ghats. The Western Ghats are considered a global biodiversity hotspot for their species richness and the threats the mountain range faces.


One billion frogs harvested as food per year

(01/21/2009) The consumption of up to one billion frogs per year to satisfy human appetite for frog flesh is adding to the litany of pressures on global amphibian populations, write researchers in the upcoming issue of Conservation Biology.


Symposium tackles big question: how many species will survive our generation

(01/16/2009) Nine scientists dusted off their crystal balls Monday at the National Museum of Natural History in Washington DC, weighing in on the future of the world's tropical forest. Despite the most up-to-date statistics, prognosis for the future of tropical forests varied widely. In the last few years a schism has occurred among biologists regarding the future of the tropics. No tropical scientist denies that rainforests and the species which inhabit them face unprecedented threats; neither do they argue that some of these forested regions and species will likely not survive the next fifty years. What has sparked debate, sometimes heated, is how bad will is it really? When the dust settles, what percentage of species will survive and how much forest will remain?


What is the greatest threat to rainforests: habitat destruction or climate change?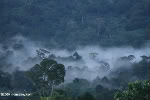 (01/13/2009) A symposium from the Smithsonian Institution meant to debate the level of threat by deforestation posed to the tropics shifted topic slightly near its end as scientists began to discus which was the most significant threat for rainforests and the species that inhabit them: habitat destruction or climate change?


Bizarre chirruping Purple Frog captured on film for the first time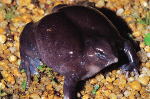 (01/07/2009) Discovered only in 2003, the unique purple frog has been captured on film for the first time in India's Western Ghats. A team of biologists from the University of Delhi, led by Dr. Sathyabhama Das Biju, captured several seconds of film of the frog running swiftly while calling for a mate with a distinct squeak.


17 new reptile and amphibian species discovered in Tanzania


(01/04/2009) 17 previously unknown species of reptiles and amphibians have been discovered in the rainforests of eastern Tanzania, report Italian and Tanzanian scientists. Conducting surveys of the 'virtually unexplored' forests of the South Nguru Mountains between 2004 and 2006, Michele Menegon of the Natural Science Museum of Trento in Italy and colleagues recorded 92 species of 'herps', of which 17 had never before been documented. The new species — which include chameleons, tree frogs, and snakes, among others — are believed to be endemic to the region.


Green-blooded, blue-boned frog discovered in Cambodia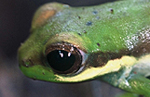 (12/18/2008) Researchers have discovered a previously unknown species of frog in Cambodia. The amphibian is unusual in that is has green blood and turquoise-colored bones, a result of its transparent skin and a pigment that may make the species unpalatable to predators, according to Fauna & Flora International (FFI).


Photos of new species discovered in the Greater Mekong

(12/15/2008) More than 1,000 previously unknown species have been discovered in the Greater Mekong, a region comprising Cambodia, Laos, Myanmar (Burma), Thailand, Vietnam and the Yunnan Province of China, in the past decade, according to a new report from WWF.


The number of endangered amphibians in Peru may be underestimated

(12/01/2008) The number of threatened amphibian species in Peru may be significantly underestimated, increasing the risk that conservation decisions will fail to account for their needs, report researchers writing in the December issue of Tropical Conservation Science.


Lack of information may slow conservation response to amphibian crisis

(12/01/2008) The Neotropics harbor between 30-50% of the world's reptiles and amphibians, but dramatic declines in both groups have been observed over recent decades. While a number of factors have been cited, many of the causes of reptile and amphibian declines are still poorly understood. The situation is paralleled by a lack of information of the natural history, ecology, and behavior of many species.


Niche-based distribution modeling may help improve effectiveness of protected areas

(12/01/2008) Niche-based distribution modeling may help researchers evaluate the effectiveness of protected areas, especially in regions lacking comprehensive databases of species distribution, reports a new analysis published in the December issue of Tropical Conservation Science.


Invasive ant interferes with gecko's role in pollinating endangered plant

(11/28/2008) Invasive ants are destroying the symbiotic relationship between a colorful gecko and a critically endangered flower on the island of Mauritius, reports New Scientist citing research published by Dennis Hansen and Christine Müller in the journal Biotopica.


New hope of curing amphibian plague

(11/28/2008) Amphibians worldwide are in trouble. One of the most endangered animal groups, amphibians are increasingly threatened by habitat loss, pollution, and climate change. However the largest threat is chytridiomycosis, a devastating disease caused by a parasitic chytrid fungus known as Batrachochytrium dendrobatidis, otherwise known as Bd.


Prioritizing amphibian species for captive breeding to save them from extinction

(11/13/2008) Frogs, toads, salamanders and other amphibians are disappearing at an alarming rate. Of approximately 6,000 amphibian species in the world, about one third are classified as threatened or endangered. A disease caused by a chytrid fungus has devastated frogs living in mid to high elevation streams worldwide. Amphibians also face habitat destruction as forests and wetlands are developed and polluted by agricultural chemicals. In Panama, highland frog populations west of the Canal have declined at an alarming rate.


Scientists can't explain cause of amphibian extinction crisis

(11/13/2008) Scientists have yet to conclusively explain the underlying cause of global declines in amphibian populations, according to a study published in the journal Proceedings of the National Academy of Sciences. The research says that two leading theories for the demise of amphibians — both related to the emergence and spread of the deadly chytrid fungus — are not supported by scientific data.


7 new species of frog discovered in Ecuador

(10/22/2008) Seven previously unknown species of frog discovered over the past two years by Ecuadorian researchers are already under threat from habitat loss, reports a newsletter from the IUCN Amphibian Specialist Group.


Deer enhance biodiversity of reptiles and amphibians in forest areas

(10/21/2008) The presence of deer affects the number of reptiles, amphibians and insects found in forest areas, suggests a new study by researchers at Ohio State University and National Park Service. A higher abundance of deer is associated with greater biodiversity.


Mass amphibian die-offs affect ecosystems

(10/19/2008) Large-scale die-offs of amphibians due to the outbreak of a killer fungal disease is impacting the forest ecosystem in which they live, reports a new study published in the journal Ecosystems.


Armageddon for amphibians? Frog-killing disease jumps Panama Canal

(10/12/2008) Chytridiomycosis — a fungal disease that is wiping out amphibians around the world — has jumped across the Panama Canal, report scientists writing in the journal EcoHealth. The news is a worrying development for Panama's rich biodiversity of amphibians east of the canal.


52% of amphibians, 35% of birds at risk from climate change

(10/08/2008) 52 percent of the amphibians, 35 percent of birds and 71 percent of reef-building coral are "particularly susceptible" to climate change, warns an IUCN report.


More than half of Europe's amphibians face extinction by 2050

(09/28/2008) Researchers with the Zoological Society of London (ZSL) said over half of European amphibians face extinction in less than fifty years due to a perfect storm of threats: climate change, habitat loss, and disease. The announcement came at an event titled 'Amphibians in a climate of change' hosted by Sir. David Attenborough, one of the world's most well-known wildlife enthusiasts due to his long career making nature documentaries.


Thought-to-be-extinct frog rediscovered in Australia

(09/11/2008) Scientists have rediscovered a thought-to-be-extinct species of frog in a creek in Northern Australia. The find offers hope that some species have survived a fungal epidemic that has devastated the amphibians of Queensland.


Amphibians face mass extinction

(08/11/2008) Amphibians are in big trouble. At least one third of the world's 6,300 known species are threatened with extinction, while at least 200 species have gone extinct over the past 20 years. Worryingly the outbreak of a deadly fungal disease, chytridiomycosis, is spreading throughout the tropics leaving millions of victims. A new study, published in the early edition of the Proceedings of the National Academy of Sciences, warns that there is "little time to stave off a potential mass extinction" of frogs, salamanders, and caecilians.


Cane toads are killing crocodiles in Australia

(07/30/2008) The cane toad has been a scourge to Australian wildlife for decades. An invasive species, the cane toad competes with local endemic frog species and due to its high toxicity kills any predator who preys on it, including snakes, raptors, lizards, and the carnivorous marsupial, northern quoll. New research has uncovered another victim of the toad. The freshwater crocodile has suffered massive population declines due to consuming the irascible toad.


Roads are a major killer of amphibians, reveals study

(05/29/2008) Frogs, toads, and salamanders worldwide are dying from mysterious causes, with possible culprits ranging from habitat loss to fungal diseases. Now, researchers at Purdue University believe they may have identified a significant and surprising contributor to global amphibian declines: traffic. In a recent study, the scientists looked at road kill along several stretches of road in northwestern Indiana and found that 93 percent of the dead animals were amphibians.


Naming rights for newly discovered 'walking frog' to be auctioned for conservation

(05/20/2008) The Amphibian Ark, an initiative to save disappearing amphibians from extinction, will auction of the naming rights of a newly discovered 'walking frog' in Ecuador to raise money for local conservation efforts.


Frog chooses whether to lay eggs on land or in water

(05/19/2008) Researchers in Panama have discovered a frog that can choose whether it lays its eggs on land or in water. It is the first time such "reproductive flexibility" has been found in a vertebrate.


Invasive Species: Toad-ally out of control

(05/18/2008) Throughout warm, wet climates around the world lurks a camouflaged combatant seldom known beyond those who experience first hand its awesome destructive powers. It is an ingeniously crafted destroyer equipped with a host of specially developed chemical toxins, a lightening fast attack, and the ability to easily navigate across both water and land. This devious tool is not a creation of human engineering or military research and development but a product of a much more ancient and refined process: evolution. And until human intervention it was neither ecologically harmful nor an invasive pest but a well-integrated part of ecosystems throughout South and Central America. Meet Bufo marinus — the cane toad: exemplary proof of how human short-sightedness and misuse of biological control agents often leads to the catastrophic mismanagement of our natural world in the form of a large, squat, hungry toad.


Photos of newly discovered species in Brazil's Cerrado

(04/29/2008) An expedition to Brazil's Cerrado has turned up more than a dozen undiscovered species. conservationists say the discoveries add urgency to protecting the grassland habitat which is rapidly being converted for agriculture.


New cures for human ailments under threat by global extinction crisis

(04/24/2008) In the film Medicine Man, a researcher in the Amazon discovers a cure for cancer in a rare ant. However, a logging company arrives at the wrong moment and, despite protestations from the main characters, the company destroys the tract of rainforest where the ant once survived.


Lungless frog discovered in Borneo

(04/11/2008) A lungless frog has been discovered on the island of Borneo. Scientists say the species may shed light on the process of evolution in some organisms.


No global warming link to dying frogs?


(03/25/2008) Scientists have fired another salvo in the heated debate over the role of climate change in the global decline of amphibians. Writing in the March 25 issue of PLoS Biology, a team of researchers led by Karen Lips of Southern Illinois University-Carbondale report finding "no evidence to support the hypothesis that climate change has been driving outbreaks of amphibian chytridiomycosis" -- a disease blamed for large-scale die-offs of amphibians. Other researchers have argued that climate shifts are worsening the outbreak of the fungal disease.


Rare jewel-colored frog rediscovered in Colombia

(03/13/2008) A brilliantly-colored frog has been rediscovered 14 years after its last sighting in a remote mountainous region in Colombia.


Half of Madagascar's amphibians may still await discovery



(03/11/2008) Madagascar is one of the most unique places on Earth for wildlife. When the public thinks of Madagascar's fauna most likely they think of one of the fifty species of lemur. Yet, Madagascar possesses a wealth of endemic wildlife outside of these unique prosimians. For example, to frog-lovers Madagascar is a paradise. The only amphibians living on Madagascar are frogs; the island is devoid of toads, salamanders, or newts. But what it lacks in other amphibians it makes up for in the number and beauty of its frogs. Currently, 240 frogs have been catalogued in Madagascar, 99 percent of which are endemic. Yet, amphibian expert Dr. Franco Andreone believes that, according to recent field studies, this may only be half of the frogs that actually live in Madagascar. Dr. Andreone believes the final tally could reach 500 species!


Rare frog breeds in captivity for the first time

(03/03/2008) A rare species of frog has been found breeding in captivity in New Zealand, reports the Associated Press. The finding offers hope that the species' vulnerability to extinction can be reduced.


A Doomsday Vault for Frogs?

(02/27/2008) The Amphibian Ark, a doomsday vault for amphibians, will highlight Leap Day, February 29th, to recognize 2008 as the Year of the Frog. The campaign seeks to raise awareness of the global plight of frogs and other amphibians threatened by habitat loss, climate change, pollution and an emergent disease. Joining in the effort is the Wildlife conservation Society?s (WCS) Bronx Zoo and New York Aquarium, facilities that house some of the world's most threatened amphibians.


Rainforest fragmentation affects reptiles and amphibians

(02/20/2008) Deforestation of tropical ecosystems is one of the major threats to biological diversity. Anthropogenic activities transform tropical environments into semi-natural landscapes generating a great amount of forest edge that limits with pastures and agricultural lands.


10-pound 'Giant Frog From Hell' discovered in Madagascar

(02/18/2008) Researchers have discovered the remains of what may be the largest frog ever to exist.


The Panamanian golden frog declared extinct by BBC Natural History crew

(02/04/2008) A national symbol of Panama has been declared extinct by BBC filmmakers. The crew was in Panama to film the unique frog for David Attenborough's most recent series on reptiles and amphibians, entitled Life in Cold Blood. The filmmakers achieved their objective and captured the golden frog on film, including rarely seen behvaior.


New research refutes global warming's influence on amphibians' worst enemy

(01/30/2008) There is no doubt that global warming is having a negative effect on amphibians, but it is yet unclear whether or not a direct causal relationship exists between global warming and the spread of a specific fungal epidemic wreaking havoc on amphibian populations worldwide.


Photos: Top 100 most threatened amphibians named

(01/21/2008) Due to numerous factors--including habitat destruction, pollution, climate change, and chytrid fungus--amphibians are probably the most threatened taxon of species in the world. Dr Jonathan Baillie, head of the EDGE organization which has just established an amphibian program, stated that "tragically, amphibians tend to be the overlooked members of the animal kingdom, even though one in every three amphibian species is currently threatened with extinction, a far higher proportion than that of bird or mammal species." To help save these species on the brink, EDGE, apart of the Zoological Society of London, has compiled a list of the hundred most threatened and evolutionary distinct amphibians.



Page 1 | Page 2 | Page 3 | Page 4 | Page 5 | Page 6