News articles on amphibian crisis

---
Mongabay.com news articles on amphibian crisis in blog format. Updated regularly.






Endangered Animals: 10 Reasons for Hope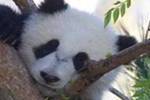 (08/03/2010) Earlier last month the Zoological Society of San Diego launched two far reaching media and development projects which showcase the Zoo's extensive global field conservation programs. Mongabay had the opportunity to attend the launch ceremony of the Zoo's new 'Global Action Team' and the accompanying 'Ten Reasons for Hope' campaign. While at this event, we spoke with Alan Lieberman, Director of Regional Conservation Programs, about the development of both projects.
Following public outcry, New Zealand drops plan to mine protected areas

(07/20/2010) The New Zealand government has caved to public pressure, announcing that it is dropping all plans to mine in protected areas. The plan to open 7,000 hectares of protected areas to mining would have threatened a number of rare and endemic species, including two frogs that are prehistoric relics virtually unchanged from amphibian fossils 150 million years old: Archey's frog (Leiopelma archeyi) and Hochstetter's frog (Leiopelma hochstetteri).
30 frog species, including 5 unknown to science, killed off by amphibian plague in Panama

(07/19/2010) With advanced genetic techniques, researchers have drawn a picture of just how devastating the currently extinction crisis for the world's amphibians has become in a new study published in the Proceedings of the Nation Academy of Sciences (PNAS). Studying frog populations using DNA barcoding in Panama's Omar Torrijos National Park located in El Copé researchers found that 25 known species and 5 unknown species have vanished since 1998. None have returned.
Two new frogs discovered in Panama amidst amphibian plague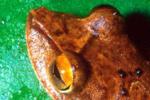 (06/06/2010) Researchers working to save Panama's frogs from a fatal disease have stumbled on two species unknown to science. In Omar Torrijos National Park they found a bigger version of a common species, which is now known to be a unique species, and near the Colombian border they discovered a new frog that has been named after Spanish for DNA. Both frogs were discovered while researchers searched for frog populations in chytridiomycosis-infected areas. The highly contagious disease chytridiomycosis has devastated frog species worldwide and is believe to be at least in part responsible for some 100 extinctions of amphibians.
World's 'number one frog' faces extinction from New Zealand government

(05/26/2010) Archey's frog is a survivor: virtually unchanged evolutionarily for 150 million years, the species has survived the comet that decimated the dinosaurs, the Ice Age, and the splitting of continents. Seventy million years ago New Zealand broke away from Australia, essentially isolating Archey's frog and its relatives from all predatory mammals. Yet, if the New Zealand government has its way this species may not survive the century, let alone the next few decades. The New Zealand government has put forward a controversial proposal to begin opening three of the nation's protected areas to mining: Great Barrier Island, Paparoa National Park, and Coromandel Peninsula where the last populations of Archey's frogs live. According to critics, the government's proposal could push Archey's frog toward extinction, while negatively impacting a number of other endangered species, beloved wild lands, and a nation driven by tourism.
A day to celebrate (and save) the world's amphibians: the 2nd Annual Save the Frogs Day

(04/28/2010) Friday, April 30th is for the frogs: educational programs, conservation walks with experts, frog leaping races, and the world's first protest to save frogs are all planned for the world's 2nd Annual Save the Frogs Day. Organized by the non-profit SAVE THE FROGS!, events are so far planned in 15 countries on every continent besides Antarctica—fittingly the only continent that lacks amphibians.
Frog in Australia goes from 'extinct' to very, very endangered

(03/08/2010) Facing habitat loss, pollution, climate change, and the devastating chytrid fungus, there has been little positive news about amphibians recently. However, a story out of Australia brings a much needed respite from bad news. In 2008 Luke Pearce, a fisheries conservation officer, stumbled on a frog that had been thought to be extinct for over thirty years. Not recorded since the 1970s, Pearce rediscovered the yellow-spotted bell frog (Litoria castanea) on rural Australian farmland in the Southern Tableland of New South Wales.
Photos: Madagascar's wonderful and wild frogs, an interview with Sahonagasy

(03/03/2010) To save Madagascar's embattled and beautiful amphibians, scientists are turning to the web. A new site built by herpetologists, Sahonagasy, is dedicated to gathering and providing information about Madagascar's unique amphibians in a bid to save them from the growing threat of extinction. "The past 20 years have seen resources wasted because of a poor coordination of efforts," explains Miguel Vences, herpetologist and professor at the Technical University of Braunschweig. "Many surveys and reports have been produced that were never published, many tourists found and photographed amphibians but these photos were not made available to mapping projects, many studies carried out by Malagasy students did not make use of literature because it was not available."
Common pesticide changes male frogs into females, likely devastating populations

(03/01/2010) One of the world's most popular pesticides, atrazine, chemically castrates male frogs and in some instances changes them into completely functionally females, according to a new study in the Proceedings of the National Academy of Sciences. The authors conclude that atrazine likely plays a large, but unsuspected role in the current global amphibian crisis.
Bronx Zoo puts 'extinct' frogs on display

(02/02/2010) The Bronx Zoo has a put a most unusual frog on display: the Kihansi spray toad. For one thing, the Kihansi spray toad survived on only 5 acres in the Kihansi gorge in Tanzania, adapted to the areas' unique and constant mist from the gorge and a waterfall. For another, female Kihansi spray toads give birth to live young, instead of laying eggs. Finally, the Kihansi spray toad is extinct—at least in the wild.
Photos: expedition in Ecuador reveals numerous new species in threatened cloud forest

(01/14/2010) An expedition into rainforests on Ecuador's coast by Reptile & Amphibian Ecology International (RAEI) have revealed a number of possible new species including a blunt-snouted, slug-eating snake; four stick insects; and up to 30 new 'rain' frogs. The blunt-snouted snake, which feeds on gastropods like slugs, is especially interesting, as its closest relative is in Peru, 350 miles away. In addition, a fifteen-year-old volunteer with the organization found a snake that specializes on snails. The researchers are unsure of this is a new species: the closest similar snake is 600 miles away in Panama.
Gone: a look at extinction over the past decade

(01/03/2010) No one can say with any certainty how many species went extinct from 2000-2009. Because no one knows if the world's species number 3 million or 30 million, it is impossible to guess how many known species—let alone unknown—may have vanished recently. Species in tropical forests and the world's oceans are notoriously under-surveyed leaving gaping holes where species can vanish taking all of their secrets—even knowledge of their existence—with them.
Kihansi spray toad goes extinct in the wild
(11/04/2009) This year's IUCN Red List has updated its assessment of the Kihansi spray toad, moving the species from Critically Endangered to Extinct in the Wild. With that another amphibian species has been lost to a combination of habitat loss and the devastating amphibian disease, the chytrid fungus. The Kihansi spray toad Nectophrynoides asperginis, which still survives in a number of zoos in the United States, had lived on just two hectares along the Kihansi gorge in Tanzania. The toad was specially adapted to the spray region of the Kihansi waterfall, which kept its small environment at a constant temperature and humidity.
Scientists uncover mystery of how frog plague kills its victims

(10/22/2009) One hundred and twenty species of frogs are reported to have gone extinct since 1980 (although the number is likely even higher). While devastated by habitat loss, pollution, and climate change, a baffling disease may be the biggest factor behind the alarming extinctions of frogs. Called chytridiomycosis, the disease is caused by the microscopic fungus Batrachochytrium dendrobatidis which kills its tiny victims indiscriminately.
Freshwater species worse off than land or marine

(10/15/2009) Scientists have announced that freshwater species are likely the most threatened on earth. Extinction rates for freshwater inhabitants are currently four to six times the rates for terrestrial and marine species. Yet, these figures have not lead to action on the ground.
South Korea's frogs have avoided amphibian crisis so far, an interview with Pierre Fidenci

(09/09/2009) Frogs are on the edge. Blasted by habitat loss, pollution, and a terrible disease, the chytrid fungus, species are vanishing worldwide and those that remain are clinging to existence, rather than thriving. However, an interview with Pierre Fidenci, President of Endangered Species International (ESI), proves that there are still areas of the world where amphibians remain in abundance. South Korea is not a country that is talked about frequently in conservation circles. Other nations in the region attract far more attention, such as Malaysia and Indonesia. But it was just this neglect that drove Pierre Fidenci to visit the nation and survey the amphibians there.
Save the frogs, save ourselves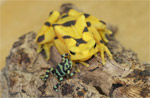 (09/04/2009) Amphibians are going extinct around the globe. As a scientist specializing in frogs, I have watched dozens of species of these creatures die out. The extinction of frogs and salamanders might seem unimportant, but the reality couldn't be farther from the truth. Indeed, from regulating their local ecosystems, to consuming and controlling the population of mosquitoes and other insects that spread disease, to potentially pointing the way to new drugs for fighting diseases such as cancer or HIV-AIDS, the fate of these creatures is inexorably linked to our own.
Approximately 200 new frogs discovered in Madagascar threatened by political instability
(05/11/2009) Amid the amphibian extinction crisis—where amphibians worldwide are disappearing due to habitat loss, pollution, and a devastating fungal epidemic—the Spanish Scientific Research Council (CSIC) has announced some good news. In a survey of the island-nation of Madagascar they have identified between 129 and 221 new species of frogs. The discovery of so many new species nearly doubles the island's total number of frogs.
The story of 'Save the Frogs Day', April 28th, An Interview with Kerry Kriger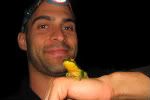 (04/26/2009) Founder and director of SAVE THE FROGS!, Dr. Kerry Kriger is responsible for the first annual Save The Frogs Day on Tuesday, April 28th with events planned worldwide from the United States to Nepal, and Australia to China. "I'm continually amazed at the positive response it's gotten. I thought of Save The Frogs Day one night last December when I was the only full-time SAVE THE FROGS! employee and I only had a couple part-time volunteers," Kriger explains.
After disease engulfs island, rare mountain chicken frogs airlifted to safety

(04/23/2009) In a rescue operation that sounds straight out of an action film, 50 mountain chicken frogs were airlifted from the Caribbean island Montserrat after the discovery of Chytridomycosis, a fungal disease that has wiped out amphibian populations worldwide. Already, hundreds of the critically-endangered mountain chicken frogs succumbed to the disease, which is thought to have made its way to the island in late 2008 or early 2009.
Mexican Salamanders Used in Neurology Labs May Go Extinct in Wild

(04/21/2009) Ambystoma mexicanum, a salamander found only in the fetid canals surrounding Mexico City, faces extinction despite the efforts of researchers. As reported by Robert Koenig in the 5 December issue of Science, ecologists estimate that there are now only 100 of these salamanders per square kilometer in the canals, swamps, and lakes around the city – a rapid drop from their density of 600 per square kilometer in the 1980s.
Poison frog diversity linked to the Andes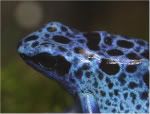 (03/10/2009) Electric colors, wild markings, and toxic skin have made poison frogs well-known inhabitants of the Amazon rainforest. With 353 recognized species, and probably more awaiting discovery, poison frogs are an incredibly diverse group of amphibians. While it has long been believed that the Amazon basin, itself, was the source of their diversity, a new study published in PLoS Biology has uncovered that the Andes mountain chain has served as an oven of evolutionary biodiversity for poison frogs over several million years.
Salamander populations collapse in Central America

(02/09/2009) Salamanders in Central America — like frogs, toads, and other amphibians at sites around the world — are rapidly and mysteriously declining, report researchers writing in the journal Proceedings of the National Academy of Sciences. Disturbingly, salamanders are disappearing from protected areas and otherwise pristine habitats.
12 new species of frogs discovered in India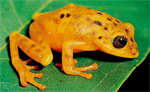 (02/03/2009) A dozen previously unknown species of frogs have been discovered in the forests of Western Ghats according to a paper published in latest issue of Zoological Journal of Linnean Society, London. The 12 species have been identified following a revision of the Philautus genus and are the result of ten years of field study in Kerala, Tamil Nadu, Karnataka. Goa, Maharashtra, and part of Gujarat, in the Western Ghats. The Western Ghats are considered a global biodiversity hotspot for their species richness and the threats the mountain range faces.
One billion frogs harvested as food per year

(01/21/2009) The consumption of up to one billion frogs per year to satisfy human appetite for frog flesh is adding to the litany of pressures on global amphibian populations, write researchers in the upcoming issue of Conservation Biology.
Symposium tackles big question: how many species will survive our generation

(01/16/2009) Nine scientists dusted off their crystal balls Monday at the National Museum of Natural History in Washington DC, weighing in on the future of the world's tropical forest. Despite the most up-to-date statistics, prognosis for the future of tropical forests varied widely. In the last few years a schism has occurred among biologists regarding the future of the tropics. No tropical scientist denies that rainforests and the species which inhabit them face unprecedented threats; neither do they argue that some of these forested regions and species will likely not survive the next fifty years. What has sparked debate, sometimes heated, is how bad will is it really? When the dust settles, what percentage of species will survive and how much forest will remain?
Lack of information may slow conservation response to amphibian crisis

(12/01/2008) The Neotropics harbor between 30-50% of the world's reptiles and amphibians, but dramatic declines in both groups have been observed over recent decades. While a number of factors have been cited, many of the causes of reptile and amphibian declines are still poorly understood. The situation is paralleled by a lack of information of the natural history, ecology, and behavior of many species.
New hope of curing amphibian plague

(11/28/2008) Amphibians worldwide are in trouble. One of the most endangered animal groups, amphibians are increasingly threatened by habitat loss, pollution, and climate change. However the largest threat is chytridiomycosis, a devastating disease caused by a parasitic chytrid fungus known as Batrachochytrium dendrobatidis, otherwise known as Bd.
Prioritizing amphibian species for captive breeding to save them from extinction

(11/13/2008) Frogs, toads, salamanders and other amphibians are disappearing at an alarming rate. Of approximately 6,000 amphibian species in the world, about one third are classified as threatened or endangered. A disease caused by a chytrid fungus has devastated frogs living in mid to high elevation streams worldwide. Amphibians also face habitat destruction as forests and wetlands are developed and polluted by agricultural chemicals. In Panama, highland frog populations west of the Canal have declined at an alarming rate.
Scientists can't explain cause of amphibian extinction crisis

(11/13/2008) Scientists have yet to conclusively explain the underlying cause of global declines in amphibian populations, according to a study published in the journal Proceedings of the National Academy of Sciences. The research says that two leading theories for the demise of amphibians — both related to the emergence and spread of the deadly chytrid fungus — are not supported by scientific data.
Yellowstone amphibians in decline due to climate change

(10/27/2008) Climate change appears to be responsible for a "marked drop" in the population of three of four species of amphibian once common to Yellowstone National Park, report researchers writing in Proceedings of the National Academy of Sciences.
Mass amphibian die-offs affect ecosystems

(10/19/2008) Large-scale die-offs of amphibians due to the outbreak of a killer fungal disease is impacting the forest ecosystem in which they live, reports a new study published in the journal Ecosystems.
Armageddon for amphibians? Frog-killing disease jumps Panama Canal

(10/12/2008) Chytridiomycosis — a fungal disease that is wiping out amphibians around the world — has jumped across the Panama Canal, report scientists writing in the journal EcoHealth. The news is a worrying development for Panama's rich biodiversity of amphibians east of the canal.
More than half of Europe's amphibians face extinction by 2050

(09/28/2008) Researchers with the Zoological Society of London (ZSL) said over half of European amphibians face extinction in less than fifty years due to a perfect storm of threats: climate change, habitat loss, and disease. The announcement came at an event titled 'Amphibians in a climate of change' hosted by Sir. David Attenborough, one of the world's most well-known wildlife enthusiasts due to his long career making nature documentaries.
Thought-to-be-extinct frog rediscovered in Australia

(09/11/2008) Scientists have rediscovered a thought-to-be-extinct species of frog in a creek in Northern Australia. The find offers hope that some species have survived a fungal epidemic that has devastated the amphibians of Queensland.
Amphibians face mass extinction

(08/11/2008) Amphibians are in big trouble. At least one third of the world's 6,300 known species are threatened with extinction, while at least 200 species have gone extinct over the past 20 years. Worryingly the outbreak of a deadly fungal disease, chytridiomycosis, is spreading throughout the tropics leaving millions of victims. A new study, published in the early edition of the Proceedings of the National Academy of Sciences, warns that there is "little time to stave off a potential mass extinction" of frogs, salamanders, and caecilians.
New cures for human ailments under threat by global extinction crisis

(04/24/2008) In the film Medicine Man, a researcher in the Amazon discovers a cure for cancer in a rare ant. However, a logging company arrives at the wrong moment and, despite protestations from the main characters, the company destroys the tract of rainforest where the ant once survived.
No global warming link to dying frogs?
(03/25/2008) Scientists have fired another salvo in the heated debate over the role of climate change in the global decline of amphibians. Writing in the March 25 issue of PLoS Biology, a team of researchers led by Karen Lips of Southern Illinois University-Carbondale report finding "no evidence to support the hypothesis that climate change has been driving outbreaks of amphibian chytridiomycosis" -- a disease blamed for large-scale die-offs of amphibians. Other researchers have argued that climate shifts are worsening the outbreak of the fungal disease.
Half of Madagascar's amphibians may still await discovery

(03/11/2008) Madagascar is one of the most unique places on Earth for wildlife. When the public thinks of Madagascar's fauna most likely they think of one of the fifty species of lemur. Yet, Madagascar possesses a wealth of endemic wildlife outside of these unique prosimians. For example, to frog-lovers Madagascar is a paradise. The only amphibians living on Madagascar are frogs; the island is devoid of toads, salamanders, or newts. But what it lacks in other amphibians it makes up for in the number and beauty of its frogs. Currently, 240 frogs have been catalogued in Madagascar, 99 percent of which are endemic. Yet, amphibian expert Dr. Franco Andreone believes that, according to recent field studies, this may only be half of the frogs that actually live in Madagascar. Dr. Andreone believes the final tally could reach 500 species!





A Doomsday Vault for Frogs?

(02/27/2008) The Amphibian Ark, a doomsday vault for amphibians, will highlight Leap Day, February 29th, to recognize 2008 as the Year of the Frog. The campaign seeks to raise awareness of the global plight of frogs and other amphibians threatened by habitat loss, climate change, pollution and an emergent disease. Joining in the effort is the Wildlife conservation Society?s (WCS) Bronx Zoo and New York Aquarium, facilities that house some of the world's most threatened amphibians.





The Panamanian golden frog declared extinct by BBC Natural History crew

(02/04/2008) A national symbol of Panama has been declared extinct by BBC filmmakers. The crew was in Panama to film the unique frog for David Attenborough's most recent series on reptiles and amphibians, entitled Life in Cold Blood. The filmmakers achieved their objective and captured the golden frog on film, including rarely seen behvaior.







Photos: Top 100 most threatened amphibians named

(01/21/2008) Due to numerous factors--including habitat destruction, pollution, climate change, and chytrid fungus--amphibians are probably the most threatened taxon of species in the world. Dr Jonathan Baillie, head of the EDGE organization which has just established an amphibian program, stated that "tragically, amphibians tend to be the overlooked members of the animal kingdom, even though one in every three amphibian species is currently threatened with extinction, a far higher proportion than that of bird or mammal species." To help save these species on the brink, EDGE, apart of the Zoological Society of London, has compiled a list of the hundred most threatened and evolutionary distinct amphibians.





Three salamander species discovered in Costa Rica

(01/06/2008) Scientists from the Natural History Museum of London have discovered three new species of salamander in south-eastern Costa Rica. This brings the nation's total to forty-three species, meaning that this small tropical nation contains approximately nine percent of the world's salamanders.




Page 1 | Page 2 | Page 3