News articles on Amazon mining

---
Mongabay.com news articles on Amazon mining in blog format. Updated regularly.





Brazil decree opens tribal lands to mining, dams in 'national interest'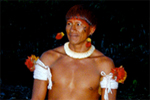 (07/26/2012) A directive signed Monday by Brazil's Solicitor-General could hamper the efforts of indigenous tribes to win government recognition of their traditional lands, reports Survival International, a human rights group focused on native peoples. The directive 'opens up all indigenous areas to mineral, dams, roads, military bases and other developments of 'national interest' without the need to consult with or address concerns of indigenous peoples', according to an expert familiar with the directive.


Vale's $1 trillion iron mine in the Amazon wins approval

(07/09/2012) The Brazilian government approved the environmental license for the expansion of an iron mine in the Amazon region, reports Vale, the Brazilian mining giant behind the project.


Saving the world's biggest river otter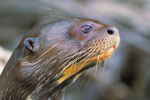 (01/30/2012) Charismatic, vocal, unpredictable, domestic, and playful are all adjectives that aptly describe the giant river otter (Pteronura brasiliensis), one of the Amazon's most spectacular big mammals. As its name suggest, this otter is the longest member of the weasel family: from tip of the nose to tail's end the otter can measure 6 feet (1.8 meters) long. Living in closely-knit family groups, sporting a complex range of behavior, and displaying almost human-like capricious moods, the giant river otter has captured a number of researchers and conservationists' hearts, including Dutch conservationist Jessica Groenendijk.


Peruvian authorities raid illegal gold mining operations

(11/07/2011) Peru's Defense Ministry destroyed at least 75 illegal dredges and seized 15 vehicles from gold miners operating illegally in one of the most biodiverse parts of the Amazon rainforest.


Brazilian mining giant buys Amazon palm oil company

(02/03/2011) Vale, a Brazilian mining giant, will buy palm oil producer Biopalma da Amazonia SA Reflorestamento Industria & Comercio, reports Bloomberg.


Peru's rainforest highway triggers surge in deforestation, according to new 3D forest mapping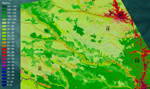 (09/06/2010) Scientists using a combination of satellite imagery, airborne-laser technology, and ground-based plot surveys to create three-dimensional high resolution carbon maps of the Amazon rainforest have documented a surge in emissions from deforestation and selective logging following the paving of the Trans-Oceanic Highway in Peru. The study, published this week in the early edition of the Proceedings of the National Academy of Sciences, reveals that selective logging and other forms of forest degradation in Peru account for nearly a third of emissions compared to deforestation alone.


Taking back the rainforest: Indians in Colombia govern 100,000 square miles of territory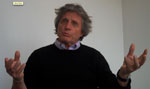 (05/10/2010) Indigenous groups in the Colombian Amazon have long suffered deprivations at the hands of outsiders. First came the diseases brought by the European Conquest, then came abuses under colonial rule. In modern times, some Amazonian communities were virtually enslaved by the debt-bondage system run by rubber traders: Indians could work their entire lives without ever escaping the cycle of debt. Later, periodic invasions by gold miners, oil companies, colonists, and illegal coca-growers took a heavy toll on remaining indigenous populations. Without title to their land, organization, or representation, indigenous Colombians in the Amazon seemed destined to be exploited and abused. But new hope would emerge in the 1980s, thanks partly to the efforts of Martin von Hildebrand, an ethnologist who would help indigenous Colombians eventually win control over 260,000 square kilometers (100,000 square miles) of Amazon rainforest—an area larger than the United Kingdom.


Secrets of the Amazon: giant anacondas and floating forests, an interview with Paul Rosolie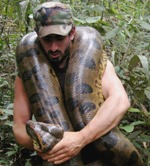 (03/10/2010) At twenty-two Paul Rosolie has seen more adventure than many of us will in our lifetime. First visiting the Amazon at eighteen, Rosolie has explored strange jungle ecosystems, caught anaconda and black caiman bare-handed, joined indigenous hunting expeditions, led volunteer expeditions, and hand-raised a baby giant anteater. "Rainforests were my childhood obsession," Rosolie told Mongabay.com. "For as long as I can remember, going to the Amazon had been my dream […] In those first ten minutes [of visiting], cowering under the bellowing calls of howler monkeys, I saw trails of leaf cutter ants under impossibly large, vine-tangled trees; a flock of scarlet macaws crossed the sky like a brilliant flying rainbow. I saw a place where nature was in its full; it is the most amazing place on earth."


Why seed dispersers matter, an interview with Pierre-Michel Forget, chair of the FSD International Symposium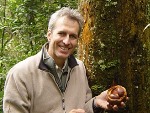 (03/07/2010) There are few areas of research in tropical biology more exciting and more important than seed dispersal. Seed dispersal—the process by which seeds are spread from parent trees to new sprouting ground—underpins the ecology of forests worldwide. In temperate forests, seeds are often spread by wind and water, though sometimes by animals such as squirrels and birds. But in the tropics the emphasis is far heavier on the latter, as Dr. Pierre-Michel Forget explains to mongabay.com. "[In rainforests] a majority of plants, trees, lianas, epiphytes, and herbs, are dispersed by fruit-eating animals. […] As seed size varies from tiny seeds less than one millimetres to several centimetres in length or diameter, then, a variety of animals is required to disperse such a continuum and variety of seed size, the smaller being transported by ants and dung beetles, the larger swallowed by cassowary, tapir and elephant, for instance."


Guyana bans gold mining in the 'Land of the Giants'



(03/01/2010) Guyana has banned gold dredging in the Rewa Head region of the South American country after pressure from Amerindian communities in the area. A recent expedition to Rewa Head turned up unspoiled wilderness and mind-boggling biodiversity. The researchers, in just six weeks, stumbled on the world's largest snake (anaconda), spider (the aptly named goliath bird-eating spider), armadillo (the giant armadillo), anteater (the giant anteater), and otter (the giant otter), leading them to dub the area 'the Land of the Giants'. "During our brief survey we had encounters with wildlife that tropical biologists can spend years in the field waiting for. On a single day we had two tapirs paddle alongside our boat, we were swooped on by a crested eagle and then later charged by a group of giant otters."


The real Avatar story: indigenous people fight to save their forest homes from corporate exploitation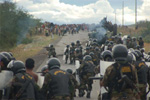 (12/22/2009) In James Cameron's newest film Avatar an alien tribe on a distant planet fights to save their forest home from human invaders bent on mining the planet. The mining company has brought in ex-marines for 'security' and will stop at nothing, not even genocide, to secure profits for its shareholders. While Cameron's film takes place on a planet sporting six-legged rhinos and massive flying lizards, the struggle between corporations and indigenous people is hardly science fiction.


Guyana expedition finds biodiversity trove in area slated for oil and gas development, an interview with Robert Pickles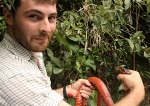 (11/29/2009) An expedition deep into Guyana's rainforest interior to find the endangered giant river otter—and collect their scat for genetic analysis—uncovered much more than even this endangered charismatic species. "Visiting the Rewa Head felt like we were walking in the footsteps of Wallace and Bates, seeing South America with its natural density of wild animals as it would have appeared 150 years ago," expedition member Robert Pickles said to Mongabay.com.


High gold prices, army collaboration, play role in mining invasion in southern Venezuela

(11/25/2009) Illegal gold mining involving wildcat miners, the Venezuelan army, and indigenous groups is threatening one of the country's most biodiverse river basins, according to local sources.


Police face murder charges in killing of indigenous protesters in Peru

(08/16/2009) A federal prosecutor in Peru filed murder charges against two police generals and 15 other officers over the deaths of indigenous protesters at a roadblock in June, reports the Associated Press. The Indians were protesting new rules that would have made it easier for foreign developers to exploit oil and gas, timber, and minerals in Peru's Amazon rainforest. The skirmish left 23 police and at least ten protesters dead.


Alcoa mine to clear 25,000 acres of rainforest, suck 133,407 gallons of water per hour from the Amazon

(07/31/2009) A bauxite mine under development by Alcoa, the world's second-largest primary aluminum producer, will consume 10,500 hectares (25,900 acres) of primary Amazon rainforest and suck 133,407 gallons of water per hour from the Amazon, reports Bloomberg News in an extensive write-up.


Peru revokes decrees that sparked Amazon Indian uprising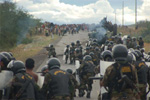 (06/19/2009) Peru's Congress revoked two controversial land laws that sparked violent conflicts between indigenous protesters and police in the country's Amazon region. The move temporarily defuses a two-week crisis, with protesters agreeing to stand down by removing blockades from roads and rivers. Congress voted 82-14 Thursday to overturn legislative decrees 1090 and 1064, which would have facilitated foreign development of Amazon land. Indigenous groups said the decrees threatened millions of hectares of Amazon rainforest and undermined their traditional land use rights.


Peru may take military action against Indians protesting Amazon energy development

(05/19/2009) Indigenous protesters have stepped up demonstrations over the Peruvian government's moves to support energy development in the Amazon rainforest, reports Reuters.


Land rights victory for Amazon Indians in Brazil

(03/20/2009) In what is being hailed as a victory for indigenous groups in the Brazilian Amazon, Brazil's Supreme Court sided with Indians from the Raposa Serra do Sol reservation in a 30-year land dispute with large-scale farmers in the northern state of Roraima, near the border with Venezuela, reports the Associated Press.


Peru's uncontacted Amazon tribes under attack

(10/22/2008) Illegal logging in the Peruvian Amazon is driving uncontacted tribes into Brazil where they are in conflict over food and resources with other uncontacted groups, according to a Reuters interview with a leading expert on indigenous tribes.


Indian protesters win land rights battle against Peru's President Garcia

(08/31/2008) Peru's Congress rejected two decrees by President Alan García that made it easier for foreign developers to buy Amazon rainforest land. The repeal came just two days after lawmakers struck a deal with indigenous rights groups whose protests over the law had shut down oil and gas operations. The groups were worried that the laws weakened their land rights in favor of loggers, miners, and drillers.


In Peru, a showdown between the president and tribes over mining and drilling in the Amazon

(08/21/2008) In Peru indigenous rights groups and congressional leaders are pairing up against President Alan Garcia to revoke a controversial land law passed last week, reports Reuters.


High mineral prices drive rainforest destruction

(08/13/2008) The surging price of minerals is contributing to degradation and destruction of rainforests worldwide, warns a researcher writing in the current issue of New Scientist.


Often overlooked, small wild cats are important and in trouble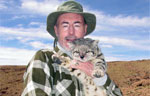 (08/05/2008) While often over-shadowed by their larger and better-known relatives like lions, tigers, leopards, and jaguars, small cats are important indicators of the health of an ecosystem, says a leading small cat expert who uses camera traps extensively to document and monitor mammals in the wild. Dr Jim Sanderson, a scientist with the Small Cat Conservation Alliance and Conservation International, is working to save some of the world's rarest cats, including the Andean cat and Guigna of South America and the bay, flat-headed, and marbled cats of Southeast Asia. In the process Sanderson has captured on film some of the planet's least seen animals, including some species that have never before been photographed. He has also found that despite widespread criticism, some corporate entities are effectively protecting remote wilderness areas.


Future threats to the Amazon rainforest

(07/31/2008) Between June 2000 and June 2008, more than 150,000 square kilometers of rainforest were cleared in the Brazilian Amazon. While deforestation rates have slowed since 2004, forest loss is expected to continue for the foreseeable future. This is a look at past, current and potential future drivers of deforestation in the Brazilian Amazon.


Venezuela bans gold-mining in forest reserve, will not issue new open-pit permits

(05/21/2008) Venezuela banned gold mining in its Imataca Forest Reserve and said it will not issue new permits for open-pit mines anywhere in the country, according to Reuters.


Proposed gold mine proves controversial in French Guiana rainforest

(11/07/2007) Commercial gold mining threatens a key forest reserve and wetland in French Guiana say scientists who warn that exploitation could pollute rivers with toxic compounds, threaten wildlife, and put indigenous populations at risk.


Mining gets approval despite recent species discoveries

(06/13/2007) Suriname will allow mining in a highly biodiverse tract of forest where 24 previously unknown species were recently discovered. The decision had been expected.


Pictures of newly discovered species in Suriname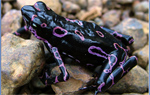 (06/04/2007) Scientists documented 467 species, including 24 species believed new to science, during a rainforest survey in eastern Suriname, South America. The expedition, led by conservation International (CI), was sponsored by two mining companies, BHP-Billiton Maatschappij Suriname (BMS) and Suriname Aluminium Company LLC (Suralco), hoping to mine the area for bauxite, the raw material used to make aluminum. conservation International said the Rapid Assessment Survey (RAP) will help "give miners guidance on protecting unique plants and animals during potential future development," according to a statement from the organization.


Gold mining in Guyana damages environment, threatens Amerindians



(03/06/2007) Informal gold mining is causing environmental harm and human rights abuses in Guyana says a new report from the International Human Rights Clinic (IHRC) of Harvard Law School's Human Rights Program. Wildcat gold mining has been a serious problem in the Guiana shield countries of Brazil, Venezuela, Guyana, Suriname and French Guiana. Rising gold prices in recent years have only worsened the problem, as illegal miners have flooded the region clearing forest, polluting rivers, and making threats against indigenous people.


Gold Rush Tears Up a Patch of the Amazon

(02/02/2007) It's a gold rush in the Amazon jungle, driven by the Internet. Speeding past unbroken walls of foliage, a motorboat packed with gritty prospectors veers toward the shore of the Juma river and spills its passengers into a city of black plastic lean-tos veiled by greasy smoke. All around them are newly dug pits, felled trees, misery and tales of striking it rich. This is Eldorado do Juma, scene of Brazil's biggest gold rush in more than 20 years.


Time is running out for French Guiana's rainforests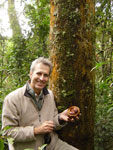 (12/19/2006) Understanding relationships between plants and animals is key to understanding rainforest ecology. Dr. Pierre-Michel Forget of the Museum National d'Histoire Naturelle in France is a renowned expert on the interdependency between rainforest trees and seed disperses. Author of dozens of papers on tropical forest ecology, Dr Forget is increasingly concerned about deforestation and biodiversity loss in forests of the Guiana Shield region of Northern South America. In particular he sees the invasion of informal gold miners, known as garimpeiros, as a significant threat to forests in French Guiana, Suriname, Guyana and Venezuela.


Europe's largest tropical rainforest invaded by gold miners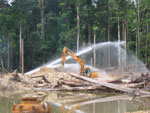 (12/19/2006) As Europe frets over climate change and deforestation, threats to "Europe's largest tropical rainforest" are mounting, according to reports from French Guiana. While French Guiana is best known for its infamous Devil's Island penal colony and as the main launch site for the European Space Agency, which is responsible for more than 50% of the state's economy activity, most of the territory is covered with lowland tropical rainforest. French Guiana's forests are biologically rich with some 1,064 known species of amphibians, birds, mammals and reptiles, and 5,625 species of vascular plants according to figures from the World conservation Monitoring Center.


Mining in Venezuelan Amazon threatens biodiversity, indigenous people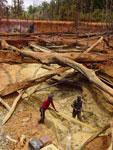 (11/09/2006) Troubles are mounting in one of Earth's most beautiful landscapes. Deep in the Venezuelan Amazon, among ancient forested tabletop mountains known as tepuis, crystalline rivers, and breathtaking waterfalls, illegal gold miners are threatening one of world's largest remaining blocks of wilderness, one that is home to indigenous people and strikingly high levels of biological diversity. As the situation worsens -- a series of attacks have counted both miners and indigenous people as victims -- a leading scientific organization has called for the Venezuelan government to take action.


Pig iron production fueling Amazon deforestation

(09/21/2005) Pig iron production in the states of Para and Maranhao is fueling deforestation a Brazilian newspaper reports.