News articles on amazon

---
Mongabay.com news articles on amazon in blog format. Updated regularly.





U.S. farms and forests report draws ire in Brazil; cutting down the Amazon does not mean lower food prices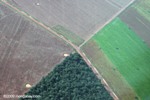 (06/24/2010) Not surprisingly, a US report released last week which argued that saving forests abroad will help US agricultural producers by reducing international competition has raised hackles in tropical forest counties. The report, commissioned by Avoided Deforestation Partners, a US group pushing for including tropical forest conservation in US climate policy, and the National Farmers Union, a lobbying firm, has threatened to erode support for stopping deforestation in places like Brazil. However, two rebuttals have been issued, one from international environmental organizations and the other from Brazilian NGOs, that counter findings in the US report and urge unity in stopping deforestation, not for the economic betterment of US producers, but for everyone.


Amazongate fraud

(06/21/2010) The Sunday Times over the weekend retracted a column that accused the Intergovernmental Panel on Climate Change (IPCC) of making a 'bogus rainforest claim' when it cited a report warning that up to 40 percent of the Amazon could be "drastically" affected by climate change. The 'Amazongate' column, authored by Jonathan Leake, Science & Environment Editor of the Sunday Times, was immediately seized upon by climate skeptics as further evidence to discredit the IPCC just two weeks after it was found to be using shoddy glacier data in its 2007 climate assessment. But now the Sunday Times has removed Leake's column from its web site and issued on apology, admitting that the Amazon claim was indeed supported by scientific research. The Sunday Times also acknowledged misconduct in the way one of the story's sources—Simon Lewis of the University of Leeds in Britain—was quoted.


Environmentalists and indigenous groups condemn plan for six dams in Peruvian Amazon

(06/21/2010) Environmentalists and indigenous groups have come together to condemn a 15 million US dollar plan for six hydroelectric dams in the Peruvian Amazon, signed last week by Brazilian President Luiz Inácio Lula da Silva and Peruvian President, Alan Garcia. While the six dams would produce over 6,000 megawatts, mostly for Brazil, critics say the dams will flood tens of thousands of hectares of rainforest, devastate the lifestyles of a number of indigenous groups, and only serve big Brazilian corporations.


Amazon logging industry declines

(06/17/2010) The global economic crisis and increased environmental law enforcement have taken a toll on the Amazon logging industry in Brazil, reports a major new assessment conducted by Imazon and the Brazilian Forest Service.


Malaria increases 50 percent following deforestation in the Amazon

(06/16/2010) A new study shows that deforestation in the Amazon helps spread disease by creating an optimal environment for malaria-carrying mosquitoes. The study, published in the online issue of the CDC journal Emerging Infectious Diseases, found that clearing forests in the Brazilian Amazon raised incidences of malaria by almost 50 percent.


Deforestation on the rise again in Brazil

(06/14/2010) Deforestation in the Brazilian Amazon may be on the rise again after reaching record-low levels last year, reports Brazil's National Space Research Institute, INPE.


Inga alley cropping: a sustainable alternative to slash and burn agriculture

(06/14/2010) It has been estimated that as many as 300 million farmers in tropical countries may take part in slash and burn agriculture. A practice that is environmentally destructive and ultimately unstable. However, research funded by the EEC and carried out in Costa Rica in the late 1980s and early 1990s by Mike Hands offers hope that it is possible to farm more successfully and sustainably in these tropical regions.


As Amazon deforestation rates fall, fires increase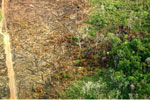 (06/03/2010) While rates of forest loss in the Brazilian Amazon have been on the decline since 2004, the incidence of fire is increasing in the region, undermining some of the carbon emissions savings of reduced deforestation rates, report researchers writing in the journal Science. The paper argues that REDD, a global plan to reduce deforestation and forest degradation, must include measures to eliminate the use of fire from land management in the Amazon.


New protected areas in Brazil contribute to major drop in Amazon deforestation rate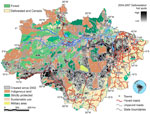 (06/01/2010) Protected areas in the Brazilian Amazon are proving highly effective in reducing forest loss in Earth's largest rainforest, reports a new study based on analysis of deforestation trends in and around indigenous territories, parks, military holdings, and sustainable use reserves. The research, published in the early edition of Proceedings of the National Academy of Sciences, finds that 37 percent of the recent decline in deforestation in the Brazilian Amazon can be attributed to newly established protected areas. Brazil designated some 709,000 square kilometers (274,000 sq mi) of Amazon forest — an area larger than the state of Texas — between 2002 and 2009 under its Amazon Protected Areas Program (ARPA). Meanwhile deforestation in the Brazilian Amazon fell by nearly three-quarters between 2004 and 2009.


'Prepare for war': tensions rising over Brazil's controversial Belo Monte dam

(05/25/2010) Tensions are flaring after Brazil's approval of the Belo Monte dam project last month to divert the flow of the Xingu River. The dam, which will be the world's third larges, will flood 500 square miles of rainforest, lead to the removal of at least 12,000 people in the region, and upturn the lives of 45,000 indigenous people who depend on the Xingu. After fighting the construction of the dam for nearly thirty years, indigenous groups are beginning to talk of a last stand.


More of the Amazon opened to oil development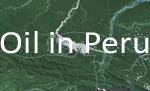 (05/24/2010) Perupetro, the Peruvian government's oil and gas corporate leasing body, announced last week that it will open an additional 25 lots for oil and gas exploration in the Amazon covering an area of 10 million hectares (nearly 25 million acres). Peru's national Amazon indigenous group, AIDESEP, criticized the move calling it a 'new threat' to Peru's indigenous group. According to Amazon Watch these new lots mean that 75 percent of the Peruvian Amazon is now open to oil and gas exploration and drilling.


Long-distance seed dispersal and hunting, an interview with Kimberly Holbrook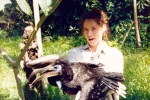 (05/24/2010) Scientists are just beginning to uncover the complex relationship between healthy biodiverse tropical forests and seed dispersers—species that spread seeds from a parent tree to other parts of the forest including birds, rodents, primates, and even elephants. By its very nature this relationship consists of an incredibly high number of variables: how abundant are seed dispersers, which animals spread seeds the furthest, what species spread which seeds, how are human impacts like hunting and deforestation impacting successful dispersal, as well as many others. Dr. Kimberly Holbrook has begun to answer some of these questions.


BP and the Perilous Voyage of Bama the Manatee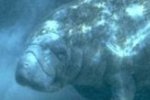 (05/23/2010) To the degree that Americans are paying attention to the environmental plight of marine wildlife in the Gulf of Mexico, they may focus most upon dolphins and whales. However, the U.S. public is much less familiar with another marine mammal, the manatee, which could also be placed in jeopardy as a result of the BP oil spill. One of the most outlandish creatures on the planet, the shy and retiring manatee, which gets its name from an American Indian word meaning "Lady of the Water", is one of my favorite animals.


Talking the Amazon rainforest with Avatar's James Cameron

(05/11/2010) Recently, I got an invitation to attend an interesting panel dealing with indigenous issues on Earth Day. The talk, held at the Paley Center for Media in midtown Manhattan, would host a number of Native Americans but also James Cameron, creator of the blockbuster movie Avatar as well as other hits such as Terminator and Titantic. What, you might ask, was a Hollywood director doing at such an event? If you've seen Cameron's movie you know that it deals with a fictional tribe of humanoid creatures called the Na'vi who inhabit the rainforest world of Pandora. In the film, the Na'vi must fight to preserve the forest from a mineral corporation backed up by the U.S. military. Avatar, a true technological feat, brought the Pandora rainforest to movie-going audiences in 3-D. Though Avatar doesn't attempt to teach anything to the audience per se, it does convey a sense of moral outrage.


Collapsing biodiversity is a 'wake-up call for humanity'

(05/10/2010) A joint report released today by the Convention on Biological Diversity (CBD) and the UN Environment Program (UNEP) finds that our natural support systems are on the verge of collapsing unless radical changes are made to preserve the world's biodiversity. Executive Secretary of the Convention on Biological Diversity, Ahmed Djoghlaf, called the bleak report "a wake-up call for humanity."


Taking back the rainforest: Indians in Colombia govern 100,000 square miles of territory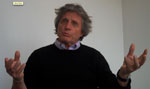 (05/10/2010) Indigenous groups in the Colombian Amazon have long suffered deprivations at the hands of outsiders. First came the diseases brought by the European Conquest, then came abuses under colonial rule. In modern times, some Amazonian communities were virtually enslaved by the debt-bondage system run by rubber traders: Indians could work their entire lives without ever escaping the cycle of debt. Later, periodic invasions by gold miners, oil companies, colonists, and illegal coca-growers took a heavy toll on remaining indigenous populations. Without title to their land, organization, or representation, indigenous Colombians in the Amazon seemed destined to be exploited and abused. But new hope would emerge in the 1980s, thanks partly to the efforts of Martin von Hildebrand, an ethnologist who would help indigenous Colombians eventually win control over 260,000 square kilometers (100,000 square miles) of Amazon rainforest—an area larger than the United Kingdom.


Brazil launches major push for sustainable palm oil in the Amazon


(05/07/2010) Brazilian President Lula da Silva on Thursday laid out plans to expand palm oil production in the Amazon while minimizing risk to Earth's largest rainforest. The plan, called the Program for Sustainable Production of Palm Oil (O Programa de Produção Sustentável de Óleo de Palma), will provide $60 million to promote cultivation of oil palm in abandoned and degraded agricultural areas, including long-ago deforested lands used for sugar cane and pasture. Brazilian officials claim up to 50 million hectares of such land exist in the country.


Can markets protect nature?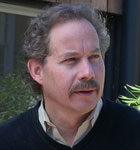 (05/03/2010) Over the past 30 years billions of dollars has been committed to global conservation efforts, yet forests continue to fall, largely a consequence of economic drivers, including surging global demand for food and fuel. With consumption expected to far outstrip population growth due to rising affluence in developing countries, there would seem to be little hope of slowing tropical forest loss. But some observers see new reason for optimism—chiefly a new push to make forests more valuable as living entities than chopped down for the production of timber, animal feed, biofuels, and meat. While are innumerable reasons for protecting forests—including aesthetic, cultural, spiritual, and moral—most land use decisions boil down to economics. Therefore creating economic incentives to maintaining forests is key to saving them. Leading the effort to develop markets ecosystem services is Forest Trends, a Washington D.C.-based NGO that also organizes the Katoomba group, a forum that brings together a wide variety of forest stakeholders, including the private sector, local communities, indigenous people, policymakers, international development institutions, funders, conservationists, and activists.


Deforestation-free leather comes closer to reality in the Brazilian Amazon

(05/02/2010) Prominent leather buyers have developed a new traceability system to ensure that leather products from Brazil don't result in deforestation, reports the National Wildlife Federation, an NGO working to improve the environmental performance of the cattle industry in the Amazon.


Second rancher sentenced for contract killing of American nun in the Brazilian Amazon

(05/02/2010) A second rancher has been sentenced for his role in the murder of Dorothy Stang, an American nun who was gunned down in 2005 for her efforts on behalf of poor farmers in the Amazon rainforest, reports Reuters.


Large-scale soy farming in Brazil pushes ranchers into the Amazon rainforest

(04/28/2010) Industrial soy expansion in the Brazilian Amazon has contributed to deforestation by pushing cattle ranchers further north into rainforest zones, reports a new study published the journal Environmental Research Letters.


United States has higher percentage of forest loss than Brazil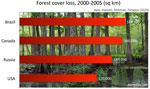 (04/26/2010) Forests continue to decline worldwide, according to a new study in the Proceedings of the National Academy of Science (PNAS). Employing satellite imagery researchers found that over a million square kilometers of forest were lost around the world between 2000 and 2005. This represents a 3.1 percent loss of total forest as estimated from 2000. Yet the study reveals some surprises: including the fact that from 2000 to 2005 both the United States and Canada had higher percentages of forest loss than even Brazil.


Oil company to cut 454 kilometers of seismic lines in uncontacted tribe territory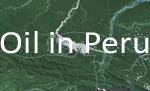 (04/21/2010) Repsol YPF, a Spanish-Argentine oil company, plans to cut 454 kilometers (282 miles) of seismic lines in a territory of the Peruvian rainforest known to be home to uncontacted indigenous peoples, according to a press release from Survival International. To construct seismic lines paths will be cleared in the forest and explosives set-off regularly. Seismic lines allow energy companies to locate oil deposits by creating a cross sectional view of the subsurface.


Off and on again: Belo Monte dam goes forward, protests planned

(04/20/2010) An auction to build the Belo Monte dam, a massive hydroelectric project in Brazil, is going ahead despite two court-ordered suspensions, both of which have been overturned. The dam, which would be the world's third-largest, has been criticized by indigenous groups, environmental organizations, and most recently filmmaker James Cameron who created the wildly popular Avatar.


Is deforestation rising or falling in the Amazon?

(04/18/2010) Last week Brazil's National Space Agency INPE reported a 51 percent drop in Amazon deforestation in the six months ended February 2010 compared with the year earlier period. But the seemingly happy news for environmentalists may be premature.


Brazil suspends Amazon dam project targeted by Avatar director

(04/15/2010) A Brazilian judge on Wednesday suspended the preliminary license for the Belo Monte hydroelectric dam, a controversial project in the heart of the Amazon rainforest, citing "danger of irreparable harm," reports the Amazon Watch, an NGO that has been campaigning on the issue. The move comes just days after a high-profile visit by James Cameron, director of the box office hit Avatar, and Sigourney Weaver, one of the stars of Avatar, to indigenous communities potentially affected by the dam.


Amazon nun-killer found guilty in Brazil

(04/13/2010) The Brazilian rancher accused of ordering the murder of an American missionary has been sentenced to 30 years in prison, reports the Associated Press (AP).


Brazilian cattle giants move toward zero deforestation in the Amazon

(04/07/2010) Brazilian cattle companies are making progress in their effort to map their supply-chains in the Amazon but are still falling short of their commitment to zero deforestation in the region, reports Greenpeace after a meeting at the Brazilian Association of Meat Exporters (ABIEC) in Sao Paulo.


Film Director James Cameron's Next Film on the Amazon

(04/05/2010) Fresh off his huge blockbuster success with Avatar, James Cameron is taking a commendable stand on indigenous issues in the rainforest. Flying down to Brazil's Amazonian city of Manaus recently, the film director criticized the Belo Monte hydro electric dam project. "For people living along the river, as they have for millennia," he said, "the dam will end their way of life. I implore the Brazilian government, and President Lula, to reconsider this project."


James Cameron, in real life, fights to save indigenous groups from massive dam construction in Brazil

(04/01/2010) After creating a hugely successful science-fiction film about a mega-corporation destroying the indigenous culture of another planet, James Cameron has become a surprisingly noteworthy voice on environmental issues, especially those dealing with the very non-fantastical situation of indigenous cultures fighting exploitation. This week Cameron traveled to Brazil for a three-day visit to the Big Bend (Volta Grande) region of the Xingu River to see the people and rainforests that would be affected by the construction of the Belo Monte Hydroelectric Dam. Long-condemned by environmentalists and indigenous-rights groups, the dam would destroy 500 square kilometers of pristine rainforest and force the relocation of some 12,000 people.


Depopulation may be harming the Amazon rainforest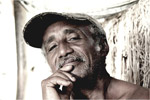 (03/31/2010) Urbanization may be having unexpected impacts in the Amazon rainforest by leaving forest areas vulnerable to exploitation by outsiders, report researchers writing in Conservation Letters. Conducting field surveys during the course of 10,000-kilometers of travel along remote Amazon rivers, Luke Parry of Lancaster University found that a sharp decrease in rural habitation has not been accompanied by a decline in harvesting of wildlife and forest resources, indicating that urban populations exact a heavy toll on distant forests through hunting, fishing, logging, and harvesting of non-timber forest products.


More research and conservation efforts needed to save Colombia's monkeys

(03/29/2010) Approximately thirty monkey species inhabit the tropical forests of Colombia with at least five found no-where else in the world. A new review appearing the open access journal Tropical Conservation Science of Colombia's primates finds that a number of these species, including some greatly endangered species, have been neglected by scientists. The researchers looked at over 3,500 studies covering over a century of research by primatologists.


Just how bad is meat-eating for the environment?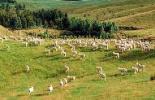 (03/28/2010) Meat is booming. In the past thirty years, livestock production has increased threefold. In many parts of the world where incomes are expanding, meat, once a delicacy, is now eaten regularly and voraciously. But what are the environmental impacts of this 'livestock revolution'? Two recent studies look at the global impact of the livestock industry, one alleges that its environmental impacts in relation to greenhouse gas emissions has been overestimated, while the other takes a holistic view of the industry's environmental impact.


Spanish oil company develops own rules for contacting uncontacted Amazon tribes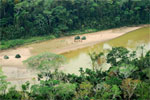 (03/26/2010) Imagine you're in one of the remotest parts of the Amazon rainforest and suddenly you come across members of an uncontacted tribe. What should you do? The experts say, "Turn around. At all costs, make no attempt at contact." Repsol YPF, exploring for oil in northern Peru, has taken a different approach. Despite the extreme vulnerability of the tribes to any form of contact, the company suggests that its workers talk to them in certain instances, and even provides specific phrases to use and conversation topics to address.


Global deforestation slows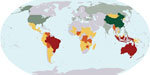 (03/25/2010) Global forest loss has diminished since the 1990s but still remains "alarmingly high", according to a preliminary version of a new assessment from the U.N. Food and Agriculture Organization (FAO). The report, Global Forest Resources Assessment 2010 (FRA 2010), shows that global forest loss slowed to around 13 million hectares per year during the 2000s, down from about 16 million hectares per year in the 1990s. It finds that net deforestation declined from about 8.3 million hectares per year in the 1990s to about 5.2 million hectares per year in the 2000s, a result of large-scale reforestation and afforestation projects, as well as natural forest recovery in some countries and slowing deforestation in the Amazon.


Scientists: new study does not disprove climate change threat to Amazon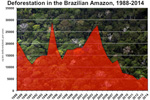 (03/19/2010) Recently, Boston University issued a press release on a scientific study regarding the Amazon's resilience to drought. The press release claimed that the study had debunked the Intergovernmental Panel on Climate Change's (IPCC) theory that climate change could turn approximately 40 percent of the Amazon into savanna due to declining rainfall. The story was picked up both by mass media, environmental news sites (including mongabay.com), and climate deniers' blogs. However, nineteen of the world's top Amazonian experts have issued a written response stating that the press release from Boston University was "misleading and inaccurate".


Amazon confusion: new research shows forest is resilient to drought, but is this the whole picture?


(03/15/2010) A drought that happens once in a hundred years had little negative or positive effect on the Amazon rainforest according to a NASA funded study in Geophysical Research Letters. "We found no big differences in the greenness level of these forests between drought and non-drought years, which suggests that these forests may be more tolerant of droughts than we previously thought," said Arindam Samanta, the study's lead author from Boston University.


Secrets of the Amazon: giant anacondas and floating forests, an interview with Paul Rosolie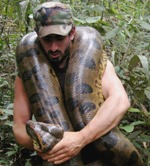 (03/10/2010) At twenty-two Paul Rosolie has seen more adventure than many of us will in our lifetime. First visiting the Amazon at eighteen, Rosolie has explored strange jungle ecosystems, caught anaconda and black caiman bare-handed, joined indigenous hunting expeditions, led volunteer expeditions, and hand-raised a baby giant anteater. "Rainforests were my childhood obsession," Rosolie told Mongabay.com. "For as long as I can remember, going to the Amazon had been my dream […] In those first ten minutes [of visiting], cowering under the bellowing calls of howler monkeys, I saw trails of leaf cutter ants under impossibly large, vine-tangled trees; a flock of scarlet macaws crossed the sky like a brilliant flying rainbow. I saw a place where nature was in its full; it is the most amazing place on earth."


Why seed dispersers matter, an interview with Pierre-Michel Forget, chair of the FSD International Symposium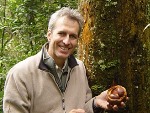 (03/07/2010) There are few areas of research in tropical biology more exciting and more important than seed dispersal. Seed dispersal—the process by which seeds are spread from parent trees to new sprouting ground—underpins the ecology of forests worldwide. In temperate forests, seeds are often spread by wind and water, though sometimes by animals such as squirrels and birds. But in the tropics the emphasis is far heavier on the latter, as Dr. Pierre-Michel Forget explains to mongabay.com. "[In rainforests] a majority of plants, trees, lianas, epiphytes, and herbs, are dispersed by fruit-eating animals. […] As seed size varies from tiny seeds less than one millimetres to several centimetres in length or diameter, then, a variety of animals is required to disperse such a continuum and variety of seed size, the smaller being transported by ants and dung beetles, the larger swallowed by cassowary, tapir and elephant, for instance."


U.S. and Brazil sign deforestation agreement

(03/07/2010) Brazil and the United States have signed an agreement to worth together to reduce deforestation as part of an effort to slow climate change.


Guyana bans gold mining in the 'Land of the Giants'



(03/01/2010) Guyana has banned gold dredging in the Rewa Head region of the South American country after pressure from Amerindian communities in the area. A recent expedition to Rewa Head turned up unspoiled wilderness and mind-boggling biodiversity. The researchers, in just six weeks, stumbled on the world's largest snake (anaconda), spider (the aptly named goliath bird-eating spider), armadillo (the giant armadillo), anteater (the giant anteater), and otter (the giant otter), leading them to dub the area 'the Land of the Giants'. "During our brief survey we had encounters with wildlife that tropical biologists can spend years in the field waiting for. On a single day we had two tapirs paddle alongside our boat, we were swooped on by a crested eagle and then later charged by a group of giant otters."


Photos: highest diversity of cats in the world discovered in threatened forest of India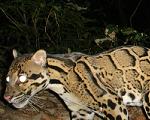 (02/18/2010) Using camera traps over a two year period wildlife biologist Kashmira Kakati has discovered seven species of wild cats living in the same forest: the Jeypore-Dehing lowland forests in the northeastern Indian state of Assam. Yet the cat-crazy ecosystem is currently threatened by deforestation, unsustainable extractive industries, including crude oil and coal, and big hydroelectric projects. Some of the cats are also imperiled by poachers. In light of this discovery, conservationists are calling on the Indian government to protect the vulnerable forest system.


Under siege: oil and gas concessions cover 41 percent of the Peruvian Amazon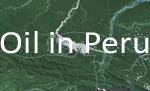 (02/16/2010) A new study in the Environmental Research Letter finds that the Peruvian Amazon is being overrun by the oil and gas industries. According to the study 41 percent of the Peruvian Amazon is currently covered by 52 separate oil and gas concessions, nearly six times as much land as was covered in 2003. "We found that more of the Peruvian Amazon has recently been leased to oil and gas companies than at any other time on record," explained co-author Dr. Matt Finer of the Washington DC-based Save America's Forests in a press release. The concessions even surpass the oil boom in the region during the 1970s and 80s, which resulted in extensive environmental damage.


Illegal logging rampant in Peru

(02/15/2010) A survey of 78 forestry concessions in Peru found that 46 (59 percent) were in breach of their concession contracts, reports the International Tropical Timber Organization (ITTO).


Amazon rainforest will bear cost of biofuel policies in Brazil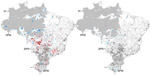 (02/08/2010) Business-as-usual agricultural expansion to meet biofuel production targets for 2020 will take a heavy toll on Brazil's Amazon rainforest in coming years, undermining the potential emissions savings of transitioning from fossil fuels to biofuels, warns a new paper published in the Proceedings of the National Academy of Sciences (PNAS). The research suggests that intensification of cattle ranching, combined with efforts to promote high-yielding oil crops like oil palm could lessen forecast greenhouse gas emissions from indirect land use in the region.


Commodity trade and urbanization, rather than rural poverty, drive deforestation


(02/07/2010) Deforestation is increasingly correlated to urban population growth and trade rather than rural poverty, suggesting that measures proposed to reduce deforestation will be ineffective if they fail to address demand for commodities produced on forest lands, argues a new paper published in Nature GeoScience.


Birder captures first footage ever of long whiskered owlet, one of the world's rarest birds

(02/04/2010) It was any birders dream come true: not only to see one of the world's rarest birds, but to discover a new unknown population. Israeli birder, Shachar Alterman, was surveying birds with the UK organization Neotropical Primate Conservation in Peruvian cloud forest when he heard and then saw the long whiskered owlet.


The Amazongate fiasco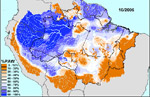 (02/03/2010) A claim published in the Sunday Times over the veracity of a statement published in an Intergovernmental Panel on Climate Change (IPCC) report may land the British newspaper in hot water. On Sunday, Jonathan Leake, Science & Environment Editor of the Sunday Times, accused the IPCC of making a "bogus rainforest claim" when it cited a report warning that up to 40 percent of the Amazon could be "drastically" affected by climate change. Climate change skeptics immediately seized on "Amazongate" as further evidence to discredit the IPCC just two weeks after it was found to be using shoddy glacier data in its 2007 climate assessment.


Rainforest expert agrees with IPCC: warns of 'tipping point' for Amazon


(02/03/2010) Amid questions over the Amazon forests' capacity to survive climate change, a renowned tropical biologist says that in fact the fears are real, reports Tierramerica. Speaking at the Biodiversity Science Policy Conference in Paris, Thomas Lovejoy, biodiversity chair at the Washington DC-based Heinz Center for Science, Economics and the Environment, and chief biodiversity adviser to the president of the World Bank, described the Amazon rainforest as "very close to a tipping point".


Environmentalists and indigenous groups decry approval of massive dam in Amazon

(02/02/2010) The approval of the hydro-electric Belo Monte Dam from the Brazilian environmental agency, IBAMA, has raised condemnations from environmentalists and indigenous groups. The dam will divert the flow of the Xingu River, a tributary of the Amazon River, which runs through the Amazon in northeast Brazil. According to critics the dam will destroy vast areas of pristine rainforest, disrupt sensitive ecosystems, and relocate 12,000 people.



Page 1 | Page 2 | Page 3 | Page 4 | Page 5 | Page 6 | Page 7 | Page 8 | Page 9 | Page 10 | Page 11 | Page 12 | Page 13 | Page 14 | Page 15 | Page 16 | Page 17 | Page 18 | Page 19 | Page 20