News articles on amazon

---
Mongabay.com news articles on amazon in blog format. Updated regularly.





Experts: sustainable logging in rainforests impossible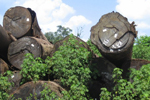 (07/19/2012) Industrial logging in primary tropical forests that is both sustainable and profitable is impossible, argues a new study in Bioscience, which finds that the ecology of tropical hardwoods makes logging with truly sustainable practices not only impractical, but completely unprofitable. Given this, the researchers recommend industrial logging subsidies be dropped from the UN's Reducing Emissions from Deforestation and Forest Degradation (REDD+) program. The study, which adds to the growing debate about the role of logging in tropical forests, counters recent research making the case that well-managed logging in old-growth rainforests could provide a "middle way" between conservation and outright conversion of forests to monocultures or pasture.


Brazil cripples illegal gold mining operations in indigenous territory

(07/18/2012) Brazilian police have arrested 26 people and confiscated gold and aircraft in a coordinated effort to tackle illegal gold-mining in the Yanomami Indigenous Reserve, reports the BBC. Along with illegal miners the year-long investigation also arrested complicit airplane pilots, engineers, and business people in a bid to undercut the trade's funders and infrastructure.


Scientists slam Telegraph blogger's claims that climate change will be good for the Amazon


(07/12/2012) Recent blog posts on The Telegraph and the Register claiming that tropical rainforests like the Amazon are set to benefit from climate change are 'uninformed' and 'ridiculous' according to some of the world's most eminent tropical forest scientists. The posts, published Sunday and Monday by Tim Worstall, a Senior Fellow at London's Adam Smith Institute, asserted that a new Nature study indicates that 'climate change will mean new and larger tropical forests.' But some of the world's leading tropical forest experts took aim at Worstall's logic, noting the limitations of the study as well as the other factors that are endangering rainforests.


Still time to save most species in the Brazilian Amazon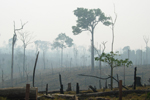 (07/12/2012) Once habitat is lost or degraded, a species doesn't just wink out of existence: it takes time, often several generations, before a species vanishes for good. A new study in Science investigates this process, called "extinction debt", in the Brazilian Amazon and finds that 80-90 percent of the predicted extinctions of birds, amphibians, and mammals have not yet occurred. But, unless urgent action is taken, the debt will be collected, and these species will vanish for good in the next few decades.


Indigenous tribes end occupation of Belo Monte

(07/12/2012) After occupying the construction site of the massive Belo Monte dam for 21 days, some 300 indigenous people have left and gone home. The representatives from nine Amazonian tribes abandoned their occupation after two days of meeting with the dam's builder, the Norte Energia consortium.


Vietnam buys stakes in controversial oil blocks threatening Peru's most vulnerable indigenous people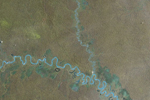 (07/11/2012) Vietnam's state oil and gas company, PetroVietnam Exploration and Production (PVEP), has announced its intention to acquire a major stake in controversial oil operations in the remote Peruvian Amazon. This area, known as Lot 67, is one of the most biodiverse in the world and home to indigenous people living without regular contact with outsiders, sometimes dubbed 'isolated' or 'uncontacted', who could be decimated by contact with oil company workers because they are highly vulnerable to disease.


Vale's $1 trillion iron mine in the Amazon wins approval

(07/09/2012) The Brazilian government approved the environmental license for the expansion of an iron mine in the Amazon region, reports Vale, the Brazilian mining giant behind the project.


Critically Endangered capuchins discovered in four new locations

(07/09/2012) The Ecuadorian capuchin, a Critically Endangered subspecies of the white-fronted capuchin (Cebus albifrons), has been discovered in four new locations according to a new study in mongabay.com's open access journal Tropical Conservation Science. Found only in Ecuador and northern Peru, the scientists say the monkey may be unique enough to warrant consideration as a distinct species.


Experts dispute recent study that claims little impact by pre-Columbian tribes in Amazon


(07/05/2012) A study last month in the journal Science argued that pre-Columbian peoples had little impact on the western and central Amazon, going against a recently composed picture of the early Amazon inhabited by large, sophisticated populations influencing both the forest and its biodiversity. The new study, based on hundreds of soil samples, theorizes that indigenous populations in much of the Amazon were tiny and always on the move, largely sticking to rivers and practicing marginal agriculture. However, the study raised eyebrows as soon as it was released, including those of notable researchers who openly criticized its methods and pointed out omissions in the paper, such as no mention of hundreds of geoglyphs, manmade earthen structures, found in the region.


Indigenous tribes occupy Belo Monte dam for over 10 days

(07/03/2012) As of Tuesday, the occupation of Belo Monte dam by indigenous tribes entered its 13th day. Indigenous people, who have fought the planned Brazilian dam for decades, argue that the massive hydroelectric project on the Xingu River will devastate their way of life. According to a statement from the tribes, 17 indigenous villages from 13 ethnic groups are now represented at the occupation, which has successfully scuttled some work on the dam.


96 percent of the world's species remain unevaluated by the Red List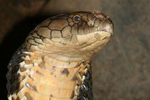 (06/28/2012) Nearly 250 species have been added to the threatened categories—i.e. Vulnerable, Endangered, and Critically Endangered—in this year's update of the International Union for Conservation of Nature's (IUCN) Red List. The 247 additions—including sixty bird species—pushes the number of threatened species globally perilously close to 20,000. However to date the Red List has only assessed 4 percent of the world's known species; for the other 96 percent, scientists simply don't know how they are faring.


Brazil's environmental leadership at risk, warn scientists

(06/26/2012) The Brazilian government is putting its global environmental leadership at risk by ignoring scientific concern on large infrastructure projects and changes in the country's forest laws, warned an association of more than 1,200 tropical scientists gathering last week in Bonito, Brazil on the heels of the disappointing Rio+20 Earth Summit.


Dams are 'centerpiece of greenwashing' in the Amazon

(06/25/2012) Brazil's ambitious plans to build 30 dams in the Amazon basin could trump the country's efforts to protect the world's largest rainforest, said a leading Amazon scientist speaking at the annual meeting of the Association for Tropical Biology and Conservation (ATBC) in Bonito, Brazil.


Small farmers cause substantial damage in the Amazon rainforest

(06/25/2012) Small farmers are less likely than large landowners to maintain required forest cover on their property in the Brazilian Amazon, worsening the environmental impact of their operations, reported a researcher presenting at the annual meeting of the Association for Tropical Biology and Conservation (ATBC) in Bonito, Brazil.


New geojournalism mapping platform for the Amazon

(06/21/2012) A new mapping platform combines georeferenced environmental news articles with data on deforestation, fires, protected areas, and oil and gas concessions in the Amazon.


Fire risk to increase in the Amazon rainforest

(06/20/2012) The risk of fire could increase across large parts of the Amazon rainforest due to increasing incident of drought, expansion of road networks, and rural outmigration, said a scientist speaking at the annual meeting of the Association for Tropical Biology and Conservation (ATBC) in Bonito, Brazil.


Over 700 people killed defending forest and land rights in past ten years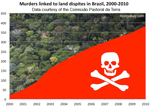 (06/19/2012) On May 24th, 2011, forest activist José Cláudio Ribeiro da Silva and his wife, Maria do Espírito Santo da Silva, were gunned down in an ambush in the Brazilian state of Pará. A longtime activist, José Cláudio Ribeiro da Silva had made a name for himself for openly criticizing illegal logging in the state which is rife with deforestation. The killers even cut off the ears of the da Silvas, a common practice of assassins in Brazil to prove to their employers that they had committed the deed. Less than a year before he was murdered, da Silva warned in a TEDx Talk, "I could get a bullet in my head at any moment...because I denounce the loggers and charcoal producers."


Protesters dig canal through Belo Monte dam in Brazil (Photos)

(06/16/2012) In an symbolic protest of the giant Belo Monte Dam, Friday morning some 300 locals dug a channel in an earthen dam that blocks a portion of the Xingu River and serves as the first step of the controversial hydroelectric project, reports Amazon Watch.


Brazilian beef giant on defensive on its Amazon sourcing practices

(06/08/2012) JBS, the world's largest meat and leather company, is on the defensive after Greenpeace accused it of failing to abide by a 2009 agreement to implement safeguards that would exclude cattle produced on recently deforested lands in the Amazon.


Brazil finalizes 2011 deforestation data

(06/06/2012) Brazil's National Institute for Space Research (INPE) on Tuesday finalized its 2011 estimate for deforestation in the Amazon region.


President Rousseff vetoes some controversial changes to Brazil's Forest Code

(05/29/2012) Brazilian President Dilma Rousseff on Monday revealed the details of her line-item veto to proposed changes to the country's Forest Code, which governs how much forest landowners are required to preserve. Rousseff vetoed a dozen clauses of the revised Forest Code and modified several others. The bill now goes back to the Chamber of Deputies, followed by the Senate and House, before returning again to Rousseff. A final decision isn't expected until after the Rio+20 UN Conference on Sustainable Development.


Tropical dams are a false solution to climate change

(05/27/2012) Tropical dams emit considerably more greenhouse gas emissions than their temperate counterparts yet are being treated as a solution to climate change, warns a report published in Nature Climate Change.


Brazil's Rousseff vetoes part of controversial Forest Code revision

(05/25/2012) Brazilian President Dilma Rousseff today rejected 12 of 84 articles in a controversial bill that aims to relax restrictions on deforestation in the Amazon rainforest. The Brazilian government will announce the full details of the cuts on Monday.


Greenpeace lifts pig iron ship blockade in Brazil

(05/25/2012) Greenpeace suspended its blockade of a pig iron shipment in the Brazil after industry representatives and authorities agreed to meet to resolve issues raised in a recent report by the activist group.


Value of timber stocks could predict future logging roads, deforestation in the Amazon

(05/20/2012) A new model aims to forecast future logging road development by estimating the value of timber stocks across the Brazilian Amazon. The research, published in PLoS One, could help prioritize areas for conservation to protect the maximum area of forest.


Brazilian deforestation lower in 2012 to date

(05/18/2012) Deforestation in the Brazilian Amazon is lower in 2012 relative to the same period last year according to satellite-based data released by Imazon, an NGO.


U.S. car manufacturers linked to Amazon destruction, slave labor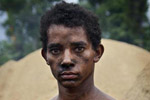 (05/14/2012) According to a new report by Greenpeace, top U.S. car companies such as Ford, General Motors, and Nissan are sourcing pig iron that has resulted in the destruction of Amazon rainforests, slave labor, and land conflict with indigenous tribes. Spending two years documenting the pig iron trade between northeastern Brazil and the U.S., Greenpeace has discovered that rainforests are cut and burned to power blast furnaces that produce pig iron, which is then shipped to the U.S. for steel production.


Greenpeace makes social media push for zero deforestation in Brazil

(05/12/2012) Greenpeace is leveraging social media in its push for a zero deforestation target in Brazil.


Can loggers be conservationists?


(05/10/2012) Last year researchers took the first ever publicly-released video of an African golden cat (Profelis aurata) in a Gabon rainforest. This beautiful, but elusive, feline was filmed sitting docilely for the camera and chasing a bat. The least-known of Africa's wild cat species, the African golden cat has been difficult to study because it makes its home deep in the Congo rainforest. However, researchers didn't capture the cat on video in an untrammeled, pristine forest, but in a well-managed logging concession by Precious Woods Inc., where scientist's cameras also photographed gorillas, elephants, leopards, and duikers.


Pictures of Yasuni, Ecuador's rainforest gem


(04/27/2012) In late 2010, mongabay.com reporter Jeremy Hance traveled to Yasuni National Park, arguably the most biodiverse place on the planet and home to a unique initiative to save a rainforest by asking the international community to pay to keep oil in the ground. Researchers have found more tree species in a single hectare in Yasuni National Park than in all of the U.S. and Canada combined. Yasuni also contains the highest biodiversity of reptiles and amphibians in the world with 271 species. But insects trump them all: entomologist Terry Erwin has estimated that a single hectare of rainforest in Yasuni may contain as many as 100,000 unique insect species.


Brazil's Congress OKs weakened version of forest law; environmentalists outraged

(04/26/2012) Brazil's Congress on Wednesday approved controversial changes to the country's Forest Code, a move supporters argue will simplify environmental laws and ease agricultural expansion, but environmentalists say will spark deforestation and grant amnesty for past illegal logging. The measure needs to be approved by President Dilma Rousseff to become law.


Oil company Perenco endangering 'uncontacted' indigenous people, says Peru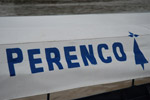 (04/25/2012) The company hoping to exploit the oil deposits slated to transform Peru's economy has been declared to be endangering the lives of indigenous people living in "voluntary isolation" by the country's indigenous affairs department (INDEPA). Perenco, an Anglo-French company with headquarters in London and Paris, is currently seeking approval from Peru's Energy Ministry (MEM) to develop its operations in the Loreto region in the north of the country.


Featured video: How to save the Amazon

(04/22/2012) The past ten years have seen unprecedented progress in fighting deforestation in the Amazon. Indigenous rights, payments for ecosystem services, government enforcement, satellite imagery, and a spirit of cooperation amongst old foes has resulted in a decline of 80 percent in Brazil's deforestation rates.


Protesters hit Brazilian mining giant Vale over involvement in Belo Monte

(04/20/2012) More than 150 demonstrators protested outside Vale's headquarters in Rio de Janeiro during the Brazilian mining giant's annual shareholder meeting over the company's social and environmental record, reports Amazon Watch, a group that is fighting the massive Belo Monte dam.


Photos: Uncontacted Amazon tribes documented for first time in Colombia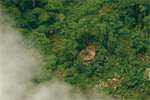 (04/19/2012) Aerial surveys of a remote area of rainforest along the Colombia-Brazil border have produced the first photographic evidence of uncontacted tribes, according to a conservation group that works to safeguard indigenous territories and culture. The photos, released by the Amazon Conservation Team (ACT), show five long houses or malokas thought to belong to two indigenous groups, the Yuri or Carabayo and Passé, some of the last isolated tribes in the Colombian Amazon. The images provide confirmation that uncontacted communities still exist within the Rio Puré National Park, which protects a million hectares (2.47 million acres) of mostly pristine rainforest between the Caquetá and Putumayo River basins along the Brazilian border.


Indigenous groups oppose priest pushing for road through uncontacted tribes' land

(04/19/2012) A grassroots indigenous organization in Peru is calling for the removal of an Italian Catholic priest from the remote Amazon in response to his lobbying to build a highway through the country's biggest national park.


Will mega-dams destroy the Amazon?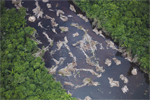 (04/18/2012) More than 150 new dams planned across the Amazon basin could significantly disrupt the ecological connectivity of the Amazon River to the Andes with substantial impacts for fish populations, nutrient cycling, and the health of Earth's largest rainforest, warns a comprehensive study published in the journal PLoS ONE. Scouring public data and submitting information requests to governments, researchers Matt Finer of Save America's Forests and Clinton Jenkins of North Carolina State University documented plans for new dams in Bolivia, Brazil, Colombia, Ecuador, and Peru.


Pictures: Destruction of the Amazon's Xingu River begins for Belo Monte Dam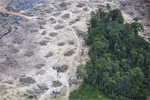 (04/18/2012) The Xingu River will never be the same. Construction of Belo Monte Dam has begun in the Brazilian Amazon, as shown by these photos taken by Greenpeace, some of the first images of the hugely controversial project. Indigenous groups have opposed the dam vigorously for decades, fearing that it will upend their way of life. Environmentalists warn that the impacts of the dam—deforestation, methane emissions, and an irreparable changes to the Xingu River's ecosystem—far outweigh any benefits. The dam, which would be the world's third largest, is expected to displace 16,000 people according to the government, though some NGOs put the number at 40,000. The dam will flood over 40,000 hectares of pristine rainforest, an area nearly seven times the size of Manhattan.


Amazon tribe becomes first to get OK to sell REDD credits for rainforest conservation

(04/12/2012) An Amazon tribe has become the first indigenous group in the world's largest rainforest to win certification of a forest carbon conservation project, potentially setting a precedent for other forest-dependent groups to seek compensation for safeguarding their native forests.


Scientists unlock indigenous secret to sustainable agriculture in the Amazon's savannas

(04/11/2012) Indigenous populations in the Amazon successfully farmed without the use of fire before the arrival of Europeans, demonstrating a potentially sustainable approach to land management in a region that is increasingly vulnerable to man-made fires.


U.S. gobbling illegal wood from Peru's Amazon rainforest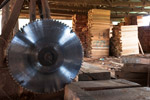 (04/10/2012) The next time you buy wood, you may want to make sure it's not from Peru. According to an in-depth new report by the Environmental Investigation Agency (EIA), the illegal logging trade is booming in the Peruvian Amazon and much of the wood is being exported to the U.S. Following the labyrinthian trail of illegal logging from the devastated forests of the Peruvian Amazon to the warehouses of the U.S., the EIA identified over 112 shipments of illegally logged cedar and big-leaf mahogany between January 2008 and May 2010. In fact, the group found that over a third (35 percent) of all the shipments of cedar and mahogany from Peru to the U.S. were from illegal sources, a percentage that is likely conservative.


Brazil can eliminate deforestation by 2020, says governor of giant Amazon state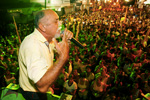 (04/05/2012) Brazil can reduce Amazon deforestation to zero by 2020 while boosting rural livelihoods and maintaining healthy economic growth, the governor of Pará told mongabay.com on the sidelines of the Skoll World Forum, a major conference on social entrepreneurship, last week. Governor Simao Jatene is hopeful that a revolution in land management and governance can turn the tide in Pará, a state that is three times the size of California and has lost more Amazon forest -- 90,000 sq km of Amazon forest since 1996 -- over the past decade-and-a-half than any other in Brazil.


BP moves into the Amazon rainforest

(04/03/2012) BP has acquired a stake in on exploration block in the heart of the Amazon rainforest, reports MarketWatch.


Judge suspends Brazilian dam that would flood sacred waterfalls

(04/02/2012) A federal judge has suspended the construction of a 1,820 megawatt dam on the Teles Pires River in the Amazon. The judge found that indigenous communities were not properly consulted about the dam, which would flood a sacred site, known as the Seven Waterfalls, as well as imperil the livelihoods of indigenous fishermen.


Researchers launch tool that predicts Amazon deforestation a year before it happens

(03/30/2012) Researchers have developed a methodology for accurately predicting where deforestation will occur in the Amazon up to a year in advance, enabling law enforcement agencies and officials to take preventative action before trees are actually chopped down, a forestry expert told mongabay.com on the sidelines of the Skoll World Forum for Social Entrepreneurship.


Brazil's indigenous affairs ministry: $32B carbon deal not valid

(03/28/2012) An apparent carbon deal between an Irish carbon trading company and an indigenous tribe that sparked outrage in Brazil is "invalid" according to the president of FUNAI, Brazil's indigenous affairs agency.


Government policy contributes to huge drop in Amazon deforestation in Brazil

(03/28/2012) Roughly half of the 70 percent decline in deforestation in the Brazilian Amazon between 2005 and 2009 can be attributed to policies enacted by the Brazilian government, finds an analysis published by the Climate Policy Initiative (CPI), a group funded by George Soros. The measures helped avoid 62,000 square kilometers of deforestation and 620 million tons of carbon dioxide emissions that would have otherwise occurred.


Indigenous groups fight for recognition and illumination in Peru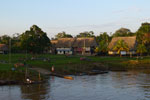 (03/26/2012) "Shh, wait here," Wilson told me. I ducked down behind the buttress of a large tree to wait. We had been walking through the jungle for a few hours. At first we followed a path through the undergrowth, a wet world of ferns, trunks and lianas speckled with the sunlight that made it down through the canopy and understory, but soon we simply walked along a route Wilson picked out. I had been trying to concentrate on the myriad sounds: cicadas were the background and various small birds tweeted from different points. We were listening and looking for signs that would lead us to prey—perhaps the calm whistle of a perdiz or the scent—marking of a boar—but just before Wilson became excited I had heard nothing. He stopped and said, "Red monkeys," pointing ahead.


Belo Monte Dam: A spearhead for Brazil's dam-building attack on the Amazon?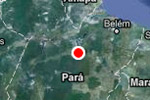 (03/23/2012) Brazil's Belo Monte Dam on the Xingu River is now under construction despite its many controversies. The Brazilian government has launched an unprecedented drive to dam the Amazon's tributaries, and Belo Monte is the spearhead for its efforts. Brazil's 2011-2020 energy-expansion plan calls for building 48 additional large dams, of which 30 would be in the country's Legal Amazon region1. Building 30 dams in 10 years means an average rate of one dam every four months in Brazilian Amazonia through 2020. Of course, the clock doesn't stop in 2020, and the total number of planned dams in Brazilian Amazonia exceeds 60.


Google brings Street View, Maps to the Amazon (photos)

(03/22/2012) Google has posted images of a stretch of rainforest and communities along the Amazon river on its Street View product available via Google Maps. The addition makes it possible to virtually explore communities and ecosystems in Earth's largest tropical forest.



Page 1 | Page 2 | Page 3 | Page 4 | Page 5 | Page 6 | Page 7 | Page 8 | Page 9 | Page 10 | Page 11 | Page 12 | Page 13 | Page 14 | Page 15 | Page 16 | Page 17 | Page 18 | Page 19 | Page 20