News articles on amazon

---
Mongabay.com news articles on amazon in blog format. Updated regularly.





Strange spiny rodent discovered in the Amazon



(01/24/2007) Scientists have discovered a previously unknown species of arboreal rodent in the cloud forests of Peru. The species, named Isothrix barbarabrownae, is described in the current issue of Mastozoologia, the principal mammalogy journal of South America.


Two 'dragon' species discovered in Brazil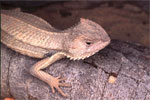 (01/24/2007) Two previously unknown species of lizard that are said to resemble miniature ground-dwelling dragons have been found in the threatened cerrado region of Brazil. The species, Stenocercus squarrosus and Stenocercus quinarius are described in the current issue of the South American Journal of Herpetology.


Are Brazil nuts really sustainable?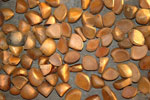 (12/20/2006) A lot of rainforest conservation initiatives embrace sustainably harvested non-timber forest products (NTFPs) like seeds and nuts as a means to provide income to locals without harming the forest. Operating on the premise that such products are eco-friendly, hundreds of outfits ranging from Whole Foods to the Body Shop to Ben & Jerry's Homemade Ice Cream tout their use of sustainably harvested Brazil nuts and related products. But really, how sustainable are these products?


Europe's largest tropical rainforest invaded by gold miners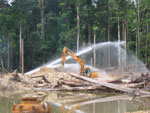 (12/19/2006) As Europe frets over climate change and deforestation, threats to "Europe's largest tropical rainforest" are mounting, according to reports from French Guiana. While French Guiana is best known for its infamous Devil's Island penal colony and as the main launch site for the European Space Agency, which is responsible for more than 50% of the state's economy activity, most of the territory is covered with lowland tropical rainforest. French Guiana's forests are biologically rich with some 1,064 known species of amphibians, birds, mammals and reptiles, and 5,625 species of vascular plants according to figures from the World conservation Monitoring Center.


Time is running out for French Guiana's rainforests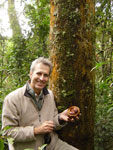 (12/19/2006) Understanding relationships between plants and animals is key to understanding rainforest ecology. Dr. Pierre-Michel Forget of the Museum National d'Histoire Naturelle in France is a renowned expert on the interdependency between rainforest trees and seed disperses. Author of dozens of papers on tropical forest ecology, Dr Forget is increasingly concerned about deforestation and biodiversity loss in forests of the Guiana Shield region of Northern South America. In particular he sees the invasion of informal gold miners, known as garimpeiros, as a significant threat to forests in French Guiana, Suriname, Guyana and Venezuela.


Who pays for Amazon rainforest conservation?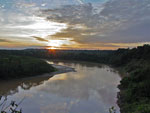 (12/12/2006) Last Monday, Brazil created the world's largest rainforest protected area in the northern Amazon. Covering more than 15 million hectares (57,915 square miles) -- or an area larger than England -- the network of seven new protected reserves has been met with praise by environmental groups. Instrumental in the development of the conservation project has been an organization that most people wouldn't associate with rainforest conservation but certainly should: the Gordon and Betty Moore Foundation.


Brazil creates world's largest rainforest reserve

(12/05/2006) Brazil created the world's largest expanse of protected tropical rainforest in Para, the state where American nun Dorothy Stang was murdered after trying to protect land rights of rural poor. The network of seven new protected areas covers an expanse of 15 million hectares (57,915 square miles) -- or an area larger than England -- and links to existing reserves to form a vast conservation corridor in the northern Amazon, one of the most biodiverse regions on the planet.


Fragmentation killing species in the Amazon rainforest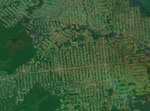 (11/27/2006) Forest fragmentation is rapidly eroding biodiversity in the Amazon rainforest and could worsen global warming according to research to be published this week in the journal Proceedings of the National Academy of Sciences. "Rainforest trees can live for centuries, even millennia, so none of us expected things to change too fast. But in just two decades-a wink of time for a thousand year-old tree-the ecosystem has been seriously degraded." said Dr. William Laurance, a scientist at the Smithsonian Tropical Research Institute in Panama and leader of the international team of scientists that conducted the research.


Mining in Venezuelan Amazon threatens biodiversity, indigenous people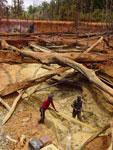 (11/09/2006) Troubles are mounting in one of Earth's most beautiful landscapes. Deep in the Venezuelan Amazon, among ancient forested tabletop mountains known as tepuis, crystalline rivers, and breathtaking waterfalls, illegal gold miners are threatening one of world's largest remaining blocks of wilderness, one that is home to indigenous people and strikingly high levels of biological diversity. As the situation worsens -- a series of attacks have counted both miners and indigenous people as victims -- a leading scientific organization has called for the Venezuelan government to take action.


Bolivia could earn hundreds of millions under global warming deal

(11/06/2006) Bolivia could earn hundreds of millions of dollars through a global warming deal that may be proposed this week at climate talks between 189 countries in Nairobi, Kenya.


British firm looks to Amazon rainforest for new drugs

(11/02/2006) A British drug discovery company has partnered with a Brazilian firm to look for medicines from Amazonian and Atlantic rainforests according to a news release from the University of Newcastle upon Tyne.


Indians are key to rainforest conservation efforts says renowned ethnobotanist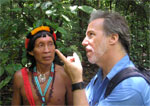 (10/31/2006) Tropical rainforests house hundreds of thousands of species of plants, many of which hold promise for their compounds which can be used to ward off pests and fight human disease. No one understands the secrets of these plants better than indigenous shamans -medicine men and women - who have developed boundless knowledge of this library of flora for curing everything from foot rot to diabetes. But like the forests themselves, the knowledge of these botanical wizards is fast-disappearing due to deforestation and profound cultural transformation among younger generations. The combined loss of this knowledge and these forests irreplaceably impoverishes the world of cultural and biological diversity. Dr. Mark Plotkin, President of the non-profit Amazon conservation Team, is working to stop this fate by partnering with indigenous people to conserve biodiversity, health, and culture in South American rainforests. Plotkin, a renowned ethnobotanist and accomplished author (Tales of a Shaman's Apprentice, Medicine Quest) who was named one of Time Magazine's environmental "Hero for the Planet," has spent parts of the past 25 years living and working with shamans in Latin America. Through his experiences, Plotkin has concluded that conservation and the well-being of indigenous people are intrinsically linked -- in forests inhabited by indigenous populations, you can't have one without the other. Plotkin believes that existing conservation initiatives would be better-served by having more integration between indigenous populations and other forest preservation efforts.


Amazon deforestation rate plunges 41 percent

(10/27/2006) Today the Brazilian government announced a sharp drop in Amazon deforestation. Forest loss for the 2005-2006 year was 13,100 square kilometers (5,057 square miles) of rainforest, down more than 40 percent from last year. The figure is the lowest since 1991 when 11,130 square kilometers (4,258 square miles) of forest were lost. Deforestation peaked in 1995 when 29,059 square kilometers (11,219 square miles) of forest were cut. Deforestation has plunged by almost 50 percent since 2004. Falling commodity prices, increased enforcement efforts, and government conservation initiatives are credited for the drop. &quotWe aggressively increased enforcement of environmental laws in the past years and it has worked,&quot Joao Paulo Capobianco, Brazil's minister-secretary of biodiversity and forests, told the Associated Press.


Brazil claims soy and beef not responsible for Amazon deforestation

(10/26/2006) Brazil rejected claims that soybean farms and cattle pasture were destroying the Amazon rainforest, according to a report from Reuters. At the opening of an organic food products fair in Sao Paulo, Agriculture Minister Luis Carlos Guedes Pinto said that only 0.27 percent of Brazil's soybean crop is grown in the Amazon region, while less than 1.5 percent of Brazil's beef for export comes from the rainforest.


Amazon river flowed into the Pacific millions of years ago

(10/24/2006) A new study adds further evidence the theory that the world's largest river, the Amazon, once flowed in the opposite direction, emptying into the Pacific Ocean. Researchers at the University of North Carolina at Chapel Hill (UNC) discovered "ancient mineral grains" in the central Amazon that could only have originated in now-eroded mountains that once existed in the central and eastern South America, not the more recently formed Andes in the west


Pet trade and habitat loss decimating wild macaw populations

(10/23/2006) Macaws, the world's largest parrots, are declining in the wild due to over-zealous collecting for the pet trade, poaching, and habitat loss according to a researcher at Texas A&M University. Dr. Don Brightsmith, a bird specialist at Texas A&M University's Schubot Exotic Bird Center, says that of the world's 17 species of macaws, one is extinct, another is extinct in the wild, and seven are endangered. All are suffering population declines in the wild.


Largest seizure of illegally logged Amazon rainforest timber announced by authorities

(10/23/2006) IBAMA, Brazil's environmental agency, announced the largest seizure ever of illegally logged timber from the Amazon rainforest. During a week-long operation -- code named Kojima -- in late September, authorities impounded nearly 15,000 cubic meters of unlicensed wood in the Amazonian state of Para. The agency said it was probably the largest seizure ever in the state. Para was the state where last year Sister Dorothy Stang, an American nun who worked with rural poor, was killed by gunman associated with local plantation owners. In response to the murder, the Brazilian government sent in the army to quell violence in the region and promised to step up environmental monitoring efforts.


Global warming could cause catastrophic die-off of Amazon rainforest by 2080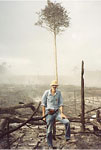 (10/23/2006) For the Amazon, there is an immense threat looming on the horizon: climate change could well cause most of the Amazon rainforest to disappear by the end of the century. Dr. Philip Fearnside, a Research Professor at the National Institute for Research in the Amazon in Manaus, Brazil and one of the most cited scientists on the subject of climate change, understands the threat well. Having spent more than 30 years in Brazil and now recognized as one of the world's foremost experts on the Amazon rainforest, Fearnside is working to do nothing less than to save this remarkable ecosystem. Fearnside believes saving the Amazon will require a fundamental shift in perception where the Amazon is recognized as an asset beyond the current price of mahogany, soybeans, or cattle, where its value is only unlocked by its destruction. The Amazon is far worth more than this he says. It can play a key role in fighting climate change while providing economic sustenance for millions through sustainable agriculture and rational utilization of its renewable products. It can serve as a storehouse for biodiversity while at the same time ensuring reliable water supplies and moderating regional temperature and precipitation. In short, maintaining the Amazon as a viable ecosystem makes sense economically and ecologically -- it is in our best interest to preserve this resource while we still can.


Brazil says no to rainforest privatization plan, asks Gore for help

(10/18/2006) On Tuesday Brazil rejected a alleged British proposal to fight climate change by 'privatizing' parts of the Amazon rainforest, according to Reuters. In an editorial published on the opinion page of Folha de S.Paulo newspaper, Environment Minister Marina Silva and Foreign Minister Celso Amorim said that the Amazon was 'not for sale'. Their comments were expected since Brazil has long objected to internationalization of the Amazon, seeing such attempts as a threat to its sovereignty. The 'Amazon privatization' report, which originally appeared in Britain's Sunday Telegraph newspaper on October 1, 2006, said that David Miliband, Britain's Environment Secretary, planned to propose an initiative that would turn parts of the Amazon into an 'international trust' wherein credible buyers could lockup parts of the rainforest for preservation. However, shortly after the article was published, Miliband's office strongly rejected the story.


Rainforests face myriad of threats says leading Amazon scholar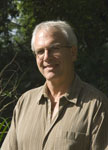 (10/17/2006) The world's tropical rainforests are in trouble. Spurred by a global commodity boom and continuing poverty in some of the world's poorest regions, deforestation rates have increased since the close of the 1990s. The usual threats to forests -- agricultural conversion, wildlife poaching, uncontrolled logging, and road construction -- could soon be rivaled, and even exceeded, by climate change and rising levels of carbon dioxide in the atmosphere. Understanding these threats is key to preserving forests and their ecological services for current and future generations. William F. Laurance, a distinguished scholar and president of the Association for Tropical Biology and conservation (ATBC) -- the world's largest scientific organization dedicated to the study and conservation of tropical ecosystems, is at the forefront of this effort.


Brazil proposes compensation plan for rainforest conservation

(10/16/2006) Last month Brazil proposed the establishment of a fund to compensate developing countries that reduce deforestation, a move that follows a similar initiative by a coalition of developing countries led by Papua New Guinea and Costa Rica. The scheme could help cut greenhouse gas emissions that result from forest clearing and conversion. Deforestation currently is responsible for 20-25 percent of such heat-trapping emissions.


Privatize the Amazon rainforest says UK minister

(10/02/2006) At a summit this week in Mexico, David Miliband, Britain's Environment Secretary, will propose a plan to "privatize" the Amazon to allow the world's largest rainforest to be bought by individuals and groups, according to a report in the Telegraph newspaper online. The scheme, which has been endorsed by Prime Minister Tony Blair, would seek to protect the region's biodiversity while mitigating greenhouse gas emissions to fight global warming.


Photos of newly discovered species in Brazil's Amazon rainforest

(09/28/2006) Brazil has announced the creation of a Amapa State Forest, a 5.7 million acre Amazon protected area larger than the state of New Jersey. According to conservation International (CI), "the designation protects a crucial section of the Amapa Biodiversity Corridor of northern Brazil, which includes some of the most pristine remaining Amazon forest." The Amapa Biodiversity Corridor -- which includes a variety of ecosystems including tropical forests, mangrove swamps, savannah, and wetlands -- is home to more than 1,700 species of animals and plants, including 430 species of birds, 104 species of amphibians, 124 reptile species and 127 mammal species, including 62 bat species, according to biological surveys conducted by conservation International (CI) and the Amapa State Institute for Research. At the core of the Amapa Biodiversity Corridor is Tumucumaque National Park, the world's largest tropical forest park.


Amazon rainforest has its first wireless city under poverty alleviation initiative by Intel

(09/20/2006) Intel unveiled what it is calling the "World's Most Remote Digital City" in the heart of the Amazon rainforest. The wireless, high-speed Internet network installation in Parintins, a town on an island in the Amazon River, is part of the tech firm's initiative to treat the world's poor as a market. Some economists have argued that addressing the world's poor in such a manner could bring benefits that they have not seen through historical aid efforts.


Expansion of agriculture in the Amazon may impact climate

(09/19/2006) A new study from NASA scientists shows that forest clearing for large-scale agriculture has recently become a significant cause of deforestation in the Brazilian Amazon. The researchers warn that this change in land use may affect the region' climate and the Amazon's ability to absorb carbon dioxide, a potent greenhouse gas.


46 arrested for illegal Amazon logging

(08/11/2006) The Associated Press reports that 46 people, including 16 agents of the federal environmental protection agency, were arrested for allegedly operating illegal logging operations in the Amazon rainforest and southern Brazil.


Selective logging leads to clear-cutting in the Amazon rainforest

(07/31/2006) A new study links selective logging to clear-cutting in the Amazon rainforest. The research is significant because it identifies an important indicator of rain forest vulnerability to clear-cutting in Brazil.


Amazon soy becomes greener

(07/25/2006) Brazilian soy crushers and exporters will implement a two-year moratorium on trading soybeans grown on newly deforested lands in the Amazon basin. The governance program takes effect in October 2006 and applies only to forest cleared after that date.


Brazil, U.S. renew Amazon research agreements

(07/22/2006) Thursday Brazil and the U.S. renewed two Amazon forest research agreements. Brazilian Deputy Minister of Science and Technology Dr. Luis Manuel Rebelo Fernandes signed two continuation agreements for research on the Amazon: the Large-Scale Biosphere - Atmosphere Experiment in Amazonia (LBA) and Biological Determinants of Forest Fragments Program (BDFFP). Implementation of the programs will be lead by Brazil's INPA, or the Brazilian Institute for Research in the Amazon.


Brazil establishes 3 new parks in the Amazon rainforest

(07/10/2006) Last month Brazilian President Luiz Inacio Lula da Silva decreed three new protected areas in the Amazon basin, placing 1.84 million hectares (4.55 million acres) of rainforest off-limits for development. The environmental ministry said that since 2002 President Silva has created 57 protected areas in the Amazon preserving some 19.3 million hectare of rainforest. More than twice that area -- at least 55 million hectares -- has been cleared since 1978, mostly as a result of forest conversion for cattle pasture and settlement.


Ecuador's oil nationalization may hurt environment

(05/23/2006) Last week Ecuador seized Amazon oilfields controlled by Occidental, an American oil firm which produces about 20 percent of the country's oil output and has invested about $1 billion since 1999. The decision will bring a short-term boost in government revenue while appealing to street protestors who have caused havoc for the country's politicians over the past few years. However, looking the beyond the politics, the seizure could have implications for the environment of the country which is home to some of the world's most biodiverse ecosystems.


Amazon Stonehenge suggests advanced ancient rainforest culture

(05/14/2006) The discovery of an ancient astrological observatory in Brazil lends support to the theory that the Amazon rainforest was once home to advanced cultures and large sedentary populations of people. Besides the well-known empires of the Inca and their predecessors, millions of people once lived in the forests and shaped the environment to suit their own needs. Archaeologists with the Amapa Institute of Scientific and Technological Research said they uncovered the ruin near Calcoene, 390 kilometers (240 miles) from Macapa, the capital of Amapa state, near Brazil's border with French Guiana.


Can we save the rainforests? Lessons from the Amazon

(05/05/2006) When I think back over the last month, dozens of images come to mind. I am reminded of the many things we have learned during Project Peru 2, and the challenges that our team has overcome with your guidance and help. In a way all of the plants and animals in the rainforest rely on each other to survive in the same way that Warren, Ruben, Anna, Patrick, and I rely on each other.


Amazon rainforest: Empty of animals

(05/03/2006) Yesterday afternoon, we started seeing other people plying the river in canoes, and we knew that our trip was about to change. We were getting close to Yarina, the first of three towns along the Yanayacu River. As we grew closer to town, we stopped hearing Howler Monkeys. The troops of Squirrel Monkeys we had grown accustomed to seeing were nowhere to be found. Within only a few hours we left the truly wild rainforest behind, entering a rainforest inhabited by people.


Flooded forest habitat in the Amazon rainforest

(05/02/2006) The following is an update from The Wilderness Classroom's expedition to the Peruvian rainforest. We are near the end of our journey through the Pacaya Samiria National Reserve, and we have experienced so many new sights and sounds that it is hard to recount all of them in our updates. Each week we've focused on a different topic to pass on the information that we are gathering for you. This week we will focus on habitat.


The Amazon: Fisherman's paradise

(05/02/2006) The following is an update from The Wilderness Classroom's expedition to the Peruvian rainforest. This morning, I joined Warren and our new guide, Ramon, for a paddle in search of animals. At Lake El Dorado, you do not have to go far to find animals. It seemed like everywhere we looked we found something new to look at.


Oil firm abandons road project for Amazon rainforest park in Ecuador

(04/26/2006) The Brazilian national oil company Petrobras abandoned plans to build an access road into Yasuni National Park, in the Ecuadorian Amazon. The decision follows years of intense pressure from environmental groups and recent criticism by the Ecuadorian government. Instead the company will use helicopter transportation inside the park, according to a statement from Petrobras.


Hudson Institute calls Amazon savanna biome a wasteland

(04/23/2006) In an April 21st, 2006 editorial published in the Canada Free Press Dennis T. Avery, senior fellow for Hudson Institute in Washington, DC and the Director for Global Food Issues, called Brazil's cerrado ecosystem a "wasteland" and criticized a recent report from the environmental activist group Greenpeace that linked Amazon deforestation to soy-based animal feed used by fast-food chains in Europe.


Fish Flow with the Floods in the Amazon

(04/12/2006) The entire life of the Tambaqui, also called a Pacu, follows the annual rise and fall of the floodwaters. The young are born in the river channel and are carried by the high water into the floodplain, where they live in the floating meadows and eat grass seeds. The fish use their keen senses of smell and vision to find their favorite fruits and seeds in the forest. Tambaqui are unique in their love for rubber tree seeds. They crush the hard seed coating with large molar-like teeth and swallow the seed whole. This does not destroy the seed, in fact, the process is a necessary step in germination, or preparing the seed to sprout. Later, the seed will grow into a rubber tree.


Rivers are the highways of the Amazon

(04/11/2006) Rivers are the highways of the Amazon. Instead of driving cars and trucks, people use use boats to travel from place to place. Launchas are large boats powered by strong engines that travel up and down all the major rivers in the Amazon Basin. We have spent the last two day nights and two night on a launcha that is traveling up the Amazon River at about 10 miles an hour.


Brazil closes down illegal timber operation, seizes wood

(04/11/2006) Brazilian environmental authorities closed down an illegal logging operation in the Amazon according to a report from the Associated Press. An agent with Ipaam, the environmental authority of Amazonas state, told Michael Astor of the Associated Press that the Norte Wood logging company was operating without a license in town of Novo Aripuana. The agency made one arrest and seized 500 cubic meters of wood in the raid.


Exploring the Flooded Streets of Iquitos, Peru

(04/09/2006) Belen is on the edge of the large city of Iquitos. Belen is unique because much of the city is covered in water for most of the year. From January to May the streets, soccer fields, and gardens are underwater. Many of the houses are built on rafts that float up and down as the river rises and falls. Other houses are built on stilts so that the water does not cover the house when the water rises. The floating city was full of life: people paddling canoes, children swimming and laughing, people going about their daily lives in houses floating on the Amazon River.


Greenpeace accuses McDonald's of destroying the Amazon rainforest

(04/07/2006) After a year-long investigation, environmental group Greenpeace has accused McDonald's and other western firms of contributing to deforestation in the Amazon. Greenpeace's report, published today, alleges that much of the soy-based animal feed used by fast-food chains to fatten chickens is derived from soybeans grown in the Amazon Basin of Brazil. Thanks to a new variety of soybean developed by Brazilian scientists to flourish in rainforest climate, soybean production has boomed in the region in recent years as firms have converted extensive areas of rainforest and cerrado, a savanna-like ecosystem, into industrial soybean farms. High soybean prices have also served as an impetus to expanding soybean cultivation and Brazil is on the verge of supplanting the United States as the world's leading exporter of soybeans.


Brazil to protect Amazon rainforest

(03/28/2006) At the United Nations-sponsored environmental conference meeting in Curitiba, Brazil announced plans to protect an additional 210,000 square kilometers (84,000 square miles) of the Amazon rain forest in the next three years.


40 percent of the Amazon could be grassland by 2050

(03/22/2006) Scientists today warned that 40 percent of the Amazon rainforest could be lost by 2050 due to agricultural expansion unless strict measures are taken to protect the world's largest tropical forest.


Amazon rainforest grows fastest during dry season

(03/21/2006) New research out of the University of Arizona has found that the Amazon rainforest grows fastest during the dry season. The finding counters the convention in other ecosystems where peak plant growth generally occurs during the rainy season.


Brazil to flood Amazon rainforest for hydroelectric power

(03/17/2006) Brazil's plans to dam two rivers in the Amazon basin to generate power threaten a treasure trove of animals and plants in a region with one of the world'apos;apos;s richest arrays of wildlife, environmentalists say.


Harmless frogs gain protection by mimicking toxic species

(03/13/2006) When predators learn to avoid a highly toxic frog, they generalize, and this allows a harmless frog to mimic and be more abundant than a frog whose poison packs less punch, biologists at The University of Texas at Austin studying poison dart frogs in the Amazon have discovered.


Camisea pipeline leaks in rainforest of Peru

(03/08/2006) The Camisea gas pipeline in the Peruvian Amazon has leaked for the fifth time in 18 months according to Reuters. Two people were injured and a small fire was ignited by the spill of 750 cubic meters of gas.


Amazon to be logged sustainably says Brazil

(03/06/2006) Last week Brazilian president Luiz Inacio Lula da Silva announced a plan to allow sustainable logging across 3 percent of the Amazon rain forest. The law is aimed at undermining destructive illegal logging activities while generating revenue for forest management and protection, and income for rural Brazilians in the region who often must rely on subsistence agriculture or employment on ranches and plantations under sometimes slave-like conditions.



Page 1 | Page 2 | Page 3 | Page 4 | Page 5 | Page 6 | Page 7 | Page 8 | Page 9 | Page 10 | Page 11 | Page 12 | Page 13 | Page 14 | Page 15 | Page 16 | Page 17 | Page 18 | Page 19 | Page 20