News articles on amazon

---
Mongabay.com news articles on amazon in blog format. Updated regularly.





Home improvement giant bans illegal wood products

(07/08/2007) B&Q, the third largest retailer of home improvement materials, announced that within three years, all Brazilian wood products sold in China would come from certified sources. B&Q has 60 stores in China.


450 years of Amazon research reviewed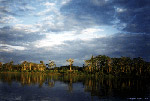 (07/02/2007) Research on the Peruvian Amazon is largely inaccessible to the people who could make most use of it, reports a comprehensive review of 2,202 texts published over the past 450 years on the Madre de Dios region of southwestern Peru. The study recommends the establishment of "a Web-based digital library for Neotropical nature" to make research more widely available.


Authorities bust multi-million dollar Amazon logging ring

(07/02/2007) Brazilian authorities have busted a logging ring that used fake permits to cut 500,000 trees in the Amazon rainforest, reports Reuters.


Forest disturbance reduces biodiversity in the Amazon rainforest


(07/02/2007) Two new studies in the Amazon rainforest show that plantation forests and second-growth forests have lower species counts for butterflies, reptiles, and amphibians than adjacent primary forest areas. The research has important implications for conservation of tropical biodiversity in a world where old-growth forest is increasingly replaced by secondary forests, industrial plantations, and agricultural landscapes.


Rainforest trees colonized Africa from the Amazon

(06/24/2007) A giant rainforest tree is helping scientists understand similarities between African and South American rainforests, reports research published in the journal Molecular Ecology.


Leading Amazon biologist imprisoned in Brazil; witch-hunt suspected

(06/23/2007) A world-renowned primatologist has been arrested in the Brazilian Amazon under charges that he was illegal sheltering 28 primates in his home, according to The Guardian. Supporters say Marc van Roosmalen, 60, has been framed by illegal loggers who have long been adversaries of the prominent conservationist.


Mining gets approval despite recent species discoveries

(06/13/2007) Suriname will allow mining in a highly biodiverse tract of forest where 24 previously unknown species were recently discovered. The decision had been expected.


Brazil debates $11B Amazon dam project

(06/10/2007) The eternal tension between Brazil's need for economic growth and the damage that can cause to the environment are nowhere more visible than here in this corner of the western Amazon. Now a proposal to build an $11 billion hydroelectric project here on the Madeira River, which may have the world's most diverse fish stocks, has set off a new controversy.


Google helps protect Amazon rainforest

(06/10/2007) Google is working with a indigenous tribe deep in the Amazon rainforest to protect their lands from illegal encroachment, reports the San Francisco Chronicle. For the first time, Google has confirmed details of the project. Working in conjuction with the Amazon conservation Team, Google Earth's technology is being used to monitor illegal mining and logging that threaten the lands of the Surui tribe in Brazil. Google is working with satellite providers to significantly improve image resolution in some of the most remote parts of the Amazon basin.


Amazon deforestation rates fall 89% for 2007

(06/08/2007) Deforestation rates fell by 89 percent in the Brazilian Amazon state of Mato Grosso for April 2007 compared with April 2006, according to the System Alert for Deforestation, an innovative deforestation monitoring program backed from Brazilian NGO Imazon. Mato Grosso, which has suffered some of the highest rates of deforestation of any state in the Brazilian Amazon, lost 2,268 square kilometers of forest between August 2006 and April 2007, a decline of 62 percent from the year earlier period when 5,968 square kilometers were cleared.


Amazon tribe blocks major Brazilian highway

(06/08/2007) Indigenous Amazonians have blocked a major highway in the Brazilian state of Mato Grosso to protest a series of hydroelectric dams planned on the Xingu river, one of the Amazon's largest tributaries, according to Brazzil Mag and Survival International.


Archer Daniels Midland announces Amazon biodiesel plant start date

(06/08/2007) Archer Daniels Midland (ADM) plans to start operation of its $20 million biodiesel in the Brazilian state of Mato Grosso in early August, a company official said this week, according to MarketWatch.


Dorothy Stang fought for social equity in the Amazon

(06/07/2007) Murder is not a pleasant place to start an article. Destruction of enormous amounts of virgin forest also does not help improve ones feelings and thoughts. Leaving out millions of people and talking about only the rights of thousands is pretty discouraging if you wish to be transparent, progressive and see a future for a beautiful country with enormous potential.


Can cattle ranchers and soy farmers save the Amazon?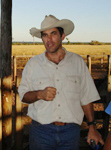 (06/06/2007) John Cain Carter, a Texas rancher who moved to the heart of the Amazon 11 years ago and founded what is perhaps the most innovative organization working in the Amazon, Alianca da Terra, believes the only way to save the Amazon is through the market. Carter says that by giving producers incentives to reduce their impact on the forest, the market can succeed where conservation efforts have failed. What is most remarkable about Alianca's system is that it has the potential to be applied to any commodity anywhere in the world. That means palm oil in Borneo could be certified just as easily as sugar cane in Brazil or sheep in New Zealand. By addressing the supply chain, tracing agricultural products back to the specific fields where they were produced, the system offers perhaps the best market-based solution to combating deforestation. Combining these approaches with large-scale land conservation and scientific research offers what may be the best hope for saving the Amazon.


Unknown tribe found in the Amazon

(06/04/2007) An unknown Indian tribe has been discovered in the Amazon rainforest reports the Associated Press. The Metyktire tribe, with about 87 members, was found in late May around 1,200 northwest of Rio de Janeiro. Brazil's Federal Indian Bureau (FUNAI) says the tribe is a subgroup of the Kayapo tribe and lives on the Kayapos, 12.1-million-acre Menkregnoti Indian reservation.


Pictures of newly discovered species in Suriname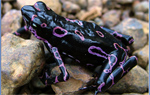 (06/04/2007) Scientists documented 467 species, including 24 species believed new to science, during a rainforest survey in eastern Suriname, South America. The expedition, led by conservation International (CI), was sponsored by two mining companies, BHP-Billiton Maatschappij Suriname (BMS) and Suriname Aluminium Company LLC (Suralco), hoping to mine the area for bauxite, the raw material used to make aluminum. conservation International said the Rapid Assessment Survey (RAP) will help "give miners guidance on protecting unique plants and animals during potential future development," according to a statement from the organization.


Rural population decline may not slow deforestation


(06/03/2007) A new paper shoots down the theory that increasing urbanization will lead to increasing forest cover in the tropics. Writing in the July issue of the journal Biotropica, Sean Sloan, a researcher from McGill University in Montreal, argues that anticipated declines in rural populations via urbanization will not necessarily result in reforestation--a scenario put forth in a controversial paper published in Biotropica last year by Joseph Wright of the Smithsonian Tropical Research Institute in Panama and Helene Muller-Landau of the University of Minnesota. Wright and Muller-Landau said that deforestation rates will likely slow, then reverse, due to declining rural population density in developing countries.


Globalization could save the Amazon rainforest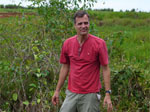 (06/03/2007) The Amazon basin is home to the world's largest rainforest, an ecosystem that supports perhaps 30 percent of the world's terrestrial species, stores vast amounts of carbon, and exerts considerable influence on global weather patterns and climate. Few would dispute that it is one of the planet's most important landscapes. Despite its scale, the Amazon is also one of the fastest changing ecosystems, largely as a result of human activities, including deforestation, forest fires, and, increasingly, climate change. Few people understand these impacts better than Dr. Daniel Nepstad, one of the world's foremost experts on the Amazon rainforest. Now head of the Woods Hole Research Center's Amazon program in Belem, Brazil, Nepstad has spent more than 23 years in the Amazon, studying subjects ranging from forest fires and forest management policy to sustainable development. Nepstad says the Amazon is presently at a point unlike any he's ever seen, one where there are unparalleled risks and opportunities. While he's hopeful about some of the trends, he knows the Amazon faces difficult and immediate challenges.


Will Amazon drought worsen in 2007?

(05/29/2007) Contrary to popular belief, the Amazon rainforest is not rainy year round. Further from the equator, rainfall is more seasonal, with dry periods that sometimes last for months.


U.S. ethanol may drive Amazon deforestation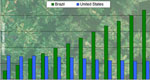 (05/17/2007) Ethanol production in the United States may be contributing to deforestation in the Brazilian rainforest said a leading expert on the Amazon. Dr. Daniel Nepstad of the Woods Hole Research Center said the growing demand for corn ethanol means that more corn and less soy is being planted in the United States. Brazil, the world's largest producer of soybeans, is more than making up for shortfall, by clearing new land for soy cultivation. While only a fraction of this cultivation currently occurs in the Amazon rainforest, production in neighboring areas like the cerrado grassland helps drive deforestation by displacing small farmers and cattle producers, who then clear rainforest land for subsistence agriculture and pasture.


Amazon rainforest locks up 11 years of CO2 emissions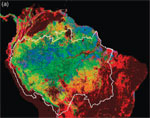 (05/08/2007) The amount and distribution of above ground biomass (or the amount of carbon contained in vegetation) in the Amazon basin is largely unknown, making it difficult to estimate how much carbon dioxide is produced through deforestation and how much is sequestered through forest regrowth. To address this uncertainty, a team of scientists from Caltech, the Woods Hole Institute, and INPE (Brazil's space agency), have developed a new method to determine forest biomass using remote sensing and field plot measurements. The researchers say the work will help them better understand the role of Amazon rainforest in global climate change.


Better forest policies would reduce illegal logging in the Amazon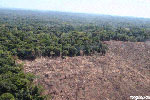 (05/06/2007) Brazil could improve sustainable forest management, reduce illegal logging, and perhaps cuts deforestation by introducing coherent policies for timber operations in the Amazon rainforest argues a new paper published in Frontiers in Ecology. However, successful implementation of sustainable timber production will require overcoming significant biological and political hurdles, suggest the authors.


Climate change could dramatically change forests in Central America


(05/02/2007) Drought could cause dramatic shifts in rainforest plant communities in Central America, reports a new study published in the May 3 issue of Nature. The research shows that many rainforest plants are ill-equipped to deal with extended dry periods, putting them at elevated risk from changes in climate projected for the region.


Brazil splits environmental agency to fast-track development projects


(04/25/2007) Brazil will divide its environmental protection agency IBAMA into two separate entities reports Reuters. The move is expected to speed development projects in the Amazon rainforest.


Soybeans may worsen drought in the Amazon rainforest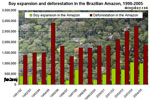 (04/18/2007) The rapid expansion of soybean cultivation in the Amazon may be having a larger impact on climate than previously believed, according to research published last week in Geophysical Research Letters. Using experimental plots in the Amazon, a team of scientists led by Marcos Costa from the Federal University of Vicosa in Brazil found that clearing for soybeans increases the reflectivity or albedo of land, reducing rainfall by as much as four times relative to clearing for pasture land.


Man swims entire length of Amazon river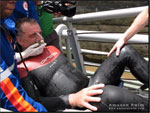 (04/09/2007) Slovenian marathon swimmer Martin Strel became the first person to swim the entire length of the Amazon River Saturday when he arrived in Belem, Brazil. Strel was immediately taken to the hospital in critical condition but is now recovering in a local hotel.


Brazil to give Amazonian tribes Internet access to fight deforestation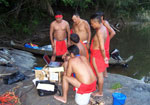 (03/30/2007) Brazil will offer free satellite Internet connections to indigenous tribes in the Amazon according to a report from Reuters. It says that the plan will help reduce illegal logging by enabling natives to monitor and report on illicit activities.


Cargill busted in the Amazon rainforest

(03/26/2007) Brazilian authorities have shut down Cargill Incorporated's deepwater soy export terminal on the Amazon River reports the Associated Press. The action comes after a local judge ruled that the firm failed to prepare a proper environmental impact statement for the project.


Environmentalists and loggers like new Amazon logging law

(03/25/2007) New rules that allow sustainable logging of national forests in the threatened Amazon drew guarded praise from both environmentalists and loggers.


Intellectual property rights reach indigenous communities in the Amazon

(03/21/2007) In an era where bio-tech companies and their patents grow twice as fast as the world economy, indigenous communities in Brazil start to think about patenting their cultural heritage to be protected from misappropriation.


Amazon, Madagascar, Borneo are top plant biodiversity hotspots

(03/20/2007) A new map devised by biologists at the University of California, San Diego (UCSD) and the University of Bonn in Germany, shows that the Andes-Amazon region of South America, Madagascar, Borneo, and New Guinea reign as the world's hotspots for plant diversity. The researchers say the map will help both prioritize areas for biodiversity conservation and forecast the impact of climate change on plant communities and the ecological services they provide.


Poisonous tree frog brings hope to indigenous community in the Amazon


(03/19/2007) Used for centuries as a natural disease prevention and physical stimulant, an Amazonian tree frog has become a symbol of Brazil's fight to benefit the Indigenous from scientific developments based on their knowledge.


Amazon rainforest fires date back thousands of years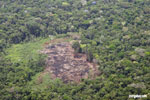 (03/14/2007) Fires are nothing new to the Amazon reports a study published in the journalBiotropica. Analyzing soils in the eastern Amazon, a team of scientists led by David S. Hammond of NWFS Consulting, has found evidence of forest fires dating back thousands of years. While the origin of these fires is unclear, the authors propose intriguing scenarios involving pre-Colombian human populations and ancient el Nino events which could have so dried rainforest areas that they became more prone to forest fires.


Can new loan really bring sustainable cattle ranching to the Amazon?


(03/12/2007) Brazil's second largest exporter of beef has won approval of a controversial loan from the International Finance Corporation (IFC), the private equity lender of the World Bank, according to a report from the Associated Press. Environmentalists say the deal will drive further deforestation in the biologically rich Amazon rainforest. Cattle ranching is responsible for more than half of forest loss in the region.


Amazon rainforest does have rainy and dry seasons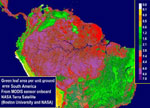 (03/12/2007) A new study using NASA satellite images found evidence of seasonality in the Amazon rainforest. The results, published in the March 20 issue of the Proceedings of the National Academy of Sciences, show that the Amazon had 25 percent more leaf coverage in the dry season and 25 percent less in the rainy season.


Ecuadorian brothers show conservation-based microentrepreneurship possible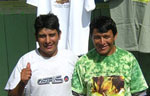 (03/07/2007) Tropical rainforests are declining across most of the world. Since the close of the 1990s deforestation rates have only accelerated as growing levels of consumption and consistent population growth paint an increasingly bleak future for the world's forests and their resident biodiversity. These trends make it easy to lose hope. As such, stories that show local people earning a livelihood from biodiversity conservation are an inspiration.


Pre-Colombian Amazon rainforest not heavily populated


(03/06/2007) Much of the Amazon rainforest was not heavily populated by pre-Colombian indigenous cultures argues a new paper published in the journal Philosophical Transactions of the Royal Society B: Biological Sciences. The work challenges an increasingly accepted theory -- popularized in Charles C. Mann's 1491: 'New Revelations of the Americas Before Columbus' -- the Amazon supported dense, sedentary populations prior to the arrival of Europeans.


Gold mining in Guyana damages environment, threatens Amerindians



(03/06/2007) Informal gold mining is causing environmental harm and human rights abuses in Guyana says a new report from the International Human Rights Clinic (IHRC) of Harvard Law School's Human Rights Program. Wildcat gold mining has been a serious problem in the Guiana shield countries of Brazil, Venezuela, Guyana, Suriname and French Guiana. Rising gold prices in recent years have only worsened the problem, as illegal miners have flooded the region clearing forest, polluting rivers, and making threats against indigenous people.


Global warming could trigger 8-degree temperature rise in Amazon rainforest


(02/28/2007) Tuesday the Brazilian government announced the release of a series of scientific studies, including one by the national space agency (INPE) that projects a 4 to 8 degree-Celcius rise in temperatures in the Amazon Basin by 2100 if nothing is done to combat global climate change.


New park in French Guiana creates largest Amazon protected area

(02/28/2007) Environmental group WWF has applauded the creation of a new national park in French Guiana, a department of France located in northeaster South America. WWF says the 2 million-hectare Guyana Amazonian Park will link to protected areas in neighboring Brazil, including the Tumucumaque National Park, Grao-Para Station and Maicuru Reserve. In total, the protected areas network will encompass 12 million hectares of tropical forest, making it the world's largest rainforest park.


Climate change will worsen species extinction in South America

(02/28/2007) The combination of rising levels of carbon dioxide and increasing deforestation could reduce biodiversity in the tropical forests of Northern South America, reports a study published in the current edition of the journal Global Ecology and Biogeography.


Indigenous populations deforested New World rainforests before European contact


(02/28/2007) Indigenous populations used fire to clear large areas of tropical forest well before the arrival of Europeans reports a new study published in Annals of the Missouri Botanical Garden. The research has important implications for understanding the impact of present forest development on biodiversity and forest regeneration in the tropics.


Brazil to allow large-scale monitored harvesting of the Amazon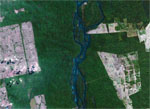 (02/23/2007) The International Tropical Timber Organization (ITTO) reports the Brazilian government plans to allow large-scale monitored harvesting of the Amazon rainforest. The new plan expands on an initiative proposed last year by Brazilian president Luiz Inacio Lula da Silva that would allow sustainable logging across 3 percent of the Amazon rain forest.


Largest tropical glacier retreating at 200 feet per year in Peru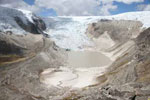 (02/18/2007) Peru's largest glacier is melting rapidly and could complete disappear by 2012 says a glaciologist from Ohio State University. Speaking at the annual meeting of the American Association for the Advancement of Science in San Francisco last week, Dr. Lonnie Thompson said that Peru's Qori Kalis glacier is melting at a rate of some 60 meters (200 feet) per year. Qori Kalis glacier is part of the Quelccaya Ice Cap, the largest body of ice in the tropics.


Biofuels, logging may spur deforestation in Guyana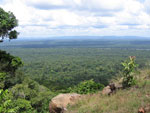 (02/15/2007) Growing timber exports and rising interest in biofuels are raising concerns that deforestation could accelerate in the South American country of Guyana. Guyana is a small, lightly populated country on the north coast of South America. About three-quarters of Guyana is forested, roughly 60 percent of which is classified as primary forest. Guyana's forests are highly diverse: the country has some 1,263 known species of amphibians, birds, mammals, and reptiles, and 6,409 species of plants.


Amazon deforestation damaging critical ecosystem services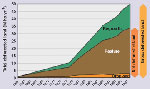 (02/08/2007) Human disturbance of the Amazon rainforest is more extensive than previously thought say a team of scientists writing in the current edition of the journal Frontiers in Ecology. Reviewing recent research on the Amazon ecosystem, they note that human activities are affecting the health of the forest and impacting the ecological goods and services the Amazon provides mankind.


Just how bad is the biodiversity extinction crisis?



(02/06/2007) In recent years, scientists have warned of a looming biodiversity extinction crisis, one that will rival or exceed the five historic mass extinctions that occurred millions of years ago. Unlike these past extinctions, which were variously the result of catastrophic climate change, extraterrestrial collisions, atmospheric poisoning, and hyperactive volcanism, the current extinction event is one of our own making, fueled mainly by habitat destruction and, to a lesser extent, over-exploitation of certain species. While few scientists doubt species extinction is occurring, the degree to which it will occur in the future has long been subject of debate in conservation literature. Looking solely at species loss resulting from tropical deforestation, some researchers have forecast extinction rates as high as 75 percent. Now a new paper, published in Biotropica, argues that the most dire of these projections may be overstated. Using models that show lower rates of forest loss based on slowing population growth and other factors, Joseph Wright from the Smithsonian Tropical Research Institute in Panama and Helene Muller-Landau from the University of Minnesota say that species loss may be more moderate than the commonly cited figures. While some scientists have criticized their work as "overly optimistic," prominent biologists say that their research has ignited an important discussion and raises fundamental questions about future conservation priorities and research efforts. This could ultimately result in more effective strategies for conserving biological diversity, they say.


Brazil calls out rich countries on global warming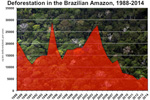 (02/06/2007) Reuters reports that Brazilian President Luiz Inacio Lula da Silva criticized wealthy countries for their contributions to global warming and told them to stay out of Brazil's business when it comes to the fate of the Amazon rainforest.


Gold Rush Tears Up a Patch of the Amazon

(02/02/2007) It's a gold rush in the Amazon jungle, driven by the Internet. Speeding past unbroken walls of foliage, a motorboat packed with gritty prospectors veers toward the shore of the Juma river and spills its passengers into a city of black plastic lean-tos veiled by greasy smoke. All around them are newly dug pits, felled trees, misery and tales of striking it rich. This is Eldorado do Juma, scene of Brazil's biggest gold rush in more than 20 years.


New maps reveal causes of Amazon deforestation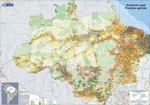 (01/26/2007) Brazil's National Statistics Office (IBGE) released a set of maps showing how farmers are converting the Amazon rainforest into cattle pasture and soybean farms. The maps show for the first time the impact of deforestation and agricultural expansion on the Amazon rainforest, according to the agency.



Page 1 | Page 2 | Page 3 | Page 4 | Page 5 | Page 6 | Page 7 | Page 8 | Page 9 | Page 10 | Page 11 | Page 12 | Page 13 | Page 14 | Page 15 | Page 16 | Page 17 | Page 18 | Page 19 | Page 20