News articles on amazon soy

---
Mongabay.com news articles on amazon soy in blog format. Updated regularly.






Social causes of deforestation in the Amazon rainforest

(09/14/2009) Understanding the web of social groups involved in deforestation in the Brazilian Amazon is key to containing forest loss, argues a leading Amazon researcher writing in the journal Ecology and Society. Philip Fearnside of the National Institute for Research in the Amazon (INPA) reviews nine actors that have had significant roles in deforestation and reports differences in why they deforest, where they are active, and how they interact with each other.
Brazil to step up efforts to save the cerrado grassland

(09/11/2009) Brazil will try to reduce deforestation of the cerrado, a wooded grassland ecosystem in Brazil that is being destroyed twice as fast as the Amazon rainforest, according to the country's Environment Minister Carlos Minc.
Concerns over deforestation may drive new approach to cattle ranching in the Amazon
(09/08/2009) While you're browsing the mall for running shoes, the Amazon rainforest is probably the farthest thing from your mind. Perhaps it shouldn't be. The globalization of commodity supply chains has created links between consumer products and distant ecosystems like the Amazon. Shoes sold in downtown Manhattan may have been assembled in Vietnam using leather supplied from a Brazilian processor that subcontracted to a rancher in the Amazon. But while demand for these products is currently driving environmental degradation, this connection may also hold the key to slowing the destruction of Earth's largest rainforest.
NASA images show huge drop in Amazon fires in 2008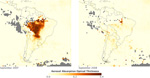 (06/30/2009) New NASA research shows a sharp decline in the amount of smoke over the Amazon during the 2008 burning season, coinciding with a drop in deforestation reported last week by Carlos Minc, Brazil's Environment Minister. Analyzing the aerosol concentrations over the Amazon each September from the past four burning seasons using the Ozone Monitoring Instrument on NASA's Aura satellite, atmospheric scientist Omar Torres of Hampton University and several colleagues found a dramatic decline in airborne particular matter in 2008, indicating reduced incidence of fire in the region. Fire in the Amazon is primarily used by humans for land-clearing to establish cattle pasture, which now accounts for the vast majority of land-use change in the world's largest rainforest.
Brazil could triple agricultural output without touching the Amazon rainforest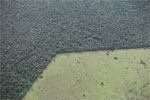 (04/15/2009) Brazil could triple its agricultural without the needing to clear additional rainforest in the Amazon Basin, Roberto Mangabeira Unger, Brazil's Minister of Strategic Affairs, told Bloomberg in an interview. The argument that Brazil can expand its agricultural production without harming the Amazon is a mantra among Brazilian officials. The country has vast tracts of pasture and agricultural land that are being underutilized or have been abandoned, but rapidly appreciating land prices, coupled with poor governance and inconsistent enforcement of environmental laws, means that it is often more profitable to clear new forest land than to rehabilitate pasture.
Rainforest soy moratorium shows success in the Brazilian Amazon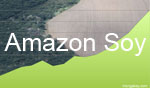 (04/15/2009) An industry-led moratorium on soy plantings on recently deforested rainforest land continues to show success in the Brazilian Amazon, reports a study released Tuesday by environmental groups and Abiove, the soy industry group that formed the initiative and represents about 90 percent of Brazil's soy crush. The satellite-based study showed that only 12 of 630 sample areas (1,389 of 157,896 hectares) deforested since July 2006 — the date the moratorium took effect — were planted with soy.
Brazil: 'Soy King', Environment Minister strike deal on Amazon deforestation

(04/02/2009) Meeting at the Katoomba payments-for-ecosystem-services conference in Cuiaba, Brazil, Carlos Minc, Brazil's Environment Minister, and Blairo Maggi, Governor of the State of Mato Grosso and the world's largest individual soy grower, put aside their ideological differences and agreed to grant a temporary reprieve for ranchers and farmers in the Amazonian state, allowing them up to four years to reforest their holdings to bring them up to legal code. Under Brazilian law landowners in the "legal Amazon" are required to maintain 80 percent forest cover on their holdings, but in practice, the regulation is widely ignored.
Amazon deforestation drops 70% for Nov 2008-Jan 2009 period

(03/04/2009) Deforestation in the Brazilian Amazon fell to 291 square miles (754 square kilometers) in the November 2008-January 2009 window, a drop of 70 percent compared to the year earlier period when 976 sq mi (2,527 sq km), said Environment Minister Carlos Minc.
Payments for eco services could save the Amazon

(02/12/2009) Paying for the ecological services provided by the Amazon rainforest could be the key to saving it, reports a new analysis from WWF. The study, Keeping the Amazon forests standing: a matter of values, tallied the economic value of various ecosystem services afforded by Earth's largest rainforest. It found that standing forest is worth, at minimum, $426 per hectare per year.
Beef drives 80% of Amazon deforestation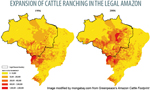 (01/29/2009) Nearly 80 percent of land deforested in the Amazon from 1996-2006 is now used for cattle pasture, according to new maps released today in a report by Greenpeace at the World Social Forum in Belem, Brazil. The report, Amazon Cattle Footprint: Mato Grosso: State of Destruction, confirms that cattle ranching is the primary driver of deforestation in Earth's largest rainforest: the Brazilian Amazon.
What does slowing economy mean for rainforest conservation?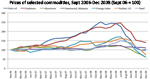 (01/26/2009) Plunging commodity prices may offer a reprieve for the world's beleaguered tropical forests. The global economic downturn has caused demand for many commodities to plummet. The resulting decline in the prices of timber, energy, minerals and agricultural products may do what conservationists have largely failed to achieve in recent years: slow deforestation. Fueled by surging demand from China and other emerging economies, and boosted by the convergence of food and energy markets in response to American and European incentives for biofuels, the worldwide commodity boom over the past few years helped trigger a land rush that precipitated the conversion of natural forests for farms, plantations, and ranches. At the same time, high prices for metals, fossil fuels, and other industrial resources drove a global search for exploitable reserves, many of which lie in tropical forest countries. Now that the bonanza is unwinding, with prices for everything from palm oil to bauxite to crude oil cratering, the incentives to clear forests are retreating. Developers large and small are abandoning projects and forgoing planned expansion around the world.
Agricultural firms cut incentives for Amazon deforestation

(12/02/2008) As grain prices plummet and concerns over cash mount, agricultural giants are cutting loans to Brazilian farmers, reports the Wall Street Journal. Tighter farm credit may be contributing to a recent slowing in deforestation in the Brazilian Amazon, where agriculture is an increasingly important driver of forest clearing.
Slowing global economy will reduce Amazon deforestation

(10/08/2008) The global financial crisis will likely slow forest clearing in the Amazon rainforest, said Brazil's environment minister. Falling commodity prices combined with tighter credit and increased aversion to risk will undermine the economics of activities — including logging and agricultural expansion — that are key drivers of deforestation in the Brazilian Amazon. Forest clearing in the region has shown an increasingly tight correlation to beef and soy prices in recent years. Both products are produced on cleared rainforest lands.
Independent of climate, forest cover in southern Amazon may fall to 20% by 2016

(09/03/2008) Forest cover in the "Arc of Deforestation" of southern Amazonia will decline to around 20 percent 2016 due to continued logging and conversion of forests for cattle pasture and soy farms, report researchers writing in the journal Environmental Conservation. Analyzing high resolution satellite data from 1984 through 2004 for the Alta Floresta region in northern Mato Grosso, Fernanda Michalski, Carlos Peres and Iain Lake of the University of East Anglia found that forest cover declined from from 91.1 percent to 41.7 percent between 1984 and 2004. They note that while the deforestation rate has slowed to around 2 percent per year since peaking at more than 8 percent annually in late 1980s to mid-1990s, renewed expansion of road networks will enable loggers to increasingly exploit remaining forests, leading to degradation and likely eventual conversion for agricultural use. Overall Michalski and colleagues forecast that forest cover in Alta Floresta will fall to 21 percent by 2016, a decline of 77 percent since 1984.
Amazon deforestation jumps 69% in 2008

(08/31/2008) Deforestation in the Brazilian Amazon increased 69 percent in the past 12 months as high commodity prices have driven forest conversion for ranches and cropland, according to preliminary figures released by Brazil's National Institute for Space Research (INPE). The increase comes after three consecutive years of declining deforestation in Brazil.
Pre-Colombian Amazonians lived in sustainable 'urban' society

(08/28/2008) Researchers have uncovered new evidence to support the controversial theory that parts of the Amazon were home to dense 'urban' settlements prior to the arrival of Europeans in the 15th century. The study is published this Friday in the journal Science. Conducting archeological excavations and aerial imagery across a number of sites in the Upper Xingu region of the Brazilian Amazon, a team of researchers led by Michael Heckenberger found evidence of a grid-like pattern of 150-acre towns and smaller villages, connected by complex road networks and arranged around large plazas where public rituals would take place.
Markets could save rainforests: an interview with Andrew Mitchell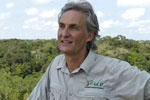 (08/17/2008) Markets may soon value rainforests as living entities rather than for just the commodities produced when they are cut down, said a tropical forest researcher speaking in June at a conservation biology conference in the South American country of Suriname. Andrew Mitchell, founder and director of the London-based Global Canopy Program (GCP), said he is encouraged by signs that investors are beginning to look at the value of services afforded by healthy forests.
Deforestation in the Brazilian Amazon won't increase significantly for 2008

(08/15/2008) Brazilian Environment Minister Carlos Minc said Thursday that Amazon deforestation for the 2007-2008 year will likely be comparable to the prior year. The announcement marks an abrupt turn-around for the Brazilian government which in April said that forest destruction was expected to increase for the first time since 2004.
Climate change to hurt Brazil's farm exports by 2020

(08/11/2008) Climate change could have a significant impact on thye value of Brazil's agricultural exports according to a study presented Monday at an agribusiness conference in Sao Paulo, reports the Financial Times.
Corporations become prime driver of deforestation, providing clear target for environmentalists
(08/05/2008) The major drivers of tropical deforestation have changed in recent decades. According to a forthcoming article, deforestation has shifted from poverty-driven subsistence farming to major corporations razing forests for large-scale projects in mining, logging, oil and gas development, and agriculture. While this change makes many scientists and conservationists uneasy, it may allow for more effective action against deforestation. Rhett A. Butler of Mongabay.com, a leading environmental science website focusing on tropical forests, and William F. Laurance of the Smithsonian Tropical Research Institute in Panama believe that the shift to deforestation by large corporations gives environmentalists and concerned governments a clear, identifiable target that may prove more responsive to environmental concerns.
Future threats to the Amazon rainforest

(07/31/2008) Between June 2000 and June 2008, more than 150,000 square kilometers of rainforest were cleared in the Brazilian Amazon. While deforestation rates have slowed since 2004, forest loss is expected to continue for the foreseeable future. This is a look at past, current and potential future drivers of deforestation in the Brazilian Amazon.
Biofuels can reduce emissions, but not when grown in place of rainforests

(07/22/2008) Biofuels meant to help alleviate greenhouse gas emissions may be in fact contributing to climate change when grown on converted tropical forest lands, warns a comprehensive study published earlier this month in the journal Environmental Research Letters. Analyzing the carbon debt for biofuel crops grown in ecosystems around the world, Holly Gibbs and colleagues report that "while expansion of biofuels into productive tropical ecosystems will always lead to net carbon emissions for decades to centuries... [expansion] into degraded or already cultivated land will provide almost immediate carbon savings." The results suggest that under the right conditions, biofuels could be part of the effort to reduce humanity's carbon footprint.
Amazon deforestation forecast for 2008 revised downward

(07/17/2008) Deforestation in the Brazilian Amazon fell sharply in the month of May (1,096 square kilometers) compared to May a year-ago (1,222 square kilometers), according to preliminary satellite data announced by the country's environment minister on Tuesday. Brazilian Environment Minister Carlos Minc said a preliminary analysis by the government's National Space Research Institute (INPE) showed 1,096 square kilometers (423 square miles) of rain forest were cut down in May, down from 1,123 square kilometers (434 square miles) in April.
Amazon beef producer creates eco-certified meat product with help of scientists

(06/08/2008) Independencia Alimentos SA, Brazil's fifth-largest beef producer, will create an "eco-certified", branded beef product from the Amazon's Xingu region. Certification will be based on criteria established by Alian?a da Terra, an Brazilian NGO that seeks to improve the environmental performance of ranchers and beef producers in the world's largest rainforest. The new beef product will include a per-kilo "ecosystem service fee" — calculated with the help of scientists at the Woods Hole Research Center — to facilitate a financial reward for the producer's environmental stewardship.
Amazon soy ban seems to be effective in reducing explicit deforestation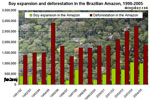 (04/03/2008) An industry-led ban on soy production in the Amazon appears to be proving effective at reducing new clearing for explicit soy production, according to a survey published Monday by Greenpeace and the Brazilian Vegetable Oils Industry Association. The moratorium, which was signed by some of the largest soy crushers in the Amazon in response to a campaign by environmental group Greenpeace, went into effect in October 2006. While soy is believed to be having an indirect impact on deforestation by driving up land prices and competing with the dominant form of land use in the Amazon — cattle ranching — the news is a hopeful sign for conservationists.
Land invasions undermine Amazon forest law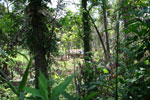 (04/03/2008) Land invasions are undermining a Brazilian law that requires ranchers to keep 80 percent of their land forested, according to reports from the Amazon state of Mato Grosso. A run up in land prices, driven by surging soy and cattle production in the region, combined with a lackadaisical response from law enforcement authorities are blamed for the incursions.
Corn planting to drop 8% in 2008

(03/31/2008) The UDSA's National Agricultural Statistics Service (NASS) expects American farmers to plant 86 million acres of corn in 2008, down 8 percent from last year. The news comes amid record high prices for competitive crops including soybeans and wheat.
Industry-driven road-building to fuel Amazon deforestation

(03/12/2008) Unofficial road-building will be a major driver of deforestation and land-use change in the Amazon rainforest, according to an analysis published in Philosophical Transactions of the Royal Society B. Improved governance, as exemplified by the innovative MAP Initiative in the southwestern Amazon, could help reduce the future impact of roads, without diminishing economic prospects in the region.
Cellulosic energy may trigger dramatic collapse in the Amazon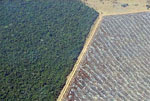 (03/11/2008) Next generation biofuels may trigger the ecological collapse of the Amazon frontier and could have profoundly unexpected economic consequences for the region, warns a paper published in Philosophical Transactions of the Royal Society B. Dr. Donald Sawyer writes that "interacting with climate change and land use, the upcoming stage of cellulosic energy could result in a collapse of the new frontier into vast degraded pasture." The shift could increase the incidence and severity of fires, reduce rainfall in key agricultural zones, exacerbate forest die-back and climate change, and worsen social instability. Sawyer says that while difficult to anticipate, the worst outcomes could likely be avoided be promoting "intensified and more sustainable use" of already cleared areas, minimizing new deforestation, and encouraging "sustainable use of natural resources by local communities."
Half the Amazon rainforest will be lost within 20 years

(02/27/2008) More than half the Amazon rainforest will be damaged or destroyed within 20 years if deforestation, forest fires, and climate trends continue apace, warns a study published in Philosophical Transactions of the Royal Society B. Reviewing recent trends in economic, ecological and climatic processes in Amazonia, Daniel Nepstad and colleagues forecast that 55 percent of Amazon forests will be "cleared, logged, damaged by drought, or burned" in the next 20 years. The damage will release 15-26 billion tons of carbon into the atmosphere, adding to a feedback cycle that will worsen both warming and forest degradation in the region. While the projections are bleak, the authors are hopeful that emerging trends could reduce the likelihood of a near-term die-back. These include the growing concern in commodity markets on the environmental performance of ranchers and farmers; greater investment in fire control mechanisms among owners of fire-sensitive investments; emergence of a carbon market for forest-based offsets; and the establishment of protected areas in regions where development is fast-expanding.





Brazil seeks $1B/yr in donations to save the Amazon

(02/23/2008) Brazil will establish a donation-based fund to help finance conservation in the Amazon, according to Bloomberg. The announcement comes after deforestation rates spiked during the last five months of 2007.





Fire policy is key to reducing the impact of drought on the Amazon

(02/19/2008) Gaining control over the setting of fires for land-clearing in the Amazon is key to reducing deforestation and the impact of severe drought on the region's forests, write researchers in a paper published in Philosophical Transactions of the Royal Society B.








Page 1 | Page 2 | Page 3