News articles on amazon fund

---
Mongabay.com news articles on amazon fund in blog format. Updated regularly.










Activists target Brazil's largest driver of deforestation: cattle ranching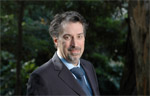 (09/08/2009) Perhaps unexpectedly for a group with roots in confrontational activism, Amigos da Terra - Amazônia Brasileira is calling for a rather pragmatic approach to address to cattle ranching, the largest driver of deforestation in the Brazilian Amazon. The solution, says Roberto Smeraldi, founder and director of Amigos da Terra, involves improving the productivity of cattle ranching, thereby allowing forest to recover without sacrificing jobs or income; establishing a moratorium on new clearing; and recognizing the economic values of maintaining the ecological functions of Earth's largest rainforest.
Amazon deforestation to fall 30% in 2009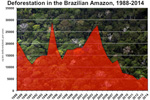 (09/02/2009) Deforestation is the Brazilian Amazon is likely to fall between 8,500 square kilometers (3,088 square miles) and 9,000 sq km (3,474 sq mi) for the 12 months ended July 31, 2009, a reduction of 29-37 percent from last year, reports Brazil's Environment Minister Carlos Minc. If the estimate is confirmed by high resolution satellite data to be published later this year, the rate of forest loss for 2008-2009 would be the lowest since annual record-keeping began in the 1980s.
Amazon deforestation doesn't make communities richer, better educated, or healthier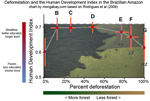 (06/11/2009) Deforestation generates short-term benefits but fails to increase affluence and quality of life in the long-run, reports a new study based an analysis of forest clearing in 286 municipalities across the Brazilian Amazon. The research, published in Friday's issue of the journal Science, casts doubt on the argument that deforestation is a critical step towards development and suggests that mechanisms to compensate communities for keeping forests standing may be a better approach to improving human welfare, while simultaneously sustaining biodiversity and ecosystem services, in rainforest areas.
Brazil's plan to save the Amazon rainforest
(06/02/2009) Accounting for roughly half of tropical deforestation between 2000 and 2005, Brazil is the most important supply-side player when it comes to developing a climate framework that includes reducing emissions from deforestation and forest degradation (REDD). But Brazil's position on REDD contrasts with proposals put forth by other tropical forest countries, including the Coalition for Rainforest Nations, a negotiating block of 15 countries. Instead of advocating a market-based approach to REDD, where credits generated from forest conservation would be traded between countries, Brazil is calling for a giant fund financed with donations from industrialized nations. Contributors would not be eligible for carbon credits that could be used to meet emission reduction obligations under a binding climate treaty.
Nike, Unilever, Burger King, IKEA may unwittingly contribute to Amazon destruction, says Greenpeace
(06/01/2009) Major international companies are unwittingly driving the deforestation of the Amazon rainforest through their purchases of leather, beef and other products supplied from the Brazil cattle industry, alleges a new report from Greenpeace. The report, Slaughtering the Amazon, is based on a three-year undercover investigation of the Brazilian cattle industry, which accounts for 80 percent of Amazon deforestation and roughly 14 percent of the world's annual forest loss. Greenpeace found that Brazilian beef companies are important suppliers of raw materials used by leading global brands, including Adidas/Reebok, Nike, Carrefour, Eurostar, Unilever, Johnson & Johnson, Toyota, Honda, Gucci, Louis Vuitton, Prada, IKEA, Kraft, Tesco and Wal-Mart, among others.
Norway to pay Guyana to save its rainforests
(02/05/2009) Norway will provide financial support for Guyana's ambitious plan to conserve its rainforests, reports the Guyana Chronicle. Meeting in Oslo, Norway on Tuesday, Guyana President Bharrat Jagdeo and Norwegian Prime Minister Jens Stoltenberg signed a Memorandum of Understanding agreeing to establish a partnership to reduce greenhouse gas emissions from deforestation and forest degradation (REDD). The leaders will push for the incorporation of a REDD mechanism that includes low deforestation countries like Guyana in a post-2012 climate change agreement.
Beef drives 80% of Amazon deforestation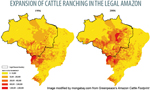 (01/29/2009) Nearly 80 percent of land deforested in the Amazon from 1996-2006 is now used for cattle pasture, according to new maps released today in a report by Greenpeace at the World Social Forum in Belem, Brazil. The report, Amazon Cattle Footprint: Mato Grosso: State of Destruction, confirms that cattle ranching is the primary driver of deforestation in Earth's largest rainforest: the Brazilian Amazon.
WWF criticizes Brazil's plan to cut Amazon deforestation

(12/04/2008) WWF criticized Brazil's plan to reduce Amazon deforestation to 5,740 square kilometers per year as being "short on ambition and detail". In a statement issued Wednesday, WWF said that Brazil's proposed fund for conserving the Amazon would still result in the annual loss of an area forest the size of Rhode Island.