News articles on agriculture

---
Mongabay.com news articles on agriculture in blog format. Updated regularly.





U.S. bird populations plummet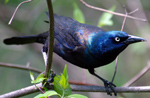 (06/14/2007) Populations of some of America's most common birds have plummeted over the past forty years, reports a new analysis by the National Audubon Society. Some species have seen a decline of 80 percent. The study, which combines the National Audubon Society's Christmas Bird Count with summertime surveys by the U.S. Geological Survey, found California species were particularly affected, with populations declines of 75 to 96 percent for several species, including the Northern Pintail, Horned Lark, and Loggerhead Shrike.


Amazon deforestation rates fall 89% for 2007

(06/08/2007) Deforestation rates fell by 89 percent in the Brazilian Amazon state of Mato Grosso for April 2007 compared with April 2006, according to the System Alert for Deforestation, an innovative deforestation monitoring program backed from Brazilian NGO Imazon. Mato Grosso, which has suffered some of the highest rates of deforestation of any state in the Brazilian Amazon, lost 2,268 square kilometers of forest between August 2006 and April 2007, a decline of 62 percent from the year earlier period when 5,968 square kilometers were cleared.


Archer Daniels Midland announces Amazon biodiesel plant start date

(06/08/2007) Archer Daniels Midland (ADM) plans to start operation of its $20 million biodiesel in the Brazilian state of Mato Grosso in early August, a company official said this week, according to MarketWatch.


Dorothy Stang fought for social equity in the Amazon

(06/07/2007) Murder is not a pleasant place to start an article. Destruction of enormous amounts of virgin forest also does not help improve ones feelings and thoughts. Leaving out millions of people and talking about only the rights of thousands is pretty discouraging if you wish to be transparent, progressive and see a future for a beautiful country with enormous potential.


Can cattle ranchers and soy farmers save the Amazon?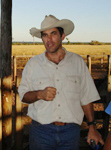 (06/06/2007) John Cain Carter, a Texas rancher who moved to the heart of the Amazon 11 years ago and founded what is perhaps the most innovative organization working in the Amazon, Alianca da Terra, believes the only way to save the Amazon is through the market. Carter says that by giving producers incentives to reduce their impact on the forest, the market can succeed where conservation efforts have failed. What is most remarkable about Alianca's system is that it has the potential to be applied to any commodity anywhere in the world. That means palm oil in Borneo could be certified just as easily as sugar cane in Brazil or sheep in New Zealand. By addressing the supply chain, tracing agricultural products back to the specific fields where they were produced, the system offers perhaps the best market-based solution to combating deforestation. Combining these approaches with large-scale land conservation and scientific research offers what may be the best hope for saving the Amazon.


Rural population decline may not slow deforestation


(06/03/2007) A new paper shoots down the theory that increasing urbanization will lead to increasing forest cover in the tropics. Writing in the July issue of the journal Biotropica, Sean Sloan, a researcher from McGill University in Montreal, argues that anticipated declines in rural populations via urbanization will not necessarily result in reforestation--a scenario put forth in a controversial paper published in Biotropica last year by Joseph Wright of the Smithsonian Tropical Research Institute in Panama and Helene Muller-Landau of the University of Minnesota. Wright and Muller-Landau said that deforestation rates will likely slow, then reverse, due to declining rural population density in developing countries.


Globalization could save the Amazon rainforest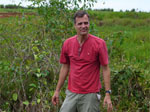 (06/03/2007) The Amazon basin is home to the world's largest rainforest, an ecosystem that supports perhaps 30 percent of the world's terrestrial species, stores vast amounts of carbon, and exerts considerable influence on global weather patterns and climate. Few would dispute that it is one of the planet's most important landscapes. Despite its scale, the Amazon is also one of the fastest changing ecosystems, largely as a result of human activities, including deforestation, forest fires, and, increasingly, climate change. Few people understand these impacts better than Dr. Daniel Nepstad, one of the world's foremost experts on the Amazon rainforest. Now head of the Woods Hole Research Center's Amazon program in Belem, Brazil, Nepstad has spent more than 23 years in the Amazon, studying subjects ranging from forest fires and forest management policy to sustainable development. Nepstad says the Amazon is presently at a point unlike any he's ever seen, one where there are unparalleled risks and opportunities. While he's hopeful about some of the trends, he knows the Amazon faces difficult and immediate challenges.


Uganda abandons rainforest logging for palm oil

(05/27/2007) The Ugandan government abandoned plans to log thousands of hectares of rainforest on Bugala island in Lake Victoria for a palm oil plantation, Reuters reported Saturday.


Experts: Borneo in urgent need of protection


(05/23/2007) A prominent group of 1500 scientists in over 70 countries have called for the urgent conservation of Borneo's forests, which are fast-disappearing on the southeast Asian island due to logging, fires, and conversion for oil palm plantations.


Uganda rainforest reserve safe, for now

(05/23/2007) Uganda's cabinet has suspended a proposal to allow a sugarcane grower to convert part of Mabria rainforest reserve for a plantation, reports Reuters. The plan, a pet project of president Yoweri Museveni, faced widespread opposition that was capped by deadly riots.


High corn price mean pigs eat candy bars, french fries

(05/20/2007) Near record high prices for corn mean that farmers are feeding their pigs people food according to an article in The Wall Street Journal.


U.S. ethanol may drive Amazon deforestation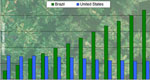 (05/17/2007) Ethanol production in the United States may be contributing to deforestation in the Brazilian rainforest said a leading expert on the Amazon. Dr. Daniel Nepstad of the Woods Hole Research Center said the growing demand for corn ethanol means that more corn and less soy is being planted in the United States. Brazil, the world's largest producer of soybeans, is more than making up for shortfall, by clearing new land for soy cultivation. While only a fraction of this cultivation currently occurs in the Amazon rainforest, production in neighboring areas like the cerrado grassland helps drive deforestation by displacing small farmers and cattle producers, who then clear rainforest land for subsistence agriculture and pasture.


Ancient Amazonian technology could save the world


(05/17/2007) Terra preta, the ancient charcoal-based soil used by ancient Amazonians to create permanently fertile agricultural lands in the rainforest, is getting serious consideration as a means to fight global warming and meet domestic energy demand, reports an article in Scientific American.


Biofuels displace indigenous people

(05/15/2007) Indigenous people are being pushed off their lands to make way for an expansion of biofuel crops around the world, threatening to destroy their cultures by forcing them into big cities, the head of a U.N. panel said Monday.


Environmental concerns mount as palm oil production grows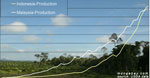 (05/15/2007) The booming market for palm oil is driving record production but fueling rising concerns over the environmental impact of the supposedly "green" bioenergy source. The two leading producers of palm oil, Malaysia and Indonesia, have rapidly expanded palm oil production in recent years, often at the expense of biodiverse rainforests and carbon-rich peatlands that store billions of tons of greenhouse gases. Environmentalists say that due to these factors, burning of palm oil can at times be more damaging the global climate than the use of fossil fuels.


Amazon nun-killer sentenced to 30 years in Brazil

(05/15/2007) Vitalmiro Bastos de Moura, a Brazilian rancher charged with ordering the killing of Dorothy Stang, an American nun, in the Amazon rainforest in February 2005, was convicted today of murder and sentenced to 30 years in prison.


Reducing tropical deforestation will help fight global warming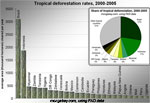 (05/10/2007) Scientists have lent support to a plan by developing countries to fight global warming by reducing deforestation rates. Tropical deforestation releases more than 1.5 billion metric tons of carbon into the atmosphere every year, though in some years, like the 1997-1998 el Nino year when fires released some 2 billion tons of carbon from peat swamps alone in Indonesia, emissions are more than twice that. Writing in the journal Science, an international team of scientists argue that the Reducing Emissions from Deforestation (RED) initiative, launched in 2005 by the United Nations Framework Convention on Climate Change, is scientifically and technologically sound, and that political and economic challenges facing the plan can be overcome.


UN warns on dangers of bioenergy

(05/09/2007) Biofuels offer "an extraordinary opportunity" to reduce greenhouse gas emissions but could make "substantial demands on the world's land and water resources at a time when demand for both food and forest products is also rising rapidly," said the U.N. in its first assessment on the growing bioenergy industry.


Massive oil palm expansion planned by Indonesia's richest man

(05/08/2007) Indonesia's richest man plans to spend $4 billion to expand his company's palm oil, energy, and pulp and paper holdings, according to a report from Reuters.


Summer babies do worse in school due to pesticides

(05/06/2007) A new study links conception date to academic achievement later in life. The reason? Summertime pesticide use in the U.S. Midwest. Analyzing standardized test scores (Indiana Statewide Testing for Educational Progress) for 1,667,391 students in Indiana, neonatologist Paul Winchester, of the Indiana University School of Medicine, and colleagues found that children conceived in June through August had lower test scores than average.


U.S. could offset 20% of emissions through reforestation of marginal lands



(05/03/2007) Reforesting marginal agricultural land could significantly slow the increase of carbon in the atmosphere reports a new study based on NASA data, though it would be no magic bullet in fighting global warming since temperate forests have been shown to increase regional temperatures by absorbing more sunlight. Still, reforestation has the potential to offer other ancillary benefits including watershed services and erosion control.


Climate change may decimate Indonesia's food supplies, worsen fires


(04/30/2007) Climate change could worsen food shortages in Indonesia by delaying the onset of monsoon rains reports a new study published in Proceedings of the National Academy of Sciences (PNAS). The findings suggest that the country could face increasing risk of drought and forest fire if nothing is done to control rising greenhouse gas emissions.


Dutch plan restricts biofuels that damage environment


(04/29/2007) The Netherlands has proposed a system to reduce the environmental impact of biofuels production. The country becomes the first in the world to establish such guidelines. Environmentalists have expressed increasing concern for the establishment of energy crops in biodiverse and carbon-rich ecosystems like the peatlands of Indonesia and the Amazon rainforest. They say that conversion of these forests for oil palm and soybeans is threatening endangered species and worsening global warming. Further, they warn, demand for such biomass energy products is driving up prices for food crops.


Dutch will demand rainforest-friendly palm oil


(04/27/2007) In a report scheduled to be released today, the Dutch government will outline criteria for growing biofuels in a more sustainable manner. The guidelines will be closely watched by the rest of Europe, which is currently struggling with the environmental pros and cons of large-scale energy crop production, especially in ecologically-sensitive areas like the Amazon and Indonesian rainforests.


Deforestation in Borneo worsened by European colonization

(04/24/2007) Colonialism may have worsened slash-and-burn deforestation in Borneo according to a new study published by a researcher at the University of Missouri-Columbia.


Renewable chemicals for green plastics gain ground

(04/19/2007) A bio-plastics revival is furthering driving up commodity prices according to an article in today's Wall Street Journal. The article reports that high oil prices are leading manufacturers to substitute agricultural produce-based plastics for petroleum-based plastics.


Soybeans may worsen drought in the Amazon rainforest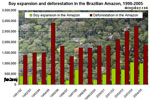 (04/18/2007) The rapid expansion of soybean cultivation in the Amazon may be having a larger impact on climate than previously believed, according to research published last week in Geophysical Research Letters. Using experimental plots in the Amazon, a team of scientists led by Marcos Costa from the Federal University of Vicosa in Brazil found that clearing for soybeans increases the reflectivity or albedo of land, reducing rainfall by as much as four times relative to clearing for pasture land.


Ethanol may be greener but have higher health cost

(04/18/2007) Widespread burning of ethanol as fuel may increase the number of respiratory-related deaths and hospitalizations relative to gasoline, according to a new study by Stanford University atmospheric scientist Mark Z. Jacobson. The report comes as mounting environmental concerns cloud the benefits of using ethanol as a green alternative to fossil fuels.


Loss of topsoil a global problem for agriculture

(04/17/2007) Throughout history civilizations expanded as they sought new soil to feed their populations, then ultimately fell as they wore out or lost the dirt they depended upon. When that happened, people moved on to fertile new ground and formed new civilizations.


Maize cultivated at least 7,300 years ago in Mexico

(04/09/2007) Anthropologists have found the earliest known evidence of maize cultivation in Mexico. The discovery, published in the April 9-13 edition of the journal Proceedings of the National Academy of Science, pushes back farming of the ancestor of modern corn to about 7,300 years ago.


Palm oil doesn't have to be bad for the environment


(04/04/2007) As traditionally practiced in southeast Asia, oil palm cultivation is responsible for widespread deforestation that reduces biodiversity, degrades important ecological services, worsens climate change, and traps workers in inequitable conditions sometimes analogous to slavery. This doesn't have to be the case. Following examples set forth by the Roundtable on Sustainable Palm Oil and firms like Golden Hope Plantations Berhad, a Malaysian palm oil producer, oil palm can be cultivated in a manner that helps mitigate climate change, preserves biodiversity, and brings economic opportunities to desperately poor rural populations.


Eco-friendly palm oil could help alleviate poverty in Indonesia


(04/03/2007) The Associated Press (AP) recently quoted Marcel Silvius, a climate expert at Wetlands International in the Netherlands, as saying palm oil is a failure as a biofuel. This would be a misleading statement and one that doesn't help efforts to devise a workable solution to the multiplicity of issues surrounding the use of palm oil.


Madagascar cyclones may be boon to vanilla market

(03/27/2007) A string of destructive cyclones that have struck the Indian island nation of Madagascar, off the southeastern coast of Africa, may serve as a boon to the depressed vanilla market. Madagascar, the largest producer of vanilla, will likely see production fall due to the havoc wreaked by the storms, which displaced more than 100,000 people. At the same time, the reduction in supply is sure to boost prices for other growers able to bring product to market.


Controversial rainforest clearing approved in Uganda

(03/26/2007) Uganda's prime minister Apolo Nsibambi has approved a plan to clear thousands of hectares of protected rainforest for a sugarcane plantation, reported the New Vision newspaper, a government-owned publication.


Sachs says biodiversity extinction crisis avoidable



(03/26/2007) In a Guardian editorial published Wednesday, Jeffrey Sachs called for action to stem mounting losses of global biodiversity. Sachs, director of the Earth Institute at Columbia University and Special Advisor to United Nations Secretary-General Ban Ki-Moon, says humans are the primary cause for depletion of the world's biological richness.


Cargill busted in the Amazon rainforest

(03/26/2007) Brazilian authorities have shut down Cargill Incorporated's deepwater soy export terminal on the Amazon River reports the Associated Press. The action comes after a local judge ruled that the firm failed to prepare a proper environmental impact statement for the project.


Indonesia is 3rd largest greenhouse gas producer due to deforestation

(03/26/2007) Indonesia trails only the United States and China in greenhouse gas emissions, reports a study released Friday by the World Bank and the British government.


Ladybugs ruin good wine

(03/26/2007) Secretions by ladybugs can taint the aroma and flavor of otherwise perfectly good wine, but scientists at Iowa State University say they may have devised a solution.


Global warming reduced crop yields over past 20 years


(03/16/2007) Global warming has already caused crop losses according to a new study by researchers at the Lawrence Livermore National Laboratory and the Carnegie Institution at Stanford University. The study, published March 16 in the online journal Environmental Research Letters, shows that warming temperatures have reduced the combined production of wheat, corn, and barley by 40 million metric tons per year between 1981-2002. The authors, David Lobell of Lawrence Livermore and Christopher Field of the Carnegie Institution, estimate the annual losses at $5 billion.


Can new loan really bring sustainable cattle ranching to the Amazon?


(03/12/2007) Brazil's second largest exporter of beef has won approval of a controversial loan from the International Finance Corporation (IFC), the private equity lender of the World Bank, according to a report from the Associated Press. Environmentalists say the deal will drive further deforestation in the biologically rich Amazon rainforest. Cattle ranching is responsible for more than half of forest loss in the region.


Government pledges $385M for cellulosic ethanol

(03/08/2007) The U.S. Department of Energy (DOE) announced it will invest up to $385 million over the next four years for six biorefinery projects capable of producing more than 130 million gallons of cellulosic ethanol annually.


Farming in the rainforest can preserve biodiversity, ecological services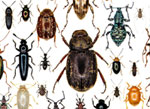 (03/05/2007) While conversion of tropical forest for agriculture results in significant declines in biodiversity and carbon storage, an analysis of Indonesian rainforests shows that farming cacao under the partial shade of high canopy trees can provide a way to balance economic gain with environmental considerations.


Indigenous populations deforested New World rainforests before European contact


(02/28/2007) Indigenous populations used fire to clear large areas of tropical forest well before the arrival of Europeans reports a new study published in Annals of the Missouri Botanical Garden. The research has important implications for understanding the impact of present forest development on biodiversity and forest regeneration in the tropics.


Alien water weed re-invades Lake Victoria

(02/27/2007) Water hyacinth has re-invaded Lake Victoria, choking thousands of acres (hectares) of the lake's surface in Kenya, according to satellite pictures released by NASA.


Agriculture modeled on biological systems may better cope with global warming

(02/20/2007) Complex farming systems could be less energy intensive, reduce risk from climate change, and out-produce industrial monocultures says a noted researcher from Iowa State University.


Organic food may not be sustainable says UK-report

(02/20/2007) Organic farming is not necessarily sustainable reports Britain's environmental protection agency, DEFRA (the Department of Environment, Farming and Rural Affairs), in a new study conducted by the Manchester Business School.


Weedy grass could free U.S. of foreign oil dependence says biologist

(02/16/2007) A weedy grass may hold the key to domestic energy security and mitigating emissions of greenhouse gasese, said a Stanford University plant biologist speaking Friday at the annual meeting of the American Association for the Advancement of Science in San Francisco.


Ethanol always not as green as some believe

(02/16/2007) Ethanol is generally not as green as some people believe says Bruce Dale, Michigan State University professor of chemical engineering and materials science. Speaking at the American Association for the Advancement of Science annual meeting in San Francisco, Dale says that while corn ethanol produces less greenhouse gases than gasoline, it can cause other detrimental environmental effects if not carefully managed.


Chili peppers came from Ecuadorian rainforests 6,100 years ago

(02/15/2007) Chili peppers were first cultivated 6,100 years in South America according to research published in the current edition of the journal Science.


Mysterious outbreak killing millions of bees

(02/14/2007) An mysterious outbreak is causing the deaths of millions of honeybees in 22 states according to an entomologist from the University of Montana. Jerry Bromenshenk says that Colony Collapse Disorder (CCD) is "causing agricultural honeybees nationwide to abandon their hives and disappear."



Page 1 | Page 2 | Page 3 | Page 4 | Page 5 | Page 6 | Page 7 | Page 8 | Page 9 | Page 10 | Page 11 | Page 12 | Page 13 | Page 14 | Page 15