News articles on agriculture

---
Mongabay.com news articles on agriculture in blog format. Updated regularly.





Uganda renews plans to log rainforest reserve for sugar cane

(12/21/2007) Uganda's President Yoweri Museveni on Friday revived a controversial plan to grant a forest reserve to commercial sugar cane interests.


Rainforest destruction continues in tropical Asia

(12/09/2007) Tropical forests in Asia have been rapidly and extensively destroyed over the past generation, with significant implications for the region's biodiversity and global climate. A new study, published in the December volume of Current Science, finds that Asian forest loss has occurred mostly in poor, corrupt countries that have high population density and robust population growth rates.


China boosts wheat production with new high-yielding varieties

(12/04/2007) A research initiative to boost China's wheat production has yielded new high-quality, high-yielding varieties that have added 2.4 million tons to Chinese harvests and generated an extra US$411 million in farm income over the past four years, reports a new assessment from the Chinese Academy of Agricultural Sciences (CAAS). The new varieties also offer natural resistance to a new strain of wheat stem rust now emerging as a threat to global food security, according to the researchers.


Climate risks to global agriculture are underestimated

(12/03/2007) Vulnerability of global agricultural to climate change may be underestimated by experts, warns a trio of papers published in week's issue of the Proceedings of the National Academy of Sciences (PNAS). The research says that "progressive changes predicted to stem from 1- to 5-degree C temperature rises in coming decades fail to account for seasonal extremes of heat, drought or rain, multiplier effects of spreading diseases or weeds, and other ecological upsets," according to a statement from Columbia University's Earth Institute.


Food prices to rise due to energy demand, economic trends

(12/03/2007) Income growth, climate change, high energy prices, globalization, and urbanization are converging to drive food prices higher, threatening livelihoods and nutrition of poor people in developing countries, says a new report from the International Food Policy Research Institute (IFPRI).


Could the carbon market save the Amazon rainforest?

(11/29/2007) The global carbon market could play a key role in saving the Amazon from the effects of climate change and economic development, which could otherwise trigger dramatic ecological changes, reports a new paper published in Science. The authors argue that a well-articulated plan, financed by carbon markets, could prevent the worst outcomes for the Amazon forest while generating economic benefits for the region's inhabitants.


Cooking oil, palm oil biodiesel can reduce emissions relative to diesel

(11/28/2007) A lifecycle analysis of biodiesel by Australia's Commonwealth Scientific and Industrial Research Organization (CSIRO) shows that using palm oil derived from existing plantations can be an effective biofuel feedstock for reducing greenhouse gas emissions relative to conventional diesel fuel. However, palm oil sourced from rainforest and peatlands generating emissions 8 to 21 times greater than those from diesel.


Palm oil industry announces "eco" standards for production

(11/26/2007) Palm oil producers -- under fire from environmentalists who say the industry is driving the wholesale destruction of biodiverse rainforests in Malaysia and Indonesia -- last week announced a new certification process to ensure greener environmental standards for palm oil, reports Reuters.


Transgenic plant may thrive under global warming-induced drought

(11/26/2007) Researchers have created a drought-resistant tobacco plant through genetic engineering, according to a study published in the journal Proceedings of the National Academy of Science. The work could eventually lead to the development of crops that are better able to survive higher temperatures and reduced rainfall associated with global warming.


UN says palm oil destroys forests, indigenous cultures in Indonesia, Malaysia

(11/26/2007) Europe's demand for supposedly eco-friendly biodiesel is fueling destruction of biodiverse rainforests in southeast Asia, warns a new report from the United Nations Development Programme (UNDP).


Past climate change triggered wars, population decline

(11/21/2007) Long-term climate change may lead to wars and population decline according to a study published in the journal Proceedings of the National Academy of Sciences (PNAS). The research looked at the cool period known as the Little Ice Age and found that the number of wars increased, famine occurred and the population declined.


Carbon offset returns beat forest conversion for agriculture in Indonesia

(11/21/2007) Conversion of forests and peatlands for agriculture in Indonesia has generated little economic benefit while releasing substantial amounts of greenhouse gases into the atmosphere, reports a new study from the the World Agroforestry Centre (ICRAF), the Center for International Forestry Research (CIFOR) and their Indonesian partners.


Biodiversity conservation will only work if local people benefit



(11/19/2007) Biodiversity loss is already having an economic impact in Africa according to a 7-year monitoring project underwritten by Europeans and African governments. The project, known as the Biodiversity Monitoring Transect Analysis in Africa (BIOTA), relies on a network of biodiversity observatories equipped with weather stations, sensors and a monitoring program that includes remote sensing, data on soil fertility and agricultural indicators. Dr. Nina Farwig, a scientist at the Johannes Gutenberg-University of Mainz and a participating member of BIOTA-East Africa, says that conservation efforts in the tropics will only be effective if the local people benefit. Her work with BIOTA shows that even in the absence of extensive forest cover, a patchwork of agricultural landscapes can contribute to the biodiversity conservation.


Large-scale agriculture 'compromises' forest's ability to recover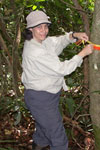 (11/19/2007) As deforestation of tropical forests continues unhindered, one of the future hopes for these damaged ecosystems is regeneration in secondary forests. Some areas that were once slash-and-burned for cattle ranching or subsistence agriculture have been abandoned, allowing scientists to study the possibility of recovery in the rainforest. If anyone has a clear idea of the potential of secondary forests it is Robin L. Chazdon. Dr. Chazdon, a full professor of Ecology and Evolutionary Biology at the University of Connecticut, has been studying the regeneration of secondary forest for over twenty-five years. She has published over 50 papers on tropical ecology, currently she serves as an active member of the Biotropica editorial board and is a member of the Bosques Project, which measures secondary forest recovery in Northern Costa Rica.


Targeted payments to farmers could protect environment

(11/15/2007) Targeted payments to farmers in developing countries could be an effective approach to protecting the environment and addressing climate change, states a new report from the Food and Agriculture Organization of the United Nations (FAO).


Subtle threats could ruin the Amazon rainforest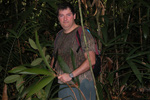 (11/07/2007) While the mention of Amazon destruction usually conjures up images of vast stretches of felled and burned rainforest trees, cattle ranches, and vast soybean farms, some of the biggest threats to the Amazon rainforest are barely perceptible from above. Selective logging -- which opens up the forest canopy and allows winds and sunlight to dry leaf litter on the forest floor -- and 6-inch high "surface" fires are turning parts of the Amazon into a tinderbox, putting the world's largest rainforest at risk of ever-more severe forest fires. At the same time, market-driven hunting is impoverishing some areas of seed dispersers and predators, making it more difficult for forests to recover. Climate change -- an its forecast impacts on the Amazon basin -- further looms large over the horizon.


Carbon-negative bioenergy to cut global warming could drive deforestation

(11/06/2007) A proposed mechanism for generating carbon-negative bioenergy -- an energy source that reduces atmospheric carbon dioxide levels -- could drive large-scale deforestation in the tropics and undermine efforts to conserve forests for carbon offsets says a biofuel expert.


Agriculture is primary driver of mangrove destruction

(10/31/2007) Agricultural expansion -- not shrimp farming -- is driving the rapid destruction of the world's mangrove forests, reports a new study published in the Journal of Biogeography.


Dutch: no subsidies for biofuels-driven rainforest destruction

(10/31/2007) The Dutch government will exclude palm oil from "green energy" subsidies as growing evidence suggests that palm oil is often less sustainable than advertised.


Study reveals that nitrogen fertilizers deplete soil organic carbon

(10/30/2007) The common practice of adding nitrogen fertilizer is believed to benefit the soil by building organic carbon, but four University of Illinois soil scientists dispute this view based on analyses of soil samples from the Morrow Plots that date back to before the current practice began.


Does palm oil alleviate rural poverty in Malaysia?



(10/23/2007) While it is often argued that the economic benefits of oil palm plantations outweigh the environmental costs of converting biodiverse ecosystems to monocultures, new analysis suggests that the role of plantations in reducing rural poverty may be overstated.


Biodiesel demand could destroy world's forests

(10/04/2007) Growing demand for biodiesel could drive large-scale forest conversion for energy crops, warns a study published in conservation Biology.


Environmentalists and palm oil producers should work together

(09/25/2007) Environmentalists and palm-oil producers are increasingly at odds. Greens groups say palm oil is driving the conversion of tens of thousands of hectares of peatlands and lowland forest in Indonesia, putting wildlife at risk, increasing the vulnerability of forests to fires, and triggering large emissions of greenhouse gases.


World needs a 10% meat diet to fight global warming

(09/12/2007) Cutting world meat consumption by 10 percent would have a substantial impact on greenhouse emissions, say doctors writing in the health journal The Lancet.


China urged to join sustainable soy efforts in the Amazon

(09/12/2007) Brazilian soy crushers have urged China to join an alliance to promote sustainable soybean production in the Amazon, according to Reuters. Brazil, soon to be the world's largest producer of soybeans, recently formed the Global Roundtable on Responsible Soy Association as concerns grow that global demand for biofuels will level the Amazon rainforest. Environmentalists say demand from China is playing an important role in surging soybean production in the region.


Tree resprouting offers hope in former pastures of Brazil's cerrado

(09/06/2007) Deforested landscapes in the Brazilian cerrado show hopeful signs of recovery even after long periods of intensive use, reports a study published in the journal Biotropica. Analyzing the natural reestablishment of native trees in former pastureland located in the dry woodlands of the Brazilian cerrado, a team of researchers found that while species richness was lower in older pasture, density and composition of regenerating trees did not change with pasture age.


Can remittances and globalization help the environment?

(09/05/2007) Globalization and other economic trends appear to be helping the degraded forests of El Salvador recover, reports new research that evaluated the impact of global trade, land policy changes, and remittances on forest cover. The study, by Susanna B. Hecht of University of California at Los Angeles and Sassan S. Saatchi of the California Institute of Technology, used socioeconomic data, land-use surveys, and satellite imagery to document significant increases in the area of El Salvador covered by both light woodlands and forest since peace accords were signed in the warn-torn country in 1992.


Loss of livestock breeds put food supplies at risk in poor countries

(09/03/2007) A number of rare livestock breeds face extinction, a prospects the weakens genetic diversity and could be the food supply at risk in some parts of the world, warns a new report from the Consultative Group on International Agricultural Research (CGIAR). The group calls for the immediate establishment of genebanks to conserve reproductive material from the most threatened breeds.


Investigation finds evidence of Borneo forest clearing for palm oil

(09/02/2007) An Associated Press investigation found evidence of workers opening up rainforest land for new oil palm plantations in the heart of Borneo.


Guidelines to ensure biofuels production won't hurt the environment

(08/30/2007) Environmentalists have long seen biofuels as a means to improve the sustainability of transportation and energy use since they are a renewable source of energy that can be replenished on an ongoing basis. Further, because biofuels are generally derived from plants, which absorb carbon from the atmosphere as they grow, biofuel production offers the potential to help offset carbon dioxide emissions and mitigate climate change. Nonetheless, in recent years, there has been considerable backlash against biofuels, which are increasingly viewed as a threat to the environment. Green groups now point to large-scale land conversion for energy crops, higher food prices, and a spate to studies that suggest net emissions from corn ethanol are little better than those from fossil fuels, to caution that biofuels can cause more problems than they address.


How private equity can profit from carbon offsets in Indonesia

(08/29/2007) The emerging carbon market for avoided deforestation presents unprecedented opportunities for private equity to make profitable investments that also help protect the environment. Indeed, for the first time, conservation may be associated with positive financial returns. Here's a brief look at how private equity and other investors can capitalize on this opportunity to earn attractive returns while fighting climate change, protecting ecosystem services, and safeguarding endangered species like orangutans.


NGOs should use palm oil to drive conservation

(08/29/2007) Environmentalists view the expansion of oil palm plantations in southeast Asia as one of the greatest threats to the region's forests and biodiversity. Campaigners say oil palm is driving the conversion of tens of thousands of hectares of peatlands and lowland forest in Indonesia and Malaysia, putting wildlife at risk, increasing the vulnerability of the forests to fires, and triggering large emissions of greenhouse gases. Pressure from these groups have in recent months convinced European policymakers to reconsider sourcing energy crop production to the region.


Indonesia's peatlands may offer U.S. firms global warming offsets

(08/29/2007) The following is modified version of a letter I've used to pitch U.S. companies on the concept of carbon finance in Indonesia's peatlands. Discussions are slow and the critical December U.N. climate meeting is fast approaching, so I'm posting this as a tool to help you get American firms interested in avoided deforestation offsets. Please feel free to use, modify, and distribute this letter widely.


U.S. grazing lands at risk due to rising CO2 levels

(08/27/2007) Rising carbon dioxide levels could cause significant changes to open grazing lands and rangelands around the world, reports a study published in the journal Proceedings of the National Academy of Sciences (PNAS).


Scientists demand Brazil cease Amazon colonization project

(08/27/2007) A group of prominent scientists has called on Brazil to declare an immediate moratorium on a proposed forest colonization project that threatens one of the world's largest and long-running ecological experiments.


Could peatlands conservation be more profitable than palm oil?

(08/22/2007) This past June, World Bank published a report warning that climate change presents serious risks to Indonesia, including the possibility of losing 2,000 islands as sea levels rise. While this scenario is dire, proposed mechanisms for addressing climate change, notably carbon credits through avoided deforestation, offer a unique opportunity for Indonesia to strengthen its economy while demonstrating worldwide innovative political and environmental leadership. In a July 29th editorial we argued that in some cases, preserving ecosystems for carbon credits could be more valuable than conversion for oil palm plantations, providing higher tax revenue for the Indonesian treasury while at the same time offering attractive economic returns for investors.


Biofuels driving destruction of Brazilian cerrado

(08/21/2007) The cerrado, wooded grassland in Brazil that once covered an area half the size of Europe, is fast being transformed into croplands to meet rising demand for soybeans, sugarcane, and cattle. The cerrado is now disappearing more than twice as the rate as the neighboring Amazon rainforest, according to a Brazilian expert on the savanna ecosystem.


Crop domestication originated in compost piles

(08/19/2007) New research lends support to the theory that backyard gardens and refuse heaps played an important role in early crop domestication.


Organic, shade grown cacao good for birds

(08/09/2007) Bird diversity in cacao farms in Panama is considerably higher when crops are grown in the shade of canopy trees, reports a study published earlier this year in Biodiversity conservation. The research has implications for biodiversity conservation and the sustainability of cacao plantations.


Corn ethanol is not the solution to energy independence

(07/18/2007) A new report claims that corn ethanol will not significantly offset U.S. fossil fuel consumption without "unacceptable" environmental and economic consequences.


Pound of beef produces 36 pounds of CO2 emissions

(07/18/2007) The production of a kilogram of beef is results in more greenhouse gas emissions and other pollution than driving a car for 3 hours while leaving all the lights at home, concludes a new study led by Akifumi Ogino of the National Institute of Livestock and Grassland Science in Tsukuba, Japan. The research is detailed in this week's issue of New Scientist Magazine.


Is peat swamp worth more than palm oil plantations?

(07/16/2007) Could peat swamp be worth more intact for their carbon value than palm oil plantations for their oil? Quick analysis suggests yes, though binding limits on emissions will be needed to trigger the largest ever flow of money from the industrialized world to developing countries. At stake: the bulk of the world's biodiversity.


US says Brazilian ethanol doesn't increase food prices, destroy Amazon rainforest

(07/13/2007) Brazil's surging ethanol production does not put the Amazon rainforest at risk and is not fueling higher food prices, claimed a U.S. energy official visiting Brazil.


Can organic farming feed the world?

(07/12/2007) Contrary to popular belief, organic farming can produce enough to feed the world, reports a new study published in Renewable Agriculture and Food Systems.


Cosmetics retailer announces sustainable palm oil initiative

(07/12/2007) The Body Shop International today introduced a sustainable palm oil initiative, the first for the beauty industry. The company said the move was spurred by growing concerns over the impact of oil palm plantations on biodiversity.


Miscanthus bests switchgrass as biofuel source

(07/11/2007) In a side-by-side comparison, miscanthus (Miscanthus x giganteus) grass has been shown to be a more productive bioenergy source than switchgrass (Panicum virgatum), according to research presented at the annual meeting of the American Society of Plant Biologists in Chicago.


Peanuts, cotton, squash first farmed in Peru 6,000-10,000 years ago

(06/28/2007) Anthropologists have discovered the earliest-known evidence of peanut, cotton and squash farming. The study, which show that the crops were grown in the Peruvian Andes 5,000-10,000 years ago, is published in Friday's issue of the journal Science.


Rare and mysterious forests of Sulawesi 80% gone

(06/28/2007) Roughly 80 percent of Sulawesi's richest forests have been degraded and destroyed for agriculture, logging, and mining, reports a ground-breaking assessment of the Indonesian island's forests.


Antibiotic-free chicken may boost profit at Tyson

(06/26/2007) Tyson's decision to produce all of its branded chicken without antibiotics could spur growth at the poultry producer, reports The Wall Street Journal.


Coffee plantations may preserve tropical bird species

(06/18/2007) Agricultural areas offer opportunities for conservation in deforested landscapes in the tropics, reports a study published in the April 2007 issue of the journal conservation Biology by Stanford University biologists.



Page 1 | Page 2 | Page 3 | Page 4 | Page 5 | Page 6 | Page 7 | Page 8 | Page 9 | Page 10 | Page 11 | Page 12 | Page 13 | Page 14 | Page 15