News articles on West Africa

---
Mongabay.com news articles on West Africa in blog format. Updated regularly.






Meager post-Ebola harvests worsen food insecurity in West Africa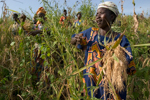 (06/25/2015) The chaos caused by the Ebola outbreak made it much more than a public health issue in affected West African nations. Farmers, who are central to West African economies, suffered, and the effects have hampered the region's efforts to recover from the disease.
Private sector innovations reduce food loss in West Africa
(06/01/2015) Why is Africa's second largest tomato producer also the world's biggest importer of tomato paste? The question is a preoccupation for Lamido Sanusi, the former governor of the Central Bank of Nigeria. For Sanusi and other experts, the problem is a lack of processing capacity, which leads to enormous waste and a giant food import bill.
Together we stand: A policy approach to reducing food loss in West Africa
(05/28/2015) West African countries have recognized that when it comes to food security, no nation is an island. Since achieving independence, West African countries have strived for regional integration. By building strong political and economic ties, the 15 member nations of the Economic Community of West African States (ECOWAS) aimed to maximize economic development and minimize inter-country conflict.
Satellite images show deforestation on fringes of UNESCO World Heritage Site in Cameroon
(05/14/2015) In the push to become a middle-income country in the next two decades, Cameroon has courted investments in its vast natural resource wealth in the form of mining, logging and large-scale agriculture. But deforestation revealed by a recent Greenpeace Africa investigation highlights a lack of coordination in determining how to use the country's land.
Declining palm oil prices: Good news and bad news for smallholders
(03/16/2015) Declining crop prices usually spell bad news for farmers, and poor smallholders in particular. The drop in the price of palm oil from a recent high of US$860 per metric ton in March 2014 to below US$640 in March 2015 (and far below 2010-2012 prices which exceeded US$1000) heralds a shift in perceptions of oil palm from an economic boon to poverty-stricken smallholders, to a liability that ties small-scale farmers to a less profitable commodity.
Local land rights may be in danger from push for palm oil in Liberia
(03/12/2015) The rights of local and indigenous peoples aren't being adequately protected in the drive for economic development, according to a report published in February by the Rights and Resources Initiative (RRI), a coalition of forest-oriented organizations. For a place like Liberia, reeling from both decades of persistent poverty and the recent Ebola epidemic, economic development seems critical at just about any cost.
Scandal and intrigue overshadow environment at the Simandou mine in Guinea
(01/20/2015) Critically Endangered chimpanzees stand to lose their home over giant iron mine in West Africa. When I was a Peace Corps Volunteer in West Africa decades ago well-laid plans often crumbled to dust in the unpredictable confusion of life there. We just muttered with resignation, 'WAWA' – West Africa wins again. The Simandou iron ore mine in Guinea could be one of the biggest WAWAs the region has ever produced.
Did palm oil expansion play a role in the Ebola crisis?
(01/14/2015) The Ebola outbreak in West Africa may have been the result of complex economic and agricultural policies developed by authorities in Guinea and Liberia, according to a new commentary in Environment and Planning A. Looking at the economic activities around villages where Ebola first emerged, the investigators analyzed a shift in land-use activities in Guinea's forested region, particularly an increase in oil palm.
Top 10 Environmental Stories of 2014
(12/23/2014) In 2014, the unimaginable happened: companies representing the majority of palm oil production and trade agreed to stop cutting down rainforests and draining peatlands for new oil palm plantations. After years of intense campaigning by environmentalists and dire warnings from scientists, nearly two dozen major producers, traders, and buyers established zero deforestation policies.
Deforestation taking toll on nesting birds in Cameroon
(12/17/2014) The tropical montane forests of the Cameroon mountain ranges boast fertile volcanic soils, high biodiversity of grasses and non-woody plants, as well as many endemic bird species that can be found only in this high-altitude region. Yet, many of these endemic bird species may be at risk due to increased nest predation linked with human-induced forest degradation, according to a new study.
Scientists use genes, feces to study disappearing monkeys
(09/24/2014) Human pressures through tree clearing and poaching are reducing both forest and fauna in West Africa. In response to dwindling primate populations, scientists used genetics techniques to examine their makeup and outlook – demonstrating the usefulness of such methods in the study of animals that are becoming ever-fewer in number and ever-harder to find.
Can it be stopped? Ghana's forests 'could completely disappear in less than 25 years'
(08/25/2014) Ghana contains forests that are biologically unique and important both for the wildlife they contain and the human communities that depend on them. However, the country is experiencing one of the greatest rates of deforestation in West Africa. At its current rate of forest loss, a study estimates that Ghana could be devoid of major forest cover in less than a quarter-century.
Don't eat or touch bat bushmeat amid worsening Ebola outbreak, UN warns

(07/29/2014) The world's worst Ebola outbreak was likely begun by a hunter shooting a fruit bat for their dinner or the market, according to the UN. The outbreak has killed over 660 people in six months to date, and recently spread via plane to Nigeria. The disease is particularly deadly with a mortality rate of around 90 percent.
Greenpeace accuses controversial palm oil company and Cameroon government of illegal logging
(05/28/2014) Greenpeace has just accused one of the world's most controversial oil palm companies, Herakles Farms, of colluding with top government officials to sell off illegally logged timber to China. According to a new report, an agreement between Cameroon's Minister of Forestry and Herkales Farms—through a shell company—could torpedo the country's agreement with the EU for better timber management.
How locals and conservationists saved the elephants of Mali amidst conflict and poverty
(04/02/2014) At a time when Africa's elephants are facing a relentless poaching crisis, one community has managed to safeguard their elephants in the most unlikely of places: Mali. In a country that has suffered from widespread poverty, environmental degradation, and, most recently, warfare, a collaboration between conservationists and the local community has kept Mali's elephants from extinction.
Over 9,000 primates killed for single bushmeat market in West Africa every year
(03/24/2014) Over the past 25 years, West Africa's primates have been put at risk due to an escalating bushmeat trade compounded with forest loss from expanding human populations. In fact, many endemic primates in the Upper Guinea forests of Liberia and Ivory Coast have been pushed to the verge of extinction. To better understand what's happening, a recent study in mongabay.com's open-access journal Tropical Conservation Science investigated the bushmeat exchange between these neighboring countries.
Frog creates chemical invisibility cloak to confuse aggressive ants
(03/14/2014) The African stink ant creates large underground colonies that are home to anywhere from hundreds to thousands of ants, and occasionally a frog or two. The West African rubber frog hides in the humid nests to survive the long dry season of southern and central Africa. However, the ant colonies are armed with highly aggressive ant militias that fight off intruders with powerful, venomous jaws. So how do these frogs escape attack?
Lions face extinction in West Africa: less than 250 survive
(01/08/2014) The lions of West Africa, which may represent a distinct subspecies, are on the precipice of extinction. A sober new study in PLOS ONE reports that less than 250 mature lions survive in the region. Scientists have long known that West Africa's lions were in trouble, but no one expected the situation to be as dire as it was. In fact, in 2012 scientists estimated the population at over 500. But looking at 21 parks, scientists were shocked to find lions persisted in just four with only one population containing more than 50 individuals.
Scientists uncover new crocodile in Africa
(01/07/2014) Scientists working in Africa have uncovered a new crocodile species hiding in plain site, according to a paper published in the Proceedings of the Royal Society B. Looking at the molecular data of the slender-snouted crocodile, the researchers discovered two distinct species: one in West Africa and another in Central Africa. Although mostly lumped together as one species (Mecistops cataphractus) for over a hundred and fifty years, the scientists found that the two species have actually been split for at least seven million years, well before the evolution of hominins.
Honey badgers and more: camera traps reveal wealth of small carnivores in Gabon (photos)
(10/17/2013) Gabon has lost most of its big meat-eaters including lions, spotted hyenas, and African wild dogs (although it's still home to leopards), but a new study focuses on the country's lesser-known species with an appetite for flesh. For the first time, researchers surveyed Gabon's small carnivores, including 12 species from the honey badger (Mellivora capensis) to the marsh mongoose (Atilax paludinosus).
African manatee hanging on in Cameroon

(09/30/2013) In the Lower Basin of the Sanaga River in Cameroon, near Lake Ossa and the Douala-Edea National Parks, manatees swim and float about like round, potato-shaped mermaids. This region is home to the West African manatee (Trichechus senegalensis), an aquatic mammal facing a decline in population. Classed as Vulnerable by the IUCN Red List, the West African manatee is threatened by excessive kills, habitat loss, and habitat degradation. Given this, and the dearth of information about manatees, a group of Cameroon scientists have taken an ethnobiological approach (i.e. the interaction between people and wildlife) by employing skilled, knowledgable locals to collect data on the manatees.
Smuggler who illegally traded 500 chimps gets one year in prison

(08/27/2013) Wildlife smuggler, Ousame Diallo, who has admitted to illegally trafficking 500 endangered chimpanzees out of the Republic of Guinea, was sentenced to a year in prison in the West African country reports WWF. The arrest and charge was supported by INTERPOL and to anti-wildlife trafficking local group, GALF.
NGO hits out at study for downplaying logging threat in Congo rainforest
(07/23/2013) Global Witness has called in question conclusions reached in a study on logging in the Congo rainforest. The group, which has published a series of investigative reports on abuses by logging companies operating the world's second largest tropical forest, said that a review published Monday in the Philosophical Transactions of the Royal Society B '[presents] a misleading and inaccurate picture of the present and growing threats to the Congo Basin rainforest.'
Hunting, logging could threaten long-term health of Congo forests by wiping out key animals
(07/23/2013) Unsustainable hunting of forest elephants, gorillas, forest antelopes, and other seed-dispersers could have long-term impacts on the health and resilience of Congo Basin rainforests, warns a study published today in a special issue of the journal Philosophical Transactions of The Royal Society B. Conducting a review of more than 160 papers and reports on trends in wildlife populations, hunting, and land use in the Congo Basin, an international team of researchers conclude that unless effective management plans are put into place, hunting pressure in the region is likely to increase, with knock-on ecological effects.
Deforestation rate falls in Congo Basin countries
(07/22/2013) Deforestation has fallen in Congo Basin countries over the past decade despite a sharp increase in the rate of forest clearing in the Democratic Republic of the Congo, according to a new study published in the Philosophical Transactions of the Royal Society B as part of a set of 18 papers on the region's tropical forests. The special issue, which was put together by Oxford University's Yadvinder Malhi, covers a range of issues relating to the rainforests of the Congo Basin, including deforestation, the impacts of global change, the history and key characteristics of the region's forests, and resource extraction, among others.
Nearly a million people face food crisis in Niger

(05/13/2013) Around 800,000 people in Niger face food insecurity in coming months, according to the UN's Office for the Co-ordination of Humanitarian Affairs (OCHA). Rising food prices and refugees from Mali, which is plagued by conflict, have made access to food difficult in the west African country.
Top security official in Nigeria blames climate change for worsening insecurity

(04/25/2013) Climate change is in part to blame for rising conflict and crime in Nigeria, according to the president's National Security Advisor, Colonel Sambo Dasuki. Speaking to the House Committee on Climate Change, Dasuki said that the rise of Boko Haram insurgents, a jihadist group in northern Nigeria, and worsening crime was linked to climate change reports All Africa.
Emergency: large number of elephants being poached in the Central African Republic (warning: graphic image)
(04/25/2013) WWF and the Wildlife Conversation Society (WCS) are issuing an immediate call for action as they report that poachers are killing sizable numbers of forest elephants near the Dzanga-Sangha protected areas in the Central African Republic (CAR). The two large conservation groups have evacuated their staff from the area after a government coup, but local rangers are still trying to determine the scale of the killing while defending remaining elephants. In total the conservation groups believe the parks are home to over 3,000 elephants.
China 'looting' Africa of its fish

(04/24/2013) Just 9% of the millions of tonnes of fish caught by China's giant fishing fleet in African and other international waters is officially reported to the UN, say researchers using a new way to estimate the size and value of catches. Fisheries experts have long considered that the catches reported by China to the UN's Food and Agriculture Organization (UNFAO) are low but the scale of the possible deception shocked the authors.
Beautiful striped bat is the "find of a lifetime" (photos)
(04/10/2013) Scientists have uncovered a rare, brilliantly-striped bat in South Sudan that has yielded new secrets after close study. Working in Bangangai Game Reserve during July of last year, biologist DeeAnn Redeer and conservationist Adrian Garsdie with Fauna & Flora International (FFI) came across an unmissable bat, which has been dubbed by various media outlets as the "badger bat" and the "panda bat."
What happened to the elephants of Bouba Ndjida? [warning: graphic photos]
(03/07/2013) A new report released by the Wildlife Conservation Society says that poachers have killed a staggering 62 percent of Africa's forest elephants in the last decade. The insatiable demand for elephant ivory hails mainly from China and Thailand, which is ironically hosting this year's CITES (CoP16) meeting. The meeting will continue until March 13 2013. The study is based on a survey of five elephant range states including Cameroon. Cameroon is the home of Bouba Ndjida National Park, where the dizzying massacre of 650 elephants occurred last year.
Bloodsucking flies help scientists identify rare, hard-to-find mammals
(01/16/2013) Last year scientists released a study that is likely to revolutionize how conservationists track elusive species. Researchers extracted the recently sucked blood of terrestrial leeches in Vietnam's remote Annamite Mountains and looked at the DNA of what they'd been feeding on: remarkably researchers were able to identify a number of endangered and rarely-seen mammals. In fact two of the species gleaned from these blood-meals had been discovered by scientists as late as the 1990s. In the past, trying to find rare and shy jungle animals required many man hours and a lot of funding. While the increasing use of remote camera traps has allowed scientists to expand their search, DNA sampling from leeches could be the next big step in simplifying (and cheapening) the quest for tracking the world's mammals.
Lion population falls 68 percent in 50 years
(12/04/2012) African lions, one of the most iconic species on the planet, are in rapid decline. According to a new study in Biodiversity Conservation, the African lion (Panthera leo leo) population has dropped from around 100,000 animals just fifty years ago to as few as 32,000 today. The study, which used high resolution satellite imagery to study savannah ecosystems across Africa, also found that lion habitat had plunged by 75 percent.
Photos reveal destruction of Cameroon rainforest for palm oil
(11/26/2012) Newly released photos by Greenpeace show the dramatic destruction of tropical forest in Cameroon for an oil palm plantation operated by SG Sustainable Oils Cameroon (SGSOC), a subsidiary of the U.S. company Herakles Farm. The agriculture company is planning to convert 73,000 hectares to palm oil plantations on the edge of several protected areas, but has faced considerable opposition from environmentalists and some local communities. In addition to the aerial photos, Greenpeace alleges that ongoing forest clearing by Herakles is illegal since the companies 99-year lease has yet to be fully approved by the Cameroonian government.
40% of Liberia's forests granted for logging

(09/04/2012) 40 percent of Liberia's forests have been granted to logging companies operating outside the country's strict forestry laws, alleges a new investigation by Global Witness, Save My Future Foundation (SAMFU) and Sustainable Development Institute (SDI).
Tracking elephants in Cameroon to mitigate conflict with locals

(07/09/2012) Elephant conservation is imperiled by poor spatial planning, according to a new study in mongabay.com's open access journal Tropical Conservation Science. Tracking two elephant matriarchs in and around Bénoué National Park in Cameroon, scientists found that the herds spent over half their time outside of the park, highlighting the potential for human-wildlife conflict as elephants are known to raid fields.
Gabon torches their ivory stock as poachers attack okapi reserve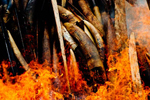 (07/02/2012) Last week, the west African nation of Gabon committed over 1,200 ivory tusks and carvings to the fire. The act, which was meant to send a strong signal to illegal wildlife poachers across Africa, came only a few days after militia poachers stormed the Okapi Wildlife Reserve in the Democratic Republic of the Congo (DRC). The assailants killed 13 okapis and six people, including two wildlife rangers, in retaliation for a crackdown against poaching and mining in the protected area. Poaching has reached epidemic levels in Africa due to increasing bushmeat consumption and a rise in East Asian demand for black-market ivory and rhino horns.
Alarm rising over food crisis in Sahel region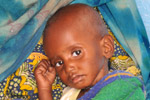 (06/13/2012) Warnings over a possible famine in Africa's Sahel region are becoming louder and more intense. Abnormal drought, locally high food prices, and regional conflict have ramped up concerns that 18 million people could suffer from malnutrition and starvation as the lean season sets in. UNICEF says it needs $238 million to save over a million children from severe malnourishment in the region, but has to date only raised $93 million.
Ten African nations pledge to transform their economies to take nature into account

(06/11/2012) Last month ten African nations, led by Botswana, pledged to incorporate "natural capital" into their economies. Natural capital, which seeks to measure the economic worth of the services provided by ecosystems and biodiversity—for example pollination, clean water, and carbon—is a nascent, but growing, method to curtail environmental damage and ensure more sustainable development. Dubbed the Gaborone Declaration, the pledge was signed by Botswana, Liberia, Namibia, Mozambique, Rwanda, Gabon, Ghana, Kenya, South Africa, and Tanzania following a two day summit.
First camera trap video of world's rarest gorilla includes shocking charge

(05/08/2012) Ever wonder what it would be like to be charged by a male gorilla? A new video (below) released by the Wildlife Conservation Society (WCS), gives one a first hand look. Shot in Cameroon's Kagwene Gorilla Sanctuary, the video is the first camera trap footage of the incredibly rare Cross River gorilla subspecies (Gorilla gorilla diehli); listed as Critically Endangered, the subspecies is believed to be down to only 250 individuals.
High-tech hell: new documentary brings Africa's e-waste slum to life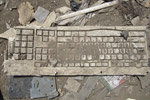 (04/30/2012) Shirtless boys rapidly pull the computer apart, discarding bits and pieces, until they expose the wires, yank them out, and toss them into a fire. Acrid, toxic smoke blooms as the boys prod the wires and the fire strips the plastic around the wires, leaving the sought-after copper. Welcome, to Agbogbloshie, where your technology goes to die. A new film e-wasteland captures the horrors of the world's largest e-waste slum through surreal and staggering images. Shot over three weeks by one-man guerrilla filmmaker, David Fedele, e-wasteland is an entirely visual experience without dialogue or voiceover.
Animal picture of the day: a baby bongo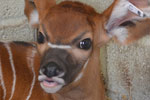 (03/22/2012) A female bongo (Tragelaphus eurycerus) was born at the Zoological Society of London's Whipsnade Zoo last month. "The calf and her mum are happy to sit with other members of the group and the calf is not always found with mum—babysitting is common with the bongo," Mark Holden, Africa section leader at ZSL Whipsnade Zoo, said in a press release.
Scientists say massive palm oil plantation will "cut the heart out" of Cameroon's rainforest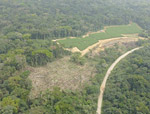 (03/15/2012) Eleven top scientists have slammed a proposed palm oil plantation in a Cameroonian rainforest surrounded by five protected areas. In an open letter, the researchers allege that Herakles Farm, which proposes the 70,000 hectare plantation in southwest Cameroon, has misled the government about the state of the forest to be cleared and has violated rules set by the Roundtable on Sustainable Palm Oil (RSPO), of which it's a member. The scientists, many of whom are considered leaders in their field, argue that the plantation will destroy rich forests, imperil endangered species, and sow conflict with local people.
Without data, fate of great apes unknown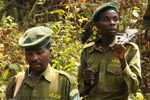 (03/12/2012) Our closest nonhuman relatives, the great apes, are in mortal danger. Every one of the six great ape species is endangered, and without more effective conservation measures, they may be extinct in the wild within a human generation. The four African great ape species (bonobos, chimpanzees and two species of gorilla) inhabit a broad swath of land across the middle of Africa, and two species of orangutans live in rainforests on the islands of Borneo and Sumatra in Southeast Asia.
Elephant massacre in Cameroon (warning: graphic photo)

(02/17/2012) More than 200 elephants have been slaughtered for their tusks in less than a month in Cameroon, reports the International Fund for Animal Welfare (IFAW). The group blames Sudanese poachers for cross-border raids from Chad into Bouba Ndjida National Park in northern Cameroon.
The camera trap revolution: how a simple device is shaping research and conservation worldwide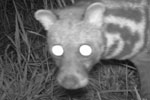 (02/14/2012) I must confess to a recent addiction: camera trap photos. When the Smithsonian released 202,000 camera trap photos to the public online, I couldn't help but spend hours transfixed by the private world of animals. There was the golden snub-monkey (Rhinopithecus roxellana), with its unmistakably blue face staring straight at you, captured on a trail in the mountains of China. Or a southern tamandua (Tamandua tetradactyla), a tree anteater that resembles a living Muppet, poking its nose in the leaf litter as sunlight plays on its head in the Peruvian Amazon. Or the dim body of a spotted hyena (Crocuta crocuta) led by jewel-like eyes in the Tanzanian night. Or the less exotic red fox (Vulpes vulpes) which admittedly appears much more exotic when shot in China in the midst of a snowstorm. Even the giant panda (Ailuropoda melanoleuca), an animal I too often connect with cartoons and stuffed animals, looks wholly real and wild when captured by camera trap: no longer a symbol or even a pudgy bear at the zoo, but a true animal with its own inner, mysterious life.
Mysterious pygmy hippo filmed in Liberia

(12/19/2011) Conservationists have captured the first ever footage (see video below) of the elusive pygmy hippo (Choeropsis liberiensis) in Liberia. The forest-dwelling, nocturnal species—weighing only a quarter of the size of the well-known common hippo (Hippopotamus amphibius)—has proven incredibly difficult to study. But the use of camera traps in Liberia's Sapo National Park has allowed researchers a glimpse into its cryptic life.
Locals key to saving primate-rich wetlands in Cote D'Ivoire

(12/12/2011) Saved from being converted into a vast palm oil plantation by PALM-CI in 2009, the Ehy Tanoé wetlands and forest in the Cote D'Ivoire (Ivory Coast) is home to three gravely endangered primates and as well as many other species. Since 2006, a pilot community management program has been working to protect the 12,000 hectare area, and a new study in mongabay.com's open access journal Tropical Conservation Science finds that long-term conservation of the Ehy Tanoé wetlands and forest is, in fact, vital for locals who depend on the area for hunting, fishing, firewood, building materials, and medicinal plants. In addition, the study finds that the ecosystem has special cultural and spiritual importance to locals.
Sierra Leone creates rainforest park

(12/03/2011) Sierra Leone, one of Africa's poorest countries, today announced the establishment of Gola Rainforest National Park (GRNP), an area of forest home to chimpanzees, a key population of pygmy hippo, and hundreds of bird species, reports the Royal Society for the Protection of Birds (RSPB).
Saving Ghana's vanishing frogs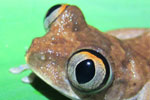 (11/02/2011) Frogs need all the help they can get. With the IUCN Red List estimating that 41 percent of amphibians are endangered, frogs are currently the world's most imperiled animal family. Scientists estimate that around 200 amphibian species have been lost to extinction in recent decades to habitat loss, pollution, and a devastating fungal disease. Yet as the frog emergency worsens, there have been positive movements in conservation. The most recent comes from the small West African country of Ghana. Partnering with the enthusiastic US-based organization, SAVE THE FROGS!, two Ghanaian herpetologists, Gilbert Baase Adum and Caleb Ofori, have started a sister branch in their country: SAVE THE FROGS! Ghana.
Illuminating Africa's most obscure cat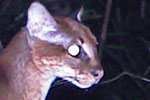 (10/18/2011) Africa is known as the continent of big cats: cheetahs, leopards, and of course, the king of them all, lions. Even servals and caracals are relatively well-known by the public. Still, few people realize that Africa is home to a number of smaller wild cat species, such as the black-footed cat and the African wild cat. But the least known feline on the continent is actually a cryptic predator that inhabits the rainforest of the Congo and West Africa. "The African golden cat has dominated my thoughts and energy for over a year and a half now. When carrying out a study like this one, you find yourself trying to think like your study animal," Laila Bahaa-el-din, University of Kwazulu Natal graduate student, told mongabay.com in a recent interview.
Children on the frontlines: the e-waste epidemic in Africa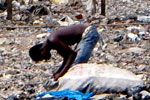 (09/09/2011) In Agbogbloshie, a slum outside the capital city of Accra, Ghana, tons of electronic waste lies smoldering in toxic piles. Children make their way through this dangerous environment, desperate to strip even a few ounces of copper, aluminum, brass, and zinc from worn-out electronics originating from the United States and Europe. "The smell alone will drive all but the most desperate away, but many are so desperate they persevere despite the obvious dangers. It is a very tough thing to witness," explains Dr. Kwei Quartey, a Ghanaian author and physician, in a recent mongabay.com interview.
One of world's rarest cats caught on video for the first time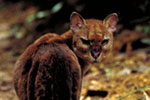 (08/30/2011) Africa is known as a continent of felines: leopards, cheetahs, servals, caracals, and of course the one who wears the crown, the lion. But, few people travel to Africa to see, or have probably ever heard of, the African golden cat. Native to the rainforests of central Africa (from Kenya to Cameroon) with a separate population in West Africa, the African golden cat (Caracal aurata) is considered the continent's least-studied feline. However, a team of researchers is hoping to change this: using camera traps scientists have taken the first ever public video of the African golden cat.
Oil horror in Nigeria: 30 years, one billion dollars to clean-up

(08/08/2011) Fifty years of oil spills in Nigeria's now infamous Ogoniland region will take up to three decades and over a billion dollars ($1 billion for just the first five years) to restore environments to healthy conditions, according to a new independent report by the United Nations Environment Program (UNEP). The most thorough study to date has found that widespread pollution has hit the Niger Delta even harder than assumed with devastating impacts on fishing grounds and community health. Last week Shell, one of the biggest operators in Nigeria, admitted to two massive oil spills in 2008 totaling 11 million gallons of crude.
Saving (and studying) one of Nigeria's last montane forests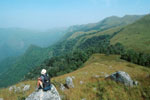 (07/26/2011) Between 2000 and 2010, Nigeria lost nearly a third (31 percent) of its forest cover, while its primary forests suffered even worse: in just five years (2000 to 2005) over half of the nation's primary forests were destroyed, the highest rate in the world during that time. Yet, Nigeria's dwindling forests have never received the same attention as many other country's, such as Indonesia, Brazil, Malaysia, or Peru, even though in many ways Nigeria struggles with even deeper problems than other developing nations. Despite vast oil business, the nation is plagued by poverty and destitution, a prime example of what economists call the 'resource curse'. Environmentally, it has been named one of the worst in the world. Yet, not all forest news out of Nigeria is bleak: the success of the Nigerian Montane Forest Project in one of the country's remaining forests is one such beacon of hope, and one example of how the country could move forward.
Food security in developing world threatened by climate change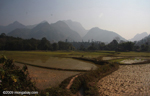 (06/06/2011) If swift action is not taken to prepare farmers in the developing world for hotter, drier, shorter growing seasons, climate change may threaten the lives of hundreds of millions of people by 2050. People in Africa and South Asia are particularly at risk of further impoverishment and hunger in a warmer world. According to the UN, a billion people are already going hungry worldwide.
Restoring forests: an opportunity for Africa

(05/26/2011) Tropical forest news last week was dominated by Indonesia and Brazil. Forest clearing has surged over the past year in parts of the Amazon, the Brazilian Government reported. Meanwhile, Indonesia's President signed a moratorium on cutting some intact forest areas, as part of a landmark billion-dollar deal with international donors. But new research shows that Africa offers some of the greatest opportunities globally for restoring forests.
Photos: the top ten new species discovered in 2010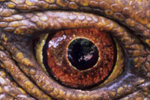 (05/23/2011) If we had to characterize our understanding of life on Earth as either ignorant or knowledgeable, the former would be most correct. In 250 years of rigorous taxonomic work researchers have cataloged nearly two million species, however scientists estimate the total number of species on Earth is at least five million and perhaps up to a hundred million. This means every year thousands of new species are discovered by researchers, and from these thousands, the International Institute for Species Exploration at Arizona State University selects ten especially notable new species.
Liberia fights illegal logging through agreement with EU

(05/10/2011) The tiny West African nation of Liberia (about the size of the US state of Virginia) is the most recent country to work with the European Union (EU) on ending the illegal logging trade. Yesterday the EU and Liberia signed a Voluntary Partnership Agreement (VPA) that would make certain no raw wood or wood products exported from Liberia to the EU would have been illegally cut.
What's behind the 85% decline of mammals in West Africa's parks?

(03/28/2011) A recent, well-covered study found that African mammals populations are in steep decline in the continent's protected areas. Large mammal populations over forty years have dropped by 59% on average in Africa [read an interview on the study here] and by 85% in west and central Africa, according to the study headed by Ian Craigie, which links the decline to continuing habitat degradation as well as hunting and human-wildlife conflict. However, a new opinion piece in mongabay.com's open access journal Tropical Conservation Science argues that this study missed an important factor in central and west Africa where the decline in mammals was the worst: rainfall.
Alien plants invade Nigerian protected 'gene bank'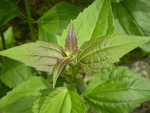 (03/28/2011) Very few studies have been conducted on invasive species in Nigeria, however a new study in mongabay.com's open access journal Tropical Conservation Science has discovered 25 invasive plants in a field gene bank at the National Center for Genetic Resources and Biotechnology (NASGRAB) in Ibadan. The gene bank is used to establish populations of important and, in some cases threatened, native plant species. The gene bank spans 12 hectares, but the study found that 18% of the area was overtaken with invasive species that likely compete with the protected Nigerian plants for nutrients, space, and light. Among the 25 invasive species, 14 were herbs, 8 were vines, 2 were shrubs, and one was a tree.
Nigeria moving forward on REDD to protect last remaining forests

(02/19/2011) The tiny state of Cross River, Nigeria, has managed to preserve large swathes of endangered rainforest despite lucrative – and often intimidating – offers from loggers and other interests. It's also laid the groundwork for a state-wide program designed to earn international carbon credits by saving trees, thus securing its spot in an elite network of states that are moving forward as UN talks stall.
'Land grab' fears in Africa legitimate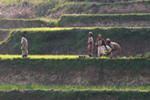 (01/31/2011) A new report by the International Institute for Environment and Development (IIED) has found that recent large-scale land deals in Africa are likely to provide scant benefit to some of the world's poorest and most famine-prone nations and will probably create new social and environmental problems. Analyzing 12 recent land leasing contracts investigators found a number of concerns, including contracts that are only a few pages long, exclusion of local people, and in one case actually giving land away for free. Many of the contracts last for 100 years, threatening to separate local communities from the land they live on indefinitely. "Most contracts for large-scale land deals in Africa are negotiated in secret," explains report author Lorenzo Cotula in a press release. "Only rarely do local landholders have a say in those negotiations and few contracts are publicly available after they have been signed."
Africa's vanishing wild: mammal populations cut in half
(01/27/2011) The big mammals for which Africa is so famous are vanishing in staggering numbers. According to a study published last year: Africa's large mammal populations have dropped by 59% in just 40 years. But what is even more alarming was that the study only looked at mammal populations residing in parks and wildlife areas, i.e. lands that are, at least on paper, under governmental protection. Surveying 78 protected areas for 69 species, the study included global favorites such as the African elephant, giraffes, zebra, wildebeest, and even Africa's feline king, the lion. "We weren't surprised that populations had dropped but we were surprised by how large the drops had been," lead author Ian Craigie told mongabay.com in an interview.
95% of Liberia's elephants killed by poachers

(01/24/2011) Since the 1980s, Liberia has lost 19,000 elephants to illegal poaching, according to Patrick Omondi of the Kenya Wildlife Service speaking in Monrovia, the capital of Liberia. The poaching of Liberia's elephants has cut the population by 95% leaving only 1,000 elephants remaining.
Cameroon says goodbye to cheetahs and African wild dogs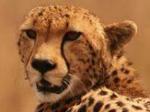 (07/28/2010) Researchers have confirmed that cheetahs (Acinonyx jubatus) and African wild dogs (Lycaon pictus) have become essentially extinct in Cameroon. A three year study by the Institute of Environmental Sciences at Leiden University in the Netherlands found that the same factors that pushed cheetahs and African wild dogs to local extinction, have also left Cameroon's other big predators hanging by a thread, including the lion, the leopard, and two species of hyena: the spotted and the striped.
Illegal logging declining worldwide, but still 'major problem'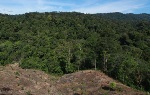 (07/15/2010) A new report by the Chatham House finds that illegal logging in tropical forest nation is primarily on the decline, providing evidence that new laws and international efforts on the issue are having a positive impact. According to the report, the total global production of illegal timber has fallen by 22 percent since 2002. Yet the report also finds that nations—both producers and consumers—have a long way to go before illegal logging is an issue of the past.
Saving one of West Africa's last hippo populations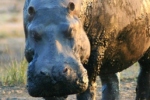 (06/28/2010) A new study in Tropical Conservation Science highlights the need for further conservation actions to save one of West Africa's last hippo populations, located in southern Burkina Faso. Researchers surveyed 41 hippos in the 'Mare aux Hippopotames' Biosphere Reserve of Burkina Faso in 2008, up by six individuals since 2006, but down from a population of 68 in 1985. The hippos (Hippopotamus amphibious) remain threatened by possible conflict with locals and the fact that a number of their ponds are outside the protected area.
Inga alley cropping: a sustainable alternative to slash and burn agriculture

(06/14/2010) It has been estimated that as many as 300 million farmers in tropical countries may take part in slash and burn agriculture. A practice that is environmentally destructive and ultimately unstable. However, research funded by the EEC and carried out in Costa Rica in the late 1980s and early 1990s by Mike Hands offers hope that it is possible to farm more successfully and sustainably in these tropical regions.
Massive forest carbon scam alleged in Liberia

(06/10/2010) Liberian President Ellen Johnson Sirleaf established a commission investigate a proposed forest carbon credit deal between the West African nation's Forest Development Authority (FDA) and UK-based Carbon Harvesting Corporation, reports Global Witness, an NGO that originally raised concerns about the scheme, which aimed to secure around a fifth of Liberia's total forest area — 400,000 hectares — in a forest carbon concession.
Gabon bans log exports

(06/07/2010) On May 15th the West African nation of Gabon implemented a total ban on log exports. According to the International Timber Trade Organization (ITTO) the ban has been efficiently enforced to date and log exports from Gabon have "completely halted".
Cameroon agrees to cut illegal wood out of its supply chain

(05/10/2010) One of Africa's largest exporters of tropical hardwoods, Cameroon, has announced today a trade agreement with the European Union (EU) to rid all illegal wood from its supply chain to the EU and worldwide. Cameroon signed a legally-binding Voluntary Partnership Agreement (VPA) that will cover all wood products produced in Cameroon.
Food crisis in Niger occurring "out of the public eye"

(04/26/2010) The West African nation of Niger is facing an increasingly alarming food crisis as the UN announced it would double the number of people it was feeding today despite continuing budget shortfalls in its World Food Program (WFP). Failing rains have caused crop yields in Niger to decline, while food prices are rising and livestock prices falling. Officials say these trends have created a perfect-storm for a crisis in Niger, which according to Amadou Sayo from CARE International, is occurring "out of the public eye."
How free trade has devastated Africa's farmers and poor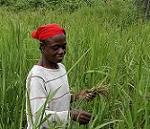 (02/15/2010) A push in the mid-1980s for Africa to embrace free trade to aid its economies backfired in many of the continent's poorest countries, argues a new study in the Proceedings of the National Academy of Sciences (PNAS). Africa was pushed to rollback government involvement in development and instead to rely on the private sector: government services shrunk, cash crops were pushed over staples, while tariffs and subsides were abolished. The insistence on free trade was meant to spur economic growth, but instead undercut traditional agricultural systems that had worked for centuries, eventually leading to a food crisis, which left millions hungry, caused multiple food riots, and destabilized governments.
Pygmy hippo shot and killed in…Australia

(11/17/2009) Hunters going after pigs in Australia's Northwest Territories got a big surprise when they shot an animal they mistook for a pig, only to find out it was a pygmy hippopotamus, reports the Northwest Territory News.
Drought threatens rare desert elephants

(05/21/2009) The worst drought in 26 years is threatening a rare herd of desert elephants in the West African country of Mail, warns the conservation organization Save the Elephants. The herd of 350-450 desert elephants live in the Gourma district of Mali,resting in the Sahel belt that separates the Saharan desert from the Sudan.
Scientists find world's largest leatherback sea turtle population in Gabon
(05/17/2009) Scientists have found the world's largest population of nesting leatherback sea turtles. On the beaches of Gabon in West Africa land and air surveys estimated the small country's leatherback population to be between 15,730 and 41,373 individual females. The findings are published in Biological Conservation. Leatherback sea turtles are currently considered critically endangered by the IUCN, however these new numbers may cause marine biologists to reconsider that ranking.
Chimpanzee population plummets 90 percent in supposedly strong region

(05/06/2009) Chimp populations continue to decline in Africa. A new survey of our closest relatives in the Cote D'Ivoire found that the population fell from an estimated 8,000 to 12,000 individuals to a paltry 800 to 1,200, a decline that took place in less than twenty years.
River systems worldwide are losing water due to global warming

(04/22/2009) Many rivers around the world are losing water due to global climate change, according to a new study from the American Meteorological Society's Journal of Climate. Large populations depend on some of the rivers for everything from agriculture to clean drinking resources, including the Yellow River, the Ganges, the Niger, and the Colorado, which have all shown significant declines.
Gabonese environmental activist receives prize for standing up to government, Chinese company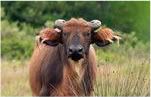 (04/20/2009) Marc Ona Essangui is a beloved environmental leader in his native Gabon, however by winning the prestigious Goldman Environmental Prize he is now being introduced to a larger audience: the world. Essangui received the prize for exposing unsavory truths about a deal between the Gabon government and a Chinese company, CMEC, to mine for iron ore in the Congo rainforest, the world's second largest tropical forest. The Belinga mine is a $3.5 billion project that also includes a hydroelectric dam, which will flood traditional lands and destroy what is considered the most beautiful waterfall in the forests of equatorial Africa. The Kongou Falls is located in the Ivindo National Park.
Droughts lasting centuries in West Africa are commonplace
(04/16/2009) New evidence shows that sub-Saharan West Africa has experienced megadroughts in recent history lasting hundreds of years, far worse than the Sahel drought of the 1970s and 80s which left 100,000 dead. To uncover West Africa's past drought patterns, researchers compiled a year-by-year record of the last 3,000 years of climate in West Africa by looking at annually-occurring layers of sediment in Lake Bosumtwi in Ghana.
Dedicated rock-throwing chimp proves longterm planning

(03/10/2009) Biologists have suspected for a long time that animals other than humans are capable of making plans for future events, but it has proven difficult to show conclusively. However, a new study in Current Biology claims the first unambiguous evidence of an animal premeditating. Mathias Osvath of Lund University in Sweden has spent a decade observing a male chimpanzee in a zoo collecting stones, making them into concrete discs, and then throwing them at zoo visitors.
All about giraffes: an interview with a giraffe expert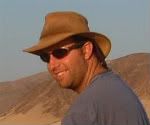 (03/09/2009) Dr. Julian Fennessy probably knows the giraffe better than anyone. Trekking across savannah, forest, and the deserts of Africa, Fennessy is collecting genetic samples of distinct giraffe populations and overturning common wisdom regarding their taxonomies. It had long been accepted knowledge that the giraffe was made up of one species and several subspecies, however with Fennessy's work it now appears that several of the subspecies may in fact be distinct species. Such discoveries could have large conservation impacts, since conservation funds and efforts are largely devoted to species. The giraffe has suffered significant declines in the past decade with the total population dropping some 30 percent across Africa.
Photos: Rarest cheetah photographed for the first time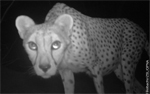 (02/23/2009) With only 250 individuals left the Saharan Cheetah is on the brink of extinction. Little-studied, this imperiled subspecies has been photographed for the fist time by scientists from by the Zoological Society of London (ZSL) and Office du Parc National de l'Ahaggar (OPNA) using camera traps. "The Saharan cheetah is critically endangered, yet virtually nothing is known about the population, so this new evidence, and the ongoing research work, is hugely significant," said Dr Sarah Durant, a Senior Research Fellow with ZSL.




Page 1 | Page 2