News articles on Venezuela

---
Mongabay.com news articles on Venezuela in blog format. Updated regularly.






New bird uncovered in South American conflict region, researchers urge protection
(05/28/2015) For many years, study skins of a bird languished in a dusty drawer in the Smithsonian Institution National Museum of Natural History, classified hurriedly (and erroneously,) as Scytalopus atratus nigricans, a songbird found in lower montane forests. Recently, scientists rediscovered the bird on the Venezuelan slopes of the Perijá Mountains, and were able to use twenty-first century techniques to describe its genetics, ecology and appearance. In doing so, they identified it as a new species: the Perijá tapaculo.
62M ha of Latin American forests cleared for agriculture since 2001
(05/19/2015) Over 62 million hectares (240,000 square miles) of forest across Latin America — an area roughly the size of Texas or the United Kingdom — were cleared for new croplands and pastureland between 2001 and 2013, find a study published in Environmental Research Letters.
What's the current deforestation rate in the Amazon rainforest?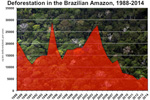 (05/15/2015) Nearly two-thirds of the Amazon rainforest is located in Brazil, making it the biggest component in the region's deforestation rate. Helpfully, Brazil also has the best systems for tracking deforestation, with the government and Imazon, a national civil society organization, releasing updates on a quarterly and monthly basis using MODIS satellite data, respectively. Both the Brazilian government and Imazon release more accurate data on an annual basis using higher resolution Landsat satellite imagery.
Colombia proposes protected corridor across South America
(03/03/2015) Colombian President Juan Manuel Santos has announced plans to create the world's largest protected area, stretching from the Atlantic Ocean to the Andes Mountains. Santos plans to propose the protected environmental corridor during the UN climate talks in Paris later this year as a means to combat global warming.
Rainforest loss increased in the 2000s, concludes new analysis
(02/25/2015) Loss of tropical forests accelerated roughly 60 percent during the 2000s, argues a paper published in the journal Geophysical Research Letters. The findings contradict previous research suggesting that deforestation slowed since the 1990s. The study is based on a map of 1990 forest cover developed last year by Do-Hyung Kim and colleagues from the University of Maryland. The map, which includes 34 countries that contain 80 percent of the world's tropical forests, enabled the researchers to establish a consistent baseline for tracking forest cover change across regions and countries over time.
Gold mining expanding rapidly along Guiana Shield, threatening forests, water, wildlife
(10/22/2014) Gold mining is on the rise in the Guiana Shield, a geographic region of South America that holds one of the world's largest undisturbed tract of rainforest. A new mapping technology using a radar and optical imaging combination has detected a significant increase in mining since 2000, threatening the region's forests and water quality.
Outcompeted: Species competition may result in geographic isolation
(10/03/2014) Scientists have long believed that gene flow and species dispersal is only interrupted by physical barriers, like mountain ranges, rivers or even the complete disappearance of a suitable habitat. But new research into the distribution of two mouse opossum species in South America suggests that other factors may play a role as well, such as competition and predation.
Invasion of the lionfish: new research finds the situation may be worse than we thought
(08/27/2014) You may have recently read the controversial story on invasive lionfish research involving Dr. Zack Jud of Florida International University and a young girl named Lauren Arrington. While the issue of attribution in scientific research is crucial to the discipline, much of the media focus so far has sidestepped the real issue: what lionfish tolerance for brackish water really means for the environment.
How do we save the world's vanishing old-growth forests?
(08/26/2014) There's nothing in the world like a primary forest, which has never been industrially logged or cleared by humans. They are often described as cathedral-like, due to pillar-like trees and carpet-like undergrowth. Yet, the world's primary forests—also known as old-growth forests—are falling every year, and policy-makers are not doing enough to stop it.
Satellites reveal browning mountain forests
(11/22/2013) In a dramatic response to global warming, tropical forests in the high elevation areas of five continents have been "browning" since the 1990s. They have been steadily losing foliage, and showing less photosynthetic activity. Scientists analyzed the forest cover by using satellites to measure sunlight bouncing off the surface of the earth, then determining the different surface types via reflection patterns.
Scientists identify 137 protected areas most important for preserving biodiversity
(11/14/2013) Want to save the world's biodiversity from mass extinction? Then make certain to safeguard the 74 sites identified today in a new study in Science. Evaluating 173,000 terrestrial protected areas, scientists pulled out the most important ones for global biodiversity based on the number of threatened mammals, birds, and amphibians found in the parks. In all they identified 137 protected areas (spread over 74 sites as many protected areas were in the same region) in 34 countries as 'irreplaceable.'
Deforestation rates for Amazon countries outside Brazil
(06/26/2013) Deforestation has sharply increased in Amazon countries outside of Brazil, finds a new analysis based on satellite data. Using data from Terra-i, O-Eco's InfoAmazonia team has developed updated forest cover maps for Bolivia, Colombia, Ecuador, Guyana, French Guyana, Peru, Suriname and Venezuela. The results reveal an increasing trend in forest clearing since 2004.
First strike: nearly 200 illegal loggers arrested in massive sting across 12 countries

(02/20/2013) One-hundred-and-ninety-seven illegal loggers across a dozen Central and South American countries have been arrested during INTERPOL's first strike against widespread forestry crime. INTERPOL, or The International Criminal Police Organization, worked with local police forces to take a first crack at illegal logging. In all the effort, known as Operation Lead, resulted in the seizure of 50,000 cubic meters of wood worth around $8 million.
Deforestation rate falls across Amazon rainforest countries
(12/06/2012) The average annual rate of deforestation across Amazon rainforest countries dropped sharply in the second half of the 2000s, reports a comprehensive new assessment of the region's forest cover and drivers of deforestation. While the drop in deforestation in the Brazilian Amazon has been widely reported, several other Amazon countries saw their rates of forest loss drop as well, according to the report, which was published by a coalition of 11 Latin American civil society groups and research institutions that form the Amazonian Network of Georeferenced Socio-Environmental Information (RAISG).
New forest map shows 6% of Amazon deforested between 2000 and 2010
(09/21/2012) An update to one of the most comprehensive maps of the Amazon basin shows that forest cover across the world's largest rainforest declined by about six percent between 2000 and 2010. But the map also reveals hopeful signs that recognition of protected areas and native lands across the eight countries and one department that make up the Amazon is improving, with conservation and indigenous territories now covering nearly half of its land mass.
Survivors say gold miners in helicopter massacred village of 80 in Venezuelan Amazon
(08/30/2012) Up to 80 people have been massacred by gold miners in the remote Venezuelan Amazon, according to reports received by the indigenous-rights group, Survival International. According to Reuters, the reports have prompted the Venezuelan government to investigate the alleged murders of the Yanomami isolated community. According to three indigenous survivors, sometime in July a helicopter and what-are-believed to be illegal goldminers massacred the Yanomami community of Irotatheri.
Unidentified poodle moth takes Internet by storm
(08/29/2012) A white moth from Venezuela that bears a striking resemblance to a poodle has become an Internet sensation, after cryptozoologist Karl Shuker posted about the bizarre-looking species on his blog. Photographed in 2009 in Venezulea's Canaima National Park in the Gran Sabana region by zoologist Arthur Anker from Kyrgyzstan, the white, cuddly-looking moth with massive black eyes has yet to be identified and could be a species still unknown to science.
Cowards at Rio?: organizations decry 'pathetic' agreement
(06/20/2012) As world leaders head to Rio de Janeiro for the UN Summit on Sustainable Development, environmental and poverty groups are denouncing the last-minute text agreed on by dignitaries as "pathetic," (Greenpeace), a "damp squib" (Friends of the Earth), "a dead end" (Oxfam), and, if nothing changes, "a colossal waste of time" (WWF). "We were promised the 'future we want' but are now being presented with a 'common vision' of a polluter's charter that will cook the planet, empty the oceans and wreck the rain forests," the head of Greenpeace, Kumi Naidoo, said. "This is not a foundation on which to grow economies or pull people out of poverty, it's the last will and testament of a destructive twentieth century development model."
Photo of the Day: Critically Endangered brown spider monkey discovered in park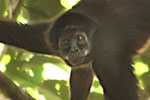 (01/26/2012) Researchers with The Wildlife Conservation Society (WCS) and Colombia's National Parks Unit have located at least two individuals of brown-spider monkey (Ateles hybridus) in Colombia's Selva de Florencia National Park. The discovery is important because its the only known population of this particular subspecies (Ateles hybridus brunneus) in a protected area.
Cultural erosion among indigenous groups in Venezuela brings new risks for Caura rainforest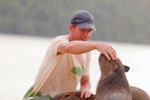 (11/14/2011) One of the planet's most beautiful landscapes is in danger. Deep in southern Venezuela, among ancient forested tabletop mountains known as tepuis, crystalline rivers, and breathtaking waterfalls, outside influences — malaria, the high price of gold, commercial hunting, and cultural erosion — are threatening one of world's largest remaining blocks of wilderness, one that is home to indigenous people and strikingly high levels of biological diversity.
Amazon still neglected by researchers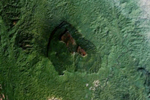 (03/28/2011) Although the Amazon is the world's largest tropical forest, it is not the most well known. Given the difficulty of access along with the fear of disease, dangerous species, indigenous groups, among other perceived perils, this great treasure chest of biology and ecology was practically ignored by scientists for centuries. Over the past few decades that trend has changed, however even today the Amazon remains lesser known than the much smaller, and more secure, tropical forests of Central America. A new study in mongabay.com's open access journal Tropical Conservation Science, which surveyed two prominent international tropical ecology journals (Biotropica and Journal of Tropical Ecology) between 1995 and 2008, finds that Central America was the subject of twice as many studies as the Amazon. In fact, according to the authors, much of the Amazon remains terra incognito to researchers, even as every year more of the rainforest is lost to human impacts.
Italy and Panama continue illegal fishing, says new report

(01/15/2011) On Wednesday, the National Oceanic and Atmospheric Administration (NOAA) issued its biennial report identifying six countries whose fisheries have been engaged in illegal, unreported, or unregulated (IUU) fishing during the past two years. The report comes at a time when one-fifth of reported fish catches worldwide are caught illegally and commercial fishing has led to a global fish stock overexploitation of an estimated 80 percent.
Epidemic hits Amazonian indigenous group

(10/31/2010) An epidemic, suspected to be malaria, has struck down dozens of people of the Yanomami tribe in the Venezuelan Amazon, reports the Associated Press. Leaders of the three impacted village told health workers that approximately 50 people have died so far, many of them children.
Photos: world's top ten 'lost frogs'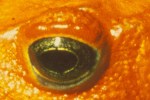 (08/09/2010) The International Union for the Conservation of Nature (IUCN) and Conservation International (CI) have sent teams of researchers to 14 countries on five continents to search for the world's lost frogs. These are amphibian species that have not been seen for years—in some cases even up to a century—but may still survive in the wild. Amphibians worldwide are currently undergoing an extinction crisis. While amphibians struggle to survive against habitat loss, climate change, pollution, and overexploitation, they are also being wiped out by a fungal disease known as chytridiomycosis.
Left Must Fine Tune Its Position on Cuba Embargo in Light of Oil Spill

(05/26/2010) With no end in sight to the environmental catastrophe in the Gulf of Mexico, some may wonder whether BP's spill could become truly international in scope. That, at least, is the fear in Cuba where people are worried that strong currents could carry the slick to pristine white beaches along the island's northern coast. In a rare moment of cooperation underscoring the grave seriousness posed by the BP spill, the U.S. and Cuban governments have been holding talks on the matter.
BP and the Perilous Voyage of Bama the Manatee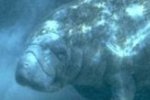 (05/23/2010) To the degree that Americans are paying attention to the environmental plight of marine wildlife in the Gulf of Mexico, they may focus most upon dolphins and whales. However, the U.S. public is much less familiar with another marine mammal, the manatee, which could also be placed in jeopardy as a result of the BP oil spill. One of the most outlandish creatures on the planet, the shy and retiring manatee, which gets its name from an American Indian word meaning "Lady of the Water", is one of my favorite animals.
Colombia's Next President: A Renovation for the South American Left?

(05/17/2010) Mired in populist demagoguery and environmentally-unfriendly resource extraction, the South American left is in dire need of ideological renovation. But, where is the likely inspiration to come from? You could not pick a more unlikely candidate than Colombia, a key U.S. ally in the region. And yet, if recent polls are correct, the Green Party could be cruising toward electoral victory in the troubled Andean nation and is currently poised to capture the presidency.
The Oily History of Offshore Operations: From Venezuela to the Gulf

(05/01/2010) Though undoubtedly shocking and disconcerting, the recent BP oil spill in the Gulf of Mexico is hardly the first incident of its kind in the region. Indeed, as I watched the footage of the ominous oil spill approaching the ecologically sensitive coast of Louisiana, I was struck with a profound sense of déjà vu. Long ago, while researching my dissertation on the environmental history of the petroleum industry in Venezuela, I combed through archives and libraries in the U.S., Britain and South America to uncover the oil companies' sordid past. Starting in the 1920s, American and British subsidiaries of Standard Oil of New Jersey, Gulf and Royal Dutch Shell turned environmentally pristine Lake Maracaibo, which empties out into the Gulf of Venezuela and the Caribbean, into toxic sludge
Half a trillion spent on fossil fuel subsidies mostly "a complete waste of money"

(04/22/2010) Despite a warming planet linked to the burning of fossil fuels, governments around the world still spend 500 billion US dollars a year subsidizing fossil fuel industries. A new study from the Global Subsidies Initiative (GSI) of the International Institute for Sustainable Development looks at the difficult political situation behind ending fossil fuel subsidies.
El Niño in Venezuela: Hugo Chávez's "Katrina" Moment?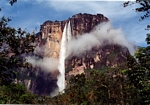 (03/22/2010) Venezuelan President Hugo Chávez has been in power for more than ten years, during which time he has deflected numerous electoral challenges, a recall effort, a coup d'etat and even an oil lock out. A politically adroit statesman, he has demonstrated enormous staying power throughout all these political crises. Yet, Chávez's luck may have finally run out: a devastating El Niño-linked drought has recently ravaged Venezuela and the government has been forced to undertake conservation measures for water and electricity. Hardly amused, some are holding Chávez responsible for the energy crunch and the drought could exact a heavy toll on the Venezuelan president in September's legislative elections.
Savior of endangered crocodiles dies of malaria

(02/25/2010) Crocodile-expert and conservationist, Dr. John Thorbjarnarson, died of falciparum malaria in India on February 14th at the age of fifty-two. While many conservationists work with publicly popular animals like tigers and whales, Thorbjarnarson's passion was for crocodiles. A Senior Conservation Scientist with the Wildlife Conservation Society (WCS), Thorbjarnarson proved instrumental in saving both the Orinoco crocodile and the Chinese crocodile from extinction.
Copenhagen Climate Summit: Hugo Chávez is an Inappropriate Environmental Messenger

(12/17/2009) Like him or not, one thing is for sure: the flamboyant Hugo Chávez has never shied away from the limelight. I was therefore somewhat surprised to read some initial press accounts suggesting that the Venezuelan leader might stay away from the United Nations climate summit being held in Copenhagen, Denmark. "If it's to go and waste time, it's better I don't go," he said. "If everything is already cooked up by the big [nations], then forget it." Chávez however hinted that he might change his mind if ALBA nations could reach some type of common position towards the Copenhagen summit. ALBA, an initiative designed to facilitate trade and reciprocity amongst like minded progressive regimes in Latin America, has taken up the issue of climate justice as of late. Two months ago Bolivian President and ALBA ally Evo Morales called for the creation of an actual climate justice tribunal. The Global North, Morales said, should indemnify poor nations for the ravages of climate change.
Protecting watersheds secures freshwater and saves billions of dollars

(03/19/2009) The World Water Forum brings together 25,000 experts this week in Istanbul, Turkey to discuss the water challenges facing a growing world. According to a compilation of case studies by the International Union for Conservation of Nature (IUCN), which is sponsoring the event, one of the simplest and least expensive ways to have ample water for a growing human population is to protect watersheds. Not only do protected watersheds provide clean and easy-access water for many of the world's largest cities, their protection also saves billions of dollars.
Payments for eco services could save the Amazon

(02/12/2009) Paying for the ecological services provided by the Amazon rainforest could be the key to saving it, reports a new analysis from WWF. The study, Keeping the Amazon forests standing: a matter of values, tallied the economic value of various ecosystem services afforded by Earth's largest rainforest. It found that standing forest is worth, at minimum, $426 per hectare per year.
Time is running out for French Guiana's rainforests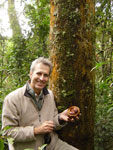 (12/19/2006) Understanding relationships between plants and animals is key to understanding rainforest ecology. Dr. Pierre-Michel Forget of the Museum National d'Histoire Naturelle in France is a renowned expert on the interdependency between rainforest trees and seed disperses. Author of dozens of papers on tropical forest ecology, Dr Forget is increasingly concerned about deforestation and biodiversity loss in forests of the Guiana Shield region of Northern South America. In particular he sees the invasion of informal gold miners, known as garimpeiros, as a significant threat to forests in French Guiana, Suriname, Guyana and Venezuela.
Mining in Venezuelan Amazon threatens biodiversity, indigenous people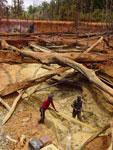 (11/09/2006) Troubles are mounting in one of Earth's most beautiful landscapes. Deep in the Venezuelan Amazon, among ancient forested tabletop mountains known as tepuis, crystalline rivers, and breathtaking waterfalls, illegal gold miners are threatening one of world's largest remaining blocks of wilderness, one that is home to indigenous people and strikingly high levels of biological diversity. As the situation worsens -- a series of attacks have counted both miners and indigenous people as victims -- a leading scientific organization has called for the Venezuelan government to take action.
Forest restoration important in Guyana

(05/01/2006) Located on the northern edge of South America, bordered by Suriname, Brazil, Venezuela, and the Atlantic Ocean, lays a small but vibrant country with a wealth of culture, biodiversity and opportunity. During the week of 13-17 March 2006, representatives from Guyanese government departments, civil society and indigenous peoples' organizations met in the capital city, Georgetown, with the World conservation Union (IUCN) and the International Tropical Timber Organization at a national workshop on Forest Landscape Restoration (FLR). The workshop introduced the concept of FLR with the intention of better understanding how it may be applied in the Guyana context.
Does tropical biodiversity increase during global warming?

(03/30/2006) Forest fragmentation may cause biodiversity loss lasting millions of years according to a new study published in the March 31, 2006 issue of the journal Science. Using cores drilled through 5 kilometers of rock in eastern Colombia and western Venezuela, Carlos Jaramillo of the Smithsonian Tropical Research Institute (STRI) in Panama and a team of researchers derived a fossil pollen record for a 72 million-year period with samples ranging from 10 to 82 million years ago.
Venezuela plans 5000-mile pipeline across Amazon rain forest

(01/25/2006) Hugo Chavez, Venezuela's president, announced a plan to build a massive gas pipeline that would carry natural gas from the oil rich state 5,000 miles south. Environmentalists fear that the project could damage the Amazon rain forest by polluting waterways and creating roads that would attract developers and poor farmers, while analysts question the wisdom and viability of the plan which may cost $20-50 billion depending on who makes the estimate.