News articles on Travel

---
Mongabay.com news articles on Travel in blog format. Updated regularly.






Can we save the Sumatran rhino? Indonesia holds out hope
(06/19/2015) 'One percent of the world's population,' veterinarian Zulfi Arsan says as he nods towards Bina, a 714-kilogram, 30-year-old female Sumatran rhinoceros leisurely crunching branches whole. A gentle and easygoing rhino, pink-hued Bina doesn't seem to mind the two-legged hominids snapping pictures and awing at her every move at the Sumatran Rhino Sanctuary.
Photo essay: the flying fox show
(04/22/2015) Rain or clear, wind or still, full moon or no. Every night thousands of flying foxes rise from a small mangrove island among the lesser Sunda islands of Indonesia. Around sunset the Sunda flying fox begin to stir in their roots—their stomachs waking them—until the boldest among them takes off into the sky.
Stuff of fairy tales: stepping into Europe's last old-growth forest
(07/09/2014) There is almost nothing left of Europe's famed forests, those that provided for human communities for millennia and gave life to the world's most famous fairytales. But straddling the border between Poland and Belarus, the Bialowieza Forest is Europe's last lowland old-growth forest, parts of which have never been cut by man.
Two kids, one year, from the Amazon to the Arctic: the environmental adventure of a lifetime
(02/19/2014) The Kraft family—Larry, Lauri, Jamie (age 8), and Jason (age 6)—are on the trip of a lifetime, a round-the-world tour with an environmental focus. Currently in India, the family has already made their way through the Amazon, Vietnam, Costa Rica, Australia, and the Galapagos, among other wild places. Still left on their itinerary: the Arctic. But the trip isn't all fun and games, instead the Kraft's are using the year abroad to learn first hand about global environmental issues and solutions.
Mammal-watching: one man's obsession to see the world's mammals
(10/16/2013) There are more than 5,000 different mammal species across the globe, but with this number being dwarfed by the 10,000 bird species, it is little wonder that bird-watching has become the most common wildlife watching hobby in the world. While there are thousands of websites dedicated to ornithology enthusiasts, with information detailing the best places to see particular species and how to find them, similar resources about mammals remain scarce.
Meeting the mammal that survived the dinosaurs
(10/14/2013) So, here I am, running in a forest at night over 2,000 miles from home. This forest—dry, stout, and thorny enough to draw blood—lies just a few miles north of a rural town in the western edge of the Dominican Republic on the border with Haiti. I'm following—or trying to keep pace with—a local hunter and guide as we search for one of the world's most bizarre mammals. It's an animal few people have heard of, let alone actually seen; even most Dominicans don't readily recognize its name or picture. But I've been obsessed with it for six years: it's called a "solenodon," more accurately the Hispaniolan solenodon or its (quite appropriate) scientific name, Solenodon paradoxus.
Luxury nature travel with a philanthropic twist
(05/23/2013) A hundred years ago, nature-oriented travel to places like tropical Africa and Asia was often associated with big game hunting. Today cameras have mostly replaced guns as nature-lovers travel to the far-reaches of the globe to see wildlife, experience rugged mountains, and explore remote beaches. But nature-based travel isn't necessarily ecotourism — there can be detrimental social and environmental impacts from tourism. While most people associate these problems with mass-market tourism, they can also result from low-volume, high-end travel that fails to respect local customs, supports abusive practices, or encourages wantonly wasteful resource consumption.
Letting nature do the talking this Earth Day (pictures)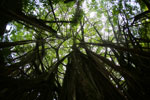 (04/22/2013) Instead of writing a special article for this Earth Day, we are instead letting nature's beauty do the talking. The photos below were taken by the Mongabay.com team — Rhett Butler, Jeremy Hance, and Tiffany Roufs — in the twelve months since Earth Day 2012. Countries in this set include the United States (California and Hawaii), Dominican Republic, Brazil, Malaysia (Sabah), and Indonesia (Kalimantan and Sumatra).
Hate flying? climate change will make it even rougher
(04/10/2013) Climate change will lead to bumpier flights caused by increased mid-air turbulence, according to an analysis by scientists of the impact of global warming on weather systems over the next four decades. The increasing air turbulence results from the impact of climate change on the jet streams, the fast, mile-wide winds that whistle round the planet at the same altitude as airliners. The shifting of the jet stream over Europe has also been blamed for the UK's wash-out summer in 2012 and frozen spring this year.
Into the unknown mountains of Cambodia: rare birds, rice wine, and talk of tigers
(03/14/2013) Ringed with forested mountains forming the borders with Laos and Vietnam, the northeast corner of Cambodia has been an intriguing blank spot among my extensive travels through the country. Nestled up against this frontier is Virachey National Park, created in 1993. I began searching for a way to explore this area a couple of years ago, hoping to connect with conservation NGOs to get me into the park; no one seemed to know much about it. I learned that the area had been written off by these groups due to massive land concessions given to logging and rubber concerns. The World Bank abandoned its 8-year effort to create a management scheme for Virachey after the concessions were granted in 2007. A moratorium on the concessions is temporarily in place, but illegal logging incursions into the park continue.
Warlords, sorcery, and wildlife: an environmental artist ventures into the Congo
(02/25/2013) Last year, Roger Peet, an American artist, traveled to the Democratic Republic of Congo (DRC) to visit one of the world's most remote and wild forests. Peet spent three months in a region that is largely unknown to the outside world, but where a group of conservationists, headed by Terese and John Hart, are working diligently to create a new national park, known as Lomami. Here, the printmaker met a local warlord, discovered a downed plane, and designed a tomb for a wildlife ranger killed by disease, in addition to seeing some of the region's astounding wildlife. Notably, the burgeoning Lomami National Park is home to the world's newest monkey species, only announced by scientists last September.
Jaguars, tapirs, oh my!: Amazon explorer films shocking wildlife bonanza in threatened forest
(02/19/2013) Watching a new video by Amazon explorer, Paul Rosolie, one feels transported into a hidden world of stalking jaguars, heavyweight tapirs, and daylight-wandering giant armadillos. This is the Amazon as one imagines it as a child: still full of wild things. In just four weeks at a single colpa (or clay lick where mammals and birds gather) on the lower Las Piedras River, Rosolie and his team captured 30 Amazonian species on video, including seven imperiled species. However, the very spot Rosolie and his team filmed is under threat: the lower Las Piedras River is being infiltrated by loggers, miners, and farmers following the construction of the Trans-Amazon highway.
Beyond the resorts: traveling the real and wild Dominican Republic (photos)
(01/29/2013) For its stunning variety of ecosystems, the Dominican Republic is like a continent squished into half an island. Lowland rainforests, cloud forests, pine forests, dry forests, mangroves, savannah, coastal lagoons, salt lakes, a rift valley, karst land formations, four mountain ranges—including the highest mountain in the Caribbean—and not to mention some of the best beaches, snorkeling, and scuba diving in the hemisphere can all be reached within just a few hours drive of the capital, Santo Domingo. Yet, bizarrely, most tourists who visit the Dominican Republic never venture out of their all-inclusive resort, missing out on some of the most stunning landscapes—and accessible wildlife viewing—in the Caribbean.
Burma: slowly opening its doors

(08/21/2012) As a 'road junky', I know what you're thinking: 'Burma is reforming so quickly, let's rush off to Burma before tourists snatch up all its unspoiled beauty!' I had the same idea, and after an incredible trip to Burma, I have to say that I was right. However, I must tell you that traveling in Burma is both rewarding and challenging. In Burma, I found myself spending a day in Bagan being driven from majestic temple to majestic temple by a betel-chewing, elementary-school-aged, driver who took the horse cart right through a plowed and planted field on the way to Sule Pagoda where I watched the sunset of a lifetime. I found myself in awe of the red-brick stupas, colorful frescoes, pastoral simplicity, and peace found in off-season induced solitude amongst some of the ruins. Still, in spite of these wonderful experiences, I also found that my optimism over the country's recent transformation was sometimes tempered by evidence of its tumultuous past.
The vanishing Niger River imperils tourism and livelihoods in the desert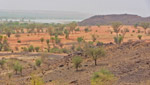 (06/04/2012) Severely affected by recent turmoil across its northern frontiers, Nigerien tourism pins hope on river valley attractions to play a major role in rebuilding its tourism industry in the upcoming years. Even though the river itself is threatened. Located in the heart of the Sahel Region, the vast desert lands of Niger have captivated European tourists seeking a taste of its immensely varied natural landscapes.
Exploring Asia's lost world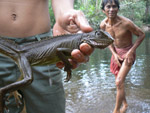 (05/03/2012) Abandoned by NGOs and the World Bank, carved out for rubber plantations and mining by the Cambodian government, spiraling into a chaos of poaching and illegal logging, and full of endangered species and never-explored places, Virachey National Park may be the world's greatest park that has been written off by the international community. But a new book by explorer and PhD student, Greg McCann, hopes to change that. Entitled Called Away by a Mountain Spirit: Journey to the Green Corridor, the book highlights expeditions by McCann into parts of Virachey that have rarely been seen by outsiders and have never been explored scientifically, including rare grasslands that once housed herds of Asian elephants, guar, and Sambar deer, before poachers drove them into hiding, and faraway mountains with rumors of tigers and mainland Javan rhinos.
Hugh Powell: birds lend invaluable insight into ecosystems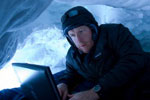 (01/23/2012) Hugh Powell is science editor at the Cornell Lab of Ornithology as well as a contributor to Woods Hole Oceanographic Institution's Oceanus and other publications. He's traveled extensively while writing, including stints in Antarctica for WHOI's Live from the Poles. Before finding his niche as a science writer, Hugh studied the interconnections between black-backed woodpeckers, insects, and forest fires in Montana. He currently resides in Ithaca, New York.
How do tourists view the Serengeti?

(06/27/2011) Serengeti National Park in Tanzania, an immense expanse of East African savanna, is a world famous tourist destination because of its plentiful megafauna, particularly the great migrating herds of wildebeest. Yet despite huge visitor numbers and the annual revenue of millions of US dollars, local poverty and increasing population continue to imperil the reserve. A new study in mongabay.com's open-access journal Tropical Conservation Science found that while tourists to the Serengeti overall report a high degree of satisfaction with their trip, they are concerned about the future of the ecosystem.
Distressed Place and Faded Grace in North Sulawesi
(05/10/2011) The Nantu Wildlife Reserve is located in northern Sulawesi's Minehasa Peninsula, in Gorontalo Province. Sulawesi is among the largest of Indonesia's some seventeen thousand islands. Its shape is bizarre: a sinuous sprawling monkey, with lavish tail, poised to leap the straits of Makassar. Sulawesi lies to the north of Bali and Lombok and to the east of Borneo. Alfred Russell Wallace, the nineteenth century English explorer and natural scientist of broad expertise, spent a lot of time in Sulawesi's northern peninsula, casting his curiosity and observation with such singular acuity that his mind apprehended "Darwin's theory of evolution" independently from and possibly before Darwin. His work described the zone of transition between the Asian and Australian zoographic regions and was so accurate and thorough in its logic that today, some one-hundred and fifty years later, the zone is named Wallacea.
Photos: Visiting Gunung Palung in Indonesian Borneo
(03/30/2011) A description of mongabay.com's Rhett Butler's recent visit to Gunung Palung National Park in West Kalimantan, Indonesian Borneo. In my travels in Kalimantan, the forest of Gunung Palung around Cabang Panti ranks among the best. Within 24 hours of arriving I had already seen wild orangutans, red leaf monkeys, gibbons, bearded pigs, a variety of lizards and frogs, a cobra (a little too close for comfort), and an innumerable diversity of insects.
Into Colombia's Sierra Nevada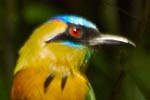 (03/11/2011) The highest coastal mountain on the planet rises 18,942 feet (5,775-meters) above the Caribbean Sea; it's snow-capped peaks piercing through the clouds some 24 miles from an idyllic tropical beach. But to the casual visitor, the Sierra Nevada of Santa Marta in Colombia does not seem so grandiose. It slopes up and down until it disappears into the clouds, jealously concealing its tropical glacier. Somewhere up there, shrouded in mystery, like an ancient treasure, hides the most impressive summit in the Caribbean. People living along this part of the coastline say the snows of the Sierra are visible from some beaches, but to me they remain elusive even after many trips to the region. To catch a glimpse of the snows from the Caribbean would be a welcoming gift, but I have really come here to experience the Sierra, whatever it would reveal.
Paradise & Paradox: a semester in Ecuador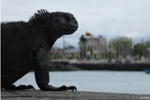 (02/02/2011) A semester abroad is an opportunity to live a sort of compacted life. In a few short months you seem to gain the experience of a much longer time and make enough memories to fill years. I recall a weeklong trip to the Alvord Desert with a field biology class from Portland Community College: the adventure of living out of a van, conducting research, and experiencing a place with classmates turned colleagues and professors turned friends who knew the desert like the backs of their hands. In that regard, it had a lot in common with my semester in Ecuador, but I can't think of anything that could have prepared me for a four month stay in a small South American country that I knew very little about.
Saving the best for last: a journey into the final phases of orangutan rehabilitation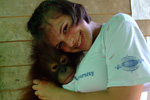 (11/08/2010) Rehabilitation is a powerful word these days. Fashionable, too. In wildlife conservation, rehabilitation can serve functions ranging from augmenting threatened animal populations to desperate attempts to save species from permanent extinction. At its base, rehabilitation consists of handling, preparing and releasing wild animals that have been in some way negatively affected by humans. Rehabilitation programs cover the globe (from cottage-scale sparrow and raccoon rescues in suburban parks to well-established raptor protection programs, wolf rehabilitation and public education about these wild predators in Colorado, semi-touristy rehabilitation centers in Thailand housing everything from gibbons to elephants, vet hospitals dedicated to flu-ridden bobtail lizards in Australia, and sexy lion and cheetah hubs in southern Africa which breed endangered serval cats). The motivations behind these programs are also diverse, but the umbrella goal is unified: to aid the continued survival, so often precarious, of animals valued by people.
The ultimate bike trip: the Amazon rainforest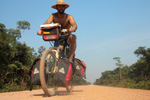 (10/17/2010) Like all commercial roads through rainforests, the 5,300 kilometer long Rodovia Transamazonica (in English, the Trans-Amazonia), brought two things: people and environmental destruction. Opening once-remote areas of the Amazon to both legal and illegal development, farmers, loggers, and miners cut swathes into the forest now easily visible from satellite. But the road has also brought little prosperity: many who live there are far from infrastructure and eek out an impoverished existence in a harsh lonely wilderness. This is not a place even the most adventurous travelers go, yet Doug Gunzelmann not only traveled the entirety of the Transamazonica in 2009, he cycled it. A self-described adventurer, Gunzelmann chose to bike the Transamazonica as a way to test his endurance on a road which only a few before have completed. But Gunzelmann wasn't just out for adrenaline-rushes, he was also deeply interested in the environmental issues related to the Transamazonica. What he found was a story without villains, but only humans—and the Amazon itself—trying to survive in a complex, confusing world.
Yellowstone Country As Seen from the Heart Mountain Trail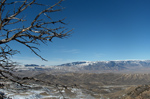 (03/29/2010) Yellowstone National Park in northwest Wyoming has the distinction of being the first of its kind—a federally set-aside space meant for preservation and enjoyment by American and international visitors alike. Its geologic wonders and abundant wildlife attract millions of visitors each year. Some of the best kept secrets of the region, however, lay just outside Yellowstone's borders. About sixty miles to the east of the national park, jutting out from the floor of an otherwise dry and desolate stretch of plain, is Heart Mountain. An extensive ring of mountain ranges encircle the Big Horn Basin, home to towns of Cody, Powell, and Clark, WY. A Japanese internment camp, Heart Mountain Relocation Center, once housed over 11,000 detainees during World War II. Its remnants rest at the foot of the towering rocky surface that shares its name.
Where two worlds collide: visiting Tabin Wildlife Reserve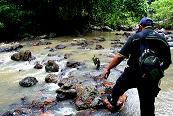 (02/21/2010) The vehicle stopped on the way into Tabin Wildlife Reserve as a troupe of pig-tailed macaques began making their way across the road. In a flash a domestic dog, which may or may not have been 'ownerless', ambushed the group. Chaos erupted as the big predator fell upon the community. As quickly as it began it was all over and the dog was rushing over with an infant monkey in its mouth, leaving the macaques' screeching out their helplessness. As my uncustomary welcome to Tabin Wildlife Reserve shows: the park is a meeting of two worlds. On the left side of the road leading into the reserve is a massive oil palm plantation, on the right is the rainforest and the many species the reserve protects. Tabin, therefore, gives the visitor a unique up-close view of the debate raging in Borneo and throughout much of Southeast Asia over conservation and environment versus oil palm plantations.
Camping in the Okavango Delta in Botswana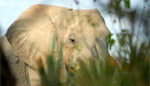 (08/19/2009) The first animal we saw in the Okavango was unmistakable. Although far away, we could easily make it out with its telltale trunk: an African elephant—the world's largest land animal—was striding peaceably through the delta's calm waters. We watched, entranced, from the mokoro, a small boat powered and steered by a local wielding a long pole to push the craft along.
Best Nature Photos of 2008
(12/24/2008) Running mongabay requires the commitment of several full-time jobs but it also offers opportunities to meet remarkable people and visit some interesting and beautiful places. In addition to writing, I try to take pictures during my travels (when possible). Below are 50 or so of my favorite photos from 2008, although there are many I wasn't able to include.
Visiting New Mexico's Crane festival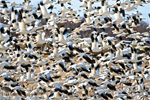 (12/21/2008) It's six in the morning; the Southwest sky is rich in hues of yellow and red, yet despite the warm colors the air is cold and brisk enough that my toes have begun to go numb. We have been waiting nearly a half-hour for the light and warmth of morning to wake-up thousands of cranes and tens of thousands of snow geese. But so far, despite the glimmer growing across the sky, there isn't a bird in sight. Every winter cranes and snow geese migrate from Montana, Idaho, Canada, and Alaska to Bosque del Apache, a National Wildlife Refuge in Central New Mexico. For the past twenty-one years the refuge has celebrated the bird migration with a Festival of the Cranes. People travel from around the state (and country) to see the Southwest skies fill with birds. The festival lasts a week and includes educational stands, social gatherings, tours, hikes, and speakers on natural history and the environment. For this one week the small town of Socorro becomes overrun with birders, scientists, and tourists.
New Costa Rica guide offers insight on responsible tourism

(08/04/2008) Costa Rica is the world's most popular destination for rainforest tourism thanks to its spectacular biodiversity, relative ease-of-access and safety, and many natural attractions. In 2007 nearly 2 million tourists visited the country, generating almost 2 billion in revenue -- more than the combined income from bananas and coffee.
Implementing a butterfly farm: Iwokrama reserve's latest sustainable initiative

(07/20/2008) Iwokrama, which lies in the heart of Guyana's rainforest, is known worldwide for its innovative approach to preserving tropical rainforests and creating livelihoods for local communities. Their focus has been to create programs that utilize the forest sustainably, allowing for a mutual benefit between the people and the forest itself. Currently, Iwokrama has a number of initiatives under its umbrella, including eco-tourism, sustainable forestry, on-going research projects, and training programs. Amid these bustling projects, a new one has emerged: butterfly farming.
Volunteering with Leatherback Sea Turtles in Galibi, Suriname

(07/08/2008) The northern coast of Suriname is one of the best places in the world to view the largest turtle, the marine Leatherback. Watching the turtle rise out of the tides onto the beach gives one the sense of meeting something ancient, rare, and more sea-monster than marine turtle. Yet, if I call it a sea-monster, I do not mean that it is frightening or ugly: far from it. But it is mysterious, terrible, and wondrous.
Advice for your first visit to the rainforest

(03/03/2008) Harry S. Pariser has been writing travel guides and articles for many years now. His most recent guide is Explore Costa Rica which has extensive information about the nation and its rainforests.
Climbing Africa's second highest mountain

(11/05/2007) Mount Kenya, Africa's second highest mountain, is said to be one of the continent's most beautiful hikes. Located less than three hours' drive from Nairobi, Mount Kenya is accessible and makes for a great add-on for fit travelers looking to do more than the standard safari in Kenya.
World's only blue lizard heads toward extinction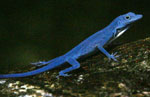 (03/07/2007) High above the forest floor on the remote Colombian island of Gorgona lives a lizard with brilliant blue skin, rivaling the color of the sky. Anolis gorgonae, or the blue anole, is a species so elusive and rare, that scientists have been unable to give even an estimate of its population. Due to the lizard&spod;s isolated habitat and reclusive habits, researchers know little about the blue anole, but are captivated by its stunning coloration.
Ecuadorian brothers show conservation-based microentrepreneurship possible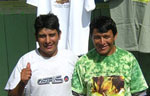 (03/07/2007) Tropical rainforests are declining across most of the world. Since the close of the 1990s deforestation rates have only accelerated as growing levels of consumption and consistent population growth paint an increasingly bleak future for the world's forests and their resident biodiversity. These trends make it easy to lose hope. As such, stories that show local people earning a livelihood from biodiversity conservation are an inspiration.
Hiking through Myanmar, the country better known as Burma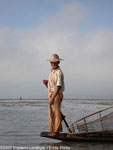 (02/18/2007) The recent history of Myanmar is rather grim. After gaining independence from the British in 1948, the country suffered a series of military takeovers, and has basically been under the dictatorship of a military junta for the past 50 years. At several points during this time, the people have taken to the streets to peacefully protest the military regime. The last major fight for democracy occurred in 1988, and climaxed with the first democratically held election since independence. The National League for Democracy (NLD), spearheaded by the charismatic Aung San Suu Kyi, won by an overwhelming 84% of the vote. Sadly, regardless of their promises, the military junta had no intention of relinquishing their power, and imprisoned the major leaders of the NLD.
Global warming is a threat to fly fishing in the United States
(02/01/2007) An estimated thirty-five million Americans fly fish. George Black is one of them. Black, based in New York City, has written two books on the subject: Casting a Spell: The Bamboo Fly Rod and the American Pursuit of Perfection and The Trout Pool Paradox: The American Lives of Three Rivers. He has also written for the New York Times, the Los Angeles Times, and a number of other publications as well as authoring three books on foreign affairs.
Eco vacationers engage in cutting-edge environmental research

(10/24/2006) There is a species of vacationer who, like me, cannot do what vacationers are meant to do: relax. I am incapable of lying on a beach and sipping an umbrella drink while listening drowsily to reggae hits. I need to be doing something. And given the deteriorating state of our planet, I would prefer it be something useful. This is not about moral strength. It's simply a case of obstinate curiosity, and a certain kind of incurable restlessness. For people like me, there exists the "volunteer vacation." Habitat for Humanity is among the best-known organizations to arrange such trips, but there are others whose missions focus on environmental rather than social causes. Global Vision and the Earthwatch Institute, for example, offer motivated travelers the opportunity to transport their curiosity and energy to exotic locales.
Traditional customs pit young versus old in Indonesia's Torajaland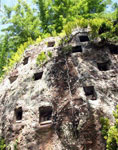 (10/19/2006) Cultural Bankruptcy: Maintaining History at a Tremendous Cost in Sulawesi's Torajaland. The Torajanese people of Central Sulawesi, Indonesia, have long been renown for their extravagant celebrations of the dead in their funerals, graves and effigies. Just outside of Rantepao, the regional capital of Torajaland, ostentatious, costly and increasingly generationally divisive funerals take place on a regular basis. Like other indigenous cultures around the world, a growing rift between the young and old generations is calling the foundations of tradition into question.
In search of rare, high elevation monkeys in China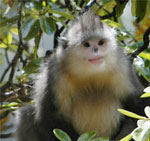 (10/19/2006) High in the cloud-shrouded Yunling mountains of northwestern Yunnan and southeastern Tibet (southwestern China) lives one of the world's most elusive monkeys, the Yunnan golden or snub-nosed monkey (Rhinopithecus bieti). Despite dwelling the most extreme environment of any monkey species -- high-altitude evergreen forests at elevations from 3000 - 4500 m (9800 - 14,800 feet) where temperatures may fall below freezing for several months in a row -- today there are less than 2000 of Yunnan snub-nosed monkeys remaining. Hunting and habitat loss has brought the species, which is limited to a single mountain range and fragmented into 15 small sub-populations at risk to genetic bottlenecks and inbreeding depression, to the brink of extinction.
Photos from Xinjiang, a Muslim region in western China
(10/09/2006) Xinjiang, China's largest and western-most province, is one of the planet's most remote and desolate regions. Covering more than one-sixth the country's territory, Xinjiang borders Tibet, Mongolia, Russia, Kazakhstan, Kyrgyzstan, Tajikistan, Afghanistan, and Pakistan, and is dominated by ethnic minorities, notably the Muslim Uyghurs who make up nearly half the 18 million who live in the province. Xinjiang's ethnic mix reflects its historical importance as a central part of the Silk Road, a trading route used since ancient times to transport good between East and West.
Pictures of Gabon: gorillas, rainforest and white sand beaches

(06/26/2006) Mongabay.com, a leading rainforest and environmental web site, today announced the availability of new photos from the Central African country of Gabon. Site founder Rhett A. Butler visited Loango National Park in Gabon in late May and early June.
Dominican Delights - Dominica, the real Caribbean

(05/04/2006) Prepare yourself. Here, there are no white sand beaches, no golf courses. Here, you'll find a boiling lake, winding cliff-side roads, bubbling surf and waterfalls that will make your head spin. This is Dominica, and this is the real Caribbean. Our Easter holiday to this (officially) English-speaking leeward island sandwiched between French neighbors Guadeloupe to the north and Martinique to the south gave us six days to explore enchanting coves, impressive mountains and dozens of rivers. In six short days, we were overwhelmed by Dominica's charms -- her incredible natural beauty and local creole style. Travelers looking to explore and discover, to be educated and reinvented, should consider this an ideal place for a serious Caribbean adventure.
Borneo photos

(03/28/2006) Mongabay.com, a leading rainforest information web site, has launched a new section featuring photographs from the island of Borneo. More than 500 photos from Kalimantan have been added to the site.
Jungle trekking in Malaysia's Taman Negara

(03/21/2006) Taman Negara is Malaysia's largest and best-known national park. Spanning 4343 square kilometers, the protected forest area is home to some of southeast Asia'apos;apos;s rarest creatures including tigers, the Malaysian tapir, forest elephants, and the Sumatran rhino. Scientists believe that these rainforests may be the oldest on Earth. Untouched by glaciers during recent ice ages, Taman Negara'apos;apos;s forests have remained largely the same for some 130 million years. This stability produces some of the highest levels of biodiversity on Earth: more than 350 species of birds, 14000 species of plants, and 210 species of mammals can be found in Taman Negara.
Down a river of blood into a remote canyon in Madagascar: Exploring the Manambolo River

(04/24/2005) Madagascar has been called the great red island and from space, astronauts have remarked the island looks like it is bleeding to death. Severe environmental degradation means Madagascar loses more topsoil per hectare than any country in the world. Being one of the poorest nations on Earth, the people of Madagascar can ill afford this loss. In 2004 I set off to see one of these rivers that is carrying away the lifeblood of the Malagasy; the Manambolo of Western Madagascar.