News articles on Tigers

---
Mongabay.com news articles on Tigers in blog format. Updated regularly.






Camera trap videos capture stunning wildlife in Thailand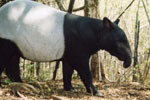 (12/20/2011) A year's worth of camera trap videos (see photos and video below) are proving that scaled-up anti-poaching efforts in Thailand's Western Forest Complex are working. Capturing rare glimpses of endangered, elusive animals—from clouded leopards (Neofelis nebulosa) to banteng (Bos javanicus), a rarely seen wild cattle—the videos highlight the conservation importance of the Western Forest Complex, which includes 17 protected areas in Thailand and Myanmar.
WWF: Asia Pulp & Paper misleads public about its role in destroying Indonesia's rainforests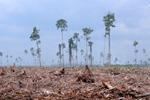 (12/16/2011) Asia Pulp & Paper (APP) continues to mislead the public about its role in destroying rainforests and critical tiger habitat across the Indonesian island of Sumatra, alleges a new report from Eyes on the Forest, a coalition of Indonesian environmental groups including WWF-Indonesia. The report, titled The truth behind APP's Greenwash, is based on analysis of satellite imagery as well as public and private documentation of forest cleared by logging companies that supply APP, which is owned by the Indonesian conglomerate, Sinar Mas Group (SMG). The report concludes APP's fiber suppliers have destroyed 2 million hectares of forest in Sumatra since 1984.
Interview with conservation legend George Schaller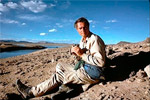 (12/13/2011) Dr George Schaller is a veteran ecologist affiliated with two conservation organizations in New York, Panthera and the Wildlife Conservation Society. Spending much of his time during the past six decades in various countries of Asia, Africa and South America, he has studied and helped protect species as diverse as the Tiger, Mountain Gorilla, Giant Panda and Tibetan Antelope. In addition, he has promoted the establishment of about 15 protected areas. His studies have been the basis for his scientific and popular writings.
Photos: five wild cat species documented in Sumatran forest imperiled by logging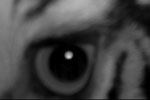 (11/16/2011) A single forest corridor in Sumatra has yielded camera trap photos of five wild cats species, including the Critically Endangered Sumatran tiger (Panthera tigris sumatrae). Photos were also taken of the Sunda clouded leopard (Neofelis diardi), the marbled cat (Pardofelis marmorata), the Asian golden cat (Pardofelis temminckii), and the leopard cat (Prionailurus bengalensis). The five species were all filmed by a WWF camera trap survey in a single forest corridor linking the forest of Bukit Tigapuluh and the Rimbang Baling Wildlife Sanctuary in Riau Province. Unfortunately this forest remains unprotected.
First ever survey shows Sumatran tiger hanging on as forests continue to vanish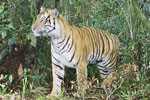 (11/10/2011) The first-ever Sumatran-wide survey of the island's top predator, the Sumatran tiger (Panthera tigris sumatrae), proves that the great cat is holding on even as forests continue to vanish. The study, carried out by eight NGOs and the Indonesian government, shows that the tiger is still present in 70 percent of the forests surveyed, providing hope for the long-term survival of the subspecies if remaining forests are protected.
Featured video: Sumatran species spring to life on video camera traps

(09/21/2011) New video camera trap footage has revealed the stunning and often hidden biodiversity of Sumatra's Leuser Ecosystem, the only place in the world inhabited by elephants, orangutan, tigers, and rhinos. The video camera trap project, dubbed Eyes on Leuser, has captured 26 species to date usinf 10 video camers, including astounding footage of a sniffing Sumatran tiger, a great argus pheasant displaying for the camera, a springing sambar, and an emerald dove chasing away a mouse deer.
New US stamp seeks to raise money for endangered species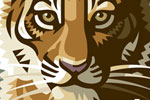 (09/20/2011) As of today, buying a stamp may help save some of the world's most beloved and endangered species. The US Postal Service has released a new stamp that will raise money for the Multinational Species Conservation Funds (MSCF) which works to save tigers, rhinos, great apes, marine turtles, and elephants. The new stamp sports the image of an Amur tiger cub, a subspecies of the tiger the Amur tiger (Panthera tigris altaica) is listed as Endangered by the IUCN Red List.
APP affiliate 'regrets' astroturfing on Indonesia deforestation claims

(08/21/2011) Solaris, an Australian affiliate of Asia Pulp and Paper (APP), has been caught astroturfing an article that repeated criticism of APP from Greenpeace. The article, which appeared on Mumbrella—an Australian media and marketing news site—garnered a multitude of negative comments which were later tracked to IP addresses used by Solaris. Astroturfing is corporate or government messaging falsified as coming from the public or a grassroots movement.
China opens trade in 'legal' tiger skins

(08/14/2011) The Environmental Investigation Agency (EIA) has warned the US, the UK, and all tiger-range nations that China has re-opened the trade in wild cat skins—including tigers—ahead of a Convention on International Trade in Endangered Species (CITES) meeting this week in Geneva, Switzerland. According to the EIA, China has reinitiated a Skin Registration Scheme that allows the trade of big cat skins from legal sources, such as captive-bred cats and controversial tiger farms, however the NGOS argues the scheme lacks transparency, providing an easy cover for the sale of skins taken from big cats poached in the wild.
The glass is half-full: conservation has made a difference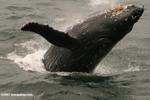 (08/11/2011) Don't despair: that's the message of a new paper in Trends in Ecology and Evolution, which argues that decades of conservation actions at multiple scales have had a positive impact for many of the world's endangered species. While such actions have not yet turned back the tide of the current mass extinction crisis, they have achieved notable successes which often get lost in the gloom-and-doom news stories on biodiversity declines. According to the paper, conservation actions take place on three scales. Microscale conservation focuses on a single species or ecosystem; mesoscale means conservation cooperation between a number of countries, such as efforts to curb the illegal wildlife trade or protect wide-ranging species; and finally macroscale means global organizations or campaigns, such as those that pressure multinational corporations to become more biodiversity-friendly.
Balancing agriculture and rainforest biodiversity in India's Western Ghats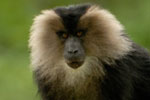 (08/08/2011) When one thinks of the world's great rainforests the Amazon, Congo, and the tropical forests of Southeast Asia and Indonesia usually come to mind. Rarely does India—home to over a billion people—make an appearance. But along India's west coast lies one of the world's great tropical forests and biodiversity hotspots, the Western Ghats. However it's not just the explosion of life one finds in the Western Ghats that make it notable, it's also the forest's long—and ongoing—relationship to humans, lots of humans. Unlike many of the world's other great rainforests, the Western Ghats has long been a region of agriculture. This is one place in the world where elephants walk through tea fields and tigers migrate across betel nut plantations. While wildlife has survived alongside humans for centuries in the region, continuing development, population growth and intensification of agriculture are putting increased pressure on this always-precarious relationship. In a recent paper in Biological Conservation, four researchers examine how well agricultural landscapes support biodiversity conservation in one of India's most species-rich landscapes.
Ironic conservation: APP touts tiger relocation after allegedly destroying tiger's home

(08/02/2011) A female Sumatran tiger (Panthera tigris sumatrae) has been relocated from her threatened rainforest home to Sembilang National Park. According to Asia Pulp and Paper (APP) and the Sumatran Tiger Conservation Foundation (YPHS), the tiger had become an issue in its home region due to human and wildlife conflict. The group touted saving the tiger as 'a significant moment for Sumatran tiger preservation'. However, Greenpeace says that the tiger would never have been a problem if APP were not destroying its habitat.
Malaria may hurt conservation efforts, aid poachers

(07/31/2011) In 2009, 781,000 people died of malaria worldwide and nearly a quarter billion people contracted the mosquito-bourne disease, according to the World Health Organization (WHO). While the impacts of malaria on people—among the world's worst diseases—have long been researched, a new study in Biological Conservation finds that malaria has a significant indirect impact on protected species. Many species contract various malaria strains, but the study also found that malaria in humans has the potential to leave endangered species unprotected.
How to fight organized wildlife crime in East Asia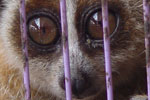 (07/27/2011) Organized criminal syndicates are wiping out some of the world's most charismatic wildlife to feed a growing appetite for animal parts in East Asia#8212;and so far governments and law enforcement are dropping the ball. This is the conclusion from a new paper in Oryx, which warns unless officials start taking wildlife crime seriously a number of important species could vanish from the Earth.
Video: Tiger trapped in Asia Pulp and Paper logging concession dies a gruesome death

(07/25/2011) Caught in a snare and left for days without access to food and water, a wild Sumatran tiger (Panthera tigris sumatrae) perished from its wounds hours after forest officers reached it. As reported by Greenpeace—which photographed and filmed the rescue attempt—the tiger was trapped at the edge of a acacia plantation and remaining forest area actively being logged by Asia Pulp and Paper (APP) in Riau Province. Sumatran tigers are listed as Critically Endangered by the IUCN Red List; the subspecies, restricted to the Indonesian island, is in decline due to large-scale habitat loss and poaching.
How to Save the Tiger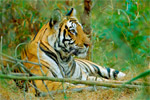 (07/19/2011) We are losing the tiger. Two hundred years ago, Asia's great cat numbered in the hundreds of thousands and inhabited virtually the entire continent, from Siberia to Turkey, and Afghanistan to Bali. Today there are, at best, around 3,200 wild tigers left. The tiger is extinct in at least 14 countries and hangs on in only 7% of the habitat it once occupied - tiny, mostly isolated fragments in what was once an ocean of forest. Three sub-species, from Bali, Java and Central Asia are lost forever, and a fourth, the South China tiger has not been recorded in the wild for over a decade.
Decline in top predators and megafauna 'humankind's most pervasive influence on nature'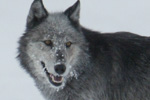 (07/14/2011) Worldwide wolf populations have dropped around 99 percent from historic populations. Lion populations have fallen from 450,000 to 20,000 in 50 years. Three subspecies of tiger went extinct in the 20th Century. Overfishing and finning has cut some shark populations down by 90 percent in just a few decades. Though humpback whales have rebounded since whaling was banned, they are still far from historic numbers. While some humans have mourned such statistics as an aesthetic loss, scientists now say these declines have a far greater impact on humans than just the vanishing of iconic animals. The almost wholesale destruction of top predators—such as sharks, wolves, and big cats—has drastically altered the world's ecosystems, according to a new review study in Science. Although researchers have long known that the decline of animals at the top of food chain, including big herbivores and omnivores, affects ecosystems through what is known as 'trophic cascade', studies over the past few decades are only beginning to reveal the extent to which these animals maintain healthy environments, preserve biodiversity, and improve nature's productivity.
Camera traps reveal no tigers, but other carnivores in Khao Yai National Park

(06/27/2011) A four-year camera trap project has revealed that Khao Yai National Park in Thailand is still home to a wide-variety of carnivore species, but tigers may be on their way out or already gone finds a new study from mongabay.com's open access journal Tropical Conservation Science. Photographing with 15 cameras the study snapped photos of 14 carnivore species in the park. However, the photographic evidence implies that predator populations have fallen in the park over the past decade due to human activities, including poaching.
Scientists urge Indonesia to stop road construction in tiger-rich national park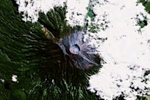 (06/06/2011) The Association for Tropical Biology and Conservation (ATBC) has drafted a resolution urging the Indonesian government to cancel plans to build four 40-foot wide roads through the countries oldest national park, Kerinci Seblat National Park. According to the ATBC, the world's largest professional society devoted to studying and conserving tropical forests, the road-building would imperil the parks' numerous species—many of which are already threatened with extinction—including Sumatra's most significant population of tigers.
China failing commitment to save tigers

(05/20/2011) Chinese Premier Wen Jiabao pledged that China would work with other nations to end the trade in tiger parts and revive tiger populations at the Global Tiger Forum last fall, but the country has since fallen short of its commitments, says an environmental group.
Google Earth animation reveals Indonesian forest targeted for destruction by pulp and paper companies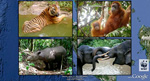 (05/14/2011) A new animation created using Google Earth offers a tour of an area of forest slated for destruction by logging companies. The animation, created by WWF-Indonesia and David Tryse, with technical assistance from Google Earth Outreach, highlights the rainforest of the Bukit Tigapuluh landscape in Sumatra, the only island in the world that is home to Sumatran tigers, elephants, rhinos, and orangutans. All of these species are considered endangered or critically endangered due to habitat destruction or poaching.
Cambodia's wildlife pioneer: saving species and places in Southeast Asia's last forest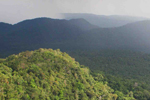 (05/11/2011) Suwanna Gauntlett has dedicated her life to protecting rainforests and wildlife in some of the world's most hostile and rugged environments and has set the trend of a new generation of direct action conservationists. She has designed, implemented, and supported bold, front-line conservation programs to save endangered wildlife populations from the brink of extinction, including saving the Amur Tiger (also known as the Siberian Tiger) from extinction in the 1990s in the Russian Far East, when only about 80 individuals remained and reversing the drastic decline of Olive Ridley sea turtles along the coast of Orissa, India in the 1990s, when annual nestings had declined from 600,000 to a mere 8,130. When she first arrived in Cambodia in the late 1990s, its forests were silent. 'You couldn't hear any birds, you couldn't hear any wildlife and you could hardly see any signs of wildlife because of the destruction,' Gauntlett said. Wildlife was being sold everywhere, in restaurants, on the street, and even her local beauty parlor had a bear.
Road building plan in Sumatran park threatens Critically Endangered tigers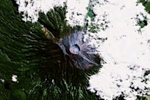 (05/03/2011) A plan to build four wide roads through Kerinci Seblat National Park in the Indonesian island of Sumatra threatens one of the world's most viable populations of the Critically Endangered Sumatran tiger subspecies (Panthera tigris sumatrae), reports the AP. Less than 500 Sumatran tigers remain in the wild with the population continuing to decline due to habitat loss from palm oil and paper plantations, poaching, and prey declines.
Rise in wildlife tourism in India comes with challenges

(04/27/2011) A line of tourist jeeps clogs the road in a dry forest, as all eyes—and cameras—are on a big cat ambling along the road ahead; when the striped predator turns for a moment to face the tourists, voices hush and cameras flash: this is a scene that over the past decade has becoming increasingly common in India. A new study in Conservation Letters surveyed ten national parks in India and found that attendance had increased on average 14.9% from 2002-2006, but while rising nature tourism in India comes with education and awareness opportunities, it also brings problems.
India says tiger numbers up, but expert raises doubts

(03/28/2011) According to the Indian government tigers have gone up by 225 individuals in the past four years, from 1,411 big cats to 1,636 today, a 16% increase. The new census, however, also counts 70 tigers in the Sundarbans, which were not included in the past census, making the new grand total 1,706 Bengal tigers (Panthera tigris tigris). But don't raise champagne glasses just yet, renowned conservationist with Wildlife Conservation Society (WCS) and tiger expert, Dr. Ullas Karanth, sees serious issues with the new tally, including a methodology that "has not been made public in a scientifically acceptable manner" and depends on a big count every few years instead of comprehensive and reliable year-by-year tracking methods. Despite such doubts, the news has generally been greeted with accolades.
Pulp and paper firms urged to save 1.2M ha of forest slated for clearing in Indonesia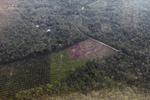 (03/17/2011) Indonesian environmental groups launched a urgent plea urging the country's two largest pulp and paper companies not to clear 800,000 hectares of forest and peatland in their concessions in Sumatra. Eyes on the Forest, a coalition of Indonesian NGOs, released maps showing that Asia Pulp and Paper (APP) and Asia Pacific Resources International Limited (APRIL) control blocks of land representing 31 percent of the remaining forest in the province of Riau, one of Sumatra's most forested provinces. Much of the forest lies on deep peat, which releases large of amount of carbon when drained and cleared for timber plantations.
New road project to run through Laos' last tiger habitat

(03/15/2011) A new road project in Laos will run through the nation's only protected area inhabited by breeding tigers, Nam Et Phou Louey National Park, reports the Vientiane Times. With only about two dozen tigers (Panthera tigris) left in the nation, conservationists fear that the road will harm the fragile population, which is known to be breeding. However, local officials say the road is necessary to improve access to remote villages and alleviate poverty in the region, which is among the worst in the province.
Fearful Symmetry—Man Made, an interview with John Vaillant, author of The Tiger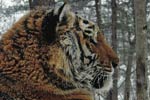 (03/14/2011) In The Tiger, John Vailliant weaves a haunting and compelling true narrative of men who live—or die—with tigers. No doubt the story itself is on-the-edge of your seat reading. As well, the book provides factual information on the 400 or so Amur Tigers remaining, and the raw milieu that is Primorye, Far East Russia—a wilderness and people unto their own. What is special, transcendent even in this story, however, murmurs uncomfortably in the background. Questions emerge from deep taiga snow, not unlike the unseen Panchelaza Tiger. What exactly is our relationship with apex predators? How do people live with them? How would you live with them in your backyard? What if your pet dog disappeared? As we ourselves are apex predators, are we wise enough, tolerant enough, compassionate enough to share this planet with them? Evidence today points to the contrary, but this can change.
Parks key to saving India's great mammals from extinction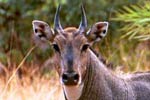 (02/24/2011) Krithi Karanth grew up amid India's great mammals—literally. Daughter of conservationist and scientist Dr. Ullas Karanth, she tells mongabay.com that she saw her first wild tigers and leopard at the age of two. Yet, the India Krithi Karanth grew up in may be gone in a century, according to a massive new study by Karanth which looked at the likelihood of extinction for 25 of India's mammals, including well-known favorites like Bengal tigers and Asian elephants, along with lesser known mammals (at least outside of India) such as the nilgai and the gaur. The study found that given habitat loss over the past century, extinction stalked seven of India's mammals especially: Asiatic lions, Bengal tigers, wild dogs (also known as dholes), swamp deer, wild buffalo, Nilgiri Tahr, and the gaur. However, increasing support of protected areas and innovative conservation programs outside of parks would be key to saving India's wildlife in the 21st Century.
India pledges to protect cat-crazy rainforest

(02/14/2011) The Jeypore-Dehing lowland rainforest in Assam, India is home to a record seven wild cat species, more than any other ecosystem on Earth. While it took wildlife biologist Kashmira Kakati two years of camera-trapping to document the seven felines, the announcement put this forest on the map—and may very well save it. A year after the record was announced, officials are promising to pursue permanent preservation status for the forest, which is threatened by logging, poaching, oil and coal industries, and big hydroelectric projects.
Asia's last lions lose conservation funds to tigers

(01/24/2011) The last lions of Asia and the final survivors of the Asiatic lion subspecies (Panthera leo persica) are losing their federal conservation funding to tiger programs, reports the Indian media agency Daily News & Analysis (DNA). While the Asiatic lion once roamed Central Asia, the Middle East, and even Eastern Europe, today the subspecies survives only in India's Gir Forest National Park in the north-western state of Gujarat.
Logging concession could extinguish endangered Sumatran elephant population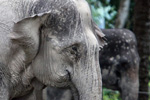 (11/30/2010) Local conservationists are urging the Indonesian government to halt the destruction of a 42,000 hectare forest in the renowned Bukit Tigapuluh Forest Landscape for a pulpwood plantation. According to researchers, the forest concession—owned by PT Lestari Asri Jaya, a subsidiary of Barito Pacific Group—contains the last population of Sumatran elephants (Elephas maximus sumatranus) in the Bukit Tigapuluh and approximately 5% of the island's total population. In a letter being sent to the Ministry of Forests, conservationists write that the destruction of the forest "would immediately lead to local extinction of elephants in Bukit Tigapuluh". They argue that given its ecological importance, the PT Lestari Asri Jaya forest concession should be placed under permanent protection.
Tiger summit reaches bold agreement and raises $300 million

(11/24/2010) The summit to save the world's biggest cat, and one of the world's most popular animals, has agreed to a bold plan dubbed the Global Tiger Recovery Program. Meeting in St. Petersburg, 13 nations have set a goal to double the wild tiger's (Panthera tigris) population worldwide by 2022. Given that tiger numbers continue to decline in the wild, this goal is especially ambitious, some may even say impossible. However, organizations and nations are putting big funds on the table: around $300 million has already been pledged, including $1 million from actor, and passionate environmental activist, Leonardo Dicaprio.
Rebuttal: Slaughtering farmed-raised tigers won't save tigers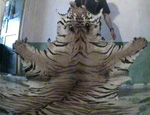 (11/18/2010) A recent interview with Kirsten Conrad on how legalizing the tiger trade could possibly save wild tigers sparked off some heated reactions, ranging from well-thought out to deeply emotional. While, we at mongabay.com were not at all surprised by this, we felt it was a good idea to allow a critic of tiger-farming and legalizing the trade to officially respond. The issue of tiger conservation is especially relevant as government officials from tiger range states and conservationists from around the world are arriving in St. Petersburg to attend next week's World Bank 'Tiger Summit'. The summit hopes to reach an agreement on a last-ditch effort to save the world's largest cat from extinction.
Would legalizing the trade in tiger parts save the tiger?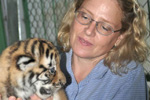 (11/15/2010) Just the mention of the idea is enough to send shivers down many tiger conservationists' spines: re-legalize the trade in tiger parts. The trade has been largely illegal since 1975 under the Convention on International Trade in Endangered Species (CITES). The concept was, of course, a reasonable one: if we ban killing tigers for traditional medicine and decorative items worldwide then poaching will stop, the trade will dry up, and tigers will be saved. But 35 years later that has not happened—far from it. "Words such as 'collapse' are now being used to describe the [tiger's] situation both in terms of population and habitat. Wild tiger numbers continue to drop so that we have about 3,500 today across 13 range states occupying just 7% of their original habitat. It's universally acknowledged that we're losing the battle," Kirsten Conrad, tiger conservation expert, told mongabay.com in a recent interview.
Authorities confiscated over 1000 tigers in past decade

(11/09/2010) Highlighting the poaching crisis facing tigers, a new report by the wildlife trade organization, TRAFFIC, found that from 2000-2010 authorities have confiscated the parts of 1,069 tiger individuals, many of them dead. The tigers, or their body parts, were confiscated from 11 of the species' 13 range countries, according to the report entitled Reduced to Skin and Bones. Yet the number only hints at the total number of tigers (Panthera tigris) vanishing in the wild due to the illegal trade in tiger parts for traditional Asian medicine and decorative items, such as skins.
Undercover for animals: on the frontline of wildlife crime in the US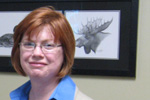 (11/03/2010) Special Agent O'Connor is a veteran wildlife law enforcement officer, with over 20 years of service under belt. She began her career in wildlife law enforcement as a Conservation Police Officer for the Illinois Department of Natural Resources, where she served for eight years. She then moved to federal wildlife law enforcement with the US Fish and Wildlife Service, where she was first posted to Ann Arbor, Michigan, and then to St. Paul, Minnesota. During that time, she investigated several major cases that led to felony convictions for violations of wildlife laws. She now serves as a training officer at the Federal Law Enforcement Training Center (FLETC), the interagency law enforcement training organization that serves 88 Federal agencies, in Georgia.
After months on the run, man-eating tiger caught

(10/28/2010) A male Bengal tiger that killed eight people was captured after a months-long chase by officials with India's Forest Department and biologists with the local conservation organization, Wildlife Trust of India (WFI), in the Indian state of Uttar Pradesh. After avoiding laced bait and tranquilizer darts, the tiger was finally trapped by officials earlier this month. Even after being tranquilized three times, the animal still lashed out, injuring several villagers who had begun throwing rocks at it. Eventually, though, the hunt for the cat ended with its capture.
Video: camera trap catches bulldozer clearing Sumatran tiger habitat for palm oil

(10/14/2010) Seven days after footage of a Sumatran tiger (Panthera tigris sumatrae) was taken by a heat-trigger video camera trap, the camera captured a bulldozer clearing the Critically Endangered animal's habitat. Taken by the World Wildlife Fund—Indonesia (WWF), the video provides clear evidence of forest destruction for oil palm plantations in Bukit Batabuh Protected Forest, a protected area since 1994.
Hope remains for India's wild tigers, says noted tiger expert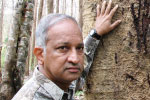 (09/30/2010) As 2010 marks 'The Year of the Tiger' in many Asian cultures, there has been global interest in the long-term viability of tiger populations in the wilds of Asia. Due to increasing pressures on remaining tiger habitats and a surge in demand for tiger parts from traditional medicine trades, many conservation experts consider the current outlook for wild tiger populations bleak. Dr Ullas Karanth of the Wildlife Conservation Society (WCS) India does not share this view. He believes that a collaboration of global and local interests can secure a future for tigers in the wild.
Fighting poachers, going undercover, saving wildlife: all in a day's work for Arief Rubianto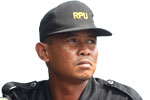 (09/29/2010) Arief Rubianto, the head of an anti-poaching squad on the Indonesian island of Sumatra best describes his daily life in this way: "like mission impossible". Don't believe me? Rubianto has fought with illegal loggers, exchanged gunfire with poachers, survived four days without food in the jungle, and even gone undercover—posing as a buyer of illegal wildlife products—to infiltrate a poaching operation. While many conservationists work from offices—sometimes thousands of miles away from the area they are striving to protect—Rubianto works on the ground (in the jungle, in flood rains, on rock faces, on unpredictable seas, and at all hours of the day), often risking his own life to save the incredibly unique and highly imperiled wildlife of Sumatra.
Tigers successfully reintroduced in Indian park

(09/27/2010) Poachers killed off the last Bengal tiger in India's Sariska Tiger Reserve in 2004. Four years later, officials transferred three tigers from Ranthambhore National Park to Sariska in an attempt to repopulate the park with the world's biggest feline. A new study in mongabay.com's open-access journal Tropical Conservation Science evaluates the reintroduction by tracking radio-collared tigers and studying their scat.
Tigers discovered living on the roof of the world

(09/20/2010) A BBC film crew has photographed Bengal tigers, including a mating pair, living far higher than the great cats have been documented before. Camera traps captured images and videos of tigers living 4,000 meters (over 13,000 feet) in the tiny Himalayan nation of Bhutan.
Saving wild tigers will cost $82M/year

(09/15/2010) The cost of maintaining the planet's 3,500 remaining wild tigers is around $80 million a year, according to a new study published in the journal PLoS Biology.
Could camera traps save wildlife worldwide?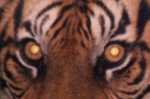 (08/31/2010) It's safe to say that the humble camera trap has revolutionized wildlife conservation. This simple contraption—an automated digital camera that takes a flash photo whenever an animal triggers an infrared sensor—has allowed scientists to collect photographic evidence of rarely seen, and often globally endangered species, with little expense and relative ease—at least compared to tromping through tropical forests and swamps looking for endangered rhino scat . Now researchers with the Wildlife Conservation Society (WCS) and the Zoological Society of London (ZSL) are taking the utility of the camera trap one step further: a study in Animal Conservation uses a novel methodology, entitled the Wildlife Picture Index (WPI), to analyze population trends of 26 species in Bukit Barisan Selatan National Park on the Indonesian island of Sumatra. While the study found a bleak decline in species, it shows the potential of camera traps for moving conservation forward since it marks the first time researchers have used camera traps to analyze long-term population trends of multiple species.




Page 1 | Page 2 | Page 3 | Page 4 | Page 5